Today I bring to you all a collection of 77 exemplary, scrumptious, easy and graceful Diwali Savory Snacks Recipes.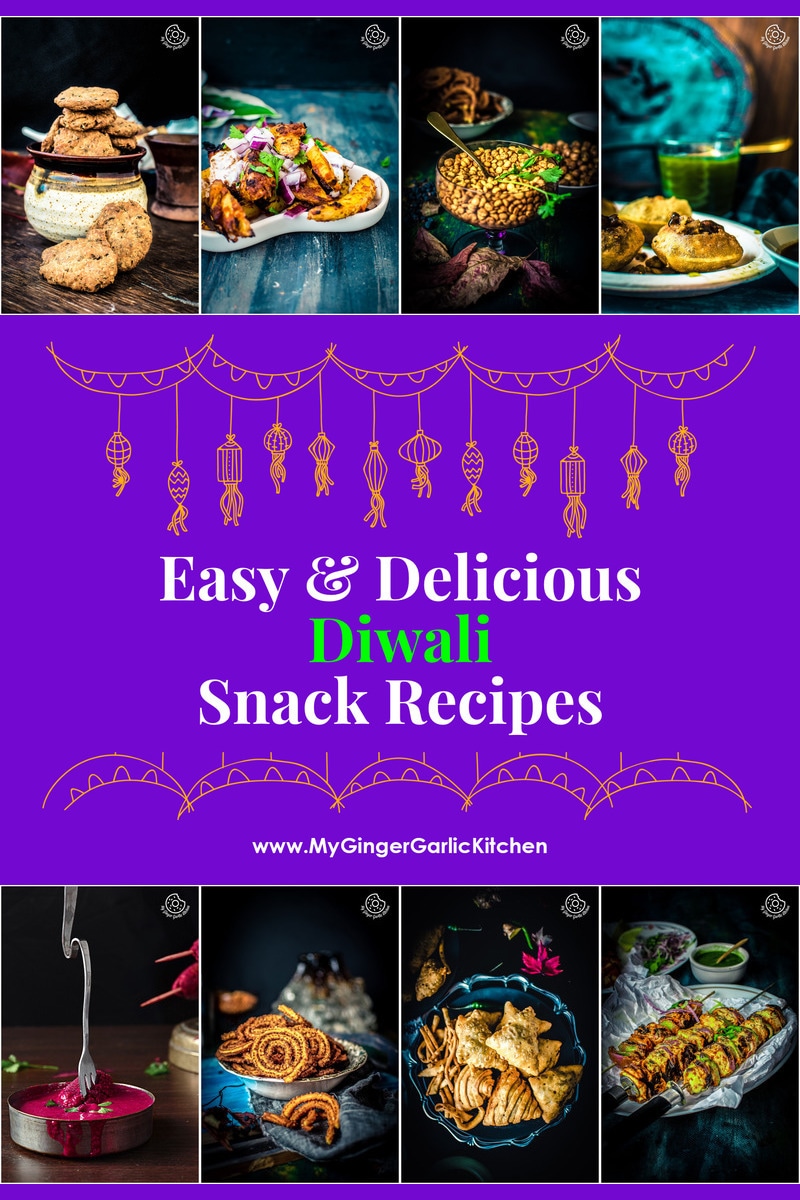 Are you all in a festive mood? We all are. To keep your in the mood of festivities, I am sharing this wonderful Diwali snack recipes collection with you.
As I promised earlier that I will be sharing a collection of snacks recipes that can be prepared during this celebration and other similar festive occasions. So here I am with the second post on the Diwali recipe series. For the curious ones, here's the first post about Diwali Sweets which was [62 EASY AND DELICIOUS DIWALI SWEET RECIPES][1].
A little intro about Diwali or Deepavali for those who don't know about this Indian festival of light.:
Diwali is the Hindu festival of lights. It is particularly associated with Lakshmi, the goddess of prosperity, and marks the beginning of the financial year in India. This festival also signifies the victory of light over darkness. Diwali is one of the most popular, biggest and brightest Indian festivals, and this is the vacation time too. You can read more about [Diwali][2] on wikipedia. It's the time when all the family and friends gather, exchange gifts and sweets. Diwali is quite near, so the festivities have finally started.
We all know that food plays an important role in the celebrations. And for any festival, we all want finger-licking savory snacks to complement the sweet dishes. All Festivities need savory snacks and starters as much as we need sweet dishes. I must say savory snacks are the highlight of every festival — they are the most popular and essential dishes of Diwali too. Believe me, they add much more enthusiasm to any festive spirit. There is nothing quite like an inviting table decorated with a variety of Diwali sweets and snacks.
So I decided to compile some of my favorite Diwali Snacks/Starters recipes. I debated to myself which links would be worthy to be used for an entire post. And then, I went through my Diwali favorites and realized that all these recipes needed to be here on a single post. Yes, all these awesome links needed a single awesome whole collection post.
And I am so excited about all the recipes I have listed here. This list seems a bit long, but it's AH-MAZING. And you can start by making one dish today and still have plenty left to spread out over the next few days.
So why not make all these days festival days, and have something festive every day till Diwali. Because these savory recipes I am sharing today are so good, that you don't want to miss any of them.
So let's get started.
Here is the an amazing compilation of Diwali Savory Snacks Recipes. I hope you will enjoy them as much as I do!