Corn Pakora is a famous Indian snack recipe which is widely consumed during the monsoon season in India. Sweet corn Pakoda | corn fritter is a temptingly delicious, crispy, and crunchy deep-fried snack recipe made using gram flour and fresh corn kernels. 
This Pakora makes an excellent tea time snack and can be made under 25 minutes from start to finish. Plus, making this corn pakora is very quick and easy. Nothing warms you up in a wet and cool monsoon season like this plateful of old fashioned hot, spicy, and crispy snack corn pakora.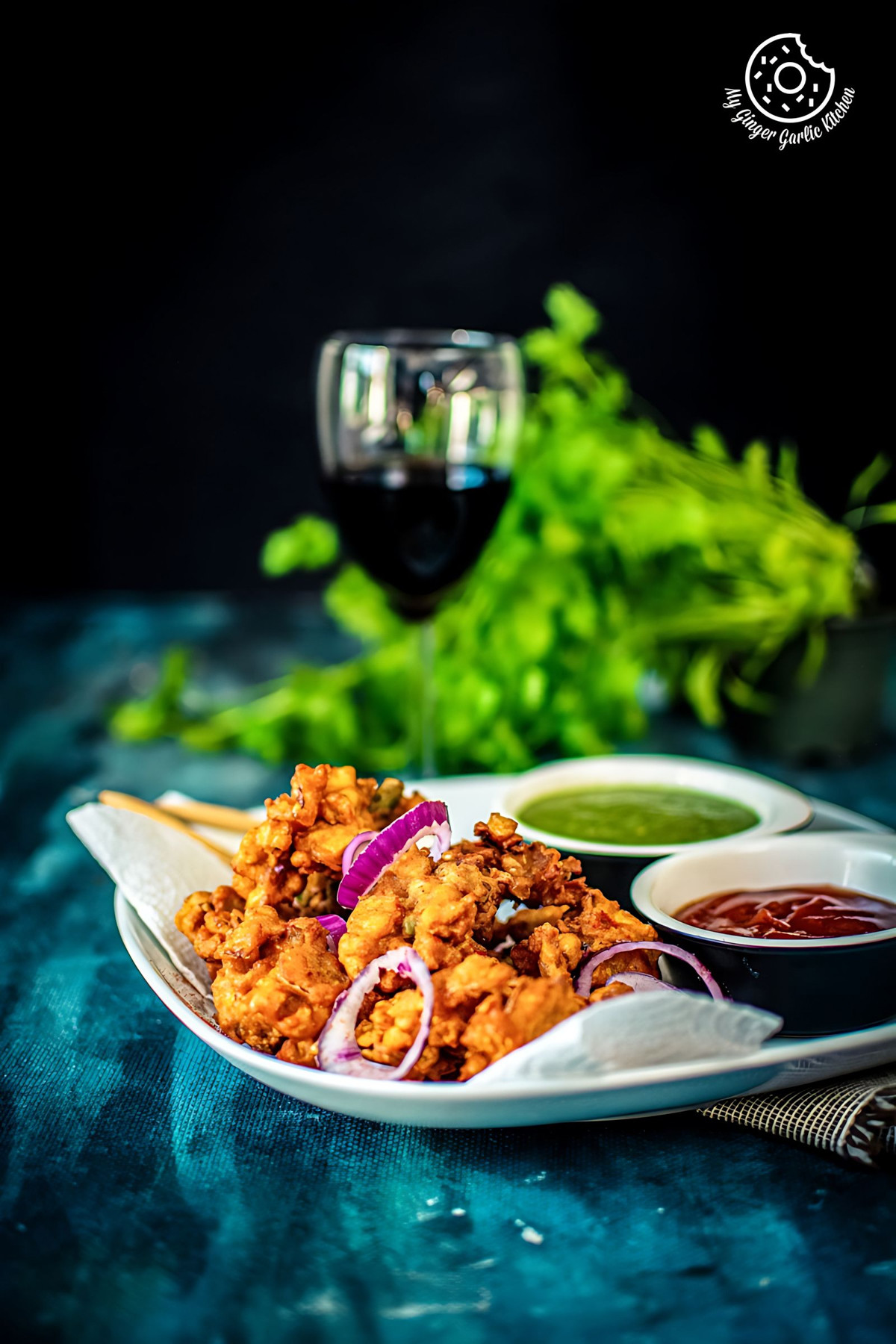 Make them at a get-together, or serve them at a house party; these stackable snacks corn fritters would brighten any snack table.  
Here is some important background info about this snack Pakora: 
What Is Pakora?
Pakora is an Indian name for any type of gram flour (chickpea flour) coated deep-fried fritters. This is a fried snack (fritters), originating from the Indian subcontinent. Pakora is also called pakode, pakoda, pakodi, fakkura, bhajiya, bhajji, and bhaji. Pakora is one of the most common snack recipes in India and each Indian state has its own variant. In fact, the basic dish is almost the same, just the name is different depending upon the region you are in. 
In India, this snack 'Pakora' is served in restaurants, sold by street sellers, and is also cooked in every household. No matter which part of the world you live in, you must have had this amazing snack because this dish is one of such prevalent dishes found in Indian restaurants worldwide.
What is the basic way of cooking Pakora or Indian Fritters? 
Basic pakora batter for any pakora recipe is made using a mix of gram flour, some spices, and water. You can then customize it according to your recipe requirements. In some pakora recipes you need rice flour, whereas in others, you don't. Likewise, you sometimes need cornflour and other times you need all-purpose flour. 
What Is The Right Consistency Of Batter For Making Pakora?
For making a basic pakora, the batter consistency should be thick so that it can easily be dropped into the oil. All you have to do is to make a thick batter using spices and gram flour. After that the batter is ready to dance in a hot pool of oil. 
What is Corn Pakora or Corn Pakoda ?
Corn Pakora  or 'Bhutte Ke Pakode' is a simple yet delightfully crispy corn fritter cooked with chickpea flour and rice flour, and is an ideal tea-time snack. It is crispy and crunchy from the outside and soft and fluffy on the inside. 
Corn Pakoda recipe is made with steamed corn, onions, and a combination of seasonings. These addictively delicious, and easy to make snacks are a classic harmony with hot or .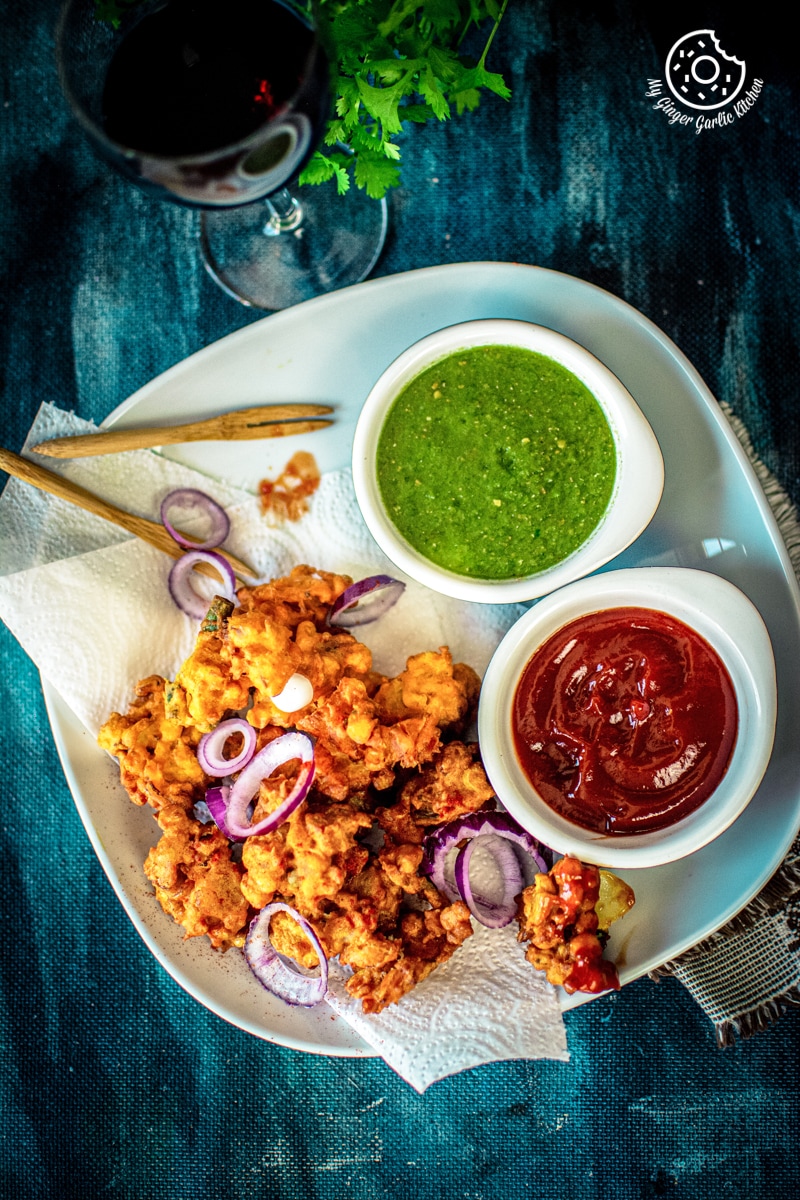 How To Serve Corn Pakore?
Serve corn pakore as a tea time snack, or a brunch along with some , or even with ketchup. You can also complement these fritters with a dollop of sour cream for the perfect cool touch. 
Just don't forget to pair it up with a cup of , , or coffee for making the whole experience more pleasurable. You can also serve it as a side dish along with the main meal. 
The point is no matter how these corn pakore are presented, their hearty taste would enhance the flavors of any meal. Dig in, these are just scrumptious. 
What Are The Main Ingredients For Corn Pakora recipe?
✓ Fresh corn kernels or ears of corn (bhutte or makai)
✓ Onions (pyaaz), roughly chopped
✓ Grated ginger (adrak)
✓ Green chilies (hari mirch)
✓ Minced garlic (kisi hui lehsun)
✓ Lemon juice (neembu ka ras)
✓ Cumin seeds (jeera)
✓ Turmeric powder (haldi powder)
✓ Red chili powder (lal mirch powder)
✓ Garam masala powder 
✓ Ground black pepper (pisi hui kali mirch)
✓ Chaat masala
✓ Rice flour (chawal ka atta)
✓ Cornflour 
✓ Gram flour (besan), or as needed 
✓ Salt to taste
✓ Oil for frying
For serving:
✓ Green coriander chutney
✓ Chaat masala
✓ Red chili powder (lal mirch powder)
✓ Onion slices (kara hua pyaaz)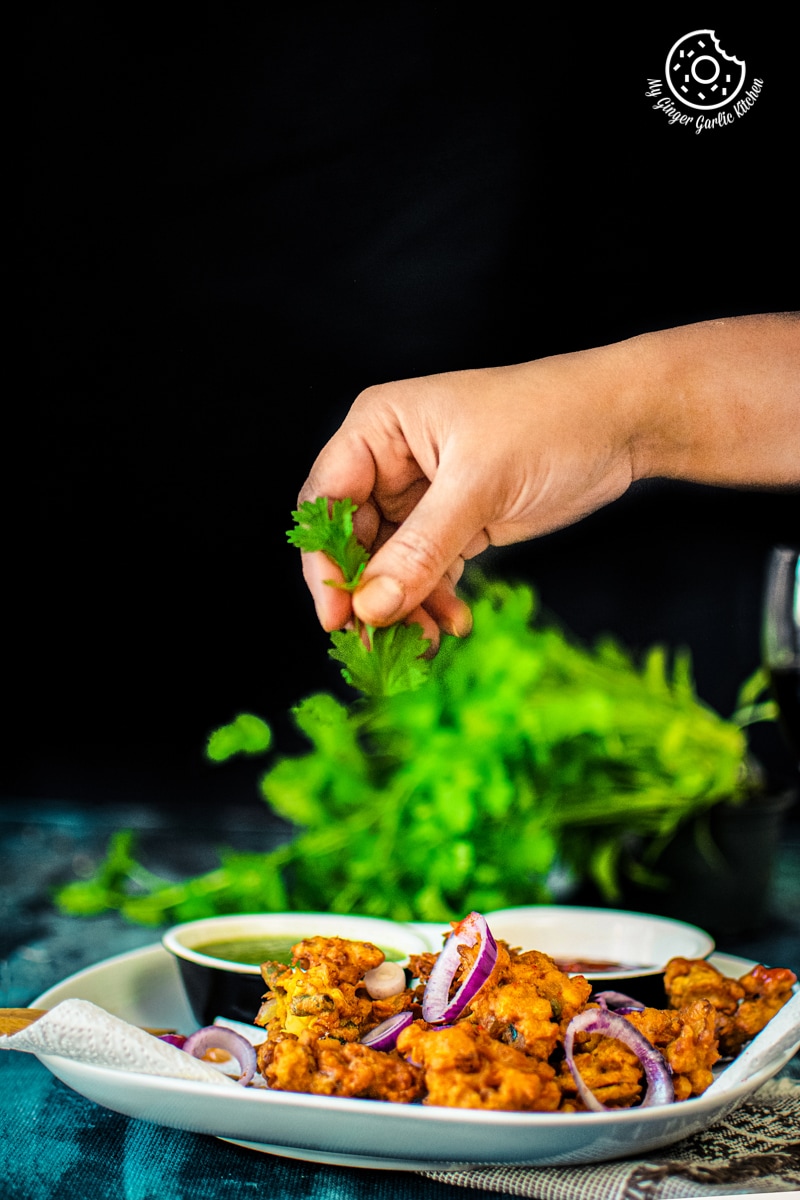 Can I make corn pakora with frozen corn?
Yes, you can use both fresh or frozen corn for this pakora recipe. The good thing about using frozen corn is that you can enjoy these fritters any time of the year. If you are using the frozen corn, then simply steam them for 5 minutes and after that use them in the recipe as directed.
Can I shallow-fry corn pakoras?
Yes, you can shallow fry or pan fry these pakoras. But I adore them more when they are deep-fried because some treats are meant to be sinful. How you choose to prepare them is totally up to you.
Can I freeze corn pakora?
Yes, freezing corn pakora is possible. There are two ways to freeze them. 
1. Freeze the batter: For freezing batter, you simply scoop the batter onto a freezer-safe baking tray. Smoothen them lightly using a spoon and freeze for 2 hours. Once frozen, transfer them into a freezer-safe ziploc bag and freeze up to 2 months. When you want to serve corn pakoras, simply deep-fry them and serve. 
Freeze corn pakoras: Once the pakoras are fried, let them cool completely. Arrange them in a single layer on a baking tray and freeze for 2 hours. Once frozen, transfer them into a freezer-safe ziploc bag or container and freeze up to 1 month. When you want to enjoy corn pakoras, thaw them at room temperature for 30 minutes and then bake at 180°C pre-heated oven for about 18-20 minutes, or until they turn crispy.
How to slice corn off the cob?
First, pull the husks and silks off the ear of corn with your hands. Cut off the stem using a sharp knife. Rinse the ear.
Place an ear of corn, cut-stem side down, on a cutting board. Hold it near the top of the ear, and start slicing using a sharp knife. We need to cut corn off the cob at about two-thirds the deepness of the kernels. For slicing, start at the top and cut downward with a gentle motion, and continue cutting corn off the cob until all the kernels are removed. 
How To Boil Corn?
Fill a large bowl with ice water and set it aside. Bring a large pot of water to boil. 
Drop a couple of ears of corn at a time in the boiling water. Cover and boil for 5-7 minutes. Remove the cooked corn using tongs. 
Throw it into the ice water until cool. Drain excess water from the ears before cutting corn off the cob.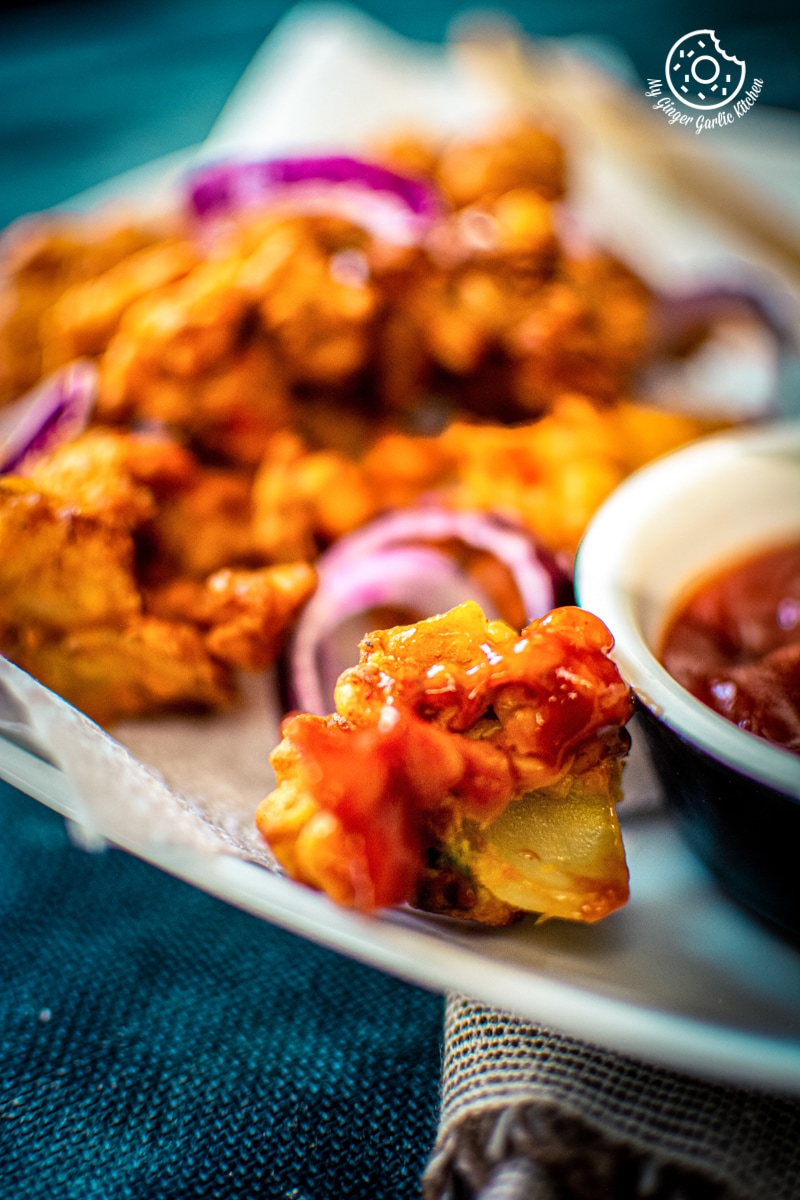 How To Make Corn Pakora?
Making sweet corn pakoras are very easy and quick too. This is how we do it from scratch.
Slice the corn off the cob, and arrange kernels in a steamer. Bring a large pot of water to boil. Put the steamer basket in the bottom of the pot and cover. Steam for 7-8 minutes. Once done, take out the steamer basket and set it aside for 5 minutes or until kernels are cool enough to touch.
Press a kernel between an index finger and thumb, and if it squeezes easily that means kernels are steamed perfectly. We want them soft yet hard enough to hold their shape. Add chopped onions and steamed corn kernels to a mixing bowl. Now add grated ginger, chopped green chilies, minced garlic, lemon juice, cumin seeds, turmeric powder, red chili powder, garam masala powder, ground black pepper, chat masala, and rice flour to it.
Mix well using hands and keep smashing the mixture at the same time. (We need to remove all the excess moisture from the mixture, so keep smashing corn kernels while making the batter.)
Now add cornflour and mix well again. Adding cornflour and rice flour to the batter will make pakoras crispy. Once the flour is mixed, add gram flour and mix again. Keep adding gram flour in small amounts until the batter is thick and holds the shape. (I have used 6 tablespoons of gram flour for this recipe).
How to fry Corn Pakora?
Heat oil in a wide pan. Once the oil is hot, drop small portions of the batter in the hot oil using fingers or a spoon. Deep fry on medium heat until the pakoras are crispy and browned. Remove the pakoras using a slotted spoon to drain excess oil. Drain them onto a tissue lined plate.
Sprinkle with some chili powder and chat masala. Serve hot with coriander chutney and
How to bake Corn Pakora?
Preheat the oven to 392°F/200°C.
Scoop out small balls on a parchment-lined baking sheet using your hands or a tablespoon or ice cream scoop. Flatten them using a spoon and brush or spray with some cooking oil. 
Bake for 22-25 minutes until pakoras are golden brown and crisp on the outside. 
Sprinkle pakoras with some red chili powder, some chaat masala and then serve hot with or ketchup or sauces of your choice.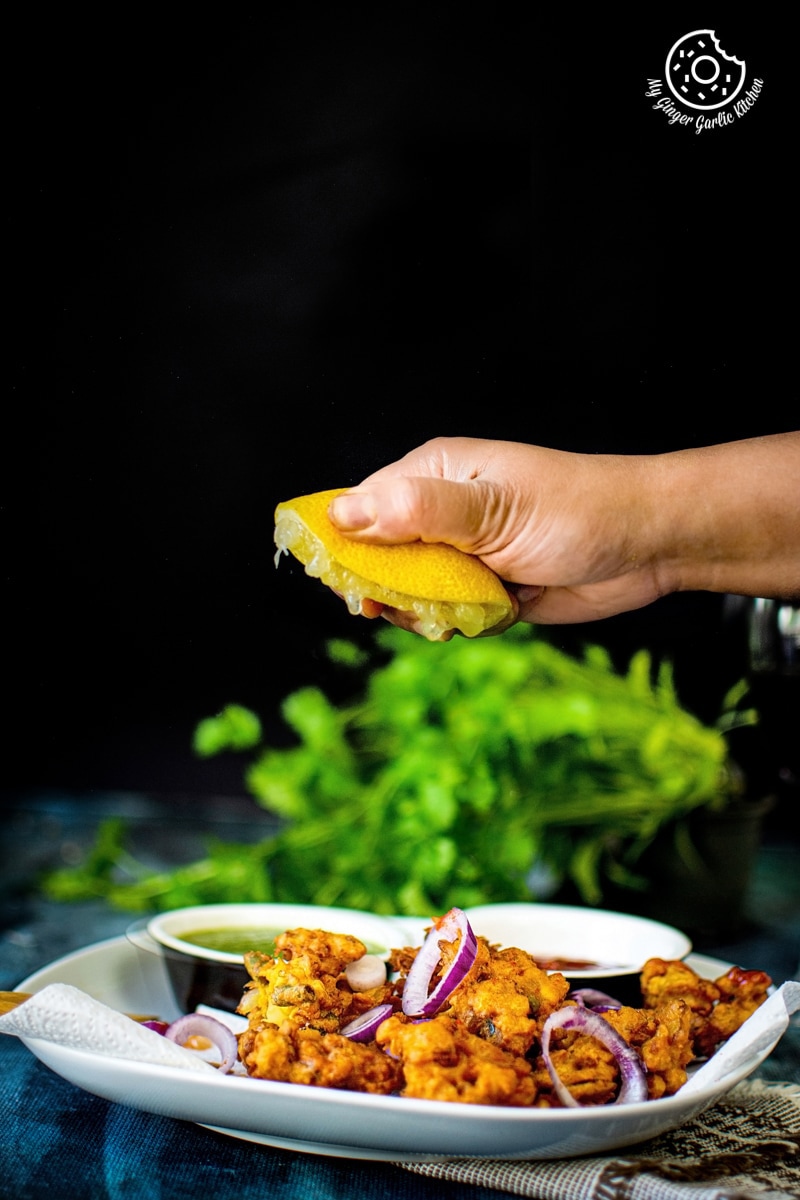 Tips And Variations To Make The Best Corn Pakoda:
I do not favor grinding corn kernels for this corn pakora recipe, but if you want the smoother texture of pakoras then you can coarsely ground half of the steamed corn kernels. 
The batter for this pakora should be thick but easily droppable. So if you think there is more water, then add some more gram flour to the batter to thicken it up. And if the batter seems very dry, then you can add 1-2 tablespoons of water.
Cornflour and rice flour both make pakoras crunchy and crispy, so I have added both flours in this recipe. But if you want, you can choose using either rice flour or cornflour.  
If rice flour is not easily available in your region then you can make your rice flour by grinding rice into a fine powder. You can also replace rice flour with cornflour to the batter.
Always make sure you fry the corn pakoda on medium heat. This would ensure that your pakoras would come out perfectly crispy. If the heat is too high, then pakoras would cook faster from outside, and won't cook from the center. 
I have added chopped onions to this Corn Pakora, but you can easily skip onions.
For different variations, you can also pair steamed corn kernels with spring onions to make bhutte and hare pyaaz ke pakode, or boiled peas to make corn and peas pakora, or thinly sliced potatoes to make corn and potato pakora, or add cheese cube or grated cheese in the center of pakora to make corn cheese pakora, or even with a mix of vegetables. The customization choice is entirely up to you. 
I like to add some freshly squeezed lemon juice for a slight tang in pakoras. If you want, you can either skip it or replace it with some amchur powder.
You can also customize the batter by adding the spices of your choice.
If you prefer, you can also boil corn. I prefer to use steamed corn kernels because that way you can keep all the nutrients. If you are planning to boil corn then I would suggest you boil them with ears. That way you will save some time.
My corn kernels were soft, so it was easy for me to slice them up raw. But if your corns are not so soft and milky then you can steam them before slicing. 
I had under-steamed the corn kernels. They were soft but not too squashy. If you want more delicate texture of corn, you can also overcook them by steaming for some more time.
One ear of corn equals approximately 1⁄2 cup cut corn, so keep this in mind when using fresh corn for recipes. I needed about 1 1⁄2 cups of corn, so I sliced the kernels off of about three ears.
Squeeze up steamed corn well to squeeze out excess water. So, keep smashing the corn while making the batter to make sure there is no moisture present in corn.  
I did not add any herbs to my pakoras. If you like, you can add some freshly chopped coriander or mint leaves to the batter.