Punjabi Chole Bhature | Chana Bhatura is one of the tempting and flavorful dishes from Punjabi Cuisine. The combination of 'Chickpea Curry' and 'Fried Flatbreads' is known as 'Chole Bhature'.

Hello guys!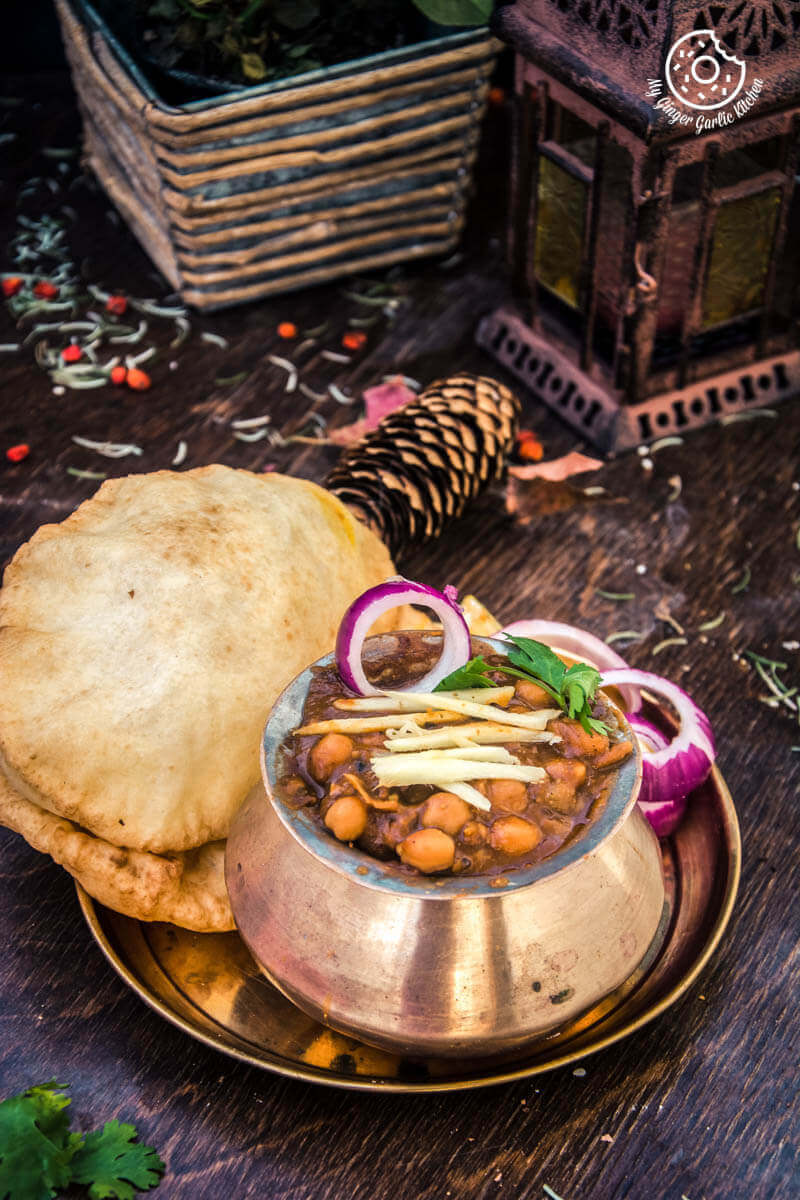 How's this week treating you so far? Mine is treating me in a special way. Because I am still down with that nasty cough and headache. And I so wish that I don't have to write that flu thing again when I post my next recipe. I am letting the virus do its job and I am doing mine by keeping myself relaxed and hydrated throughout the day. This time I am missing my mom so badly. I don't know why I start to miss my mom whenever I get sick. I just want to lie down in my mom's lap and do nothing. Mom's lap is the best remedy for any kind of sickness.
And when I was missing my mom then I found this recipe of 'chole bhature' in my 'recipes-for-blog' folder. And before could realize anything, my hands were on the keyboard and I started writing this post.
Chole Bhature aka Chana Bhatura is a very famous Punjabi dish. Every single thought about this dish takes me to the nostalgic city through the memory lane. Chola Bhatura is from Punjab, and I never realized this until I was around 12 years because my mom used to make this often on Sundays for breakfast and sometimes for lunch. The menu always depended upon whether she had prepared the dough early in the morning or not. It was to be breakfast or lunch, this also depended on the weather conditions. If the weather was warm then the dough was ready in 2 hours and if not, then had to wait for few hours.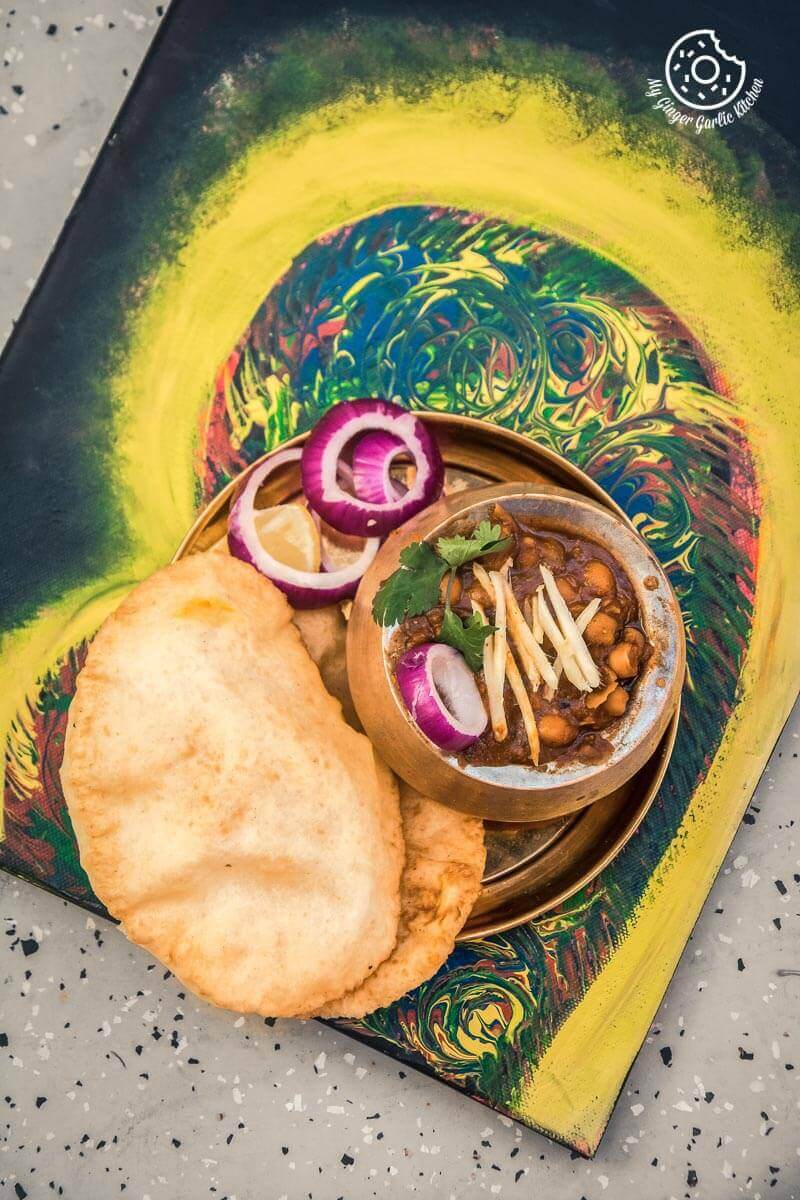 I don't know about my sister or brother if they ever got that spark whenever my Mom told in the night that she will make chole bhature the next day. And whenever I heard that from my Mom, I followed my mom to the kitchen, and watched her soaking the chickpeas, just to make sure that the next day is D-day. 😉
Then the next day morning, I used to watch her making the dough and asking her all the time, "Is the dough ready now?" And most of the times the answer was 'no' from my mom's side.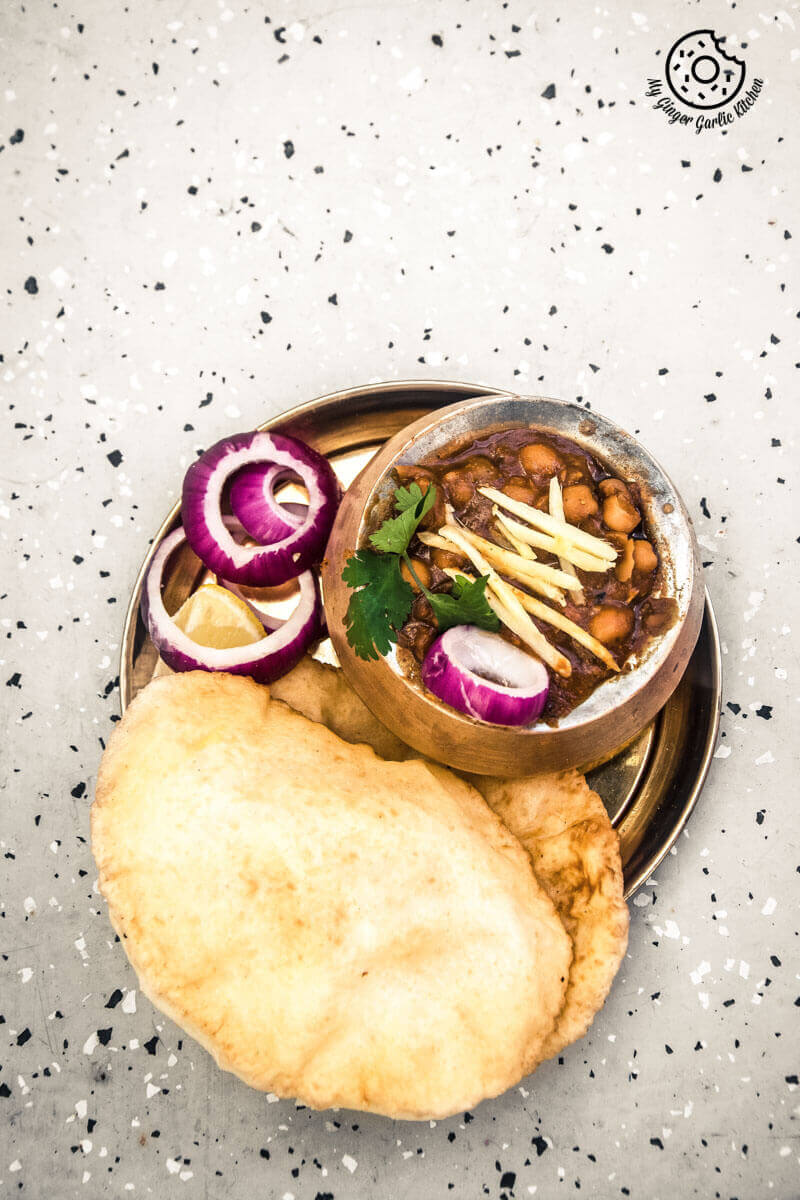 I feel so nostalgic when Adoria does the same. She gets so thrilled when I say that I am making pizza dough. I don't make chole bhature often because the flatbreads are fried. But I often make the pizza and I guess the word 'pizza' gives the same kind of spark to Adoria. She always tries to stand beside me to watch the process when I prepare the dough and let it sit. The resting time is the toughest for her as well. She keeps asking the same questions: "Mommy, is the dough ready now? When can we make pizza? I am so hungry." (She is always hungry for a slice of pizza 😉 )
So Adoria asking about the dough all times reminds me of mini me. Childhood days are the best, and those timeless memories are so precious.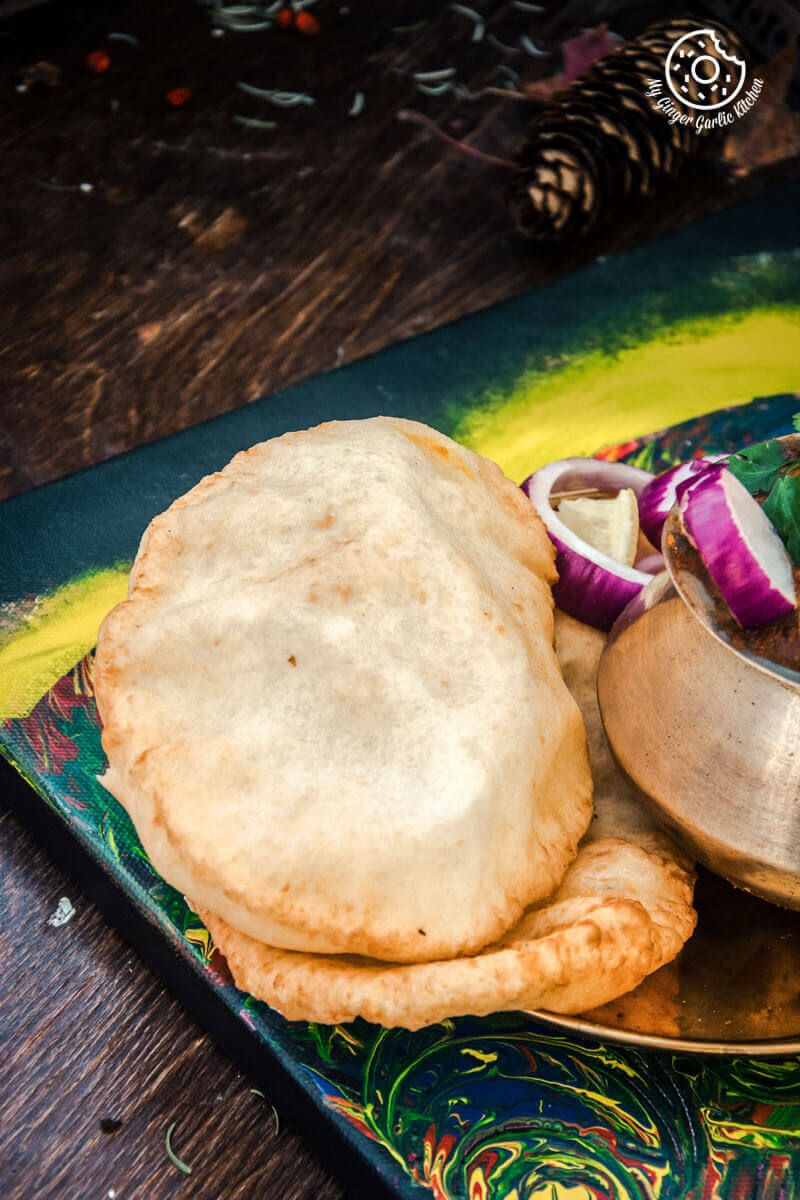 Chole Bhature is one of the tempting and flavorful dishes from Punjabi Cuisine.
This dish is one of the most eaten breakfast/snack in the Northern part of India. It can be also served as a breakfast as well as lunch or dinner. This is one of such dishes which you can find almost everywhere in India. Be it a restaurant, street shops, or roadside eateries (dhaba), chola bhatura would be there.'Chole Bhature' is a hindi phrase, and in that 'Chole' aka 'Chana' is a spicy and tangy chickpea curry. The fried flatbreads are called bhature/bhatura. The combination of 'Chickpea Curry' and 'Fried Flatbreads' is known as 'Chole Bhature'.
I prefer to make them for 2 reasons:
Making them at home is super easy and healthier too.
I don't find any local eatery here, where I find 'Chole Bhature'.
And writing the description about this dish is making me drool. So let's get started before I drool over the laptop.

 Watch the Punjabi Chole Bhature video below (please wait for a couple of seconds for loading).

Punjabi Chole Bhature | Chana Bhatura
Punjabi Chole Bhature | Chana Bhatura is one of the tempting and flavorful dishes from Punjabi Cuisine. The combination of 'Chickpea Curry' and 'Fried Flatbreads' is known as 'Chole Bhature'.
Ingredients
For Chole/chickpeas Curry:
Chickpeas/kabuli Chana, Soaked Overnight - 1 Cup (You Can This Substitute With Canned Chickpeas)
Garlic Cloves, Sliced - 2 Tbsp
Tea Bags - 2 Or 2 Tbsp Tea Tied In A Muslin Cloth
Ginger, Julienned - 1 Tbsp + More For Garnishing
Green Chili, Sliced - 4-5 (Add Less If You Are Adding Red Chili Powder)
Red Onion, Chopped - 1 Medium
Dried Mango Powder/Amchur - 1 Tsp
Salt To Taste
Pomegranate Seeds/Aananardana - 1 Tsp
Tomato Puree - ¾ Cup
Turmeric Powder/Haldi Powder- ¼ Tsp
Coriander Powder/Dhania Powder - 1 Tbsp
Chana Masala - 2 Tbsp (I Have Used Mdh Chana Masala)
Oil - 2 Tbsp
Cumin Seeds - 1 Tsp
Whole Spices:
Bay Leaf/tej Patta
Cinnamon Stick/dalchini - 1 Stick
Cloves/laung - 2-3
Star Anise/chakra Phool - 1
Black Cardamom Pods/badi Elaichi - 2
½ Tsp Cumin Seeds (Jeera)
For The Bhature:
All-Purpose Flour/maida) - 1½ Cup
Semolina/suji - ½ Cup
Baking Powder - 1½ Tsp
Sugar - 2 Tsp
Salt To Taste
Oil - 2-3 Tbsp
Natural Yogurt - ½ Cup
Warm Water As Needed
Oil For Deep-Frying
For Serving:
Onions
Lemon Wedges
Fresh Coriander Leaves
Pickle
Instructions
For The Chole:
Pressure cook the Kabuli chana with the tea bags, water, salt, garlic cloves and whole spices for 4 whistles on high heat.
Turn the heat to medium and pressure cook for about 15 minutes or until they are soft.
Let the pressure come off. Discard the spices and tea bags and keep aside. Discard the tea bag.
Heat 2 tbsp oil in a pan, add the cumin seeds and turmeric powder.
When the seeds crackle, add ginger and sauté for a minute.
Add onions and sauté till the onion is golden brown.
Add amchur and anardana and cook for 2 minutes.
Add tomato puree and mix well.
Add coriander powder, chana masala, and green chilies.
Mix well and cook for 5-6 minutes.
Add tomato masala to the cooked chickpeas chana and mix well. Add some water if needed.
Cook covered over low heat for 7-8 minutes. Turn off the heat and set aside.
For The Bhature:
Combine the flour, semolina, oil, salt, sugar and baking powder and mix well.
Add yogurt and mix well.
Knead into a firm dough without using warm water.
Apply little oil and cover it with a muslin cloth.
Leave it for 2-3 hours.
Divide it into equal portions.
Roll out into an oval shape.
Heat oil in a pan.
Deep fry till the bhaturas puff up and both sides are slightly golden brown in color. (Pressing the center lightly with a large frying spoon would help bhatura to puff up.)
For Serving:
Garnish chole with ginger slices, coriander, and onions.
Serve bhature hot with the prepared chole, onions, pickle and lemon wedges.

If you enjoyed this recipe, then please further help me by FOLLOWING me on:
Instagram // Facebook // Pinterest // Twitter // Google+ // YouTube
If you cook this dish, be sure to tag your photo with this hashtag: #mggk
Happy Cooking and Keep Sharing! 🙂