Tandoori Paneer Tikka Recipe – 4 Ways ( in The Oven, Tawa, Grill)
---
Learn to make Tandoori Paneer Tikka Recipe – 4 Ways ( in The Oven, Tawa, Grill) with a simple recipe video tutorial. Tandoori Paneer Tikka is the perfect starter/appetizer and even a great dinner for tandoori tikka lovers.
In India, a party without tandoori starters is not a party at all.  Be it a get-together, barbeque, or dinner parties, tandoori dishes are a must.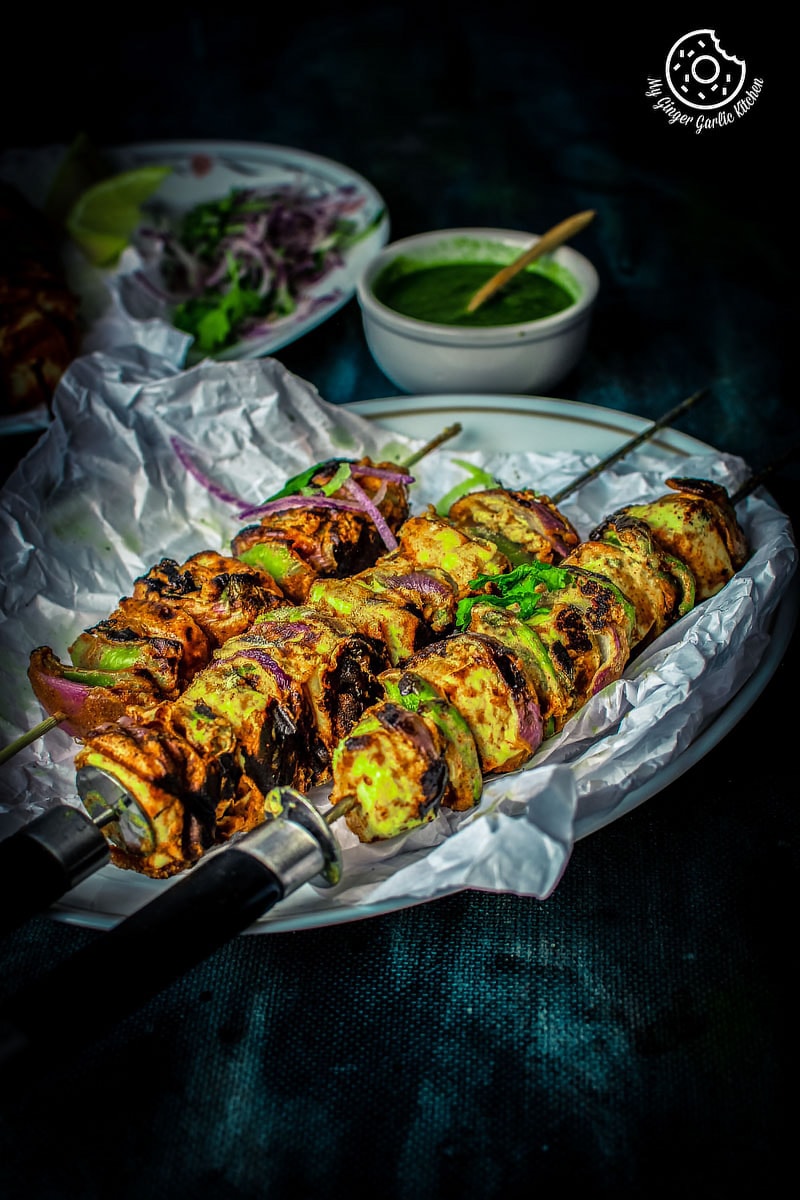 This is a great starter option whether you're feeding to a crowd or simply feeding your family. Your guests will surely relish the real flavors of this paneer tikka utterly, so be ready to hear some wows!
Best recipe for making EASY PANEER TIKKA:
When we talk about starters or appetizers, then one of the first dishes which comes to everyone's mind is tikka. Here, Tandoori Paneer Tikka is especially favored, because it has that ideal mingle of spices. The smoky flavor of the marinated and tandoor-cooked paneer is simply jaw-dropping. Hard to describe in words, one has to taste it to live that inexpressible feeling.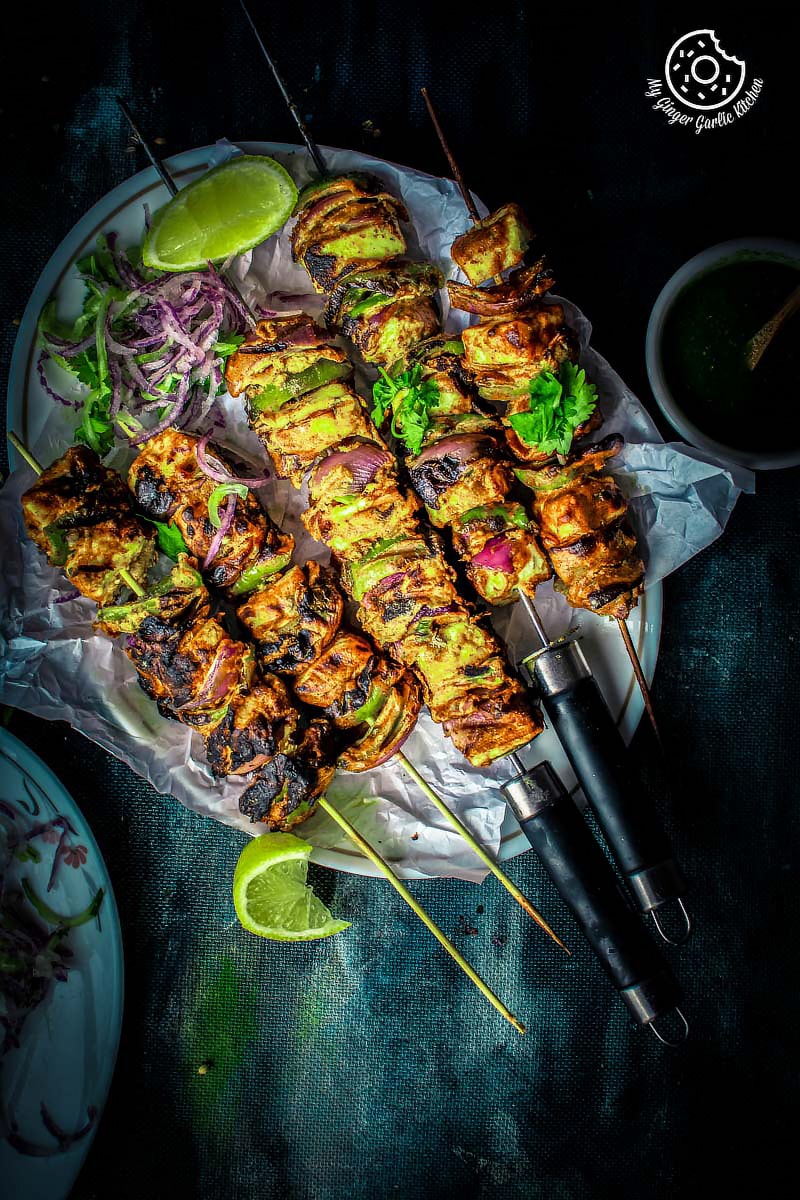 Best Restaurant Style Tandoori Paneer Tikka:
The recipe I am sharing today is the best Tandoori Paneer Tikka you will ever cook at home.  It has the same taste you get at your favorite restaurant. And the good thing is that this recipe can easily be replicated at home without a tandoor.
Yes, it is possible to have that restaurant style taste in Tandoori Tikka with the simple kitchen gadgets you have such as, tawa/pan, home oven, panini/grilled sandwich maker, or just with a simple disposable grill.
So in short, roasting a tikka to the charred perfection is very much possible at home.
I love the homemade tandoori paneer tikka because it is so easy to prepare, and tastes so incredible just like you get at the restaurants.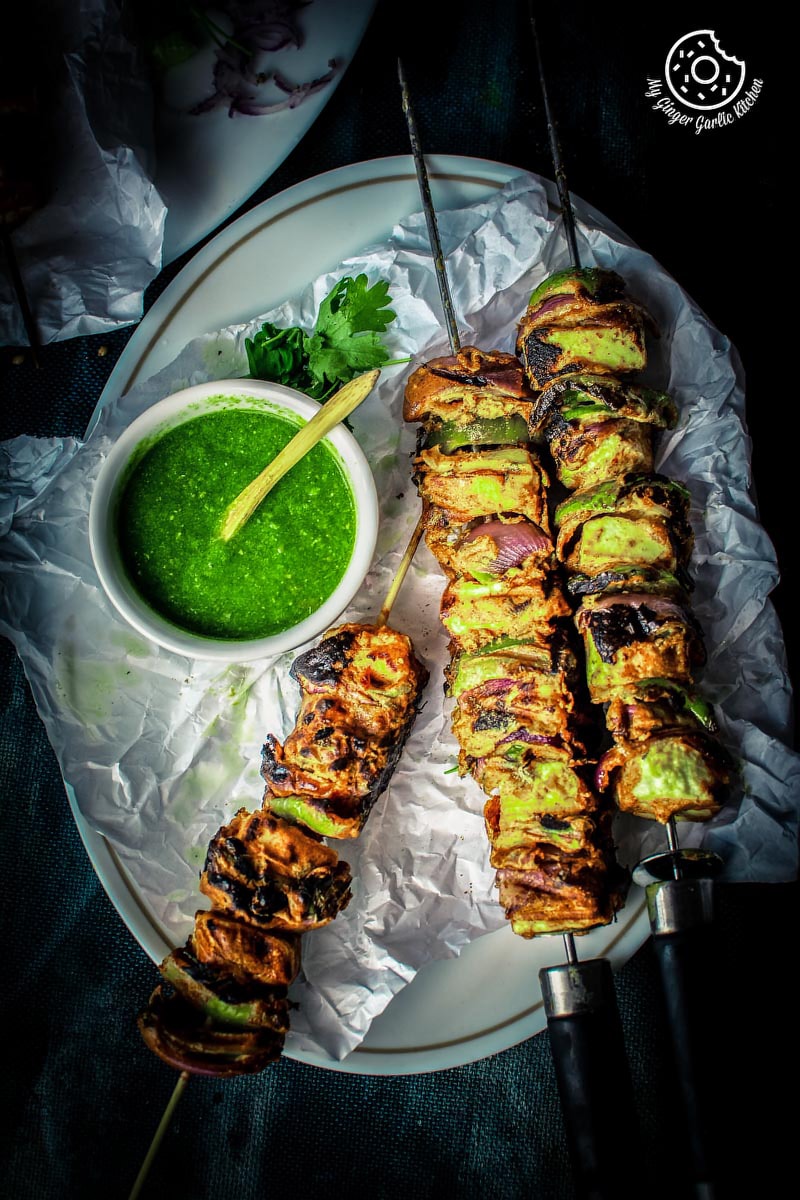 What is paneer tikka?
Many of you might wonder about 'what is paneer tikka'? This post explains everything about paneer tikka such as how it is different from paneer tikka masala, many possible ways of grilling it, etc.
This is one the most favored menu items at the Indian restaurants worldwide. This is one of such dishes which you usually find at any Indian restaurant, small or big. Moreover, this dish is mostly the star-of-the-menu dish. Thus this will be at the top of the menu list.
Paneer Tikka is an Indian appetizer where paneer chunks are marinated with fiery yogurt mixture and then it is authentically grilled in a Tandoor, which is a name for the traditional North Indian clay oven.
Paneer Tikka is a great vegetarian alternative to the non-vegetarian dishes such as Chicken Tikka, Fish tikka, or any other satay.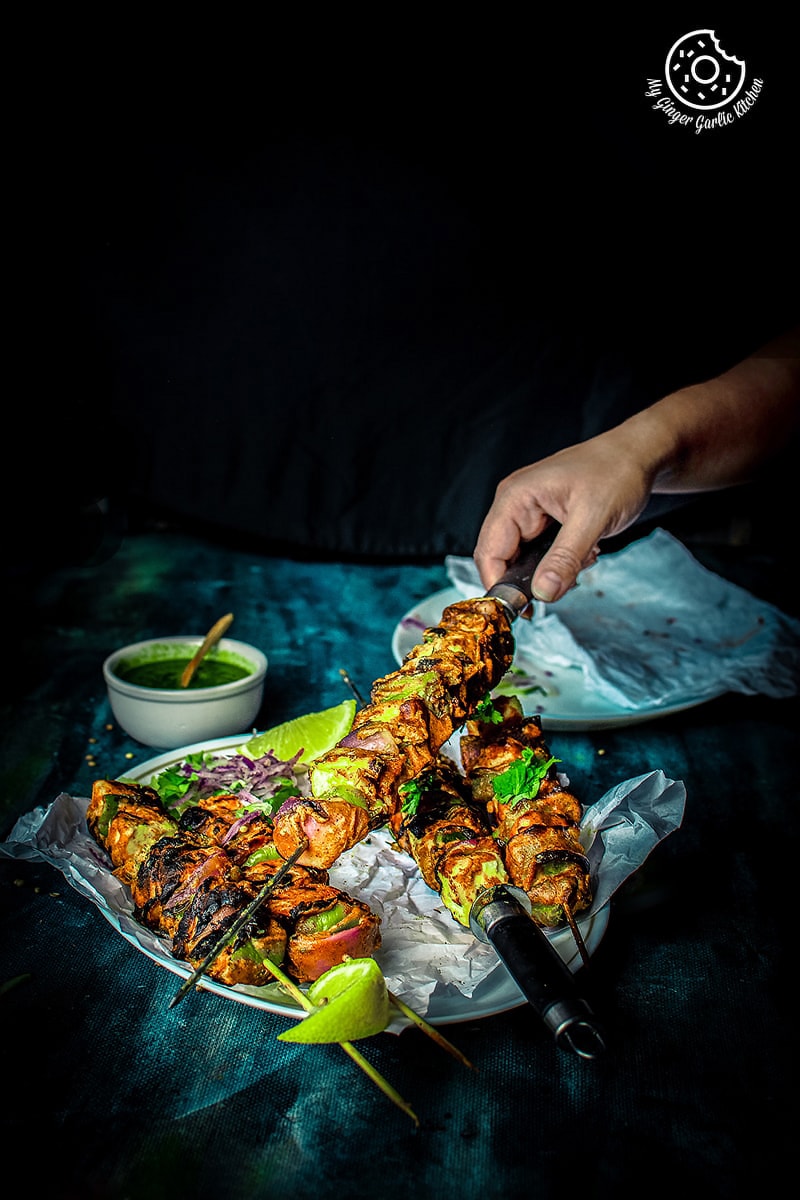 What is Tikka?
Tikka is a dish made with small chunks of meat/vegetables which are first marinated in a spicy yogurt mixture and then roasted in a clay oven.
What is Paneer? What is paneer cheese made of?
Paneer is an Indian version of cottage cheese which is made by only 2 ingredients. You curdle full cream milk with any of the following agents: lemon juice, white vinegar, yogurt or buttermilk. You can make it at home, or you can use the store bought.
How to make paneer?
Here's how to make paneer at home. First, you boil fresh milk.
Add your desired agent, and allow milk to curdle. Drain the whey and rinse with ice cold water. Wrap it in a cheesecloth and put under pressure. Paneer is ready to use. Cut into desired cubes and make your favorite paneer dish. You can find the detailed version of homemade paneer recipe here. 
Where to buy paneer cheese?
In many countries, you can get paneer at your local grocery stores. However, if you don't find paneer in your local store, then you can easily buy it from any of the local Indian grocery stores.
How long paneer can be marinated?
Paneer does not require long marinating time, just 30 minutes is all you need. This marination can also be done the day before, but it has to be refrigerated all the time. Add paneer to the marinade only 30 minutes prior to baking/roasting.

How to serve paneer tikka?
Paneer tikka can be served as a starter or an appetizer. Simply sprinkle some chat masala and drizzle some lemon juice. Serve it hot along with green coriander chutney, or mint coriander chutney along with some sliced onions. The flavourful chutney and the crunch of onion would levitate the taste and flavor.
What is the difference between PANEER TIKKA and PANEER TIKKA MASALA?
Paneer Tikka is a dry dish which is served as an appetizer. Paneer tikka masala is a gravy dish made with paneer tikka. Paneer tikka masala is usually served with naan or rice.
TANDOORI PANEER TIKKA – 4 different super – easy ways of making:
Cooking tandoori paneer tikka in the oven it still is a serious thing for many people in India. They are like helloooo!! Tandoori Paneer Tikka at home without a tandoor? In the home Oven?? In a Pan? In a Panini maker? Is it even possible?
Yes, people are so sensitive about Paneer dishes, especially the tandoori ones. For many folks, it has to be just perfect the way they get in the restaurants. Many of my friends have been asking about this recipe for a long time, so here I am with 4 tikka roasting options for those who want a foolproof recipe.
I know no one wants to mess up a tikka dish, that's is why this fail-proof recipe is for you. And trust me, these simple hacks can really make your cooking experience way easier. 🙂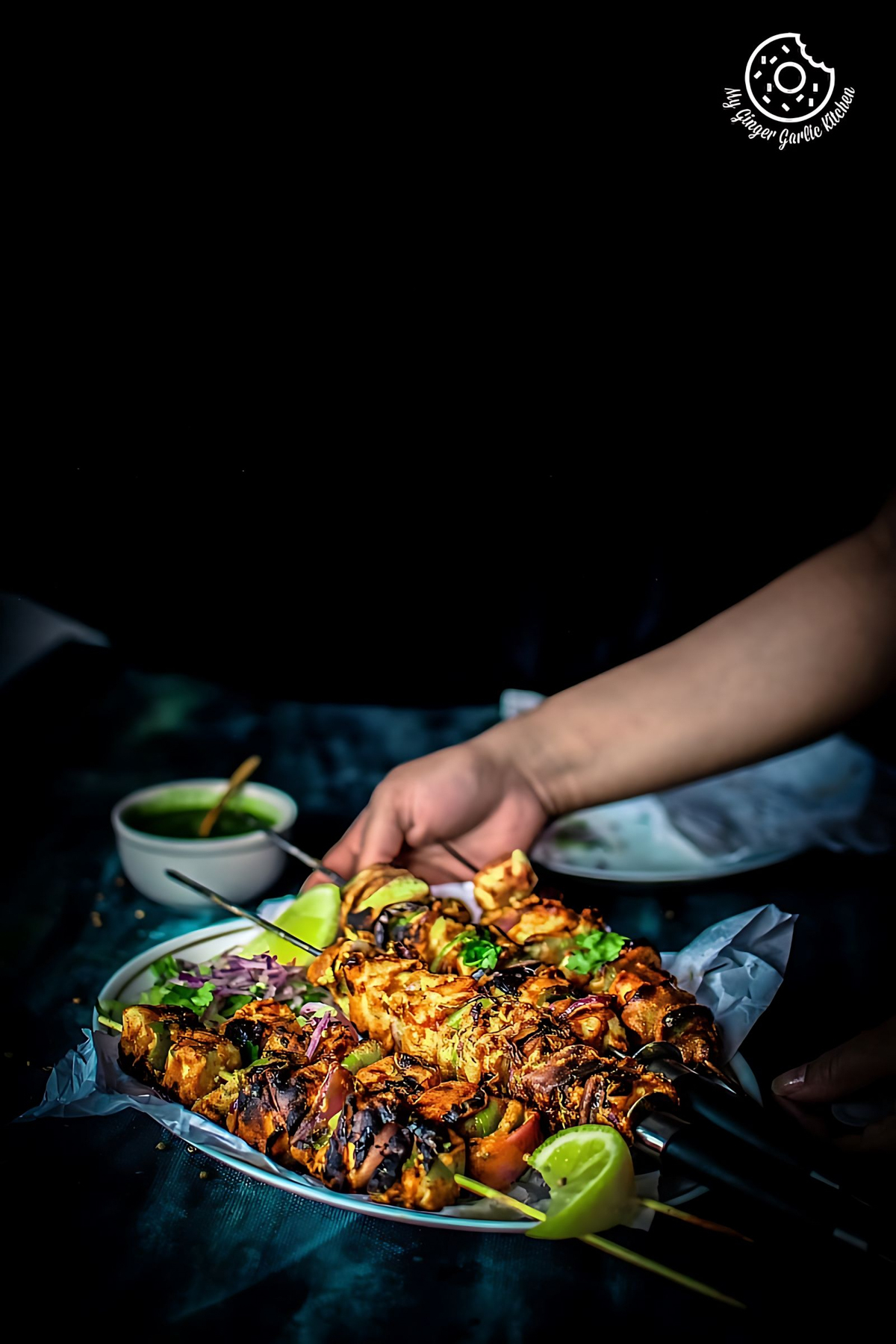 What is the ideal texture and taste of paneer tikka?
In a perfect paneer tikka dish, paneer cubes have to be little crispy and charred on the outer surface. This charring gives that exotic smokiness in the dish. From inside it has to be silky, light, soft, and melt-in-mouth. Each and every piece of tikka has to be thoroughly marinated so that you get all the flavors well.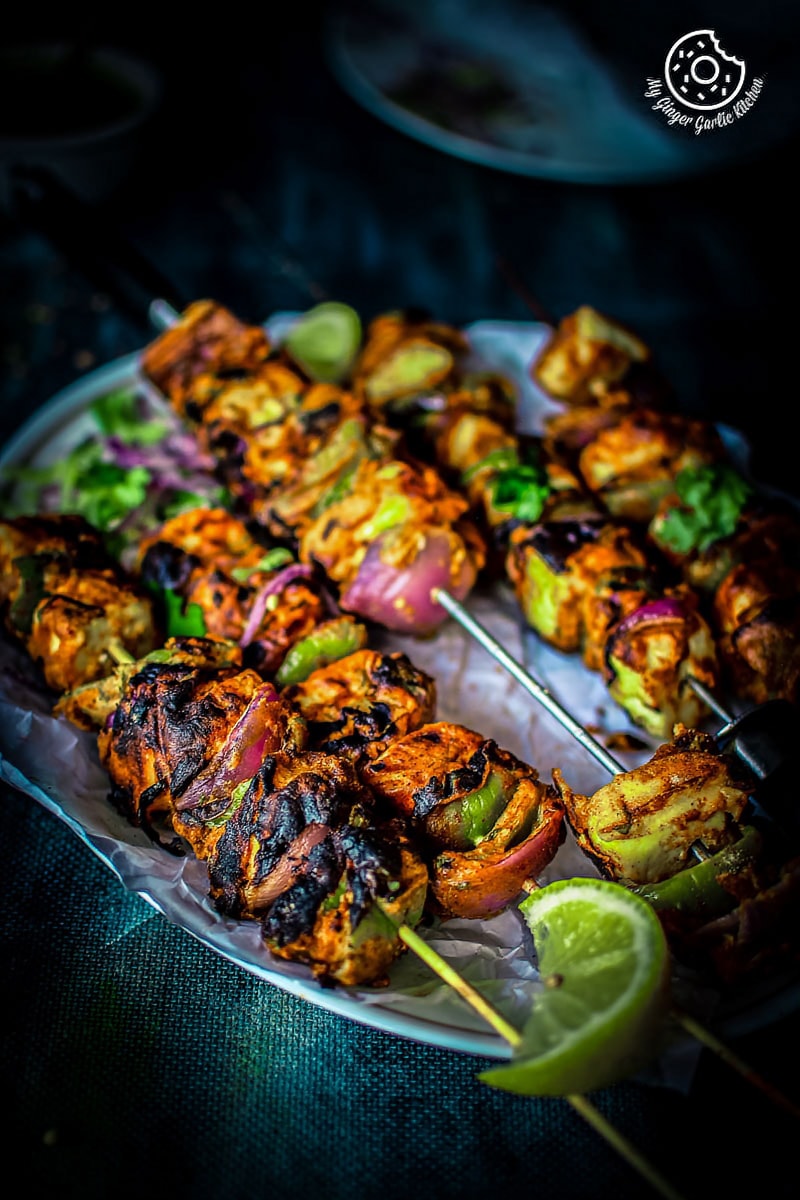 How to marinate paneer for bbq?
First, you make the marinade by combining the thick curd or hung curd as a tenderizer (full cream Greek or Turkish yogurt would work too), ginger-garlic paste, red chili powder, black salt, garam masala, pepper powder, mustard oil,  chaat masala, and gram flour.
I have added gram flour/ besan to the marinade because it helps in coating the paneer well. Beat it until smooth. Now add Kasuri methi, lemon juice to the mixture and mix well again. Add paneer and mix gently to coat the paneer well with the marinade and refrigerate for 30 minutes. Skewer it. Your marinated paneer is ready for grilling.
How to make Tandoori Paneer Tikka at home?
Cut paneer into cubes.
Cut onion into petals.
Dice capsicum.
Prepare marinade
Marinate the paneer and vegetables.
Thread paneer and veggies in a skewer.
Roast/Grill (any of the following 4 ways will work).
In a pan/tawa.
Bake it in an oven.
Grill it in panini or sandwich maker.
Grill it in an open grill.
Isn't it fairly simple and quick?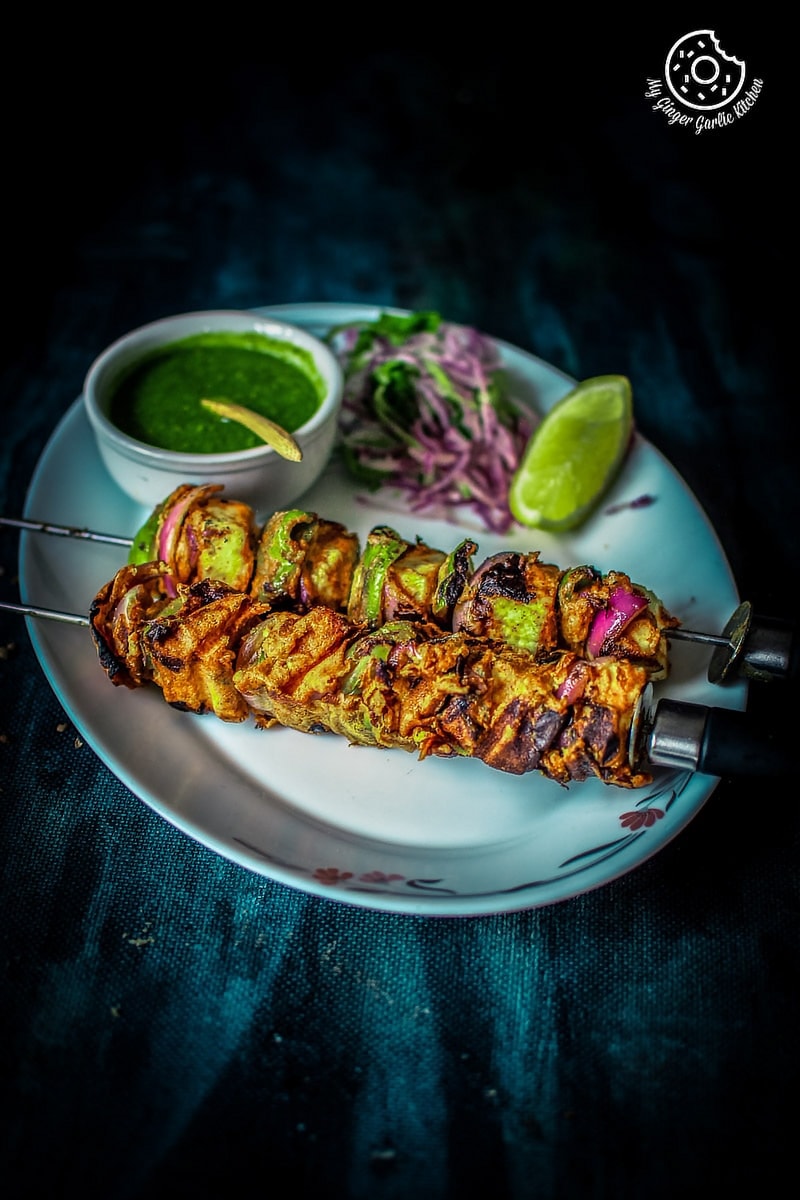 How to cook paneer tikka?
Paneer tikka can be cooked on the stove top using a tawa or grill pan. It can also be grilled using an open grill, or panini maker. It can also be baked and then broiled in an oven.
How to make paneer tikka in a microwave? Can I make Paneer Tikka in Microwave oven?
Yes, you can. Marinade the paneer. Thread onto a wooden skewer. Brush all the sides with some oil. Arrange it on a greased microwavable plate. Microwave uncovered on high heat for 2-3 minutes. Flip and microwave again on high for 2-3 minutes and serve.
Tandoori Paneer Tikka On Tawa/ Pan:
This easy and quick Tandoori Paneer Tikka Tandoori Paneer Tikka Recipe – 4 Ways ( in The Oven, Tawa, Grill) shows, how you can smartly dazzle your guests by making this best-loved party starter at home — it can quickly and simply be made using a simple non-stick tava/tawa, or a grill pan. And that too, with the same charred perfection you get in the tandoori tikka.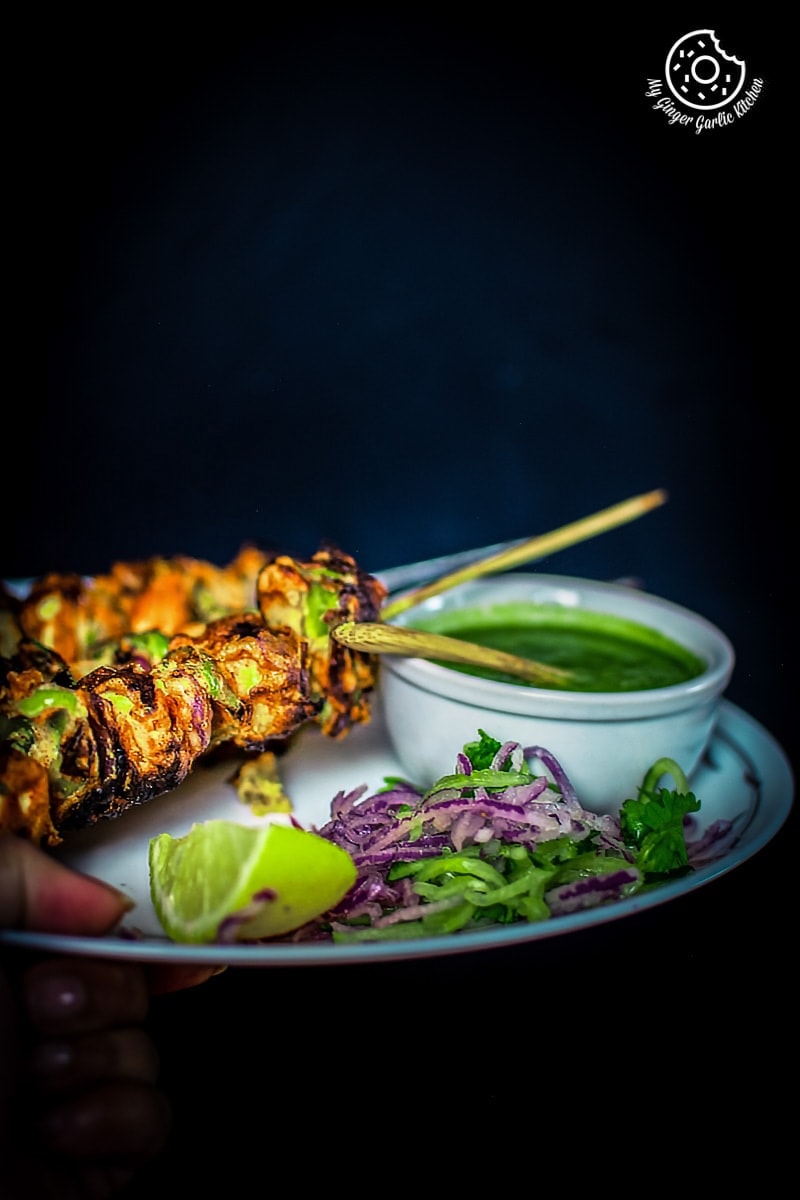 Tandoori Paneer Tikka Recipe – 4 Ways ( in The Oven, Tawa, Grill)  [RECIPE]
Tandoori Paneer Tikka is the perfect starter/appetizer and even a great dinner for tandoori tikka lovers.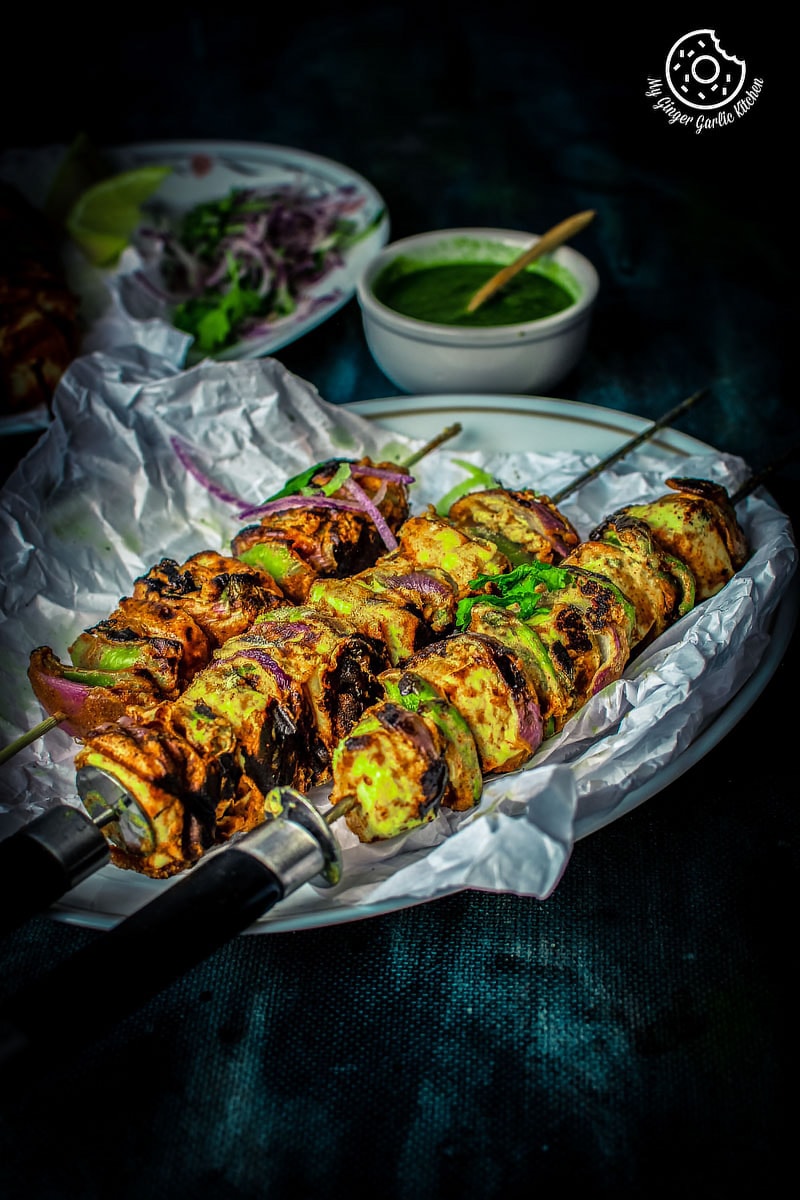 ♥ ♥ ♥ ♥ ♥
(Rating: 5 from 1 reviews)
INGREDIENTS
Main Ingredients:
• 400g Paneer
• 1 Onion, Peeled
• 2 Capsicum
Marinade For Paneer Tikka:
• 1/2 Cup Hung Curd
• 1 Tbsp Ginger-Garlic Paste
• 2 Tsp Red Chilli Powder (Preferably Use Kashmiri Red Chili Powder, It Gives Nice Color And It's Not Too Spicy)
• 1/2 Tsp Chaat Masala Powder
• 1 Tsp Garam Masala Powder
• 1/4 Tsp Black Salt
• 1/4 Tsp Turmeric Powder
• 1 Tsp Cumin Powder
• 1/4 Tsp Black Pepper Powder
• Salt To Taste
• 1 Tbsp Mustard Oil (You Can Use Any Other Oil You Like)
• 2 Tbsp Kasuri Methi
• 1 Tsp Lemon Juice
For Serving:
• Green Chutney
• Chaat Masala
• Lemon Wedges
• Onion Slices
---
| 🕐 Prep time | 🕐 Cook time | 🕐 Total time |
| --- | --- | --- |
| | | |
| ☶ Category | ♨ Cuisine | ☺ Serves |
| Starter | Indian | 5 Skewers |
---
Nutrition Info: 225 calories // Servings: 1 skewer
INSTRUCTIONS:
Cutting Veggies:
1. Cut paneer into 1-inch cubes, set aside.
2. Slice the ends off your capsicums, then deseed and dice them into 1-inch quarters. Set Aside.
3. Slice the ends off your onions, then cut them in the quarter.
4. Pull out each layer, and you will have the onion petals. Set aside.
For Making Marinade:
1. In a bowl mixing bowl add the hung curd, red chili powder, chaat masala, black salt, garam masala powder, black pepper powder, cumin powder, turmeric powder, salt, ginger garlic paste, and mustard oil.
2. Mix well to combine.
3. Add the kasuri methi, lemon juice and mix well again.
4. Add paneer cubes, onion petals and diced capsicum to it.
5. Toss the paneer and veggies gently until coated well.
6. Refrigerate for 30 minutes to marinate. You can marinate it for up to 1-2 hours.
7. Preheat a grill for high heat.
8. Lightly oil the grill grate.
9. Thread paneer, onions, capsicum alternating onto the skewers and discard marinade. (If using wooden skewers, then soak them into the water for at least 2 hours.)
#1 Roasting On Tawa/ Pan:
1. Lightly brush a tawa/grilling with oil.
2. Once hot, place the tikka skewers and grill until juices run clear, about 3-4 minutes on each side.
3. For the char perfection, place roasted tikka on a papad roaster, and let it cook for 1 minute on each side. (You can also put it over direct flame for 30 seconds on each side.)
#2 Grilling In An Oven:
1. Pre-heat oven to 220°C/ 430° F 10 minutes.
2. Arrange skewers on a baking pan.
3. Bake for 15 minutes.
4. After 15 minutes, take out the skewer.
5. Turn on the broiler settings on high.
6. Broil it on high for 1-2 minutes or till the paneer has a light char on the surface.
7. Carefully remove the roasting pan with the skewers out of the oven.
#3 Grilling In A Panini/ Sandwich Maker:
< 1. Brush the grill plates lightly with oil.
2. Once hot, place the tikka skewers and grill until juices run clear, or they are perfectly charred on the surface. It would take about 3-4 minutes on each side.
#4 Grilling on a disposable grill:
1. Brush skewer with oil.
2. Then grill the tikkas till char and cooked through.
Serving: 1. Arrange skewers on a serving platter.
2. Sprinkle with some chaat masala and squeeze with a splash of lemon juice.
3. Serve immediately with sliced onions and green chutney.
---
NOTES:
1. We need solid paneer cubes for making tikkas, so always use the firm paneer, which is not crumbly.
2. You can swap Kashmiri chili Powder with paprika.
3. You can substitute hung curd with full cream Turkish yogurt or Greek yogurt.
4. Always soak wooden skewers in water for at least 2 hours prior to use.
---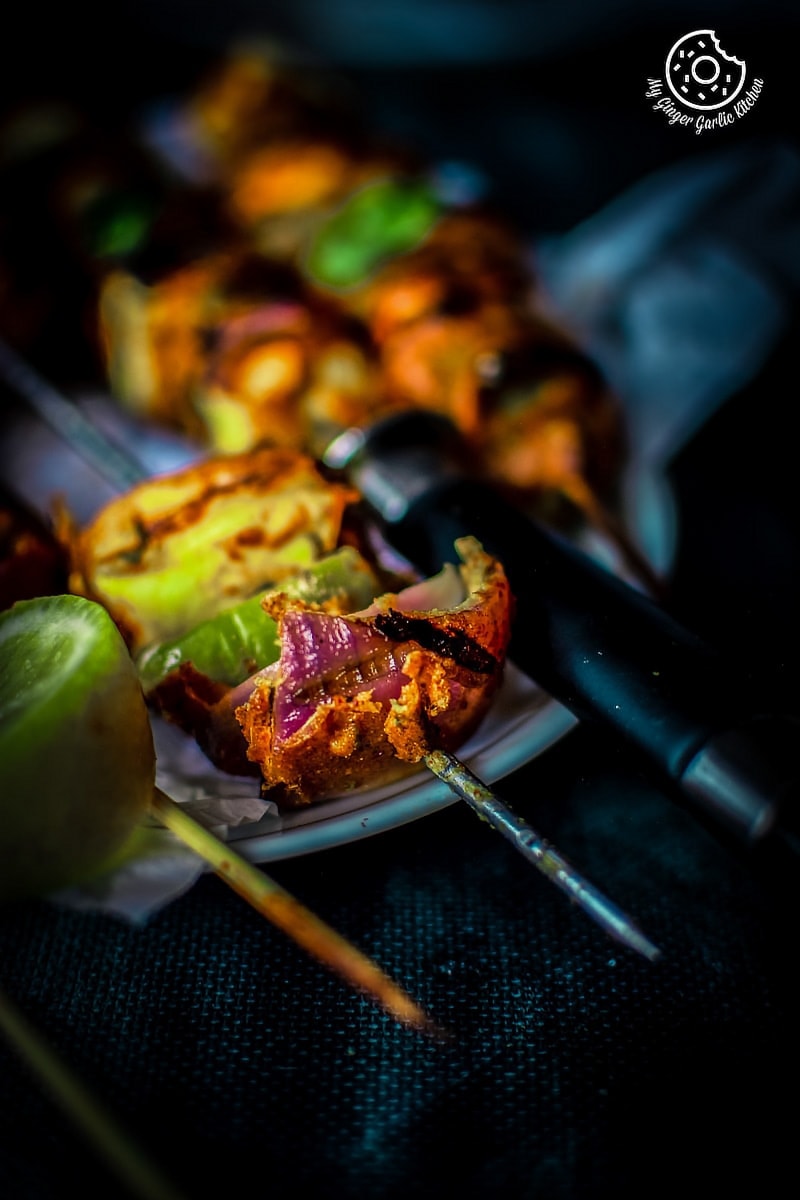 You may also like Other MGGK Paneer Recipes:
---