Palak Paneer is one of the most popular and scrumptious North Indian curries. In this recipe, Paneer cubes are cooked in silky smooth spicy spinach puree. This palak paneer curry is so perfect for an easy weekend or weeknight dinner.
Detailed Palak Paneer recipe with step by step video tutorial.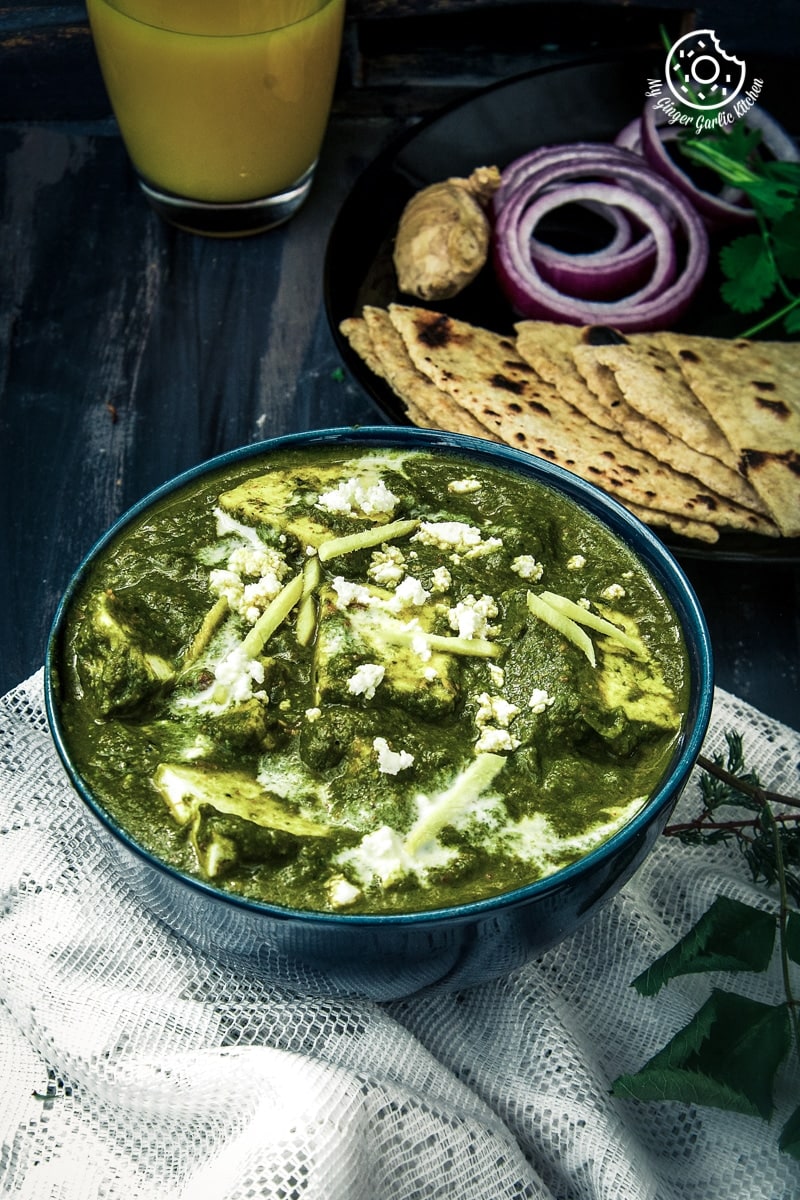 The only way to lift-up the mood during the breezy and dark climate is everything curry in my lexicon. And today I have decided to share one of the most common and popular Indian curries which you might have dined at Indian restaurants.
Related: Palak Ki Puri Recipe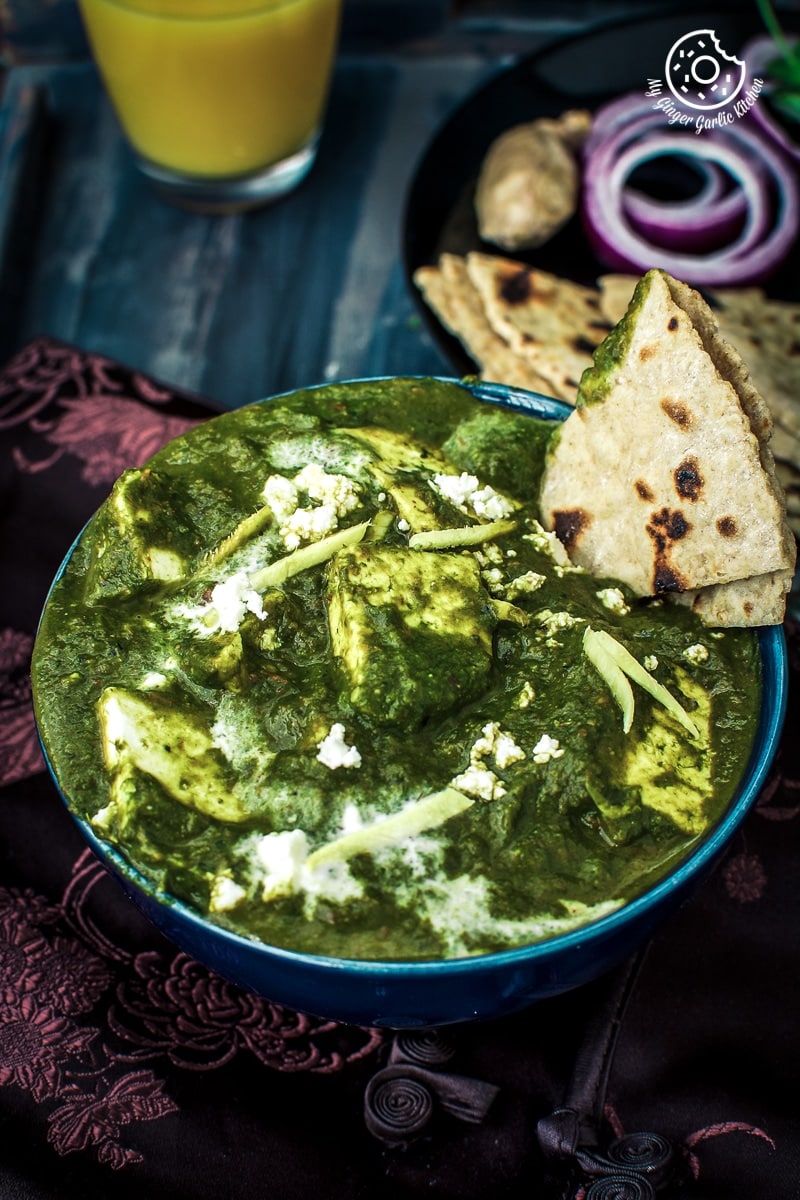 These days I am all-in for traditional and authentic dishes. My reason? It is pretty simple. Lately, I am getting a lot of frequent requests on sharing some particular Indian dishes. My friends and audience want to see my way of making some of the very traditional and authentic Indian recipes which I haven't posted on my blog yet. The good thing is that all of these requested recipes are simple and basic. These are especially the ones which they can get anywhere.
These are the dishes which are being cooked in Indian families for many years. So I was kind of surprised when I got such requests from the natives who know it all.
When they asked, I was like "why do people need these simple and basic recipes? And why are they asking me to share it when they can get it anywhere?" Also, another interesting part is that their requests are not impulsive. They are really genuine because they keep reminding me every once in a while about their requests.
Somehow, it felt so good that they trust my expertise, and so that also meant they love my recipes. And being normal human beings, we all like appreciation. 🙂
Related: Aloo Palak Paratha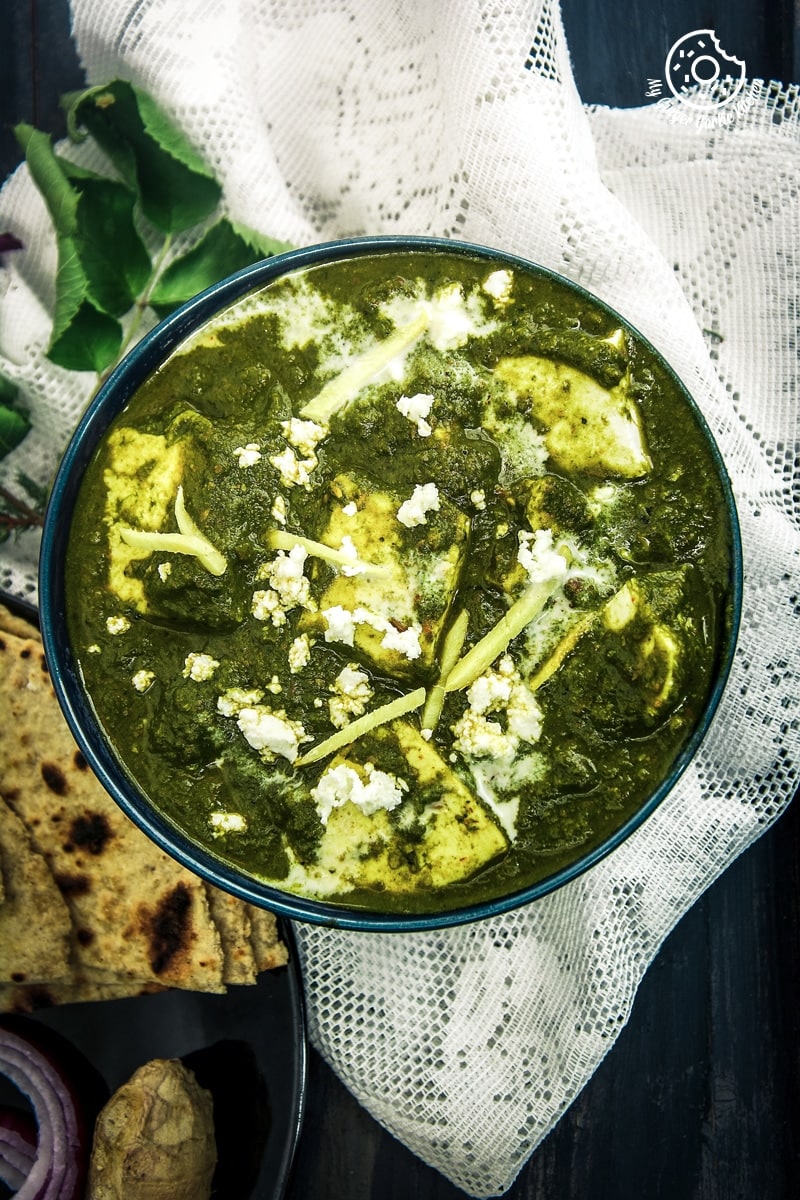 So here is one such recipe on my audience's demand — Palak Paneer aka Spinach Paneer Gravy.
I just can't hide my passion for this Palak Paneer | Spinach Indian Cottage Cheese Gravy recipe. There's just something about all the curry dishes — they would attract you, no matter what your age is. Now in my home, I am not the only one who craves for curries every once in a while. Lately, little 'A' has also started demanding curries and naan.
When I don't make any curry for a week, she would start asking: "Mommy, it's been so many days you did not make any curry and naan."
Me: "I made a curry the last weekend, don't you remember?"
Little A: Yeah, but I want it today again. Can you make it today, please?"
Me: "Okay, I will think about it."
Little A: "Please mommy, please make it."
Me: "Okay, I will make it."
Little A: "Which one are you making?"
And this conversation goes on and on until she gets to eat curry with some naan, paratha or rice.
Related: How to make Oats Paratha Green Paratha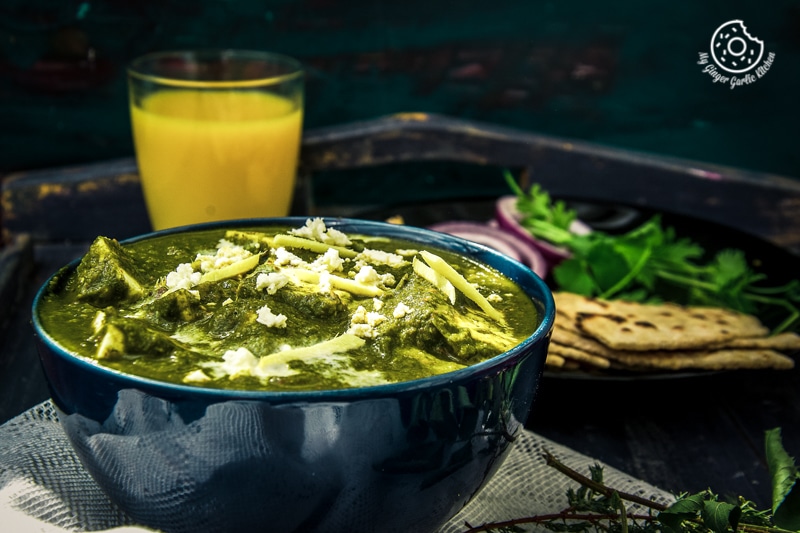 I kinda fancy these tiny demands of her and try to fulfill them whenever I can. It's such a blessing when you know what kind of food your child enjoys with all her heart. And the most satisfying moment for me is when I hear a humming sound while she eats what she loves. That is the moment when it seems like all my efforts were totally worth it. There is definitely a little foodie inside her.
Now you know why I am so thrilled about this curry. I have all the reasons to love it. : )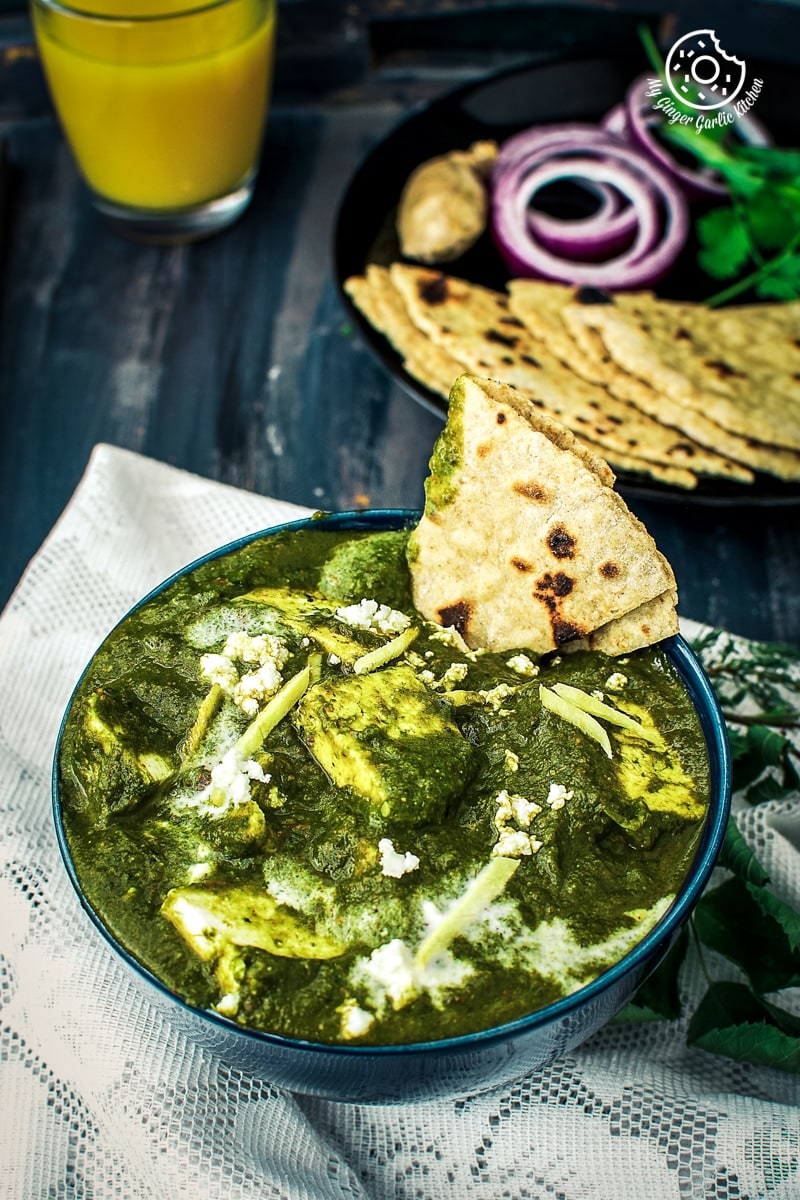 What is Palak Paneer?
Palak Paneer is a popular classic North Indian curry. This is one of the most loved curries by North Indians. This curry is a true classic that everyone can love. And yes, I understand that spinach might be a turnoff for some people. But there's a way out.
As a child, I never liked spinach other than the one presented in the pureed form. And that's why I love this spinach curry because this is so creamy and you don't see any spinach leaves in there. Imagine how healthily nice it is when you include lots of green with lots of cheese.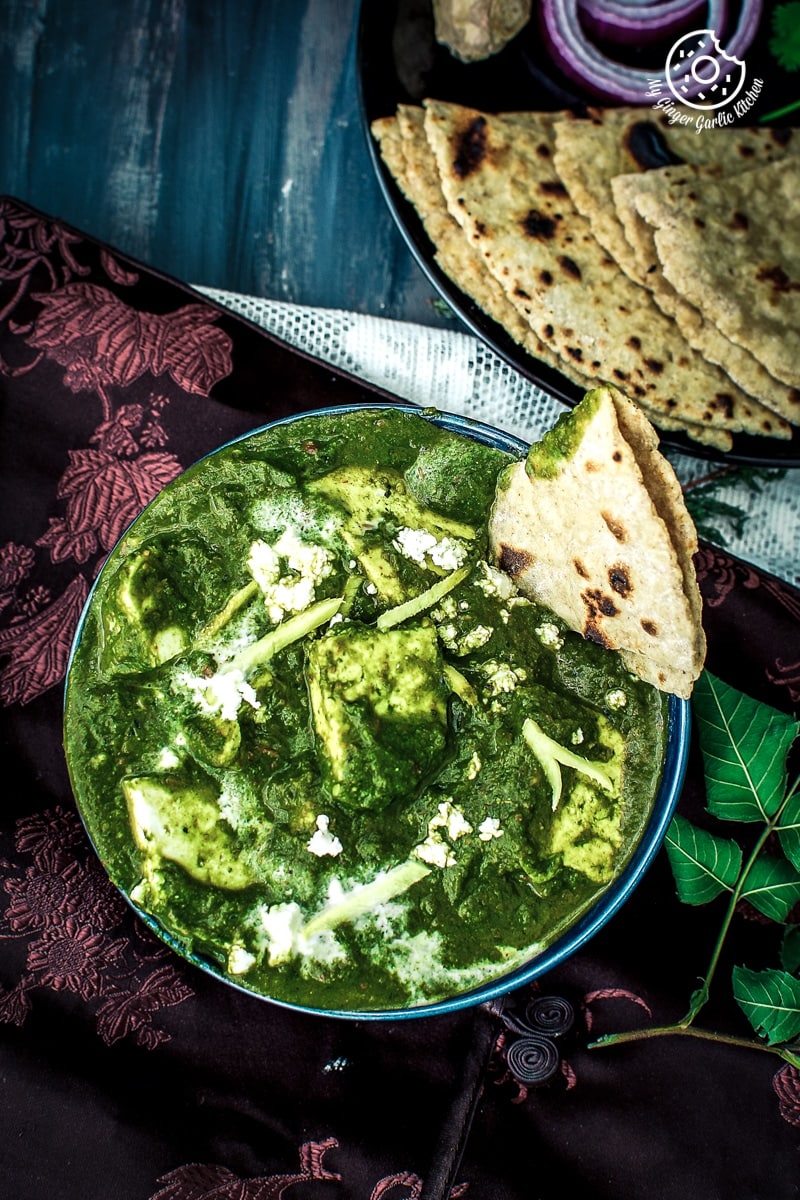 How To Make Best Palak Paneer?
This palak paneer curry is so perfect for an easy weekend or weeknight dinner. This curry is the ultimate comfort food. Making this curry is super quick and it tastes delicious with naan, roti, paratha or with rice.
The curry is made of pureed blanched spinach and paneer (aka Indian cottage cheese). Blanching helps the spinach to retain its green color. I use the remaining water for making roti dough to make sure that there is no loss of nutrients. But if you want to healthify it even more, then I would suggest you to make raw spinach puree by adding a little water.
This simple recipe can be prepared in many different ways. Today I am sharing the way my Mom uses to make palak paneer.
Can I make Vegan Palak Paneer?
Yes, you can surely make this Palak Paneer vegan.
To make this palak paneer vegan, you can simply swap paneer for tofu and milk cream for nut cream or nut milk.
On this website, you can also find some other delicious vegetarian curries which you might interest you.
They are: Jaipuri Aloo Pyaaz Ki Sabzi, Rajasthani Gatta Curry Recipe, Mughlai Navratan Korma,  Restaurant Style Shahi Kaju Curry,  Lehsuni Dum Aloo,  Dhaba Style Malai Kofta Recipe, Restaurant Style Matar Paneer Curry, and Restaurant Style Paneer Do Pyaza.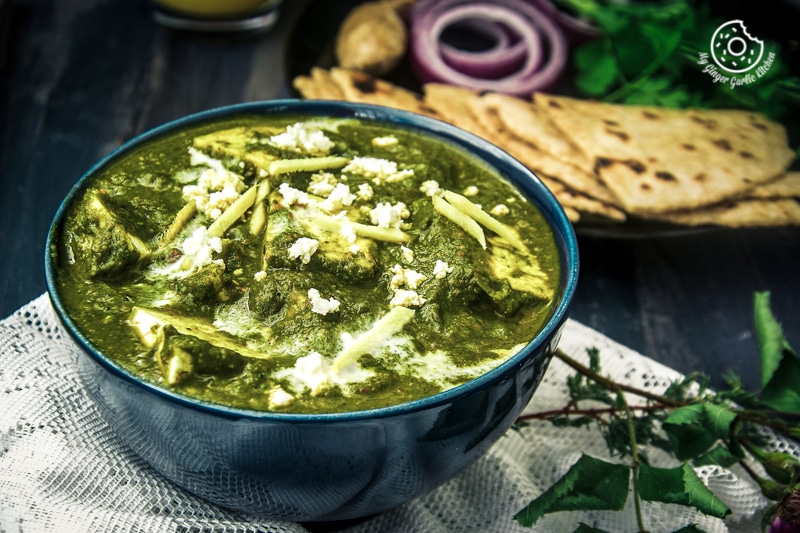 You may also like these other Paneer recipes:
Palak Paneer - Spinach and Indian Cottage Cheese Gravy

[Recipe]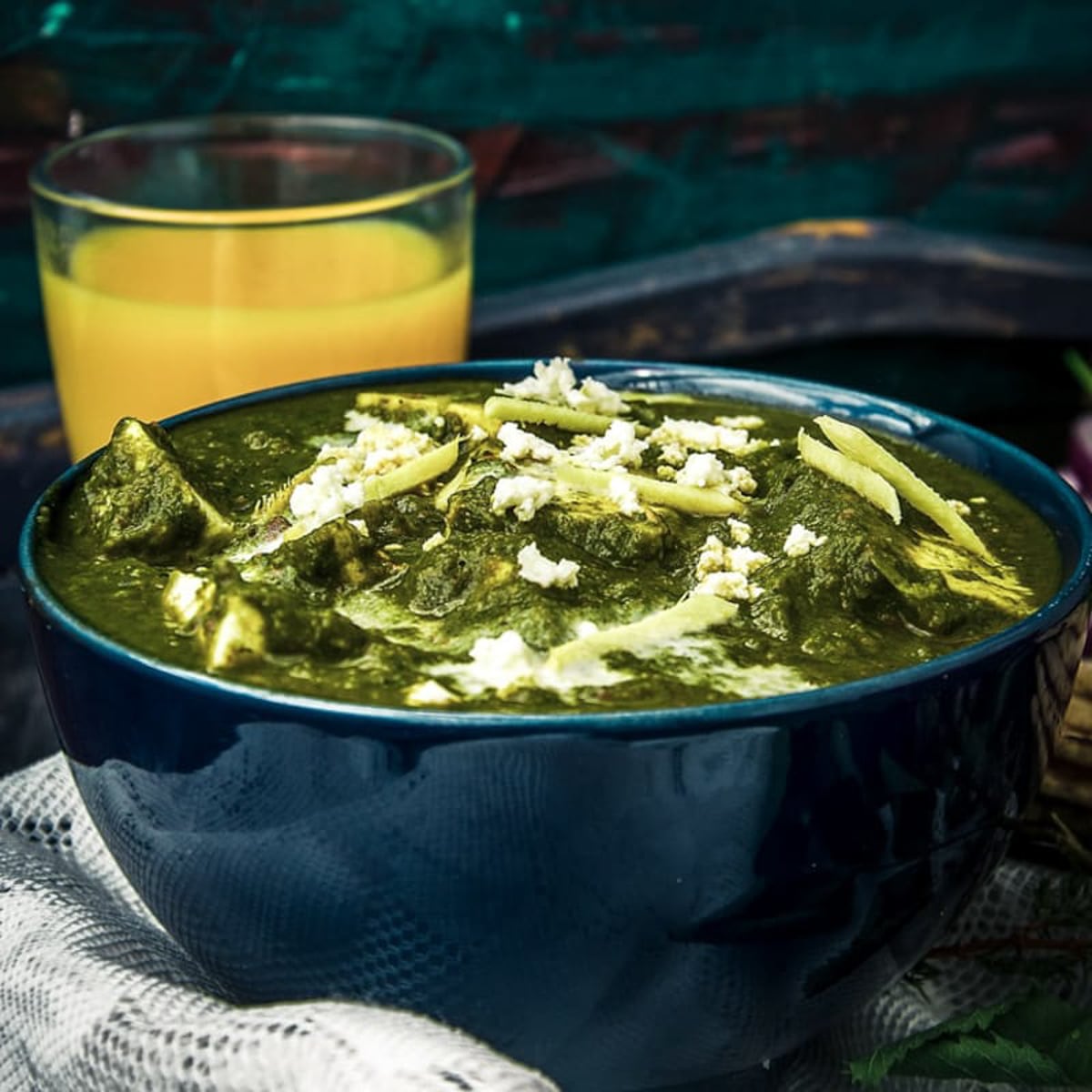 Palak Paneer is one of the most popular Indian curries cooked with spinach and paneer (Indian cottage cheese). Make best palak paneer with this video recipe.
---
★★★★✰
(Rating:
4.4
from
55
reviews)
---
| Prep time 🕐 | Cook time 🕐 | Total time 🕐 |
| --- | --- | --- |
| | | 40 mins |
| Category ☶ | Cuisine ♨ | Serves ☺ |
| Main | Indian | 4-5 |
| Nutrition Info ⊛ | | Serving size ⊚ |
| 295 calories | | 1 serving |
---
INGREDIENTS
For The Palak/Spinach Puree //
350 grams fresh spinach
7-8 ice cubes
2.5 cups water for blanching spinach
2 cups water for ice bath
5 tablespoons spinach stock water, if required
For making onion tomato mixture:
1 tablespoons oil
1 tablespoon cumin seeds
1 fresh chili, chopped (red or green)
2 medium onion, chopped
1 inch piece ginger, peeled and chopped
4-5 cloves garlic, peeled and chopped
4 cashews
2 medium tomatoes, chopped
5 tablespoons spinach stock water, if required
For Palak Paneer Curry:
200 g paneer, cubed into 1/2 inch pieces
1 tablespoon oil
Whole spices (cinnamon stick(dalchini) 1, cloves (laung) 2, peppercorns – 4)
1 tablespoon Kasuri methi
1 tablespoon roasted cumin powder (bhuna jeera powder)
1 tablespoon coriander powder
1/4 teaspoon turmeric powder
1 teaspoon red chili powder, or to taste
Salt to taste
4 tablespoons fresh cream
1/4 or 1/2 cup spinach stock water, if required
For Garnish:
Grated paneer
Ginger, julienned
1 teaspoon fresh cream
---
INSTRUCTIONS:
How to Make Palak/Spinach Puree:
Wash spinach leaves, and pat them dry. Boil 2.5 cups of water in a pan.




Add spinach leaves to it and boil for 1 minute.




Turn off the heat and let the spinach stay there for 1-2 minutes.




Drain the excess water from the spinach with a slotted spoon. Reserve this spinach stock for the curry.




Put ice cubes and water in a large bowl. Now add the blanched spinach leaves to ice water.




Leave it in the ice bath for 2-3 minutes or until it is no longer warm. This will stop the cooking process, and retain the color and nutrients.




Drain the leaves and add them to a blender.




Blend into a smooth puree. (Add some reserved spinach stock if needed). Keep it aside.



How To Make Palak Paneer Curry:
Heat oil or butter in a pan.




Add the cumin seeds and let them splutter.




Add chopped chilies and sauté them for a minute.




Add chopped onions, chopped ginger, and chopped garlic.




Sauté them for 2-3 minutes and add cashews and chopped tomatoes.




Stir well and saute the tomatoes till they are softened. Turn off the heat and let the mixture cool down.




Add mixture to a blender jar and blend to make a smooth paste. (Add some reserved spinach stock if needed)




Heat oil in the same pan. Once hot, add black cardamom, cloves, and peppercorns.




Now add roasted cumin powder, Kasuri methi, coriander powder, turmeric powder, and red chili powder.




Let them sauté for 30 seconds to 1 minute.




Now add tomato-onion paste and stir well.




Let it cook for 3-4 minutes, keep stirring occasionally.




Add spinach puree and cook for 3 minutes. (You can also about to ⅓ cup of the reserved spinach stock or water if you want semi-liquid gravy).




Now add salt and mix well.




Add fresh cream after 1 minute and mix well.




Now add in the paneer cubes and mix gently.




Let it cook on low heat for 2 minutes. Remove from heat.




Garnish with ginger juliennes, fresh cream, and crumbled or grated paneer.




Serve hot with garlic naan, stuffed paneer naan, paratha, or pulao.

---
WATCH VIDEO:
---
NOTES:
No notes for this recipe.
---
If this recipe helped you, then please spread the word by sharing and
subscribing
to us on YouTube to get more such Recipe Videos.
---
Your feedback is so helpful for me and other MyGingerGarlicKitchen readers. So, for Facebook and Instagram, please mention
@MyGingerGarlicKitchen
or
#mygingergarlickitchen
. I would love to see your photos. :)
---
Author:
Anupama
Recipe Source Link:
https://www.mygingergarlickitchen.com/palak-paneer-recipe-video/
Date Published:
2019-10-31
• • • • • • • • • •