Learn how to make Palak Patta Chaat Recipe | Spinach Leaf Fritters | पालक पत्ते की चाट with step-by-step video tutorial. Palak Patta Chaat is an utterly stunning and delightful appetizer / Starter. Palak Patta (Spinach Leaf) Chaat is a North Indian dish prepared using  besan/gram flour coated spinach leaves fritters, yogurt, green chutney, tamarind chutney, and sev (crispy fried gram flour noodles).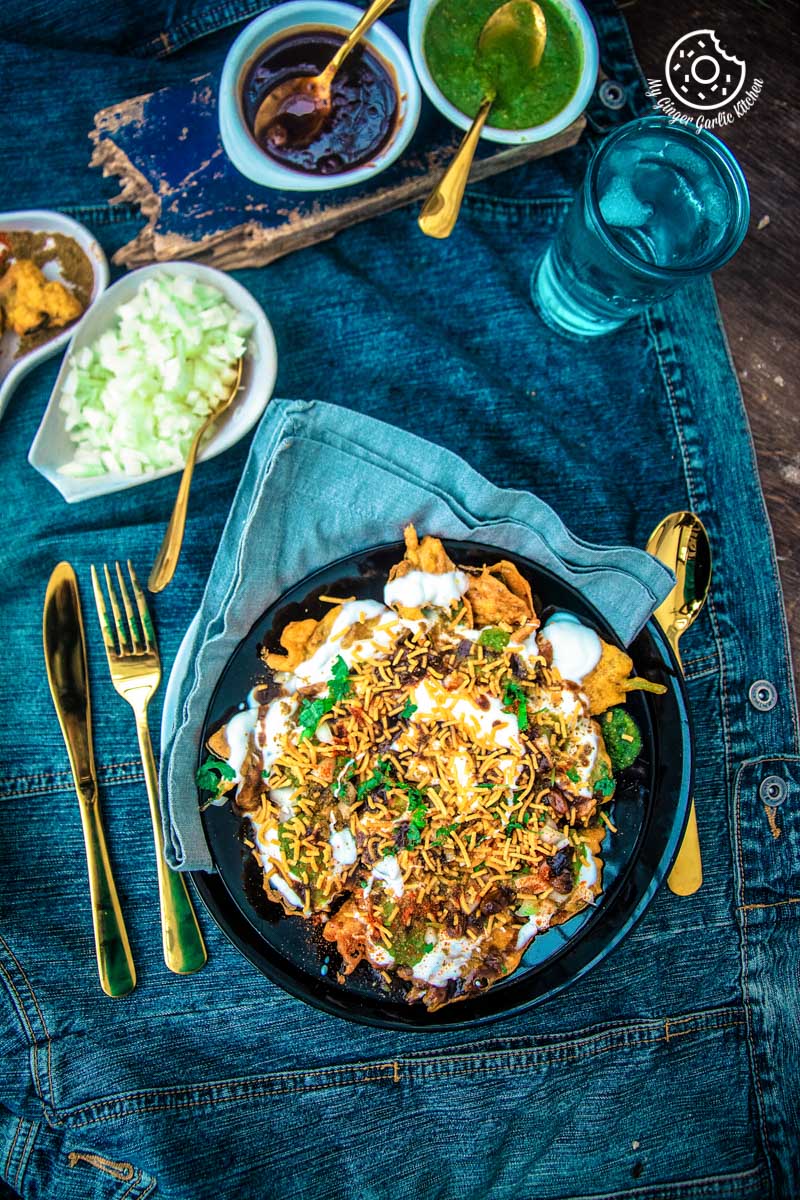 Palak Patta Chaat is a Showstopper:
This luscious North Indian street food is definitely a crowd-pleaser, and also it makes a great brunch/snack for evening tea. This chaat also makes a great appetizer for parties and get-togethers or evening tea parties.
Related: Palak Paneer Recipe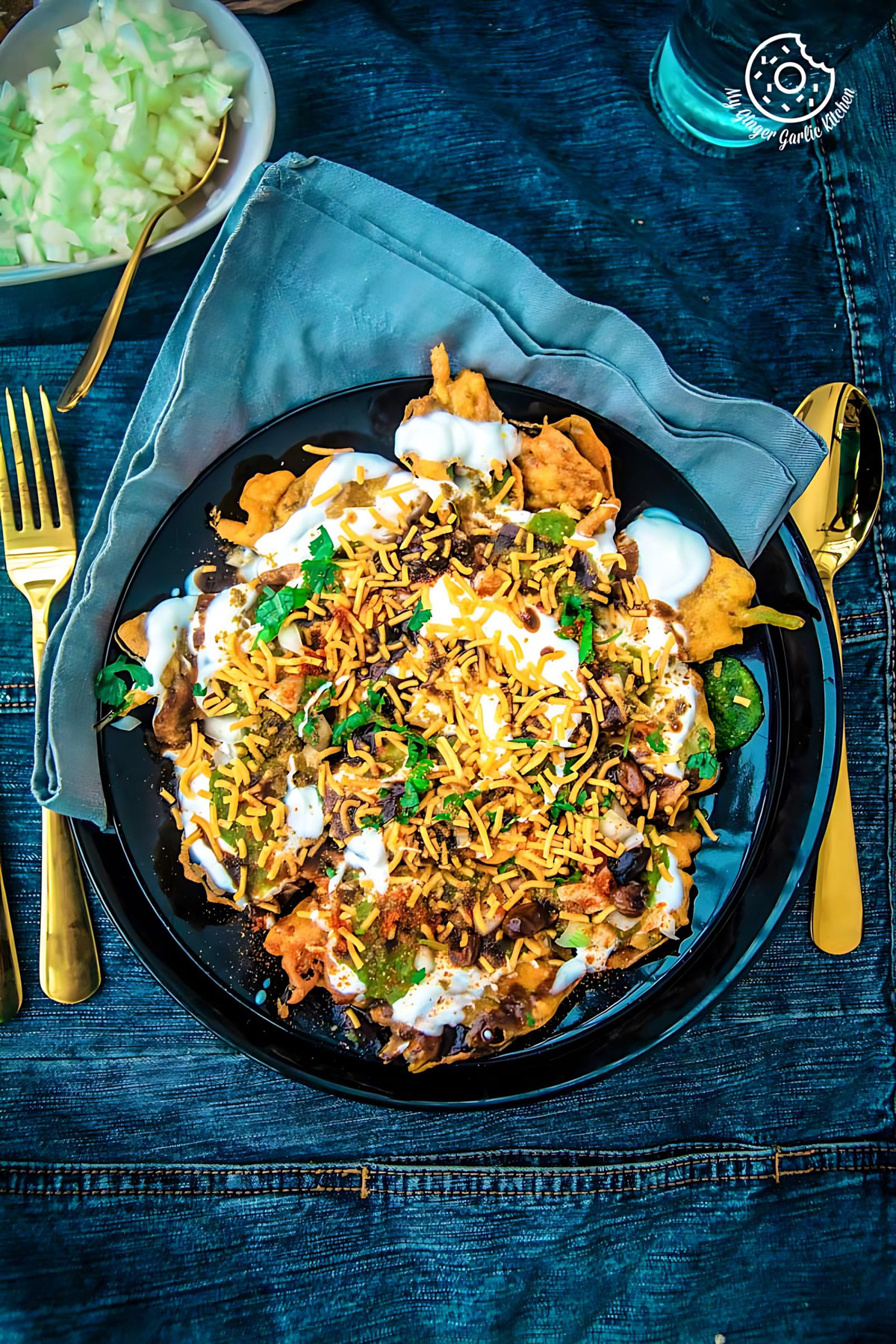 Spinach Benefits:
The nutrients, goodness and health benefits of lush green spinach leaves are conventional, there is nothing new I could tell you about this.
We all are aware how momentous it is for us to have a balanced meal, and thus we try to include all things fresh and healthy in our daily diet.
But when it comes to a cheat day, we don't care much about the above criteria. Isn't it? How about if someone mentions you that there's a way you can append your greens to your cheat day snack? If I were you, I would be pretty thrilled to know that plan. : )
Related: Palak Ki Puri Recipe
And why not? What more could be better than incorporating these leafy greens in your cheat day snacks? This way cheat days could be a little healthified too. 😉
Jokes apart, but this is a surpassing dish, even for those who don't eat palak/spinach or in other words people who hate the word 'spinach', especially the kids.
I myself never liked any leafy greens as a child. But I wholly loved this leafy green whenever my Mom made green palak parathas using spinach, green palak puris using spinach or even palak pakoras which obviously had spinach in it.
Related: Moong Dal Palak Idli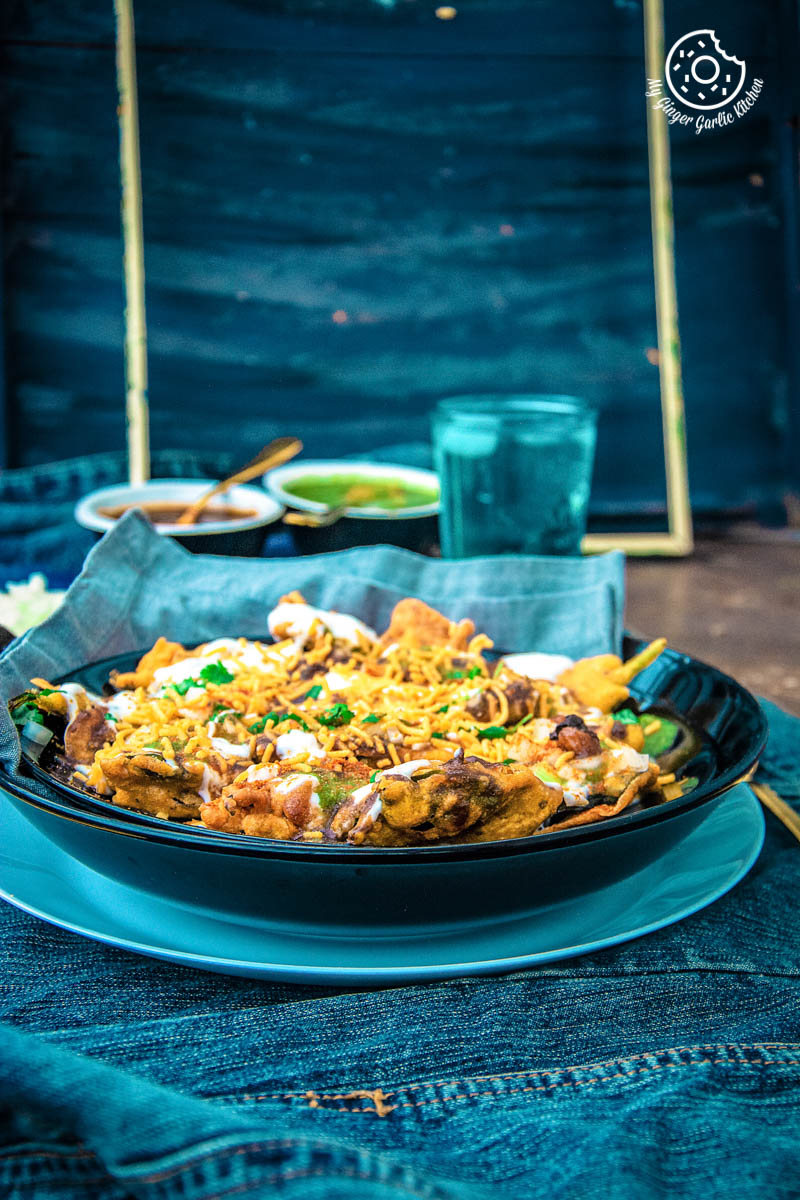 Is Palak Patta Child Friendly?
Now it's a different story. It's because I am a mother now myself. So naturally I always try to explore innovative ways to accommodate all leafy greens to my child's diet. This is a tried and tested recipe with my little one — she totally loves spinach when it's presented in the form of fritters.
Related: Spinach Kofta Curry
I was first introduced to this Delhi Style Palak Patta Chaat by my sister when I visited India a few years back. I absolutely fell in love with this light, simple, crispy, delicious, and quick chaat. She coated palak patta (spinach leaves) with besan batter, deep fried, and then drizzled with curd /yogurt, chutneys, and spices (dry masalas).
Related: Aloo Palak Paratha Recipe

Are Palak Patta Chaat and Dahi Papdi Chaat similar?
This 'Palak Patta Chaat' is quite similar to Dahi papdi chaat, but instead of papdi palak patta pakoras are used as a base, and rest is the same. SO we can call it a cousin of Dahi papdi chaat. :)
Related: Garlicky Spinach Mango Tomato Pizza with Hot Pepper Sauce and Flakes
This Palak Patta Chaat has Unique And Addictive Flavors:
This recipe for palak patta chaat is an excellent amalgamation of supremely crispy, crunchy and soft textures, due to crispy and fried pakoras, crunchy onions, chilled yogurt, and semi-liquid chutneys.
The flavor profile of this chaat is a combination of awesomely tangy, sweet & spicy, addictive substances. You can have it on any day but I try to relish it on cheat days because I just can't stop it at just one or two.
Related: Baked Mushroom Spinach Kofta Curry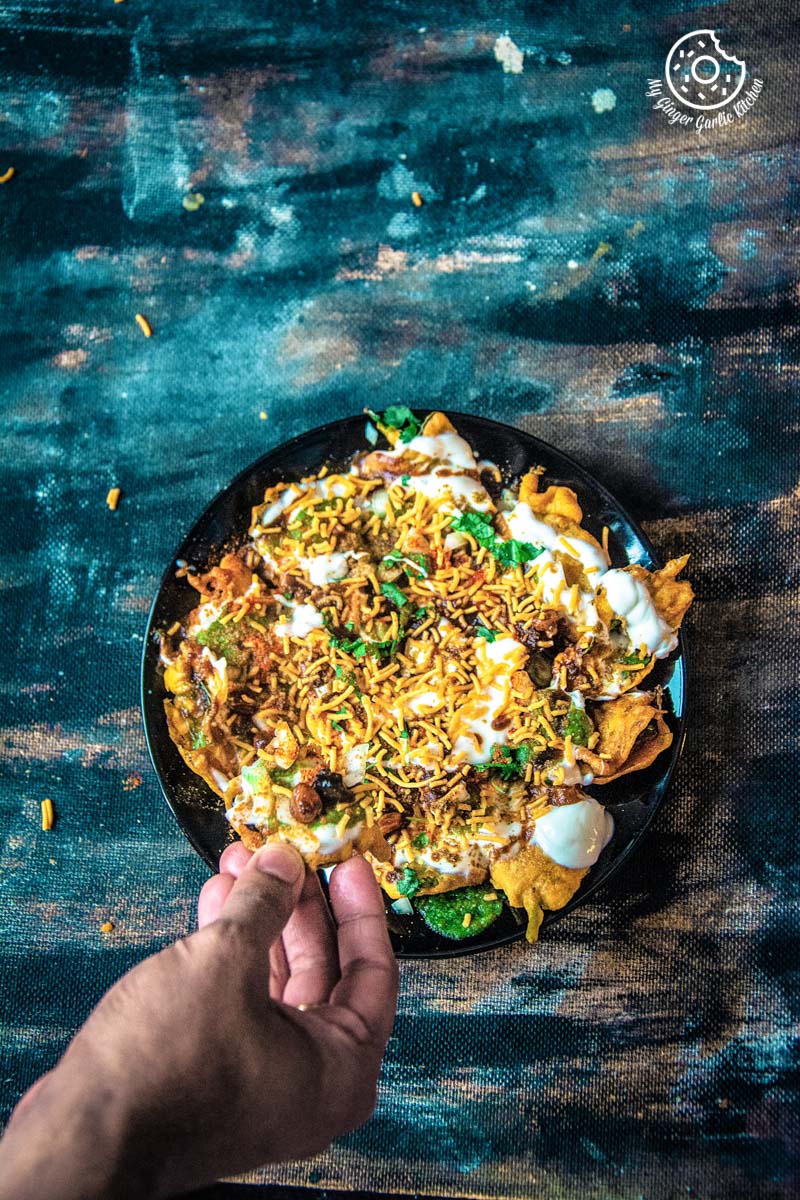 Hard To Resist:
When one palak pakora / fritter goes in your mouth, you can hardly taste just one kind of taste. It's the bursting blend of complex and amazingly addictive flavors which won't let you stop at just one. You would undoubtedly want to have some more until your stomach gets full. 🙂
Related: Cabbage Spinach Thepla
Street Food:
This palak patta chaat is a perfect illustration of Indian street food. Street foods in India are quite flexible and you can make any dish customized by adding or removing some of the ingredients.
The street shop vendor organizes all things (chutneys, spices, veggies) in front. He throws everything into the dish right before serving it.
Thus, the same dish can be comfortably modified for the people of different taste buds. Every individual palate can be pleased at the same time. You just tell him your preferred taste and he would make it accordingly within just a minute.
Usually, people want their chaats either with more chutney or less chutney, more spicy and mild, without yogurt or super clammy with extra yogurt (dahi), with onions or without. And the list goes on.
Related: Spinach Tomato Chili Whole Grain Pasta
How To Assemble This Chaat:
Palak Patta Chaat consists of 'Palak Patte aka Spinach Leaves' covered with a gluten-free besan/chickpea/gram flour batter, fried until crisp, and arranged on a serving plate. (This can be called a healthy dish if the pakoras/fritters are baked, but baking won't do the justice to this palak patta chaat.)
These crispy fritter leaves are then drizzled with a generous quantity of whisked natural yogurt. Topped with sweet and tangy tamarind chutney (Imli Ki Chutney), spicy green chutney (Hare Dhaniye Ki Chuteny), sprinkled with chaat masala, red chili powder, roasted jeera powder. And finally dressed up with sev, chopped onions, and chopped coriander leaves.
Related: Spinach Cheese Puffs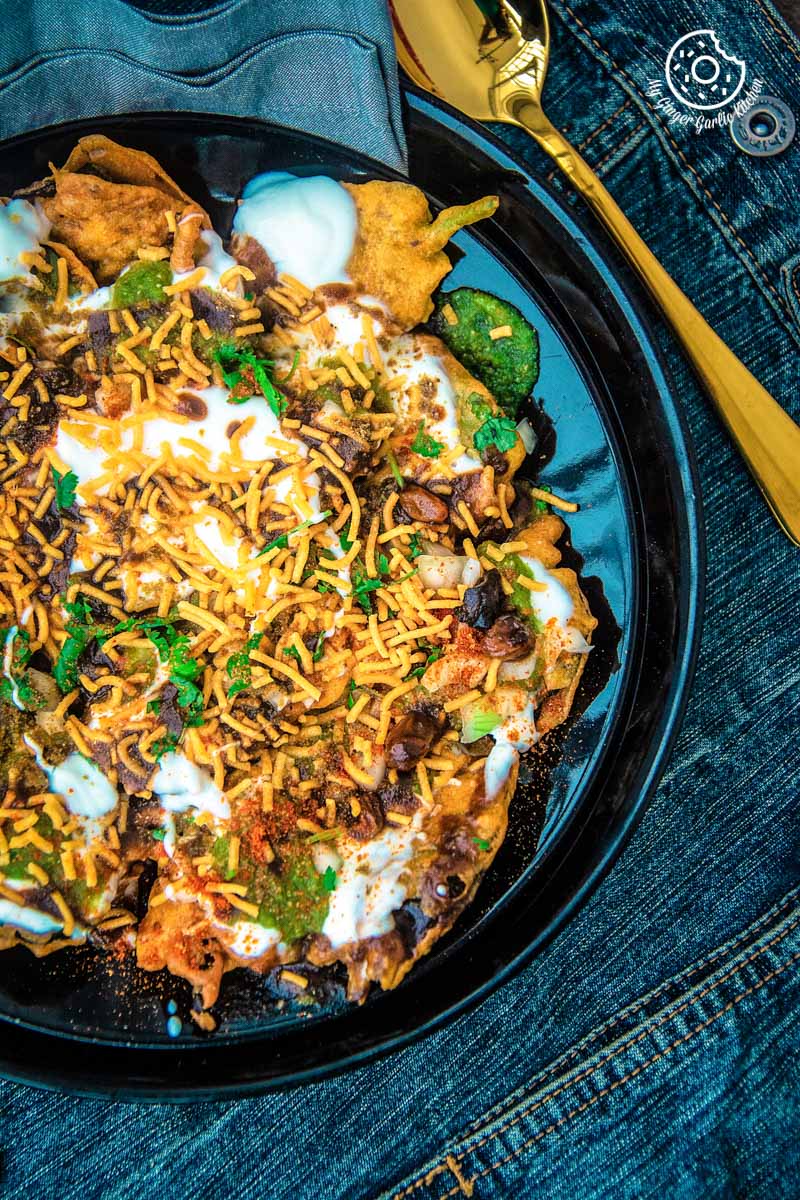 Time Saver:
To make things faster and easier, you can totally make chutneys a day before. This way you'll only have to fry the fritters and assemble them. If you are a vegan, then you can still enjoy this by simply swap the natural yogurt with vegan yogurt.
Related: Spinach Kofta Biryani
Palak Patta Chaat Recipe - Spinach Leaf Fritters

[Recipe]
Palak Patta Chaat is a stunning and delightful appetizer/starter from North India, made with besan coated spinach leaves fritters, yogurt and chutneys.
---
★★★★✰
(Rating:
4.2
from
44
reviews)
---
| Prep time 🕐 | Cook time 🕐 | Total time 🕐 |
| --- | --- | --- |
| | | 20 mins |
| Category ☶ | Cuisine ♨ | Serves ☺ |
| Snack | Indian | 5 |
| Nutrition Info ⊛ | | Serving size ⊚ |
| 125 calories | | 1 serving |
---
INGREDIENTS
Palak Patta Pakora //
Chickpeas Flour / Besan – 1 Cup
Rice Flour – 1 Tablespoon
Turmeric Powder – 1/4 Teaspoon
Red Chili Powder – 1 Teaspoon
Carom Seeds – 1/4 Teaspoon
Pinch Of Asafetida
Ginger Garlic Paste – 1 Teaspoon
Lemon Juice – 1 Teaspoon
Salt To Taste
Water For Making Batter
Oil For Deep Frying
Spinach Leaves (Rinsed And Dried On A Paper Towel) – 20-25
For Assembling Palak Patta Chaat //
Crispy Palak Patta Pakora
Whisked Natural Yogurt / Dahi
Green Coriander Chutney (Hare Dhaniye Ki Chutney)
Tamarind Chutney (Imli Ki Chutney)
Green Coriander Leaves – 3 Tablespoon As Required
Onions, Chopped – 1
Roasted Jeera Powder – 1 Tablespoon As Required
Chaat Masala – 1 Tablespoon As Required
Red Chili Powder – 1 Tablespoon Or As Required
Sev (Fried Gram Flour Noodles) – 1/4 Cup Or As Required
---
INSTRUCTIONS:
How to Make Palak Patta Pakora //
Combine besan, rice flour, red chili powder, salt, carom seeds, ginger-garlic paste, lemon juice, and turmeric powder, in a bowl.




Add water and whisk well to make a smooth batter.




Heat oil in a deep frying pan.




Dip spinach leaf one at a time into the batter and gently shake off the excess batter.




Deep-fry until crisp and golden.




Once fried, drain them onto an absorbent paper, and set aside.



How to Make Palak Patta Pakora //
Arrange crispy, fried spinach leaf pakoras among serving plates.




Sprinkle with chopped onions, and drizzle with a generous amount of whisked yogurt.




Drizzle with green coriander chutney and tamarind chutney.




Sprinkle more onions.




Top with a generous amount of sev. Scatter with chopped coriander leaves.




Sprinkle with roasted cumin powder and red chili powder.




Serve Palak Patta Chaat immediately.



---
WATCH RECIPE VIDEO: Click the play button and video will load ...
---
NOTES:
No notes for this recipe.
---
If this recipe helped you, then please spread the word by sharing and
subscribing
to us on YouTube to get more such Recipe Videos.
---
Your feedback is so helpful for me and other MyGingerGarlicKitchen readers. So, for Facebook and Instagram, please mention
@MyGingerGarlicKitchen
or
#mygingergarlickitchen
. I would love to see your photos. :)
---
Author:
Anupama
Recipe Source Link:
https://www.mygingergarlickitchen.com/palak-patta-chaat-recipe-spinach-leaf-fritters/
Date Published:
2021-06-10
• • • • • • • • • •