Learn to make Rose Masala Chai Recipe | How to Make Rose Tea with an easy video tutorial. The flavors in this tea are so deliciously striking. The chai is enriched with a good amount of spices and rose petals. This chai is not so different than a basic masala chai, and also very simple and very delicious. If you love tea, then you would love to wake up to this one! 🙂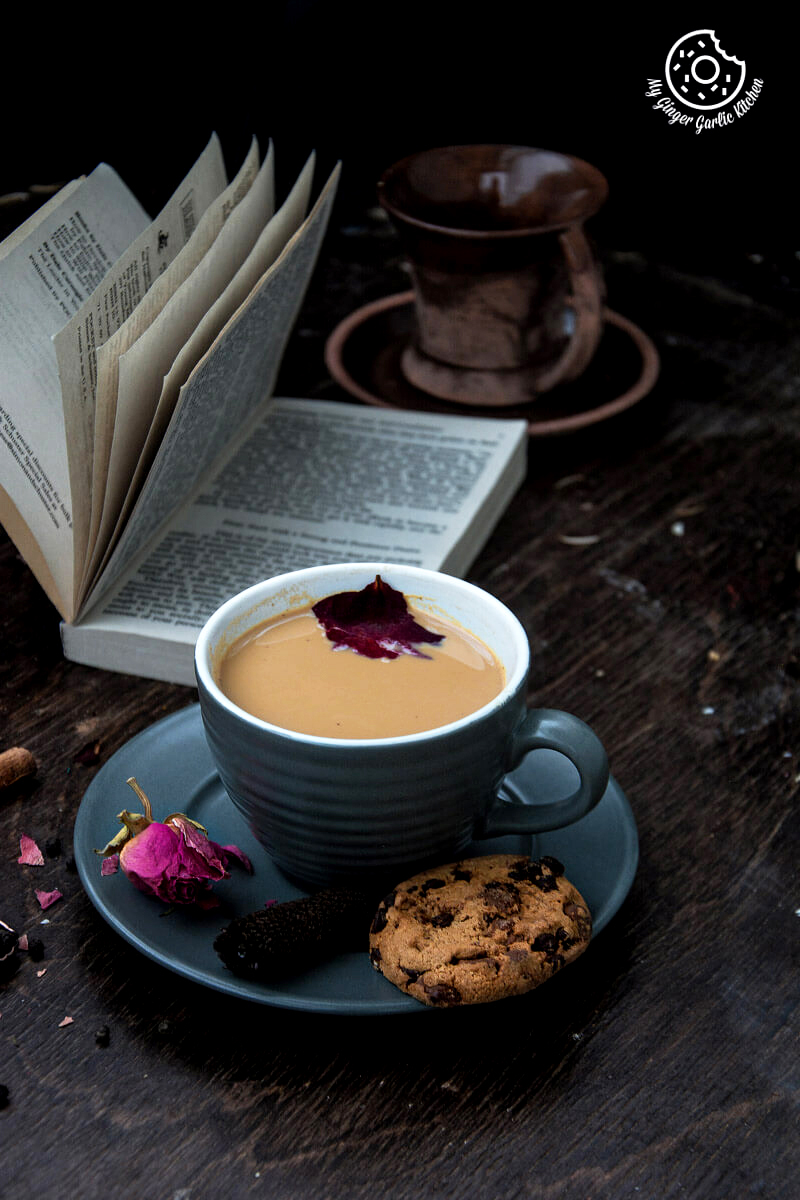 Party time is over. Holiday time is almost over for most of us. But this time for my family holiday time will be over a little later from now. Hey, have I told you about our upcoming week-long mini-holiday. Woohoo. We are going on a holiday after the holiday period. 🙂
Holiday in January is Fun:
It's a nice feeling to have a holiday in January. If I were still little, I would have believed that I am going to be holidaying all year long. Because as a child I always believed that the initial days of the year decide how the whole year is gonna be like.
Related: Kashmiri Pink Chai | Noon Chai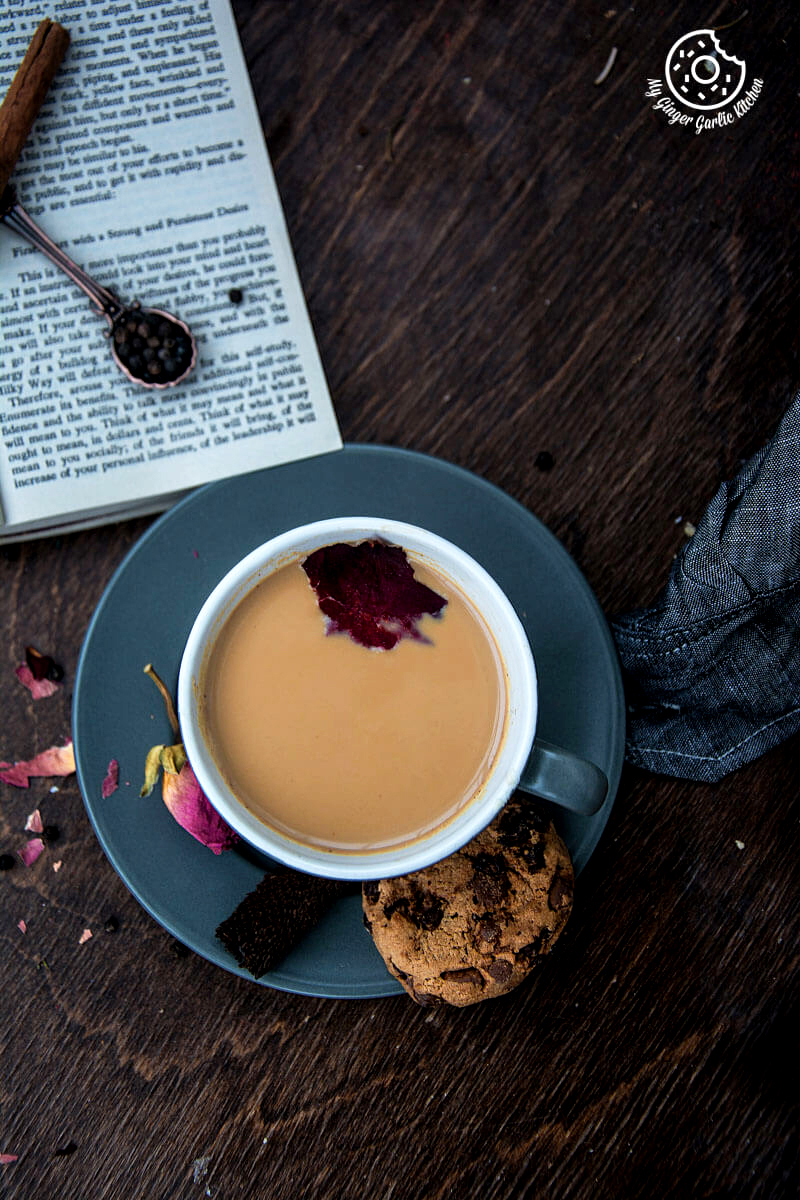 Days cannot be repeated:
As I grew up and came out of my fictitious dreamland cocoon I made for myself, the harsh reality of life changed my views. That's what we call coming out from a wonderland. But that child inside me still wants to believe that if my days are happy initially, I am gonna have a good year. They say, all's well that ends well. I say, all's well that starts well :-).
Related: Spiced Kesar Chai | Spiced Saffron Tea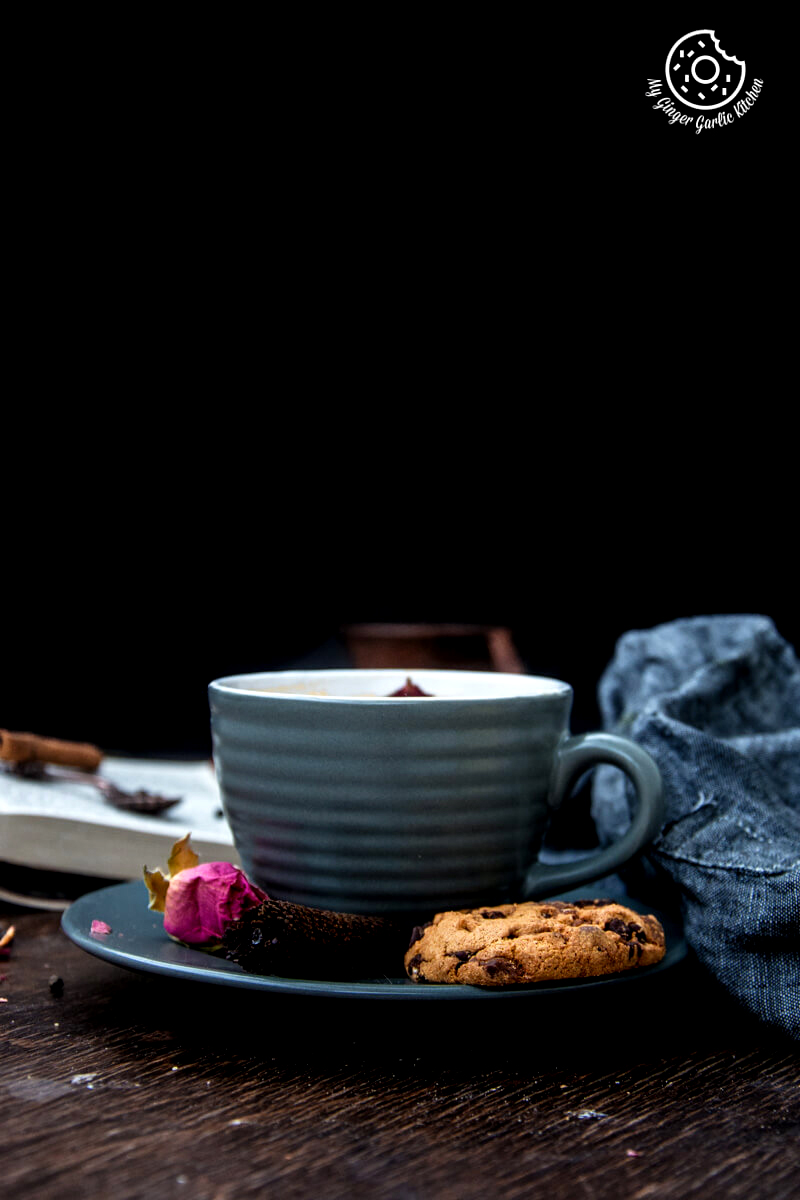 But then I also know the fact that every day is different. It's hard to have the same kind of experiences over and over again. That's not in our hands. That's the nature of life. But…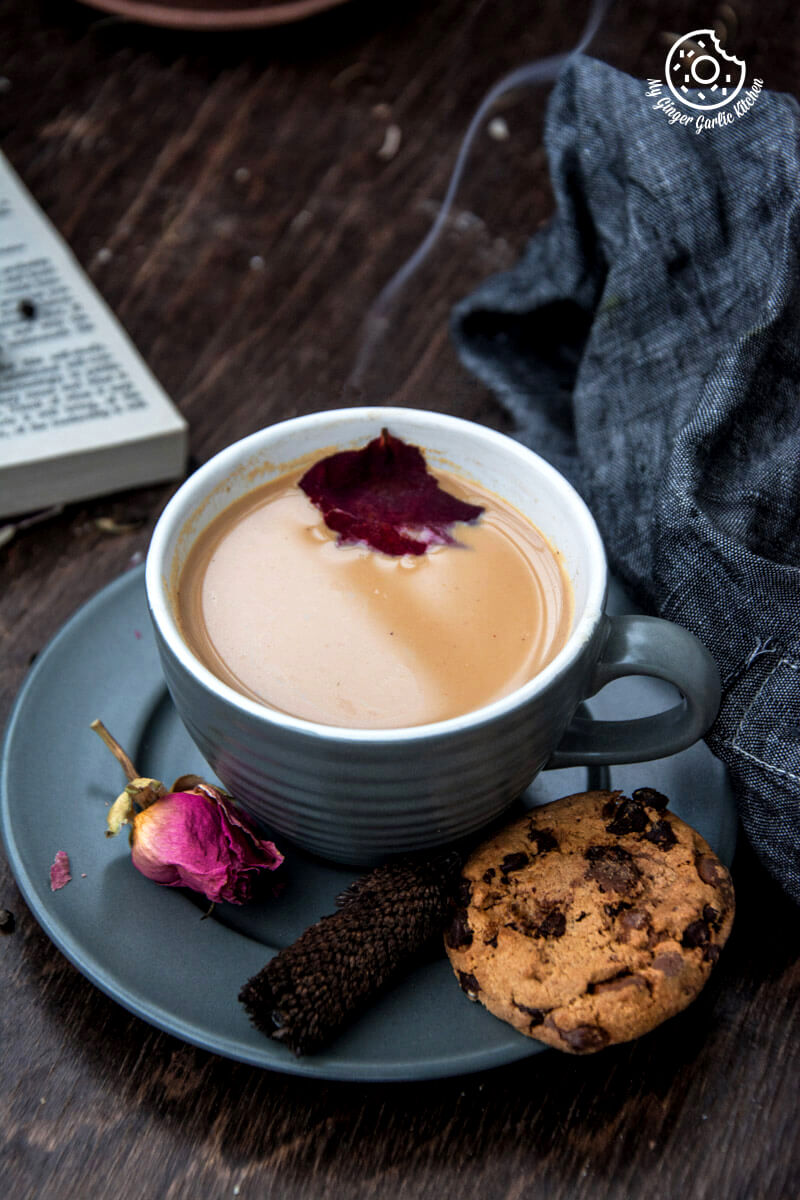 Some experiences can be repeated:
Here I am talking about the food we eat. That's all in our hands. You can have the same feeling of joy over and over again. Imagine eating Ice-cream or chocolates 😉 A similar awesome experience of having a steaming cup of chai/tea in the cold and white winter morning. Priceless, and surely can be repeated any time your heart desires. Like this tea recipe, I am sharing today. It can be enjoyed over and over again. And it gives me the same kind of joy every single time. I just love rose flavored drinks. Discover here more Rosehips teas.
My Dad's secret ingredient:
I wanted to share this tea recipe for a very long time. It's due from last year when I visited India. My Dad welcomed me with this Rose Masala Chai/tea. It had become my Dad's new favorite then. The flavors in this tea were so deliciously striking, so I asked my Dad about what he put in this tea.
Related: Spiced Chai Pumpkin Smoothie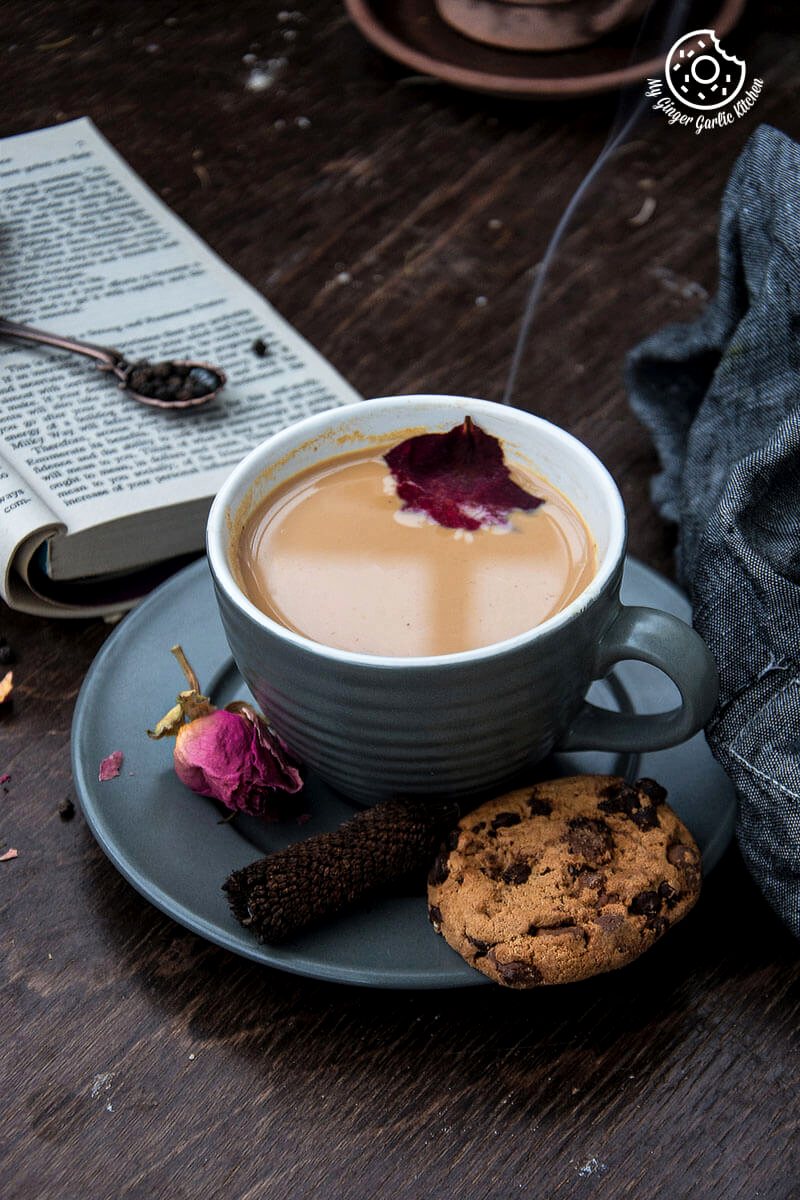 But before my Dad could answer, my Mom told me that my Dad had this tea in a local tea/coffee shop, and he just loved it. She also told, "He likes to have this unique Masala Chai 2-3 times in a week ever since. He serves this tea to all of his friends, but never tells the secret ingredient he puts in this tea. You know me — I don't drink tea, so I never bothered about his secret. You can try, maybe he will tell you that secret stuff. ;-)"
Me: "You don't worry Mom, I know he will tell me about his secret ingredient. Wouldn't you Dad?"
Dad: "Of course, I will tell you. Who else would deserve this tea legacy other than you", and he blinked.
Realted: Ginger Cardamom Tea – Adrak Ilaichi Wali Chai!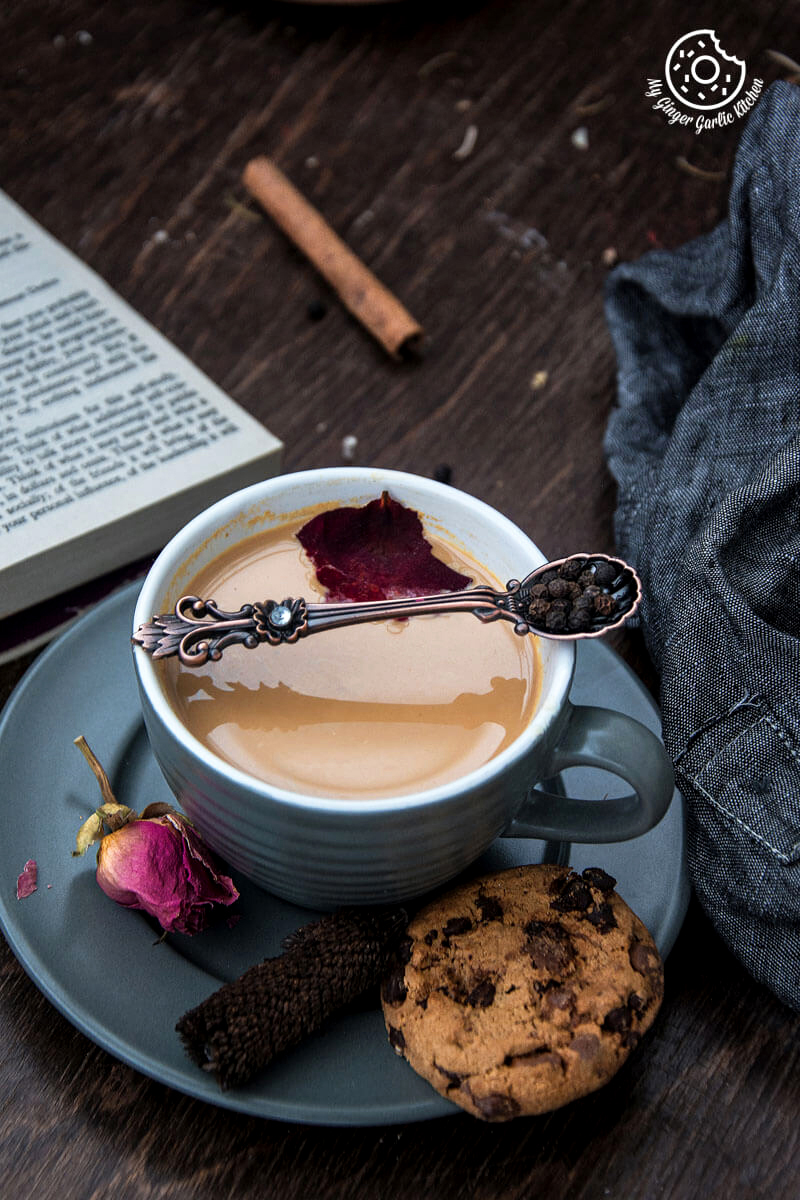 Then he whispered to me that secret ingredient. It was 'dried rose petals'. The tea he had at that coffee shop was named 'Chai Musafir' (Travelers tea). But I thought the name doesn't justify the goodness and deliciousness this milk tea has. So I named it more appropriately as 'Rose Masala Chai'.
Okay, naming complete. Now it's time to take it up a notch:
So the next day I made the same tea for my Dad, but I added one more thing to the tea which my Dad didn't add. It was rose water. I asked My Dad about it? And he said: "It is even better than my own tea — much more flavorful."
It was then I told him that I added rose water also. And after that, we both made this tea the new way and we called it 'Rose Masala Chai'.
Realted: Banana Chai Cake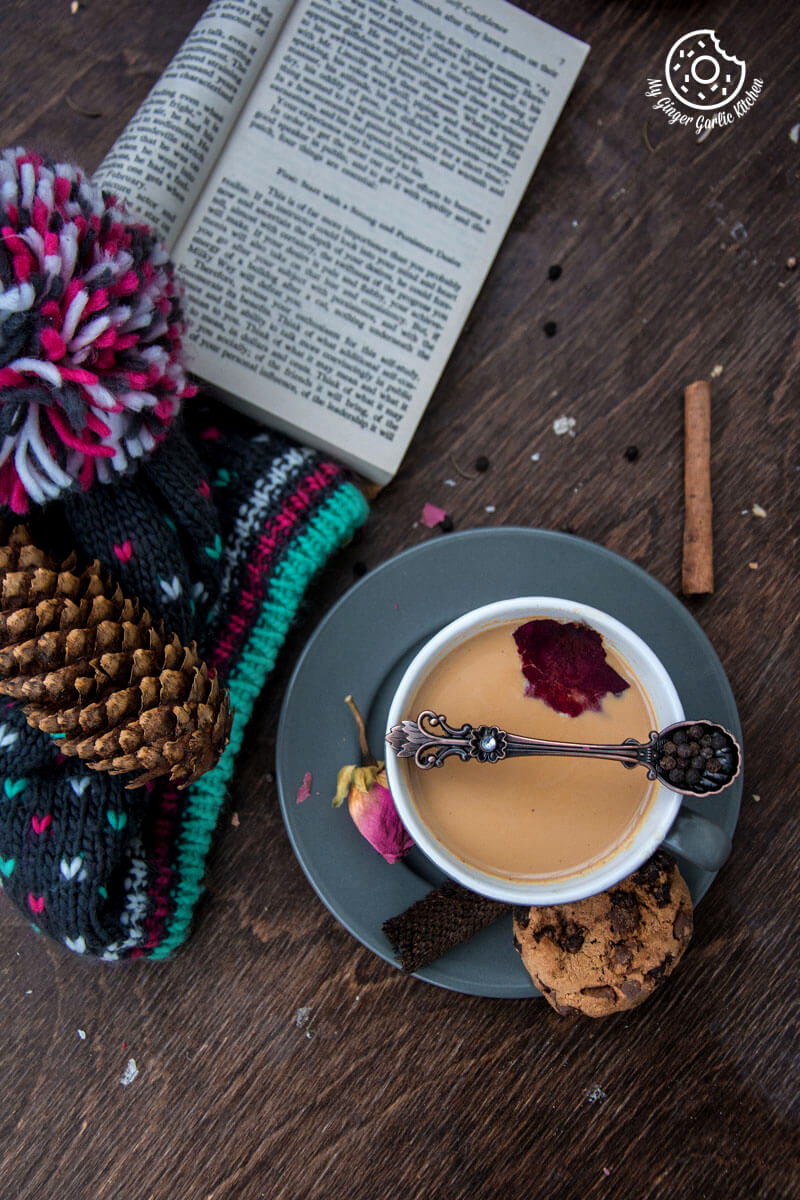 Basic yet flavorful:
This chai is not so different than a basic masala chai, and also very simple and very delicious. The chai is enriched with a good amount of spices and rose petals. The spices I used here are cinnamon, cloves, fennel seeds, ginger, and cardamom.  I added sugar but you can also add honey or maple syrup. It's up to you.
Give a good boil to the mixture of water, cinnamon, clove, fennel seeds, ginger, rose petals. Add black tea, sugar, milk and some cardamom, and boil some more. Add a good splash of rose water. Tada!
Rose water is a must, because what's a rose tea without a good amount of rose flavor? Right?
I make this tea often during winter time. It just gives me instant warmth.
So, are you ready to dive into this drink? Not literally though — you know the warning, 'Hot Beverage Inside'. 😉
Related: Cherry-Berry Iced Tea With Lemon Mint Ginger And Honey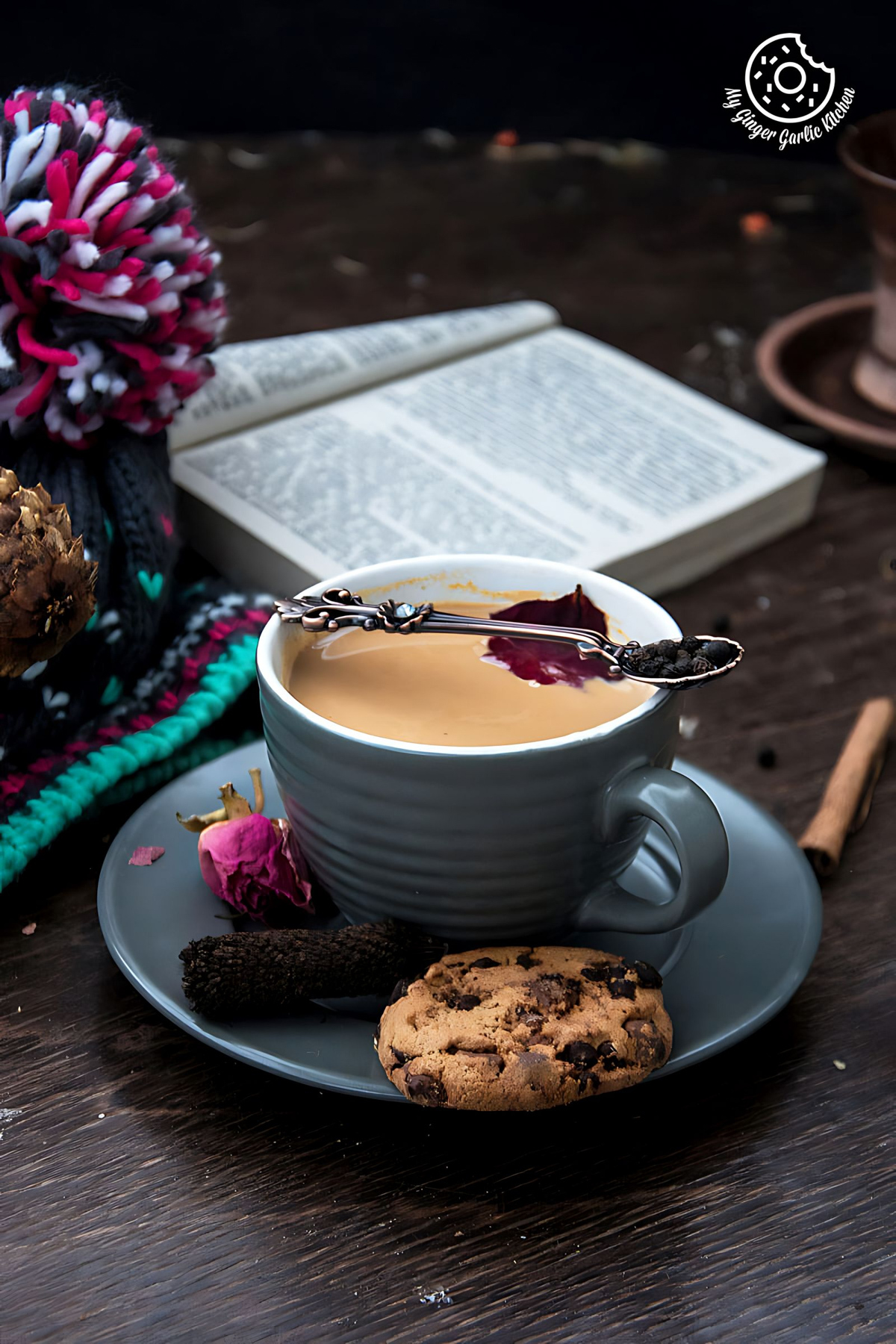 You may also like these other drinks:
Rose Masala Chai Recipe - How to Make Rose Tea

[Recipe]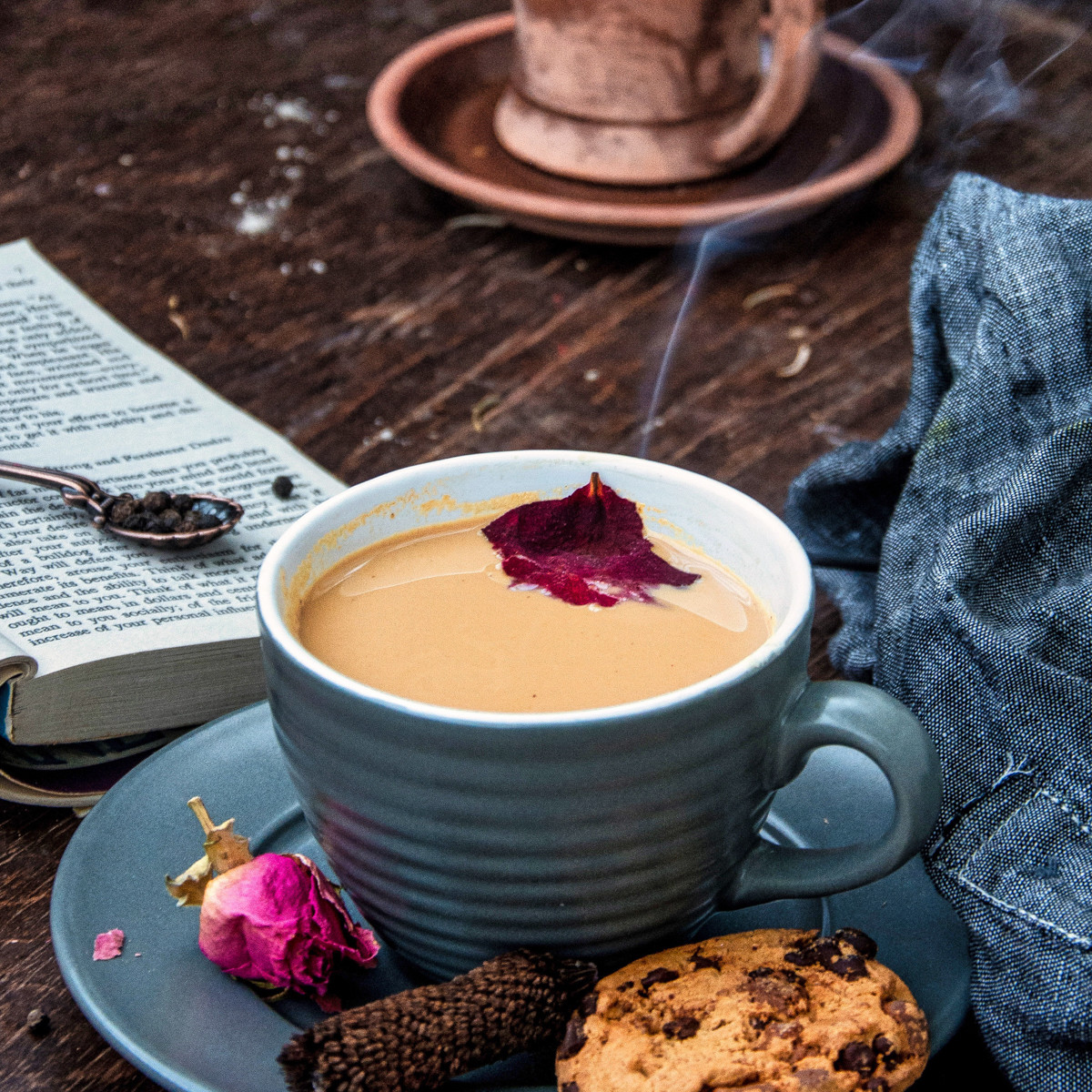 Rose Masala Chai is enriched with spices and rose petals. This chai is similar to masala chai, but the flavors in this tea are so deliciously striking.
---
★★★★✰
(Rating:
4.3
from
260
reviews)
---
| Prep time 🕐 | Cook time 🕐 | Total time 🕐 |
| --- | --- | --- |
| | | 12 mins |
| Category ☶ | Cuisine ♨ | Serves ☺ |
| Drinks | Indian | 2 |
| Nutrition Info ⊛ | | Serving size ⊚ |
| 5 calories | | 1 bowl, 4-rolls, etc. |
---
INGREDIENTS
For Rose Masala Chai:
1 tablespoons black tea leaves or 2 black tea bags
1 1/2 cup water
1 1/2 cup milk
1 inch cinnamon stick (dalchini)
1 teaspoon cardamom powder (elaichi powder)
1 inch fresh ginger (adrak)
4 tablespoons dried rose petals (gulab ke sukhe patte)
4 cloves (laung)
1 tablespoon fennel seeds (saunf)
1 tablespoon rose water (gulabjal)
2 tablespoons sugar or as per taste
---
INSTRUCTIONS:
Make Rose Masala Chai:
Crush cinnamon stick, cloves, fennel seeds, and ginger in a mortar-pestle and set aside.




Pour the water into a saucepan.




After that, add crushed cinnamon, cloves, fennel seeds, and ginger.




Add rose petals, tea leaves, and sugar to the saucepan.




Stir well and boil for 3-4 minutes.




Add ground cardamom and stir well to combine.




Now, add in the milk, and let it come to a boil.




Turn heat to low then boil for 7 minutes.




Now add the rose water and boil for 2 more minutes.




Strain the tea into cups.




Serve Rose Masala Chai immediately with some butter cookies or jeera biscuit.

---
WATCH VIDEO:
---
NOTES:
No notes for this recipe.
---
If this recipe helped you, then please spread the word by sharing and
subscribing
to us on YouTube to get more such Recipe Videos.
---
Your feedback is so helpful for me and other MyGingerGarlicKitchen readers. So, for Facebook and Instagram, please mention
@MyGingerGarlicKitchen
or
#mygingergarlickitchen
. I would love to see your photos. :)
---
Author:
Anupama
Recipe Source Link:
https://www.mygingergarlickitchen.com/rose-masala-chai-how-to-make-rose-tea-video-recipe/
Date Published:
2020-09-29
• • • • • • • • • •