Learn How to make Jeera Biscuits | Eggless Roasted Cumin Cookies Recipe with easy and simple video instructions. These Jeera biscuits aka Eggless Roasted Cumin Cookies are a perfect balance of lightly sweet and mildly salty flavors. They are crispy, crunchy and perfect tea time snack.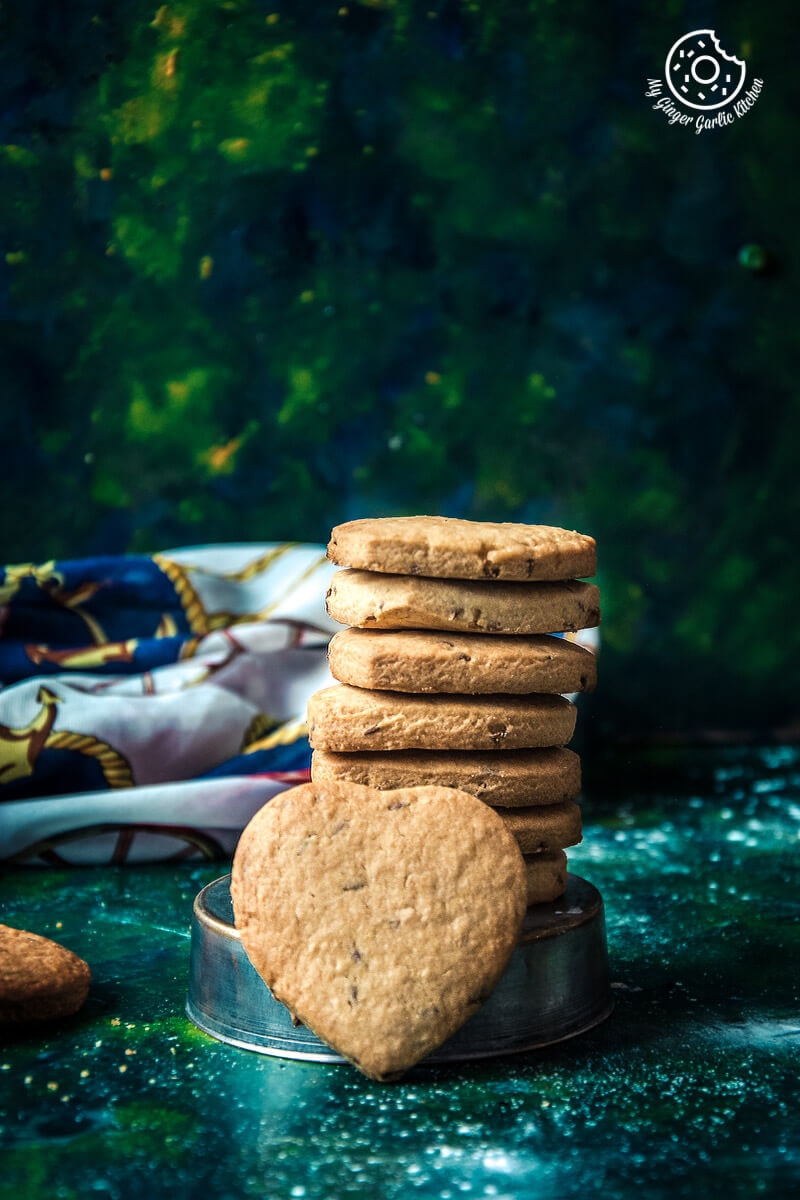 Today we are celebrating the Indian festival of 'Holi' — a festival of colors. It is a spring festival which is also known as the festival of colors or the festival of love. So, first of all, I would like to wish a very Happy Holi to everyone.
Holi is all about colors and good food. Like all the festivals everywhere, we all start and end with some good food, right? Lots and lots of delicious food in so many tastes and colors. So this time for this 2-day festival I made us some delicious and traditional Indian meal at home, which was Laccha paratha, Gajar ka Halwa, Dal Makhani, Matar Paneer, Vegetable Raita and Dum Biryani and chocolate paratha for Ado. 😉 And I am planning to share some of the recipes here soon. 🙂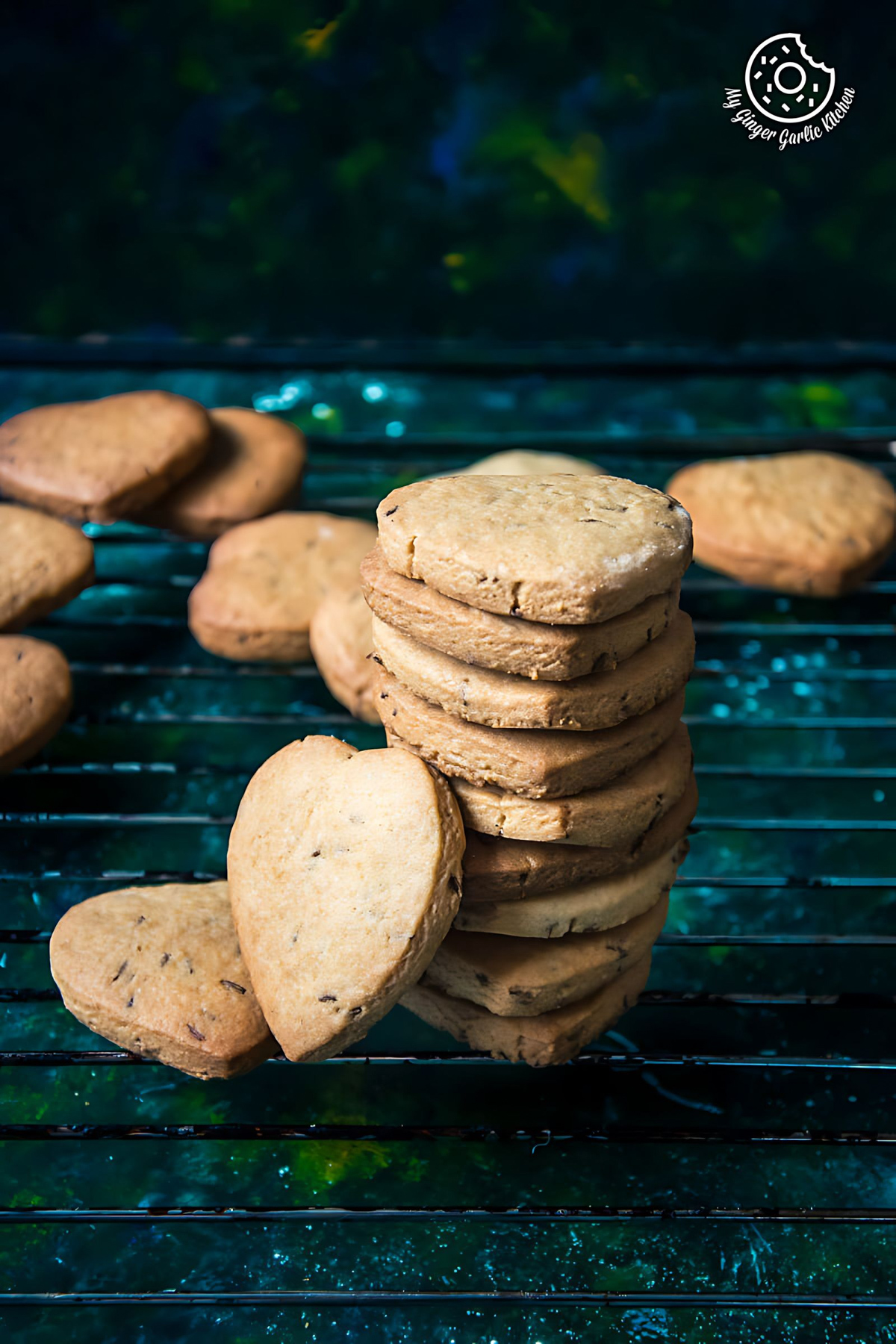 Ado's baking addiction:
Since past few weeks, it has been an untold commitment between Ado and me that we will bake some cookies during weekends. Ado loves cookies and biscuits and I love to bake them with her. I simply adore how curious she acts when it comes to baking cookies. She wants to know everything and wants to do all the steps on her own — from mixing to rolling and cutting. And when I try to help her, she gets annoyed, as if she is the one who's baking cookies and I am the one interrupting her zen time, 😉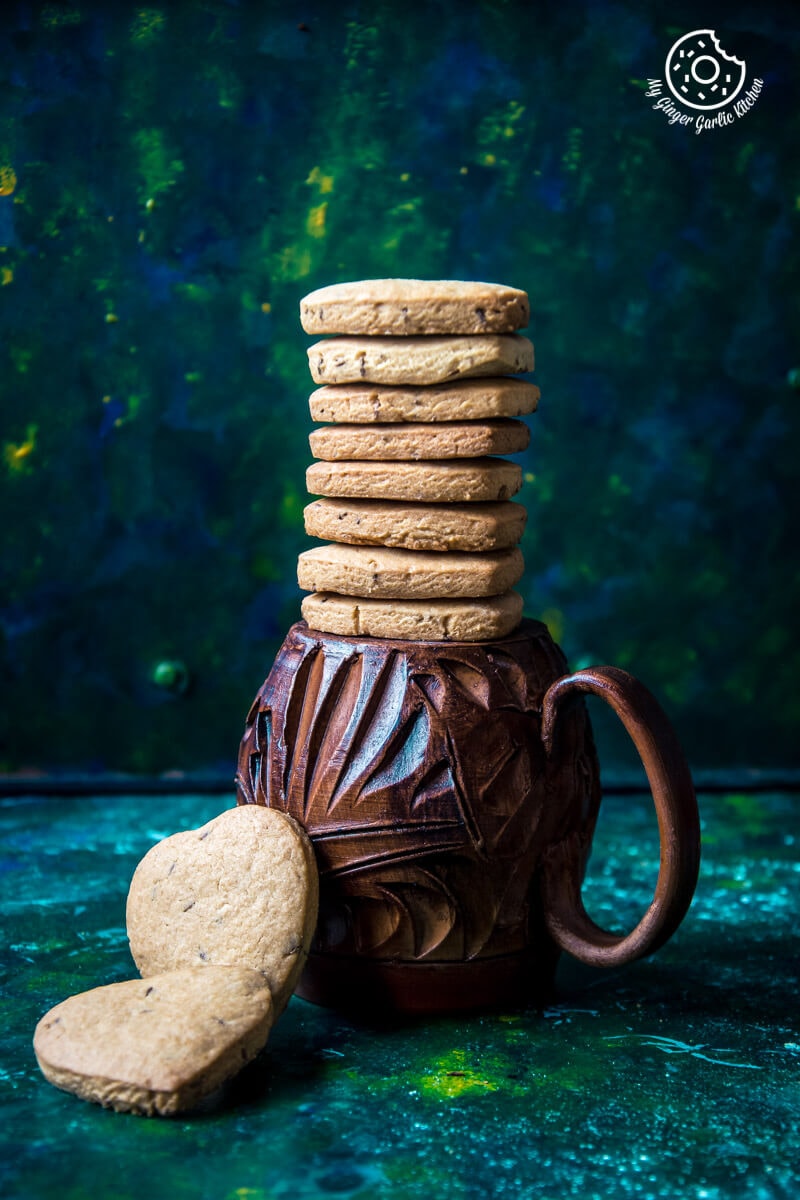 However, I assume if things would go with the same speed then she would be able to call herself a pro-baker soon. And then I will only have to sit and enjoy what she'd create. 🙂
Related: Cumin Powder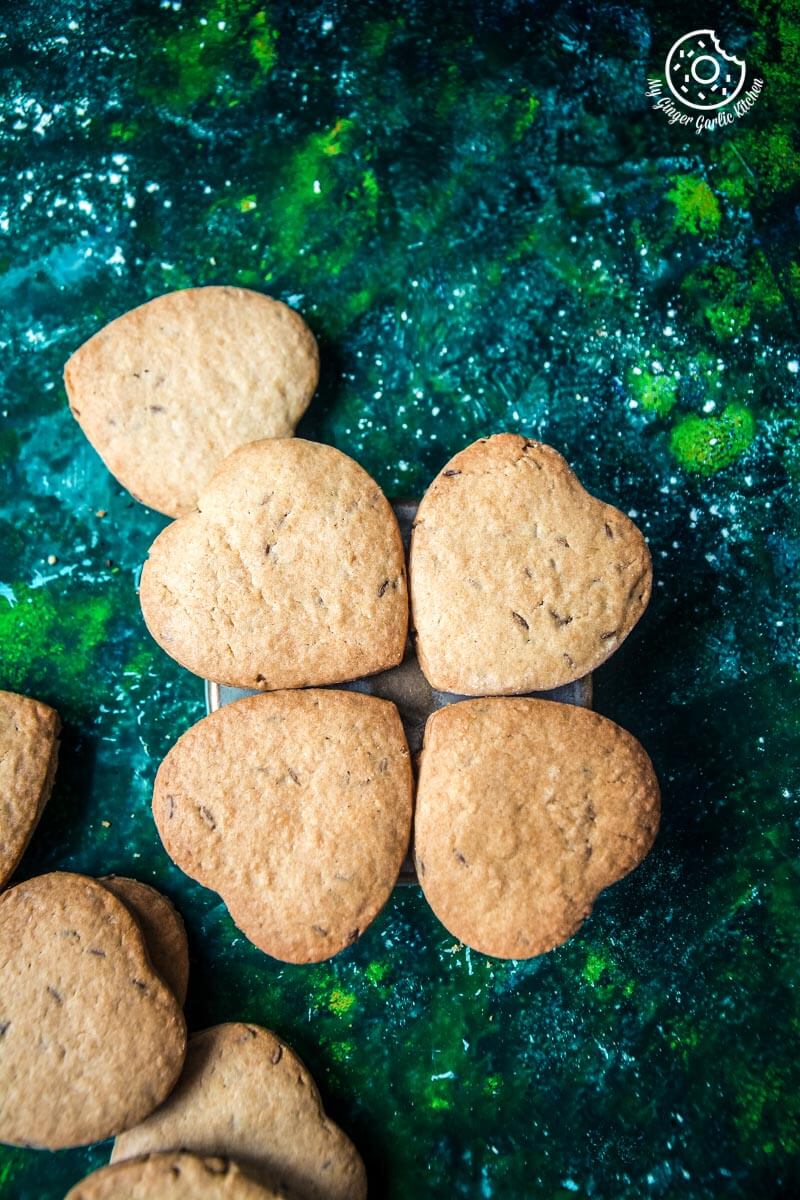 One thing which I am loving about baking with Ado is her wild ideas about food creations. She keeps giving me her suggestions and sometimes they really strike me. Though I am yet to try many of her fantastic ideas, but I am so positive that they would come out so good. I noted them down for trying sometime in the near future. For example, Ado and I made these awesome cookies in the past: Eggless Triple Chocolate Cookies, Nankhatai, Chocolate Dipped Whipped Shortbread Cranberry Cookies and Oatmeal Peanut Butter Chocolate Cookies.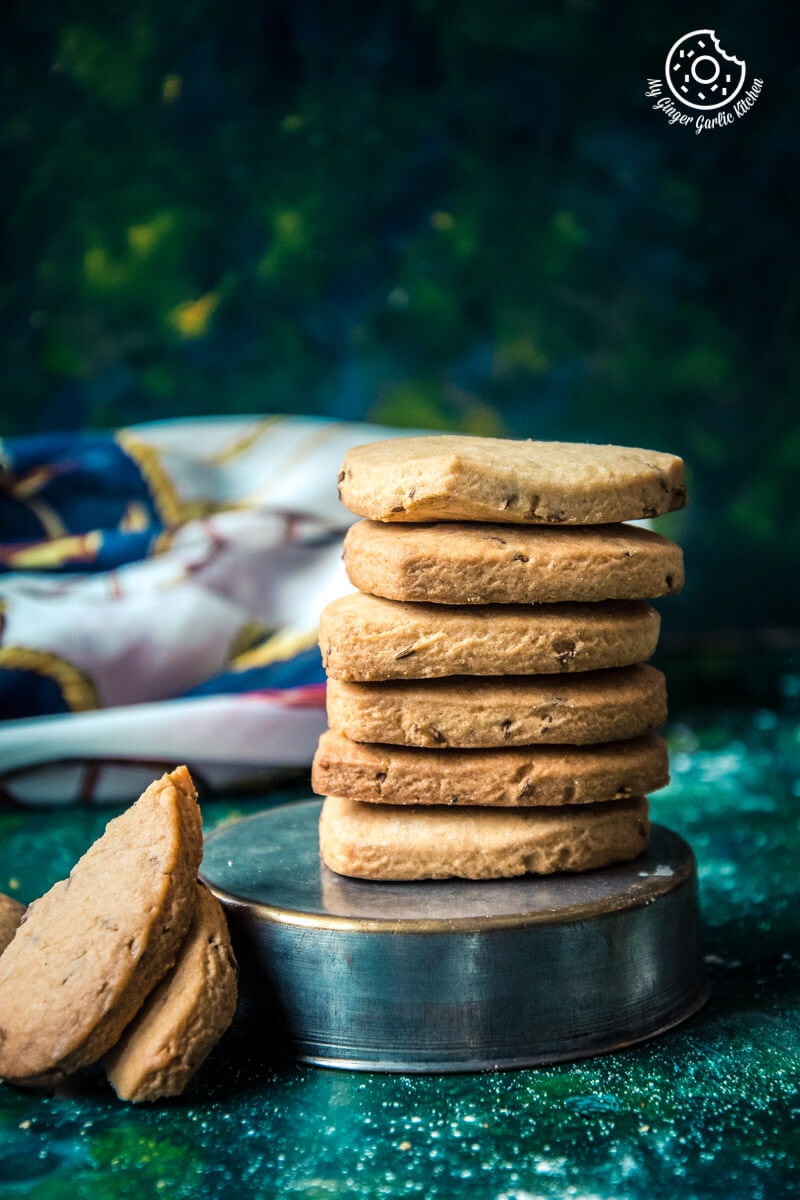 Last weekend we made this Indian bakery style 'Roasted Cumin Cookies' aka 'Jeera Biscuits'. These are eggless Indian cookies which I grew up eating and loved very much.
Cumin has a distinct flavor, and Ado doesn't like cumin in her curries. So I was wondering if Ado would like them or not. But to my surprise, she loved the taste and texture of cumin in the cookies. And that encouraged me to bake carom seed cookies with her. She loved them as well. Happy child = happy Mommy. 🙂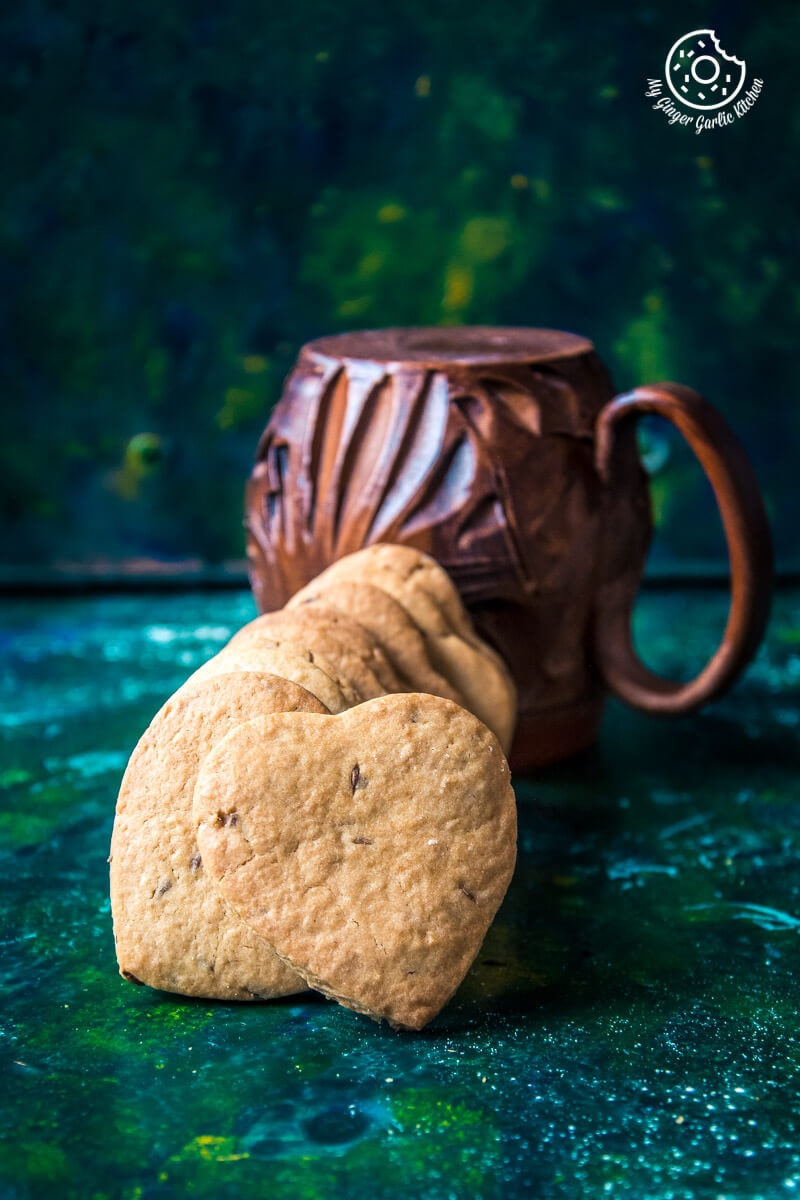 What is Jeera Biscuits | Eggless Roasted Cumin Cookies?
These Jeera biscuits are a perfect balance of lightly sweet and mildly salty flavors. They are crispy, crunchy and perfect tea time snack. In India, such nice and crisp things are called biscuits, not cookies.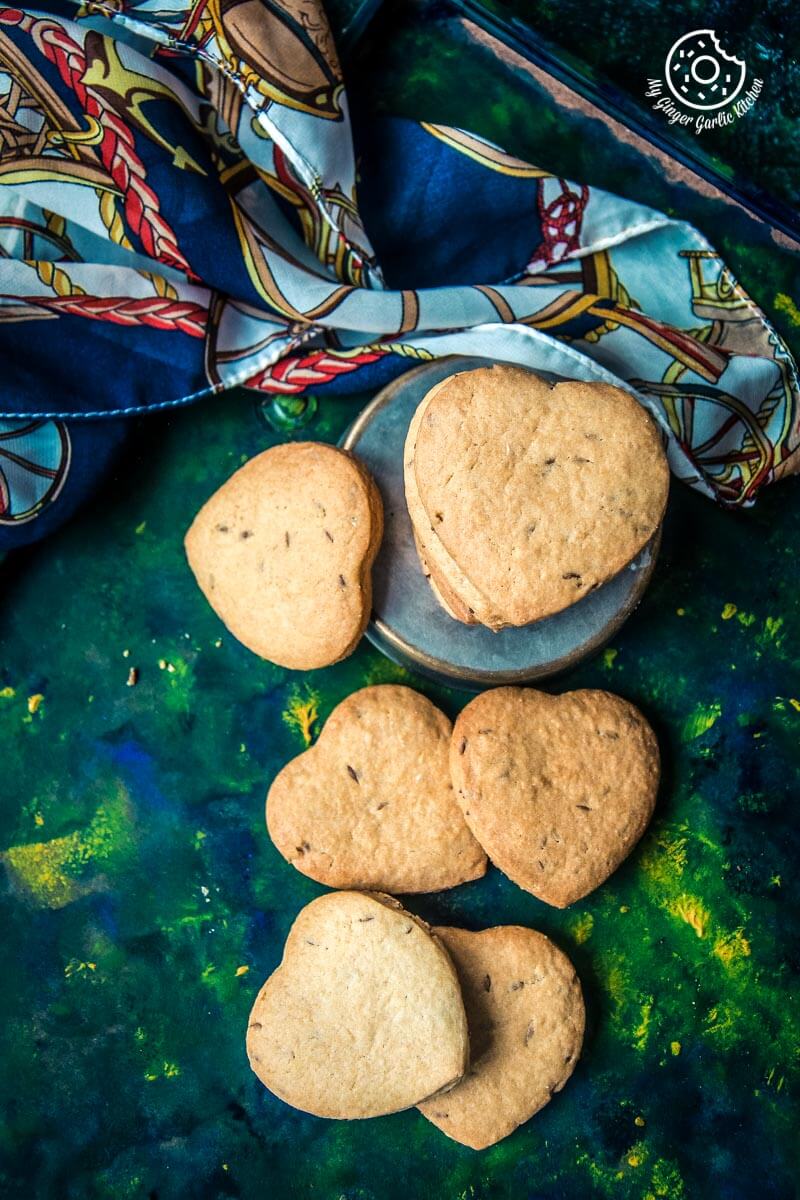 Just imagine a nice cumin-y aroma in your house while these jeera biscuits are getting baked in the oven. Mmm, the aroma of baking cookies with roasted cumin would make anyone drool. OH, that cumin-y flavor and texture in every single bite would make you want to eat more of those.
Yes, you can't stop at one or two. And as an expert advice, try to dip them into tea/coffee. Well for me, it's really hard to resist not dipping jeera cookie in a hot drink. So on this occasion of Holi, I would like you all to enjoy this tea time crunchy crispy delight. If not today, then surely try this sometime during this week. 🙂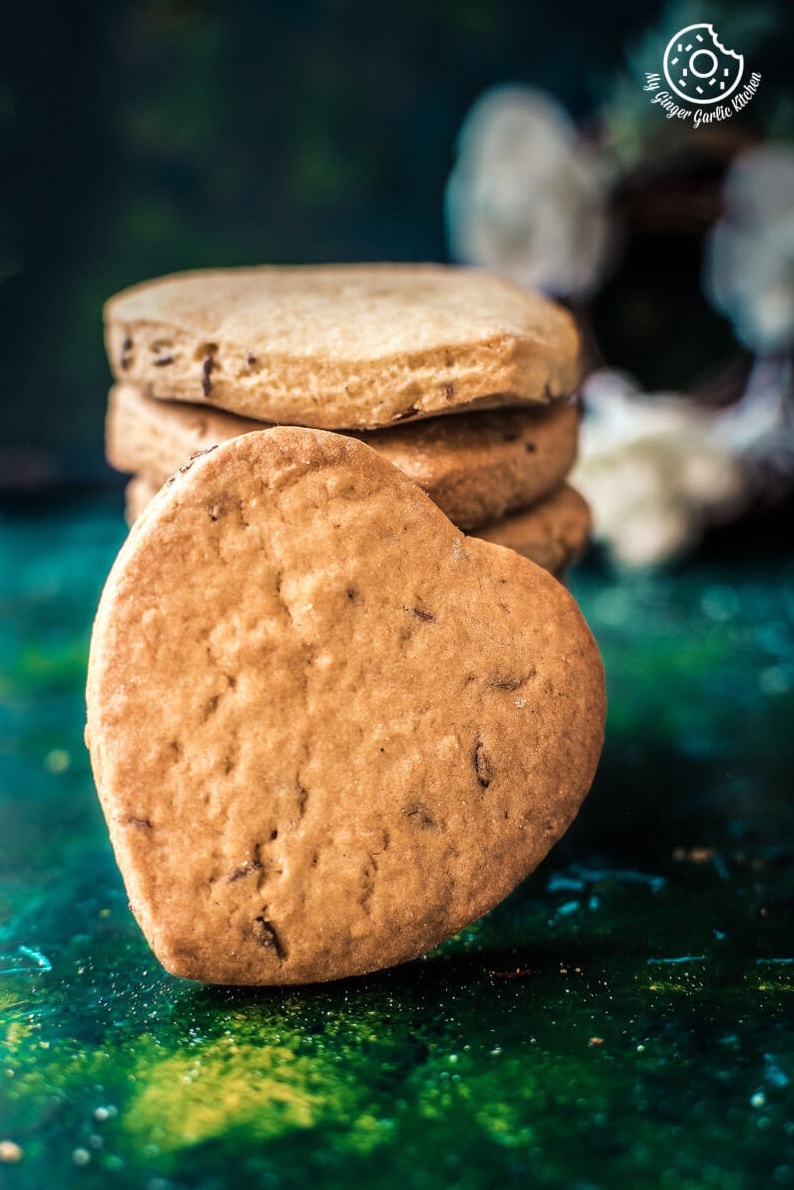 Jeera Biscuits - Eggless Roasted Cumin Cookies Recipe

[Recipe]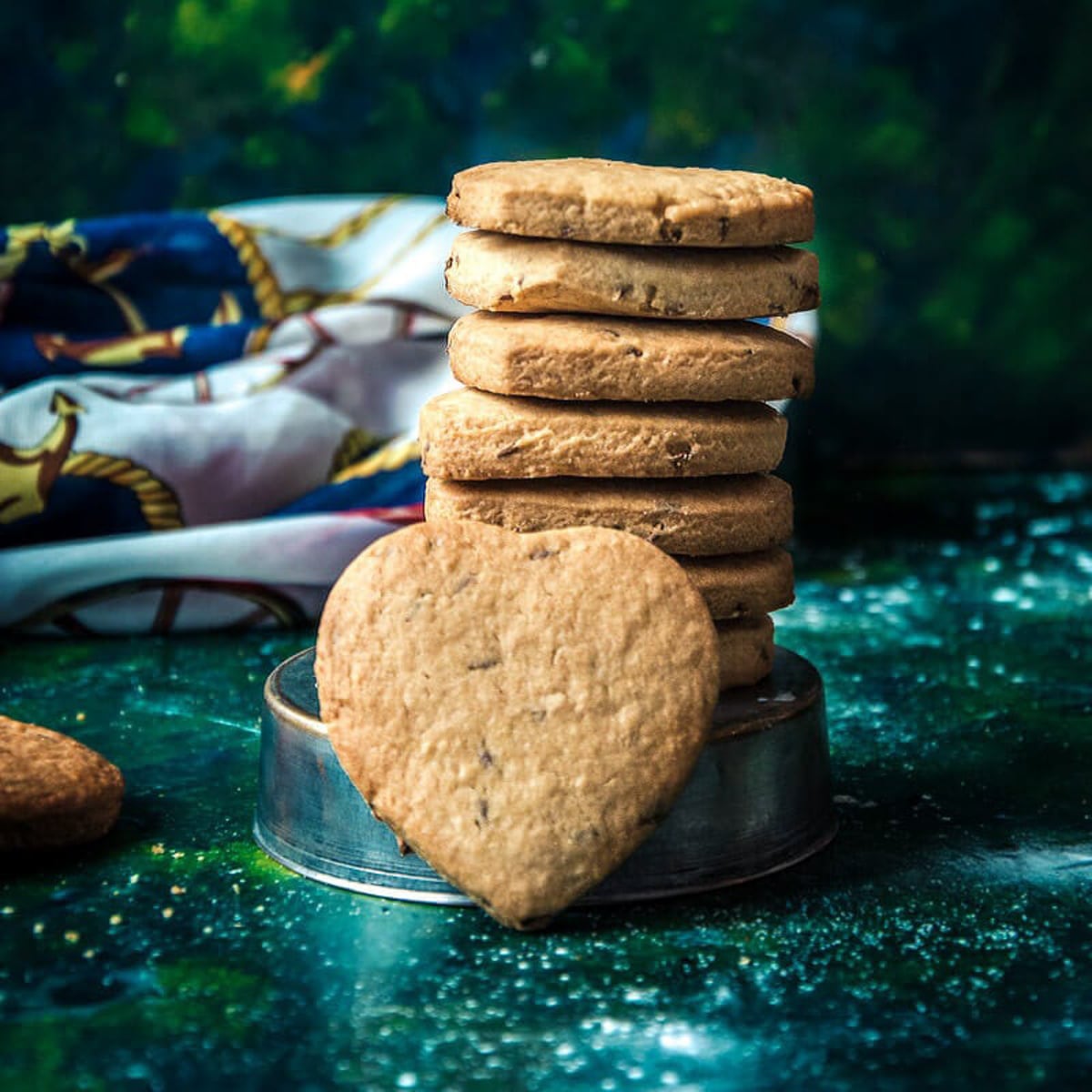 Jeera Biscuits or Cumin Cookies are typical Indian bakery style tea time cookies. Zeera biscuits have a perfect balance of sweet and mildly salty flavors.
---
★★★★✰
(Rating:
4.2
from
66
reviews)
---
| Prep time 🕐 | Cook time 🕐 | Total time 🕐 |
| --- | --- | --- |
| | | 25 mins |
| Category ☶ | Cuisine ♨ | Serves ☺ |
| Snack | Indian | 20-22 |
| Nutrition Info ⊛ | | Serving size ⊚ |
| 53 calories | | 1 cookie |
---
INGREDIENTS
For Jeera Biscuits:
1 cup whole wheat flour or all-purpose flour
1/4 cup powdered sugar
1/4 cup unsalted butter, at room temperature
1/2 teaspoon salt
1/2 teaspoon baking powder
1/4 teaspoon baking soda
1.5 tablespoons cumin seeds (jeera)
2-3 tablespoons milk, or as needed
---
INSTRUCTIONS:
Make Jeera Biscuits:
Roast 1.5 tablespoons cumin seeds for 1 minute or until they turn aromatic.




Preheat the oven to 160°C. Line a baking tray with parchment paper.




Add butter and sugar to a large bowl.




Beat this mixture till it becomes creamy and smooth.




Add flour, baking powder, salt, baking soda, and milk.




Mix well and make a dough using the hand.




Add roasted cumin seeds and mix well again. Add more milk if needed.




Form a stiff dough out of this mixture.




Sprinkle some flour and roll the dough to 1/4 inch thickness.




Now dust cookie cutter in some icing sugar.




Cut into desired shapes using a cookie cutter.




Place the cookies on a prepared baking tray.




Bake these cookies at 160° in a pre-heated oven for 18-20 minutes or till they turn nice and crisp.




Remove from oven and transfer cookies on a wire rack.



---
WATCH VIDEO:
---
NOTES:
You can store them jeera biscuits in an airtight container or a cookies tin for up to 2 weeks.
---
If this recipe helped you, then please spread the word by sharing and
subscribing
to us on YouTube to get more such Recipe Videos.
---
Your feedback is so helpful for me and other MyGingerGarlicKitchen readers. So, for Facebook and Instagram, please mention
@MyGingerGarlicKitchen
or
#mygingergarlickitchen
. I would love to see your photos. :)
---
Author:
Anupama
Recipe Source Link:
https://www.mygingergarlickitchen.com/jeera-biscuits-eggless-roasted-cumin-cookies-video-recipe/
Date Published:
2020-11-02
• • • • • • • • • •