Learn to make Eggless Triple Chocolate Cookies Recipe with an easy video tutorial. These seductive, thick and crispy Eggless Triple Chocolate Cookies are perfect for anyone who loves chocolate. The triple shot of chocolate is good enough to make anyone drool. These cookies come with thick, soft and a lightly chewy texture. They are completely packed three different chocolate flavors.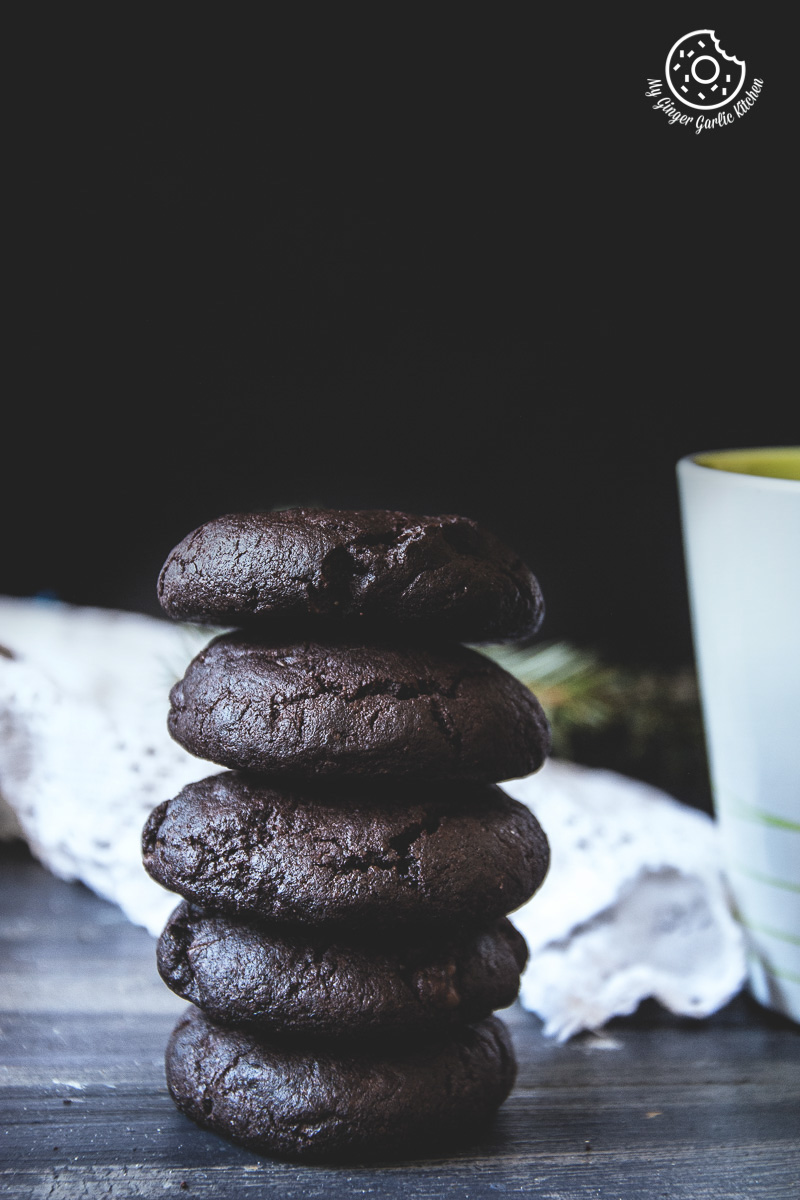 Friday night Ado says: "Mommy, can you make chocolate cookies for me?"
Me: "When?"
Ado: Now.
Me: "But it's too late."
Ado: "So how about tomorrow? Can you make tomorrow?
Me: "Okay. But only on one condition.
Ado: "What mommy?"
Me: "You will have to help me in baking chocolate cookies."
Ado: "Okay. Can you teach me how to bake chocolate cookies?"
Me: Yes, of course. I will teach you tomorrow. Shall we sleep now?"
Ado kisses and hugs me and says, "Yes. I love you Mommy. Good night, sleep tight." 🙂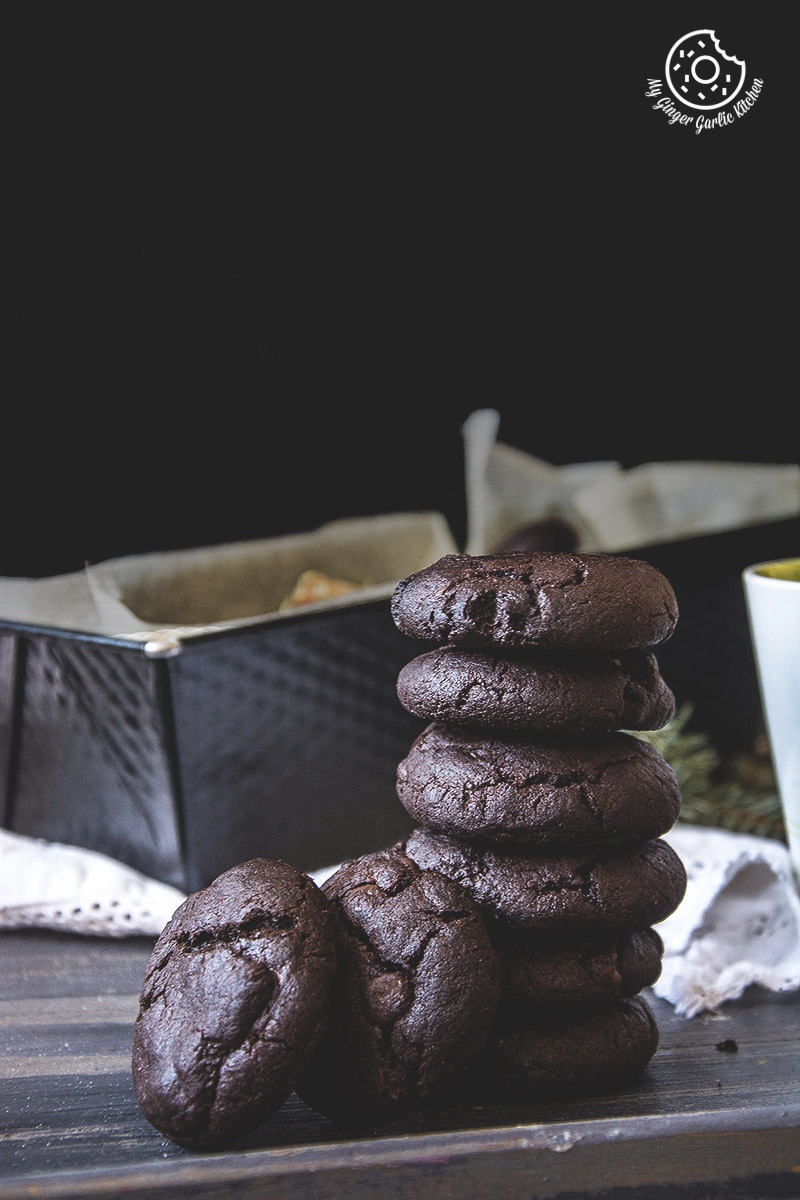 Next scene:
Saturday morning, I am making breakfast and Ado comes to me.
Ado: "Mommy, when can we make cookies?"
Me: "Oh, I completely forgot about cookies. Thank you for reminding me. Let's eat breakfast and then we will both bake cookies."
Then after breakfast:
Ado: "Mommy! I am done with breakfast. Can we bake cookies now?"
Me: "Okay. Let's bake some chocolate cookies."
While preparing dough, I asked her: "How would you like them. With little chocolate or too much chocolate?"
She says: "I want them with so much chocolate. I want them with three chocolates."
And that's how these 'Chocolicious boys' were born from Ado's tiny hands. 🙂
On the day when we baked these thick and crispy cookies, they were our lunch. Yes, we both ate them for lunch, and it was one of the best lunches for chocoholics like Ado and me. 😉
These eggless triple chocolate cookies are hard to resist:
These tempting and crispy triple chocolate cookies are perfect for anyone who loves a little crunch in their cookie. Anybody who loves chocolate would become besotted with these cookies because they are loaded with chocolate, chocolate, and more chocolate. This triple dose of chocolate is good enough to make anyone drool. All I want to tell you is, if you like chocolates you will definitely love these cookies.
Making these eggless chocolate cookies is Child's play:
This cookie recipe is one of simplest baking recipes which even a little child can make. You must have seen that in the video above. 😉 Kids would love to bake and eat these yummy home baked cookies.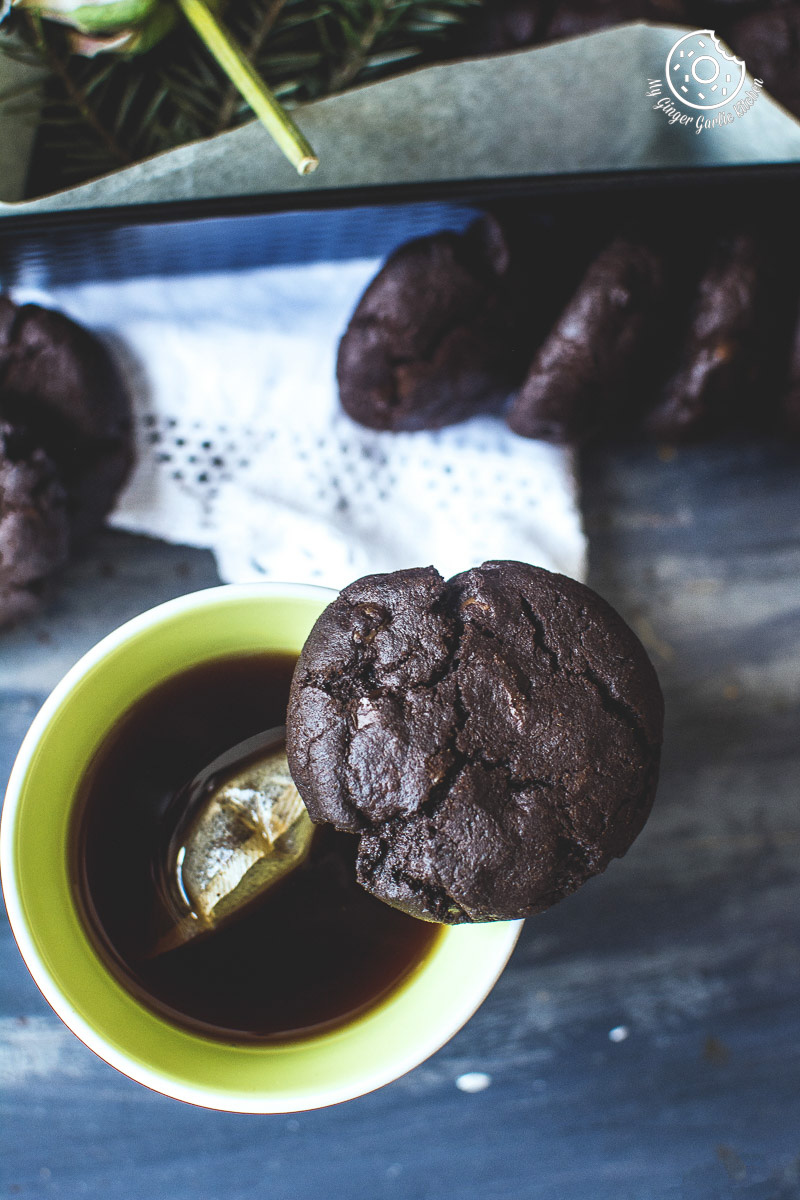 Chocolate in, chocolate out:
You don't need so many ingredients for baking these delightful cookies. And there are higher chances that probably you have most of the ingredients for making these cookies ready at home. The chocolate dough is pretty simple to make and to make it even more chocolatey, you add in chocolate chips and dark chocolate chunks to the dough too. There you have it — the very tasty and delightful triple chocolate cookies. And it does not require any eggs at all.
You can have them warm with a glass of milk, coffee or even tea. Or you can simply store these eggless triple chocolate cookies in an air-tight container and store them for 2-3 weeks, but only if you can resist them for that long.
Let's get started.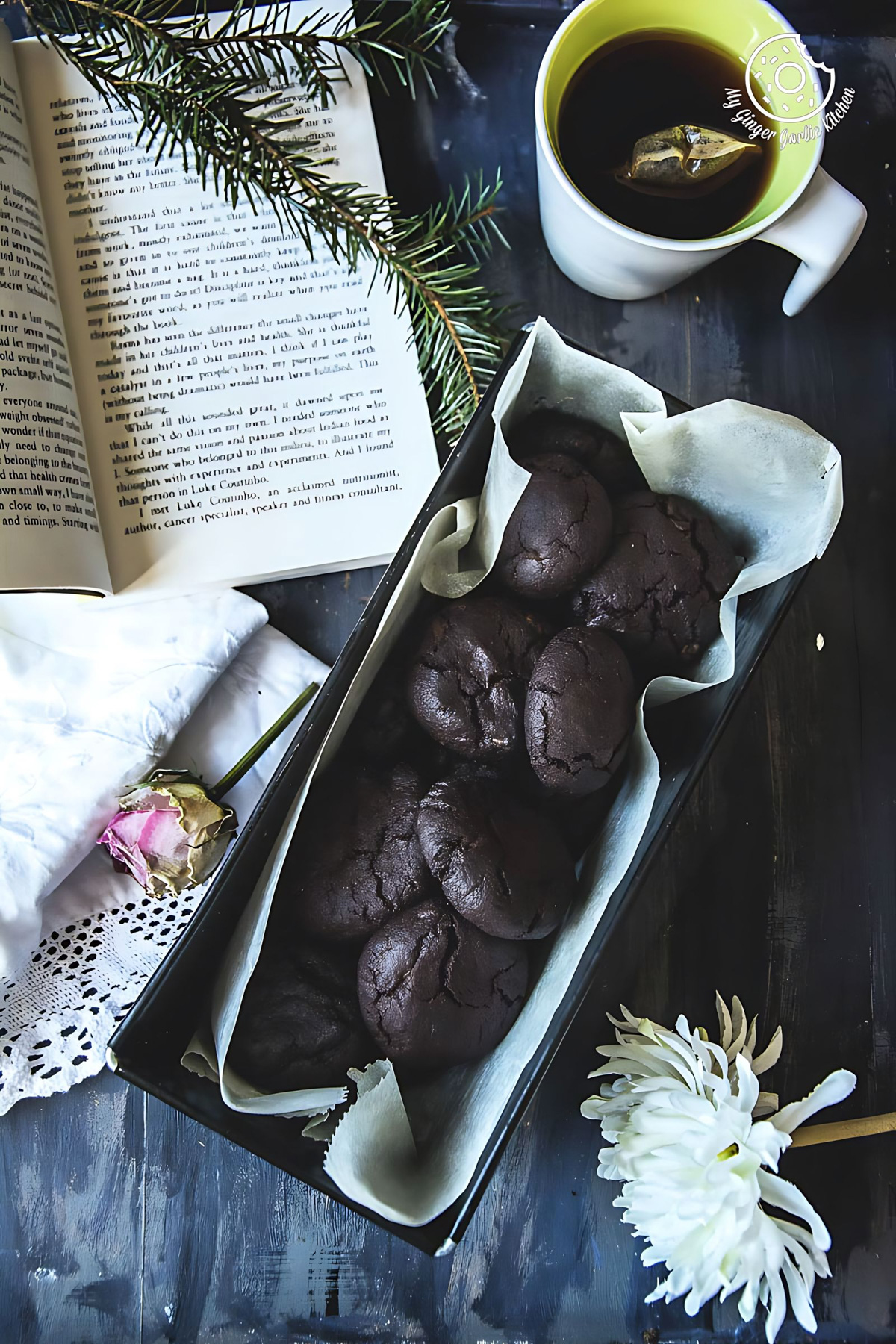 You may also like these cookies:
Eggless Triple Chocolate Cookies Recipe

[Recipe]
Learn to make Eggless Triple Chocolate Cookies Recipe with a video tutorial. These seductive, thick and crispy cookies are perfect for chocolate lovers.
---
★★★★✰
(Rating:
4.2
from
85
reviews)
---
| Prep time 🕐 | Cook time 🕐 | Total time 🕐 |
| --- | --- | --- |
| | | 25 mins |
| Category ☶ | Cuisine ♨ | Serves ☺ |
| Main | Indian | 20-22 |
| Nutrition Info ⊛ | | Serving size ⊚ |
| 180 calories | | 1 cookie |
---
INGREDIENTS
For Eggless Triple Chocolate Cookies:
1 1/2 cups / 192g plain flour or whole wheat flour
1 cup/ 201 grams granulated sugar
2/3 cup / 85 grams unsweetened cocoa powder
1/4 cup / 57 grams butter or margarine softened
2 tablespoons oil (I used rapeseed/canola oil)
4 tablespoons milk
1 teaspoon vanilla extract
1/2 teaspoon salt
1/2 teaspoon baking soda
1/2 teaspoon baking powder
90 grams milk chocolate chips
90 grams dark chocolate chunks (I used 54% cocoa)
---
INSTRUCTIONS:
For Eggless Triple Chocolate Cookies:
Preheat the oven to 180°C/350ºF. Line a baking sheet with a parchment paper.




In a mixing bowl add the flour, cocoa powder, salt, baking powder and baking soda in and mix well.




In another bowl cream, the butter, sugar, oil, milk till the mixture turns fluffy and smooth.




Add vanilla extract, dry ingredients, chocolate chips, and chocolate chunks to the butter mixture.




Mix well to form a dough.




Use your hands to divide the dough into lemon sized balls.




Place dough balls about 2 inches apart onto the baking tray.




Bake 12-15 minutes. The Center of the cookies will be soft at this stage.




Allow cookies to cool on baking sheet for 5 minutes before transferring to a wire rack to cool completely.



---
WATCH RECIPE VIDEO: Click the play button and video will load ...
---
NOTES:
You can store them in an air-tight container for up to 2 weeks.

This recipe uses butter, but you can also use shortening instead of butter.

The addition of butter adds so much flavor to the cookies, and it keeps these delicious cookies chewy yet melt-in-mouth.
---
If this recipe helped you, then please spread the word by sharing and
subscribing
to us on YouTube to get more such Recipe Videos.
---
Your feedback is so helpful for me and other MyGingerGarlicKitchen readers. So, for Facebook and Instagram, please mention
@MyGingerGarlicKitchen
or
#mygingergarlickitchen
. I would love to see your photos. :)
---
Author:
Anupama
Recipe Source Link:
https://www.mygingergarlickitchen.com/eggless-triple-chocolate-cookies-video-recipe/
Date Published:
2021-04-14
• • • • • • • • • •