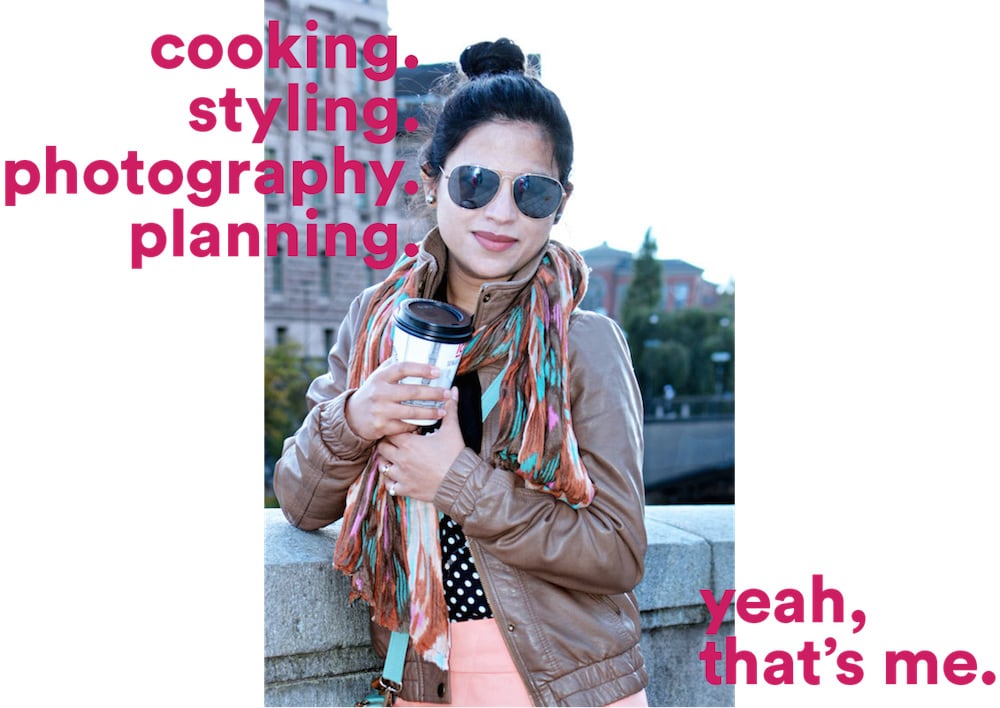 Hello Food Lovers,
My name is Anupama, and I welcome you to My Ginger Garlic Kitchen, an Indian Fusion Food Blog, where I share my recipes, food styling tips, and how to's.
Here, you will discover exemplary video tutorials and recipes of Indian and western food with spices and herbs. I am sure you will like them as much as I do.
I was born and brought up in the beautiful city of Jaipur, the capital and largest city of the Indian state of Rajasthan, in Northern India. Jaipur is famous for its pink walls, and also known as the Pink City of India. It has a world famous landmark called Hawamahal, amongst others. I arrived in Finland, some years back and, now I live in Helsinki, Finland with my family.
I am an Author, Entrepreneur, Designer, Photographer, and a Passionate Cook. My biggest joys are Cooking food, styling food and Photographing food I cooked. So I decided to combine them and created an Indian Food blog My Ginger Garlic Kitchen. It has been a magnificent experience of organizing my recipes and sharing them at the same time, with all the food enthusiasts. I believe in a varied, healthy diet, using real butter, real cream, eggs, lots of green vegetables, and protein from beans, and cheese. As we all know that food at restaurant is not so healthy, so I try to make the recipes which are healthy and mouth-watering at the same time. I love to eat well and, enjoy the experimentation of trying out new recipes. Whenever I cook something, I always taste before serving it to anyone. Reason that, I believe to satisfy my taste buds first. I believe, if I am not happy with the recipe I made, no one else is going to adore it.
I love the recipes which are well presented. So I emphasize on food styling, when I cook. I believe that, food which looks good tastes good. I love to make new recipes. I am a creative person in a way, so I never hesitate in making own variations. I like to have luscious food and try to make recipes, which are delightful. In my childhood, I used to get fascinated with the recipes, which looked enticing.
A little story of how I started cooking
My cooking journey started when I was 14. My tongue and empty stomach inspired me to cook. A day when my mother was away and I was hungry. My elder sister was supposed to feed me but she was sleeping at that time and I did not want to wake her up.
I had seen a recipe with a very beautiful photograph of a sandwich made using Papad, in a magazine. I wanted to try that. So I went to the kitchen and followed all the steps of that recipe carefully. I made a smiley face on the yummy looking sandwich. You could imagine, I really wanted to taste it without any delay, but instead I showed it first to my sister, who just woke up. I went to her and asked her to taste it. Her very first expressions after eating the sandwich made me extremely joyous. She liked it very much, and asked me about the recipe.
Then I tasted it myself – my own cooked sandwich. And after that day I did not stop myself, and this beautiful journey began.
Photography
All of the photographs on My Ginger Garlic Kitchen were shot by Anupama Paliwal.
Copyright
All Rights Reserved. No part of this blog may be reproduced or utilized in any form or by any means, electronic or mechanical, including but not limited to photocopying, recording, or by any information storage and retrieval system without the prior written permission of the author.
The photos are copyright @MyGingerGarlicKitchen. In general I don't mind if my photos are republished on other sites as long as there is a link back to the recipe from which the photo is taken, and as long as the recipe itself is not also published with the photograph, but I maintain the right to withdraw that permission, and request that a photo of mine be removed from another site, for any reason.
About comments
Comments are welcome on my recipes and posts.
Happy Cooking 🙂
Enjoy The Promo Video of My Ginger Garlic Kitchen
---
More Info and Social Links below:
INSTAGRAM : https://www.instagram.com/mygingergarlickitchen/
FACEBOOK: https://www.facebook.com/MyGingerGarlicKitchen
PINTEREST: https://www.pinterest.com/anupamapaliwal/my-ginger-garlic-kitchen-recipes/
TWITTER: https://twitter.com/anupama_dreams