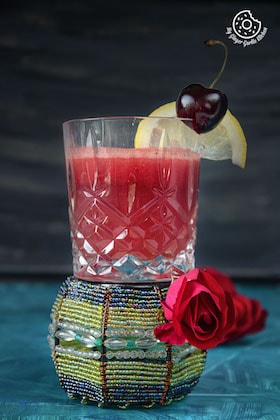 Green Tea Watermelon Detox Smoothie Recipe — For this smoothie, I used a combo of green tea, watermelon, lemon, and honey. This smoothie is beyond YUM. This smoothie is dairy-free, gluten-free, and sugar-free too if you skip honey! 🙂 Add maple syrup to make it VEGAN. This mighty super vibrant red smoothie tastes AWESOME.
Learn to make Holiday Fruit and Nut Ice Cream Recipe | Eggless Praline Ice Cream Recipe with step-by-step video instructions. This delectable Holiday Fruit & Nut Cardamom flavored ice cream is swirled with creamy, sweet and salty nutty praline and candied fruits. If you ever wished you could eat 'candied fruits' in an ice cream form, this is your chance.
Learn how to make Indulgent Steamed Veg Momos With Spicy Chili Chutney | Vegetable Dim Sum Recipe Recipe with step-by-step video instructions. Recipe for Tibetan steamed veg momos aka dim sum with the spicy and sweet chili tomato sauce. Momos are also known as dim sum, wontons.
Learn to make Green Coriander Chutney – 3 Ways | Hare Dhaniye Ki Chutney | Hari Chatni Recipe with step-by-step Video tutorial. All these chutneys taste so flavourful and they all are unique. They can powerfully enhance the taste of any side dish. Plus, making them takes only a few minutes. No oil/ghee tempering is needed for these healthy and refreshing chutneys. These are very versatile so that you can use them as a dip for any snacks, sandwiches, or Indian stuffed parathas.
read more…