Learn How To Make Aloo Gobi Sabji | Dhaba Style Dry Aloo Gobi Sabji Recipe Video with easy and quick video tutorial. This hearty and flavor-packed cauliflower and potato dish (Aloo Gobi) is one of the most beloved and widely eaten vegetarian side dishes in every part of India. Yes, in every part of India.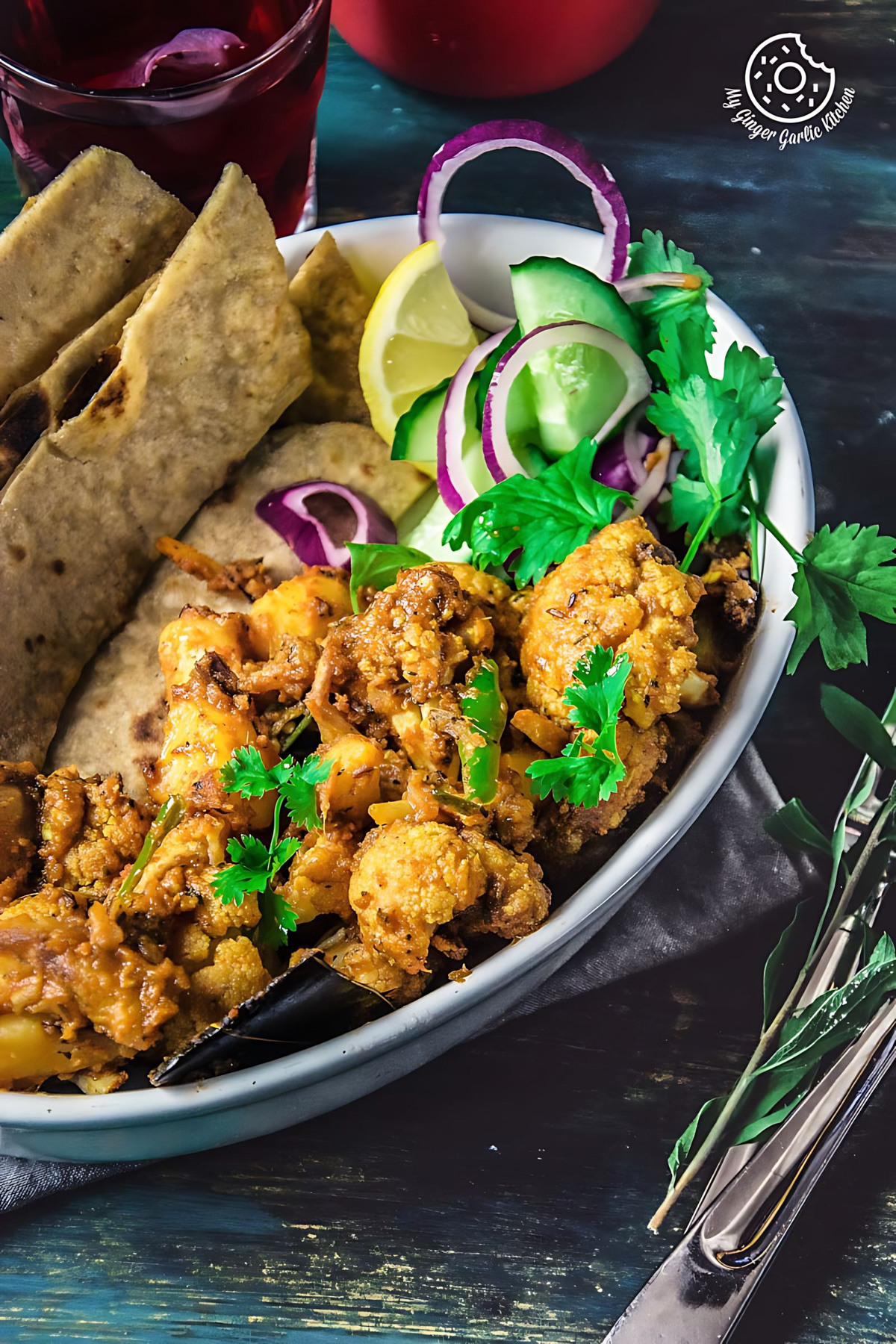 Happy weekend friends!
I hope that this week has been treating you well. Mine was a bit busy. Right now I am feeling ravenous and I intensely want to eat this 'Aloo Gobi' (आलू गोभी) which was made for dinner yesterday. The good news is that I still have some leftovers, so I can indulge in it today as well. 🙂
Related:  Curried Potato Cauliflower Topped Naan Pizza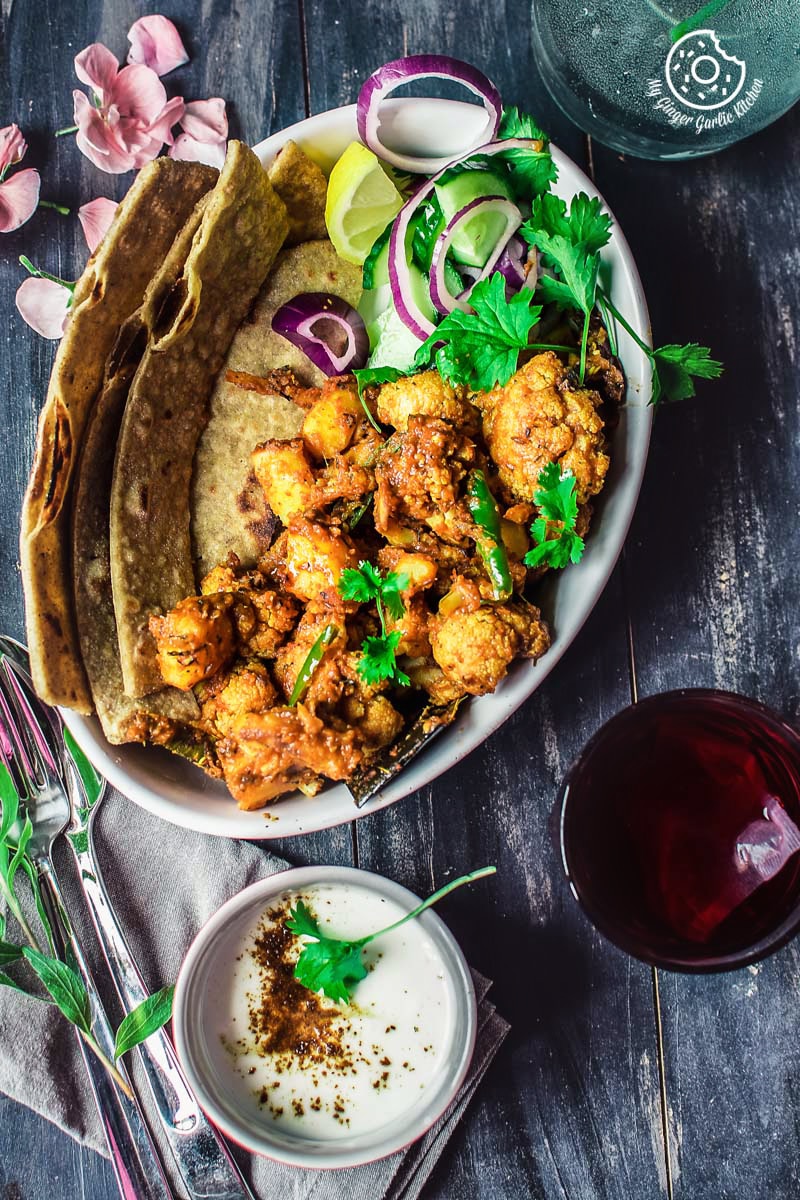 Alright, let's talk about today's heavenly recipe without further delay. It's Dhaba Style Dry Aloo Gobi.
This basic vegetable curry is so satisfying, so comforting and just the best. Plus, this aloo gobi is vegan too. All I can say is that this recipe is definitely a keeper.
Aloo Gobi is one of such dishes which can be made in a hundred ways. So, there is not a particular single recipe for making any 'aloo gobi'. I must say there are so many ways of making this humble dish.
Related: Gobi Pakora – Classic Spicy Cauliflower Pakora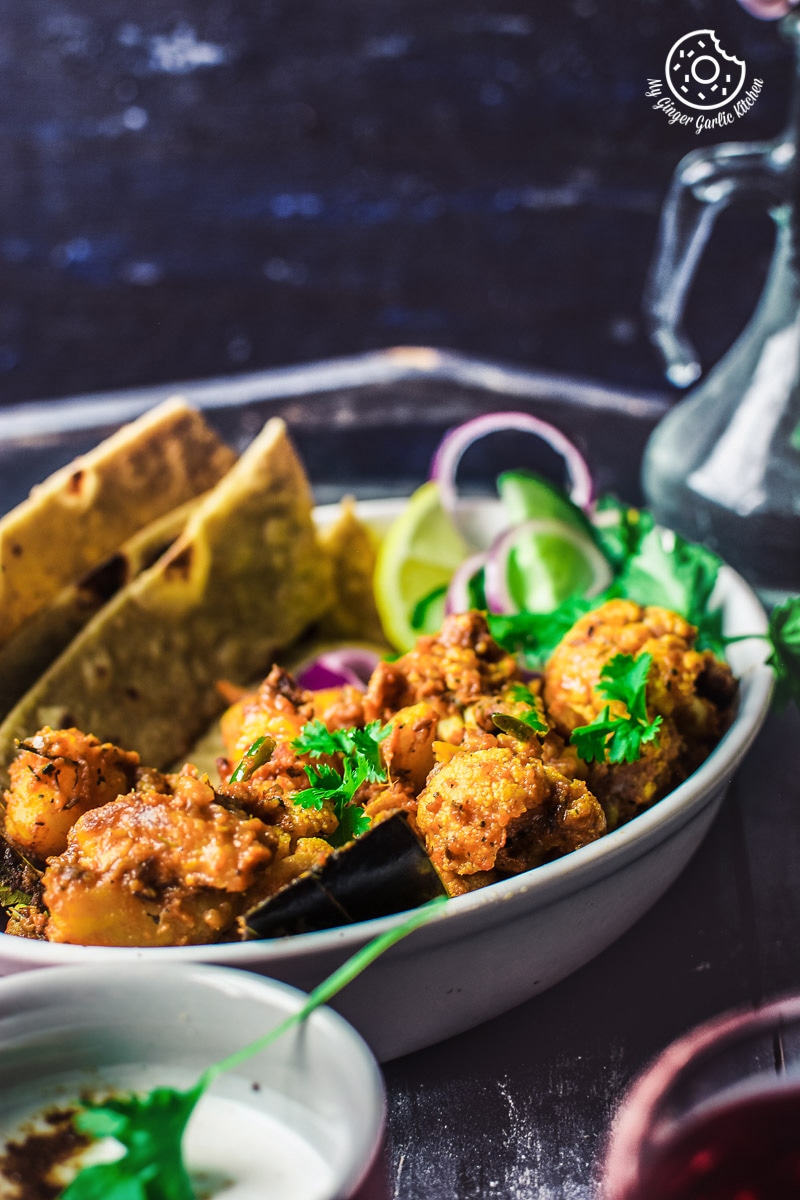 I can assure you one thing that, whenever you eat this 'potato & cauliflower' combination in any spicy recipe, it would forever come out astounding. There is something about this pleasant combo of 'aloo & gobi'. As you now know that there are myriad of ways of cooking this dish, so today I preferred to share it the way it is served at 'Dhabas' which are roadside eateries in India. I just LOVE all Dhaba style food. They somehow feel raw.
Dhaba (roadside eateries) style food is very popular in the Northern part of the India. I have always adored the dhaba style food because it is prepared wholesome and they always cook food the traditional way. This traditional style cooking is usually missing in restaurant style food.
Related: Patta Gobi Ka Paratha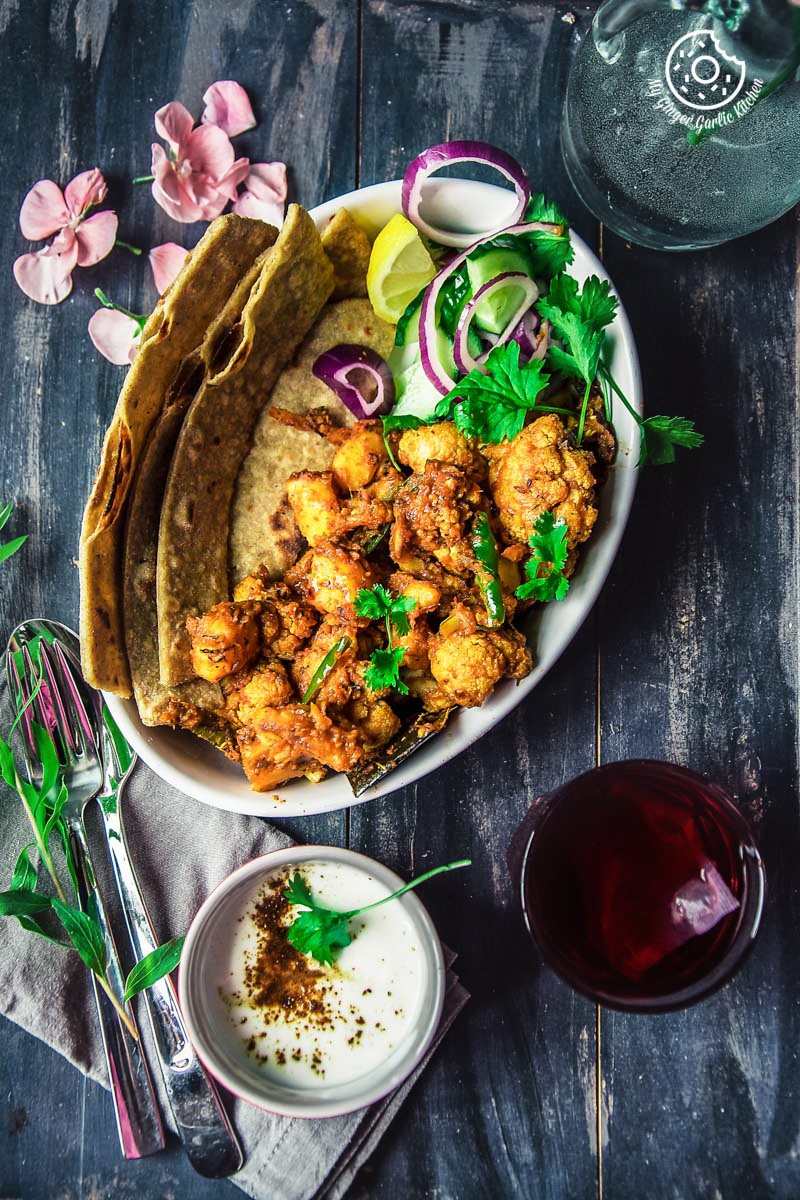 Talking about the Dhaba style food, I just recalled that I have also shared an incredible Dhaba style recipe earlier — the mighty 'Malai Kofta'.
Coming to today's Aloo Gobi, this very simple and easy dhaba style aloo gobi is one of my favorite ways to eat this dish. My other favorite version of aloo gobi is 'Achaari aloo gobi', which is a dry sabzi, so it goes so well with parathas, chapati as a side dish.
Related: Roasted Cauliflower Pilaf With Watermelon Sauce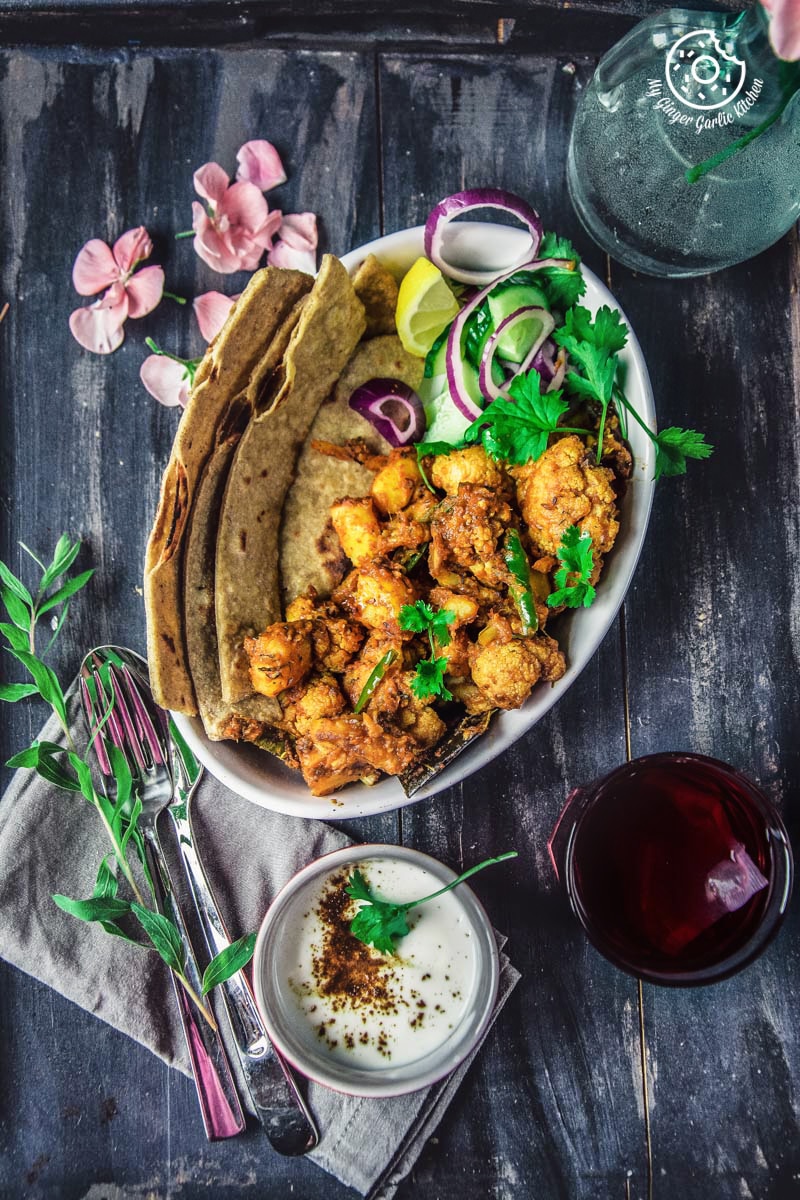 What is Dhaba Style Dry Aloo Gobi Sabji?
This delightful Indian dish, the 'Dhaba Style Dry Aloo Gobi Sabji' is a dry version of the curry. Aloo aka potatoes are the key ingredient of this dish.
In this recipe, potatoes and cauliflower florets are sautéed in the little oil before adding to the onion tomato masala. Sautéeing adds both richness and exoticness to this dish, and the result is that they are not so greasy, yet so flavorful.
Related: Red Cabbage Cauliflower Radish Chickpea Pancake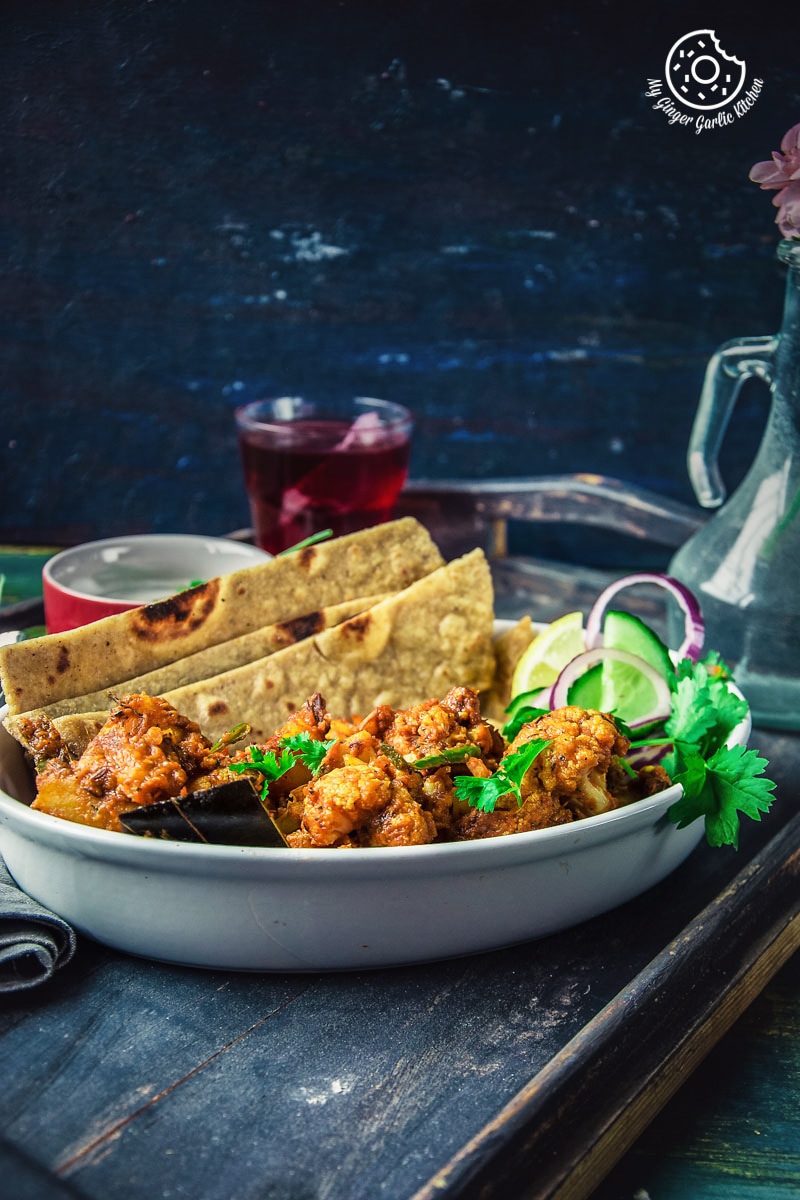 Tips to make your best Dhaba Style Dry Aloo Gobi Sabji:
Cutting and sizing: For this recipe, I would recommend cutting the florets slightly bigger than the potatoes. The reason is that cauliflower florets will take lesser time in cooking, and if you cut them both in the same size, there are higher chances that florets would go mushy and we certainly don't want that.
Making it flavorful: This Dhaba Style Aloo Gobi is a moderately dry dish, but some kind of liquid is needed for cooking the masala and sautéed vegetables. The liquid we are using here is the tomato puree and a little water.
Tomato puree: I have used tomato puree for this recipe because it gives a great color. But traditionally, freshly chopped tomatoes are added to this dish. Feel free to use any kind of tomatoes.
Cooking for taste: Another best thing to bring out the delicious taste is to cook the onion tomato masala until the oil rises. That is the ultimate sign that spices and tomatoes have merged well. I have made an instant onion, ginger and garlic paste just before cooking for this dish. You can also use the separate pastes.
Related: Cauliflower Korma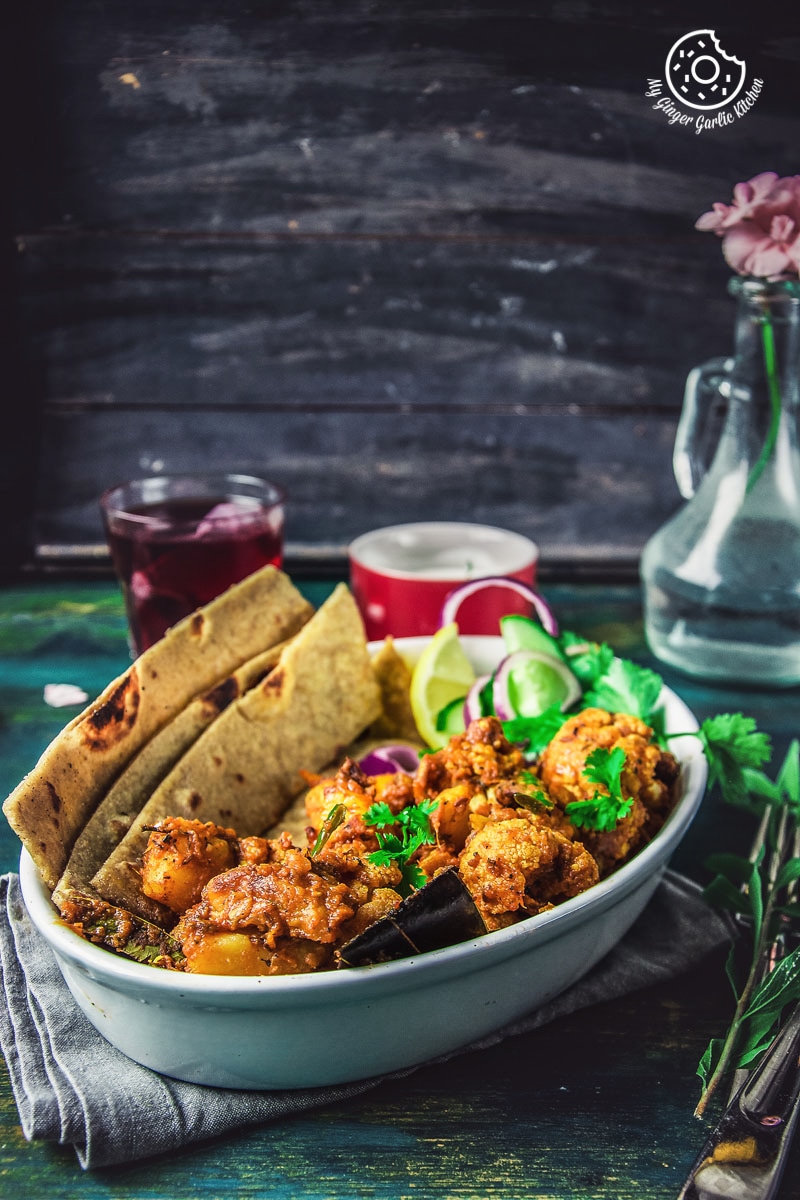 Related: Do you know how to keep cauliflower bright white in your dishes
How to serve Dhaba Style Dry Aloo Gobi?
This is a dry version and tastes awesome with roti, paratha, and some kind or raita. Do try it once, I know you will definitely adore this Dhaba Style Dry Aloo Gobi Sabji.
How To Make Aloo Gobi Sabji | Dhaba Style Dry Aloo Gobi Sabji Recipe.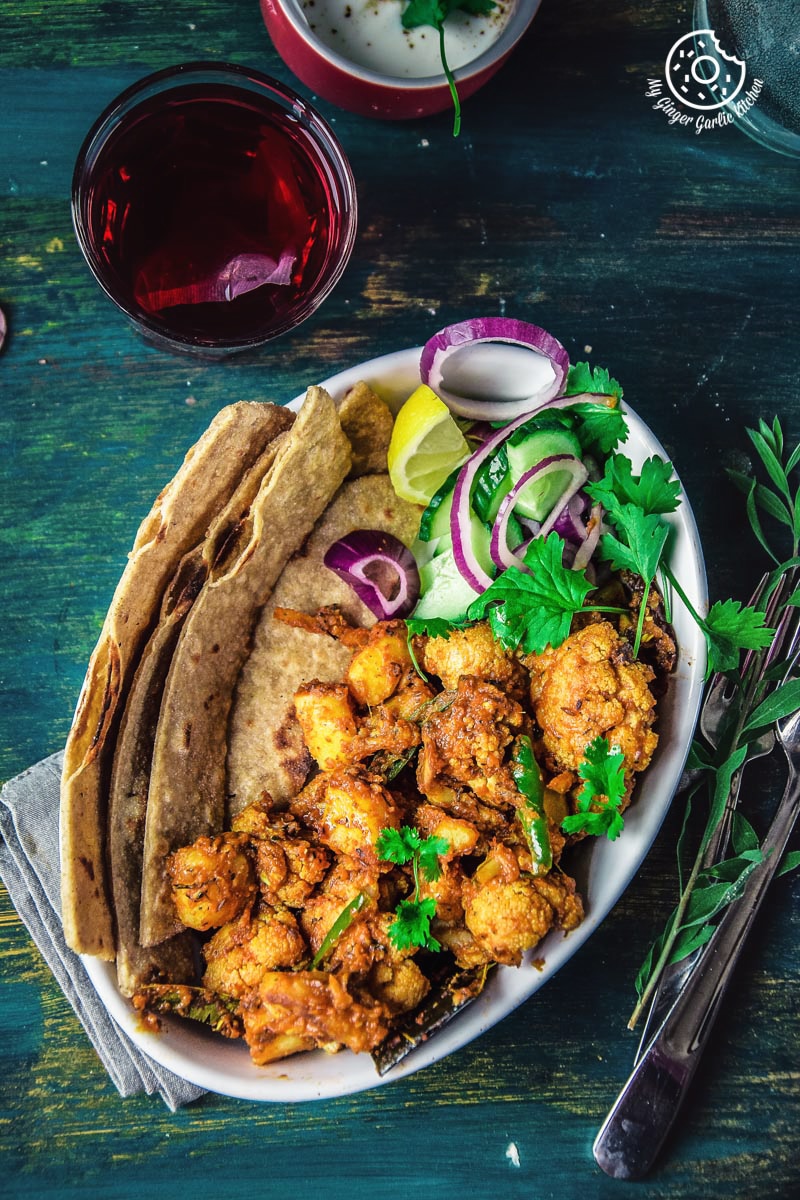 You may also like these other sabji recipes:
Dhaba Style Dry Aloo Gobi - Potato and Cauliflower

[Recipe]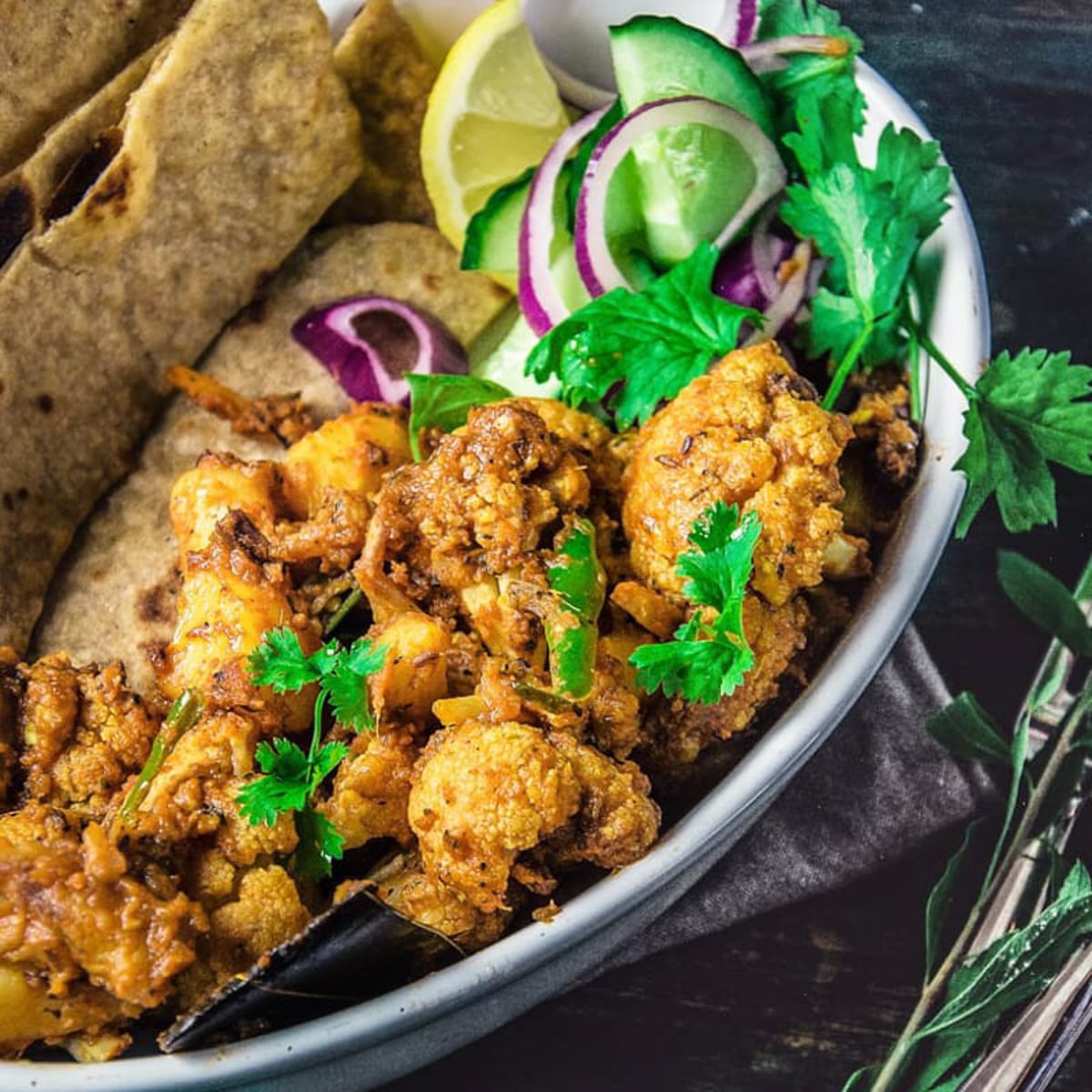 This hearty and flavor-packed cauliflower and potato dish (Aloo Gobi) is one of the most beloved vegetarian side dishes in every part of India.
---
★★★★✰
(Rating:
4.1
from
898
reviews)
---
| Prep time 🕐 | Cook time 🕐 | Total time 🕐 |
| --- | --- | --- |
| | | 30 mins |
| Category ☶ | Cuisine ♨ | Serves ☺ |
| Side | Indian | 5 |
| Nutrition Info ⊛ | | Serving size ⊚ |
| 145 calories | | 1 serving |
---
INGREDIENTS
Dhaba Style Dry Aloo Gobi:
5 tablespoons oil or ghee
2 medium sized onions, diced
1 tablespoon dried fenugreek / kasuri methi
2 tablespoons ginger, peeled and roughly chopped
2 tablespoons garlic, peeled and roughly chopped
2 cups potatoes / aloo, diced
5 cups cauliflower florets / phool gobi
4 small green chillies, slit
1/2 cup tomato puree (you can also add 1/2 cup freshly chopped tomatoes)
Salt to taste
1 tablespoon ginger, juliennes
2 teaspoons cumin seeds / jeera
1 teaspoon kashmiri red chili powder or deggi mirch powder (you can also add any other chili powder)
1/2 teaspoon turmeric powder / haldi powder
2 teaspoons coriander powder / dhaniya powder
1 teaspoon garam masala powder
4 tablespoons cilantro for garnish
1/4 cup + 7 tablespoons water
---
INSTRUCTIONS:
Make Dhaba Style Dry Aloo Gobi:
Soak cauliflower florets, and diced potatoes in hot water for 10 minutes to remove any worms hidden inside the floret.




After 10 minutes, drain them and set aside.




Heat 3 tablespoons of oil in a pan.




Once the oil is hot, add cauliflower florets and diced potatoes.




Toss well and let them sauté for 5 minutes. Add salt and mix well to coat.




Cover the pan with a lid and cook on medium heat for 10 minutes or until potatoes and cauliflower are lightly golden and 90% cooked. (Keep stirring occasionally to prevent potatoes from burning.)




Meanwhile, add onions, garlic, and ginger to a blender along with 3 tablespoons of water.




Blend well to make a smooth paste. Keep it aside.




Transfer sautéed cauliflower and potatoes to a plate or bowl. Set them aside.




Heat 2 tablespoons of oil in a pan.




Add cumin seeds, bay leaf, black cardamom, cloves, dried red chilies, and star anise. Sauté them for a few seconds or until whole spices are fragrant.




Next, add kasuri methi and mix well. Let it fry for 1 minute.




Add onion, ginger-garlic paste and mix well. Sauté for 5-7 minutes or until onion paste turns golden.




Now, add tomato puree and mix well. Cook for 5 minutes.




Also, add ginger juliennes, and sliced green chilies.




Mix everything well and let it cook for 2 minutes.




Add red chili powder, turmeric powder, Kashmiri lal mirch powder, coriander powder, garam masala powder, and salt.




Let them cook for 5 minutes or till the oil start to separating from the sides of the masala.




Add 1/4 cup water and mix well. Let it cook for 5 minutes.




Add sauteed aloo and gobi, and toss well.




Add 3-4 tablespoons of water and gently toss again. Cook for 5 more minutes. Turn off the heat and garnish with cilantro leaves.



---
WATCH VIDEO:
---
NOTES:
No notes for this recipe.
---
If this recipe helped you, then please spread the word by sharing and
subscribing
to us on YouTube to get more such Recipe Videos.
---
Your feedback is so helpful for me and other MyGingerGarlicKitchen readers. So, for Facebook and Instagram, please mention
@MyGingerGarlicKitchen
or
#mygingergarlickitchen
. I would love to see your photos. :)
---
Author:
Anupama
Recipe Source Link:
https://www.mygingergarlickitchen.com/aloo-gobi-dhaba-style-punjabi-dry-aloo-gobi-sabji-video-recipe-potato-cauliflower/
Date Published:
2020-09-29
• • • • • • • • • •