How To Make Double Pyaaz Ka Besan - Besan Ki Sabji Recipe Video
---
Learn How To Make Double Pyaaz Ka Besan| Besan Ki Sabji Recipe with step-by-step video tutorial. This is a spicy Indian side dish made with two types of onions, gram flour, and spices. This goes well with any type of rice, roti or paratha.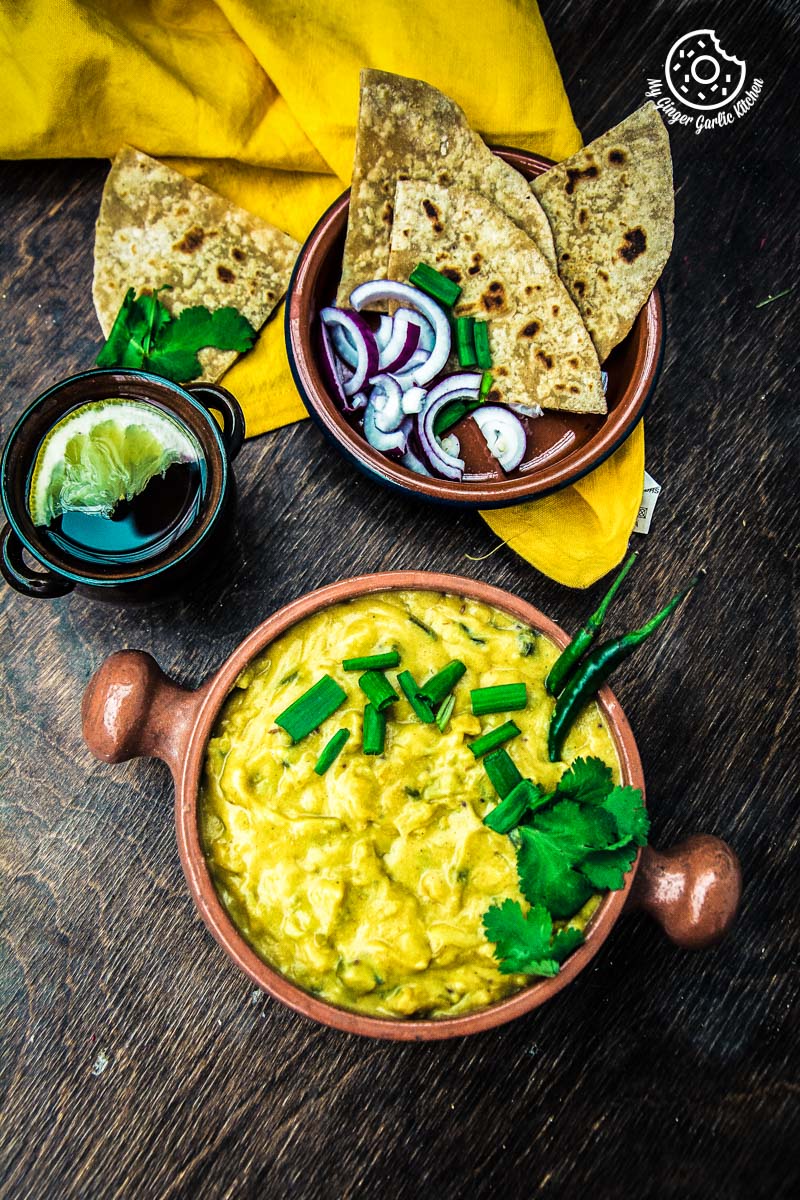 Happy Mid-Summer!
Cheers to the long weekend: Today is Midsummer day here, officially. Although if you ask me summertime has not even started here. We had very few summery days this year and I can even count them on my fingers.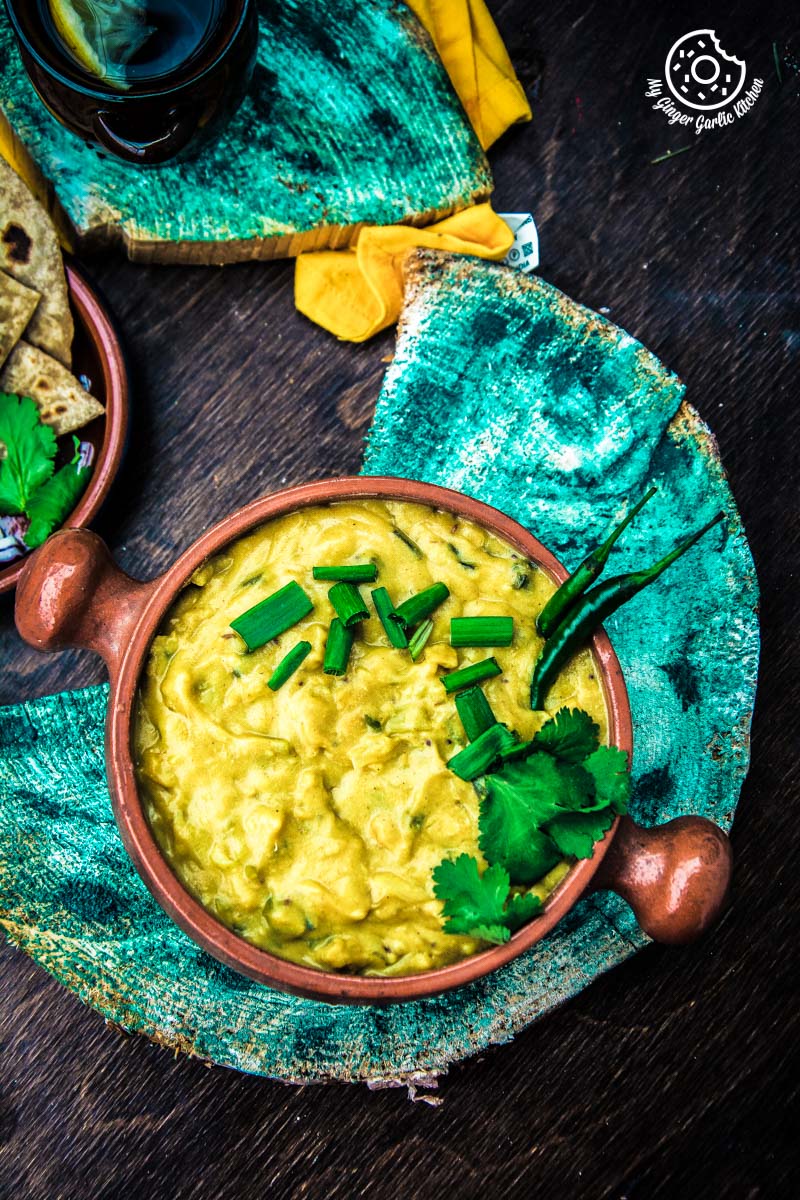 For those who do not know what Midsummer is, they can check it out in my earlier post here, which was about Yeast Free Naan, or in my last year's post about Radish Lentil Idli Fry.
Well, if you ask me I am not really thrilled about Midsummer celebration this year. And I have reasons for that.
Firstly, I have been really sick since Monday night. It started with an ear infection, moved to a sore throat, and then to high fever and cold. And still, I am going through the body aches. So as you could imagine, I am not in the condition to go out certainly.
Related: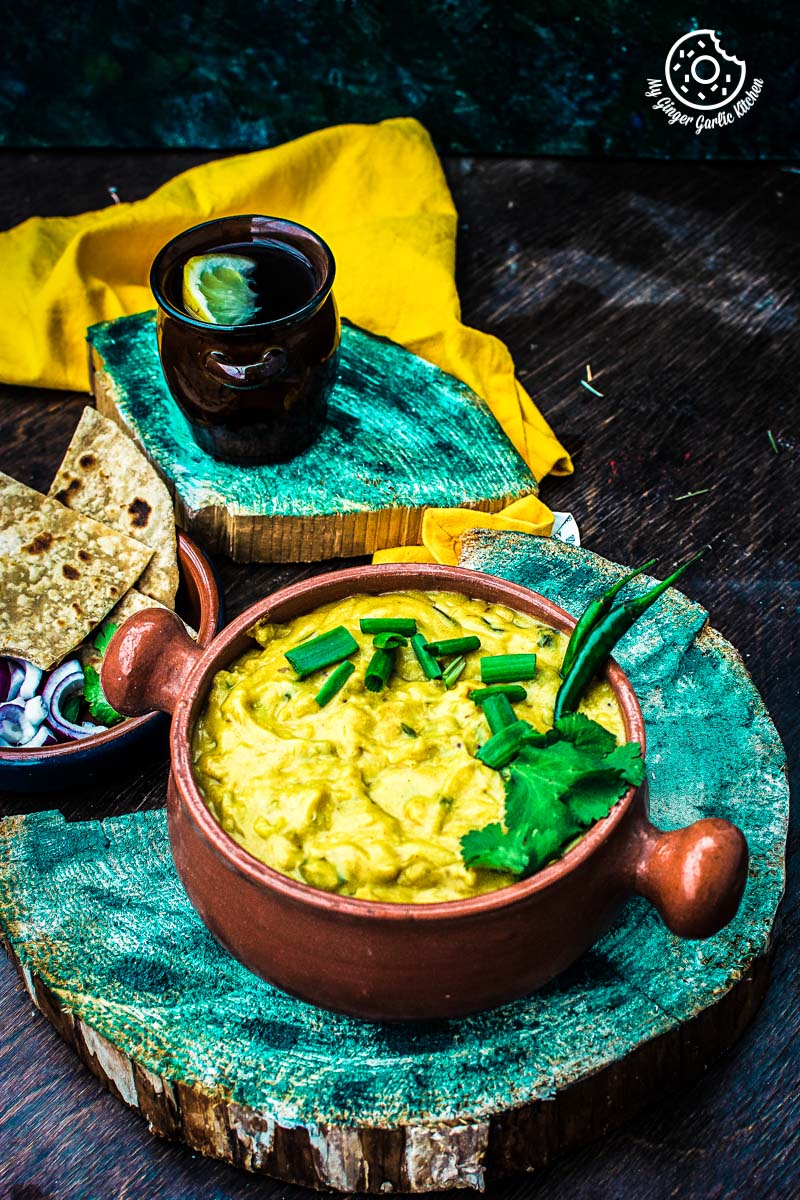 Secondly, the weather is cold. And also due to my sickness, I cannot have any booze which is a kinda Midsummer tradition, so staying at home sounds like a good idea.
And as goes in the Penguin world, when the family demands, the daddy penguin has to work extra to take care of the family during such tough times. So, for me too, the hubby dear did everything that a Daddy penguin does during such times. He's been going for the grocery shopping every evening and flooding the fridge with all the healthy stuff which should help make me feel better.
The little 'A' is on duty as well. She makes sure that I am hydrating myself by filling the water bottles and providing me with juices. Even though I am not really in the best of my health, I truly admire their sweet gestures.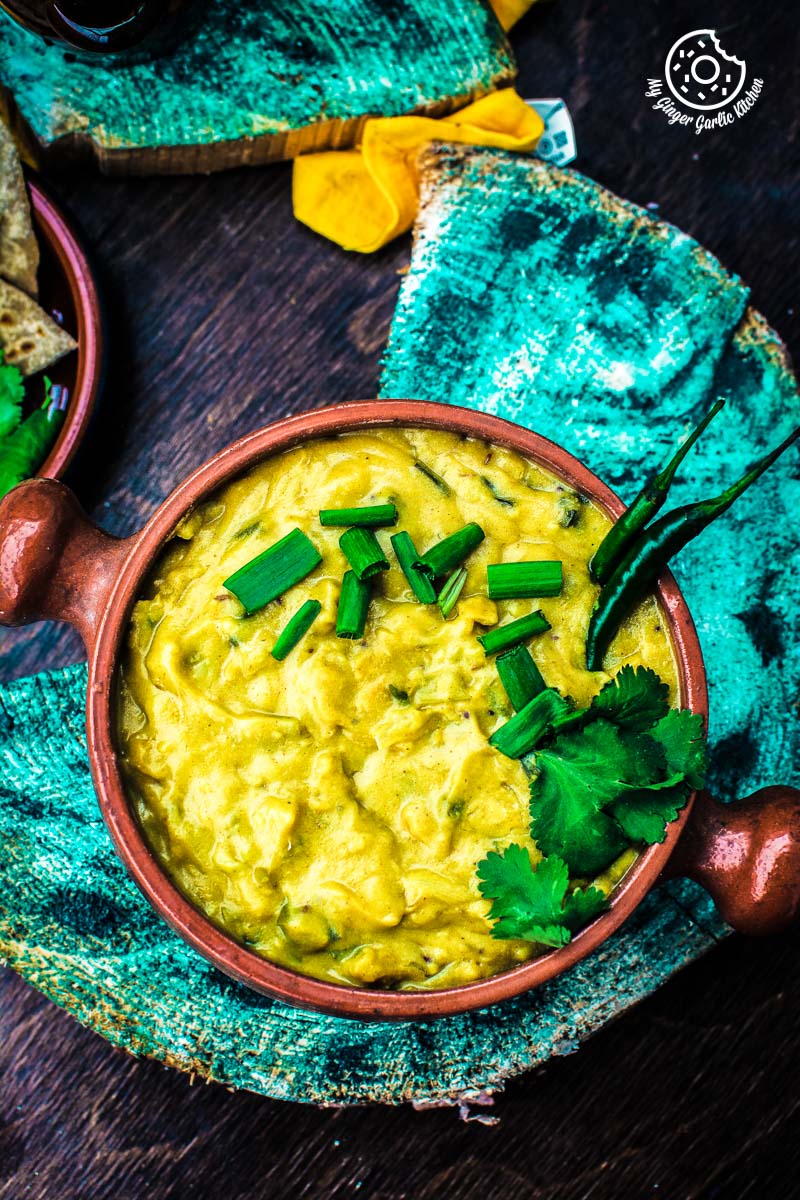 Now, that's a different story that I badly want to go to the kitchen and cook this 'Double Pyaaz Ka Besan' again as soon as I get out of the bed. My taste glands are starting to get better and coming on track now. That's why I am craving for this Rajasthani dish so much. I think I have already told you that whenever I get sick I start craving for my mom's food. Even though I haven't told my Mom about my sickness because I didn't want her to worry for me from miles away. But I so wish my mom was here to make this dish for me.
Considering mom is not here and I cannot cook in my present condition myself, I will have to wait until I get better.
Related:  Besan Ke Gatte Ki Sabzi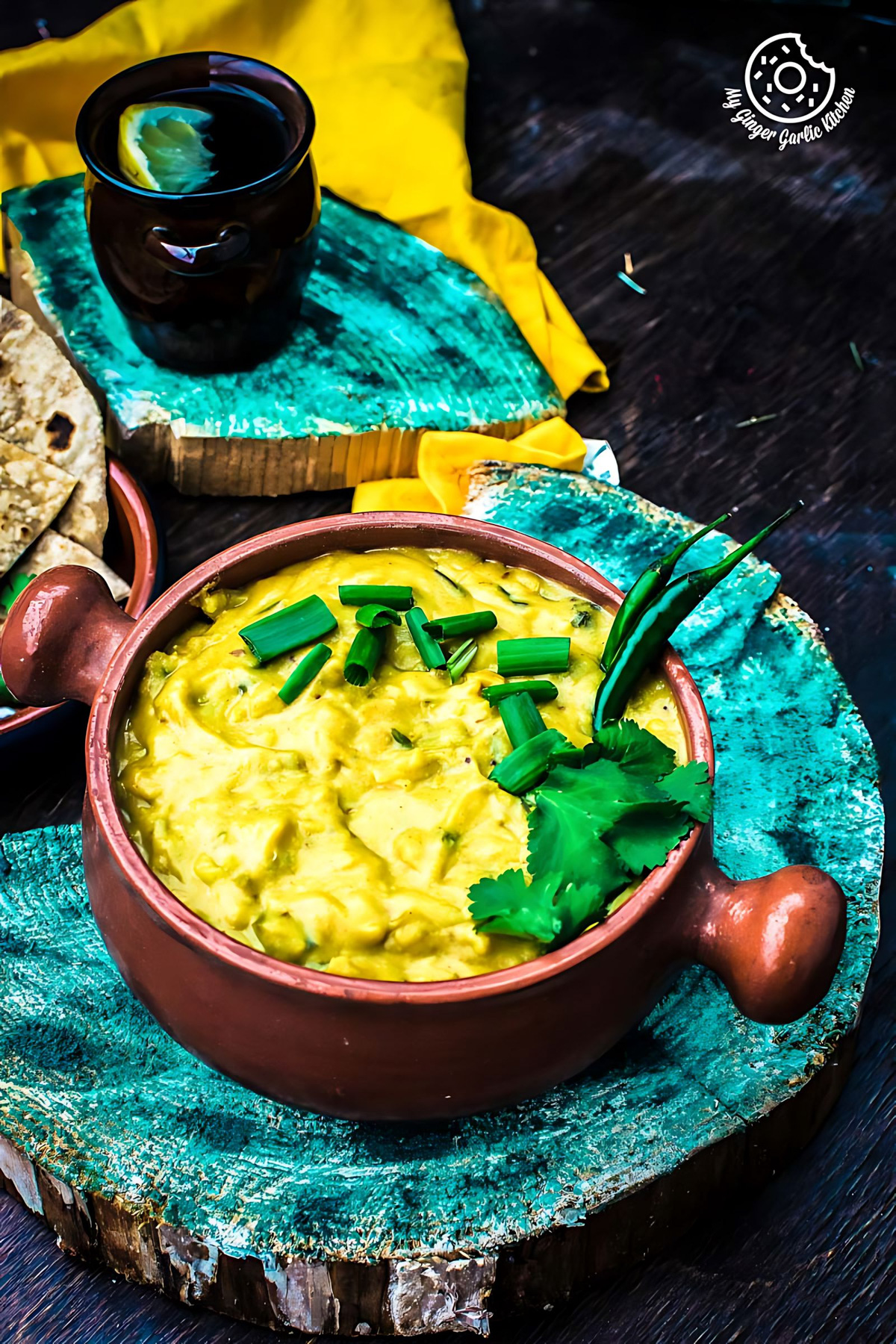 Whenever my mom was in a rush or she had a dilemma on what to cook, she opted for this 'Pyaaz ka besan' assuredly. I think it's because she knew this is one of such things which is cherished by everyone in my family. And everybody would eat this without making faces. This was one quick dish which made everyone happy. Wasn't she really clever? Well, she's always been. 🙂
Related: Besan Ke Cheele Ki Sabzi
'Double Pyaaz Ka Besan' is a spicy Indian side dish which goes well with any type of rice or Flatbreads. I usually like to eat it with Roti or Paratha. I am calling it a side dish because it doesn't fit the criteria of a curry or a stir-fry. So I don't know how to categorize this, that's why I am calling it a side dish. 🙂
My Mom is from the Indian state of Madhya Pradesh. And that region is known as Malwa. Pyaaz ka Besan is a very popular recipe hailing from Malwa region.
The pyaaz is Hindi word for onion. And 'Besan' is Hindi word for gram flour or chickpea flour. This double pyaaz ka besan I am sharing today is my mom's recipe, except that she only adds one type of onion to this, so she calls it pyaaz ka besan. I added two types of onions that's why I named it double pyaaz ka besan.
She also adds green peas to this dish, but since I used spring onions, so I avoided that.
Related: Steamed Besan Gatte Ki Sabzi Recipe

How To Make Double Pyaaz Ka Besan | Besan Ki Sabji [RECIPE]
Double Pyaaz Ka Besan| Besan Ki Sabji is a spicy Indian side dish made with two types of onions, gram flour and spices. This goes well with any type of rice, roti or paratha.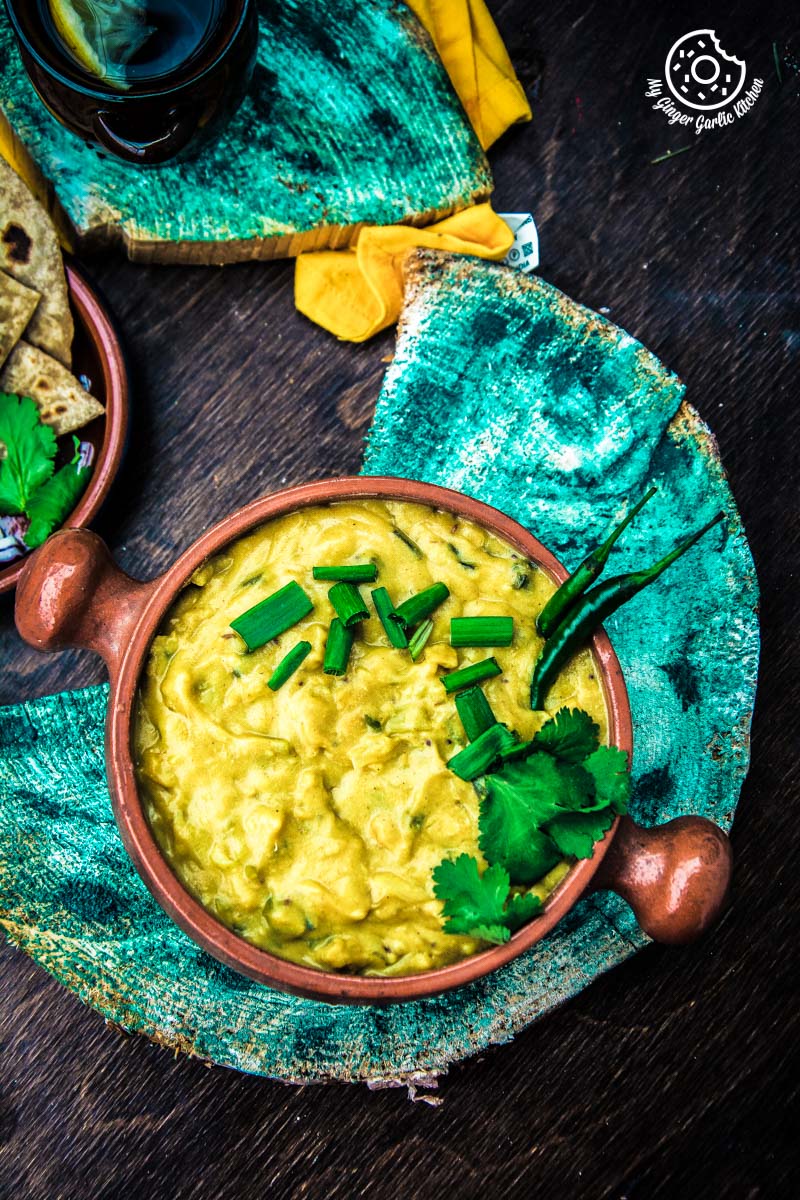 ♥ ♥ ♥ ♥ ♥
(Rating: 4.9 from 34 reviews)
INGREDIENTS
• Oil – 4 tbsp
• Besan/Gram flour – 1 cup
• Onions, sliced – 2 medium
• Spring onions, chopped – 1/4 cup
• Green chilies, chopped – 2
• Mustard seeds – 1 tsp
• Cumin seeds – 1 tsp
• Pinch of asafetida
• Salt to taste
• Turmeric powder
• Red chili powder – 1 1/2 tsp or to taste
• Coriander powder – 2 tsp
• Turmeric powder – 1/4 tsp
• Boiling hot water – 3 cups + 1 cup
For serving:
• Coriander leaves and spring onions for garnishing
• Lemon wedges
---
| 🕐 Prep time | 🕐 Cook time | 🕐 Total time |
| --- | --- | --- |
| | | |
| ☶ Category | ♨ Cuisine | ☺ Serves |
| Side Dish | Indian | 2 |
---
INSTRUCTIONS:
1. Heat 4 tbsp oil in a pan. When the oil is hot enough add asafetida, cumin seeds, and mustard seeds.
2. When the seeds start to crackle add sliced onions and sauté for 3-4 minutes or till the onions are slightly golden brown.
3. Now add chopped spring onions, chopped green chilies and sauté for another 3 minutes.
4. Add besan and roast with onions for 3-4 minutes.
5. Now add coriander powder, red chili powder, salt and mix well.
6. Now slowly add 3 cups of boiled water and keep stirring constantly.
7. When the mixture turns slightly thick then add turmeric powder and 1 cup of boiling hot water.
8. Keep stirring consistently to avoid any lumps.
9. Turn the heat to medium-low.
10. Cover and cook this besan for 7-8 minutes. Stir occasionally.
11. Remove from heat and garnish with coriander leaves and spring onions.
12. Serve hot immediately with paratha or roti.
---
NOTES:
I added little extra oil because we need to sauté onions and roast gram flour in the oil. But if you think oil is too much then add 2 tbsp oil.
It tastes best when this besan is fresh. As it gets colder it changes the consistency and tastes different.
---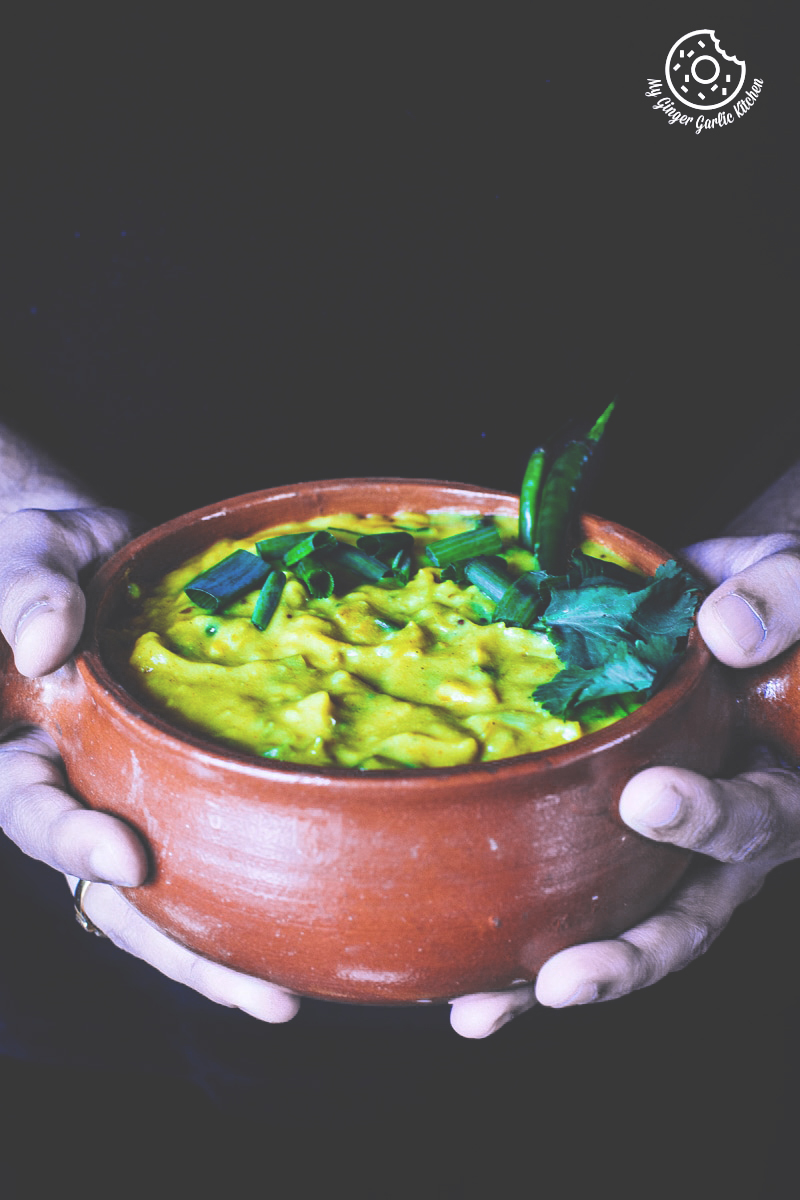 You may also like these other Besan recipes:
---