Learn to make popular Steamed Besan Gatte Ki Sabzi Recipe Video | Rajasthani Adhar Bele Ki Sabji recipe with video instructions. is an authentic and delicately rich curry. In this Rajasthani curry, chickpea flour dumplings are cooked in a spicy and tangy yogurt and tomato sauce. The best way to serve this curry is to serve with some hot puri, lachha paratha, hot chapati, or even rice. Learn below how to make this easy and exotic side dish with step by step video tutorial.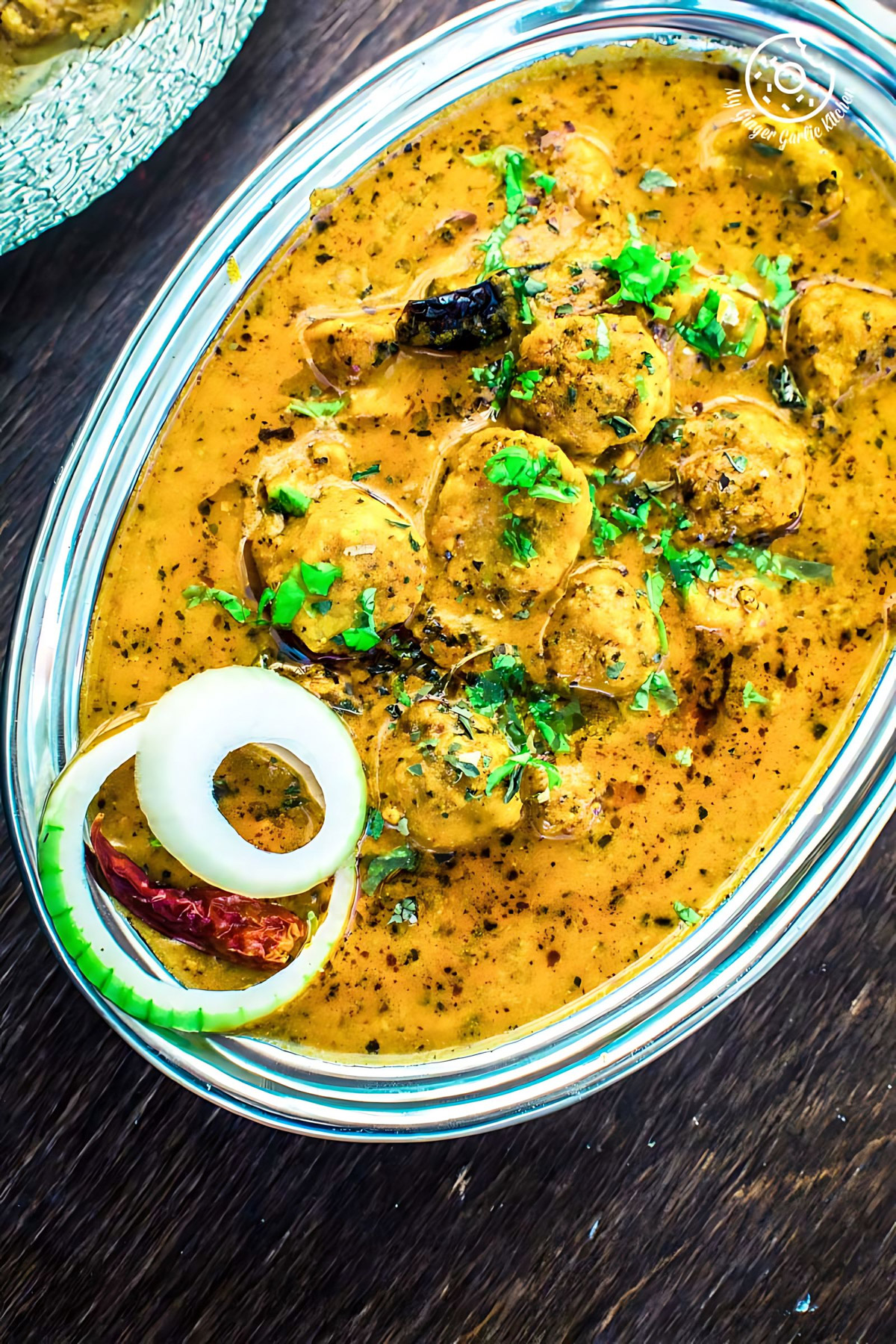 Rajasthan is the land of Rajputanas aka royals, thus Rajasthani food has to feel rich and royal. This Royal delicacy is a must in Rajasthani thali (platter). In Rajasthan, this besan Gatta curry is also known as bele ki sabji. There are mainly 3 ways of making this sensational 'Besan Gatte Ki Sabji'.
Boiled Besan gatte ki Sabji: Here gattas are boiled first and then dunked in the yogurt based spicy gravy.
Gatte ki Sukhi Sabji: In this dish, Gattas are stir-fried with onions, garlic, and a few spices.
Steamed Besan Gatte ki Sabzi: In this gravy dish, gattas are first steamed and then cooked in the tangy and spicy tomato and yogurt based gravy.
Related: Gatta Pulav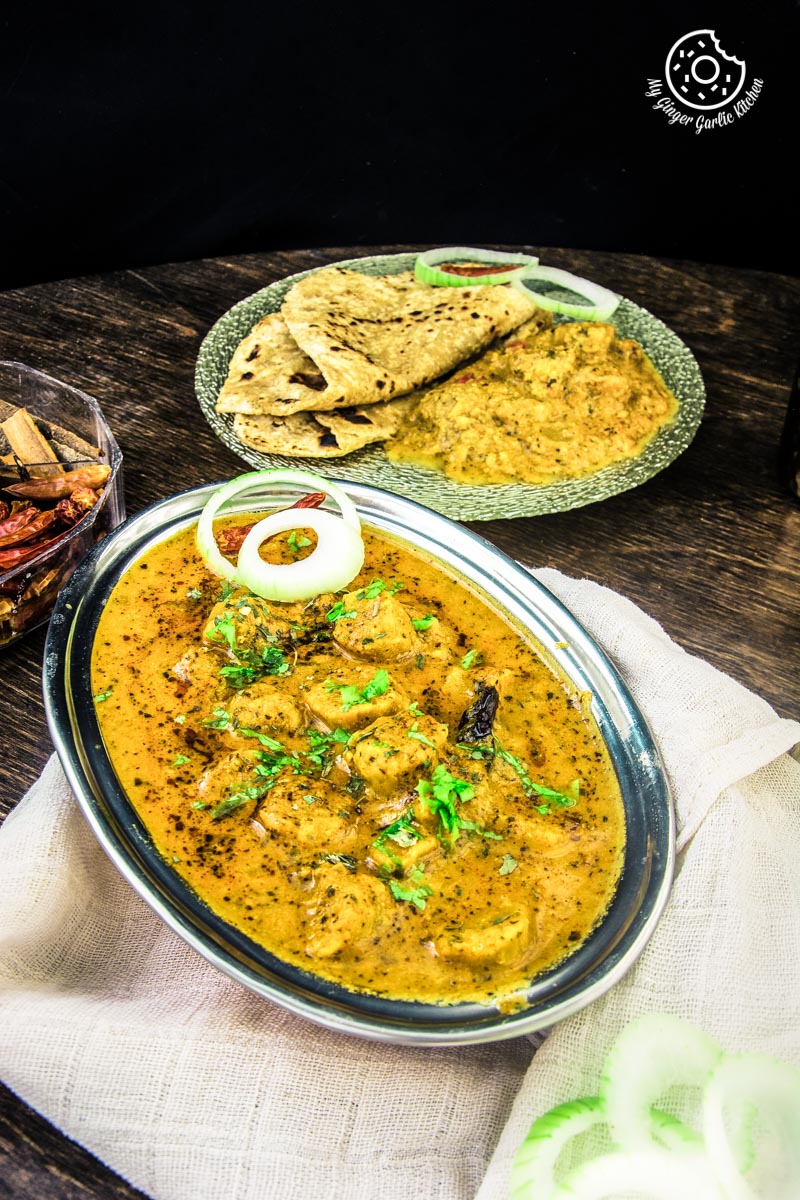 Being a native Rajasthani I just can't help but adore this Besan Gatte Ki Sabzi. I am always up for any kind of this Gatta Curry. Whenever I hear this word Gatta Curry I just can't resist. But I always try to make this curry during weekends, that way I am more relaxed and can give all my love and time to the process of cooking.
And also the thing is that the family can enjoy this sensational curry together. I believe nostalgic meals are meant to be enjoyed during the weekends — somehow eating them during weekends makes these meals even more special. Well, that certainly doesn't mean that you can't have this during weekdays, in fact, you can have this anytime of the day. It's just that eating those rich dishes during weekends is my personal preference.
Related: Rajasthani Mirchi ke Tipore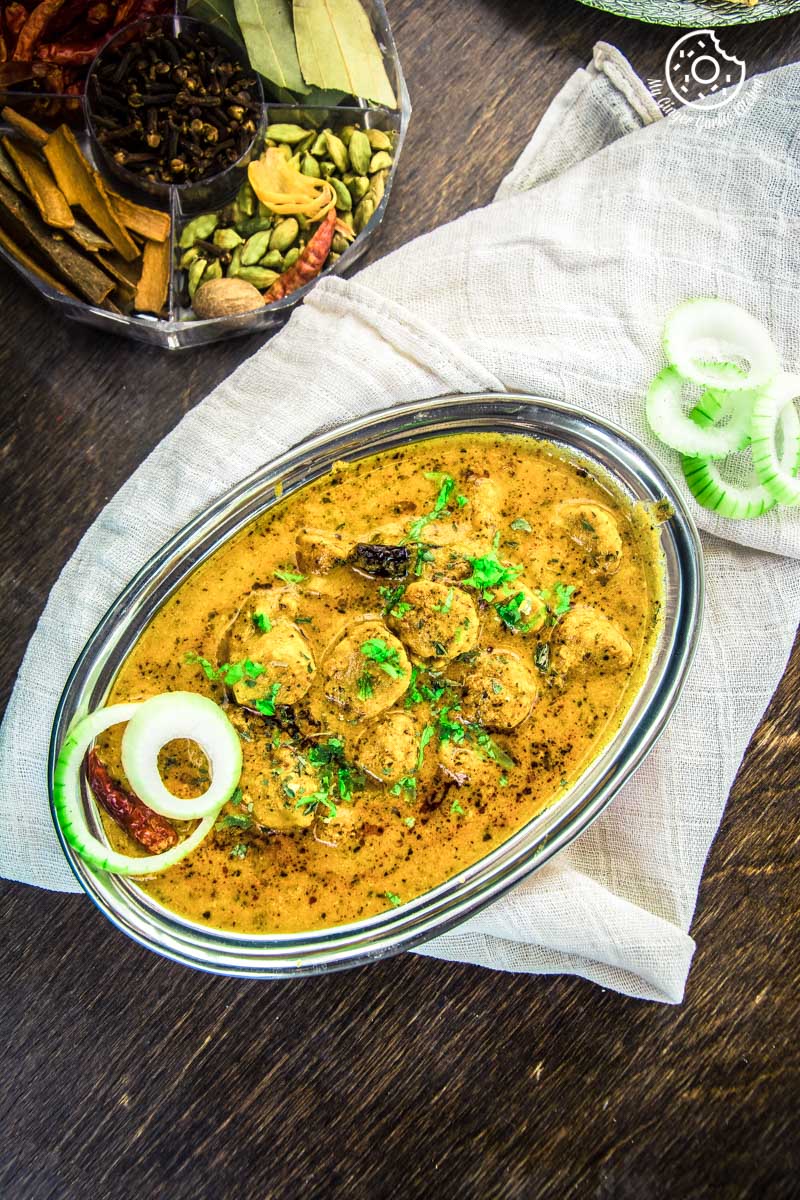 I won't say that making this curry is a quick job. But I will surely say that all your efforts are worth it. A bite of garlic naan dunked in this curry and you are all set to go to a fairyland. This gala of aromatic and spicy of flavors in this curry would surely please you.
I made this curry slightly hotter — the way it's authentically prepared. But you can surely reduce the amount of heat to make it suitable for your taste buds. Hot or not so hot, this curry would surely steal the show at your dinner table. If you will make this hearty curry for your guests, it will surely be an extravaganza of pungent flavors which they will love. They will never forget the taste of this exotic curry. It's always a crowd pleaser.
Related: Rajasthani Govind Gatta Curry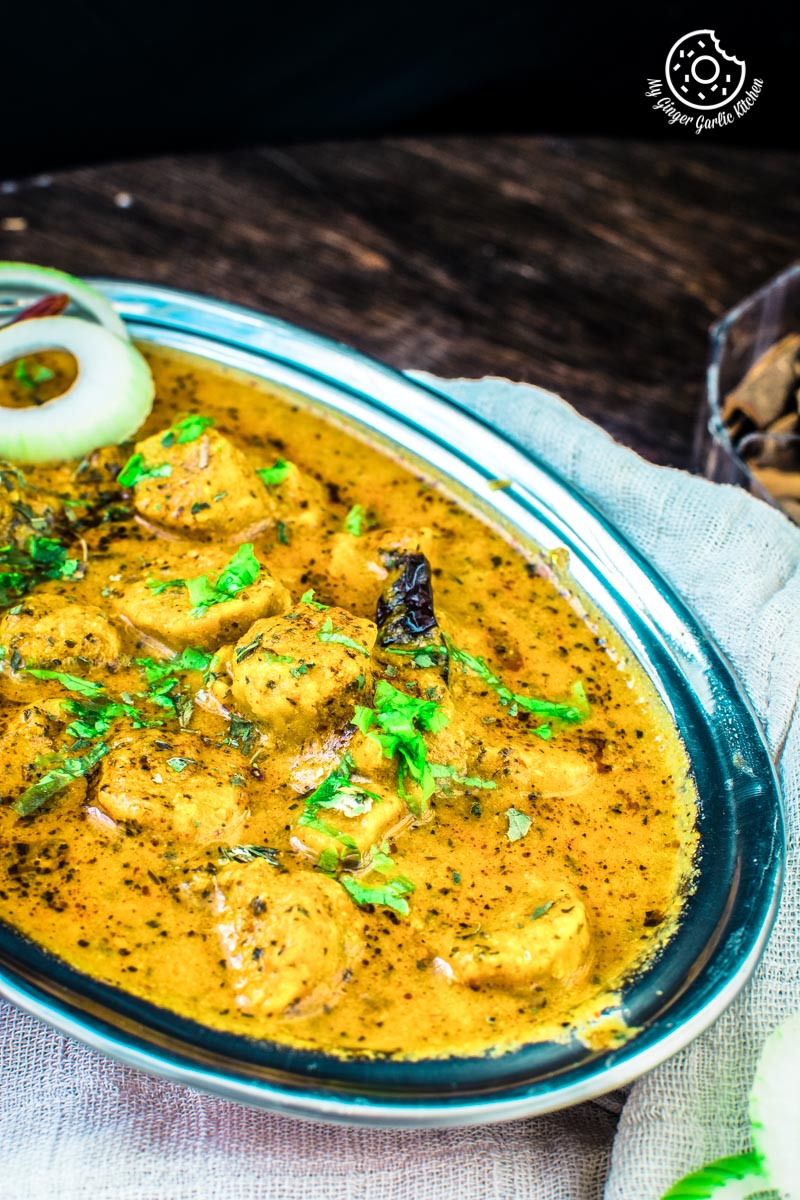 Making this Steamed Besan Gatte Ki Sabzi is not all that complicated as it may seem. But I totally understand when people say that making gattas is tricky for them. So if you think your gattas don't turn soft and not melt-in-mouth type, then I have some simple yet helpful tips for you. First of all, let me reassure you that making them is not rocket science.
**Related: ** How to Make Rajasthani Dal Bafla
What is this Steamed Besan Gatte Ki Sabzi or Gatta Curry?
Steamed Besan Gatte Ki Sabzi is a delicacy of the Indian state of Rajasthan. In the present times, this dish has surely made its own place almost everywhere in India. In this version of curry, chickpea flour dumplings are steamed cooked in a spicy and tangy yogurt sauce. These Gattas are so light. That's why in Rajasthan they are known as 'adhar bele ki sabji'. Adhar means light and delicate, bele means dumplings and sabji means curry. So the literal translation of this hearty and homey curry is delicately steamed dumpling curry.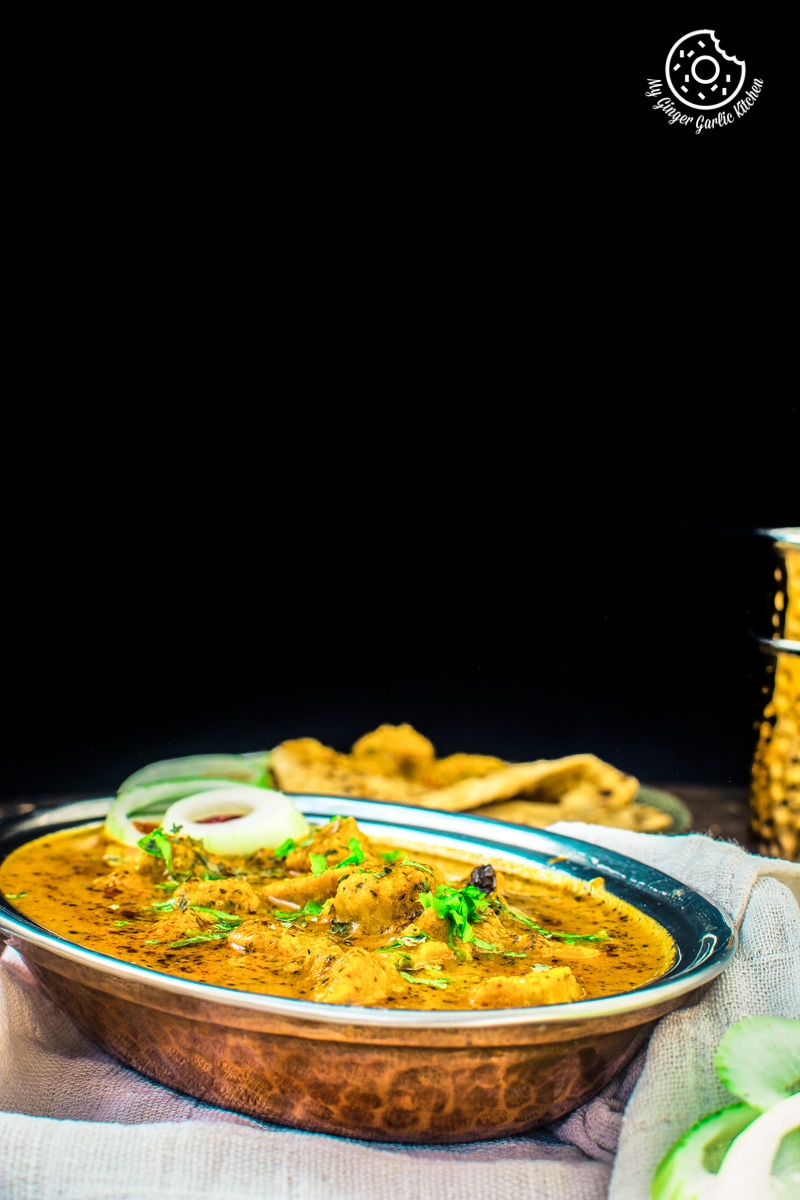 For this steamed version you knead to make stiff dough almost like you make for puris. Then roll them into thin hot dog like cylinders. After that steam them for 20 minutes. Later on, they are cut into about ½" pieces and added to the spicy tomato yogurt gravy. You can also make this curry with this traditional Rajasthani delicacy Dal Baati Churma.
Realted**:** Rajasthani Sweet Oliya Recipe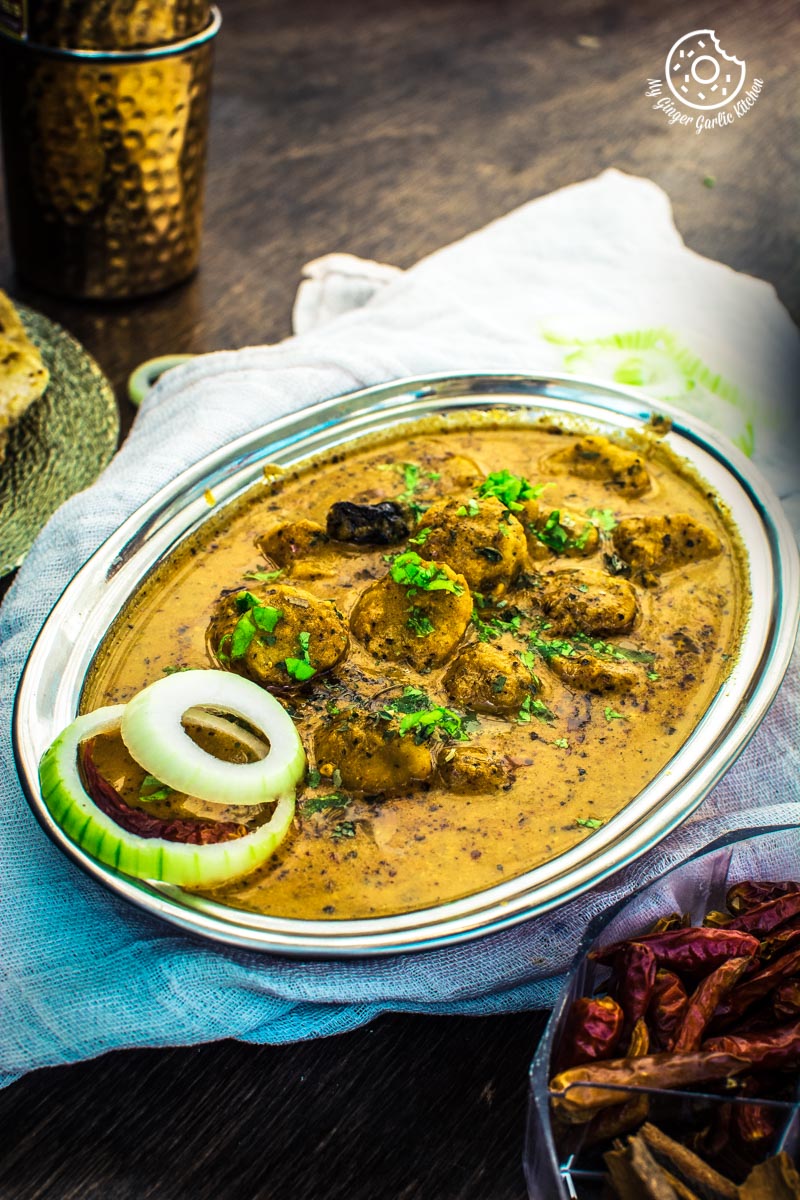 Few tips for making this steamed besan gatte ki sabzi:
Add the good amount of oil to the dough to ensure that your gattas would come out soft.

Steaming time does matter when it comes to perfectly cooked gattas, so steam them for at least 20 minutes.

You should boil Gattas in gravy for at least 7-8 minutes so that gattas will soak the gravy.

If you want to make these steamed gattas ahead of time then add them to the hot water for 2-3 minutes before adding to the gravy.

If your gattas usually come out hard, then you can also try adding little more oil and little bit more yogurt. This way they will come out softer.

I don't add baking soda in these gattas, but if you wish you can add 1/4 tsp baking soda to the dough.
**Other popular Rajasthani recipes you may like: **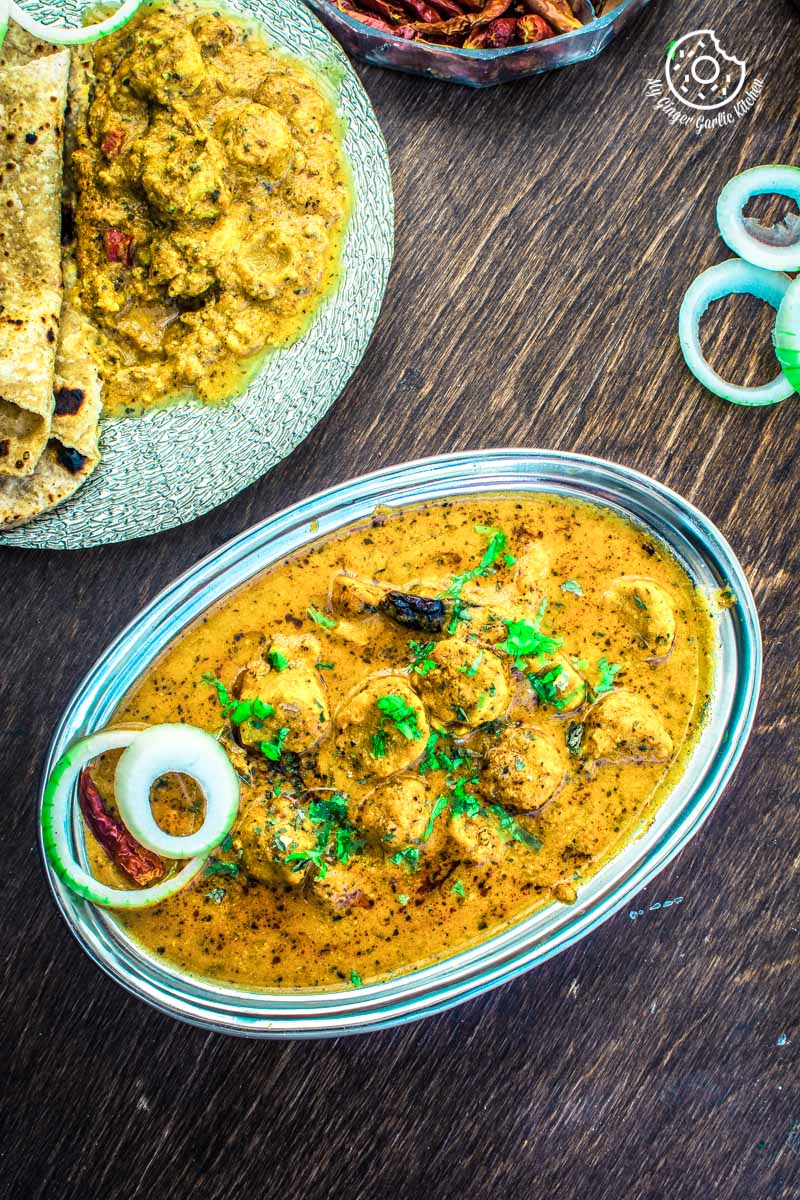 Steamed Besan Gatte Ki Sabzi Recipe | Rajasthani Adhar Bele Ki Sabji

[RECIPE]

Steamed Besan Gatte Ki Sabzi Recipe Video| Rajasthani Adhar Bele Ki Sabji is an authentic and delicately rich curry. In this Rajasthani curry, chickpea flour dumplings are cooked in a spicy and tangy yogurt and tomato sauce.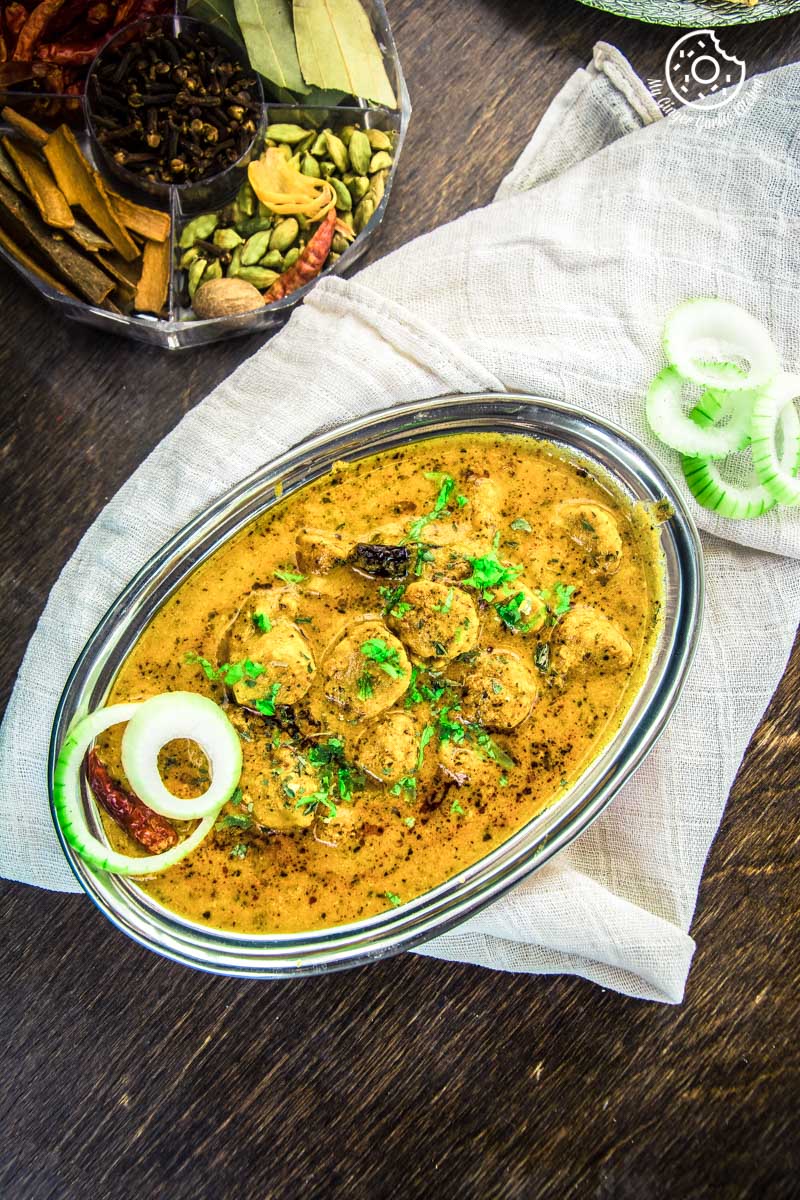 ♥ ♥ ♥ ♥ ♥
(Rating:
4.9
from
35
reviews)
INGREDIENTS
For Steamed Gatte:
• Gram Flour (Besan) – 1½ Cup
• Pinch Of Asafetida
• Turmeric Powder -¼ Tsp
• Red Chili Powder – 1 Tsp
• Salt To Taste
• Garam Masala Powder Seeds – 1/4 Tsp
• Ginger-Garlic Paste – 1 Tsp
• Yogurt – 2 Tbsp
• Oil – 1.5 Tbsp (You can also add 3 tbsp oil if you want richer gattas)
• Baking Soda – 1/4 Tsp (Optional, I did not add any in this recipe)
• Kasuri Methi (Dried fenugreek leaves) – 1 Tbsp
• Water, – 4 Tbsp Or More If Needed

For Gravy:
• Oil – 3 Tbsp
• Pinch Of Asafetida (Hing)
• Cumin Seeds (Jeera) – 1 Tsp
• Cloves (Laung) – 2
• Bay Leaf (Tejpatta)- 1
• Cinnamon Stick (Dalchini)- 1
• Dried Red Chilies (Sukhi Lal Mirch)- 2
• Kasuri Methi (Dried Fenugreek Leaves) – 1/4 Tsp + 1 Tsp
• Peppercorns (Kali Mirch) – 4
• Turmeric Powder – 1/2 Tsp
• Red Chili Powder – 1 Tsp Or To Taste
• Coriander Powder -1/2 Tsp
• Ginger, Garlic Paste – 1 Tbsp
• Onion Paste – 1/2 Cup
• Tomato Paste – 1/2 Cup
• Chilies Chopped – 1 Tsp
• Yogurt Whisked – 1/2 Cup
• Garam Masala Powder – ¼ Tsp
• Deggi Mirch Powder – 3/4 Tsp
• Salt As Per Taste

---
| 🕐 Prep time | 🕐 Cook time | 🕐 Total time |
| --- | --- | --- |
| | | |
| ☶ Category | ♨ Cuisine | ☺ Serves |
| Side | Indian | 6 |
---
Nutrition Info:
90 calories
//
Servings:
1 serving
INSTRUCTIONS:
For Making Steamed Gatte:

1. Take a large mixing bowl.
2. Add besan, asafetida, turmeric powder, red chili powder, salt, cumin seeds, ginger-garlic paste, oil, Kasuri methi and mix well. (Also add baking soda, if using)
3. Add 2 tbsp of yogurt and mix well again.
4. Add little water and knead into a stiff dough.
5. Divide the dough into 4-6 equal portions and shape each portion into 10 inches long thin cylindrical roll.
6. Boil enough water in a steamer or a pan.
7. Arrange the gattas on the steaming basket.(Make sure to have some space between them, so they do not stick to each other.)
8. Place the steaming basket over the steamer or pan and steam on medium-high heat for about 20 minutes.
9. Remove from heat.
10. Cut each cylinder into 10-12 pieces, and keep aside.
11. Gattas are ready.

For Making Sauce:

1. Heat 3 tbsp oil in a pan over medium heat.
2. Add asafetida and cumin seeds, cloves, bay leaf, dried red chilies and cloves to it.
3. When they begin to crackle, add the red chili powder, coriander powder, and turmeric powder to it.
4. Stir well and cook spices for a minute.
5. Add ginger-garlic paste and sauté for 2 minutes.
6. Add onion paste and saute until they are light brown in color.
7. Add tomato puree and mix well.
8. Cook for another 5 minutes.
9. Add chopped chilies and cook for another minute.
10. Now lower the heat and slowly add the whisked curd.
11. Stir well and stir continuously till it comes to a boil.
12. Once you see the oil coming up to the surface add the garam masala powder, 1 tsp Kasuri methi, and 3/4 tsp deggi mirch powder.
13. Mix well and cook for 2 minutes.
14. Add 1/2 cup water and stir well and boil for 3 minutes.
15. Add salt and mix well. Cook for 2 more minutes.
16. Add the cut gatta pieces and mix well.
17. Cover the lid and now let the curry cook on medium-low heat for 10-12 minutes for the flavors to concentrate.
18. Stir occasionally.
19. Transfer the curry to a serving dish and garnish with chopped green chilies.
20. Serve hot with rice or flatbread as you prefer.
---
NOTES:
---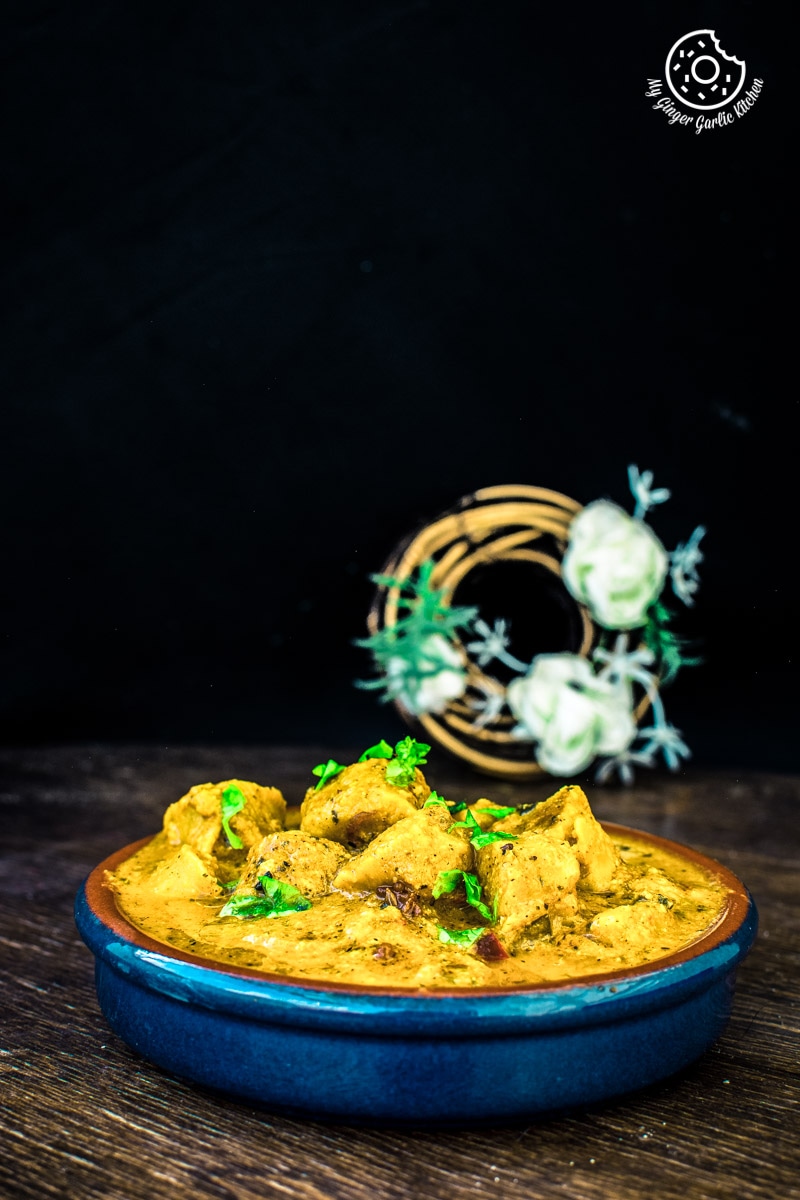 You may also like these other recipes.
If you enjoyed this recipe, then please further help me by FOLLOWING me on:
Instagram // Facebook // Pinterest // Twitter // Google+ // YouTube
If you cook this dish, be sure to tag your photo with this hashtag: #mggk
Happy Cooking and Keep Sharing! 🙂
---