Learn How To Make Ghevar | Jaipuri Malai Ghevar | Rajasthani Ghewar Recipe with easy and simple video tutorial. Ghewar (घेवर) is a disc-shaped sweet Traditional Rajasthani Dessert made using special thick metal molds. The texture of this dessert looks like a honeycomb. I guarantee you that every single bite of this scrumptious dessert is a joyride to a wonderland.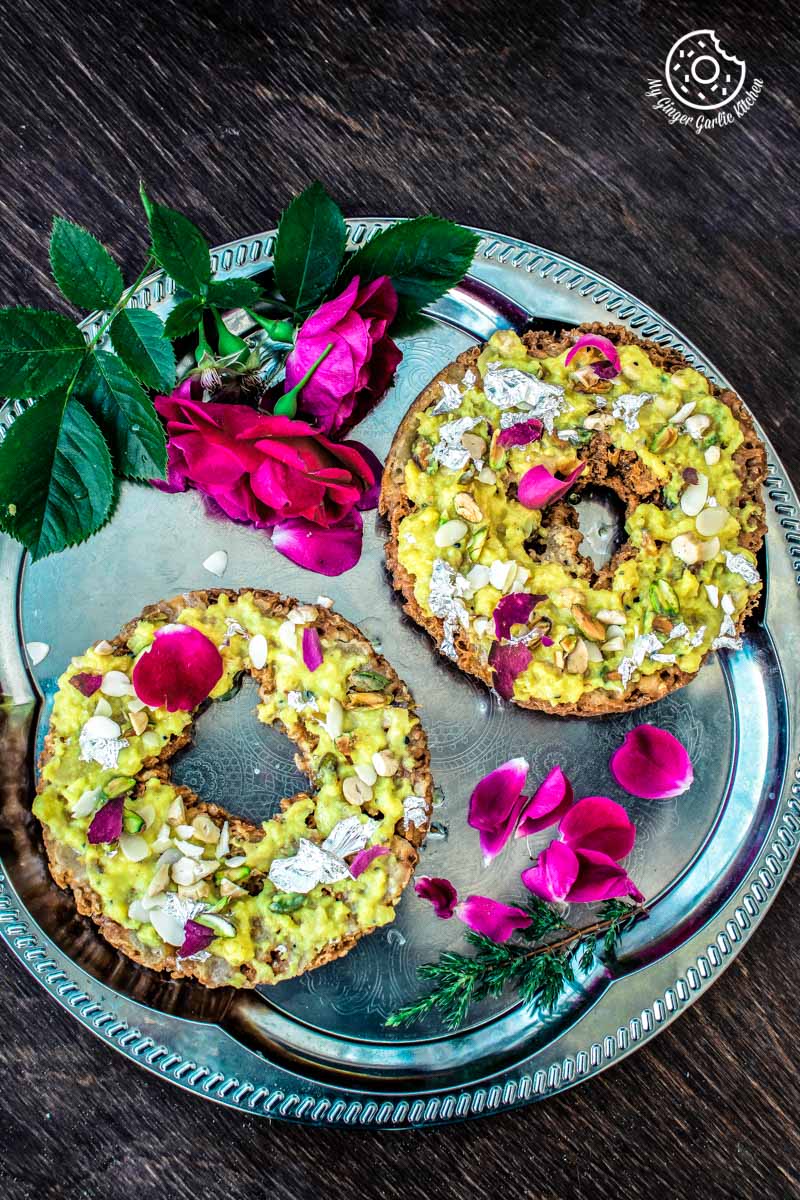 Happy Friday. How have you been guys?
It's pouring outside and I am enjoying the warm slice of this rich delicacy 'Malai Ghevar' which I made a couple of days ago.
What is Ghevar?
Does Ghevar sound something completely new? Don't worry, I am here to help you. The Month of August is the festive month in India. This is also known as the auspicious month of 'Shravana aka Sawan'. This is a month which has the festivals like Teej and Raksha Bandhan.
Related: Rajasthani Lehsun Ki Chutney – 2 Ways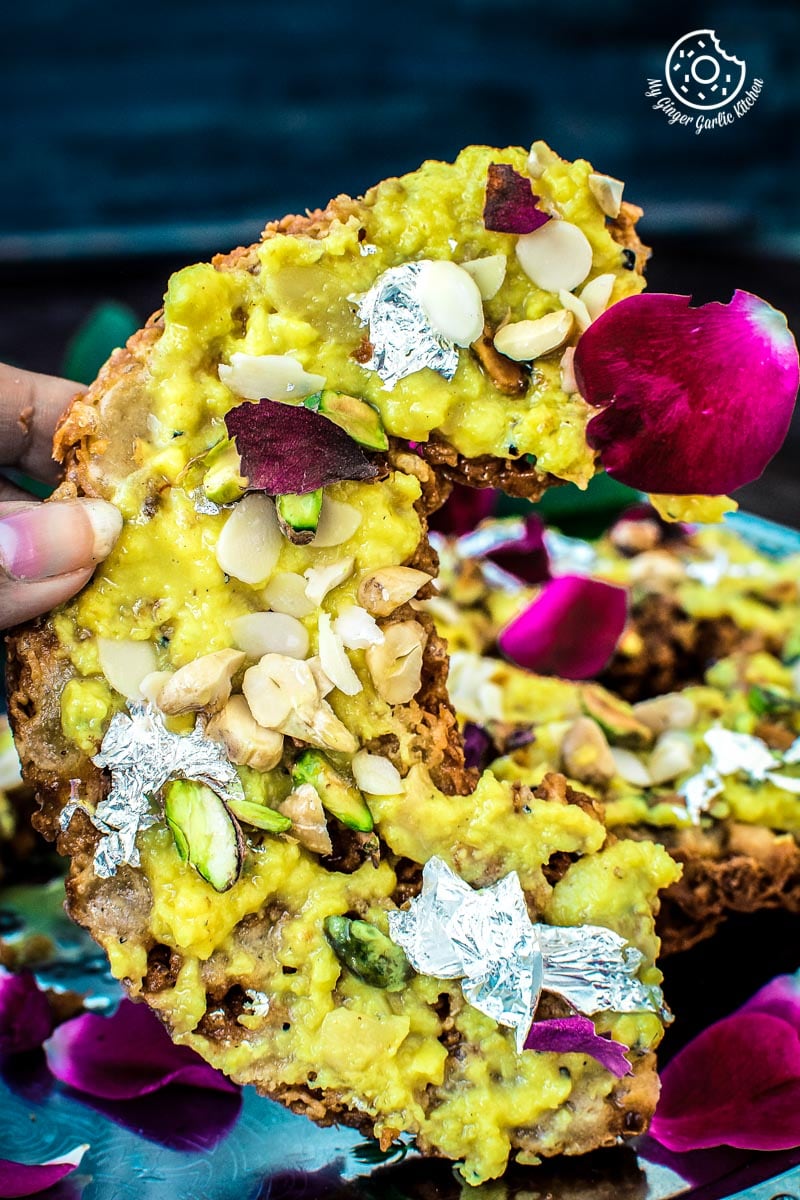 Ghevar is a perfect dessert for Raksha Bandhan:
Coming Monday India would be celebrating the festival of Raksha Bandhan, aka Rakhi. This is a Hindu festival that celebrates the love and duty between brothers and sisters. Rakhi itself is the name of a sacred thread of protection adorn with the love and affection of a sister for her brother. If you want to learn more about this festival, here is the link to Wikipedia for Raksha Bandhan.
Related: Rajasthani Govind Gatta Curry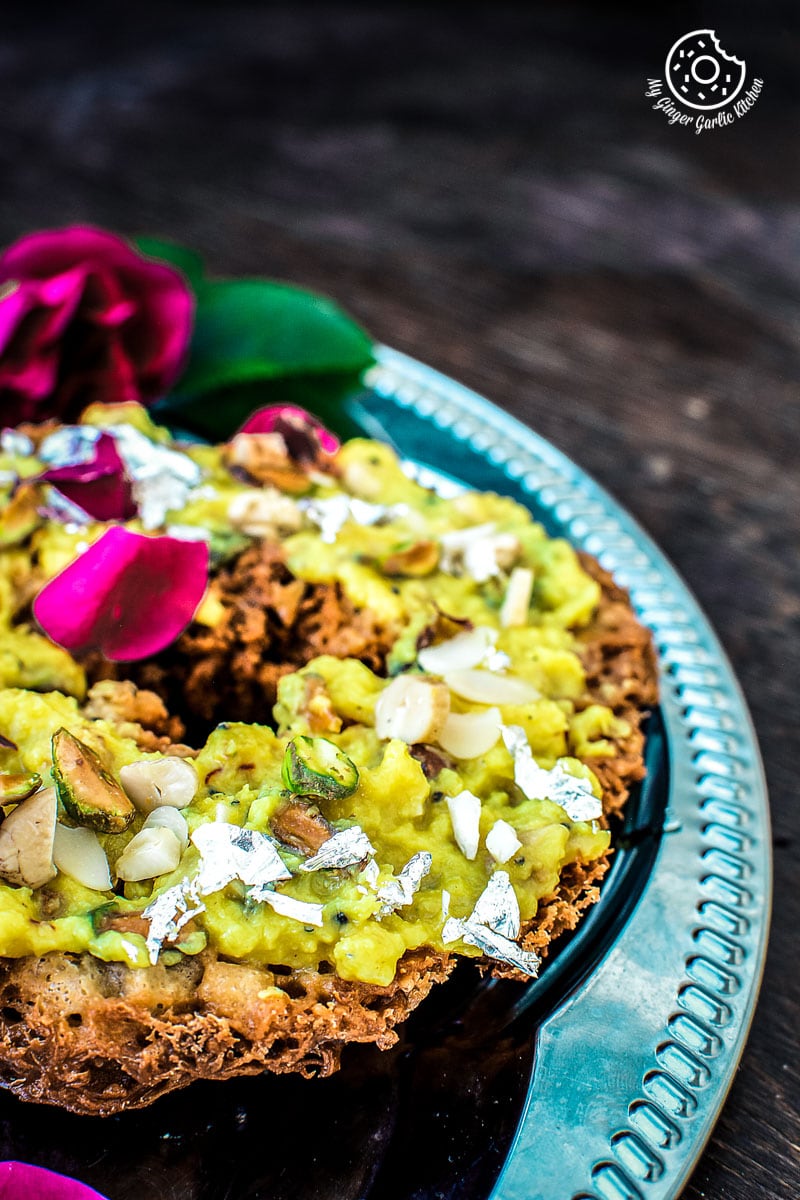 What is Malai Ghevar?
Coming to Ghevar, Ghevar is a disc-shaped sweet dish made using special thick metal molds. The texture of this dessert looks like a honeycomb. This Rajasthani specialty of Malai Ghevar is also perfect for Rakshabandhan.
So this time I made this 'Malai Ghevar' to please my brother and to celebrate this festival of Rakhi at my home. Plus I have also shared the video recipe with him, just in case if he wants to make his sister's version of this 'Ghevar' at his home. Alright, so now he knows how to make it perfect. 😉
Related: Exquisite Rajasthani Dal Dhokli Recipe
Rajasthani Malai Ghewar:
Many of you know that I trace my roots to Jaipur, the capital city of Rajasthan. And these Ghevars are traditional Rajasthani delicacies. Ghevars are missing me, or maybe I am missing these ghervas. I have an innumerable number of enamored memories correlated with this dessert.
Ghevar mould:
In Jaipur, there is one dedicated street of sweet shops where they make fresh 'Ghewars / Ghevars'. These cooks are known as 'Halwai' in Hindi. They make everything in front of your eyes, but they certainly have their own secrets which are hard to figure out. Moreover making Ghevar at home is also so overwhelming even for localites. It's because these traditional shops use special kinds of metal molds for making this disc shaped Ghevars.
Related: How to Make Rajasthani Dal Bafla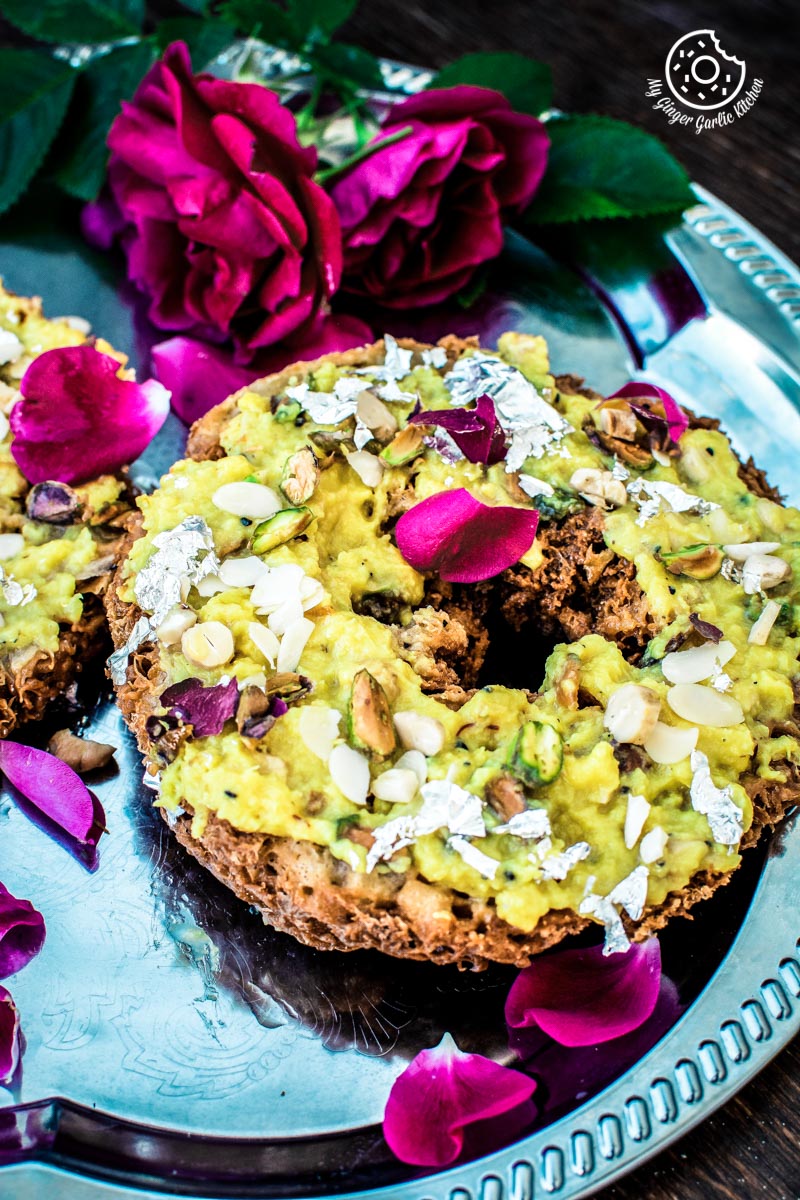 It's been a tradition in my family that my maternal uncles used to gift these Ghevars on 'Teej' and 'Gangaur' to their sisters. Once you soak these discs in sugar syrup they get soggy so fast. So my Granny and Mommy always preferred the unsweetened discs. They used to make their own sugar syrup to sweeten these discs. And served them warm as soon as they got sweetened. The last fun part was the 'Rabri' topping. Rabri is a sweet dish made of thickened milk and nuts.
Related: Rajasthani Dal Baati Churma Recipe
How to Serve Ghevar?
Ghevar as such is served in three ways.
Plain Ghevar: In this version, sugar syrup is poured over the Ghevar discs.
Malai Ghevar: Here, sugar syrup is poured over the Ghevar discs first. Then they are topped with warm rabri and garnished with nuts.
Mawa Ghevar: In this version, sugar syrup is poured over the Ghevar discs first. After that, they are topped with sweetened mawa (dried milk) and nuts.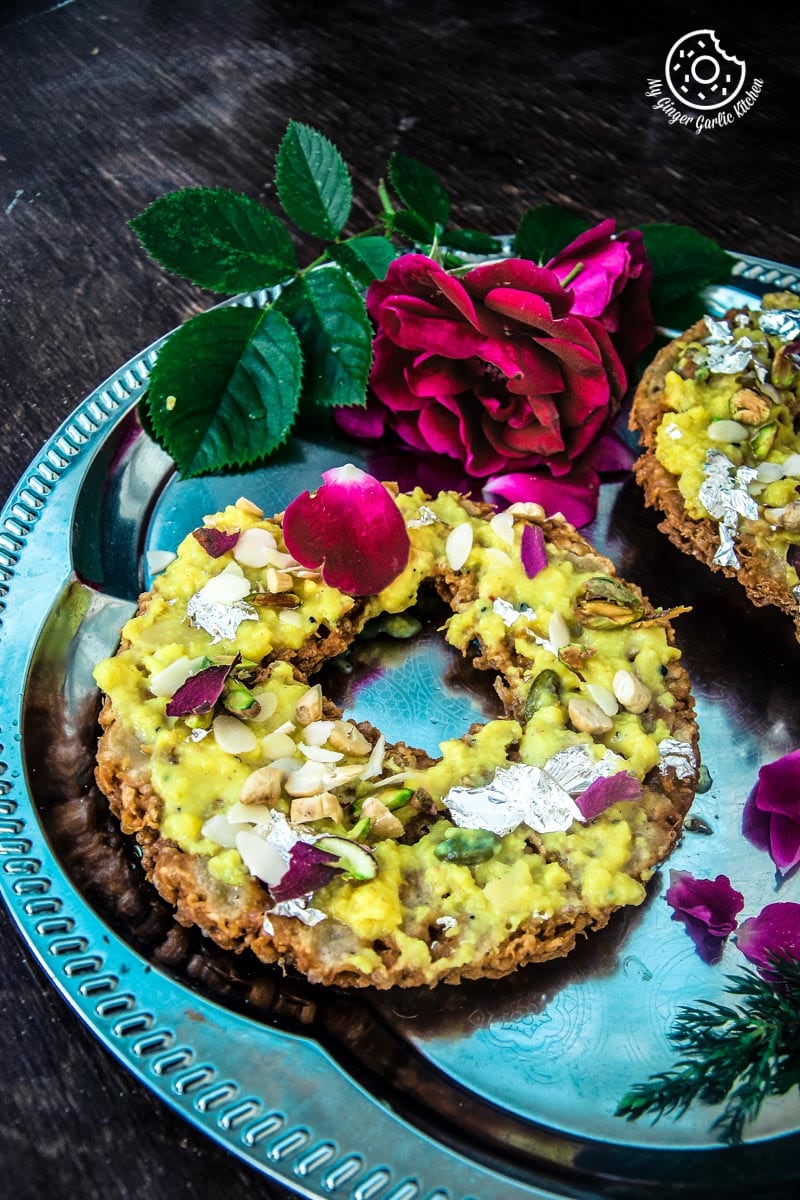 Related: Rajasthani Mirchi ke Tipore
Ghevar always looks mesmerizing, but making this dessert is not that complex as it looks. The wonderful news is that you can easily make this at home in any pan. You don't need those bulky pans or molds to make these. Make these at home to please your loved ones.
What are the things to consider while making these?
You just need the right consistency of the batter and the right amount of heat to make these perfectly crispy discs. I would not say that it's an effortless task, but I can guarantee you that it's not that difficult either. A little practice, some patience, and some meticulousness are all you need, and you will be able to nail it.
As a footnote, I am telling you that this is a decadent dessert, you can't eat too much due to fried richness and sweetness from sugar syrup and 'Rabri'. So the recommended way to eat this is to eat a little at a time. I guarantee you that every single bite of this lip-smacking dessert is a joyride to a wonderland.
Related: Jaipuri Pyaaz Ki Kachori Recipe
Now Let's learn How To Make Ghevar | Jaipuri Malai Ghevar | Rajasthani Ghewar Recipe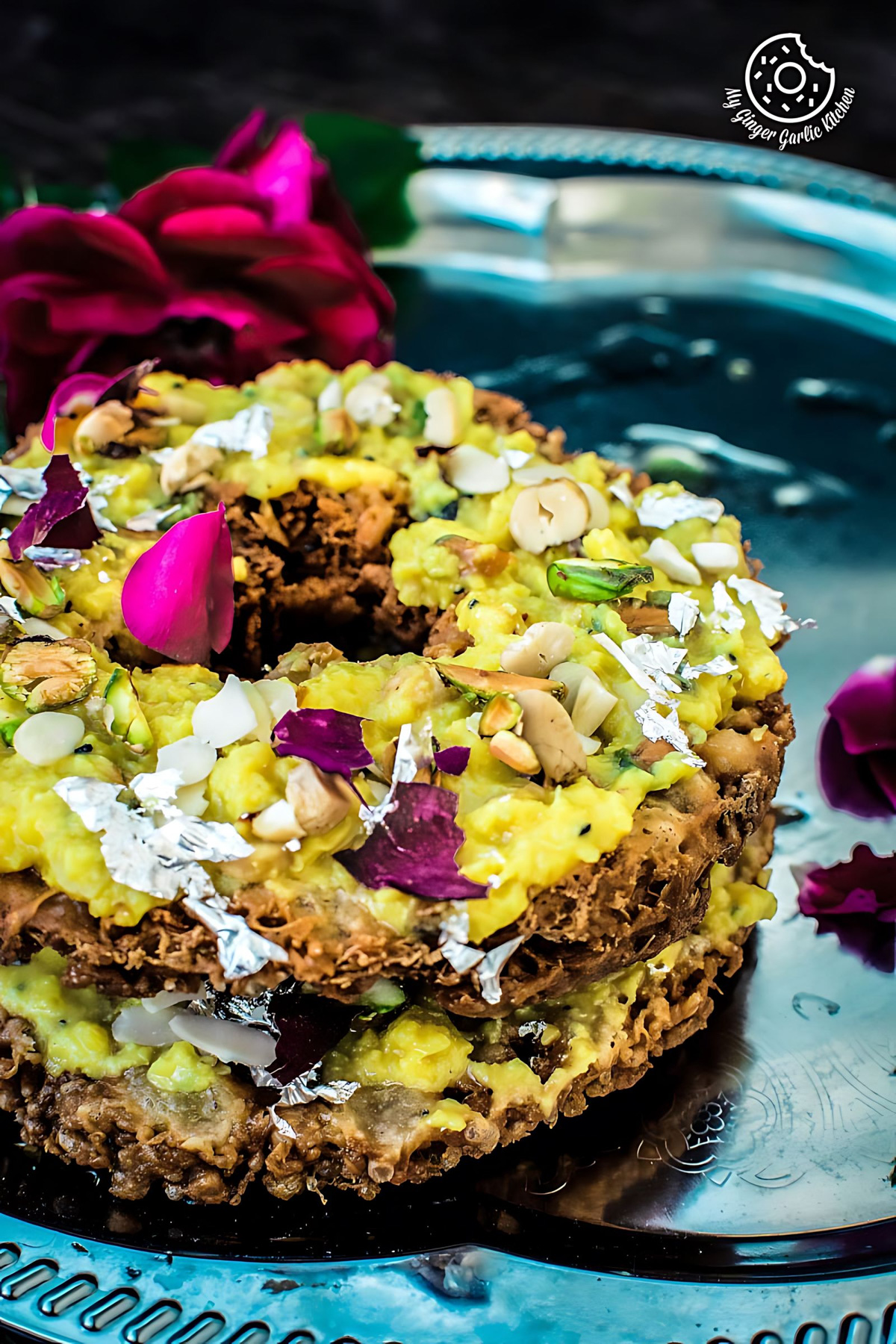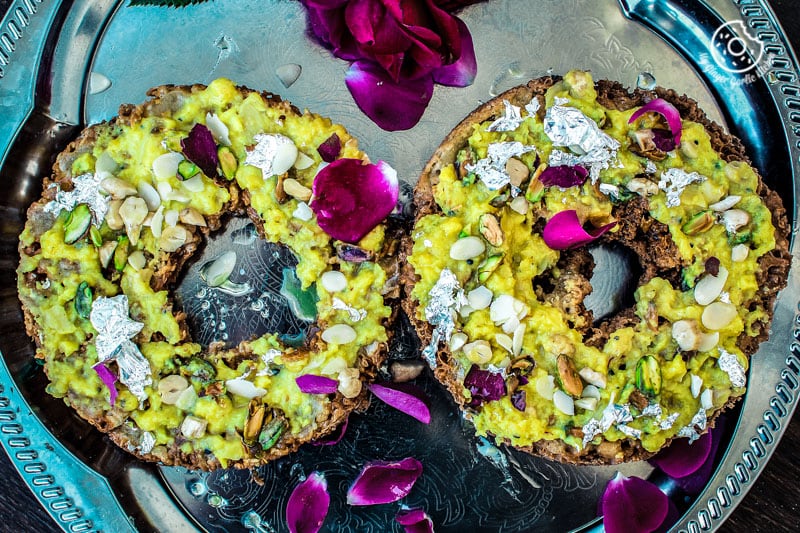 Ghevar - How To Make Jaipuri Malai Ghevar

[Recipe]
Learn to make Ghevar with a video. Ghewar is a disc-shaped Rajasthani Dessert made using thick metal molds. It is cooked during festivals like Holi and Teej.
---
★★★★✰
(Rating:
4.1
from
103
reviews)
---
| Prep time 🕐 | Cook time 🕐 | Total time 🕐 |
| --- | --- | --- |
| | | 1 hours 10 mins |
| Category ☶ | Cuisine ♨ | Serves ☺ |
| Dessert | Indian | 4-5 |
| Nutrition Info ⊛ | | Serving size ⊚ |
| 456 calories | | 1 Ghevar |
---
INGREDIENTS
For Batter:
100ml ghee, also known as clarified butter
4-5 ice cubes
200g all-purpose flour / maida
3/4 cup whole or full fat milk, cold
1 cup ice cold water, or more if needed
For Frying:
Ghee or oil, for deep frying
For Sugar Syrup:
200g sugar
400 ml water
7-8 saffron strands / kesar
For Rabri:
2 cups or 1/2 liter full fat milk
5 tablespoons sugar
1 teaspoon cardamom powder / hari elaichi powder
7-8 saffron strands soaked in 2 tablespoon hot milk
4 tablespoons chopped nuts (chopped almonds, chopped cashews, chopped pistachio) to garnish
---
INSTRUCTIONS:
Making Ghevar:
Add ghee to a large mixing bowl.




Now add ice cubes and whip with a whisk or rub vigorously with the fingers.




Keep rubbing or whipping until the ghee becomes white, light, and fluffy.




To this add flour, 1/4 cup water, 1/2 cup chilled milk, and whisk to make a lump free smooth batter.




Now add 1/2 cup water and 1/4 cup milk to this batter.




Whisk together to make a thin and pouring consistency batter (add more water if needed).




Fill a deep saucepan half with ghee/oil. Now heat it on high heat.




Once the ghee is smoky hot, take a ladle full of batter.




Pour the batter little by little slowly in a thread-like a stream into the center of ghee. The batter will frizzle up and spread immediately.




When the foam is settled, make a hole in the center by removing the batter from the center with the back of a ladle or a spatula.




Pour 5-6 more ladleful batter in the hole formed in the center repeating the same steps.




Once the pouring is done, start pressing the ghevar slightly inside the oil using the back of a spatula.




Once the ghevar turned golden in color, loosen it with a skewer/stick inserted in the hole.




Lift it carefully, and take it out of the pan.




Place ghevar on a wire mesh to drain the excess oil.



Making Sugar syrup:
Add sugar, water and saffron strands to a pan and heat it over high heat.




Stir well until sugar dissolves. Now let it come to a rolling boil.




Turn the heat to medium and let it boil till you get the string consistency.




To check the consistency, put a drop of the syrup on a plate and put it between your thumb and index finger. Now move the fingers apart, if you see a thread forming, then it is ready.Remove it from the heat and let it cool slightly. But don't let it cool completely, we need warm syrup for Ghevar.



Making Rabri:
Add whole milk to a heavy bottom pan. Let it come to a boil.




Once the milk starts boiling, lower the heat to medium.




As soon as the cream layer is formed on top, start scraping it from the sides with a spatula.




Boil until the milk has reduced to half. Now add in the saffron strands soaked in the milk. Keep stirring it occasionally to make sure that it is not sticking to the bottom.




Once the milk is thick and 1/4 of the quantity, add sugar and stir well.




Let it cook until sugar dissolves completely.




Now add cardamom and chopped nuts. Stir well and turn off the heat.




Let it cool down slightly. We need warm rabri for Ghevar.



Serving Ghevar:
Place the bowl on a large plate and put the ghevar on top of the bowl.




Pour a sufficient amount of sugar syrup evenly all over and let it stay there for 2 minuted to drain excess syrup.




Spread warm rabri and garnish with chopped nuts, silver leaf, and rose petals. Enjoy warm or hot.



---
WATCH RECIPE VIDEO: Click the play button and video will load ...
---
NOTES:
You can also use a squeeze bottle for making Ghevar.

For a better understanding of ghevar making process, don't forget the check out the ghevar recipe video in the recipe box.
---
If this recipe helped you, then please spread the word by sharing and
subscribing
to us on YouTube to get more such Recipe Videos.
---
Your feedback is so helpful for me and other MyGingerGarlicKitchen readers. So, for Facebook and Instagram, please mention
@MyGingerGarlicKitchen
or
#mygingergarlickitchen
. I would love to see your photos. :)
---
Author:
Anupama
Recipe Source Link:
https://www.mygingergarlickitchen.com/how-to-make-ghevar-jaipuri-malai-ghevar-ghewar-video-recipe/
Date Published:
2020-09-28
• • • • • • • • • •