Rajasthani Gulab Churma | Rose Choorma Recipe. This appealing and eye catching aromatic Gulab Ka Churma is made with dried rose petals. This churma is a special delicacy of Rajasthani cuisine which is usually served with dal baati thali (platter).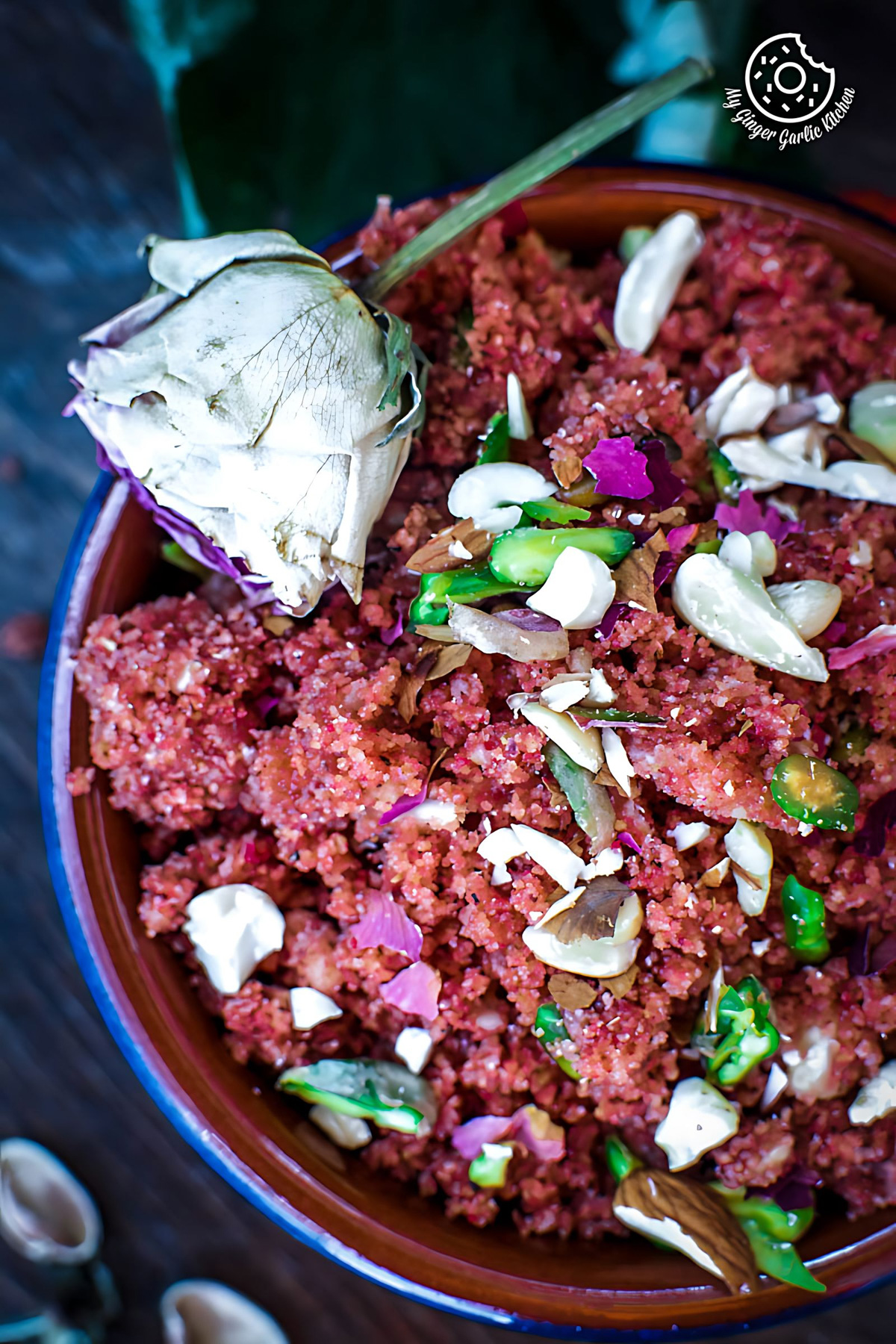 Are you aware of the Indian dessert Churma I have shared earlier?
A little intro about Daal Baati Choorma:
Rajasthani Dal Baati Churma is a traditional Rajasthani food which is made on special occasions, festivals, and parties or get-togethers. In fact, this is is the most popular dish of Rajasthani cuisine.
This meal is an esteemed part of every Rajasthani household. This 3 in1 delicacy is a typical Rajasthani treat. A platter of sweet and fragrant Churma, Spicy Dal, and Baati, is one of the greatest traditional combinations.
Related: Rajasthani Ghewar Recipe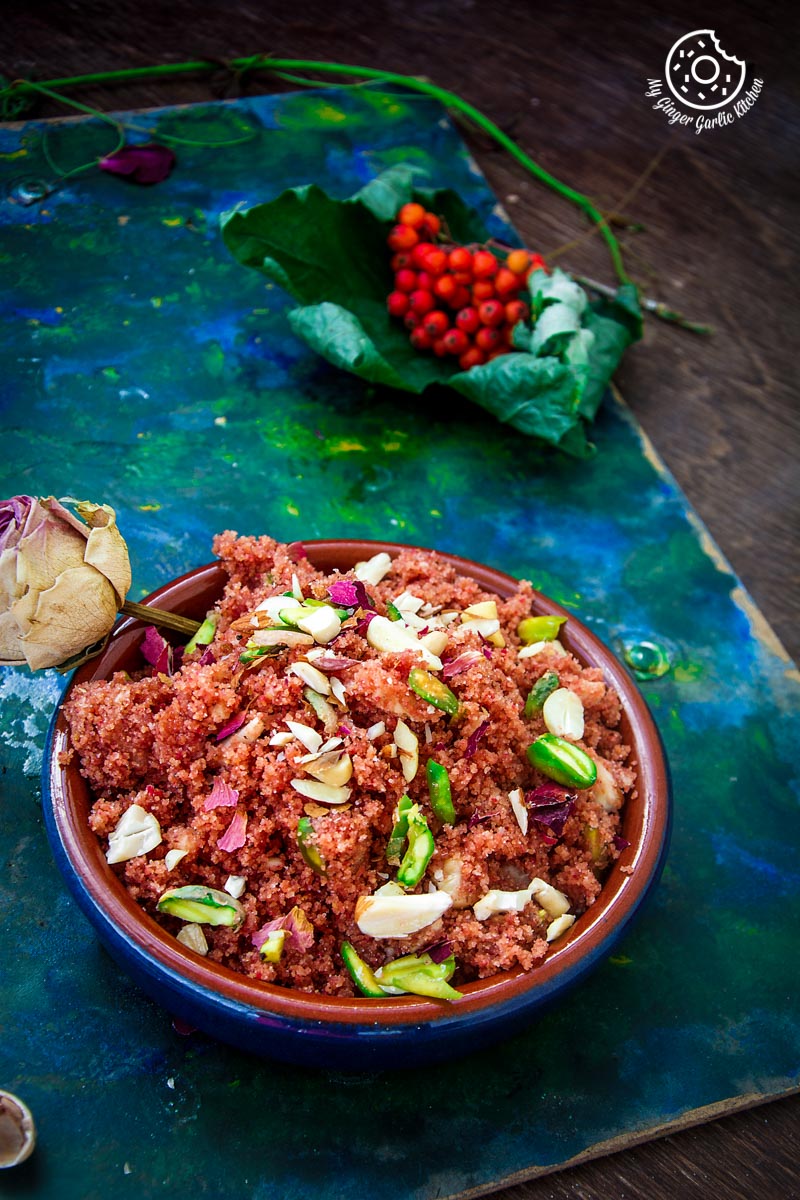 Churma is a special delicacy of Rajasthani cuisine which is usually served with dal bati thali. There are so many varieties of the churma depending upon the ingredients used.
There are many different versions of churmas I grew up eating in Rajasthan. They are known as Atte Ka Churma (Whole Wheat Churma), besan ka Churma (Chickpea Flour Churma), Bajre Ka Churma (Pearl Millet Churma)**.
The exotic and flavoursome churma recipe I am sharing today is Gulab ka churma**, aka Rose Churma**.
Related: Rajasthani Adhar Bele Ki Sabji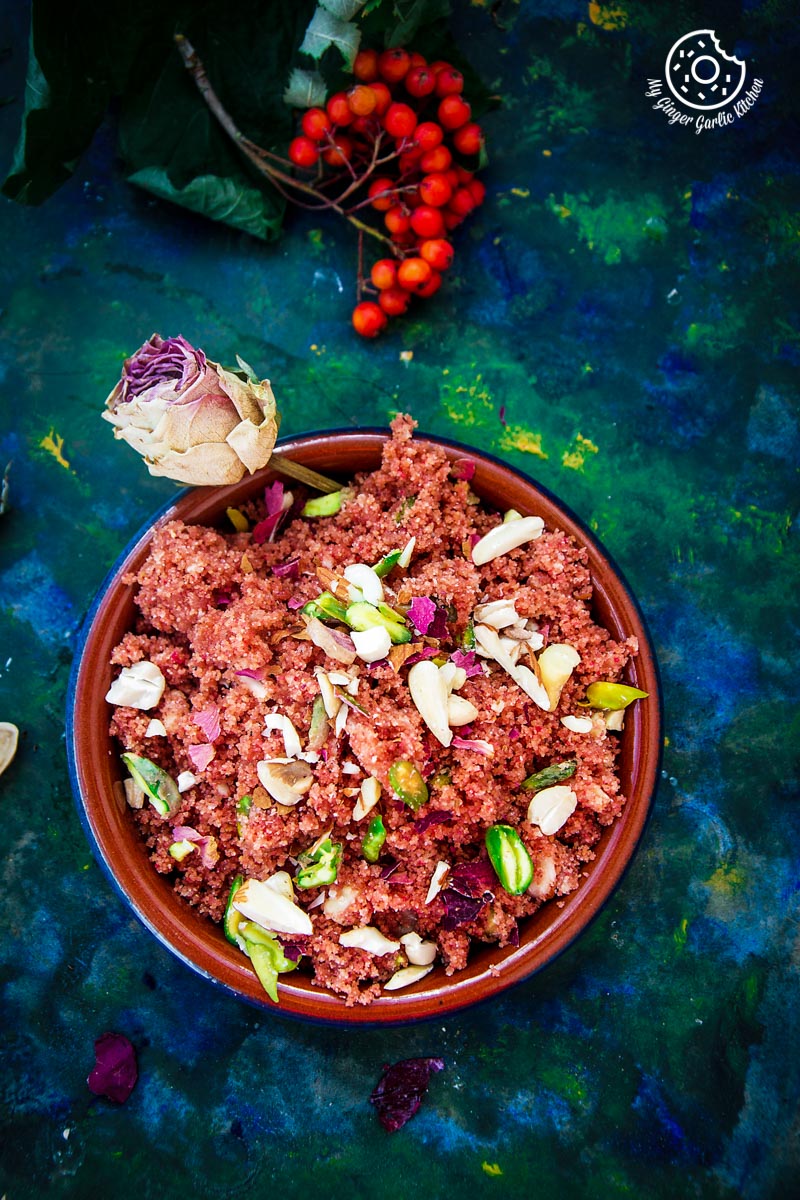 In parties, the 'Dal Baati Churma' thai (platter) is full of different types of baatis, dals, curries and churmas. And everyone gets just so fascinated about all this royal food platter.
It's been almost 16-17 years when I first had this pink churma in a party along with other churmas. I ate all varieties of churma before that party, but I didn't know that there was also a pink churma aka Rose Churma.
First, I was so charmed by its pink color which was quite unusual in a churma. The bright appearance of this delight intrigued me.
I was excited even more when I got to know that this was made with rose. Mmmmm, I can still smell that magnetic aroma I felt at that time. A spoonful of that aromatic rose churma was kinda love at first bite.
Related: Rajasthani Sweet Oliya Recipe
**The taste of this Rose Churma was just beyond any words. So distinctive and peculiar in taste. It was really sensational. After that party, I found it at many other parties too.
But my Mom never made it at home, so I thought she doesn't know that recipe. And then I moved to Europe, and simply forgot about this rose churma. Here, whenever I made churma, it's either whole-wheat churma or chickpea churma.
Related: Exquisite Rajasthani Dal Dhokli Recipe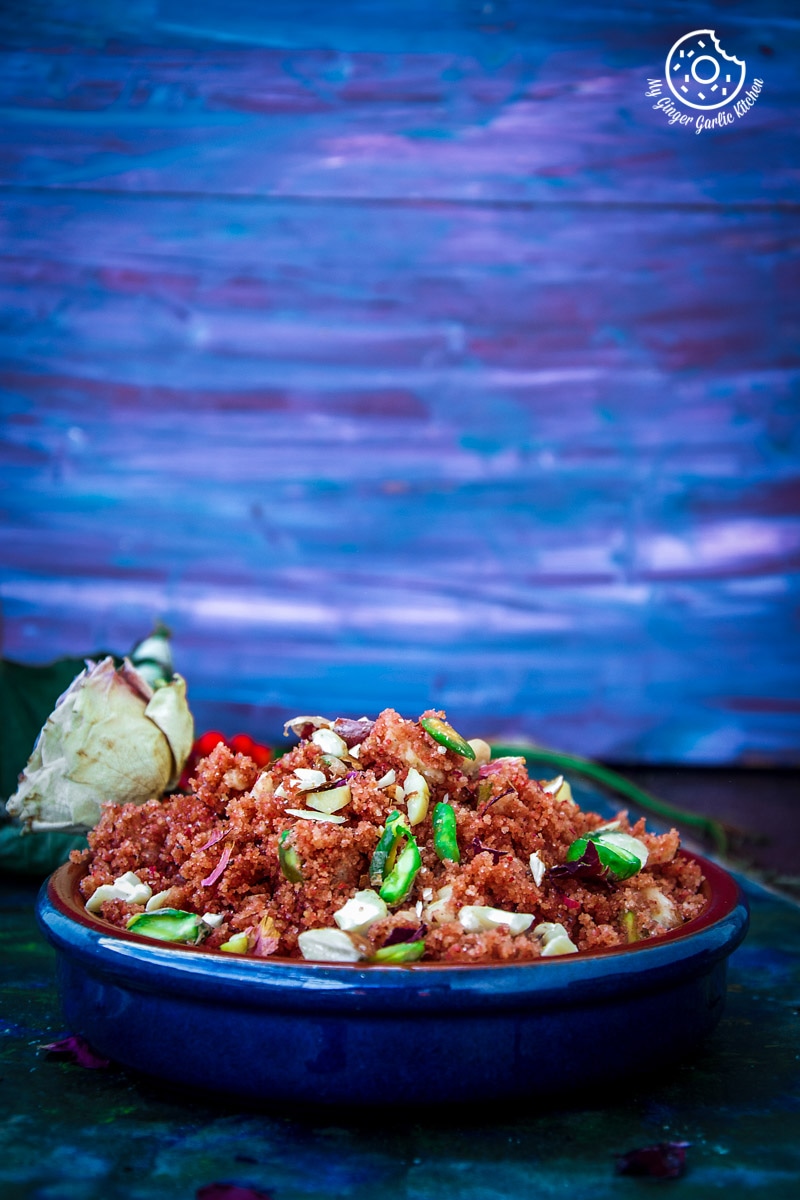 All of a sudden, last week little 'A' came to me and asked if I can make 'Daal Baati Churma' for her which she had at her Grandma's place in India during our last visit.
I was astounded that she memorized the name of three dishes so correctly, especially when I don't make these delicacies regularly here.
I said, "Yes, certainly. I can make."
A: "Oh, wow! Thank you, Mommy. Would you also make Churma?"
Me: Yes, if you say so.
A: "Oh, wow! I like eating churma because it's sweet and so delicious."
Next day when I was about to make this 3-in-1 delicacy, she came to me and started playing with the words to tease me. Playing with words and finding something funny in those words is her favorite game.
Related: Rajasthani Lehsun Ki Chutney – 2 Ways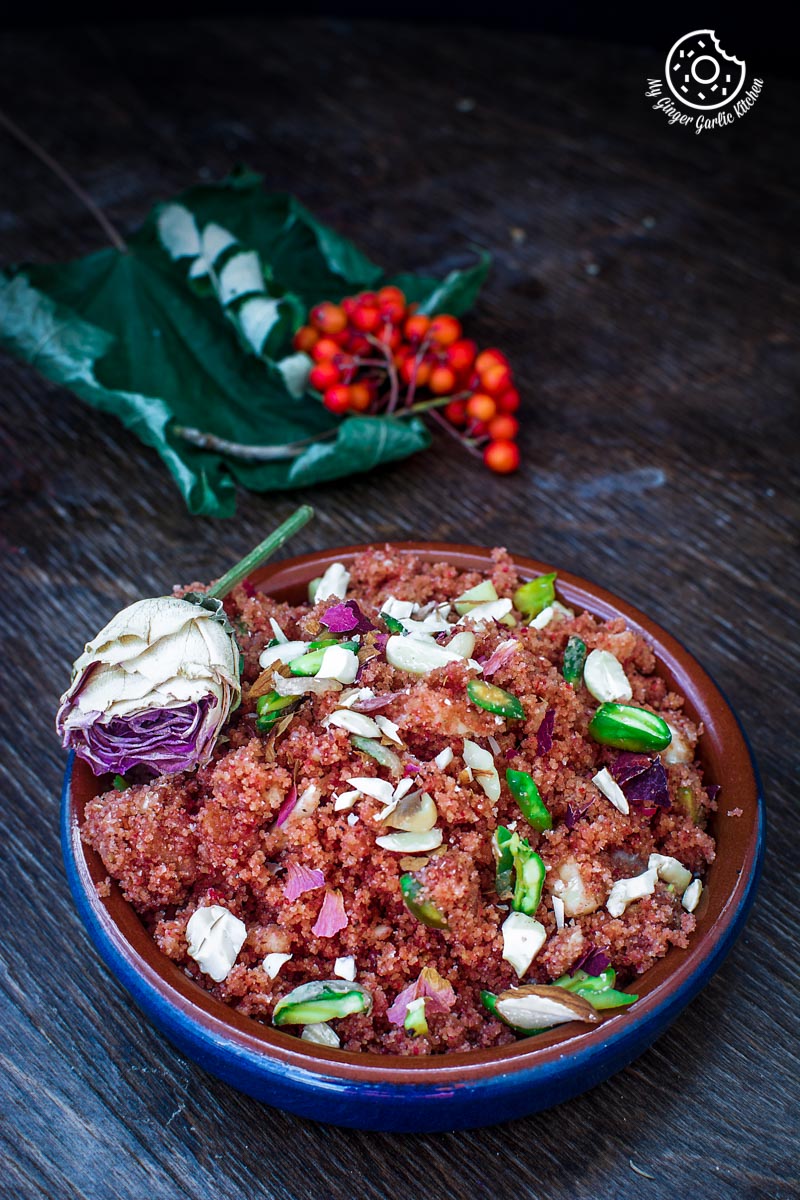 While playing she said: "Mommy, are you making churma?"
Me: "Yes."
A: "Oh, that means you are making 'Pink Churma'".
Me a bit surprised: "Where did you eat pink churma?"
A: "Hahaha, I am just playing mommy."
Related: Malpua Recipe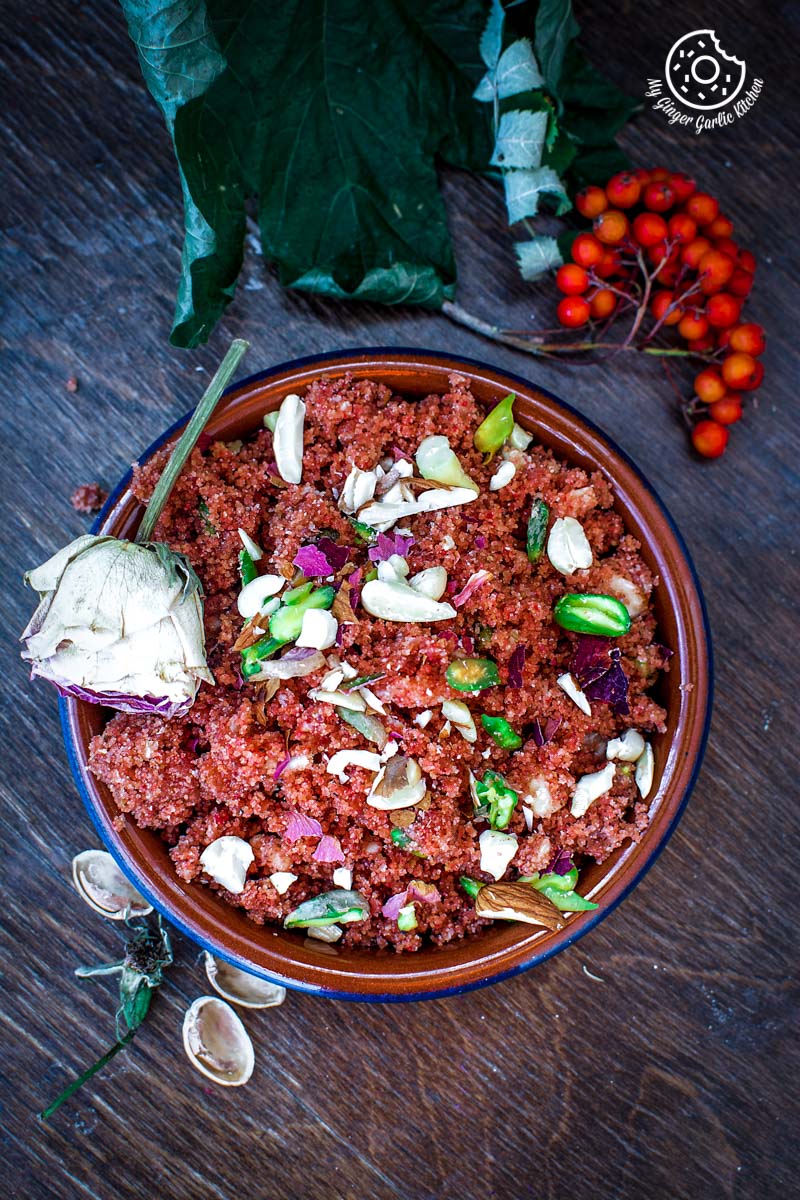 And those two words — Pink Churma — took me 17 years back when I first had this pink churma. And abruptly, I had an urge to eat to that pink churma.
I asked to hubby dear, if he ever had that pink churma, and he gave me those "What are you talking about" looks. That was sign enough to make me understand that he knew nothing about this.
Then my next step was to call my Mom and asked about this churma recipe. I didn't know whether she knew the recipe or not, but took a chance. Surprisingly she told me that she has been making this churma for years now.
Related: Rajasthani Mirchi ke Tipore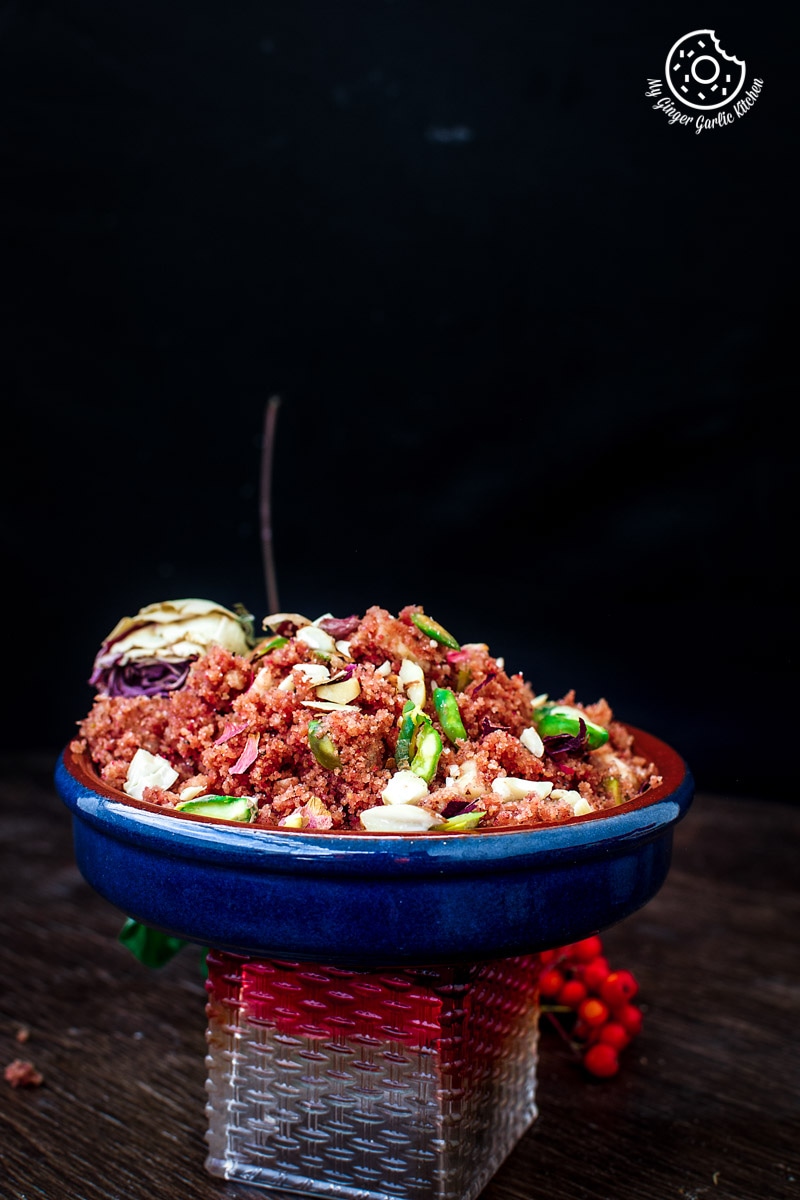 Me: How come I don't know about this? This is so strange? Isn't it? Why didn't you tell me earlier that you make this rose churma."
Mom: "It never occurred to me. And anyway you are not a big fan of churma. Isn't it?"
Me: "Yes, I wasn't earlier. But I always LOVED this pink churma. I never asked to you because I thought you didn't know how it is made. But now tell me the recipe so that I can try making it today."
And that's how I found the recipe of this 3-P Churma. 3-P = Perfect, Pretty, Pink.
Related: Rajasthani Mohanthal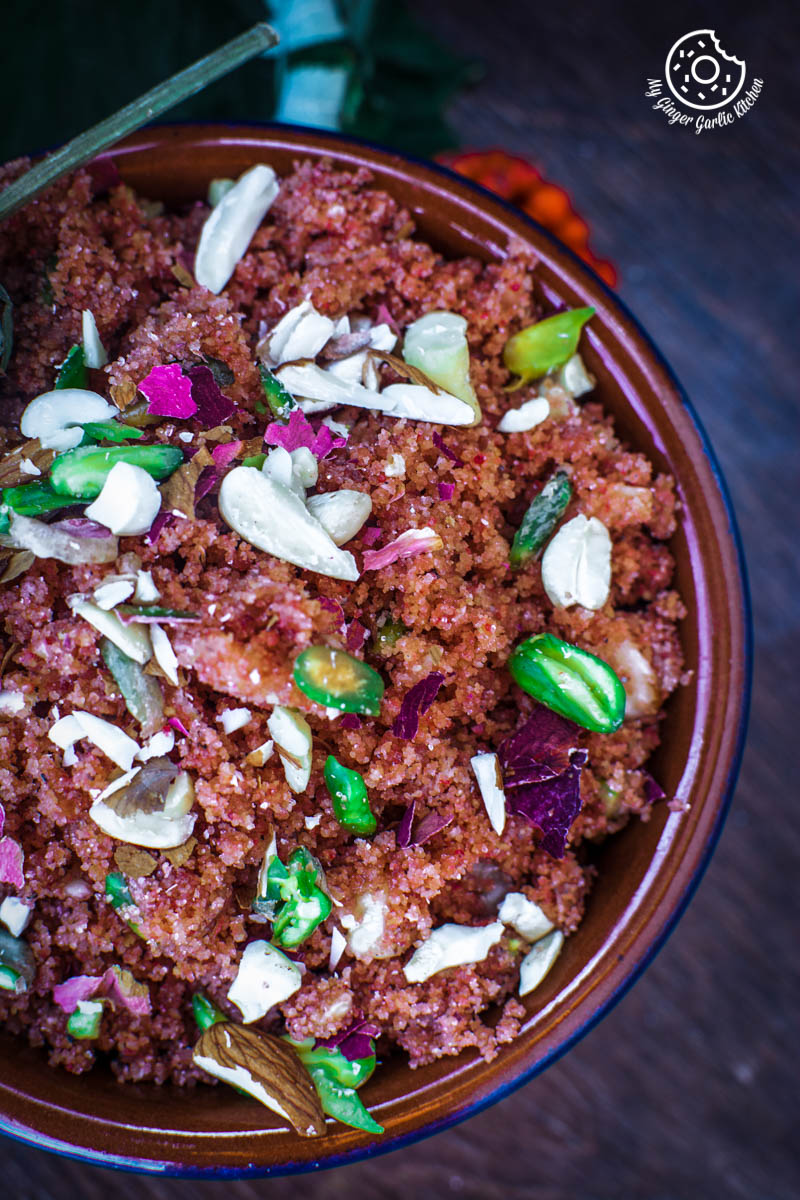 Can I make rose churma with fresh rose petals?
Yes, definitely you can make this rose churma with fresh rose petals. I have made this churma with dried rose petals, but fresh rose petals (gulab ki pattiyan) can also be used for making this churma. Try to use edible red rose petals, they would give a nice taste and color to this rose churma.
Can I make rose churma without food color?
I have added an edible pink food color to my churma recipe. Because this way it looks more appetizing and presentable. Also, this is how it is made in restaurants. I love pink-colored churma, so I usually add it. However, it can easily be omitted.
The churma would still be aromatic if you don't add food color. The color won't make any difference in taste and flavors, it's just that it looks so appealing and eye-catching. Great for presentation for your guests — just the way it should be.
How to serve Gulab Churma?
This rose churma goes perfectly well with the traditional Rajasthani thali which is a collection of different royal Rajasthani dishes suc as, plain bati, masala bati, bafla bati, panchmel dal, and besan churma.
You can also serve this as a dessert with any of your favorite Indian meals such garlic naan and paneer tikka masala.
Tips and variations for making your best Besan Churma:
If you are planning to make rose churma laddu, then make sure that the churma mixture is warm for making laddu. If the churma mixture has cooled down, then it would be hard to mold laddus from rose churma. To fix this, warm churma mixture in microwave for a few seconds or just warm it using a double boiler method.
Also, if you think the rose churma mixture is dry and it is hard to mould laddus, then you can add some warm milk to the churma mixture.
For making rose churma, we need coarse (thick or mota) wheat flour. If you can't find a coarse variety of wheat flour, then add some semolina to the wheat flour as I did. This would give you the same results.
This authentic Rose churma recipe has a soft and melt in the mouth texture, as the mixture has some crumbled mawa. If you don't want to add (khoya) mawa, then you can replace it with ¼ cup of melted ghee.
Related: How To Make Rajasthani Moong Dal Halwa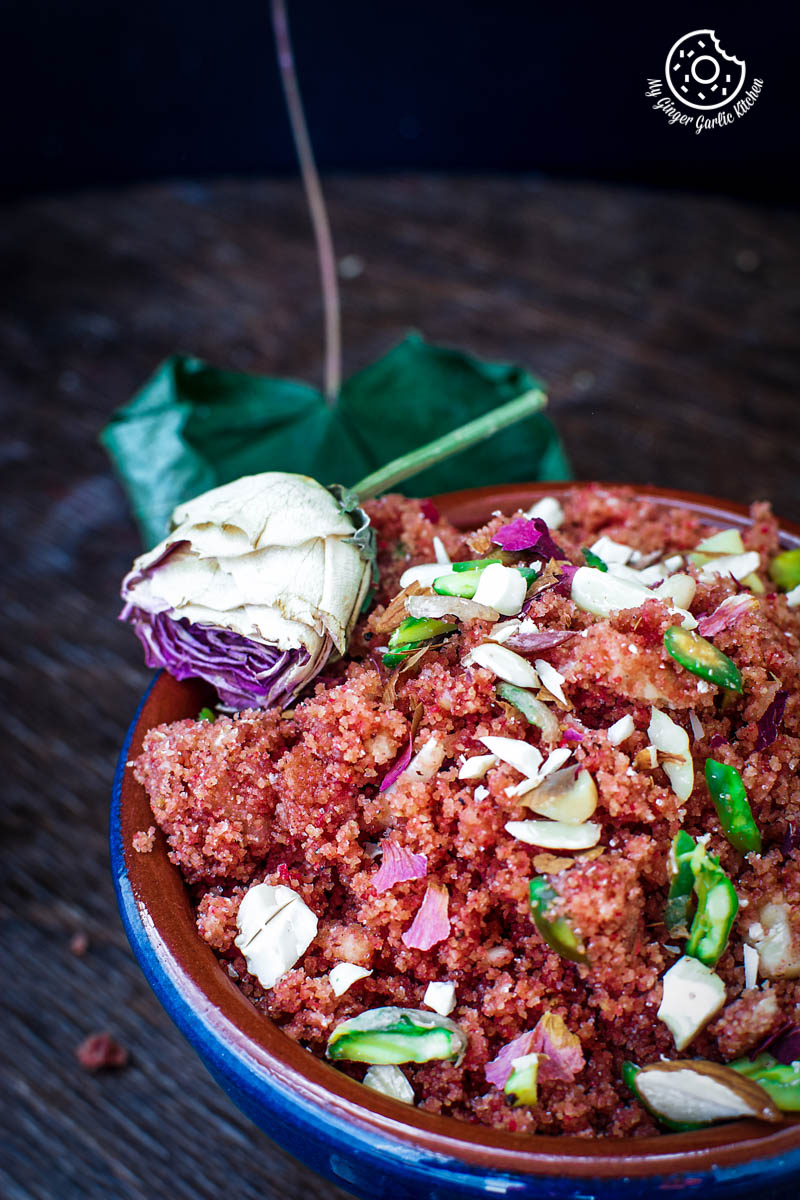 You may also like these other Rajasthani recipes:
Rajasthani Gulab Churma Recipe - Rose Choorma Without Oven

[Recipe]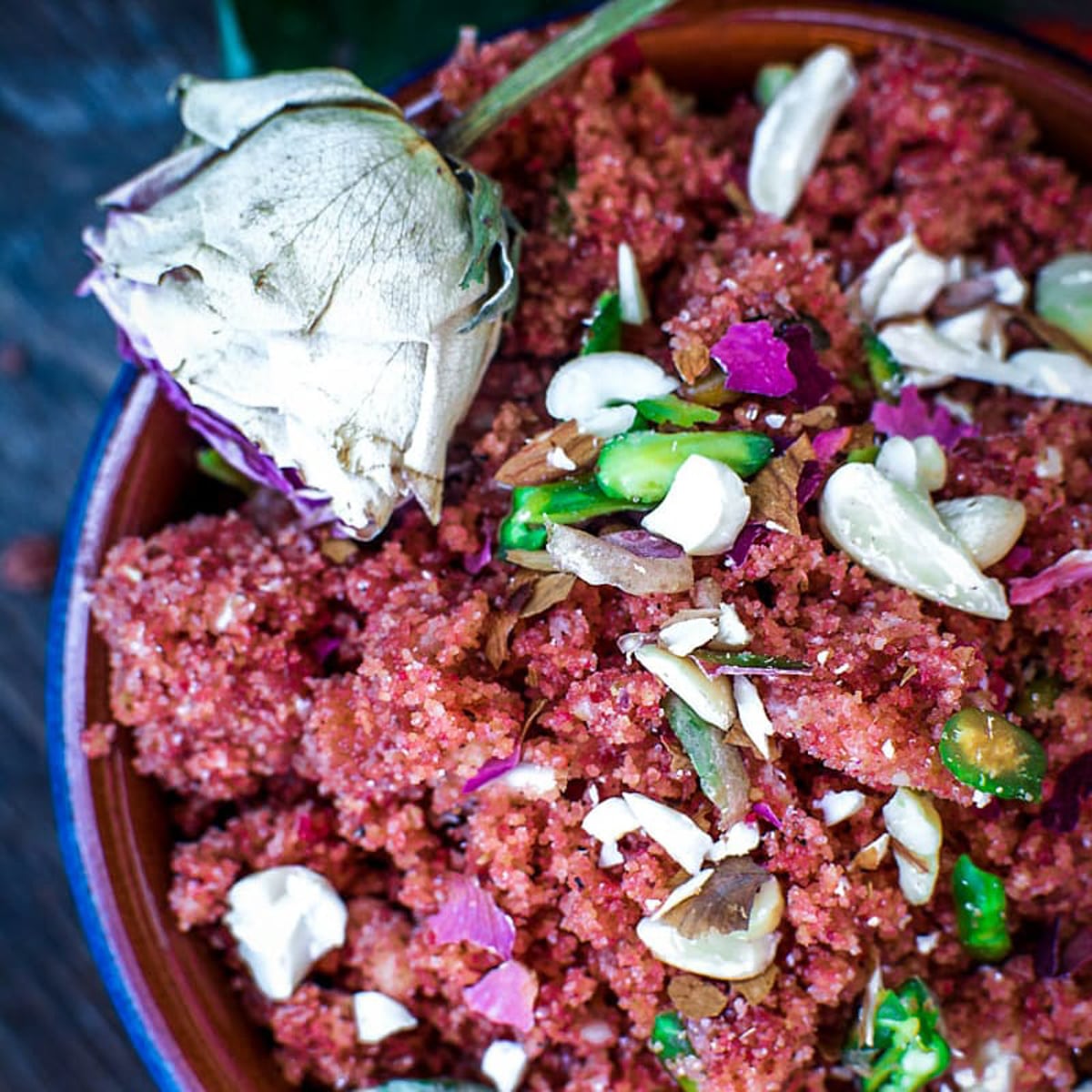 Rajasthani Gulab Churma or Rose Choorma is a special delicacy of Rajasthani cuisine which is served with dal aati. Learn to make this dessert at home.
---
★★★★✰
(Rating:
4.1
from
59
reviews)
---
| Prep time 🕐 | Cook time 🕐 | Total time 🕐 |
| --- | --- | --- |
| | | 55 mins |
| Category ☶ | Cuisine ♨ | Serves ☺ |
| Dessert | Indian | 6 |
| Nutrition Info ⊛ | | Serving size ⊚ |
| 225 calories | | 1 serving |
---
INGREDIENTS
For Rose Churma:
1 + 1/4 cups edible dried rose petals (gulab ki sukhi pattiyan)
3/4 cup water
3/4 cup milk
1 cup whole wheat flour (gehun ka atta)
1/4 cup semolina (suji/rava)
5 + 5 tablespoons ghee (clarified butter)
1/4 cup dried rose petals (gulab ki sukhi pattiyan)
1/4 cup powdered suga (shakkar ka bura)
2 teaspoons cardamom powder (hari ealiachi ka powder)
4 tablespoons almond, chopped (kate huye badam)
4 tablespoons pistachios, chopped (kate huye pista)
4 tablespoons cashew nuts, chopped (kate huye kaju)
1/4 cup crumbled mawa
2 cups salt, for baking patties in a pan
6-7 saffron strands soaked in 3 tablespoons warm milk
---
INSTRUCTIONS:
How To Make Rose Churma (Gulab Choorma) Dough:
Add 1 cup rose petals and water to a pan and boil it for 5 minutes.




When the petals turn white add milk to this mixture.




Let it boil for 5 minutes. Once boiled, remove it from the heat and let it cool down.




Add the whole wheat flour, semolina and 5 tablespoons melted ghee to a deep bowl and mix well.




Add 1/4 cup dried rose petals.




Strain rose mixture and add little by little it to the flour.




Knead to make a stiff dough.




Divide the dough into 5-6 equal small balls and shape them into patties.



Baking In A Pan/Tawa:
Add 2 cups of salt to a pan and put a stand on it.




Arrange a plate on it.




Cover it, and let it preheat for 10 minutes on high heat.




Arrange patties on the plate.




Cover with the lid, and let them bake on medium-low heat for 20 minutes.




Flip the patties and bake them again for 20 minutes.



Baking In an Oven:
Preheat oven to 175°C/ 350°F. Arrange patties on a baking tray.




Bake for 30-40 minutes or until the top turn golden brown.



Making Churma:
Break the hot patties and place them into a mixer jar.




Grind them in a blender into a fine powder.




Pass it through the sieve to get a fine mixture. Grind the solid pieces again and pass it through the sieve again. You may need to follow this step a couple of times to get the perfect texture.




Add cardamom powder and powdered sugar, saffron soaked milk, and 5 tablespoons ghee, and pink food color.




Mix well until combined.




Now, add rose water, almonds, cashews, pistachios, and crumbled mawa.




Mix well to combine.




Transfer it to a serving plate, and garnish with nuts and dried rose petals, and serve.



---
WATCH VIDEO:
---
NOTES:
To make churma laddos, shape them into balls while the mixture is hot. (You can also microwave this mixture for 30 seconds).
---
If this recipe helped you, then please spread the word by sharing and
subscribing
to us on YouTube to get more such Recipe Videos.
---
Your feedback is so helpful for me and other MyGingerGarlicKitchen readers. So, for Facebook and Instagram, please mention
@MyGingerGarlicKitchen
or
#mygingergarlickitchen
. I would love to see your photos. :)
---
Author:
Anupama
Recipe Source Link:
https://www.mygingergarlickitchen.com/rajasthani-gulab-churma-rose-choorma-recipe-video/
Date Published:
2019-10-01
• • • • • • • • • •