Rajasthani Khoba roti is a thick flatbread made with coarse whole wheat flour. Khoba roti may appear a bit complicated dish, but it is super simple to make. This version I am sharing today is 100% authentic, except that I added a few more ingredients to give it a slight twist.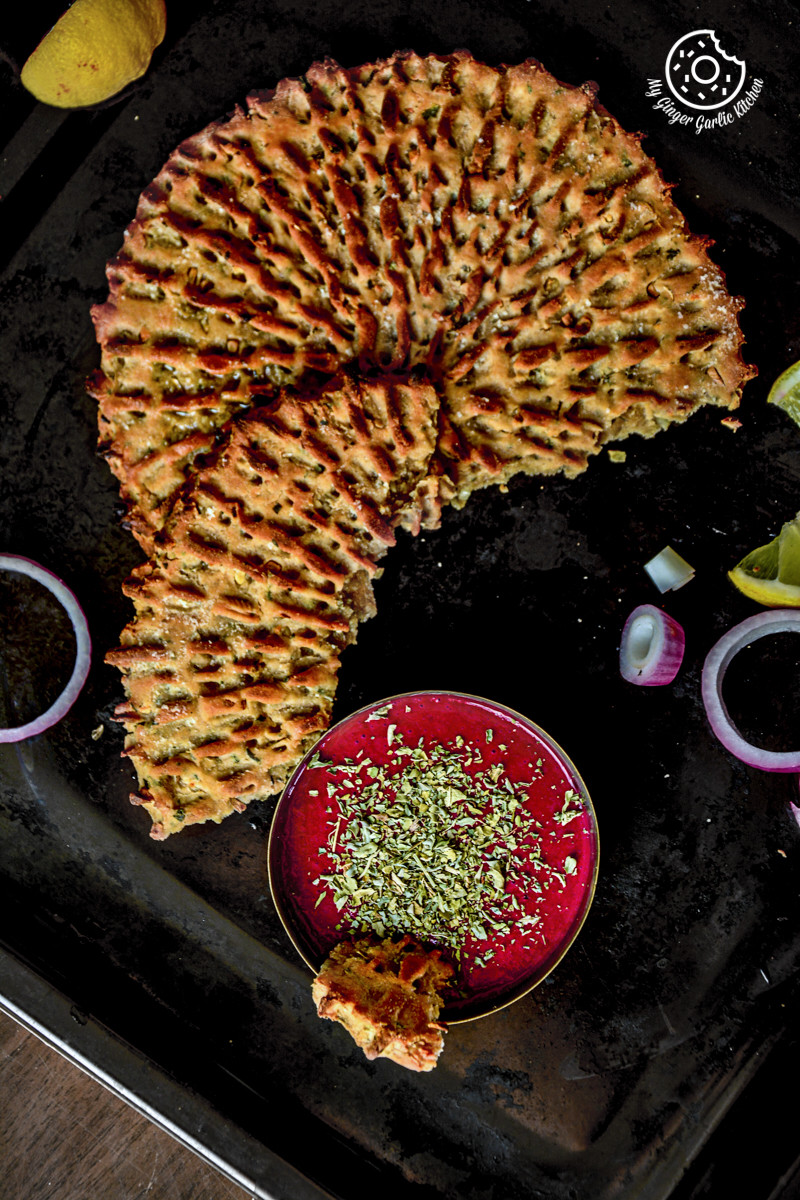 "Hello from the other side! Hello, it's me!"
I know, I know these are the lyrics from Adele's latest song, and I do not have any copyrights of using this. But please, please I am not selling anything with this song, I am only sharing my feelings, is that okay? I think it's just fine! 😉
Hahahaha, I just wanted you all to laugh, thus I had to write something hilarious at the beginning of my post. Now my purpose has solved, so we should move on to this magical dish I have to share with you all today? #Superexcited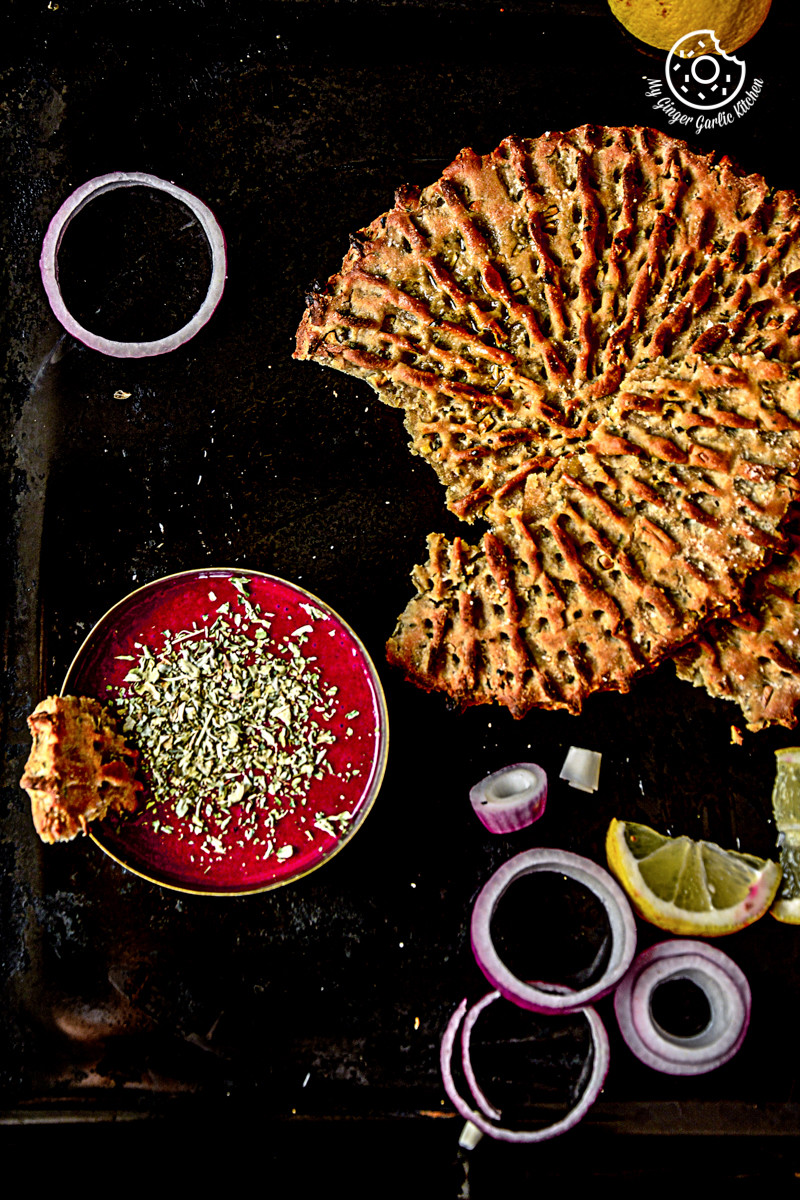 It's time to bring some essence of my roots on the table. It's finally time to share my Granny's one of the very authentic recipes, which was very popular amongst family and friends. This is a very beautiful and delicious flatbread I am sharing. Yes, it's a flatbread! And this is one of the most elegant and delish breads I have ever eaten till date.
A little intro of how I learnt about the existence of this artsy bread.
Khoba roti is also known as Khuba roti or jaadi roti or moti roti. This was one of such dishes which was like a feast in my family. And do you know who was the only person to cook it — it was my dear Granny.
But the only thing is that she always wanted to make it ONLY the traditional way which was to make it in a Sigri, which is a type of coal stove. Well, we didn't have any sigri at home. But luckily, our milkman who used to come every morning from a neighbourhood farm, had it. And my Granny always borrowed his sigri every time she made this roti.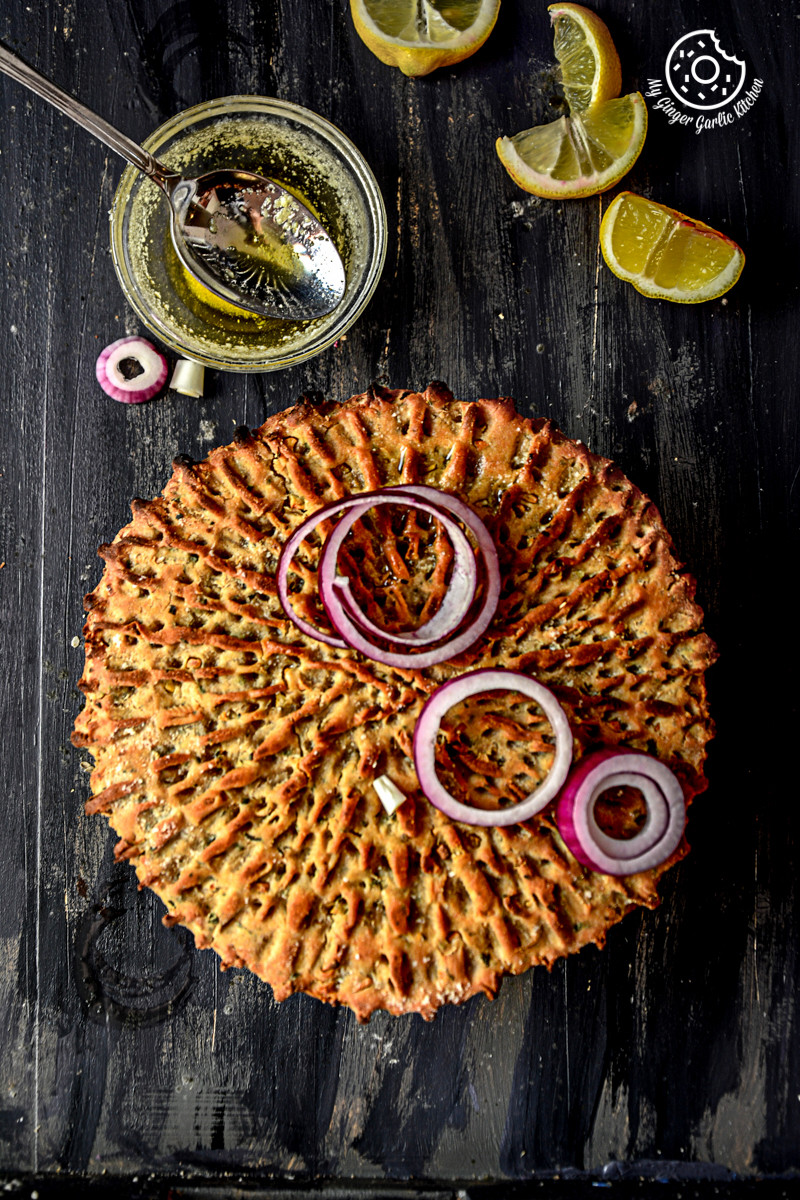 My Dad never liked such things, so he tried to convince my Granny to make it on a gas stove, but all in vain. But he wanted to eat my granny's Khoba so often especially during the winter, so he had no other options.
One day my Dad came home and said to Granny, "I want Khoba roti for dinner tonight".
Granny: "But I can't make it today, as we don't have sigri at home. I will ask the milkman to bring his sigri tomorrow, and then I will make it."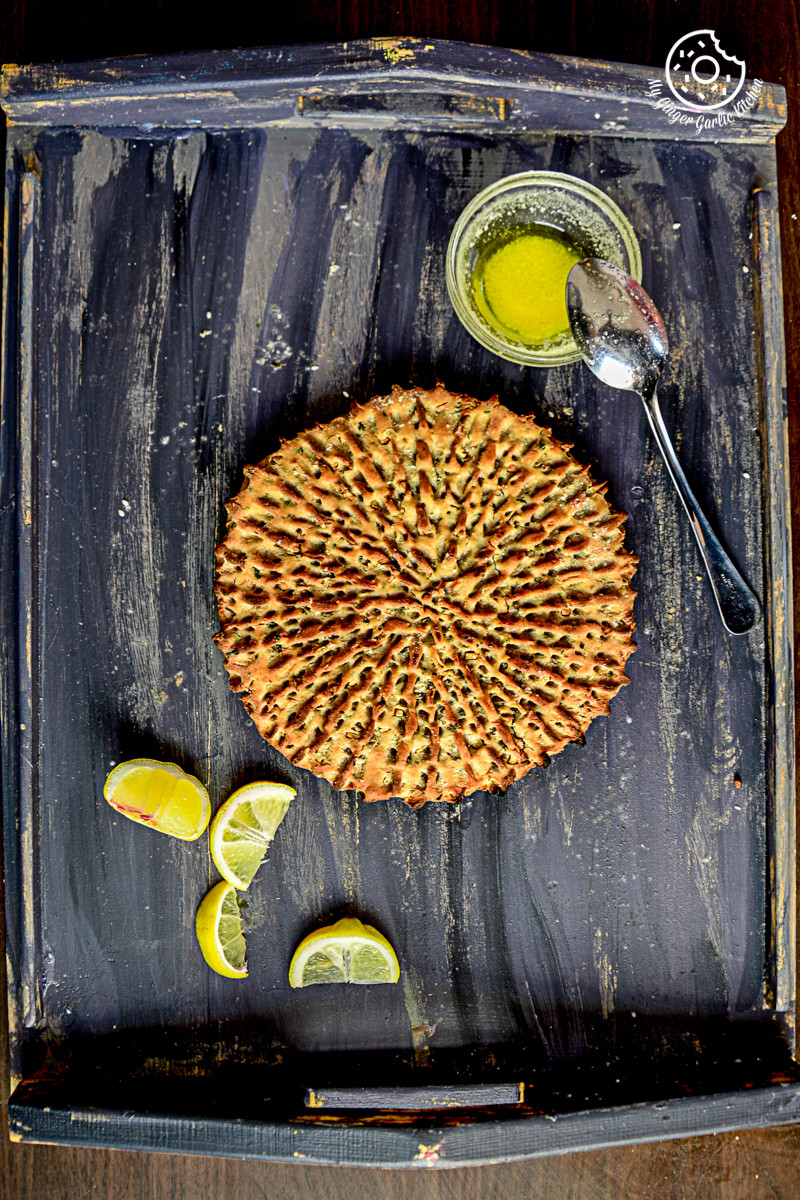 Dad: "But I am craving for it now, please make it today."
Granny: "Nope, not without sigri. If you can arrange a sigri right now, then I can make it for sure."
"Oh! That's the case", said my Dad. And then my Dad handed over a new sigri to her. She said: "Who's sigri is that?"
Dad: "It's your sigri Mom, now you can make Khoba roti whenever you want."
Granny: "Wow! Really? You bought this for me? You are such a good son, and she gave him a big hug."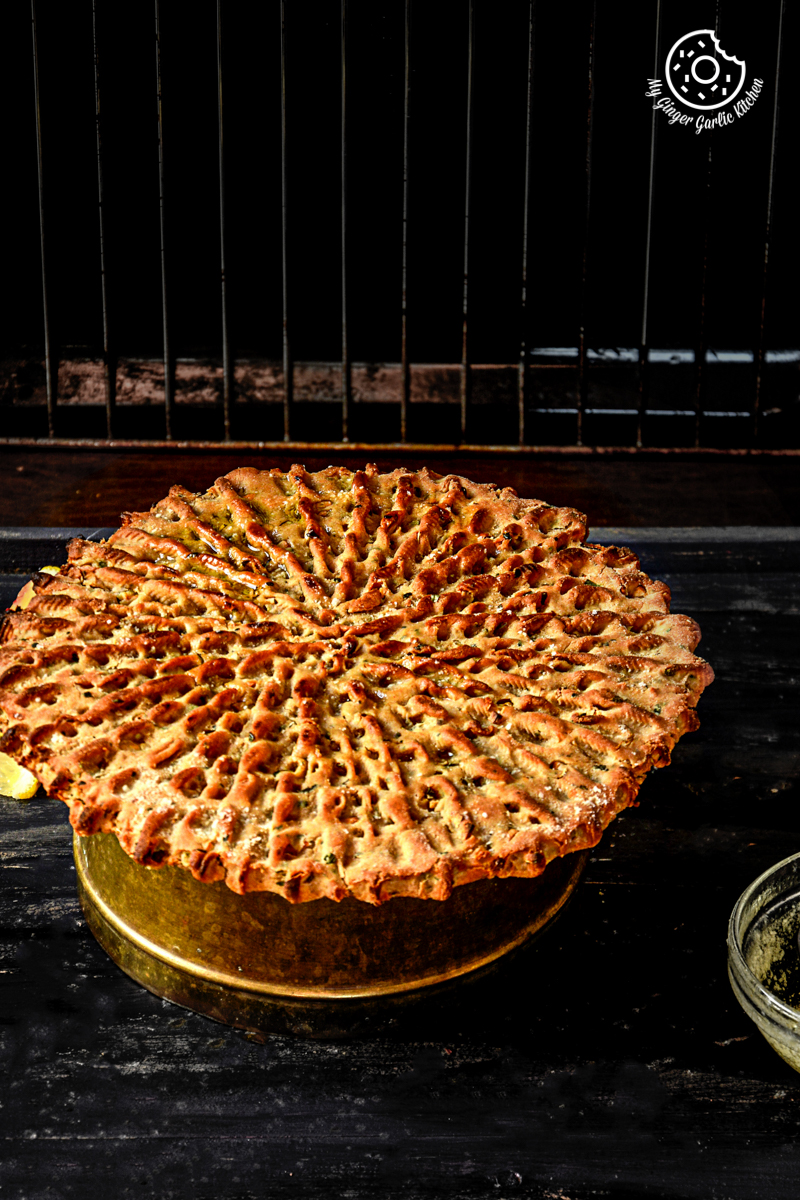 Dad: "Now, what are you waiting for, make rotis as fast as you can. I am hungry…very hungry."
Granny: "Yes, yes, I will be very quick". And they both smiled.
After that day my Dad ate this Khoba roti whenever he craved for it. He enjoyed this dish as much as he could till the time my Granny was alive. Sadly, she left us in 2011.
My dad is not very keen of Khoba rotis anymore because there is no Granny to make this for him. So in my last visit I made my version of khoba roti especially to make him feel good, and he really loved eating one of his favorite dishes. He got a bit emotional though. But it was a nice experience to imprint on our memories I must say.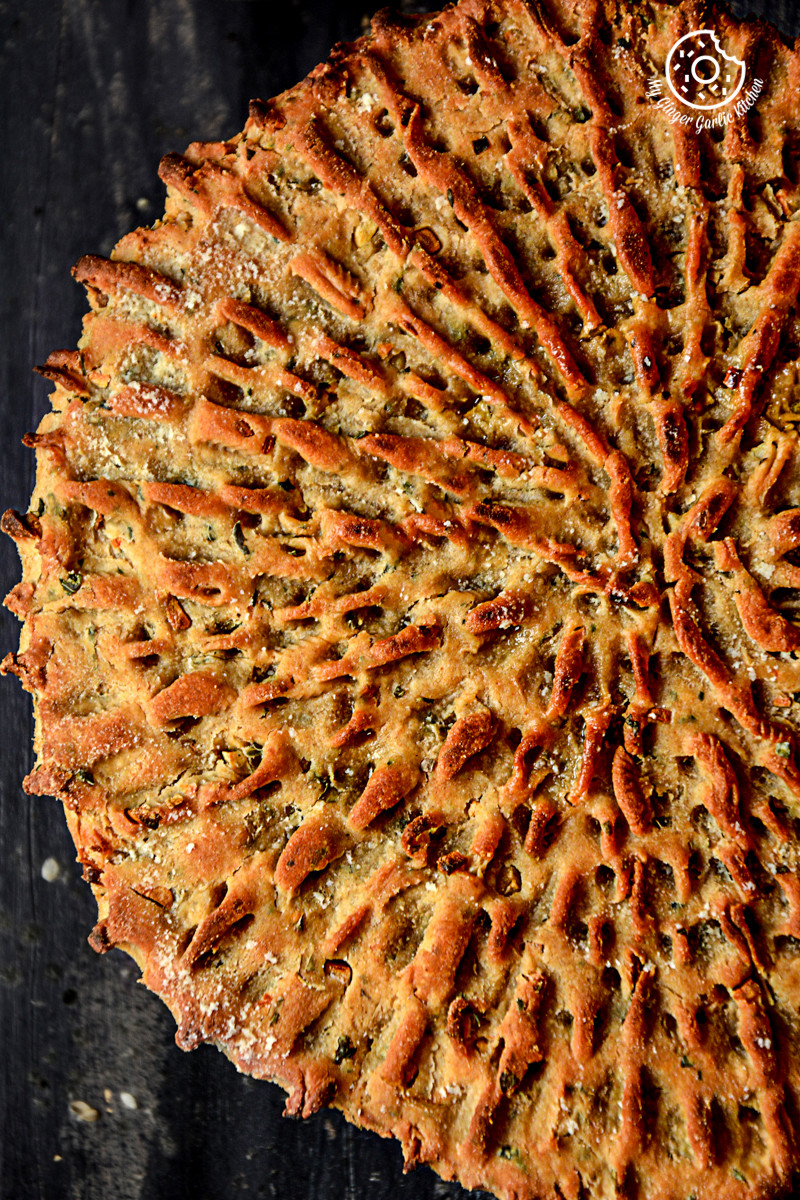 Rajasthani Khoba roti is a thick flatbread made with coarse whole wheat flour. Khoba roti may appear a bit complicated dish, but it is super simple to make. Watch the video and you will know for yourself.
Traditional way to cook this roti is to cook it on stove top and then on a flame. But this particular recipe is a modern adaptation using the regular stovetop + broiling in the oven. In Finland we only have the induction stove, that's why I don't have the facility to cook roti on the flame, so I opted for this broiling option. But believe me, this is just as perfect as the original way of cooking goes.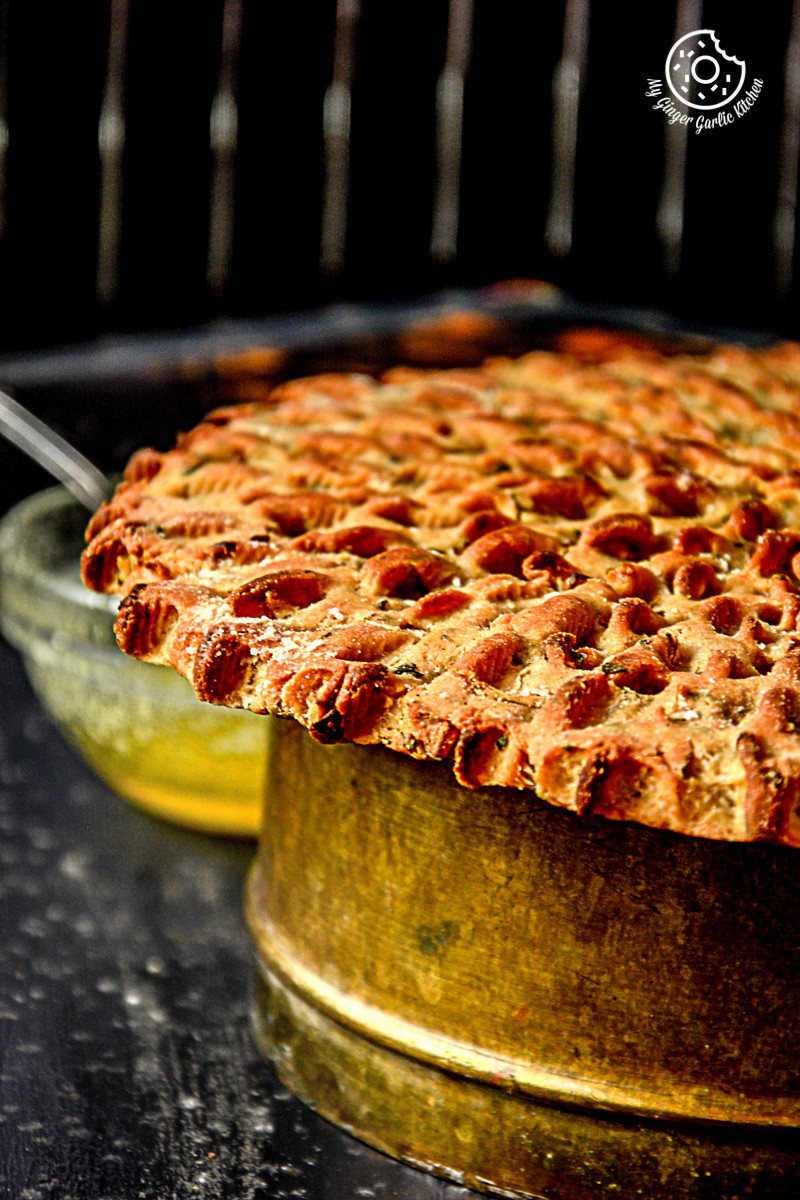 This version I am sharing today is 100% authentic, except that I added a few more ingredients to give it a slight twist. My Granny never added garlic and kasuri methi to this roti, but I do. Because I love garlic — and this makes roti more flavorful. If you love garlic then you must try this recipe, and if you don't, then simply omit garlic from this recipe. This garlic + kasuri methi version is my family's favorite so I always add these.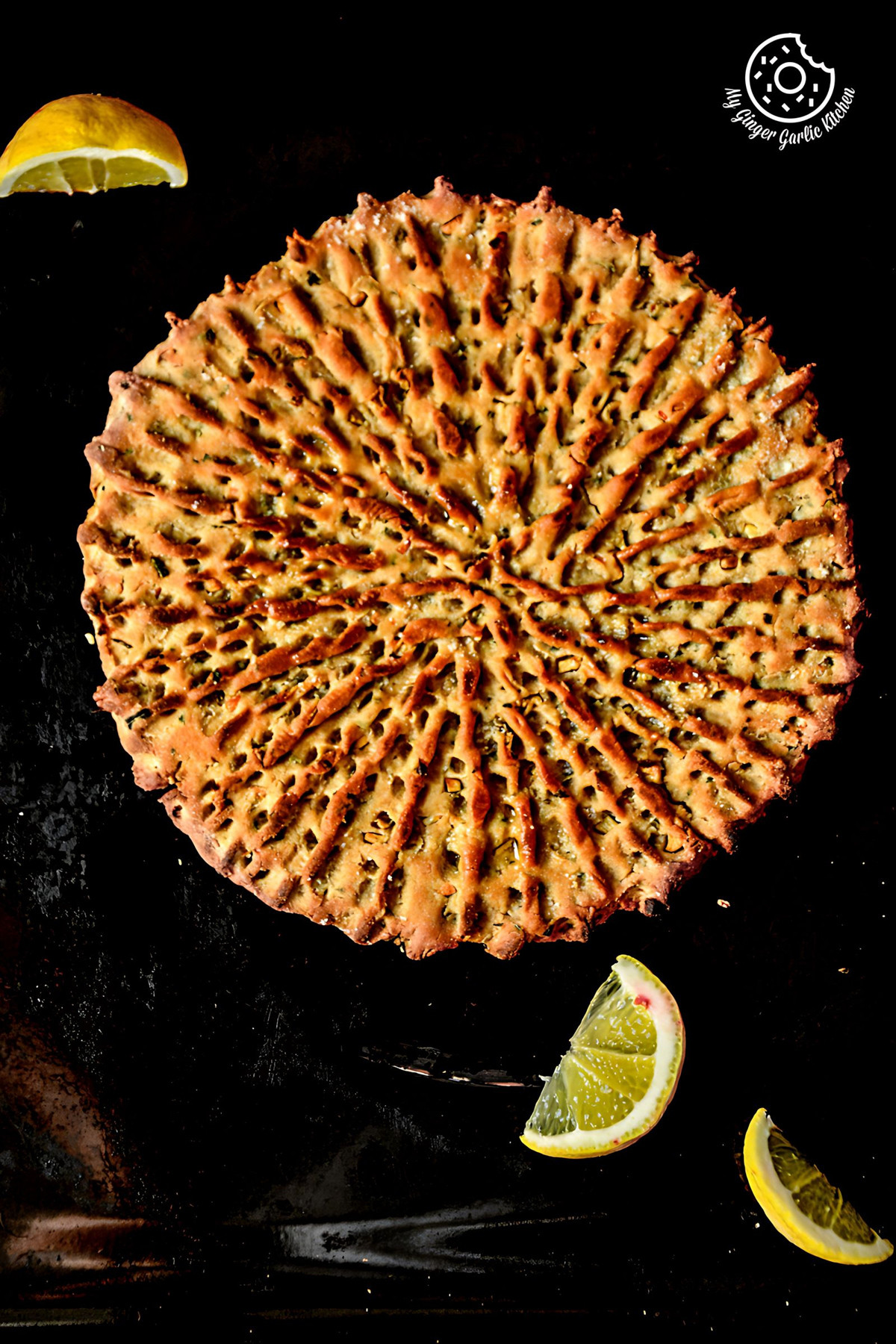 Khoba roti goes well with almost all the spicy curries, chutneys and pickles. The spicier the curry, the better the pairing would be.
The key of making a perfect khoba roti is perfect kneading. Cook it on low heat and drizzle with some generous amount of ghee. That's it. Straight from the heart of Rajasthan — a thick, classic and delicious roti is ready, which is so full of ecstatic flavours. It has a nice crisp outer layer and soft inside.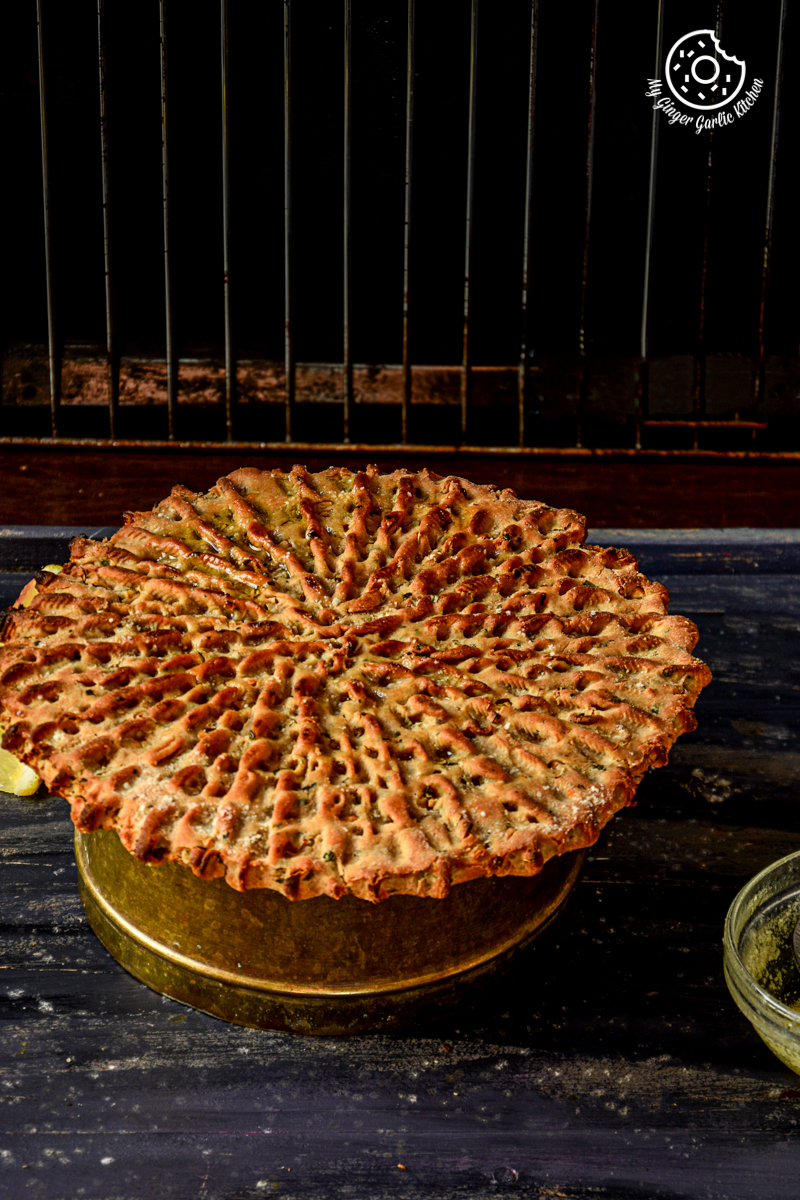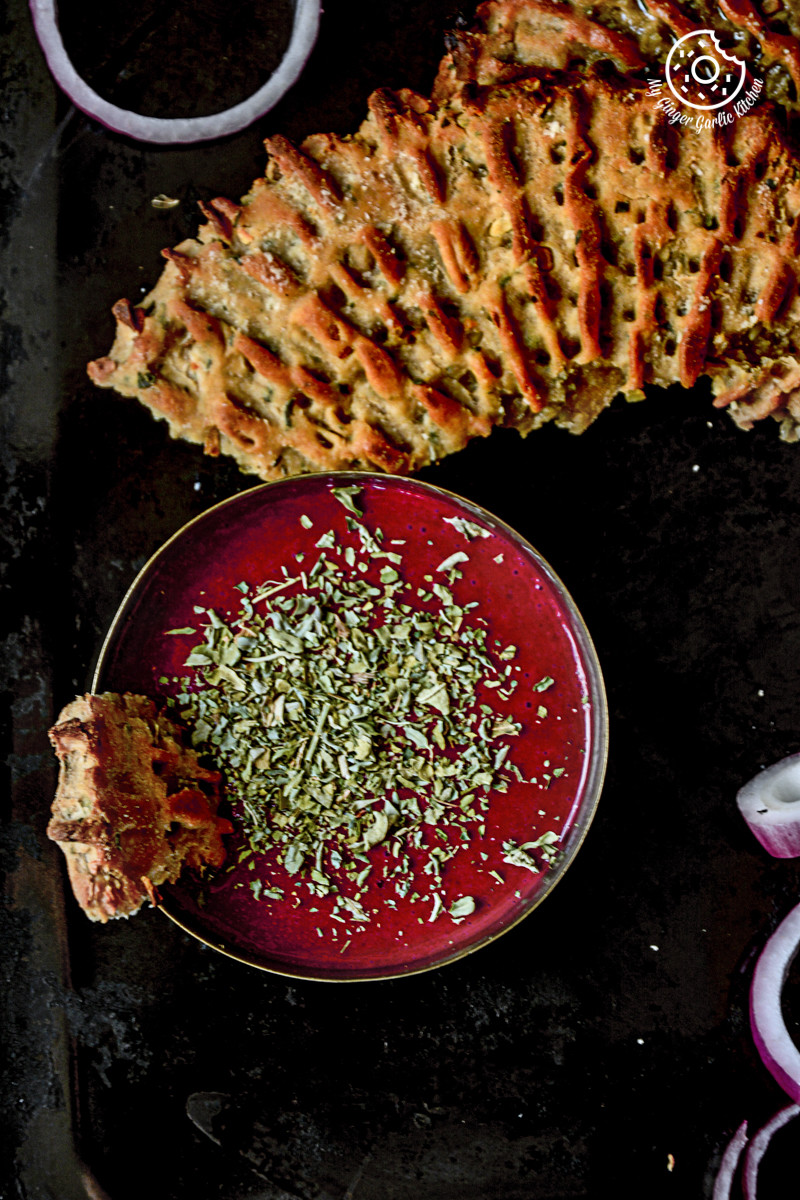 Rajasthani Khoba Roti Recipe

[Recipe]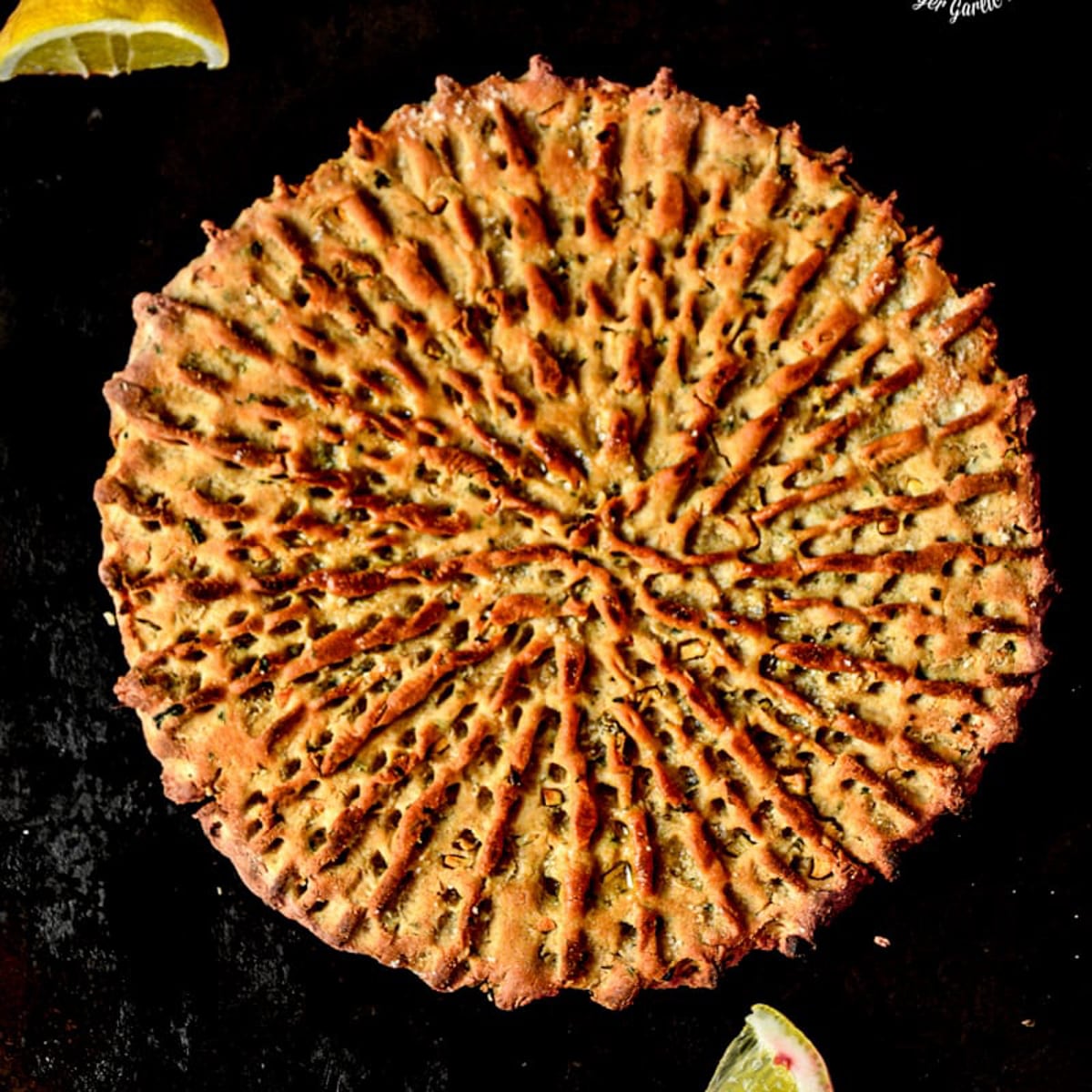 Rajasthani Khoba roti or jadi roti is a thick flatbread made with coarse whole wheat flour. Khoba roti may appear complicated, but it is super simple to make.
---
★★★★✰
(Rating:
4.2
from
155
reviews)
---
| Prep time 🕐 | Cook time 🕐 | Total time 🕐 |
| --- | --- | --- |
| | | 20 mins |
| Category ☶ | Cuisine ♨ | Serves ☺ |
| Main | Indian | 1 large bread |
| Nutrition Info ⊛ | | Serving size ⊚ |
| 231 calories | | 1 serving |
---
INGREDIENTS
Khoba Roti:
1 cup coarse whole wheat flour (or use a mix of 1/4 cup semolina to 3/4 cup flour)
1 tablespoon garlic (lehsun), chopped
1 tablespoon kasuri methi (dried fenugreek leaves)
Salt to taste
2 tablespoon ghee or clarified butter, plus more for drizzle
Water for kneading stiff dough
---
INSTRUCTIONS:
Making Khoba Roti:
In a mixing bowl, combine the flour, garlic, salt, Kasuri methi, and 2 tablespoons of ghee.




Rub the flour between fingers to mix well. Make sure all the flour is coated well with the ghee.




Add some water to knead a stiff dough.




Dust the work surface with some dry flour, and roll the dough into a thick circle of about 12 to 14-inch diameter.




Slash with a knife on one side.




Flip it around and beginning from the center and moving outwards, pinch the surface of the roti to make a design on the roti.




Heat a pan over low heat, place the roti design side up and cook over low heat.




When one side is cooked and light golden brown, carefully turn the roti over and cook on the other side.




Preheat the oven at 200°C/400°F. Line a baking tray with foil paper or parchment paper.




Remove cooked from the heat once the floral side is almost cooked and place it on the prepared baking tray.




Place the tray on the top rack, under the broiler, and broil for about 2-5 minutes or until you see the roti is browed. Keep an eye on roti while broiling, as it might get burn too quickly.




Remove from oven. Drizzle with melted ghee. Serve hot with any curry, lentils dish, chutney or with pickle.

---
WATCH VIDEO:
---
NOTES:
No notes for this recipe.
---
If this recipe helped you, then please spread the word by sharing and
subscribing
to us on YouTube to get more such Recipe Videos.
---
Your feedback is so helpful for me and other MyGingerGarlicKitchen readers. So, for Facebook and Instagram, please mention
@MyGingerGarlicKitchen
or
#mygingergarlickitchen
. I would love to see your photos. :)
---
Author:
Anupama
Recipe Source Link:
https://www.mygingergarlickitchen.com/rajasthani-khoba-roti-video/
Date Published:
2019-10-14
• • • • • • • • • •