Making this entirely no cook mango kulfi is very easy to make and only needs 10 minutes of mild work. This sinfully rich, delicious, creamy, and irresistible mango kulfi has a perfect authentic chewy and creamy texture. It tastes so great when flavored with ripe mango.
This extremely delicious kulfi is laden with one of my all-time favorite things — mangoes, and loads of mangoes.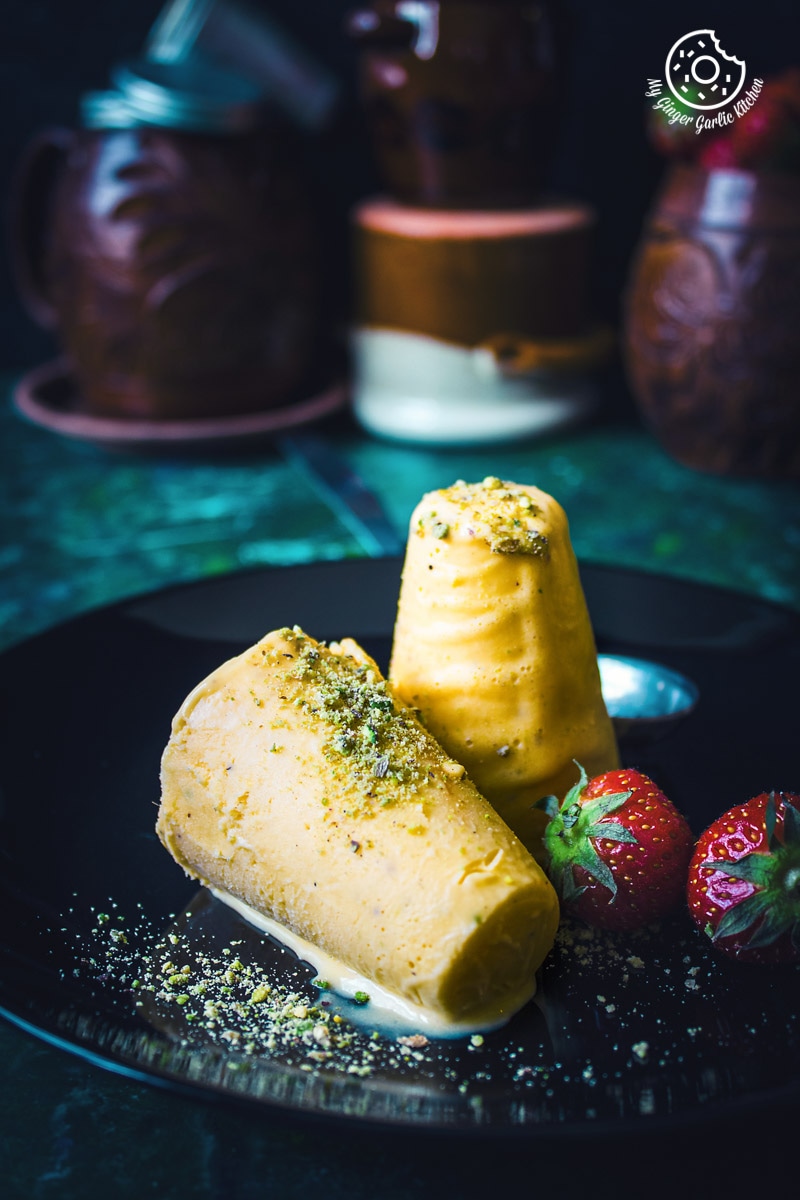 Learn How To Make Quick Mango Kulfi Recipe | No Cook Mango Kulfi Recipe with simple step-by-step video instructions.
There is absolutely no reason not to justify the mango treats during summer. However, I have one impartial enough reason to consume as many mangoes as possible. Don't you agree that frozen desserts and mangoes are like best buddies?
This year, our mother earth (and supermarket importers 😉 ) have blessed us with some good quality of mangoes here. Hence, I so want to relish the very refreshing sweet treats using mangoes before the mango season ends. Plus, like any other organic fruits, mangoes also have their own health benefits.
Related: Dark Rum Strawberry Mango Mojito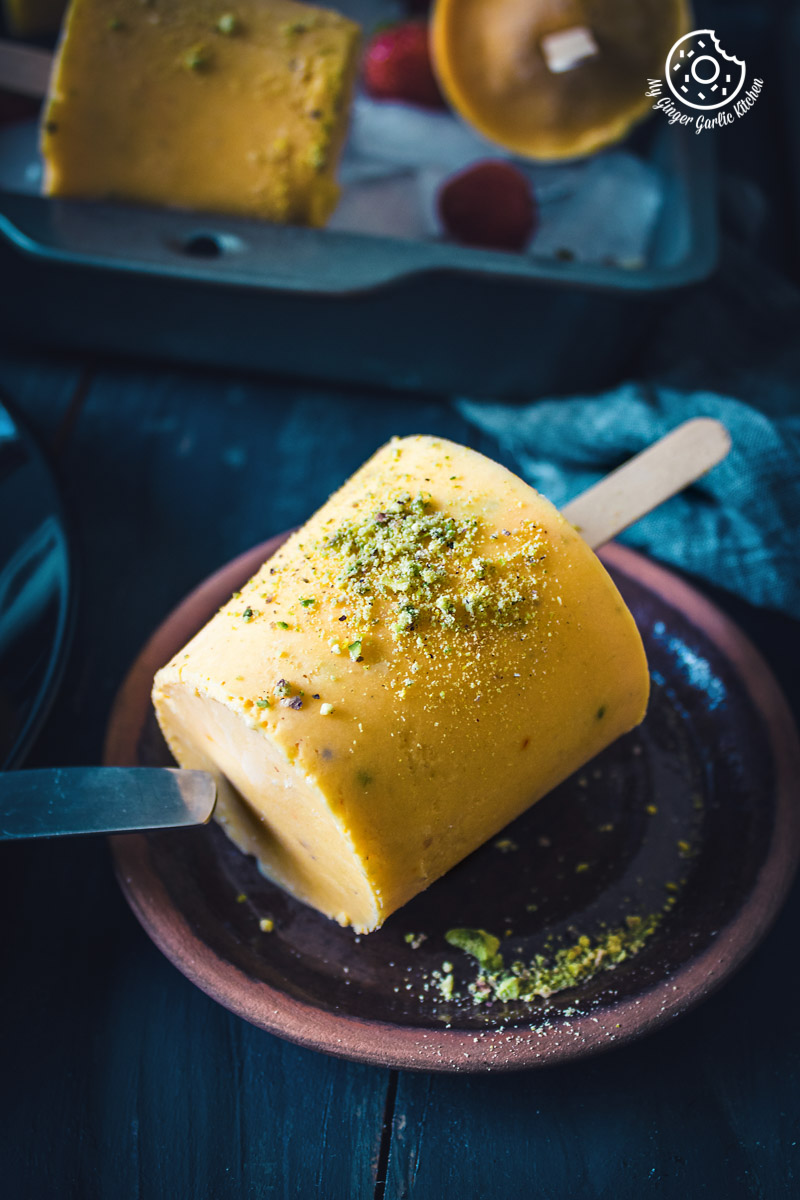 Weatherwise:
The current 'not-so-hot' pleasant summerish weather is asking for more and more summer treats. So ripe mangoes and frozen treats have become the best friends these days.
Summer Paradise:
The weather is not sultry still — there is no scorching and roasting sun, but very pleasant. We are experiencing the right kind of summer anyone could ask for.
I am looking forward to more of such blissful days this year. You'd already know from my earlier post about mango ice cream, that mango kulfi is one of my favourite desserts crafted using mangoes.
Related: Caramelized Banana With Nuts And Mango Yogurt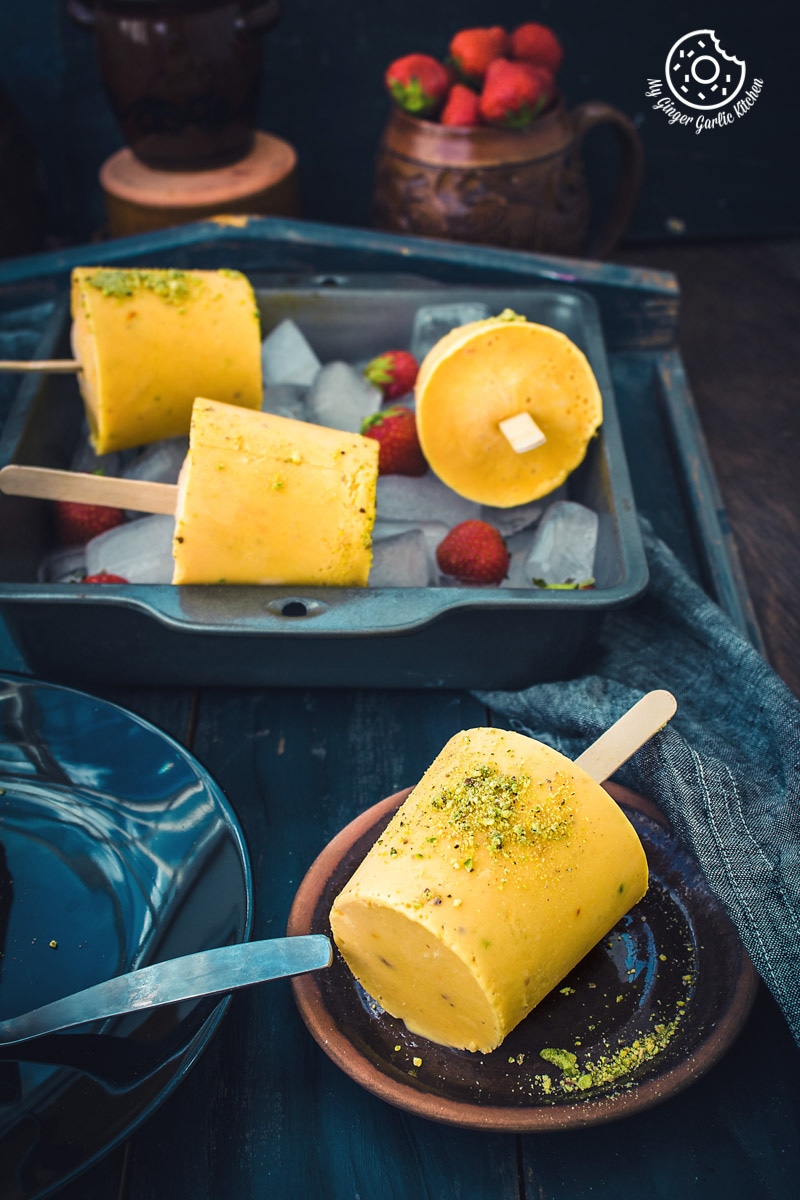 What is Mango Kulfi?
Mango Kulfi is an Indian frozen dessert which is an Indianized version of Mango Ice Cream which is creamier and denser. Kulfi is generally prepared by reducing and thickening milk by slow cooking. Here you have to stir continuously to prevent milk from sticking to the bottom of the pan.
Coming to the Mango Kulfi; I could still recall my childhood memories where my Mom used to make her unbeatable mango kulfi during the late hours. Oh, this is one of my fond memories of summer holidays.
I could see her boiling and stirring milk for a long time, and then adding mango pulp and waiting for the ice cream mixture to cool down before she pours it into ice cream molds. Then she carefully puts those molds in the freezer and instructs us not to open the freezer door often to check if the ice cream is ready or not.
Yeah, kids do this all the time. They are so impatient when it comes to their favorite stuff. Isn't it?
Related: Indulging Coconut Mango Panna Cotta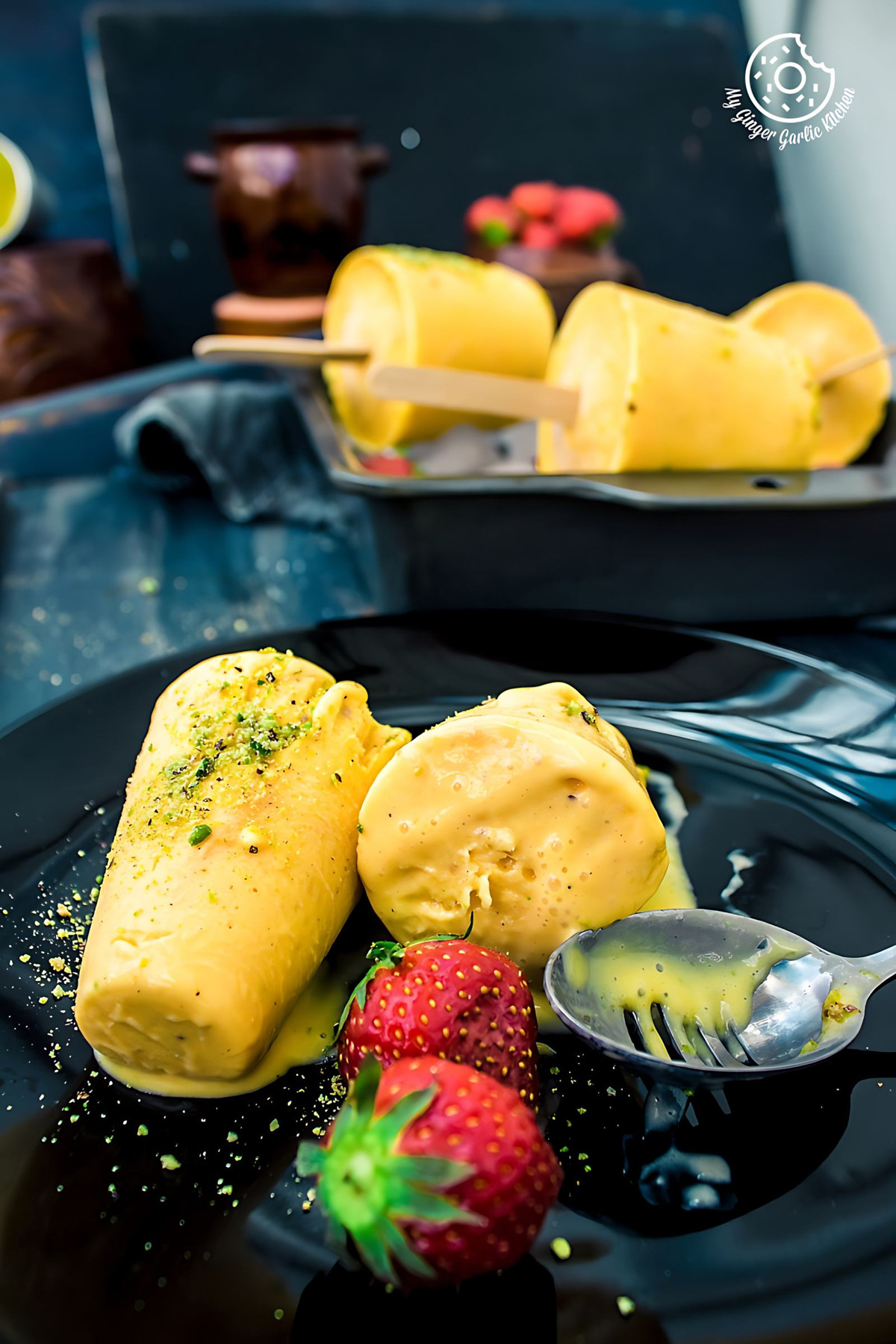 This kulfi tastes 100% authentic:
My today's mango kulfi is a recipe which is not made with the very authentic way my Mom used to make back in those days. But this tastes 100% authentic.
This is how I got this kulfi recipe:
One day when I had some mangoes at home, I called my mom to ask about her kulfi recipe. She asked, "Do you want to make it the instant way or old-fashioned way?"
I: "But you only make the old-fashioned way."
Mom: "Not anymore. It's been a couple of years now since I have been making mango kulfi recipe this instant way.  I got this recipe from one of my friends and I never looked back. This instant version is slightly different from the authentic style kulfi which calls for boiling the milk over slow heat for sometime. You don't visit us during summer now, that's why you don't know".
I: "Which way would you prefer?"
Mom: "Instant way. There is no fuss. No cooking needed. You only need 10 minutes to make this kulfi. And it tastes fabulous."
I: "Alright, then. Give me the recipe."
And this is how I got this simplest yet most creamy and luscious mango kulfi recipe. This is a shortcut method of making mango kulfi using cream, milk, sweetened condensed milk and fresh mango puree, or mango pulp.
Related: Caramelized Banana Mango with Coconut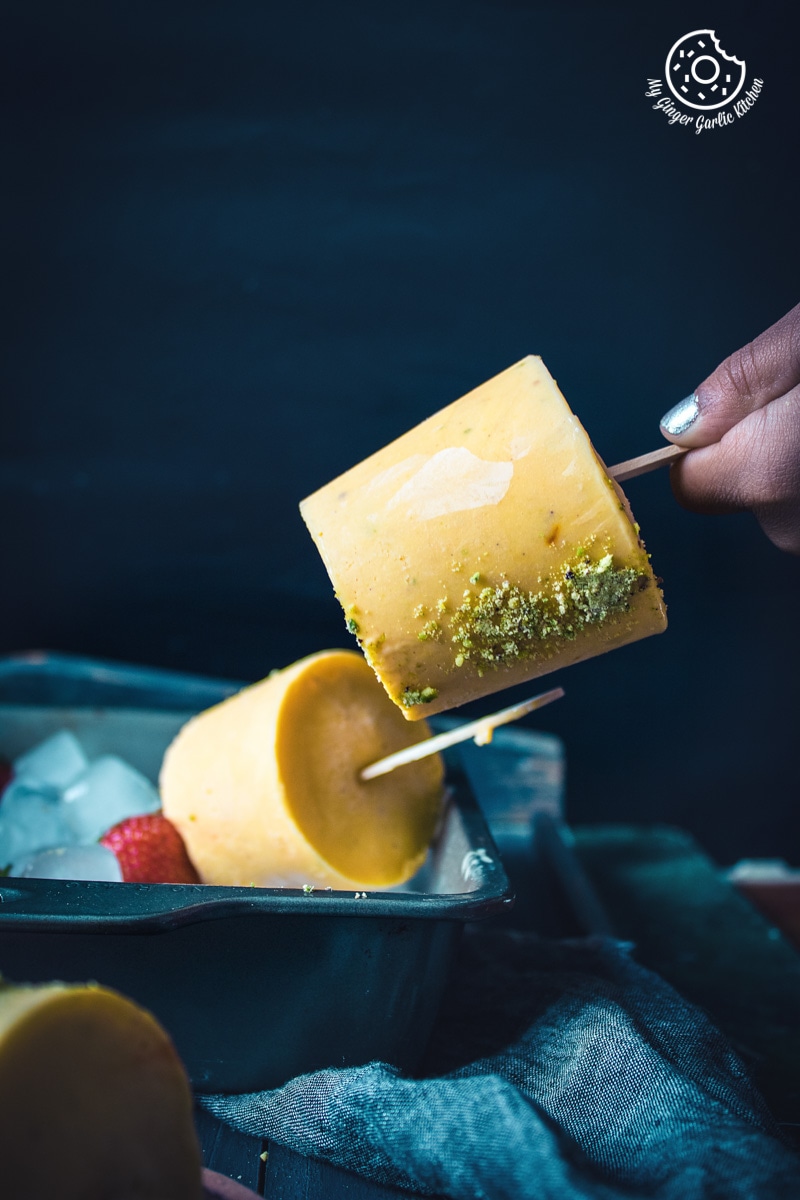 Effortless, and delectable:
I instantly made the first batch right after I asked for the recipe, and even with this quick and instant way, the kulfi results were so amazingly good. My Mom was so right, this mango kulfi is absolutely no cook. And you only need few ingredients and 10 minutes to make this.
I must say that mango kulfi is surely one of the best ways to use a batch of ripe mangoes. This mango kulfi has a rich and creamy texture with an unsurpassable mango flavor. These kulfis are definitely a treat — so worth it. Simple and delicious.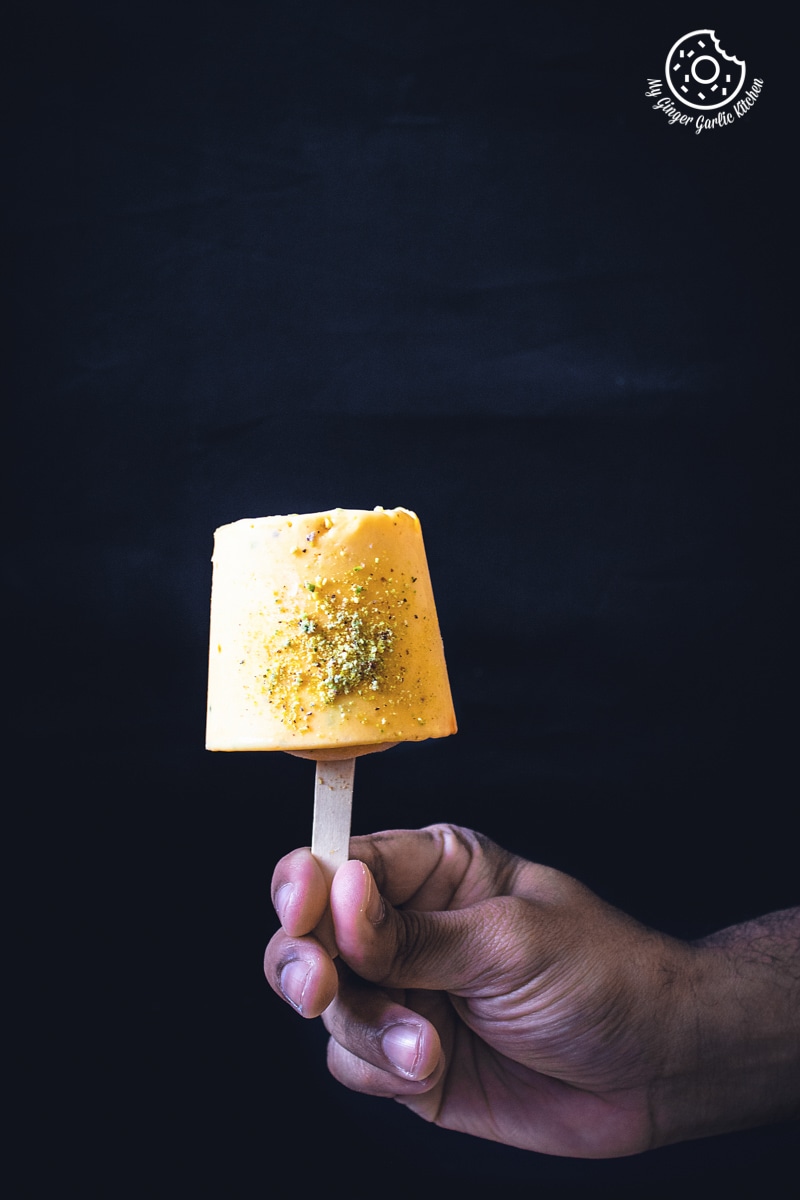 Nostalgia:
Whenever I see the mangoes, their aroma enchants all my senses. When it happens that you have a fair share of nostalgia associated with mangoes, it is quite impossible to leave without buying some. You just can't resist the smell, the touch, and the taste.
If you also love mango ice cream, mango lassi or other mango treats using dairy then you would definitely love this kulfi. Make it for summer get-togethers and get ready to win some outstanding compliments.
Related: Strawberry Mango Smoothie

How to make Mango Kulfi?
Add everything to a mixing bowl or jug. Blend well. Pour into molds and freeze.
Add chopped mangoes to the mix and you have a recipe for pure bliss. Although Alphonso mangoes taste great for this kulfi, you can add any good variety of ripe mangoes for making mango puree.
What is the difference between kulfi and ice cream?
The main difference between ice cream and kulfi is in their base.
For ice creams, we mostly use egg-custard base. However, for making kulfi you only need milk. Authentic Kulfi always needs a bit of time for cooking the milk, but it is completely worth the effort because the intense milky taste is what makes it different from other ice-creams.
Related: How To Make No-Churn 3-Ingredient Rose Ice Cream Recipe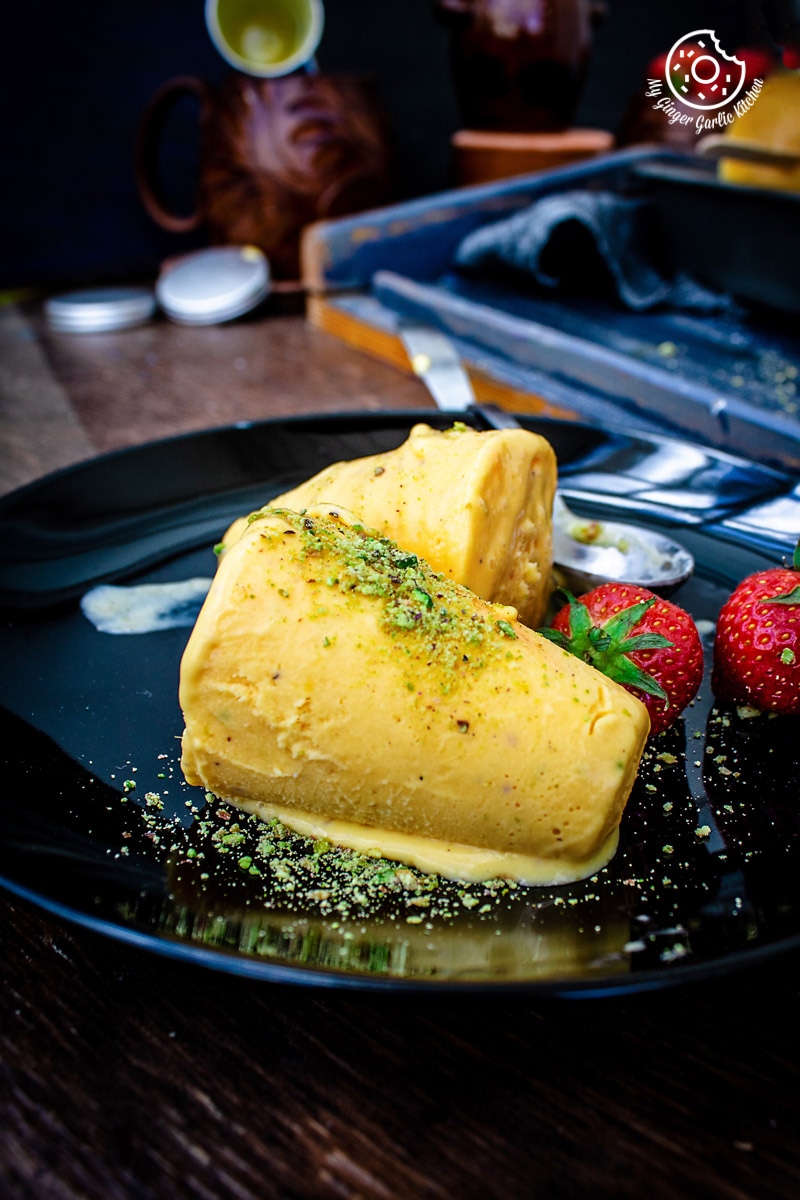 Are you familiar with this frozen dessert — Kulfi?
I suppose you must have eaten this frozen dessert 'Kulfi' in an Indian restaurant for sure. They always have this on their menus. There are so many flavors of kulfi, such as Malai Kulfi, Rose Pista Kulfi, Mango Kulfi, Badam Pista Kulfi, Kesar Pista Kulfi, Paan Kulfi, Lychee Kulfi, and many more.
What is the traditional way of making kulfi?
In traditional kulfi, milk is simmered for hours to get thick and intense caramelized flavor. In a perfect kulfi, milk gets reduced by two-thirds.
Related: Eggless Chocolate Hazelnut Ice Cream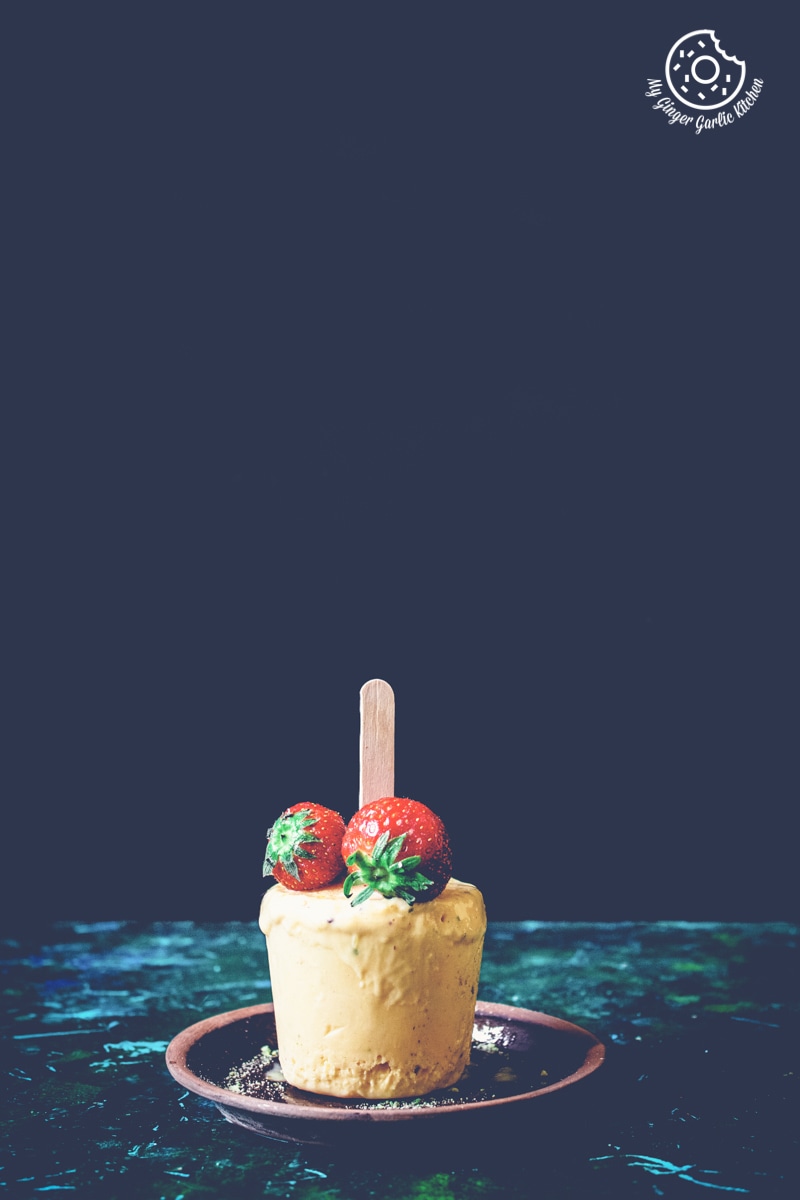 Important tips to make your best Mango Kulfi at home:
In this recipe, I  have added mango puree,  but you can also add mango chunks for that more tropical fruity touch.
I have used whipping cream to get that thick creamy mixture, but you can also use regular milk cream.  
Freezing kulfi in conical kulfi moulds is a little bit complex because sometimes the moulds come without the stands with uneven bottoms. But I have a solution for that: simply put molds in shot glasses before putting them in the freezer.
I used kulfi mould for making these, but you can simply use disposable paper cups/glasses. Pour mixture into glasses, cover them with foil paper and freeze. It's that simple.
The good thing is that this can be made in 10 minutes from start to finish. So let's get started. Related: Classic and Easy Cherry Lassi Ice Cream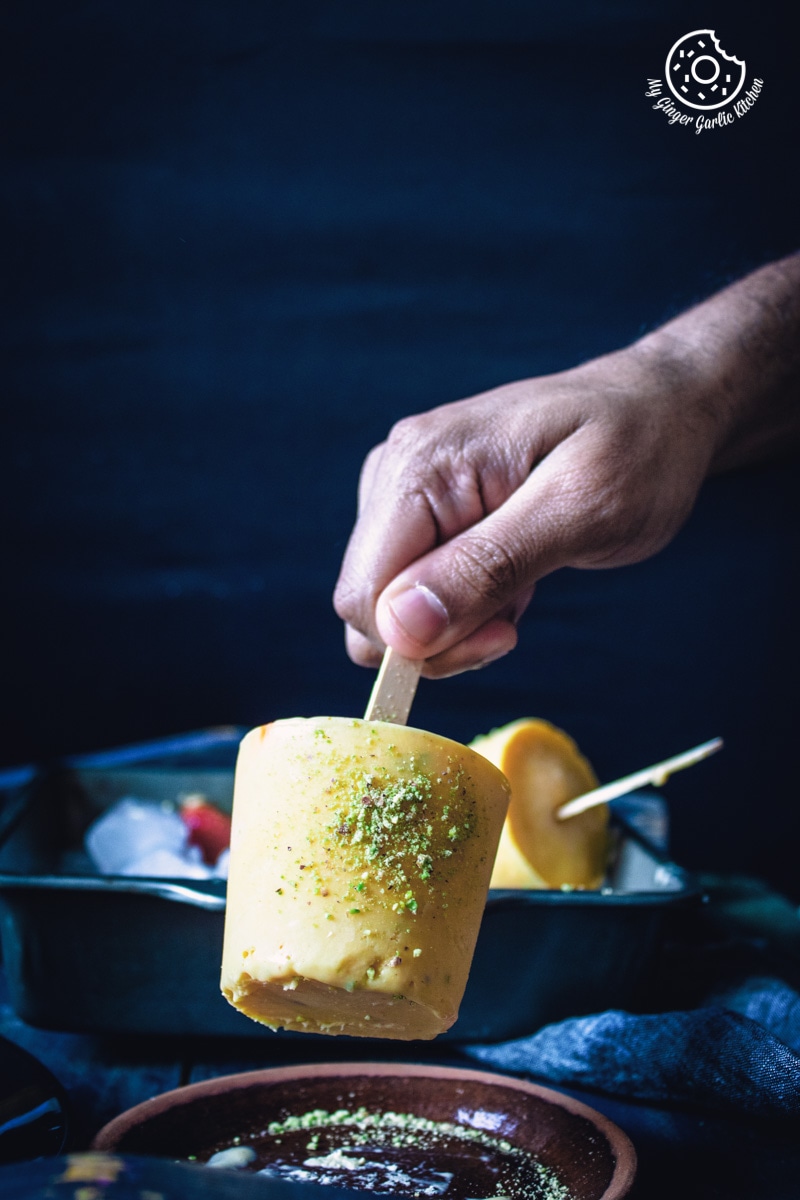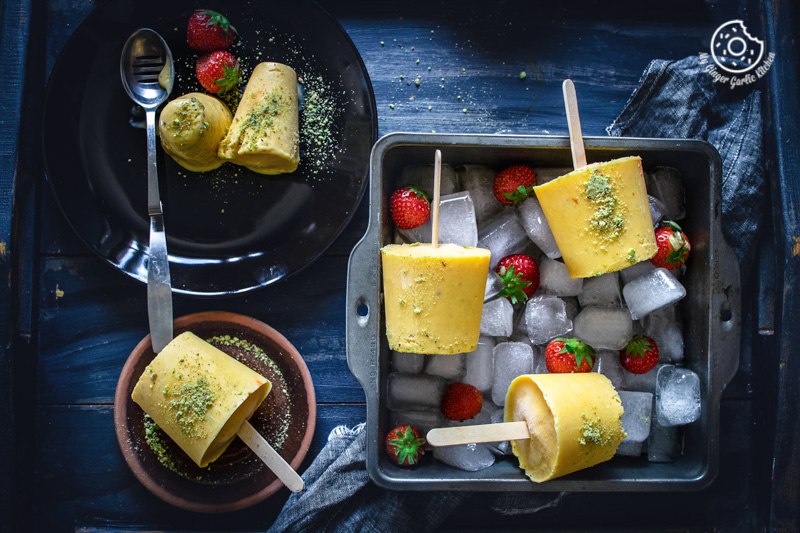 How To Make Quick Mango Kulfi - No Cook Mango Kulfi Recipe

[Recipe]
Mango kulfi is a traditional, rich, and creamy frozen dessert from India. Learn to make no cook mango kulfi recipe with step-by-step video instructions.
---
★★★★✰
(Rating:
4.3
from
681
reviews)
---
| Prep time 🕐 | Cook time 🕐 | Total time 🕐 |
| --- | --- | --- |
| | | 8 hours 10 mins |
| Category ☶ | Cuisine ♨ | Serves ☺ |
| Main | Indian | 4-5 |
| Nutrition Info ⊛ | | Serving size ⊚ |
| 290 calories | | 1 Kulfi |
---
INGREDIENTS
For Mango Kulfi: (1 Cup = 250ml)
1 cup whipping cream or heavy cream
1 cup mango puree
8-9 saffron strands soaked in 2 tablespoons warm milk
1/4 cup chilled milk
1/2 cup sweetened condensed milk, or milkmaid (you can add more if you like it sweeter)
3/4 teaspoon cardamom (elaichi) powder
2 teaspoons pounded or coarsely powdered pistachio (you can also use almonds or cashews)
2 tablespoons powdered pistachio for garnish
---
INSTRUCTIONS:
Make Mango Puree:
Wash and peel mangoes. Chop them into cubes, and add them to a blender jar.




Blend to make a smooth puree.



Make Kulfi Mix:
In a mixing bowl or jug add the whipping cream, mango puree, saffron strands mixture, chilled milk, condensed milk, cardamom powder, and powdered pistachios.




Blend on a medium speed for 2-3 until smooth.



Freezing In Molds:
Transfer kulfi mix to kulfi molds, or popsicle molds.




Close the lid, if you are using kulfi molds. Freeze for 8 hours or overnight.




Once the kulfi is well set, dip the molds into hot water, or keep them under running water. (You can also rub the molds between palm for a minute.)




Prise the kulfi out with the help of a knife.




Garnish with powdered pistachios. Cut them into slices or serve as it is.



Freezing In Paper Cups:
Transfer kulfi mix to paper cups.




Wrap the cups with a foil paper, poke the top with a knife and insert an ice cream stick. Freeze for 8 hours or overnight.




Slightly cut the edge of the paper cup, and remove it.




Garnish with powdered pistachios and serve chilled.



---
WATCH RECIPE VIDEO: Click the play button and video will load ...
---
NOTES:
No notes for this recipe.
---
If this recipe helped you, then please spread the word by sharing and
subscribing
to us on YouTube to get more such Recipe Videos.
---
Your feedback is so helpful for me and other MyGingerGarlicKitchen readers. So, for Facebook and Instagram, please mention
@MyGingerGarlicKitchen
or
#mygingergarlickitchen
. I would love to see your photos. :)
---
Author:
Anupama
Recipe Source Link:
https://www.mygingergarlickitchen.com/quick-mango-kulfi-recipe/
Date Published:
2020-09-25
• • • • • • • • • •