The Caramelized Banana With Nuts And Mango Yogurt is perfect as dessert, or a breakfast, or even snack! You can satisfy your sweet cravings with this dessert without feeling guilty.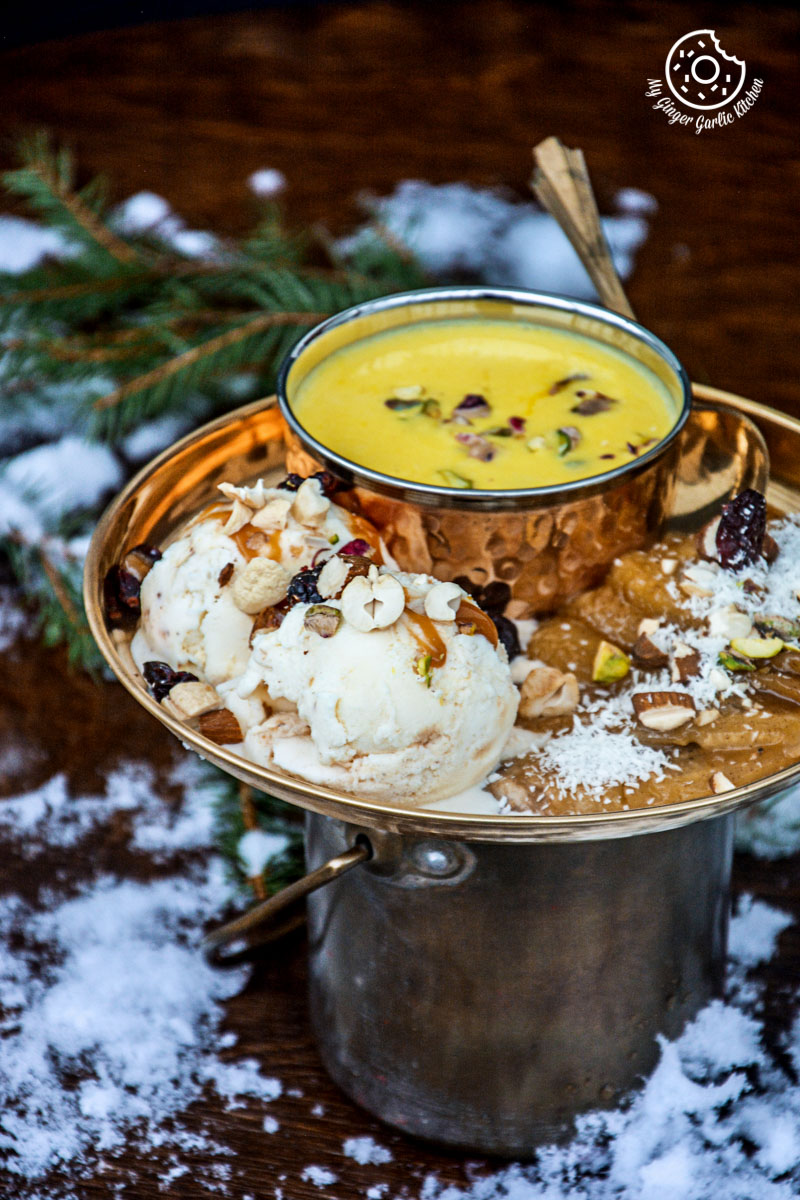 Hi everyone!
Now you know that I'm back from my India trip, and I've got an exciting new recipe video up for you! Yeah!!!!!!!! I made it, I made it. You know what, when I came back from holidays I thought that I have forgotten all about blogging. It felt like I even forgot how to make a recipe video. I forgot what were the steps to make a video recipe. Just blank! Totally blank.
Does the same thing happen with ya'all too? Or I am the only wiero in this space. Grrrr, I think I am the only one here! 😉 And good for you people, if you don't get this strange feeling. Because the feeling of forgetting all the skills makes us drive crazy. And it made me crazy too.
So this was the initial shock I got after coming back. I wouldn't say that I am completely back on track, but I am trying. After all these intense thoughts, finally I came up with the recipe idea which I made. And then I started preparation for the video.
To my surprise, I could manage everything (shooting + cooking) easily. Then it came to video editing; it took a bit longer than usual, but I also managed that too. And, and, and, at last when it came to writing the blog post I was completely blank. I seriously didn't have any idea what to write, or how to even start the post. I know, I sound like an alien, but that did really happen to me.
May be the reason is; this is the first time I was away from blogging for so long. And my body didn't know how to react after coming back. 😉 Hehehe, jokes apart. But it really troubled me, I sure got a little worried on how to blog again. Then I shared my feelings with one of my friends, who has been waiting for my holidays to get over so that she can watch my recipe videos. 🙂
She said: This is all in your mind Anu, you are just overthinking it. Don't be anxious. I 100% believe that everything will go smoothly once you will get going with blogging again. You can start with reading your own blog posts, this would surely help you move forward, again. And also you would be in momentum. I listened to her advice, and it really worked. 🙂
So, this is the very simple and true story behind this dish which I managed to share today. The dish is 'Caramelized Banana With Nuts And Mango Yogurt', and I hope you'll love it.
I had no idea that a combination platter of mango yogurt + caramelized bananas + ice-cream could be so good!
Caramelized bananas are just so awesome without anything, but also they taste great with some desserts. So I decided to serve them with ice-cream + mango yogurt and it came out as the best dessert ever.
In my video I show you how to make an absolutely delicious mango yogurt packed with yumminess. And caramelizing bananas, and combining them with some nougat ice-cream to make it into an awesome dessert.
I love some extravagant toppings on desserts, so I went with a LOTS of nuts. I used chopped almonds + chopped cashews + chopped pistachio + dried cranberries + desiccated. But you can keep things simple with just some chopped almonds and desiccated coconut.
The mango yogurt is really simple. It has natural yogurt + mango + sugar or honey. Mango adds such a nice color and flavor to the yogurt. And along with some nougat ice-cream this is much more delish. I always love to add a drizzle of caramel on ice-cream for that extra deliciousness.
And last but certainly not the least, addition of bananas made it super awesome. Caramelized bananas are just so good. They are super quick, healthy and look so appealing. Plus, they only take few minutes to make. They are amazing in so many ways. I love all the caramelized fruits and bananas are one of my favorites. And when they get caramelized they become more delicious and flavorful. They become so incredibly sweet. It has butter + honey + cinnamon + salt. Mmmm, so much to love.
When Abhishek had a generous amount of his share of this dessert, his reaction was like this; this dish makes me feel like it has my name written all over it. I can eat it all day long. I so need this dessert in my life every day.
And I was like, what? So that means, you don't want any new desserts I will be making soon. And then he said: No, no, no. I mean I want this one and also the new ones too! Men are just like kids sometimes, or all the time!!! 😉
So all in all it's perfect as dessert, or a breakfast, or even snack! You can satisfy your sweet cravings with this dessert without feeling guilty.
Caramelized Banana with Nuts and Mango Yogurt

[Recipe]
The caramelized banana with nuts and mango yogurt is perfect as a dessert, breakfast, or even snack. Now satisfy your sweet cravings without feeling guilty.
---
★★★★✰
(Rating:
4.2
from
84
reviews)
---
| Prep time 🕐 | Cook time 🕐 | Total time 🕐 |
| --- | --- | --- |
| | | 20 mins |
| Category ☶ | Cuisine ♨ | Serves ☺ |
| Dessert | International | 2 |
| Nutrition Info ⊛ | | Serving size ⊚ |
| 213 calories | | 1 serving |
---
INGREDIENTS
For Caramelized Banana //
ripe banana, sliced - 1
butter - 1 tablespoon
honey - 2 tablespoons
ground cinnamon - 1/2 teaspoon
salt - 1/8 teaspoon
For Mango Yogurt //
mango chunks - 1 cup
low-fat natural yoghurt - 1 glass (500 grams)
sugar or honey - 4 tablespoons or as per taste
For serving //
nougat ice-cream
desiccated coconut
chopped almonds
chopped cashews
chopped pistachio
dried cranberries
caramel drizzle
---
INSTRUCTIONS:
For Caramelized Bananas //
Set a nonstick pan over medium heat and add the butter to it.




When it starts to melt, add honey, cinnamon, and salt.




Stir well until you get a syrup like consistency.




Lay down your banana slices, and fry for 4-5 minutes on each side. Be sure to watch the heat and turn it down if it browns too quickly.




Remove from heat and set aside.



For Mango Yogurt //
Pour the yogurt, mangoes, and sugar, into the jar of a blender.




Blend until smooth, about 2 minutes. Transfer mango yogurt into a serving bowl.



For Serving //
Add 2 scoops of ice-cream.




And place warm caramelized bananas to a platter.




Drizzle ice cream with some caramel sauce.




Top with nuts and enjoy!



---
WATCH RECIPE VIDEO: Click the play button and video will load ...
---
NOTES:
No notes for this recipe.
---
If this recipe helped you, then please spread the word by sharing and
subscribing
to us on YouTube to get more such Recipe Videos.
---
Your feedback is so helpful for me and other MyGingerGarlicKitchen readers. So, for Facebook and Instagram, please mention
@MyGingerGarlicKitchen
or
#mygingergarlickitchen
. I would love to see your photos. :)
---
Author:
Anupama
Recipe Source Link:
https://www.mygingergarlickitchen.com/caramelized-banana-with-nuts-and-mango-yogurt-video-recipe/
Date Published:
2019-10-06
• • • • • • • • • •