Caramelized Banana with Nuts and Mango Yogurt
The caramelized banana with nuts and mango yogurt is perfect as a dessert, breakfast, or even snack. Now satisfy your sweet cravings without feeling guilty.
---
« Go back
Print this recipe »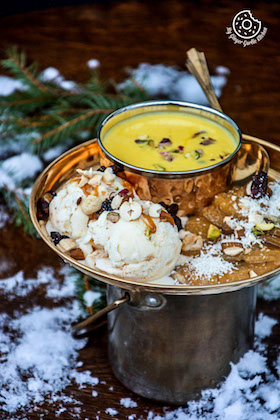 ---
Prep Time = 10 minutes
Cook Time = 10 minutes
Total Time = 20 minutes
Category = Dessert
Cuisine = International
Serves = 2
Nutrition Info = 213 calories
Serving Size = 1 serving
---
RECIPE INGREDIENTS
» For Caramelized Banana //
ripe banana, sliced - 1
butter - 1 tablespoon
honey - 2 tablespoons
ground cinnamon - 1/2 teaspoon
salt - 1/8 teaspoon
» For Mango Yogurt //
mango chunks - 1 cup
low-fat natural yoghurt - 1 glass (500 grams)
sugar or honey - 4 tablespoons or as per taste
» For serving //
nougat ice-cream
desiccated coconut
chopped almonds
chopped cashews
chopped pistachio
dried cranberries
caramel drizzle
---
RECIPE INSTRUCTIONS
» For Caramelized Bananas //
Set a nonstick pan over medium heat and add the butter to it.
When it starts to melt, add honey, cinnamon, and salt.
Stir well until you get a syrup like consistency.
Lay down your banana slices, and fry for 4-5 minutes on each side. Be sure to watch the heat and turn it down if it browns too quickly.
Remove from heat and set aside.
» For Mango Yogurt //
Pour the yogurt, mangoes, and sugar, into the jar of a blender.
Blend until smooth, about 2 minutes. Transfer mango yogurt into a serving bowl.
» For Serving //
Add 2 scoops of ice-cream.
And place warm caramelized bananas to a platter.
Drizzle ice cream with some caramel sauce.
Top with nuts and enjoy!
---
RECIPE NOTES
No notes for this recipe.
---