This Classic and Easy Cherry Lassi Ice Cream recipe has an amazing tang and sweetness. I should say the best combo of sweetness and tang. — so refreshing and delicious.
Just perfect treat on a hot summer day. It is super quick and very easy to make. It's simply made with only 4-ingredients. Yay!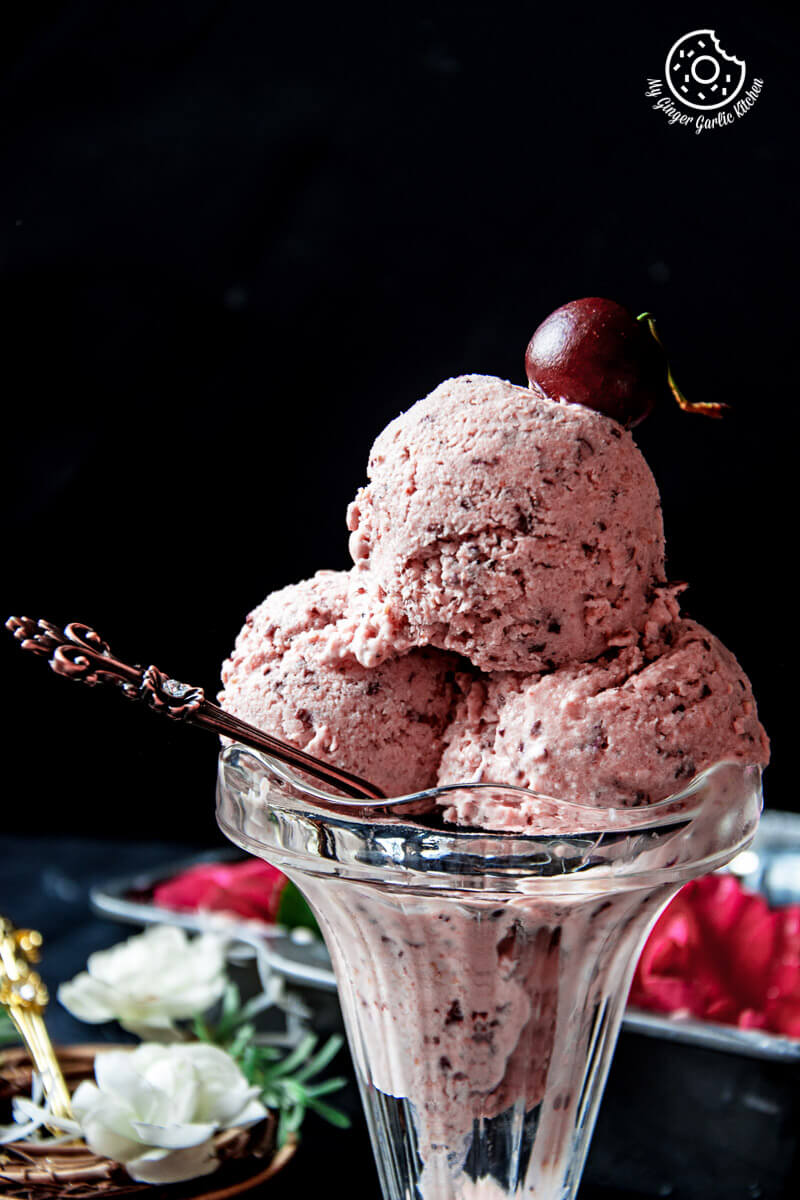 Hello my foodie buddies! 🙂
Plans for the coming weekend: For me, it's gonna be super busy. I have to do some preparations for hubby's birthday this weekend. After all, he deserves the best treatment. 😀
Well, I'd say all the lovely spouses and partners deserve the BEST. Don't they? For my hubby dear, all days are equal, even when it comes to his birthday celebration. I don't know about all men, but he doesn't want to be treated special on such occasions. His personal philosophy is that everyday should be celebrated. It's because everyday is special in some way or the other.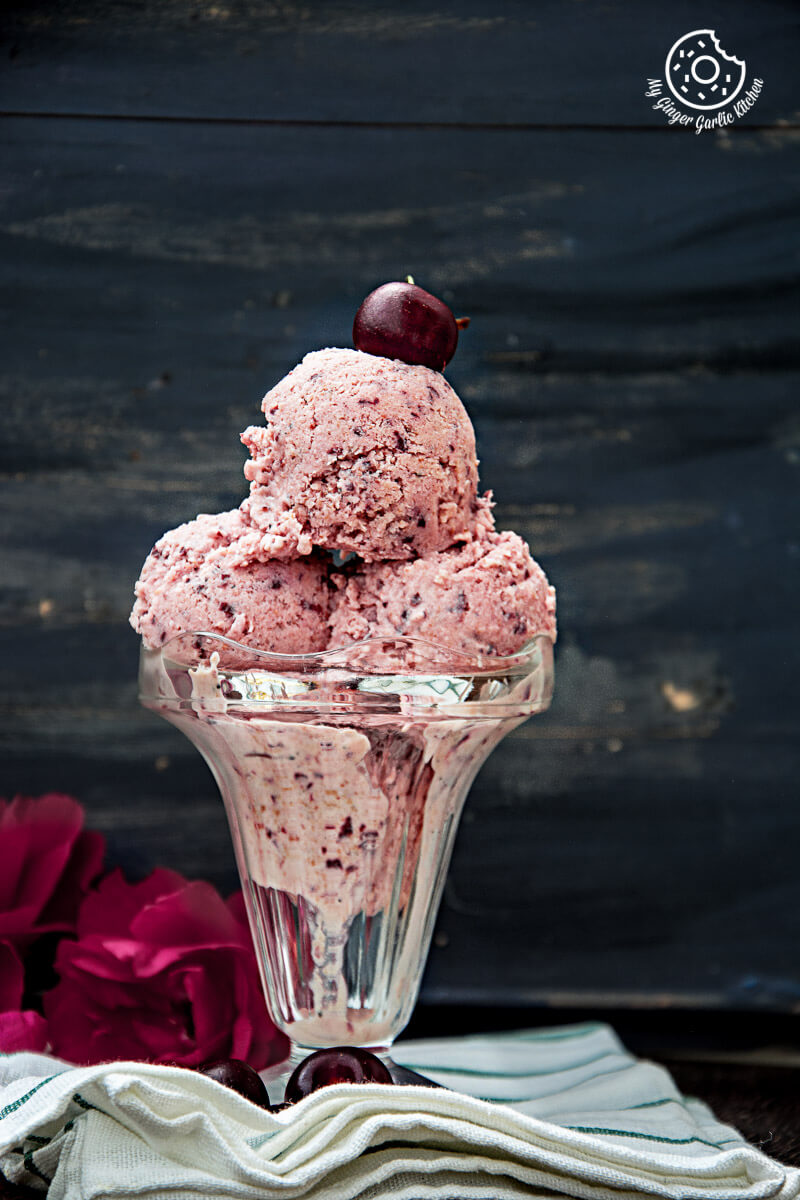 This philosophy does not mean that he doesn't do anything special on my birthday, or our anniversary, or on women's day, or on mother's day. An amazing part is that on all such days, he plans for day the way I'd enjoy the most! And most of the times, he does not even let me touch my computer. 😉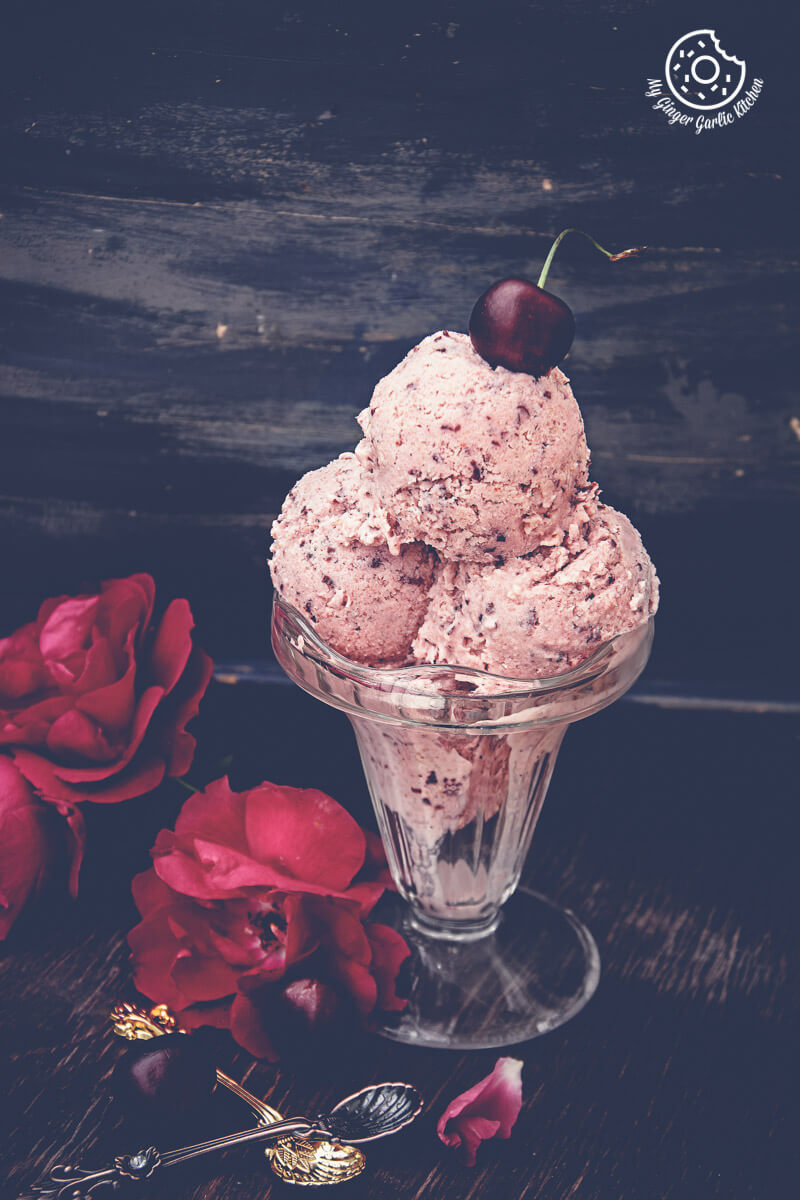 I LOVE celebrations: Unlike him, special days are special for me. And they need to be celebrated in an extra special way. And he respects this belief of mine. So every year on his birthday; I do what I love to do, and he does what he loves to do. That means I do the preparations and he becomes the part of that celebration! And I include some of his favorite things-to-do on his birthday! This way we both get happy and try to live in the present moment. I guess that's a fair deal for both of us. Isn't it?
No force, all fun: Like every year I will do the planning for his birthday, because I know he wouldn't take any initiative. But later he would thank me for planning his special day! 😉 So the point is that I am not forcing celebration on him. I am doing what he actually wants to do and even he doesn't know that! 😉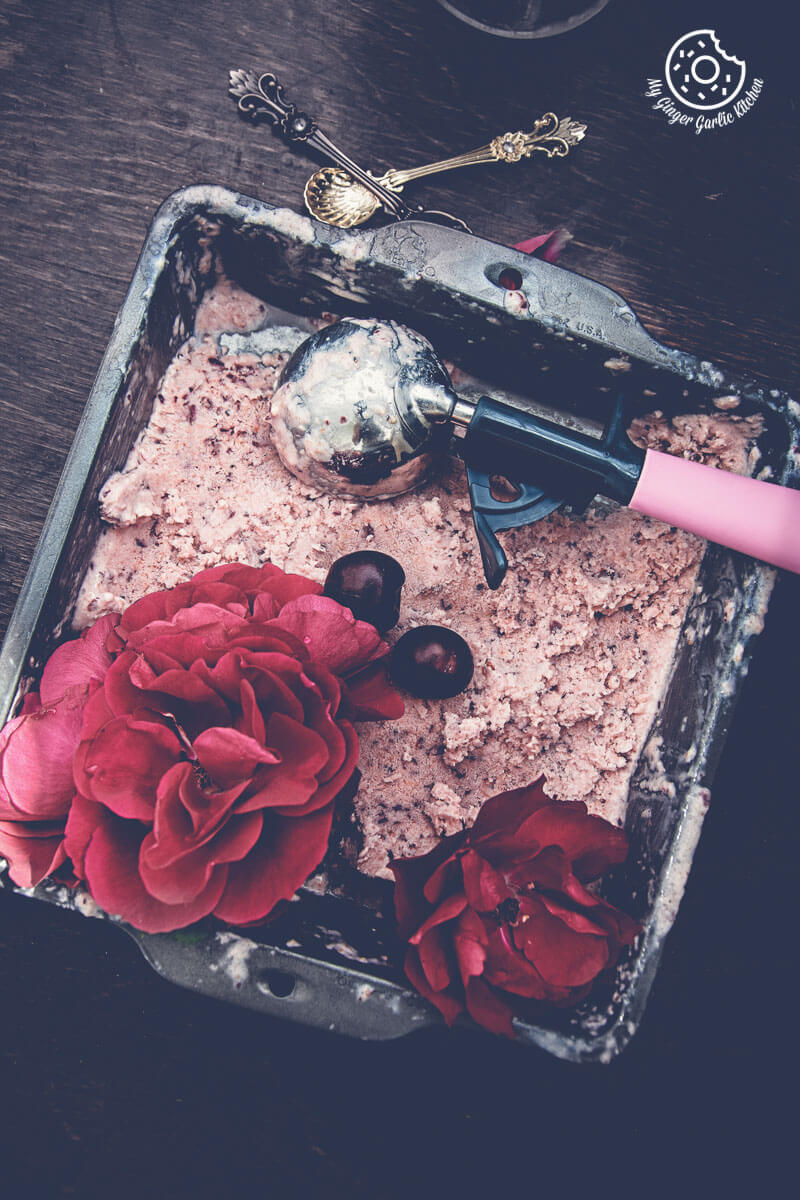 Time for some easy peasy ice-cream: I will work through the weekend, but that won't stop me from sharing this yummy ice-cream. Weekends are time to cheer. Because weekend is the time when I Scream, you Scream, we all Scream 'ICEcream'! 🙂
Do you love lassi? I LOVE all types of lassi, and if you have ever had lassi than you would know what I am talking about! 🙂 There are a large number of jubilant lassi fans out there. Chances are rare that there would be someone who hasn't heard about lassi.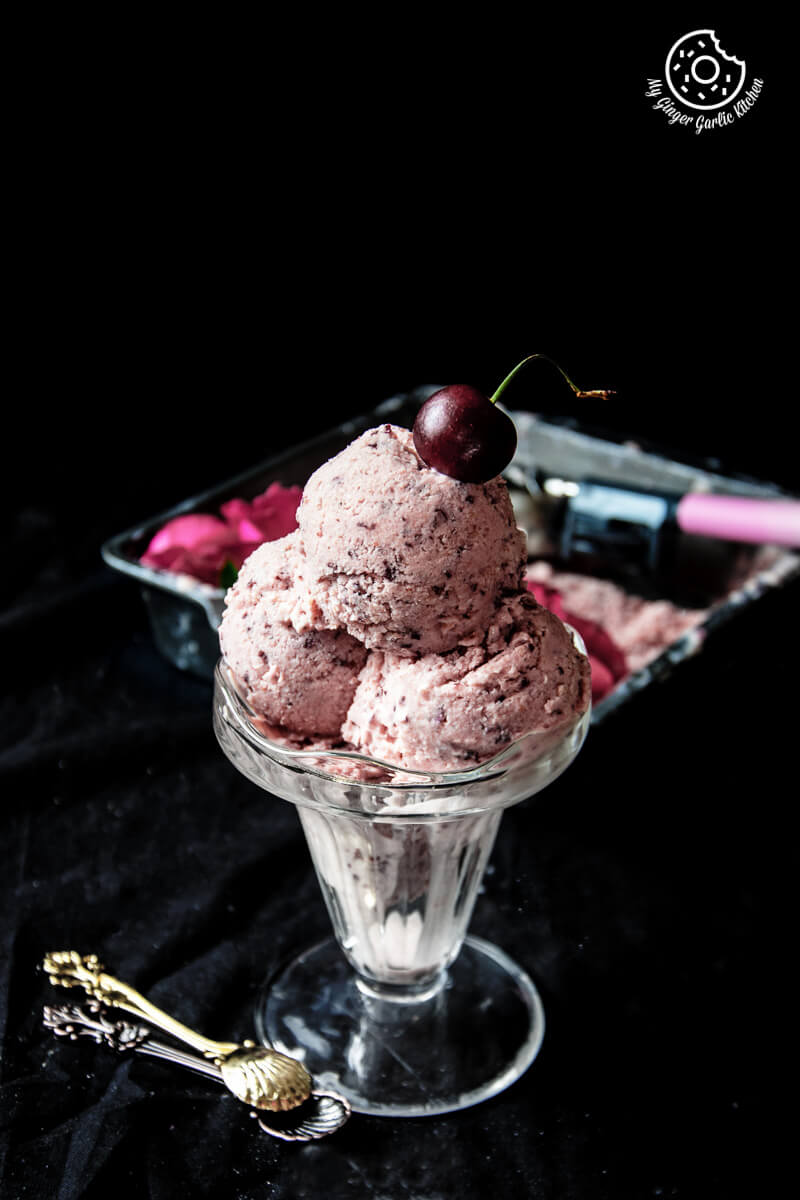 What is Lassi? I would still like to inform those who don't know about lassi. Lassi is a Punjabi (Indian) yogurt based smoothie. Traditional lassi is a blend of yogurt, water, and spices or sugar. But you can make it in as many flavors you like!
MAGIC happens: What happens when lassi meets ice-cream? Something dreamy, creamy and magical happens. You get the most exotic lassi in a form of ice-cream. YUM YUM!
And then again you scream, I scream, we all scream 'LASSI Ice-cream'.
Greek yogurt adds YUM: I love the greek yogurt addition to this ice cream base because it's tangy and refreshing in an unforeseen way. I chose cherries for this lassi ice-cream because it's their peak season now. And all I want is to relish them as much as I can. After all, they won't be here for long.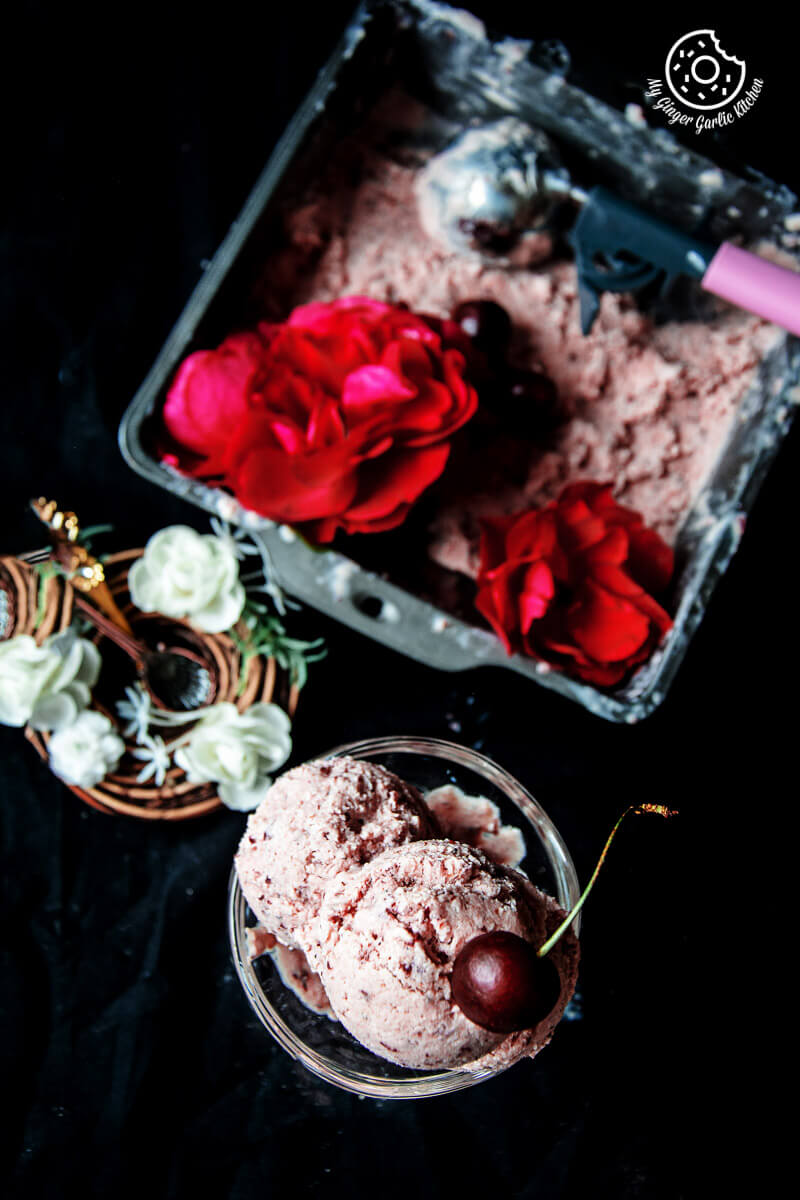 Perfect sweetness: With the addition of the sweetened condensed milk, I think it ended up with just enough sweetness so you get a really lovely creamy flavor with it. That means it's perfectly sweet and rich without being overwhelming. This ice-cream tastes so naturally classic and creamy.
A spectacular outcome: After combining only 4-ingredients, the taste came out to be mind-blowing. Making this lassi ice-cream is super quick and super easy. This only takes about 5 minutes to make, and gets ready to be eaten in just 2-3 hours. I would recommend this one to you. Try for yourself immediately without wasting anytime.
How to make it: Purée the cherries, condensed milk, greek yogurt and cardamom in a blender. Don't strain them – they should still have a little texture. You will like it that way! 🙂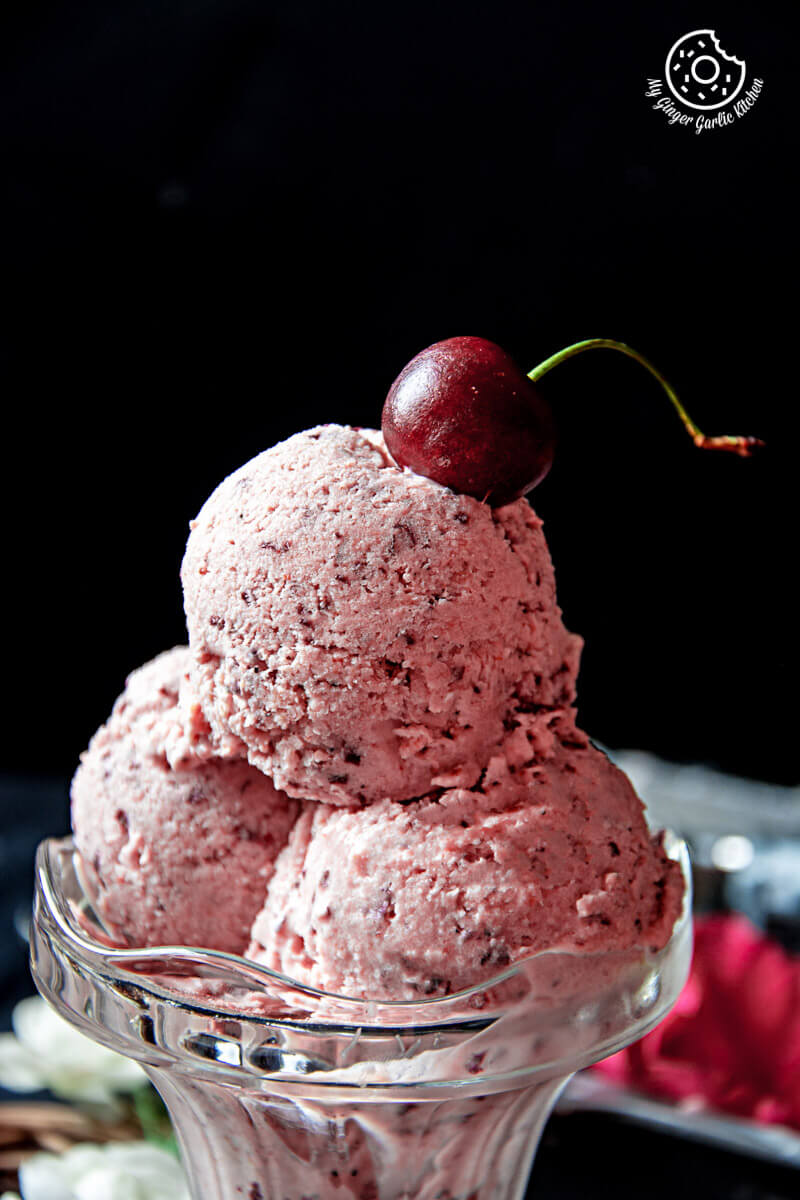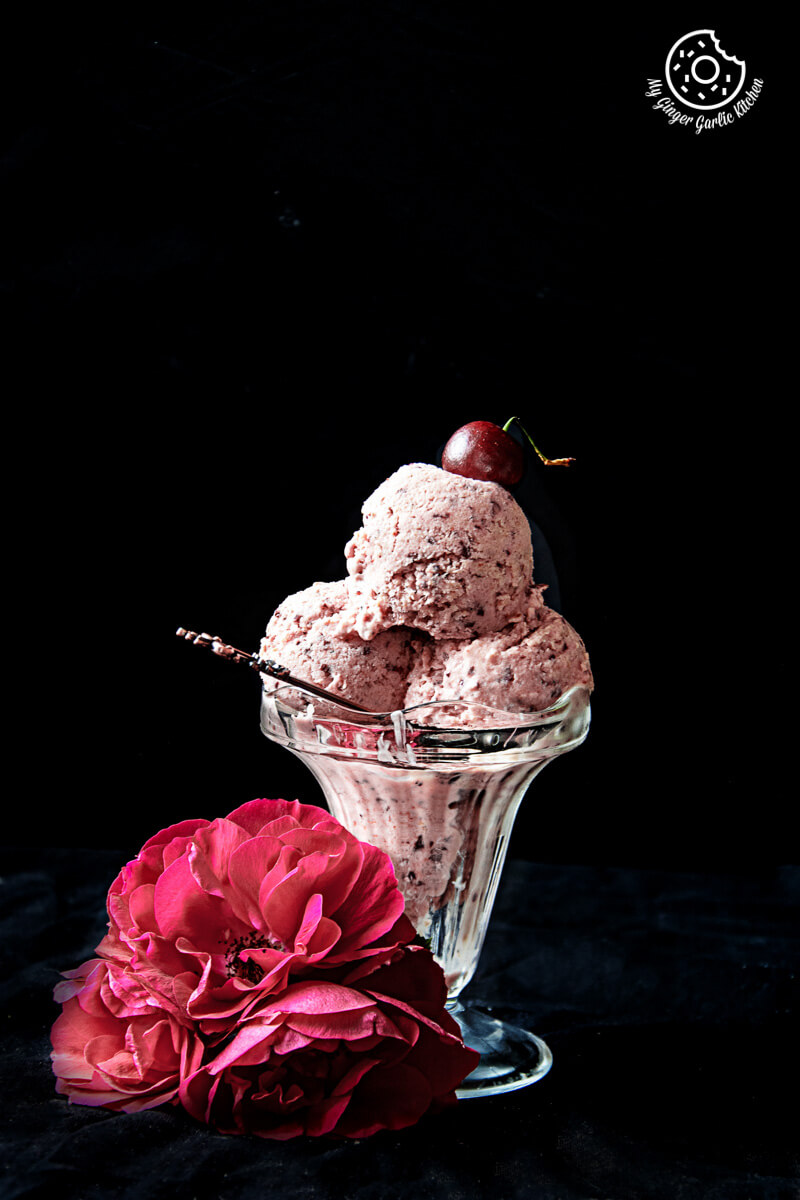 Classic and Easy Cherry Lassi Ice Cream (Video Recipe)

[Recipe]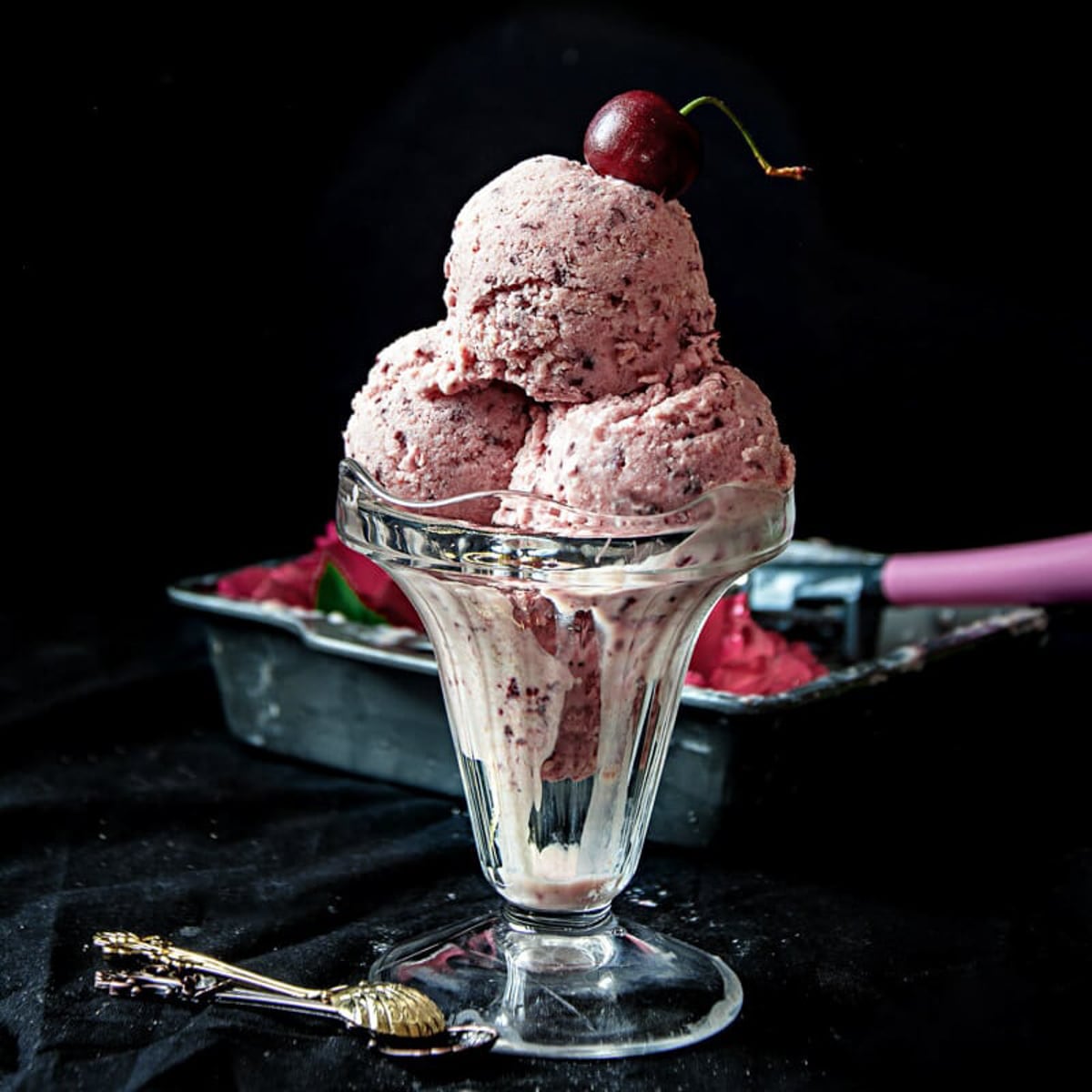 Cherry Lassi Ice Cream has an amazing tang and sweetness. This refreshing and delicious yogurt based ice cream is perfect on a hot summer day.
---
★★★★✰
(Rating:
4.4
from
21
reviews)
---
| Prep time 🕐 | Cook time 🕐 | Total time 🕐 |
| --- | --- | --- |
| | | 3 hours 3 mins |
| Category ☶ | Cuisine ♨ | Serves ☺ |
| Dessert | Indian | 4 |
| Nutrition Info ⊛ | | Serving size ⊚ |
| 265 calories | | 1 serving |
---
INGREDIENTS
For Cherry Lassi Ice Cream
Cherries, pitted – 1 cup
Low fat Greek yogurt – 3/4 cup (You can use full fat yogurt too)
Condensed milk – 4 tbsp or more
Ground cardamom – 1/2 tbsp
---
INSTRUCTIONS:
Making Cherry Lassi Ice Cream
In a blender, add cherries, condensed milk, yogurt, and cardamom.




Blend until puree.




After blending the ingredients together, transfer cherry lassi to air-tight container.




Cover with a cling wrap and freeze in freezer for at least 2 to 3 hours before serving.




Scoop the ice cream.




Enjoy



---
WATCH VIDEO:
---
NOTES:
Adjust the consistency with water, if needed.
---
If this recipe helped you, then please spread the word by sharing and
subscribing
to us on YouTube to get more such Recipe Videos.
---
Your feedback is so helpful for me and other MyGingerGarlicKitchen readers. So, for Facebook and Instagram, please mention
@MyGingerGarlicKitchen
or
#mygingergarlickitchen
. I would love to see your photos. :)
---
Author:
Anupama
Recipe Source Link:
https://www.mygingergarlickitchen.com/classic-and-easy-cherry-lassi-ice-cream-video-recipe/
Date Published:
2020-07-15
• • • • • • • • • •