This classic Dark Rum Strawberry Mango Mojito is made with a few muddled strawberries + mangoes, bright lime and mint add a fresh, fruity spectacle to the cocktail. Try this perfectly cool, sweet, and 100% refreshing fruit-infused mojito. You will love it.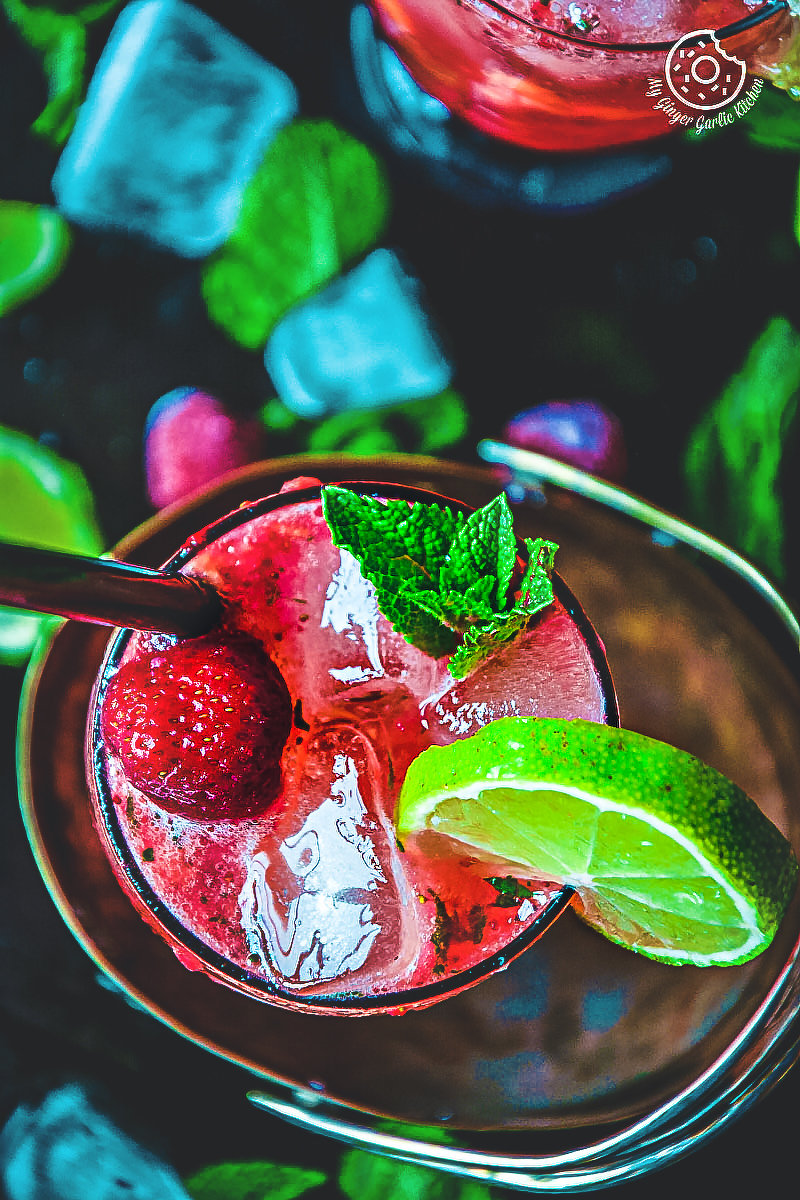 There is some good news! I finally saw some pretty butterflies yesterday morning when I went to drop Adoria at her kindergarten. Autumn Autumn, Autumn. 🙂
Every season is a drinking season but summer/autumn surely calls for chilled drinks. Right? Even though we haven't encountered the sweating heat so far, but the actual feeling is 100% warm. So the feeling of warm weather can also cause a super and uncontrollable desire for drinking something boozy, something fruity, something sweet and most of all something super chilled. 🙂
Related: Chocolate Vanilla Mocha Frappuccino
And that feeling of warmth + desire of drinking something chilled can give birth to a beautiful, stunning, sparkly and chilled drink — 'Dark Rum Strawberry Mango Mojito'. I found myself lucky that after having a chilled drink, I can actually feel the weather is warm even if it is not really warm! 😉
Related: Iced Choco Latte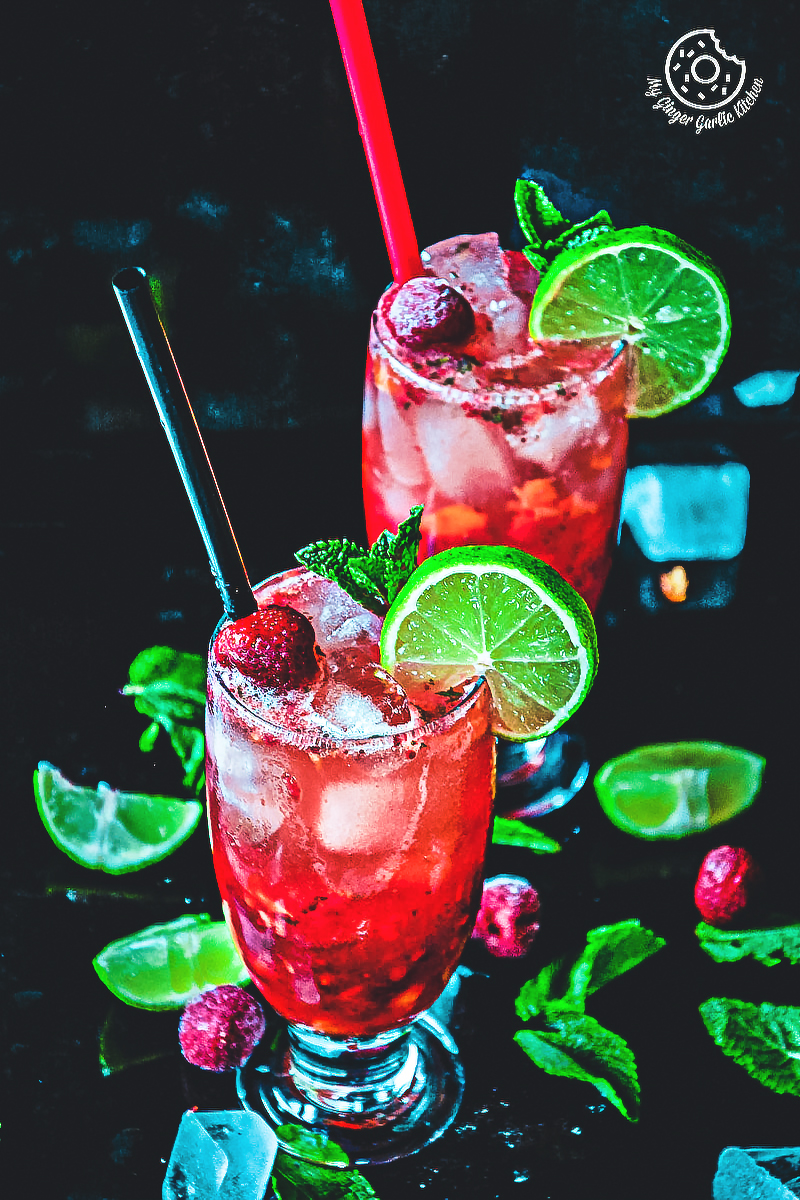 Let me tell you how I came up with this fruit-infused cocktail idea:
Imagine yourself after a long work day, and when you come back home, the sun is still high and you feel like it's warm. What would you do then? You will go to the kitchen and find something chilled and bright to drink, right?
Okay, you opened the fridge but you are not in the mood for drinking juice or water, but you want something refreshing. What would you do?
Related: Sweet Melon Balls With Chilled Rose Milk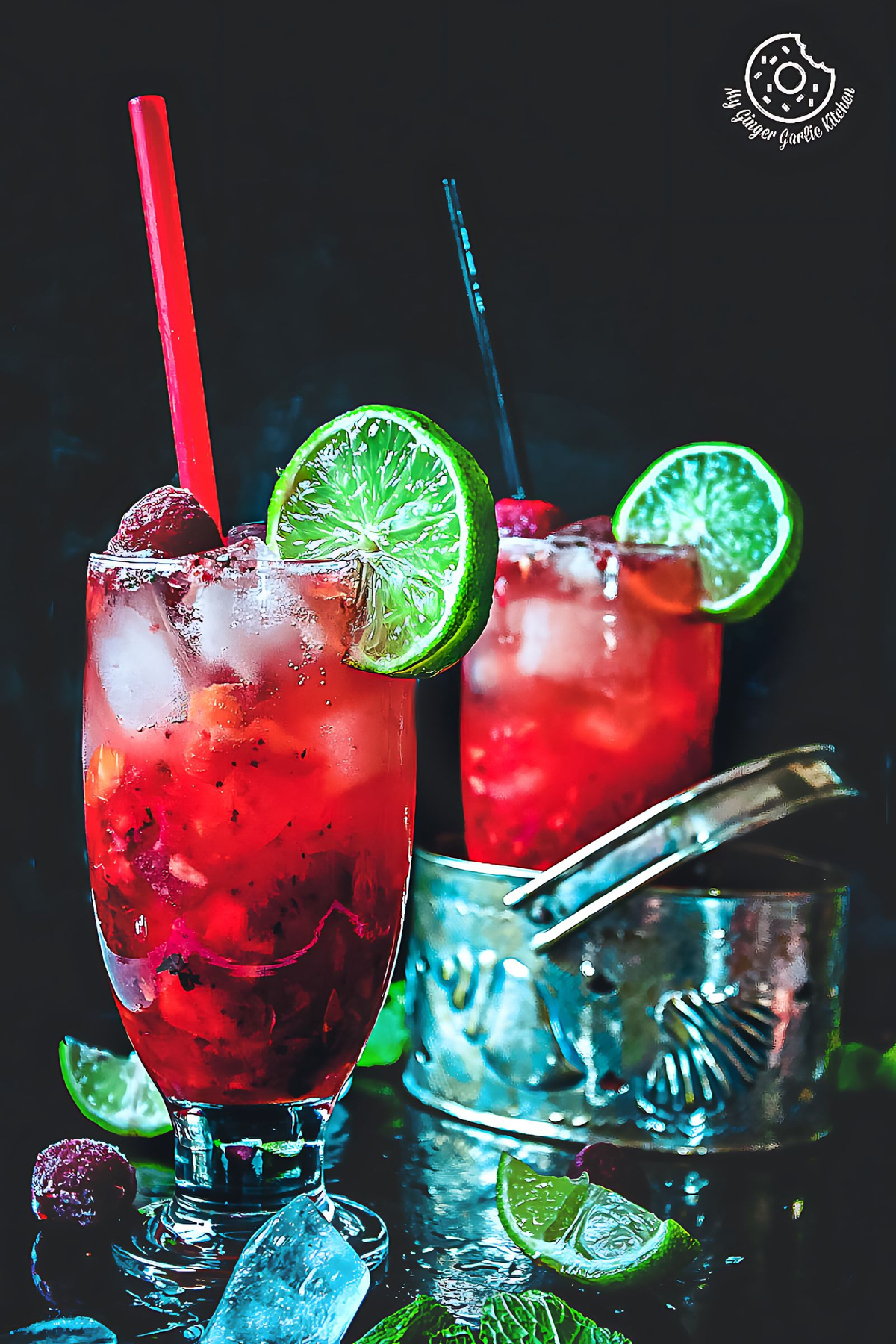 And at the same time, you find some limes and fresh mint leaves. Now you are thinking what can I make with these? A lemonade? No, not lemonade.
I want to have something with berries, but I need to check if I have any. Then you open your freezer and there are plenty of berries. Now another question is what type of berries should I pick?
Related: Banana Coffee Shake
Then you decide to only add one type of berry to your drink. But that's not enough, then you think, "I should add some more fruits." And there you see some mangoes. And your heart says, "Go for it, strawberry and mangoes will make a deadly combo. Then you take out strawberries and mangoes and ice cubes.
Related: Italian Cream Soda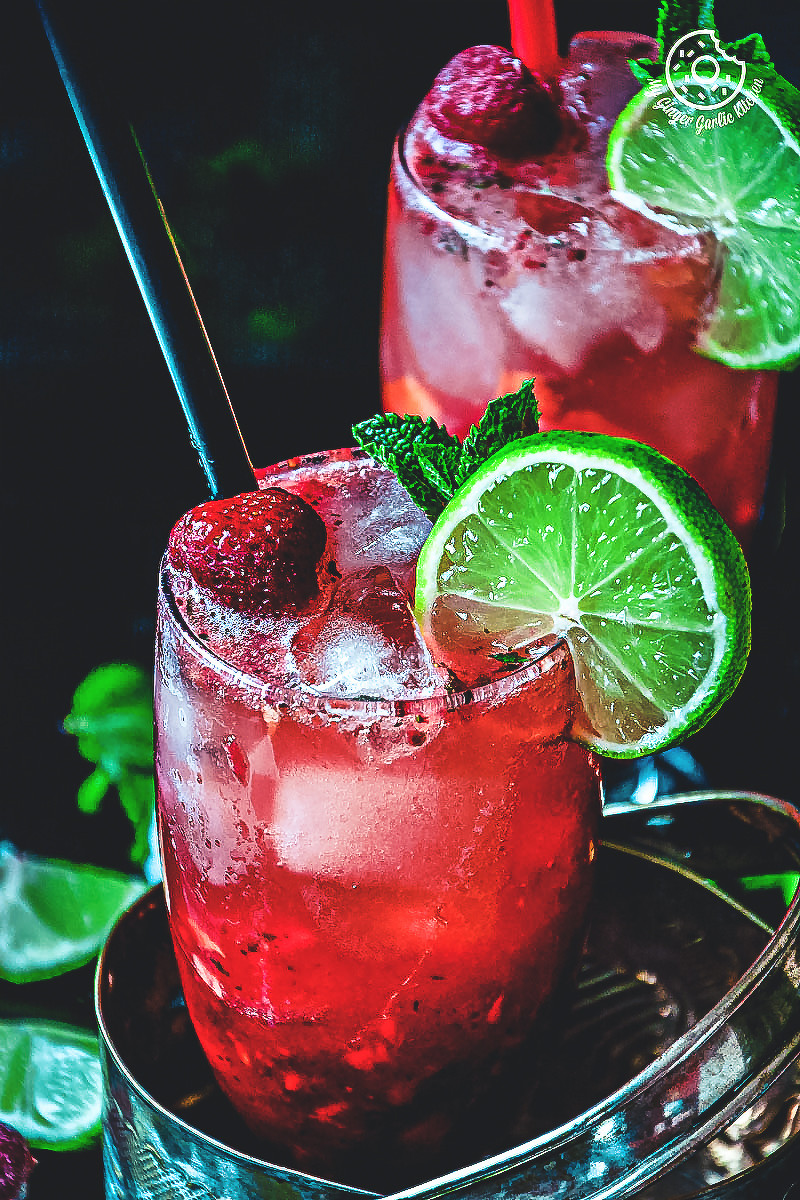 Now you have mangoes, strawberries, lime, and mint. Still, something is missing. You open the fridge again and this time you see some club soda or soda water. You take it out.  But still, some boozy factor is missing. Then you open your alcohol cabinet and there you find some nice dark rum and you take that out too.
In my case, funnily it was bought only for the cold treatment to sustain the harsh winter temperatures. But, I thought of putting it to some good use 😉
Related: Strawberry Masala Chaas
Well, back to you. So now you have strawberries, mangoes, mint leaves, lime, ice cubes, dark rum, club soda. Only one thing is missing and that is some kind of sweetener. Then you take out some sugar or simple syrup. Now you have all the ingredients for making a super awesome cocktail.
Related: Creamy Cappuccino Chocolate Lassi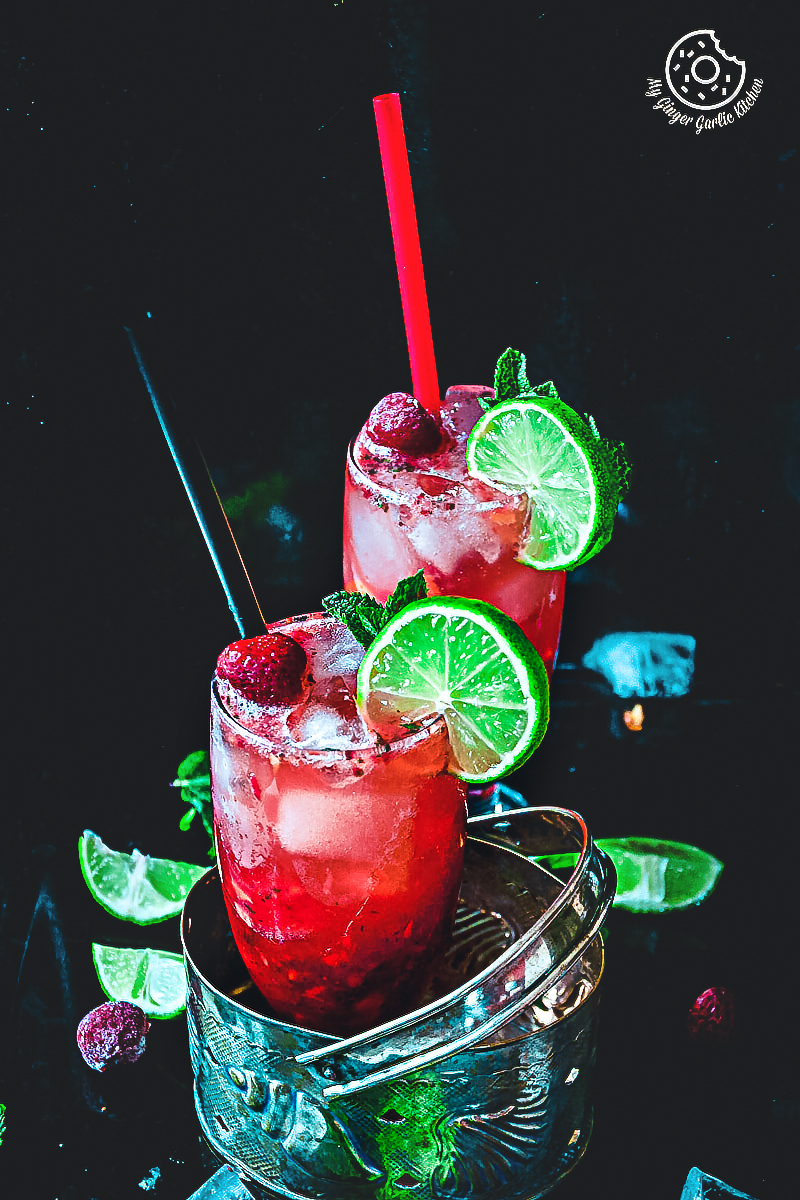 And this is how you've made a new favorite, the 'Dark Rum Strawberry Mango Mojito'. They are fabulous! I'm feeling this Mojito like no other. I love just mojitos. Always have.
I am more of a fruity cocktail drinker. But you could totally make this into a mocktail if you want to. Omit the dark rum and add in some more soda water or maybe strawberry or mango juice to finish it off.
Related: Pink and White Refreshing Watermelon Lemonade
What is Dark Rum Strawberry Mango Mojito?
This classic mojito with a few muddled strawberries + sweet mangoes, bright and refreshing lime and fragrant mint add a fresh, fruity spectacle to the cocktail.
They also look beautiful in a glass too with the combinations of colors and flavors – crushed RED strawberries, YELLOW mangoes and GREEN mint leaves.
Strawberry Mango mojitos are just perfect for a Summer cocktail party, and I just can't wait for its debut at our barbeque party during summer.
Related: Banana Raspberry Coconut Smoothie with Tiramisu Ice Cream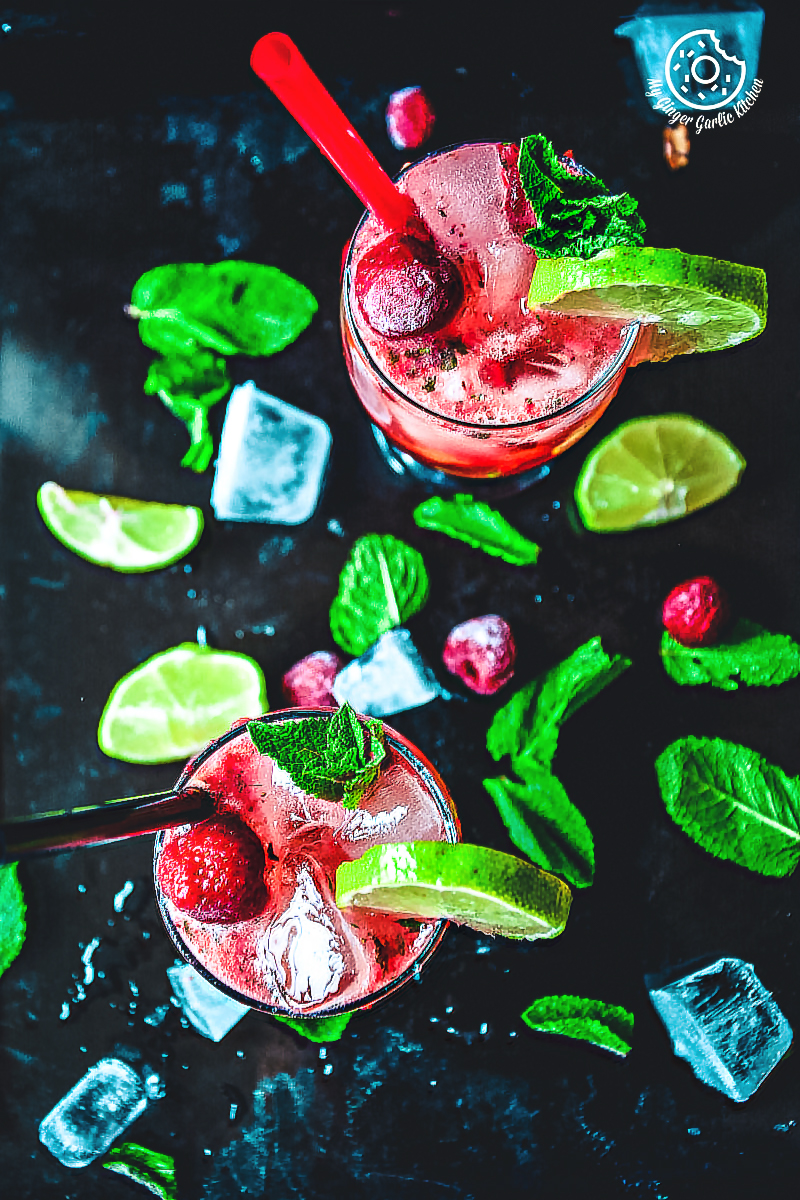 What I love about this recipe is that it has a lot more strawberry than a traditional strawberry mojito. That gives it a beautiful color and adds sweetness.
It starts with a little bit of muddling. Use a muddler or the handle of a wooden spoon to press down and squish the fruit and mint leaves together until the all the juice is released and the mint leaves are well crushed.
Related: Blueberry Kiwi Cooler
Now it's time to add ice and rum and shake well. Top with club soda, give it a stir and then garnish with a lime slice and fresh mint leaves.
A perfectly cool, sweet, and 100% refreshing fruit-infused Mojito is ready!
Related: Cherry-Berry Iced Tea With Lemon Mint Ginger And Honey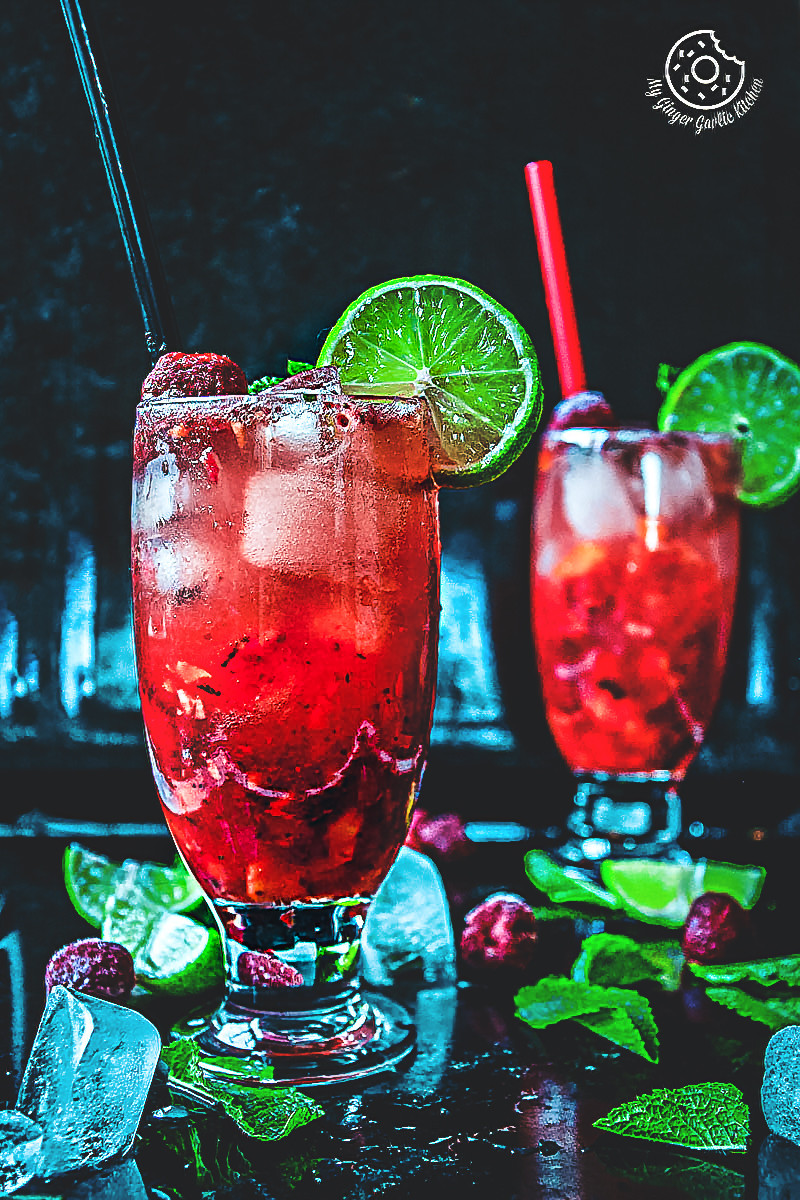 Dark Rum Strawberry Mango Mojito Recipe

[Recipe]
This refreshingly classic Dark Rum Strawberry Mango Mojito with muddled strawberrie, mangoes, lime, and mint makes a fresh fruity cocktail.
---
★★★★✰
(Rating:
4.3
from
103
reviews)
---
| Prep time 🕐 | Cook time 🕐 | Total time 🕐 |
| --- | --- | --- |
| | | 1 hours 20 mins |
| Category ☶ | Cuisine ♨ | Serves ☺ |
| Drinks | Cuban | 2 |
| Nutrition Info ⊛ | | Serving size ⊚ |
| 215 calories | | 1 serving |
---
INGREDIENTS
For Simple Syrup:
4 cups of water
1 1/2 cups sugar
For Mojito:
3/4 cup Strawberries
1/4 cup mango
2 lime wedges
8 tbsp simple syrup
10-12 large fresh mint leaves
1/2 cup dark or gold rum
1/2 cup club soda or soda water
---
INSTRUCTIONS:
Make Simple Syrup:
Add 4 cups of water to a saucepan.




Bring the water to a boil.




Add 1 1/2 cup of sugar in and stir it till it dissolves at medium heat.




Simmer the saucepan for roughly 3 minutes.




Add the syrup to a bowl and put it in the fridge to chill.



Make Mojito:
In a goblet glass, muddle half strawberries, half mangoes, half mint leaves, 4 tablespoons simple syrup, and 1 lemon wedge.




Fill glass 2/3 with ice cubes.




Pour in the 1/4 cup rum.




Shake well, repeat the process to make second serving.




Top each glass with about 1/4 cup soda water.




Garnish with mint sprigs, lime wedges, or strawberries! Enjoy!



---
WATCH RECIPE VIDEO: Click the play button and video will load ...
---
NOTES:
No notes for this recipe.
---
If this recipe helped you, then please spread the word by sharing and
subscribing
to us on YouTube to get more such Recipe Videos.
---
Your feedback is so helpful for me and other MyGingerGarlicKitchen readers. So, for Facebook and Instagram, please mention
@MyGingerGarlicKitchen
or
#mygingergarlickitchen
. I would love to see your photos. :)
---
Author:
Anupama
Recipe Source Link:
https://www.mygingergarlickitchen.com/dark-rum-strawberry-mango-mojito-video/
Date Published:
2020-09-24
• • • • • • • • • •