Apple Rose Mini Tartlets
---
Happy Wednesday!
Last week was the official announcement of Fall. And Fall = Apples. Yes, apples are around here. Well, I think apples are everywhere.
So why not starting this Wednesday with some KILLER Apple Rose Mini Tartlets.
Would it be easy to make these?
Mmmmm, I think this is one of the bestest, cutest and easiest dessert ever. And you can have them as breakfast, brunch or a tea time snack. 😀
I think apples and I are having a love affair right now. Is it weird to have a love affair with food? I hope all of you foodies out there would feel the same with some of your favourite foods. And apple is so healthy too. They are so sweet, delicious, crispy, juicy and and so YUMMY!  Remember "An apple a day keeps the doctor away." It indeed does.
And a crazy thing, that I made a pizza with apples, and that was so yummmy. Yeaaaah! Apples taste so good with EVERYTHING.
Coming to these Apple Rose Mini Tartlets — I fell in love with these charming apple rose tartlets when I first saw them some months ago. I can't exactly recall when and where, but think it was spring when I saw them in a facebook post.
They were so pretty, so couldn't wait until I tried my own version. They looked so lovely that I had to try them soon after.
However I just only saw the photo, and could not find out what they were called. After a couple of failed searches I got the name finally. And to my surprise google images were full of these beauties. I mean, there were plenty of these tartlets. And at that time, I felt like how the hell I did not know about these when they are so popular.
I checked a couple of recipes and then I realized how damn easy they were. They literally don't need any measurements or instructions. Believe me these are easiest yet prettiest tartlets I have ever seen.
You will be surprised that making these simply beautiful desserts is so easy. But initially I thought making them would be extremely hard. FYI, I was wrong about that! I am happy that I was wrong, because I just LOVE easy recipes.
And they came out as pretty as jewels. I mean these are just so beautiful that I can just watch them for hours. They are a nice sight to watch — simply food for the eyes! 🙂
I think this is the best Fall sweet treat with apples. And I am so much in LOVE with these gorgeous tartlets.
And why not? Afterall, these apple tartlets come with so many advantages!
They are delightful.
They are best eaten warm, so perfect for this FALL.
They are pretty easy to prepare.
They are made with apples, and FALL is calling for apple recipes.
They are made with only a few ingredients.
Making them is no fuss, and,
They are gorgeous too.
It can be the cutest idea for a dessert or even as a snack, if you have guests coming over. These Apple Rose Puffed Pastries are a simple yet elegant way to serve a unique dessert.
Now tell me, who wouldn't love these?
You can even eat these microwaved apples with a spoonful whip-cream. That's what Adoria does. I also tried this way of Adoria to eat these, and that's feels pretty awesome, I must say. Kids make a nice combo sometimes! 😉  Now it's really easy to impress guests with this beautiful rose-shaped dessert.
How do I now?
Welp, I made these as a tea time snack for my guests, may be 5-6 times. And everyone was just floored by their amazing looks.
These are made with lots and lots of soft, juicy and delicious apple slices which are wrapped in sweet-cinnamony, crispy puff pastry sheets.
There are many variations of this alluring dessert. They are made with apricot jam, and some are made with cinnamon. There are also several ways you can prepare them.
You can also make your own dough if you like, or simply use store bought frozen puff pastries, like I do always. One thing is always present in my freezer — the puff pastry sheets. I never run out of these, because I just love them. 😉
Seriously, making dishes with these ready pastry sheets are much easier and a lot quicker!
What you have to do is that you need thawed pastry sheets. The one thing you need to make sure is that these sheets should not be too thick, as they might not cook properly.  
I spread mine with butter and cinnamon sugar. Then cut 2 apples in half from top to bottom. Sliced them really thin.  I wanted them soft but not mushy so cooked them for 60 seconds.
Making them soft is so easy to work with. And then just only one fun thing remained — to roll the dough. Place the apples slices. Fold, and brush with egg wash. Sprinkle with some more cinnamon sugar. Bake! And the best part, you can eat it straight out of the oven. Warm desserts are awesome. Ain't they?
Ta-dah! Alluring. Gorgeous. Delicious little apple rose Apple Rose Mini Tartlets are ready to AMAZE your family and friends.
Let's make these Apple Rose Mini Tartlets.

Turn on the oven to 375°F/180°C. Slice apples as thin as possible, and eliminate the seeds and hard parts, but keeping its red peel. Brush slices with lemon juice and microwave them on high for about 60 sec, or until soft.  Open the puff pastry sheets on a floured surface and roll it out enlarging it a bit but keeping the rectangular shape.

You can also cut the sides with a knife to keep to rectangular shape. Spread butter on each strip and sprinkle cinnamon sugar according to your taste.  Add apple slices occupying half of the strip, with the round part up. Sprinkle some more cinnamon sugar.

Fold the puff pastry and brush with egg wash. Sprinkle some more cinnamon sugar.  
Now fold closing the apple on inside and then beginning from one extremity, fold it on itself.  You have a rose shape.

Sprinkle some more cinnamon sugar on top. Grease muffin mold with butter and sprinkle some cinnamon sugar. Put roses inside a muffin mold, and repeat with the other 2 strips. Bake them for 40-45 minutes.
Apple Rose Mini Tartlets
Author:
Prep time:
Cook time:
Total time:
Apple Rose Mini Tartlets
Ingredients
<ul class="ingredients">
  <li class="ingredient">
    red apples - 2
  </li>
  <li class="ingredient">
    lemon juice - ½ tsp
  </li>
  <li class="ingredient">
    cinnamon sugar as needed (1/4 cup sugar with 1 tsp cinnamon)
  </li>
  <li class="ingredient">
    rectangular rolled out puff pastry sheets - 3
  </li>
  <li class="ingredient">
    egg wash
  </li>
  <li class="ingredient">
    melted butter as needed
  </li>
  <li class="ingredient">
    extra flour for working surface
  </li>
  <li class="ingredient">
    icing sugar
  </li>
</ul>

Instructions
<div class="instructions">
  <ol>
    <li class="instruction">
      Turn on the oven to 375°F/180°C.
    </li>
    <li class="instruction">
      Slice apples as thin as possible, and eliminate the seeds and hard parts, but keeping its red peel.
    </li>
    <li class="instruction">
      Brush slices with lemon juice and microwave them on high for about 60 sec, or until soft.
    </li>
    <li class="instruction">
      Open the puff pastry sheets on a floured surface and roll it out enlarging it a bit but keeping the rectangular shape.
    </li>
    <li class="instruction">
      You can also cut the sides with a knife to keep to rectangular shape. Spread butter on each strip and sprinkle cinnamon sugar according to your taste.
    </li>
    <li class="instruction">
      Add apple slices occupying half of the strip, with the round part up.
    </li>
    <li class="instruction">
      Sprinkle some more cinnamon sugar.
    </li>
    <li class="instruction">
      Fold the puff pastry and brush with egg wash. Sprinkle some more cinnamon sugar.
    </li>
    <li class="instruction">
      Now fold closing the apple on inside and then beginning from one extremity, fold it on itself. You have a rose shape.
    </li>
    <li class="instruction">
      Sprinkle some more cinnamon sugar on top.
    </li>
    <li class="instruction">
      Grease muffin mold with butter and sprinkle some cinnamon sugar.
    </li>
    <li class="instruction">
      Put roses inside a muffin mold, and repeat with the other 2 strips.
    </li>
    <li class="instruction">
      Bake them for 40-45 minutes.
    </li>
    <li class="instruction">
      Sprinkle icing sugar before serving. Enjoy!
    </li>
  </ol>
</div>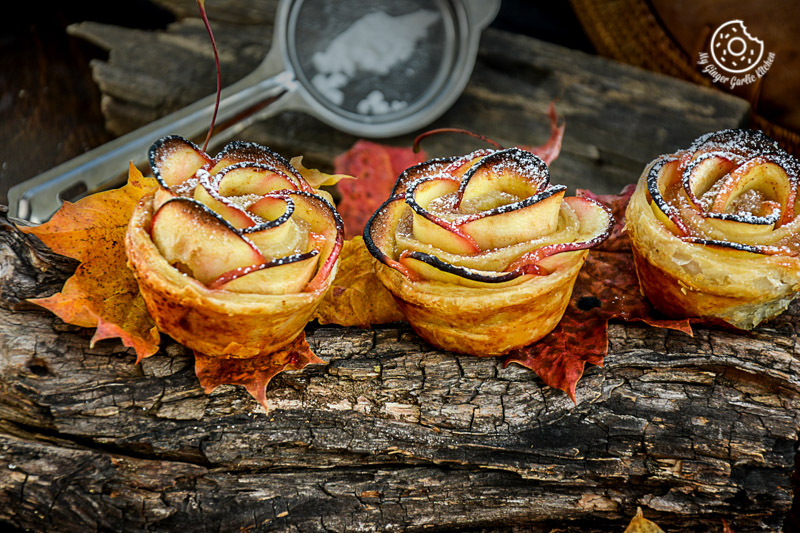 If you cook this dish, be sure to tag your photo with this hashtag: #mggk
Happy Cooking & Keep Sharing! 🙂
---
Filed under: All-Recipes, Appetizer Recipes, Baking Recipes, Breakfast Recipes, Dessert Recipes, Kids Recipes, Snack Recipes appetizers, apple recipes, autumn recipes, dessert, fall recipes, Snacks recipes, winter recipes
---