Cherry-Berry Iced Tea With Lemon Mint Ginger And Honey
---
Hello! It's a Cherry-Berry Monday! 🙂
Let's start the first Monday of August with some simple quick and most needed refreshing summer drink.
How does Cherry-Berry Iced Tea With Lemon Mint Ginger And Honey sounds to you? Mmmm, all the goodness of berries, freshness of lemon and mint, piquant taste of ginger, and sweetness of honey.
I told you in an earlier summer drink post that I will be sharing many summer drinks this season. Also, you all know that summer is all about drinks for me. So please don't blame me that I am sharing another drink. I did already warn you! 😉
Now you see, I was really serious when I said I will share a great number of summer drinks with you! 😉
An iced tea is something I love to have during summers. Yes, I also love to drink hot tea, but not every day! And this berrylicious iced tea which I am sharing today has everything you would need in a summer drink.
Here are some pointers as Q&A's to encourage you to make this berrylicious drink.
Q. Do you need energy?
A. The blast of this fruity punch will surely give you an energy boost.
Q. Do you need some sweetness?
It doubtlessly has that.
Q. Do you need flavor packed fruit punch?
A. It is indeed flavor full and all fruity.
Q. Do you want to feel refreshed?
A. Oh, it will serve you 100% to make you feel all refreshed.
Q. Do you need a drink which looks beautiful and tastes delicious?
A. Why not. Yes, this drink has good looks and good taste which will surely stimulate your taste buds.
As an added benefit, berries are full of antioxidants. This is such an advantage. And the color is so vigorous. If you are a berry lover, you would surely love this iced tea.
You know what I love most about this drink? I love the vibrant color.
Oh my goodness! Just look at perky cherry red color for this drink. Don't you think just looking at this drink can make you feel refreshed? Well, it really does that to me! 🙂
All the berries together creates really an amazing flavor.
I may even call it a BERRY GOOD DRINK. Wow! I should have named this drink something liked that! Never mind, I will do that with my another berry drink! A nice idea shouldn't be wasted at all. 😉
In case you are wondering which Tea brand you should use, you can use any of your favorite brands of mixed berry tea. And you don't need to buy other ingredients, as I am pretty sure those might be lying somewhere in your kitchen! They all are kitchen essentials.
It's summer, and it's berry season everywhere. So making a cool refreshing drink seems like the best way to bring the body temperature down. This cherry berry iced tea will cool you off and make you smile. So try it once and and you will be so happy. This is one of those perfect drinks to beat the summer heat.
Other than the summer, there's something more going on in my life right now. From today, Adoria has started her day care again. So life is coming back on the regular track again.
She's at the daycare right at this moment. And I am missing her. But I am also happy that last month during her summer holidays, I could spend enough time with her. And I am sure, that's a mommy thing all moms could relate with. SO I wouldn't even try to deny the fact that I am missing my little girl. 🙂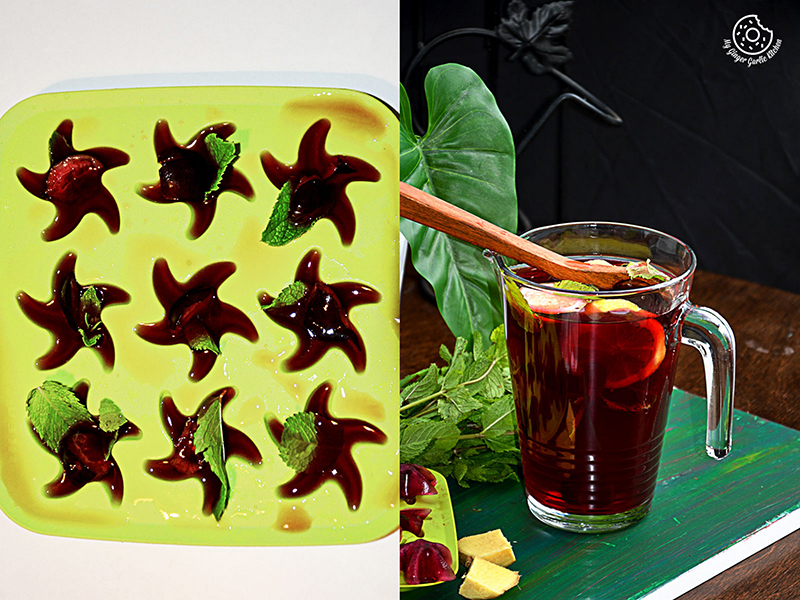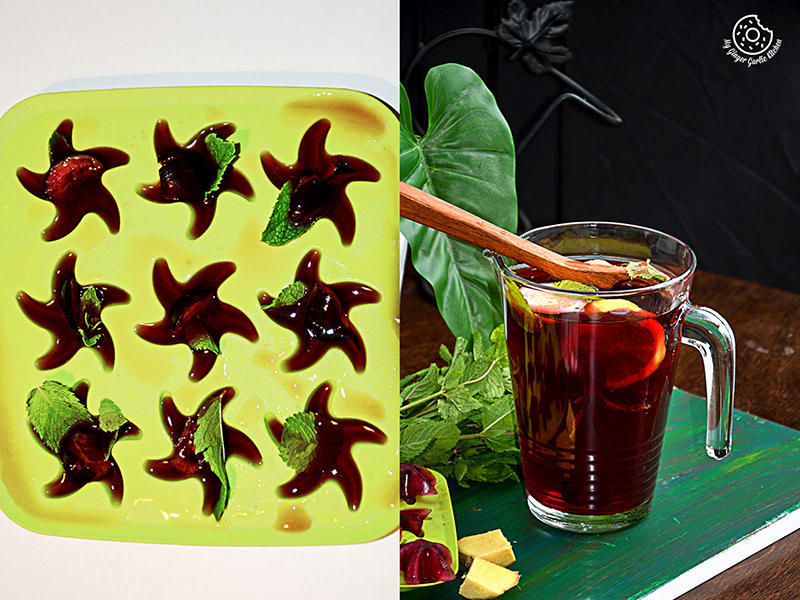 And while I am a bit emotional right now, I just thought to sit back and relax. And to make me relax, I made this berrylicious iced tea. Currently, I am soaking some sun in my balcony and writing this. OH! Life can't be better than this. I just LOVE to write here for all of my dear friends who visit my real estate on the internet! That's just my kind of relaxing.
This iced tea is a blend of berries, lemon, mint and honey. If you don't like sweet tea, simply omit the honey. The tea would still be incredibly refreshing and full of flavors. And you might call this a healthy, perfectly colorful Monday drink. 🙂
You can also make ice cubes of Tea to add to the exquisite beauty of this drink. You can achieve this by freezing tea as ice cubes in deep freezer. It would make it chilled without sacrificing the actual taste of the tea.
How's that for a change? I think it's AWESOME. Add some mint leaves and berry tea to an ice-cube tray. Just freeze it and you are done!  Your tea cubes are ready.
Try serving this sweet cool drink at your next party. This will be loved by everyone!
Just remember one IMPORTANT thing while making Tea: make tea according to the instructions on the package. Chill for 1-2 hours. Then stir all ingredients together and chill again for 10 minutes.  And you have a pitcher full of magical drink. I promise you all, this magnificent beauty is worth trying.
It has rich, bright, and classy flavor, and presence of berries makes it rich in nutrients. So let's go with this bright, bold, delicious, refreshing and vibrant drink.
Let's learn to make Cherry-Berry Iced Tea With Lemon Mint Ginger And Honey!
Cherry-Berry Iced Tea With Lemon Mint Ginger And Honey
Author:
Prep time:
Cook time:
Total time:
Cherry-Berry Iced Tea With Lemon Mint Ginger And Honey.
Ingredients
<ul class="ingredients">
  <li class="ingredient">
    mixed berry tea bags - 4
  </li>
  <li class="ingredient">
    water - 6 cup
  </li>
  <li class="ingredient">
    honey, as per taste
  </li>
  <li class="ingredient">
    lemon juice - 1 tbsp
  </li>
  <li class="ingredient">
    ice cubes
  </li>
  <li class="ingredient">
    sliced ginger - 2 tbsp
  </li>
  <li class="ingredient">
    fresh mint leaves - 4 tbsp
  </li>
  <li class="ingredient">
    lemon slices - 4-5
  </li>
</ul>

Instructions
<div class="instructions">
  <ol>
    <li class="instruction">
      Boil water. Pour boiled water into the pitcher and steep tea bags for 8-10 minutes.
    </li>
    <li class="instruction">
      Remove tea bags. Chilled covered for about 1-2 hours, or until cold.
    </li>
    <li class="instruction">
      Stir in honey and lemon juice.
    </li>
    <li class="instruction">
      Add mint, lemon slices and ginger slices to pitcher, and keep in refrigerator for about 10 minutes.
    </li>
    <li class="instruction">
      Add ice cubes to the serving glass and pour tea ice.
    </li>
    <li class="instruction">
      Enjoy healthy and berrylicious iced tea!
    </li>
  </ol>
</div>

---
Filed under: All-Recipes, Beverage Recipes, Fruit Recipes, Healthy Recipes, Summer Drink Recipes, Summer Recipes dairy free recipes, Gluten Free recipes, Vegan, Vegan Recipes, vegetarian
---