Exhilarating Iced Choco Latte [Recipe]
---
Prep time: 2 minutes
Cooking time: 5 minutes
Servings: 4
---
What Exhilarating Iced Choco Latte?
Exhilarating Iced Choco Latte is a chilled and a refreshing chocolate coffee drink. This super yummy coffee drink is a great alternative to regular hot coffee, which also makes you feel refreshing as it comes with fresh smell of coffee and chocolate together. This drink  can be prepared with love and just a few ingredients you have in your kitchen :-). Iced choco latte is a true delight to all the coffee and chocolate lovers!
Let's learn to make Exhilarating Iced Choco Latte in 2 easy to understand quick steps.
---
Ingredients:
milk – 2 glass
chocolate powder – 3 tbsp
instant coffee powder – 3 tbsp
whipped cream for topping
sugar as per taste (optional)
chocolate shavings for topping
ice cubes – 1 glass
---
Method:
Take a mug. Add coffee powder, chocolate powder, sugar along with 2 tbsp of water. Whisk with an electric coffee beater until frothy. Take another mixing container. Add milk, and whisk until frothy.
Take 4 serving glasses. Divide whisked chocolate coffee mixture equally into all glasses. Add ice cubes to all glasses, and pour whisked milk onto each serving glass. Top with whipped cream and some chocolate shavings, and serve. Enjoy!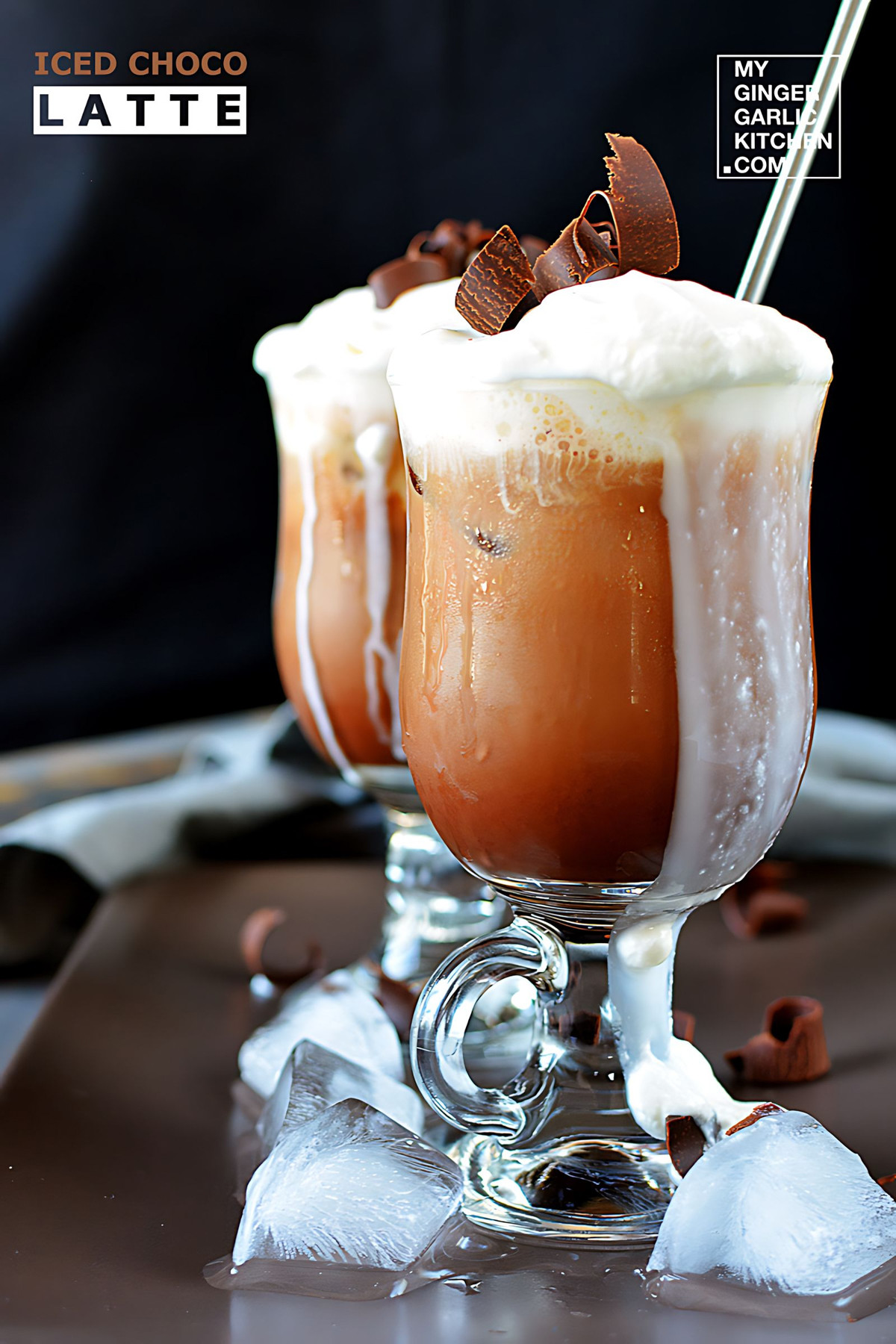 MY PHOTOGRAPHY NOTES:
Camera: Nikon D7100
Lens: Nikon 35mm f/1.8G AF-S DX Lens
Setup: Used natural sunlight coming from left, and a silver reflector on the right side of the frame
Props & Styling: I arranged my coffee glasses on dark brown tray, used some ice cubes to give it a cooling atmosphere. I let the whip cream drip out from the glass to make it more desirable. Clicked all of the Exhilarating Iced Choco Latte photographs on a dark background.
Angle: I clicked these photos with 90°, 70°, 45°.
Happy Cooking 🙂
Show us your love by commenting on this post, and share your thoughts. Liked this post, then you will like this too.
[simple-qr size="" type="url" url="http://www.mygingergarlickitchen.com/exhilarating-iced-choco-latte/" margin="0″ size="160″ align="center" pointer_text="Get This Awesome Recipe
On Your Smartphone." pointer_color="#FF1975″ pointer_position="left"]
---