Dark Rum Strawberry Mango Mojito Recipe
This refreshingly classic Dark Rum Strawberry Mango Mojito with muddled strawberrie, mangoes, lime, and mint makes a fresh fruity cocktail.
---
« Go back
Print this recipe »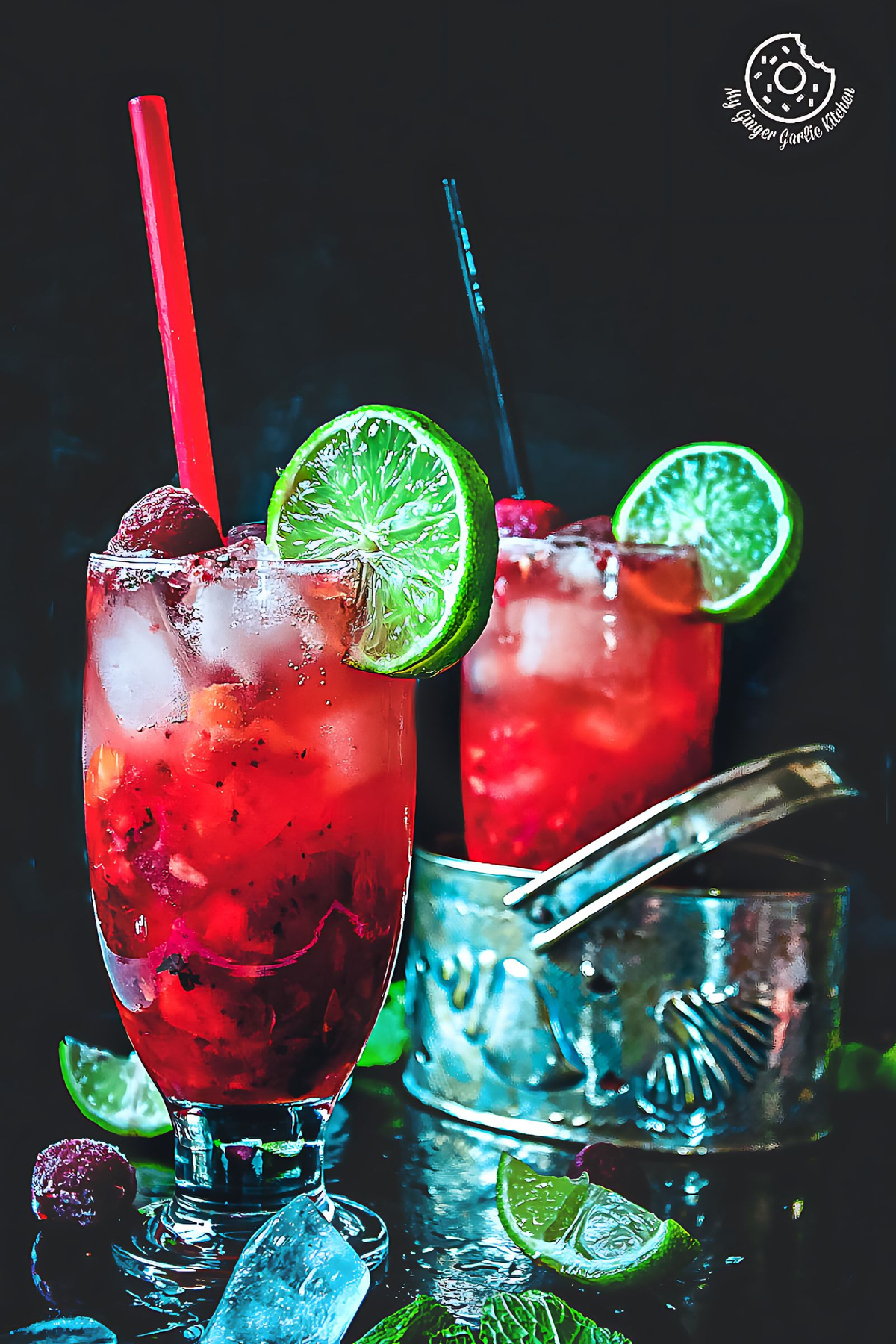 ---
Prep Time = 1 hour(s) 5 minutes
Cook Time = 2 minutes
Total Time = 1 hour(s) 20 minutes
Category = Drinks
Cuisine = Cuban
Serves = 2
Nutrition Info = 215 calories
Serving Size = 1 serving
---
RECIPE INGREDIENTS
» For Simple Syrup:
4 cups of water
1 1/2 cups sugar
» For Mojito:
3/4 cup Strawberries
1/4 cup mango
2 lime wedges
8 tbsp simple syrup
10-12 large fresh mint leaves
1/2 cup dark or gold rum
1/2 cup club soda or soda water
---
RECIPE INSTRUCTIONS
» Make Simple Syrup:
Add 4 cups of water to a saucepan.
Bring the water to a boil.
Add 1 1/2 cup of sugar in and stir it till it dissolves at medium heat.
Simmer the saucepan for roughly 3 minutes.
Add the syrup to a bowl and put it in the fridge to chill.
» Make Mojito:
In a goblet glass, muddle half strawberries, half mangoes, half mint leaves, 4 tablespoons simple syrup, and 1 lemon wedge.
Fill glass 2/3 with ice cubes.
Pour in the 1/4 cup rum.
Shake well, repeat the process to make second serving.
Top each glass with about 1/4 cup soda water.
Garnish with mint sprigs, lime wedges, or strawberries! Enjoy!
---
RECIPE NOTES
No notes for this recipe.
---