This rose ice cream is a smooth, rich, velvety and delicious treat which is so full of dreamy rose fragrance.
It is a simple but an exotic ice cream that is delicately flavored with Rooh-Afza, and made without an ice cream maker.
This is a simple step-by-step video on How To Make No-Churn 3-Ingredient Rose (Rooh-Afza) Ice Cream.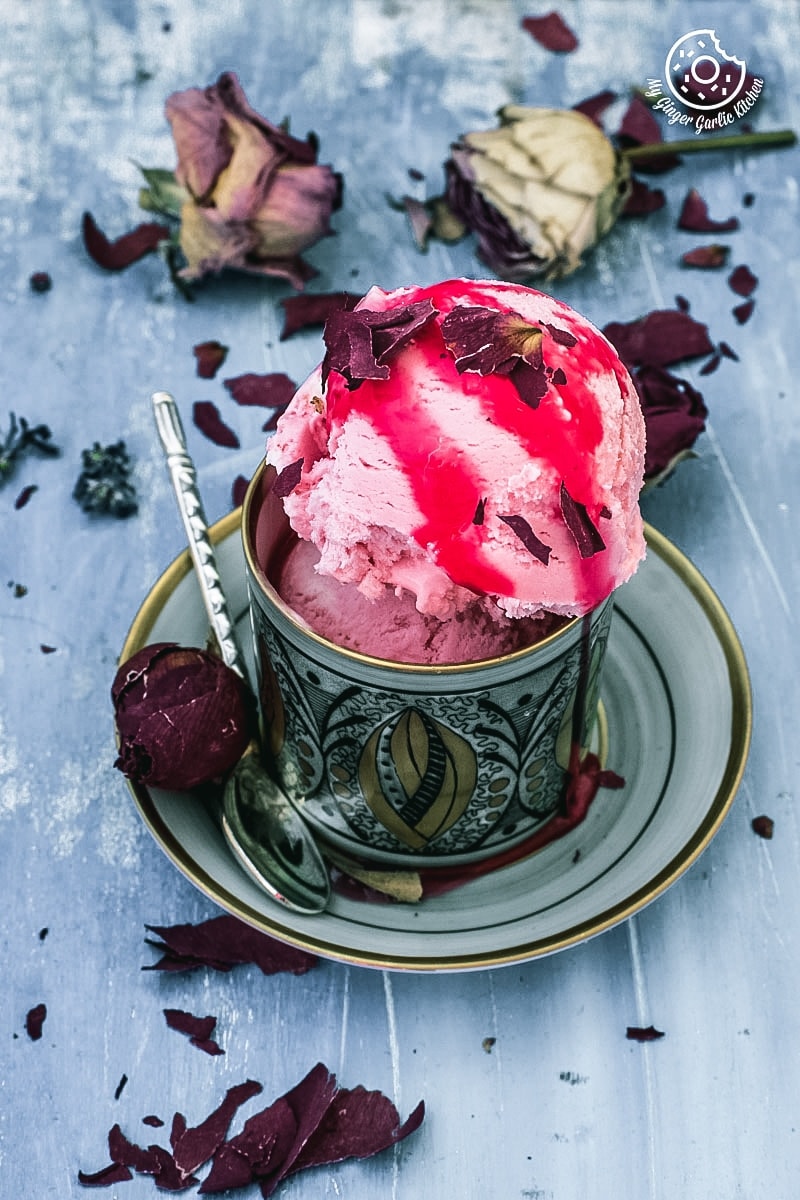 Any time of the year demands something really delicious and chilling to cherish. So the first thing comes to my mind which fits into these criteria of chilling and enjoying is an ice cream. Who can say NO to an ice cream? Correct?
Other no churn recipes to try: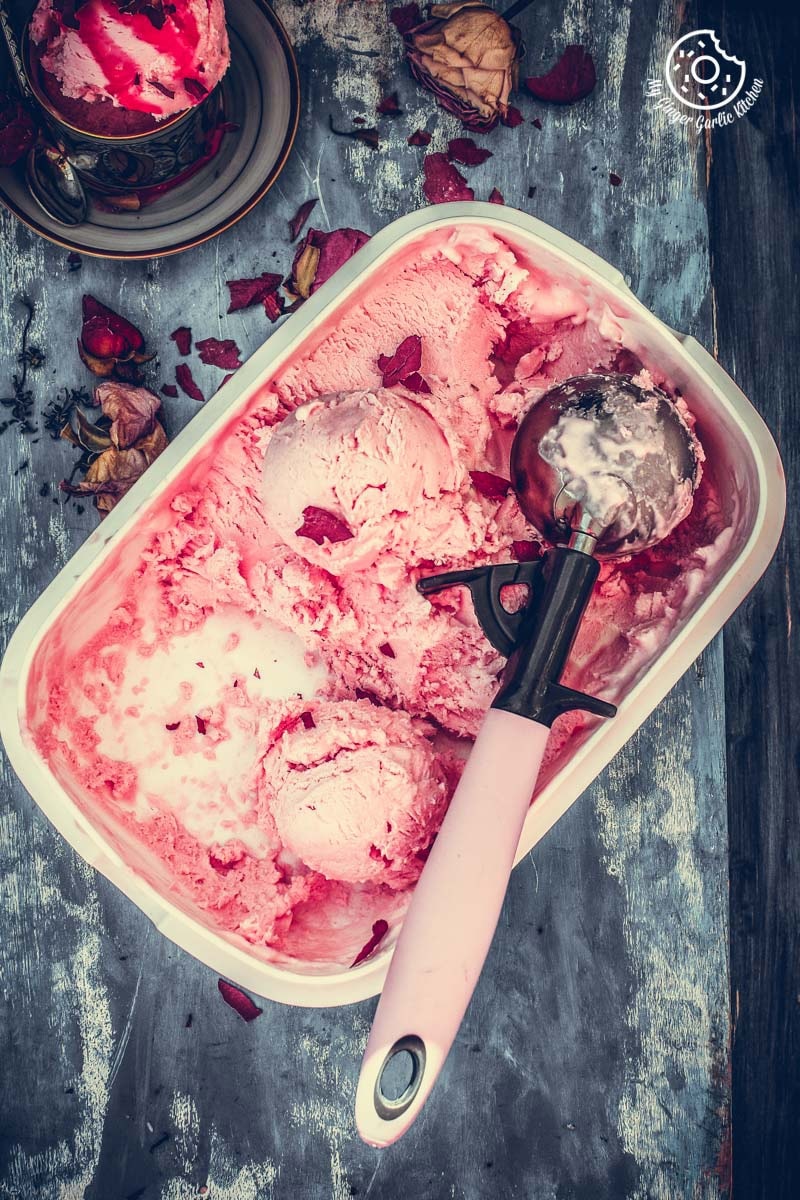 You can make it in no time:
Have you ever met someone who doesn't like ice cream at all? I have met some people who are allergic to ice cream so they don't eat it. But other than that I have yet to meet someone who says I don't like the taste of ice cream.
I mean the one who says that I simply don't like any flavor in the ice cream.
If anyone who is reading this says that he's the one who doesn't like any flavor of ice cream, then I'd say, my friend, my proposal is that keep exploring the new flavors and one day you might find the one you would love.
There must be some flavor which you haven't discovered yet. Or the easier option is, you can simply pass all the bowls and cones of your share of ice cream to me. I would be happy that way too. 🙂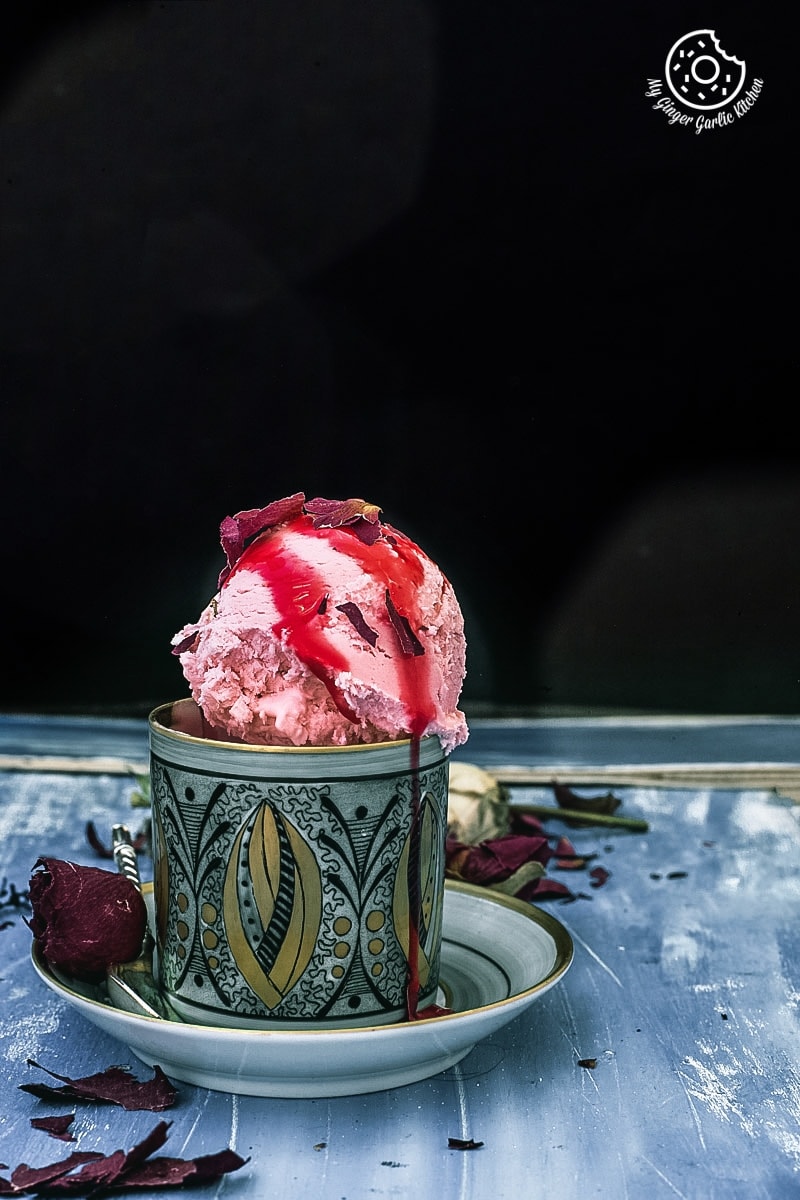 Rose Ice Cream:
This Rose flavored ice cream is my childhood love. As most of you know that I grew up in India. The summer is really hot there. So people keep finding the newer and tastier ways of hydration to pass through the hot days.
During my growing up years, the shops used to be flooded with so many flavored sugar syrups. Many of them were made to add into the water and we called them 'Sherbet'. There were some syrups which could also be added to the milk.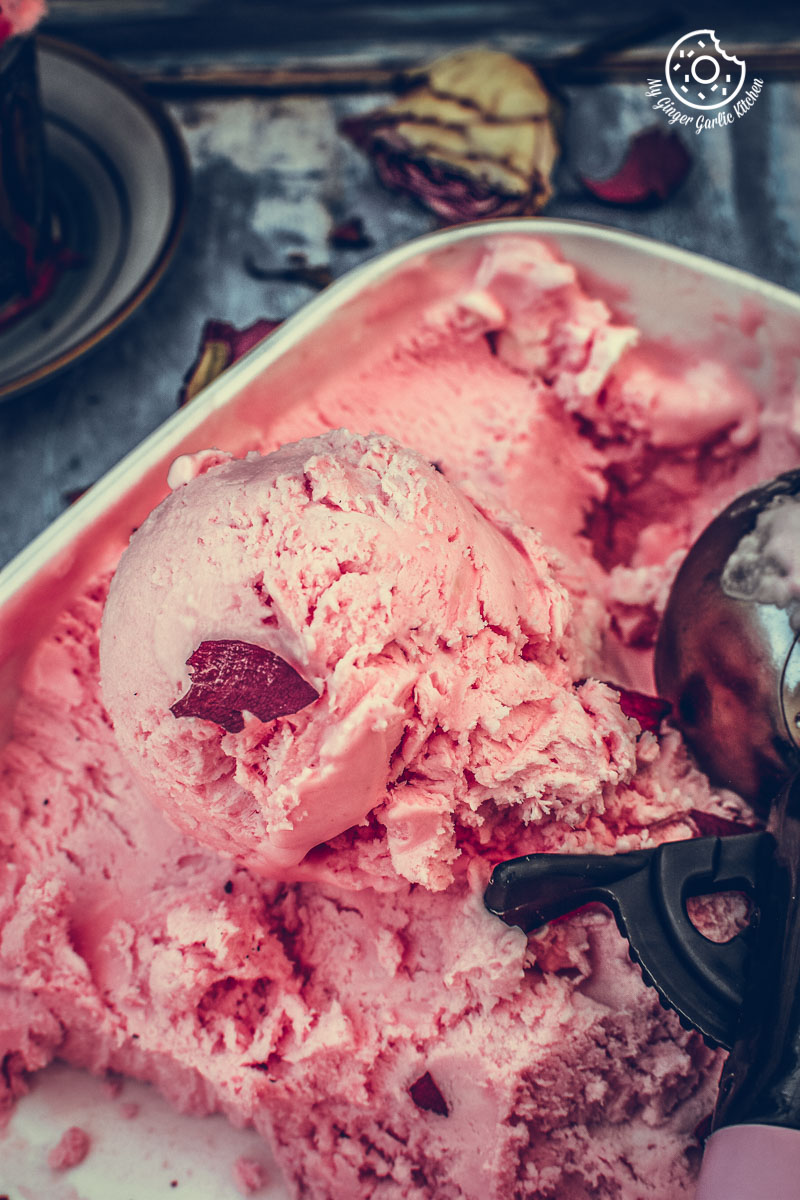 During those times, there was a very popular rose syrup which could also be added to the milk/ yogurt. Although there were so many brands, but the only name known for this syrup was Rooh Afza.
This was the one which kids loved the most back then. Chilled milk + sugar + rose syrup + few ice cubes = the happiest child ever. Well, it was absolutely true for me. 🙂 I only wanted to drink milk so that I could enjoy the taste of this rose syrup. Also, it turned the whole milk pink, just what the doctor ordered. 😉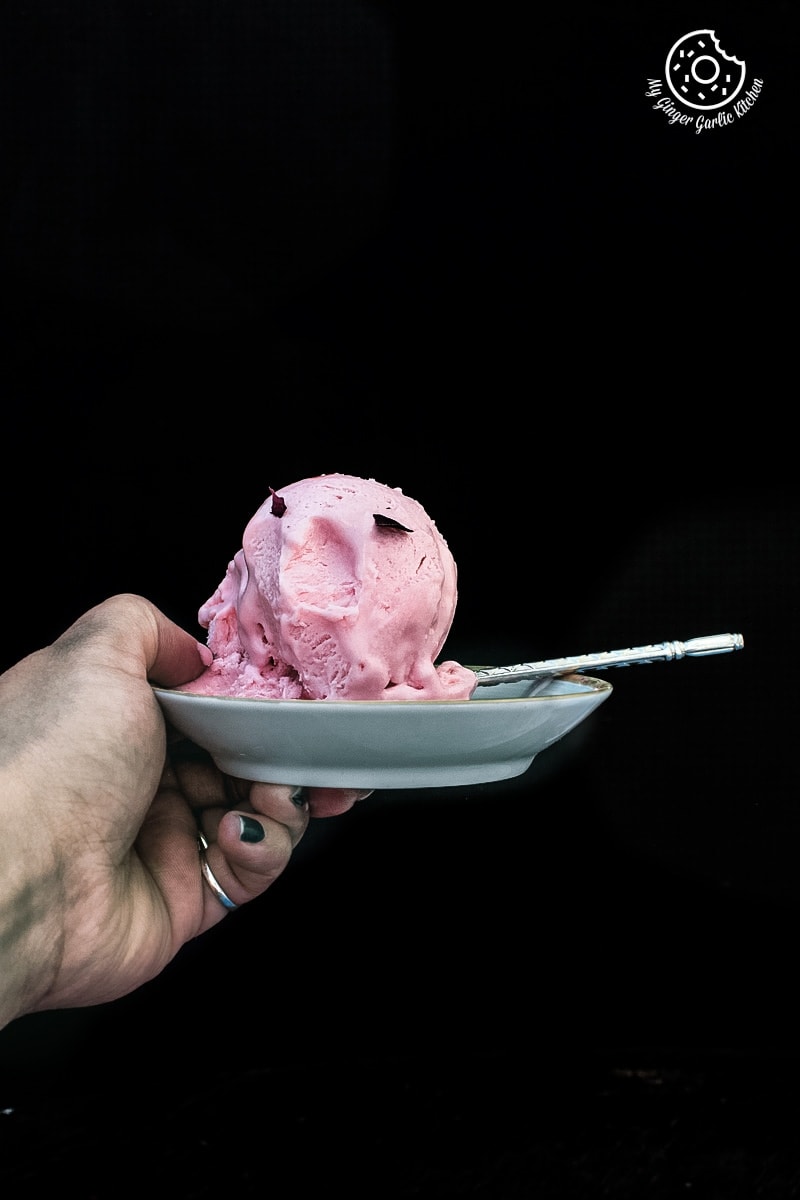 Old love:
And last year, I found this exact 'Rooh Afza' bottle at an Asian grocery store. The moment I saw that bottle, all my childhood memories flashed back in front of my eyes. And without any single thought, I picked that bottle up.
The same evening I made that rose milk for little 'A' and myself. And she was flattered by the color and flavor. You know girls like anything pink. 😉 And no wonder that full bottle was consumed within a month. We just love everything in rose flavor be it milk or rose chai.
And with the next bottle, I made this rose ice-cream which is my family's favorite. So I thought I should share with you all this gem of an ice cream. If you love rose flavored anything, then you would really love this ice cream.
What is rose ice cream?
This No-Churn 3-Ingredient Rose Ice Cream is creamy, soft and velvety like a fragrant bunch of roses, and the good news is that it can easily be made without an ice-cream maker.
Related: Honeydew Melon Banana Ice Cream
If you love No-Chrun ice cream recipes, then don't forget to check out a video on 11 Best Homemade Ice Cream Recipes, I have shared earlier.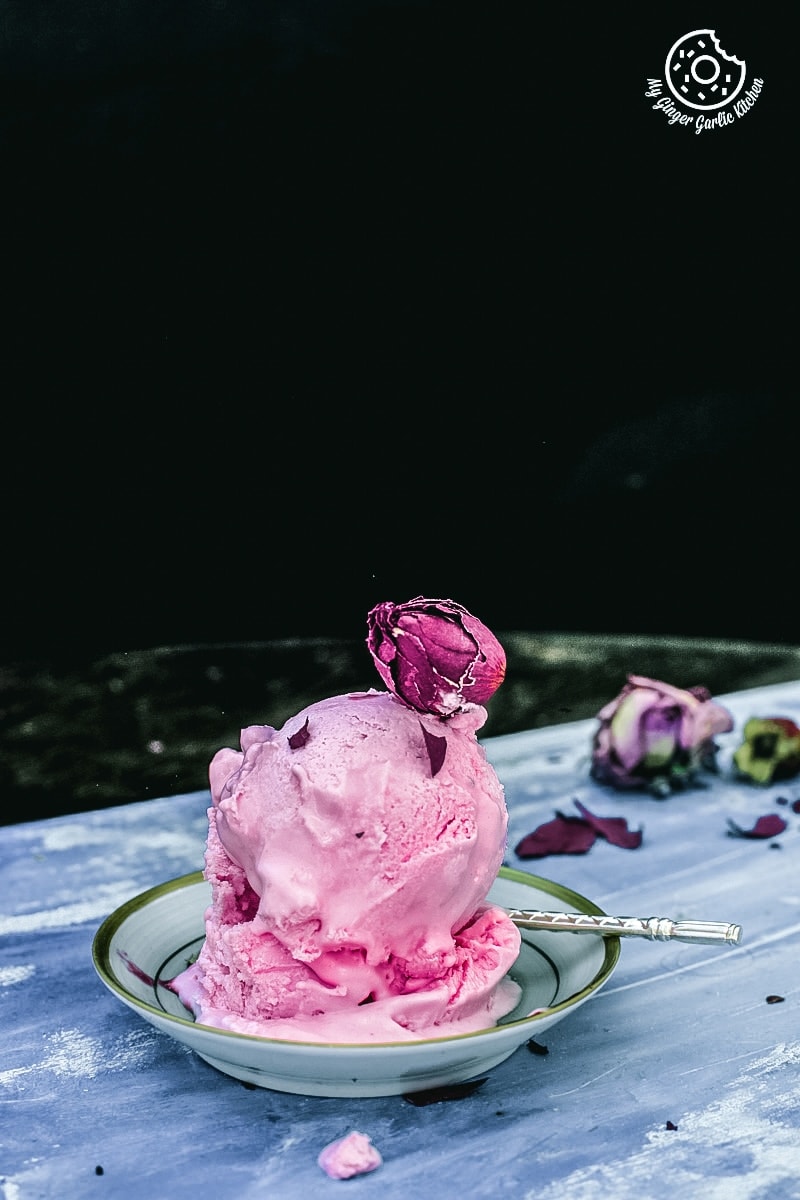 Now you know that I love the floral rose flavor. I have already told you about this when I shared the recipe of 'Rose Masala Chai'. I just love this rose scented tea, and so I drink it often.
THIS ROSE ICE CREAM IS FOR ROSE LOVERS.
I love rose flavored things and this rose ice cream is a delicious treat which is so beautifully and delicately flavored with rose syrup. I also added little rose water for that intense rose flavor but that is completely optional.
Tips and variations for making your best rose ice cream:
Make sure you buy good quality edible rose syrup for making this rose ice cream because that one ingredient makes or breaks the taste of this ice cream recipe.
If adding rose water then only use the edible rose water. Don't use the rose water which is made for external use.
If you don't find rose syrup then you use to replace it with 1-2 teaspoons rose extracts. If you are omitting the rose syrup then the ice cream will not come out pink. In that case, you can add a few drops of red or pink high-grade food color to make it look more appealing. It would not change the taste, so it is entirely up to you.
You can also replace the rose syrup with 4-5 tablespoons of rose water here.
Dried edible leaves can also be added to get the more rosy flavour.
You can also use 1-2 tablespoons of gulkand (rose petal jam) to rose this ice cream
More delicious rose recipes you may also love are:
Rose Ice Cream (3-Ingredient, No-Churn)

[Recipe]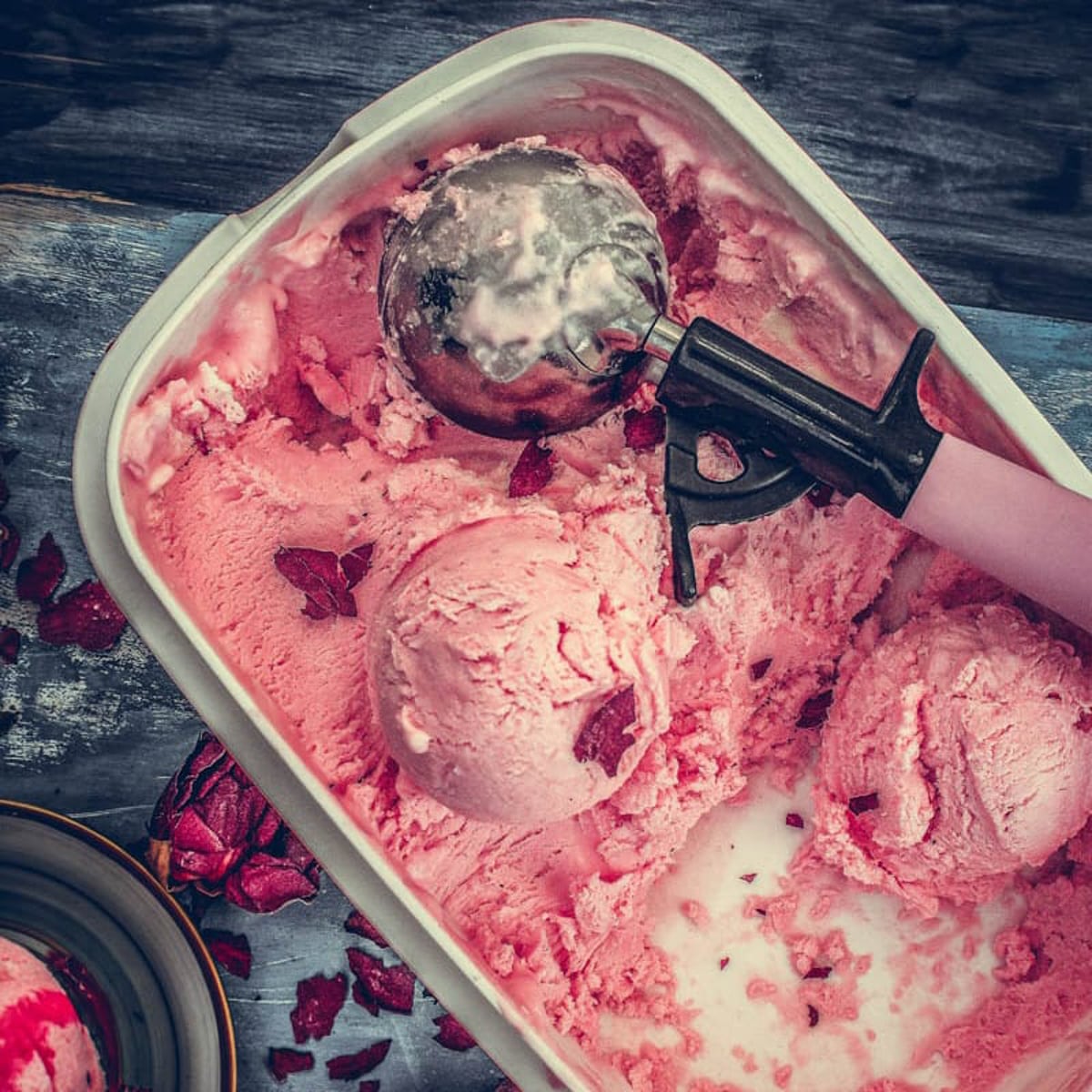 This rose ice cream is a smooth, velvety and delicious treat delicately flavoured with rose syrup. Learn to make No Churn Rose ice cream with a video.
---
★★★★✰
(Rating:
4.3
from
174
reviews)
---
| Prep time 🕐 | Cook time 🕐 | Total time 🕐 |
| --- | --- | --- |
| | | 8 hours 10 mins |
| Category ☶ | Cuisine ♨ | Serves ☺ |
| Dessert | Indian | 6 |
| Nutrition Info ⊛ | | Serving size ⊚ |
| 331 calories | | 1 Serving |
---
INGREDIENTS
---
INSTRUCTIONS:
Make Rose Ice Cream:
Place the heavy cream into a large bowl and whisk on a medium speed until soft peak.




Add in the condensed milk and vanilla extract and whisk until combined.




Add rose syrup and rose water and stir well to combine.




Pour ice cream mixture into a freezer safe tin or container.




Sprinkle some dried rose petals on top.




Cover and place in the freezer for 6-­8 hours, or overnight.




Scoop out ice cream in a cup or cone.




Drizzle with some rose syrup, sprinkle rose petals and enjoy.

---
WATCH VIDEO:
---
NOTES:
You can also add chopped pistachio to this ice cream.
---
If this recipe helped you, then please spread the word by sharing and
subscribing
to us on YouTube to get more such Recipe Videos.
---
Your feedback is so helpful for me and other MyGingerGarlicKitchen readers. So, for Facebook and Instagram, please mention
@MyGingerGarlicKitchen
or
#mygingergarlickitchen
. I would love to see your photos. :)
---
Author:
Anupama
Recipe Source Link:
https://www.mygingergarlickitchen.com/how-to-make-no-churn-3-ingredient-rose-ice-cream-video-recipe/
Date Published:
2021-04-30
• • • • • • • • • •