This no-churn eggless butterscotch ice cream has a delicious butterscotch flavor. This silky and creamy ice cream is loaded with chunky pieces of butterscotch pralines.
Butter, sugar, and cashew nuts mingled in this ice cream recipe to build such a deliciously crunchy and smooth butterscotch flavored ice cream.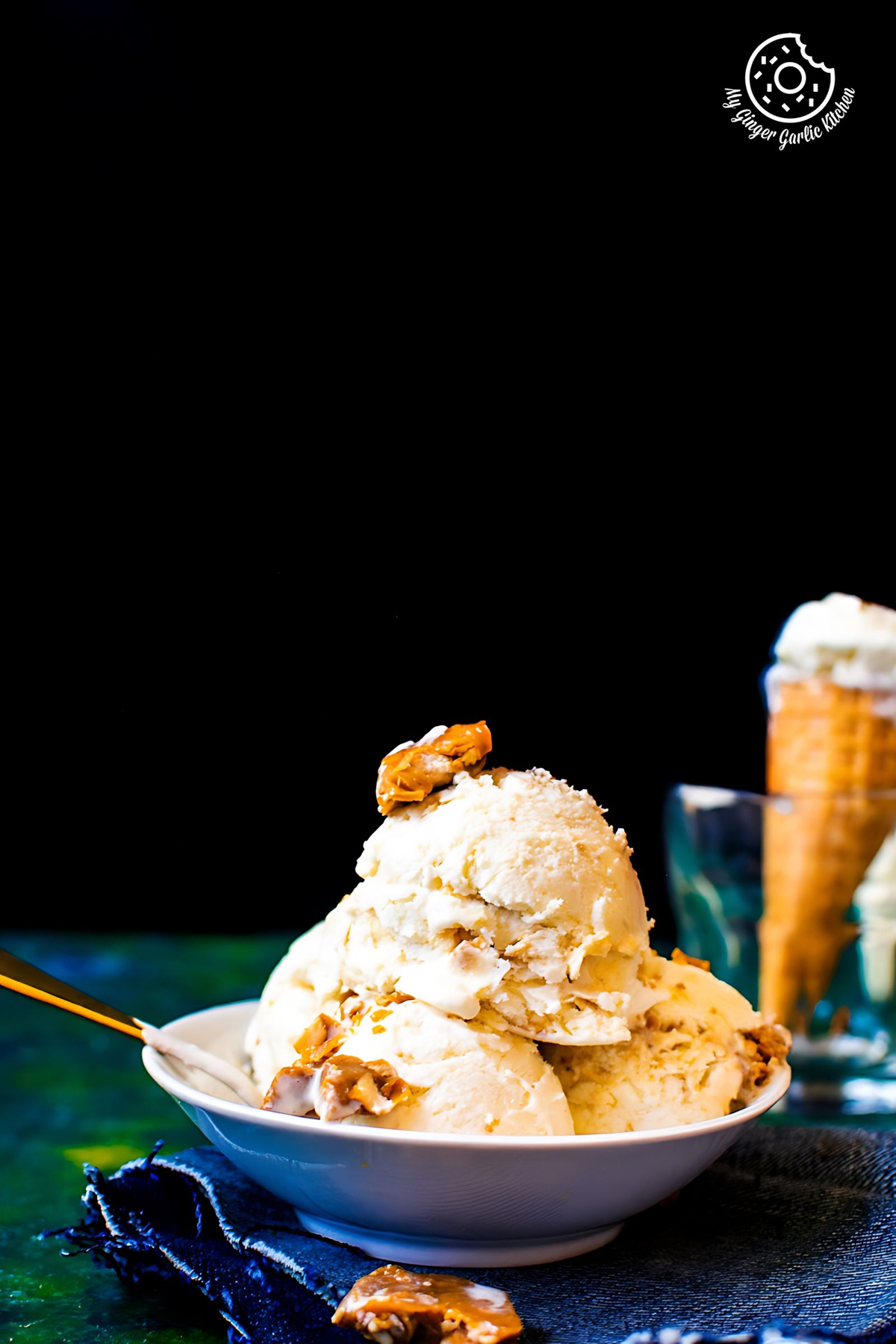 First indications of summer here in Nordics:
What do you do when you see the first signs of summer? What do you do when you suddenly see sunlight starts feeling hot? I mean, hot in a good way.
Living in a cold and dark country I know the importance of the sun and sunlight. The summer is more than welcome in my part of the world. People go crazy during summer months, everyone here looks so nonchalant and happy. Witnessing people sunbathing in gardens and enjoying their favorite ice cream is a common sight these days.
I am no different. I also enjoy my fair share of ice cream. And why shouldn't I, because summer is a festive season. Isn't it?
Related: No Churn Peach Blueberry Ice-Cream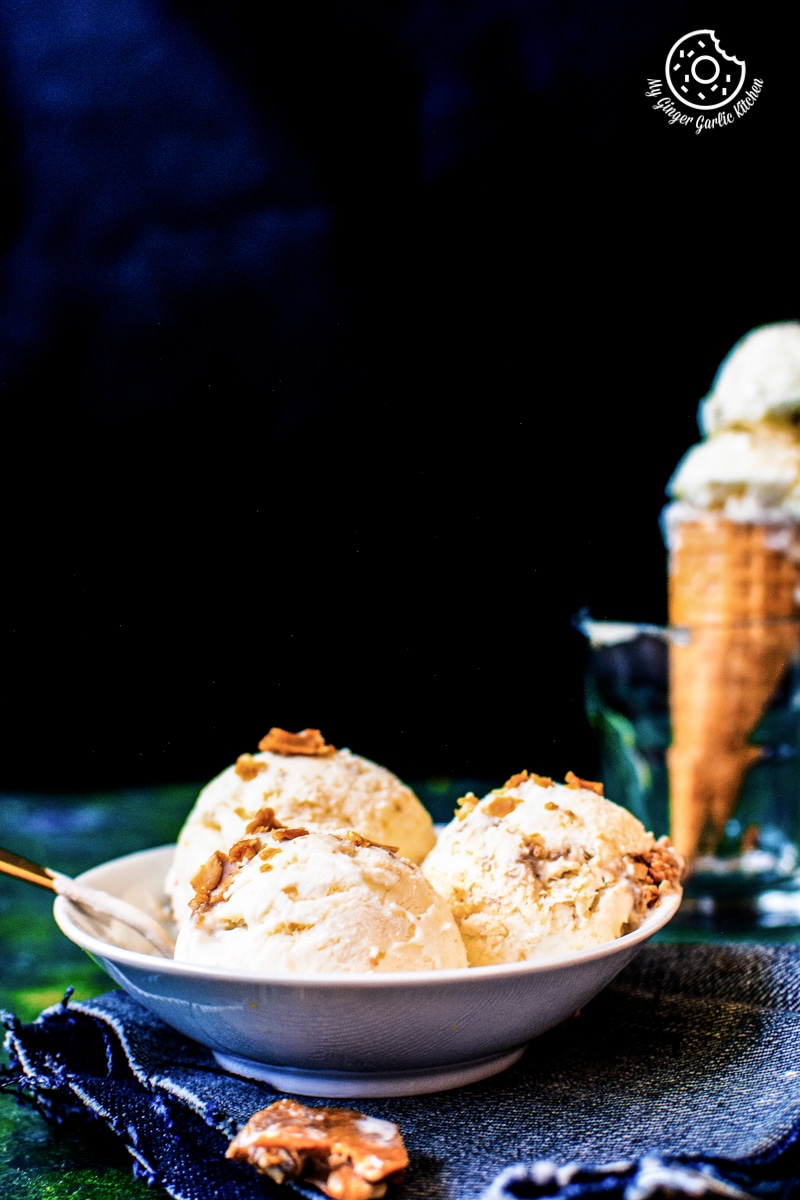 Frozen Treats Are Always The Best:
I believe that there is no such thing as too much ice cream during the summer month. There is nothing like enjoying a scoop of one or two cold drool-worthy ice cream on a hot summer day. I don't mind attacking ice creams all over the year, but consuming them during summer is so much satisfying and fun.
Even though the formal summer here is still an about a month away, I just can't wait to enjoy the Summer in full swing and eat my favorite watermelon treats, lemonades, frozen desserts, summer bruschetta, summer salads and much more.
So habitually when I begin to see the signs of summer, I run to the grocery and buy some whipped cream to make ice cream. What else could be better than a creamy, chilled and deliciously addictive treat to celebrate the arrival of good old warm days? Right?
Related: Creamy Coconut Coffee Chocolate Chunk Ice-Cream
We customarily don't need an affirmation to eat an ice-cream. But if you still need it, then I would say that 'life is short so enjoy an ice cream before it melts'. 😉
I have mentioned many times earlier that I adore the sweet stuff and ice creams are one of my favorite desserts. So I can tell you that I certainly don't need an excuse to eat a scoop or two for cherishing an ice cream.
Related: How To Make No-Churn 3-Ingredient Rose Ice Cream Recipe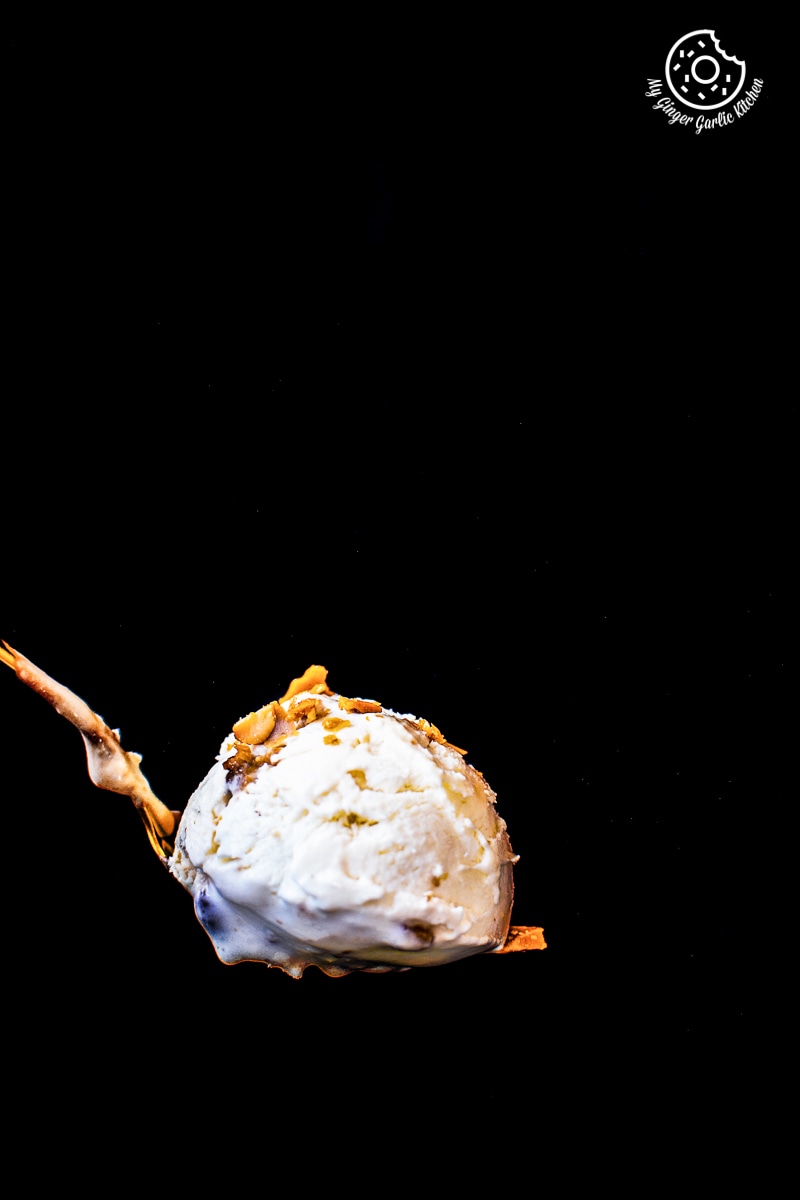 What is Indian Butterscotch Ice Cream?
Butterscotch ice cream is very popular in India. But we don't get butterscotch ice cream here, so making it at home is the only way to cherish it.
Indian Butterscotch crunchy ice cream is amazingly delish, smooth, creamy and one of the most desired frozen treats amongst Indians.
When I was little, ice creams were one of the most favored summer desserts. And butterscotch is one of the most desired ice cream flavors amongst Indians. If you ask me, I am no exception at all.
While growing up in India, butterscotch ice cream was one of my favorite ice cream flavors. During every visit to an ice cream parlor, I almost had this butterscotch flavored ice cream every time.
Related: Eggless Chocolate Hazelnut Ice Cream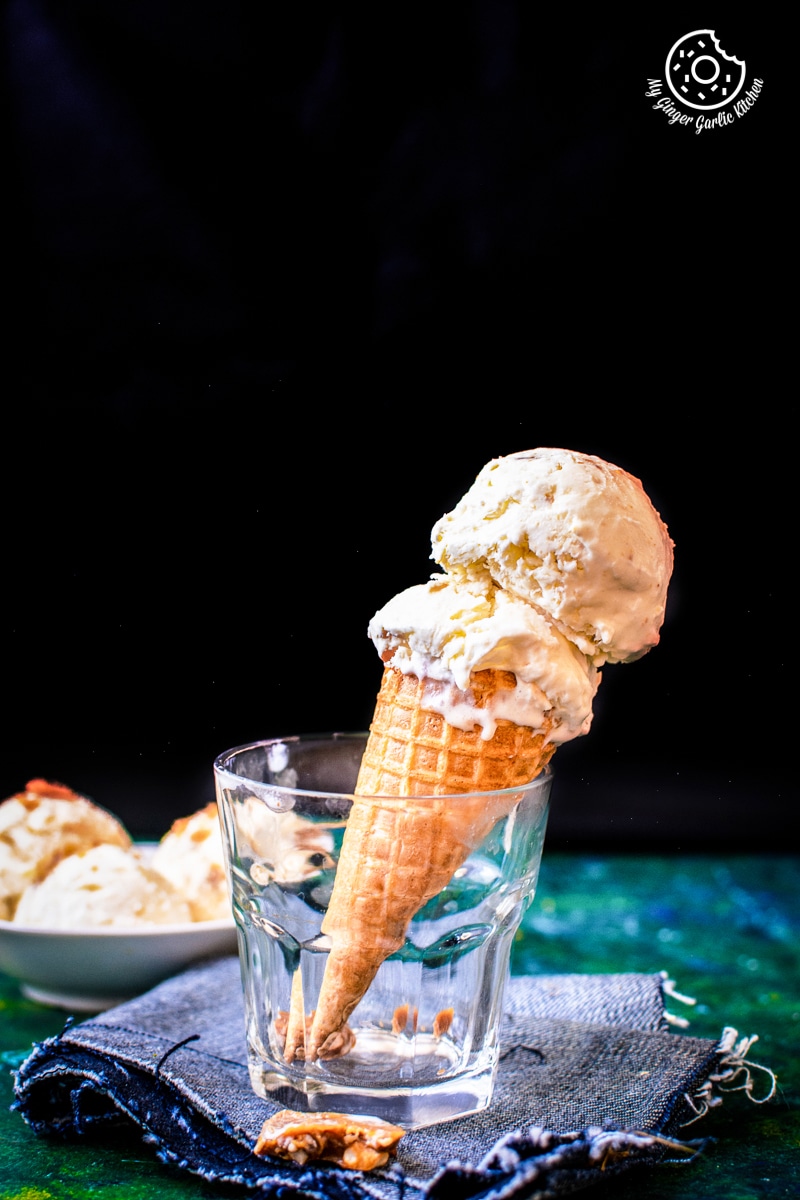 First Ice Cream Recipe Of this year:
Today's recipe no churn Indian butterscotch ice cream is excellent for summer. This is the first ice cream recipe of this year, but I can assure you that this is just the beginning. Many more are waiting in the line.
In the past two weeks, I have made 3 batches of my favorite ice butterscotch ice cream. Clearly, I am actually very excited to share this recipe.
This homemade Indian butterscotch ice cream is perfectly smooth, creamy. It has lots of crunchy cashew nuts praline in every bite. Can it get any better? I can assure that you won't be disappointed with the results. The outcome would be mind-blowingly good. It would turn out exactly the one you get in your favorite ice cream parlor.
Related: Vegan Honeydew Melon Banana Ice Cream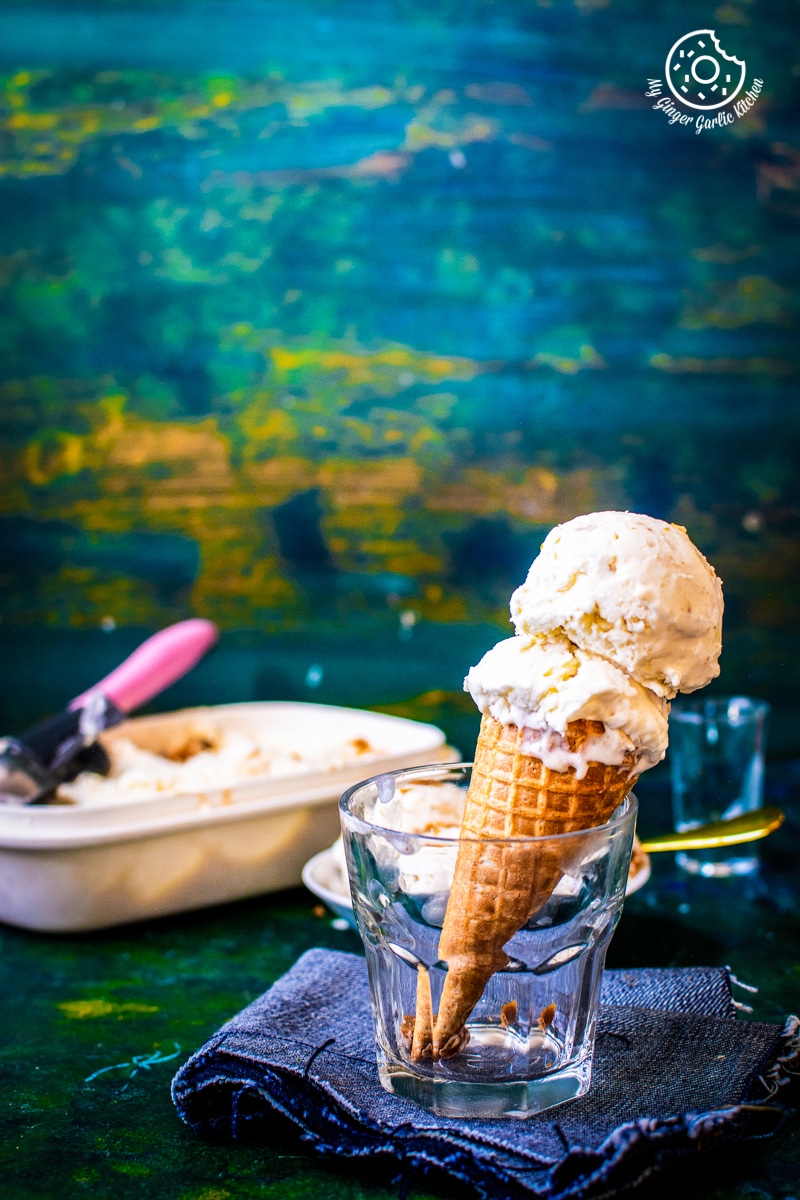 Making this ice cream is easy:
This ice cream is super easy to make. You'll have a tasty luscious treat ready in just 15 mins (freezing time excluded).
No fancy gadgets or ice cream maker is needed for making this ice cream. You'll only need a hand mixer and a bowl for making this ice cream.
Related: Classic and Easy Cherry Lassi Ice Cream

Some Important Points:
To the perfect richness and texture, I have used 2 cups heavy cream and 1/2 cup whole milk.
The butterscotch ice cream in India has coarsely powdered praline added to it and it's very delicious. For this butterscotch, I have made homemade butterscotch praline powder.
The butterscotch essence is easily available at any Indian-Asian grocery stores.
Related: Vegan Coconut Blueberry Ice-Cream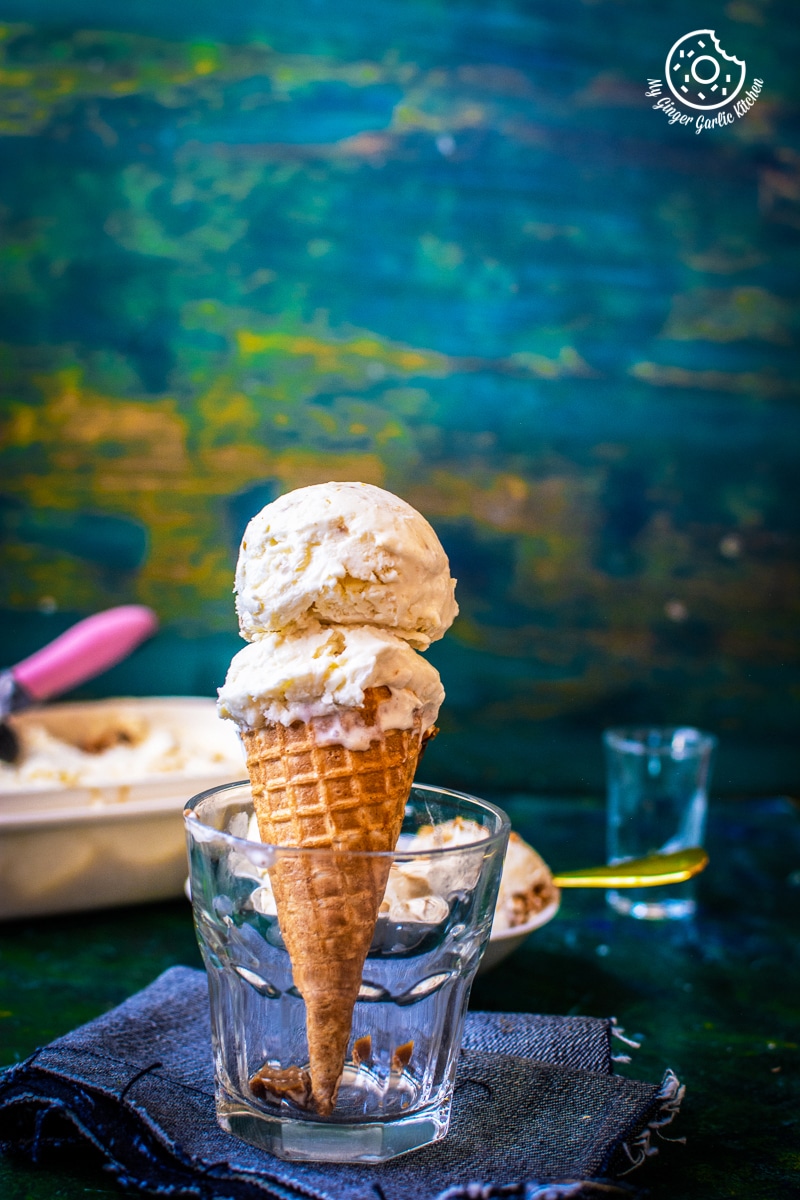 How to make Indian Butterscotch Ice Cream?
Indian Indian Butterscotch Ice Cream is super easy and fun too. You just need to mix, freeze and scoop.
Making this ice cream is a cakewalk. Heavy cream, milk, butterscotch essence, condensed milk, and powdered praline is all you need for this ice cream. You have to simply mix these ingredients to get a palatable, and delectable ice cream.
After mixing, pour the ice cream into a freezer-safe container and freeze for 6-8 hours or overnight. And SCOOP!
Simply follow the step by step video tutorial below to make your very own homemade delightful no churn butterscotch ice cream recipe.
Related: No-Churn Coffee Caramel Chocolate Ice-Cream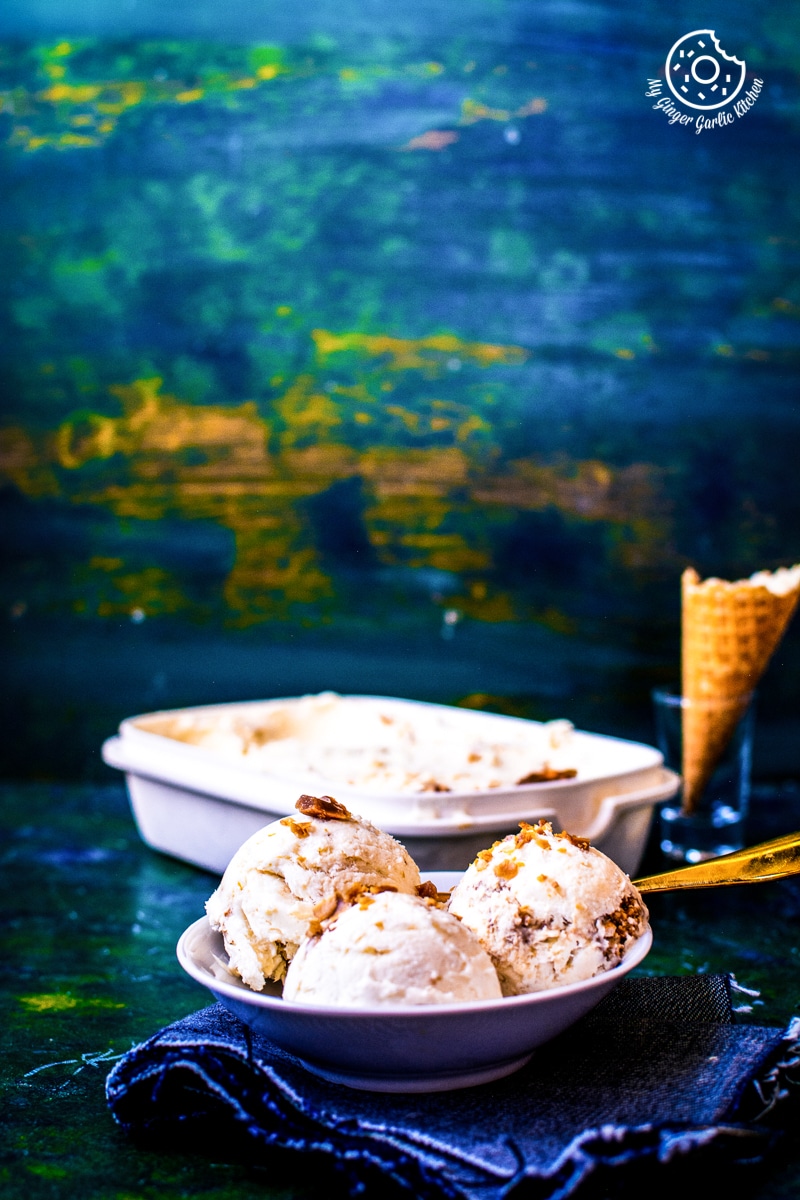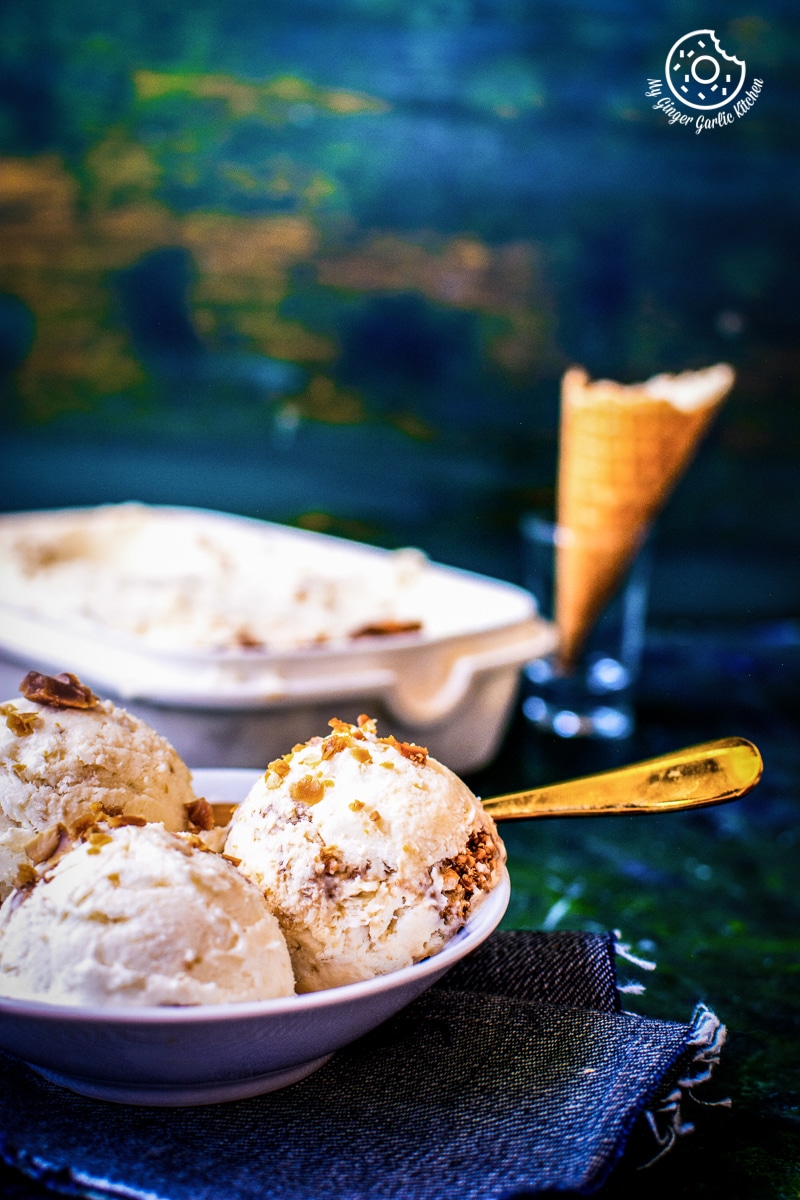 Related: Chocolate Chip Cookies Salted Peanuts Caramel Ice-cream Sundae
Indian Butterscotch Ice Cream Recipe - No Churn - Eggless

[Recipe]
Butterscotch is a very popular ice cream flavour in India. This creamy ice cream has a delicious butterscotch flavor and is loaded with butterscotch crunches.
---
★★★★✰
(Rating:
4.2
from
109
reviews)
---
| Prep time 🕐 | Cook time 🕐 | Total time 🕐 |
| --- | --- | --- |
| | | 20 mins |
| Category ☶ | Cuisine ♨ | Serves ☺ |
| Dessert | World | 8 |
| Nutrition Info ⊛ | | Serving size ⊚ |
| 202 calories | | 1 serving |
---
INGREDIENTS
For Praline:
4 tablespoons sugar
4 tablespoons cashew nuts, chopped
1 tablespoon butter
For Butterscotch Ice Cream:
2 cup chilled whipping cream
1 can (400 ml) sweetened condensed milk
1/2 cup chilled milk
1 1/2 teaspoon butterscotch essence
Coarsely powdered praline, as desired
---
INSTRUCTIONS:
For Praline:
In a pan, add the sugar and caramelize it in medium-low heat. Keep stirring.




Once the sugar melts and caramelizes add in the butter.




Stir well until butter melts and syrup caramelizes.




Add the chopped cashews and stir well. Immediately remove from heat.




Transfer the sugar-nut mixture to a greased plate or onto a parchment paper and spread it evenly. Let it cool down completely.




Once it's cooled, scrape it out using a knife.




Coarsely powder the praline in a mortar pestle or in a food processor. (Make sure you have coarse pieces, they taste really good).




Reserve 3 tablespoons for garnishing, and keep it aside.



For Butterscotch Ice Cream:
Refrigerate a mixing bowl for 1 hour.




Add chilled whipping cream to the refrigerated mixing bowl.




Using a stand mixer, beat the cream until it forms stiff peaks.




Add the sweetened condensed milk.




Add chilled milk and butterscotch essence.




Whisk well to combine.




Add powdered praline and mix well.




Transfer to a freezer safe container and sprinkle 2 tablespoons praline crunch on top.




Cover with the lid and then with cling film. Freeze for 6-8 hours or overnight.




Scoop out ice-cream in a cup or cone.




Top butterscotch ice cream with some praline and serve chilled.



---
WATCH RECIPE VIDEO: Click the play button and video will load ...
---
NOTES:
I didn't add any artificial colors, but you can also add yellow food color to the ice cream.
---
If this recipe helped you, then please spread the word by sharing and
subscribing
to us on YouTube to get more such Recipe Videos.
---
Your feedback is so helpful for me and other MyGingerGarlicKitchen readers. So, for Facebook and Instagram, please mention
@MyGingerGarlicKitchen
or
#mygingergarlickitchen
. I would love to see your photos. :)
---
Author:
Anupama
Recipe Source Link:
https://www.mygingergarlickitchen.com/indian-butterscotch-ice-cream-recipe-video/
Date Published:
2021-07-07
• • • • • • • • • •