Learn to make Watermelon Salsa Recipe | Watermelon Orange Salsa Summer Bites — It's super simple, cool and refreshing with a nice little spicy kick. You just need a sweet, ripe, pink, juicy watermelon — and the salsa would taste amazingly delicious. This recipe is quick and easy to prepare and tastes great with any crackers.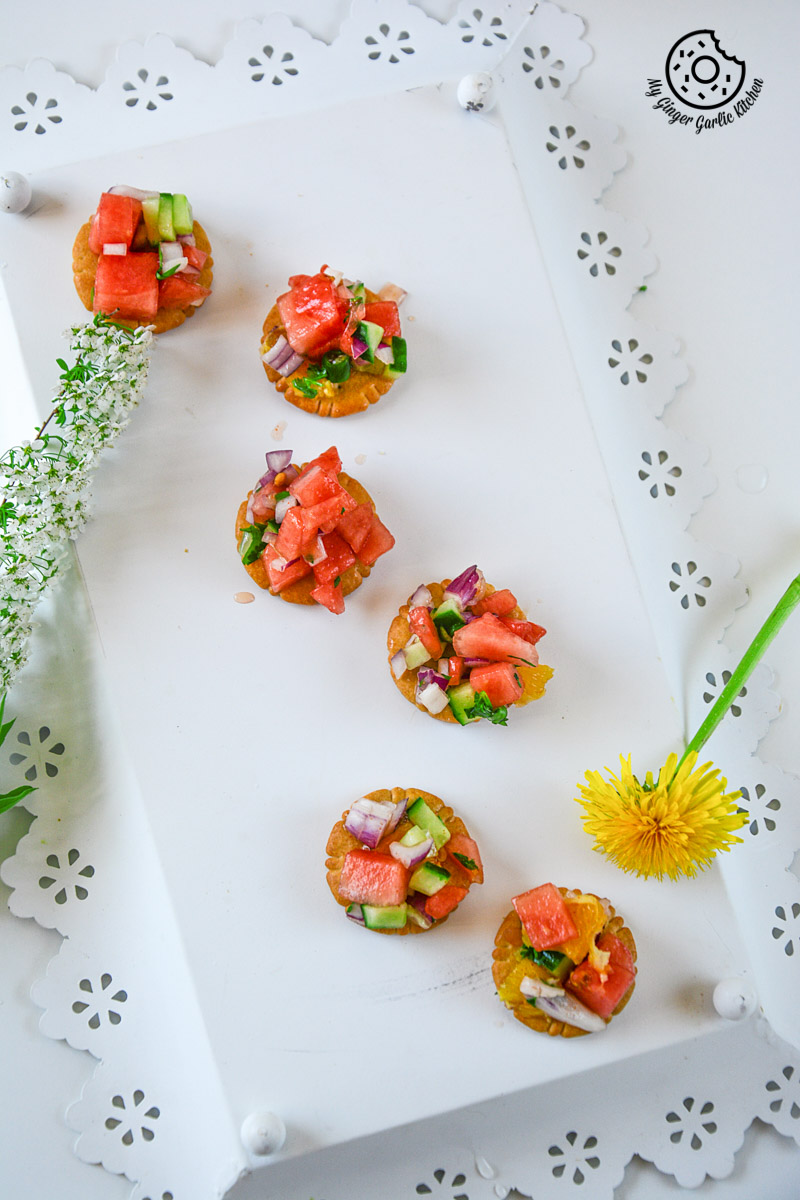 Hello on a Happy Monday!
Happy Monday? Yes, Happy Monday! That means, no Monday blues at all!
But how is it possible?
Here is something which will definitely cheer you up, if you are someone who feels Monday Blues. And this is exactly what you need to get rid of Monday blues.
A nice and refreshing food can refresh our minds too. You agree? I have some nice and exhilarating Watermelon Orange Salsa Summer Bites to share with you. This might be all you need to enliven your day!
Well, you need this nice looking and refreshing food. And of course some strong coffee too! 😉
Related: Green Tea Watermelon Detox Smoothie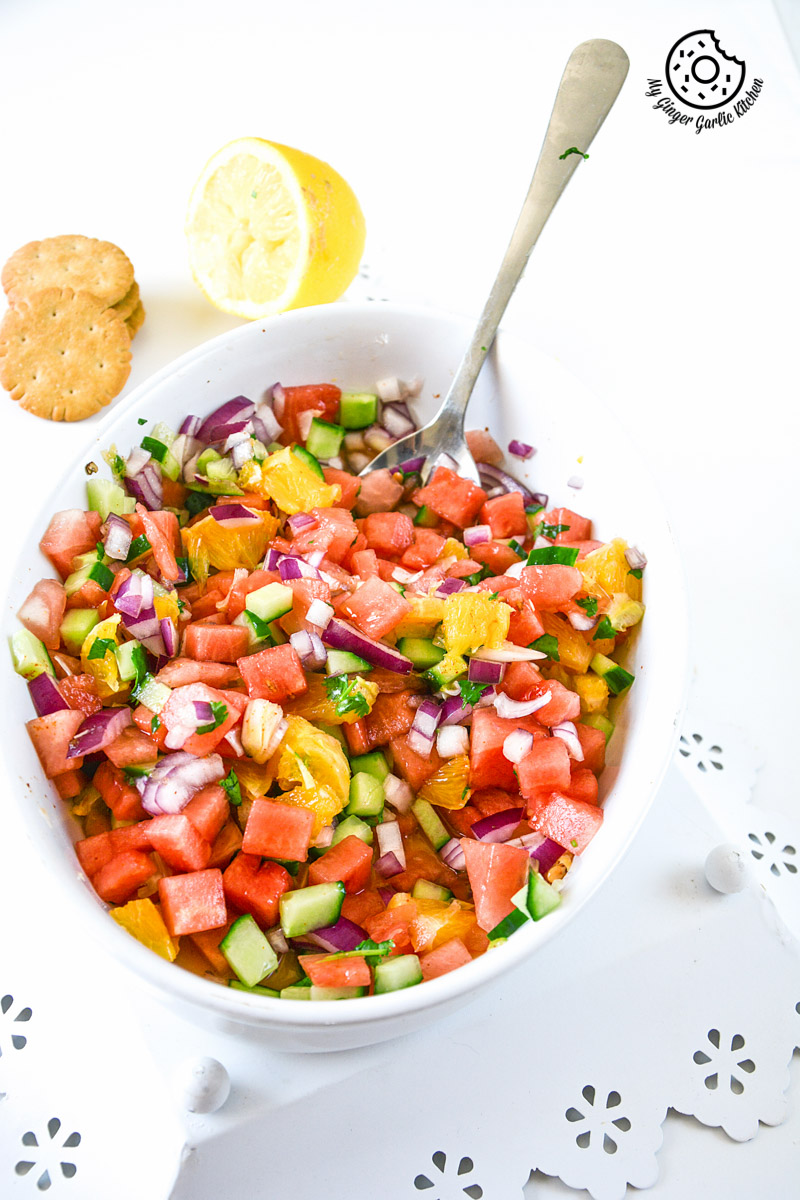 Some coffee and nice refreshing food. Wouldn't that be really awesome? And that all is in your hands to make it happen.
See, you can easily get a cup of coffee, and then these watermelon orange salsa summer bites are darn easy to make, and have all the capability to revitalize all your senses!
That's why I am sharing this today. And yeah, there's one more reason. Do you guys remember that I promised to share all my watermelon recipes one by one in my recently shared WATERMELON ONION YOGURT CHIP DIP post.
Related: Juicy Watermelon Pizza Bites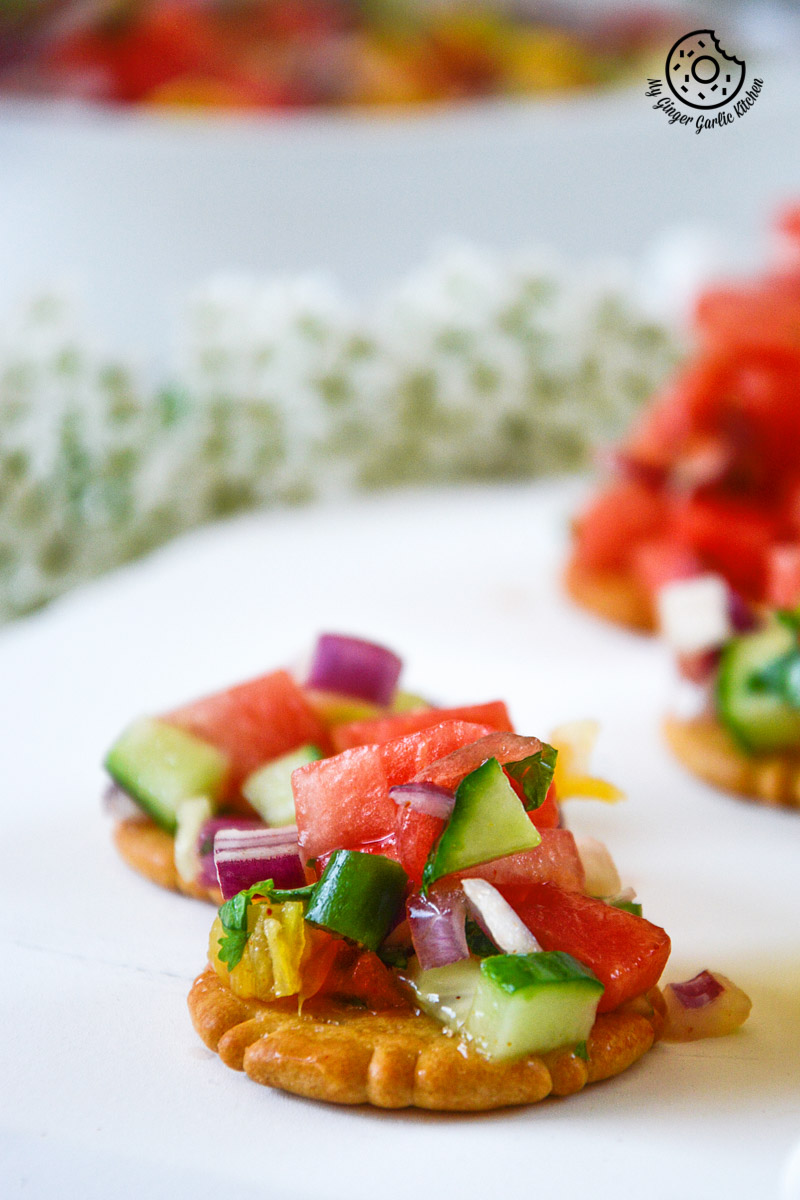 So, I am keeping my promise, and here is the second recipe to continue my watermelon mania.
You will just have to eat these vibrant and luscious, crisp bites. And these fun treats will take over the job to make you feel refreshing again.
That's the point! Won't it be Monday fun?
And whenever there is FUN, there can't be blues! 🙂 So let's eat these salsa summer bites for lunch or brunch to kick off Monday blues.
Related: Tortilla Poha With Kiwi Peanut Salsa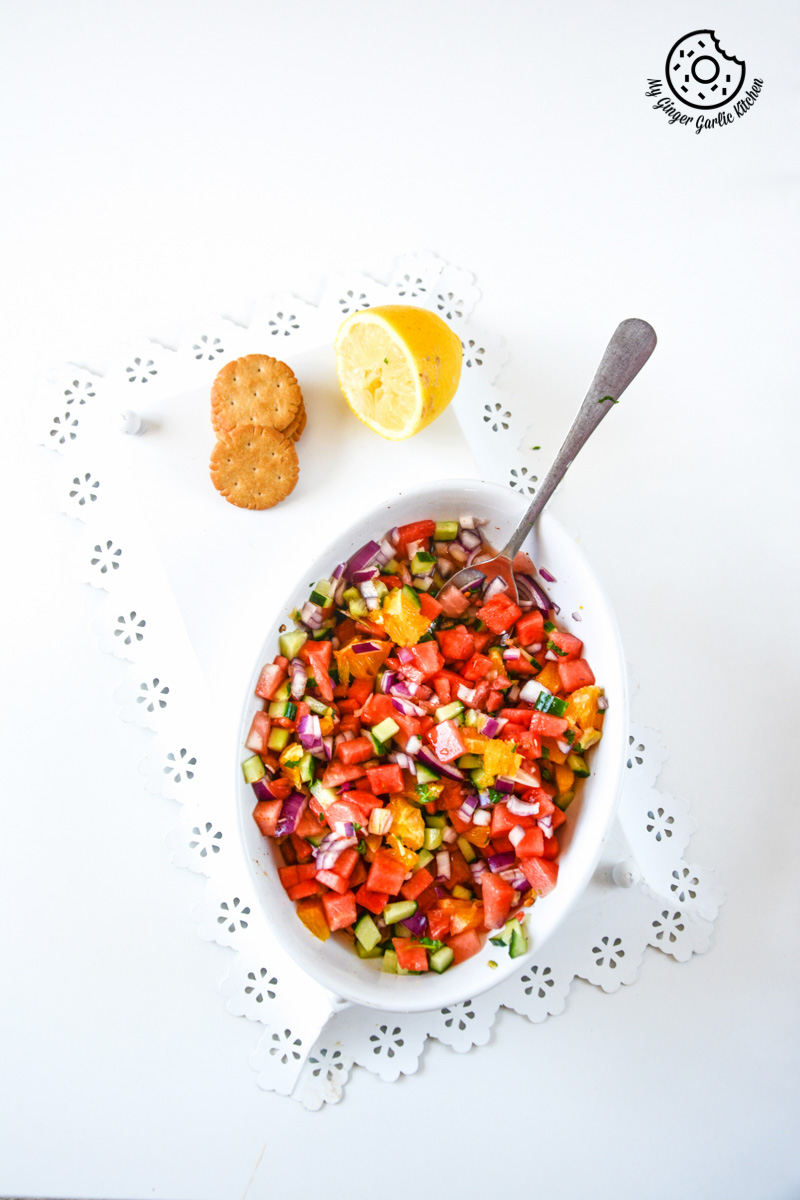 Well, by now you know about my obsession with this new favorite thing called 'WATERMELON'. So, that's obvious that I can talk all day about watermelon goodness.
Oh, and these summer salsa bites are just so YUMMY!
Well, friends, I have always loved salsa, and now there is also watermelon in salsa. For me, there should always be some fruits in salsa. 😀
And summers are the best times to enjoy all salsa dishes. The warm weather and days are full of light, beach trips along with some fresh food!
Related: Kidney Bean Tostadas with Bell Pepper Salsa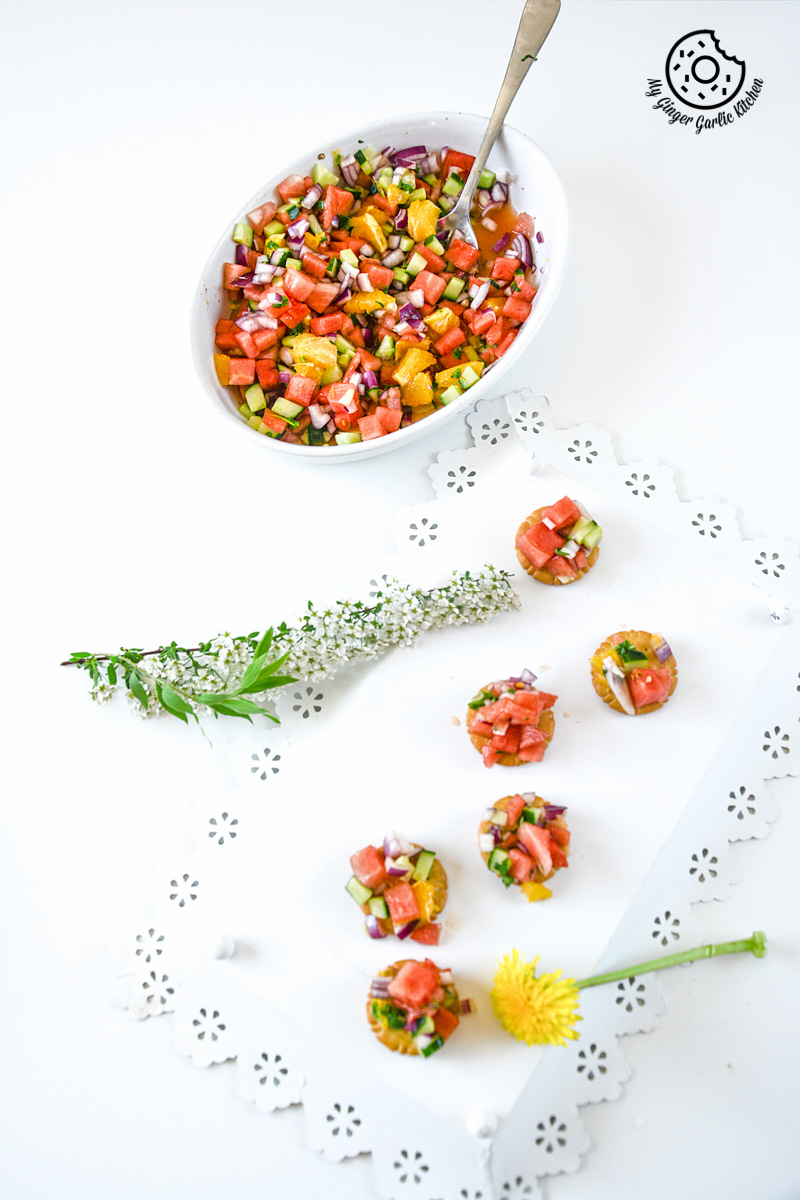 When it comes to summer food — it should be light, fresh and packed with flavors. So salsa is the best to fit with the above. The combination of watermelon, red onion, oranges, cucumber and cilantro give a refreshing and natural sweetness, while lime juice and jalapeno add a nice bite.
It's super simple, cool and refreshing with a nice little spicy kick. This recipe is quick and easy to prepare and tastes great with any crackers.
To go with this amazing Watermelon Orange Salsa, I used my favorite round crackers. Believe me, these little bites of joy would make an ultimate snack.
Sometimes, when I am not too hungry, I eat it for lunch! And it serves the purpose well! And why won't they?
Related: Pineapple Salsa Papadum Cones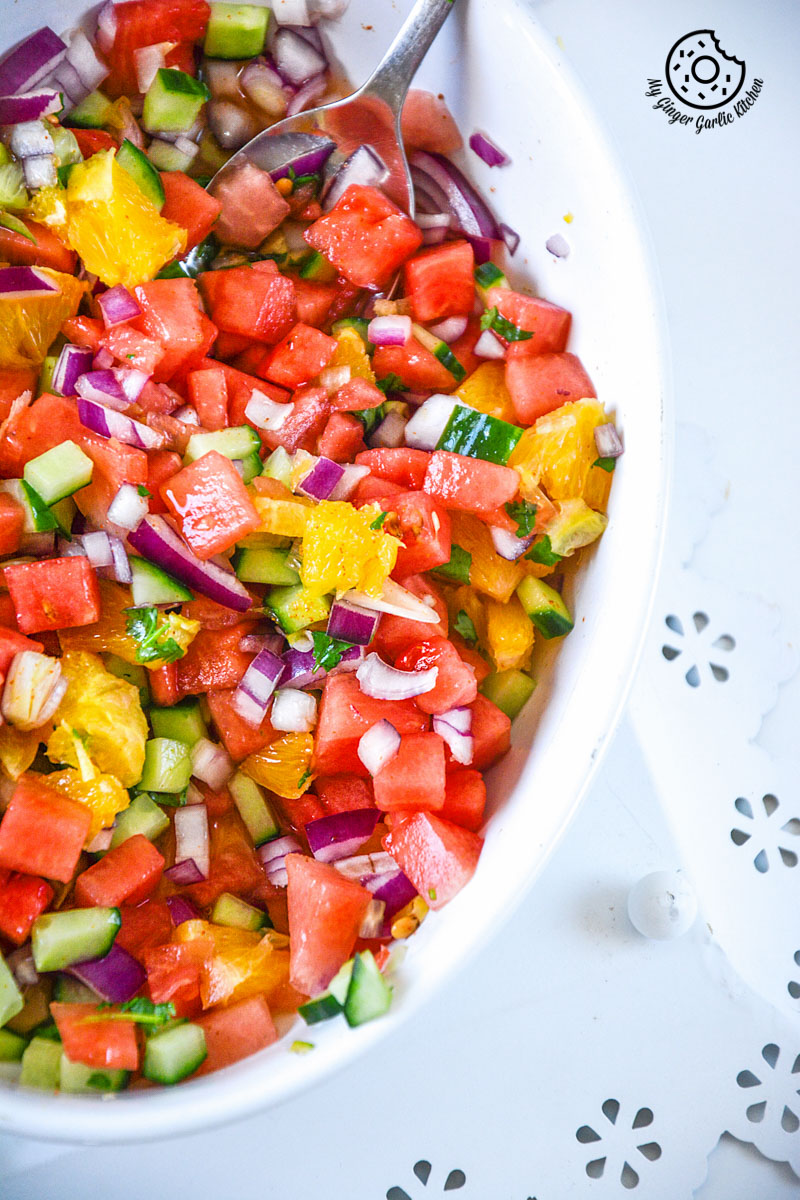 Watermelon Orange Salsa Summer Bites are wholesome snacks that fit very well into my new wholesome eating plan.
And these are fun for kids too.
They look pretty and full of gorgeous colors. And they taste amazing too. That's a BONUS!!
You know when I started eating bites, I initially thought I will eat just 4-5 bites. But then, with every new bite, I told to myself, "I'll only eat one more cracker." And after that! Well, OK, maybe just one more. Or two, or three, or four….
The rest is kept in the refrigerator without crackers, to be eaten later.
Related: Pink and White Refreshing Watermelon Lemonade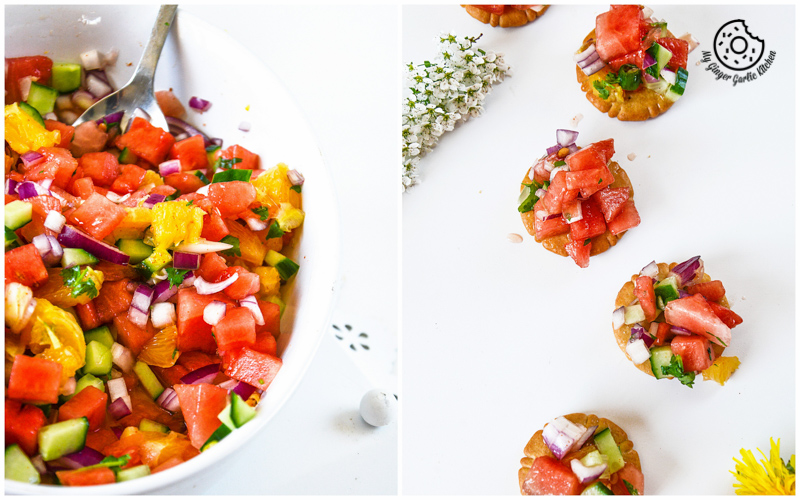 And I did eat that whole remaining batch in my subsequent meal. See, I told you I am being a replica of my sister in terms of craving watermelon. 😉
You just need a sweet, ripe, pink, juicy watermelon — and the salsa would taste amazingly delicious.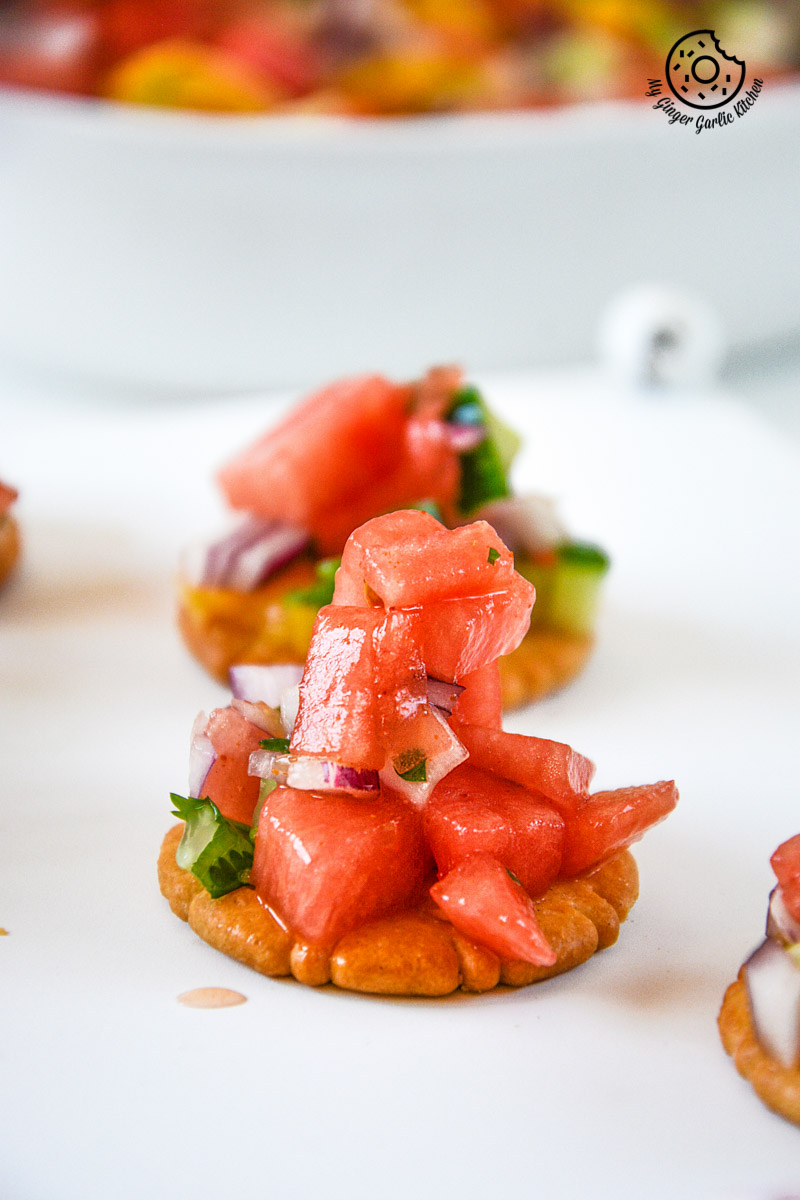 ADDICTIVE:
This is so addictive, so I seriously suggest you to double the recipe if you are making for your family. You will all end up eating it too much! But don't worry you would still not feel bloated, as watermelon is full of water. So you will feel lighter again after a while! 😉
So don't forget to make some extra, or you will have an empty plate for yourself! 😉 I am not kidding! 🙂
Let's now make this refreshing, quick and addictive lip-smacking salsa!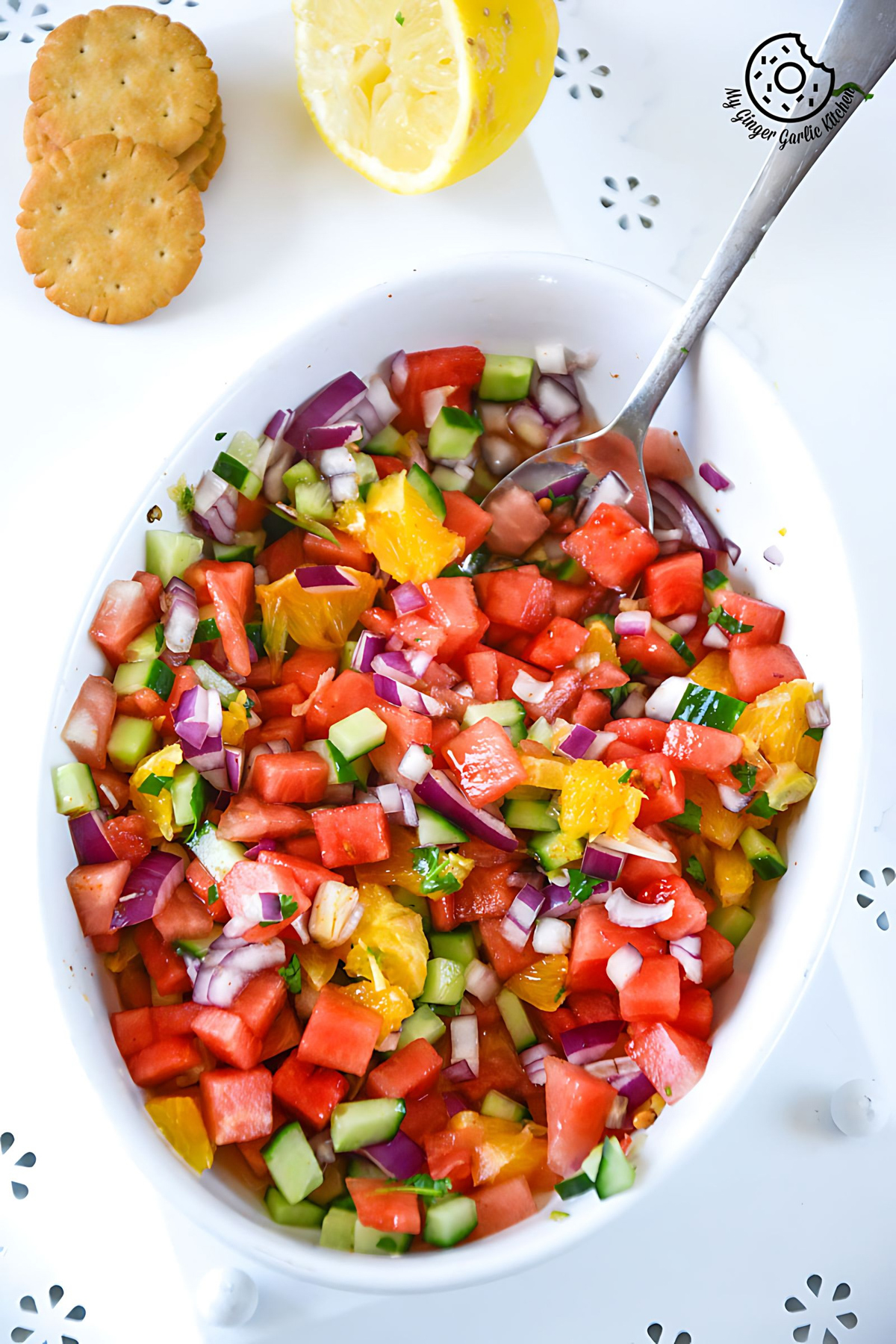 ---
Watermelon Salsa Recipe

[Recipe]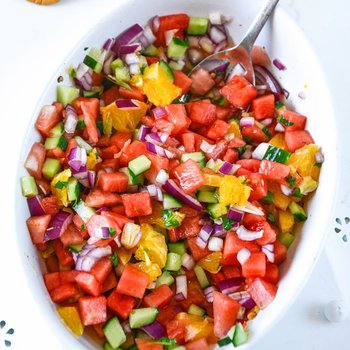 Watermelon Salsa is a super simple, cool and refreshing salsa with a nice little spicy kick. You just need tossing and chopping to make this delicious salsa.
---
★★★★✰
(Rating:
4.4
from
90
reviews)
---
| Prep time 🕐 | Cook time 🕐 | Total time 🕐 |
| --- | --- | --- |
| | | 14 mins |
| Category ☶ | Cuisine ♨ | Serves ☺ |
| Appetizer | Spanish | 4-6 |
| Nutrition Info ⊛ | | Serving size ⊚ |
| 215 calories | | 1 serving |
---
INGREDIENTS
For Watermelon Salsa
watermelon chopped - 3 cups
oranges slices, deseeded & chopped - 1
cucumber, peeled, seeded, and diced - 1 cup
fresh lime juice - 2-3 tbsp
sugar/honey - 2 tbsp
coarsely ground pepper - 1 tsp
jalapeno peppers, seeded and minced - 2
red onion, finely chopped - 1
lime zest - 1 tsp
coriander, chopped - 2 tbsp
hot sauce - ½ tsp
cayenne pepper - ½ tsp
salt, as per taste
round crackers - 20-30 pcs
---
INSTRUCTIONS:
Making Dressing //
Stir together the lime zest, lime juice, sugar, ground pepper, cayenne pepper, hot sauce in a bowl. Keep this dressing aside.
Making Watermelon Salsa //
Take a large mixing bowl. Add watermelon, oranges, cucumber, onion, jalapeno, coriander and mix well. Add dressing to it, and gently toss to coat.
Cover and chill the salsa until ready to serve. serving and stir.
Serving //
To assemble top each cracker with a tsp salsa, and serve immediately.
Refrigerate any leftovers.
---
NOTES:
No notes for this recipe.
---
If this recipe helped you, then please spread the word by sharing and
subscribing
to us on YouTube to get more such Recipe Videos.
---
Your feedback is so helpful for me and other MyGingerGarlicKitchen readers. So, for Facebook and Instagram, please mention
@MyGingerGarlicKitchen
or
#mygingergarlickitchen
. I would love to see your photos. :)
---
Author:
Anupama
Recipe Source Link:
https://www.mygingergarlickitchen.com/watermelon-orange-salsa-summer-bites/
Date Published:
2023-07-14
• • • • • • • • • •