Learn to make Watermelon Onion Yogurt Chip Dip | Watermelon Raita Recipe — This watermelon onion yogurt chip dip is indeed a light and refreshing classic dip perfect for hot days. The grated watermelon oozing sweet juice adds so much flavor and natural sweetness. And onion adds the perfect crunch.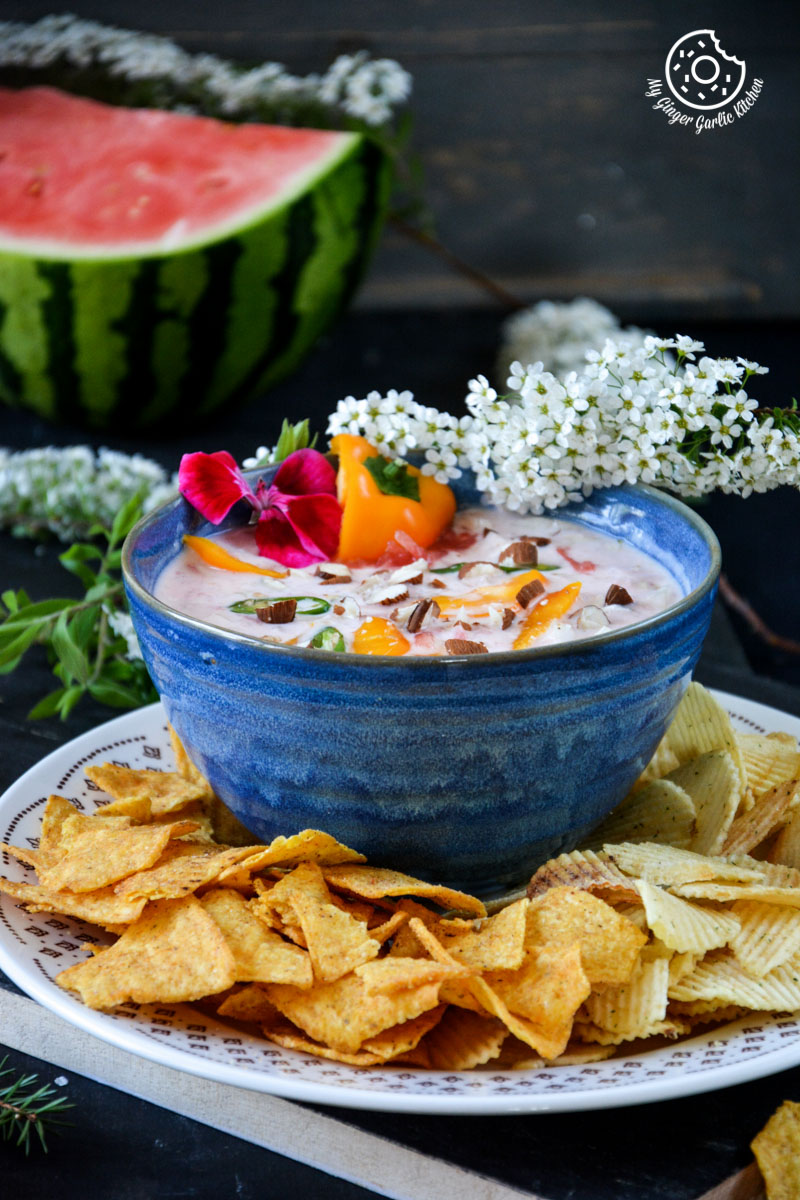 Finally, May has almost arrived! Yeeeeah!
I have something to reveal to you all with the beginning of this new month. It is that currently, I am obsessed with watermelons.
I could officially say that because only recently I have made over half a dozen watermelon recipes. Is it crazy? No, it isn't. Right?
But what would you say about this craziness if I tell you that I have made them all of them in a row! So, that proves that I am officially crazy about watermelons. 🙂
I don't know how long would it be like that, but this is it for the time being! Anyways, it's the beginning of a new month. So there will be some new favorite things too!
Okay! okay! But that is only half the truth. The other half is that I have made some other dishes too so that my dear husband and lovely daughter would not have to suffer with my hankerings! 😉 Now I earnestly think that I must stop making watermelon recipes for a while.
Related: Green Tea Watermelon Detox Smoothie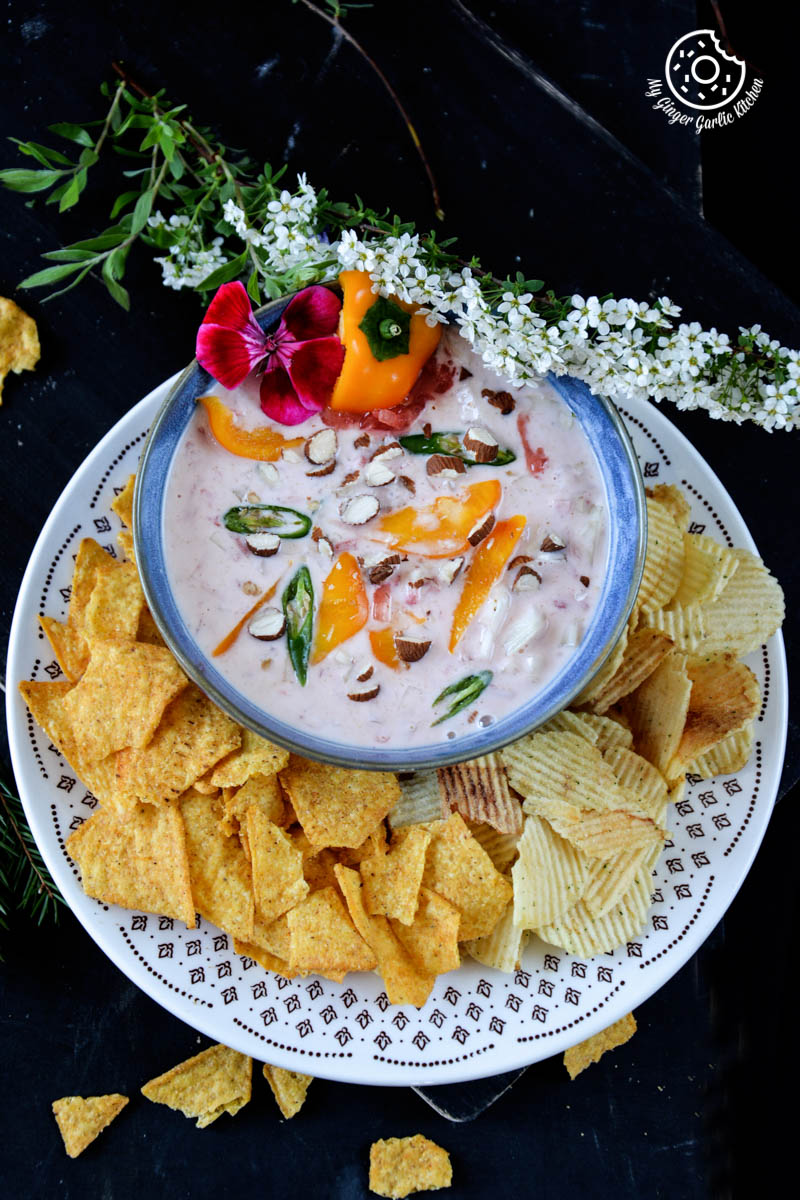 Having said that, I still remember all those happy times of the past, when my sister was so crazy about watermelons. This was the time when we were kids. No wonder that she is still crazy about this luscious fruit.
Whenever watermelons were available, she used to eat it a lot. And by saying a lot, I really mean A LOT! It was like 4-6 times in a day. Sometimes it was her only meal during that time. And even that wasn't enough for her! 😉
However, when I look back in time, I wasn't keen about watermelons so much. But now, so many things have changed, including my taste for watermelons. Now, I have become my sister's replica in eating watermelons. I am as crazy about them as she is.
Related: Roasted Cauliflower Pilaf With Watermelon Sauce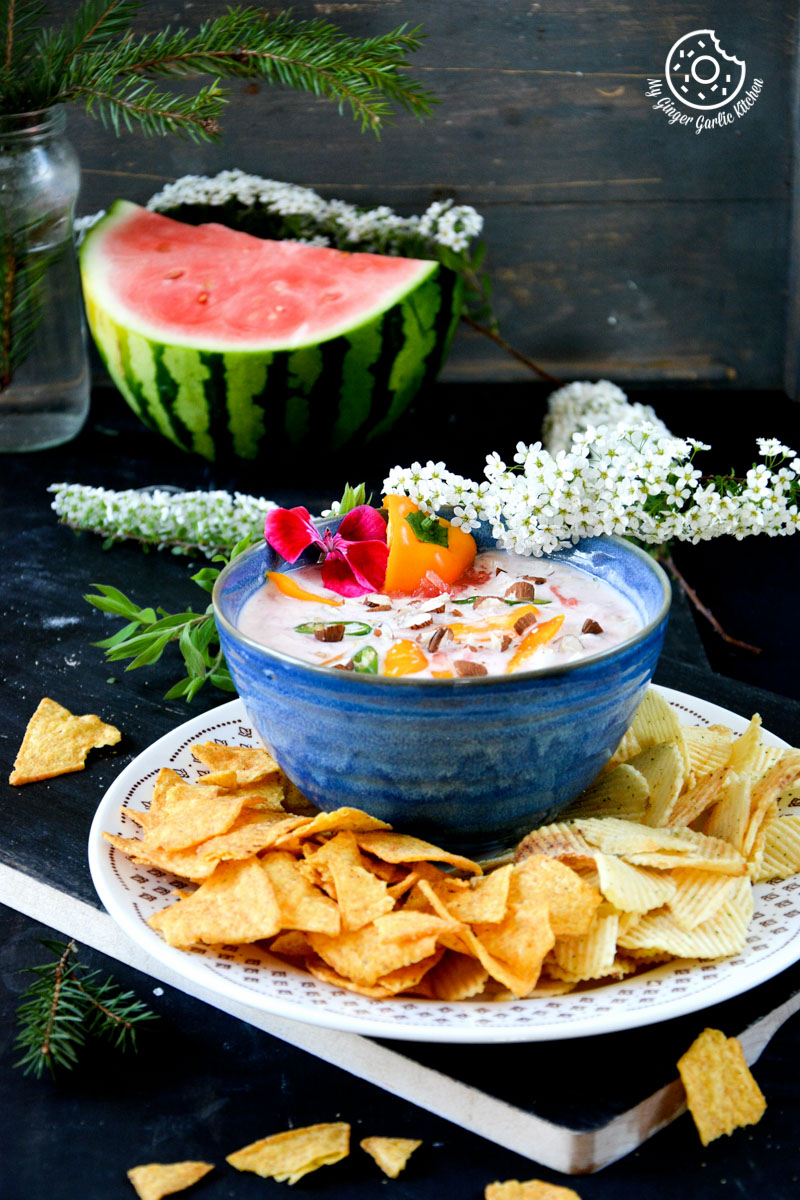 I also told her about this new FAVORITE thing of mine. And without a surprise, she got thrilled just by listening about watermelons. Her exhilaration showed that I have a tough competition to win for the award of 'Craziest Watermelon Eater in Family'. If I don't win that award, there would certainly be a tie between us, that I can tell definitely!! 🙂
But as of now, there is no such official competition. That makes me think I should organize that in our next family gathering! That would be so much FUN! 🙂
And by talking about watermelons, my sister and I both went down to our childhood through memory lanes. Ah! That time was so GOOD!
As I always say, time flies. Yes, time does fly! We need to cherish our present because time is like a toddler — small and precious. 🙂
Related: Juicy Watermelon Pizza Bites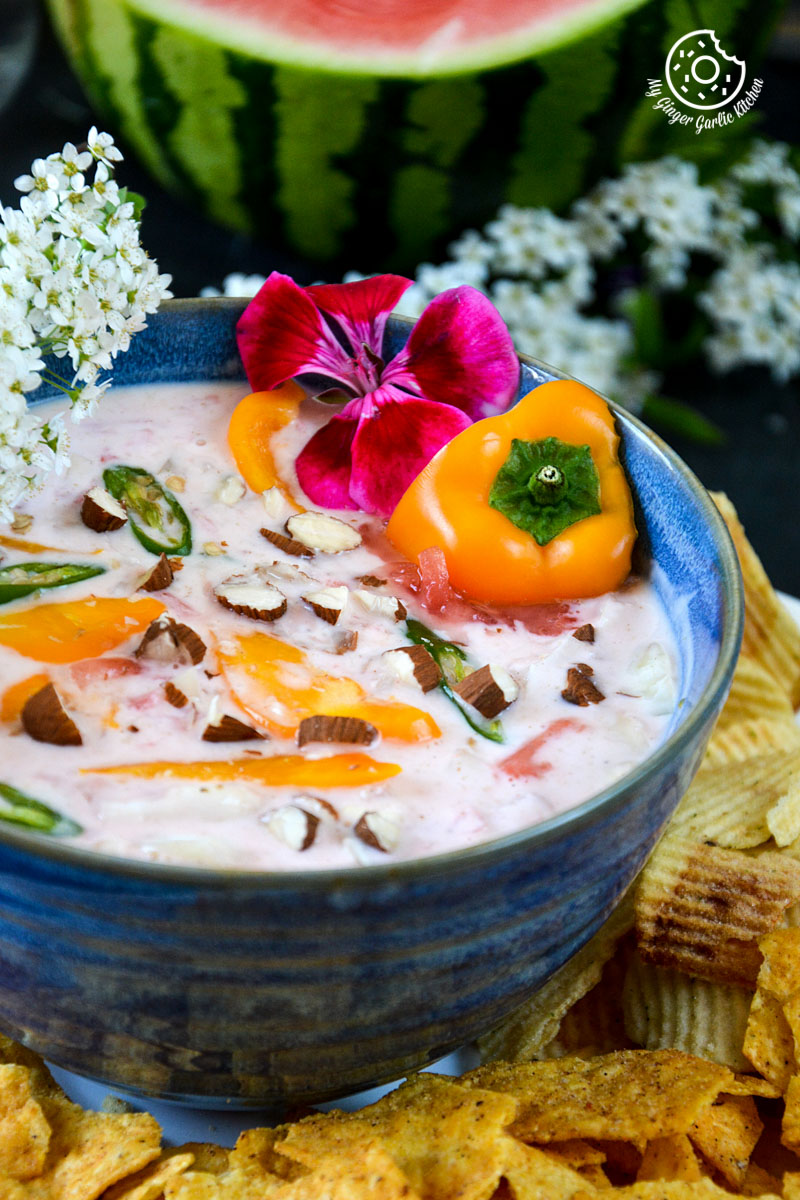 Back to the watermelons! I know what you guys are thinking. You are thinking that if I have made so many recipes with watermelons, then why didn't I share them on my blog yet!
Well, well, well! I will share them all with you but not in a row! So that you wouldn't get bored with the same ingredient! 🙂 How's the plan?
At least this is good for you guys that I would not force you to eat watermelons for so many meals! 😉
Alright, jokes apart! But mark my words, all these recipes are superior to each other in one way or the other. That's a promise! Hi5 to that! 🙂
Related: Pink and White Refreshing Watermelon Lemonade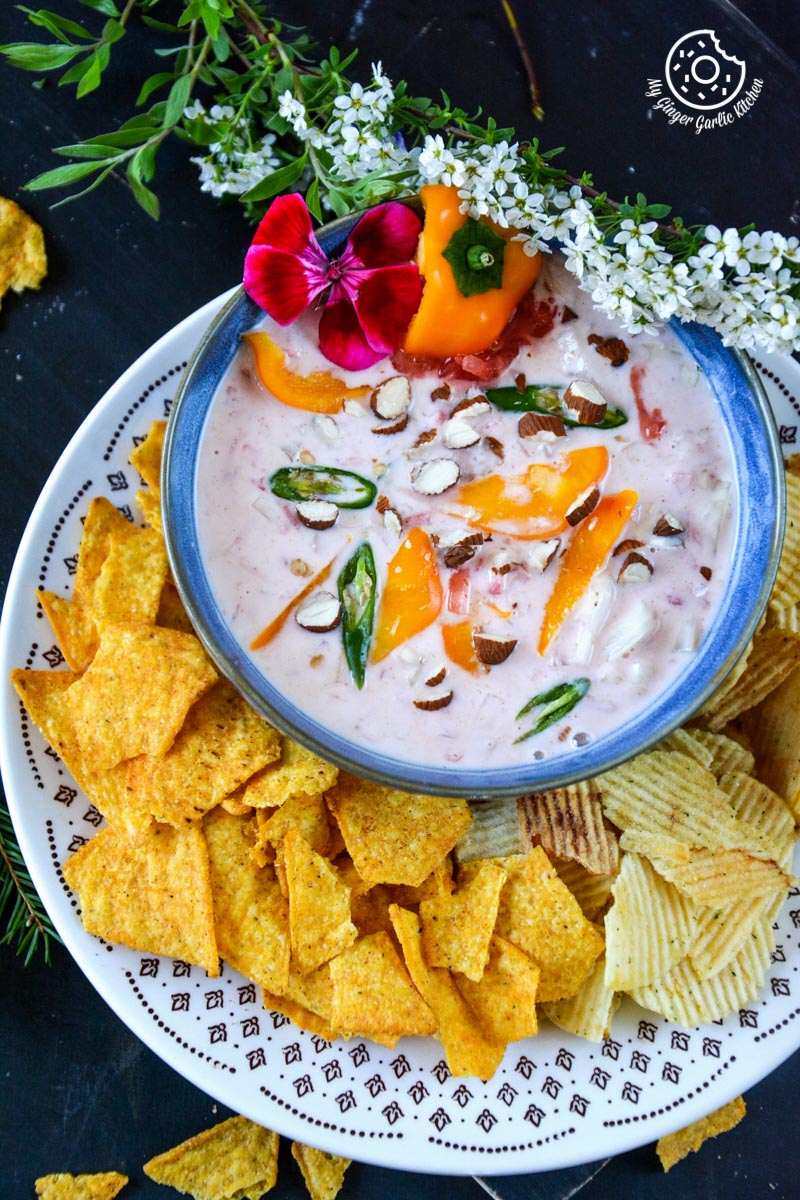 One by one I would share all of those refreshing and lip-smacking watermelon recipes with you all!
The Watermelon Onion Yogurt Chip Dip I am sharing today is wonderful for get-togethers. Also, this fabulous dip is absolutely perfect for the summer season when we all crave for a chilled yogurt dip.
For me, this dip is all about watermelon, so this would make a watermelon lover's favorite dip! Ultimate dip for summer snack time. Watermelon onion yogurt chip dip is indeed a light and refreshing classic dip perfect for hot days.
If you give me a choice between a cake or this fruity dip, you'll surely find me standing next to the dip. And by 'next to', I mean completely digging into the bowl full of fruity goodness. And I would be happier if I get to eat this dip alone without anything else!
Related: Chickpea Pancake Raita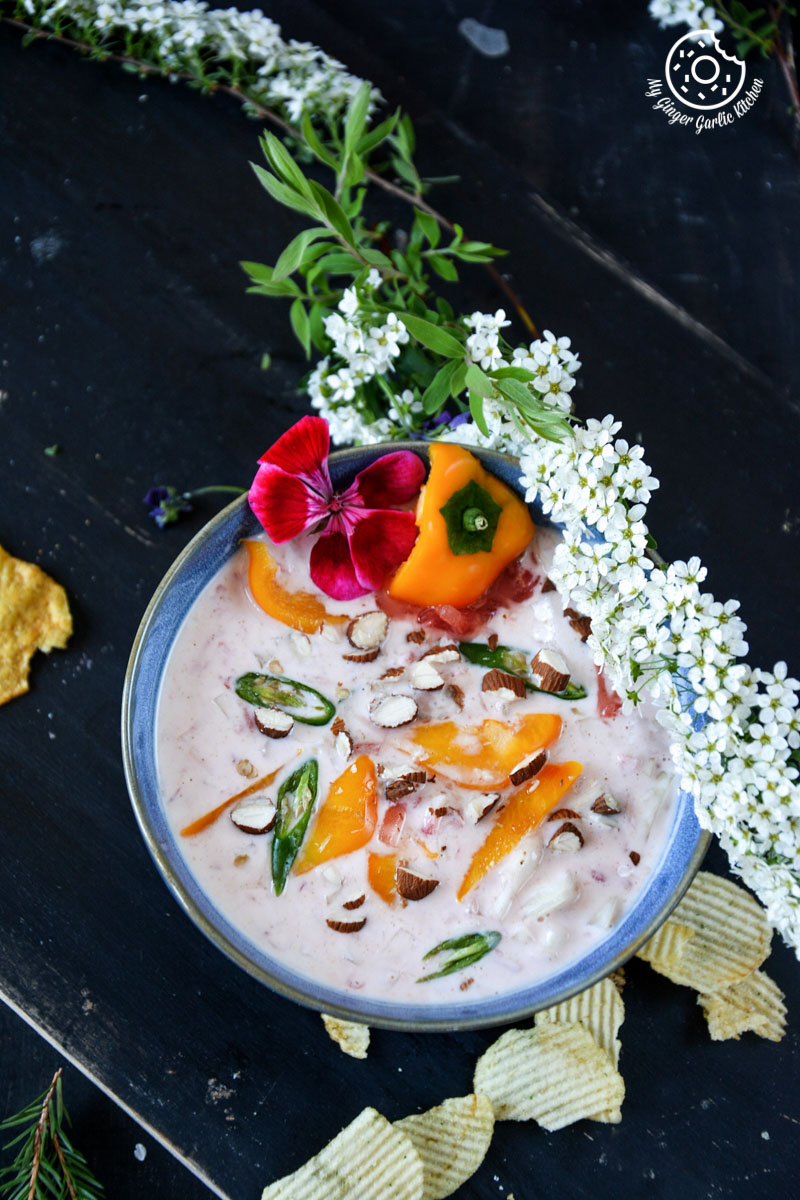 I mean, I can actually eat this with just a spoon — I barely need the chips, crackers, or fruits.
With that said, I served this much creamy watermelon onion yogurt dip with some chips, but you can serve these with whatever you like!
This dip is painlessly easy and quick! And to tell you again, this is supremely addictive too! 🙂
The grated watermelon oozing sweet juice adds so much flavor and natural sweetness. And onion adds the perfect crunch.
This would become an absolute delight for weight watchers, as there is no cheese in this dip. Try this version that's made with Greek yogurt. But if someday you are not in the mood for a creamy yogurt, you can use regular fat-free yogurt instead.
Related: Boondi Raita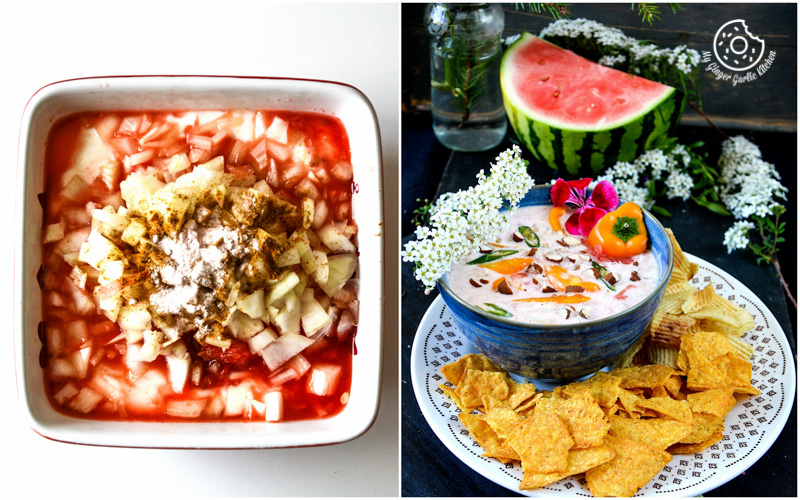 It tastes wonderful and is very simple to make, and nutritious too. It is the prettiest dip in my repertoire, one I will be revisiting all summer, and I want to be sure you don't miss it.
Alright, that's it for today. My mind and heart are again with this mighty watermelon and I have to eat something made with this right now. 😉
I made it with 2% Greek yogurt and added grated watermelon along with finely chopped white onions and they worked exceptionally well. Seasoned with cumin powder, chaat masala, and salt. Topped with fresh mild chilies, and chopped almonds. Also, don't skimp on your chaat masala. This is a magical ingredient.
Let's now learn to make this super indulging 'Watermelon Onion Yogurt Dip', before I drool more! 🙂
Related: Fruity-Veggie Boondi Raita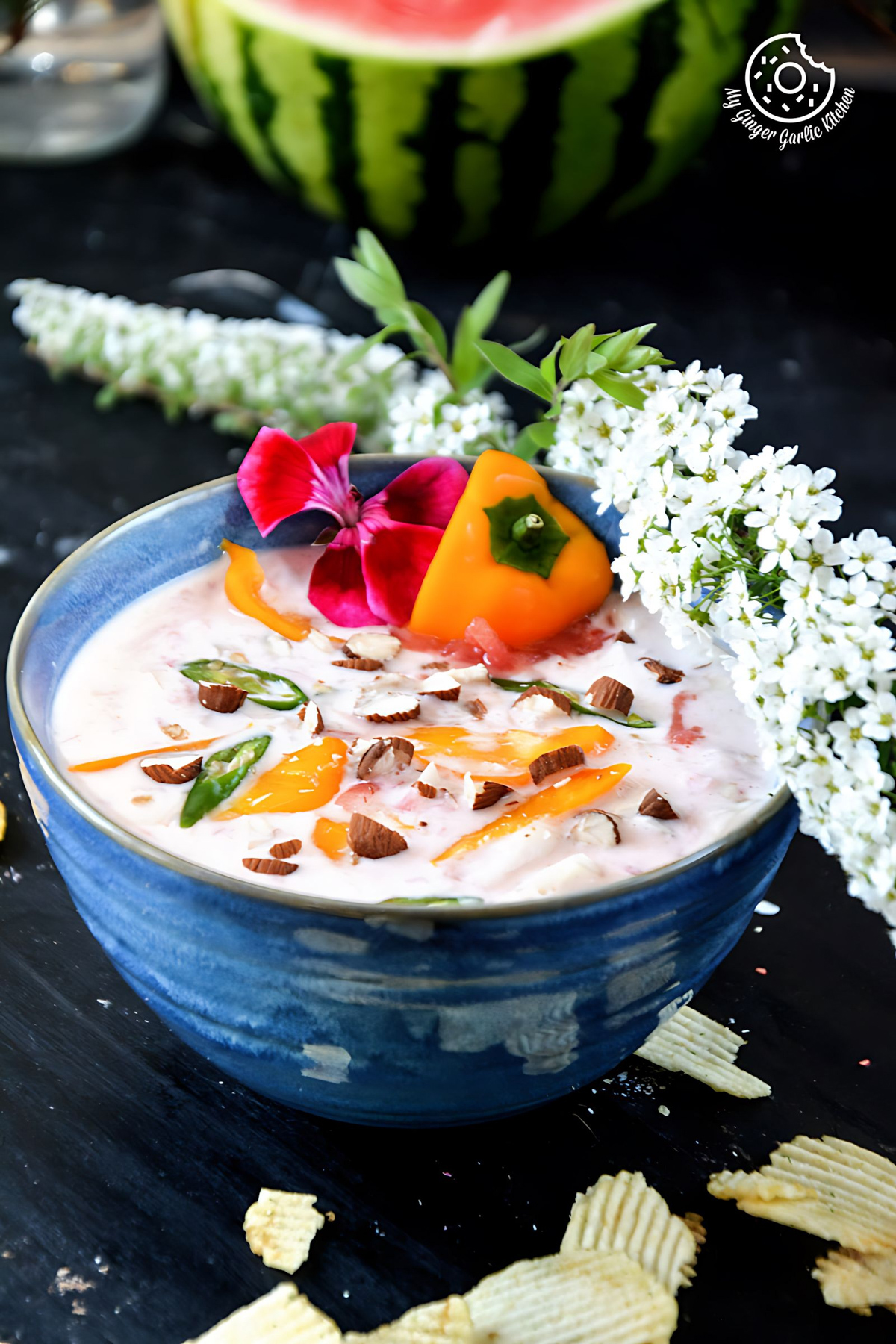 ---
Watermelon Onion Yogurt Chip Dip - Watermelon Raita

[Recipe]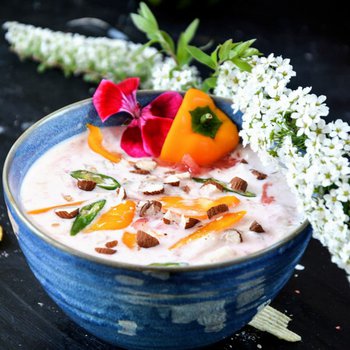 This watermelon onion yogurt chip dip is a light and refreshing classic dip perfect for hot days. Serve along with chips or as a side with Indian meal.
---
★★★★✰
(Rating:
4.5
from
54
reviews)
---
| Prep time 🕐 | Cook time 🕐 | Total time 🕐 |
| --- | --- | --- |
| | | 10 mins |
| Category ☶ | Cuisine ♨ | Serves ☺ |
| Appetizer | World | 4 |
| Nutrition Info ⊛ | | Serving size ⊚ |
| 227 calories | | 1 serving |
---
INGREDIENTS
For Watermelon Raita
greek yogurt, chilled - 2 cup
watermelon, grated and chilled- 1 cup
salt, as per taste
onion, chopped - 1 large
cumin powder - 1 tsp
chaat masala - ½ tsp
almonds, chopped for garnish
fresh chilies, and pepper for garnish
---
INSTRUCTIONS:
How to Make Watermelon Raitas //
Take a mixing bowl. Combine the yogurt, watermelon, onion, cumin powder, chaat masala, and salt and whisk well.
Garnish with your favorite, green chiles, Top with chopped almonds, and serve with crackers, chips or fruits.
---
NOTES:
No notes for this recipe.
---
If this recipe helped you, then please spread the word by sharing and
subscribing
to us on YouTube to get more such Recipe Videos.
---
Your feedback is so helpful for me and other MyGingerGarlicKitchen readers. So, for Facebook and Instagram, please mention
@MyGingerGarlicKitchen
or
#mygingergarlickitchen
. I would love to see your photos. :)
---
Author:
Anupama
Recipe Source Link:
https://www.mygingergarlickitchen.com/watermelon-onion-yogurt-chip-dip/
Date Published:
2023-06-29
• • • • • • • • • •