Juicy Watermelon Pizza | Recipe Video
---
Juicy Watermelon Pizza Recipe Video — Are you in a need of a light yet sweet, juicy and flavorful snack or even lunch idea? So how about a delicious summer entertaining recipe to enjoy on a warm/hot day? Try these delicious summer entertaining Juicy Watermelon Pizza Bites to enjoy on a warm/hot day. These are so fun, tasty and beautiful.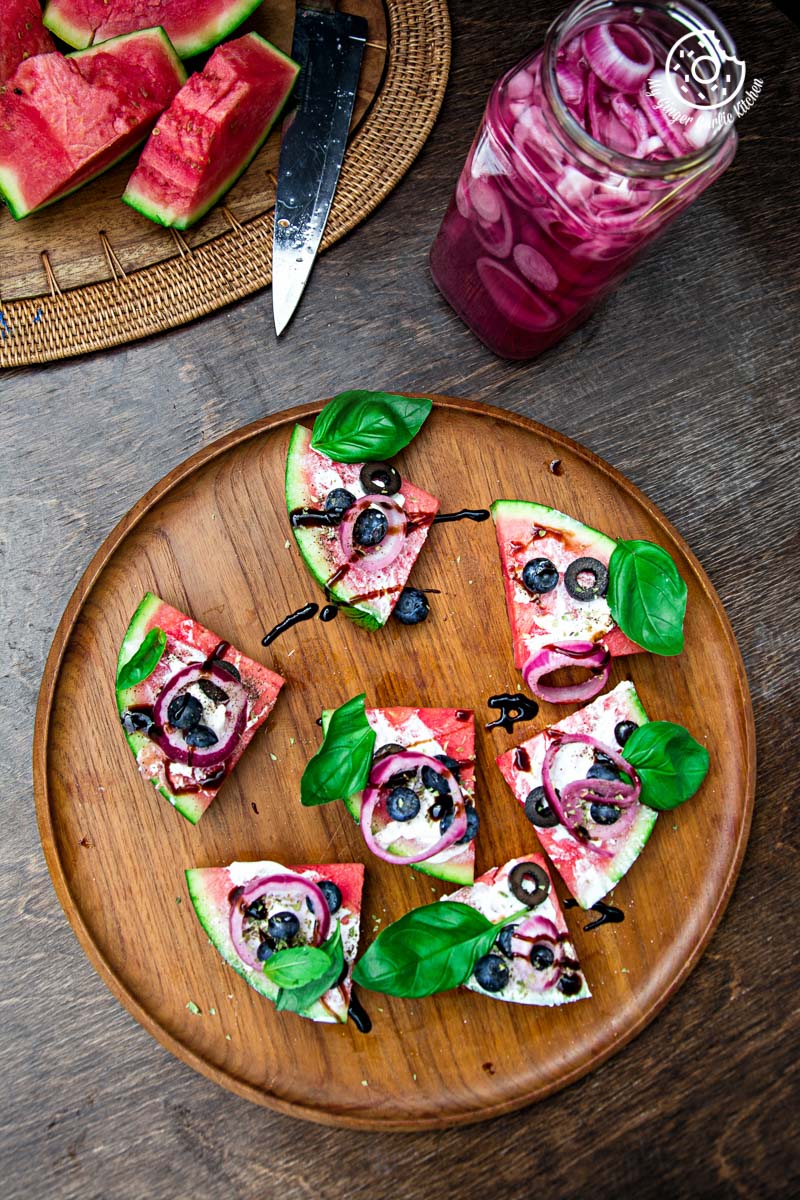 Pizza + Salad:
I made these Juicy Watermelon Pizza Bites because they give me the pleasure of eating 3 of my favorite things together. Watermelon + pizza + salad. The result is watermelon turned into a pizza is like a match made in heaven.
Related: Pepper Corn Arugula Pizza with Sun-Dried Tomatoes and Mayonnaise Pepper Drizzle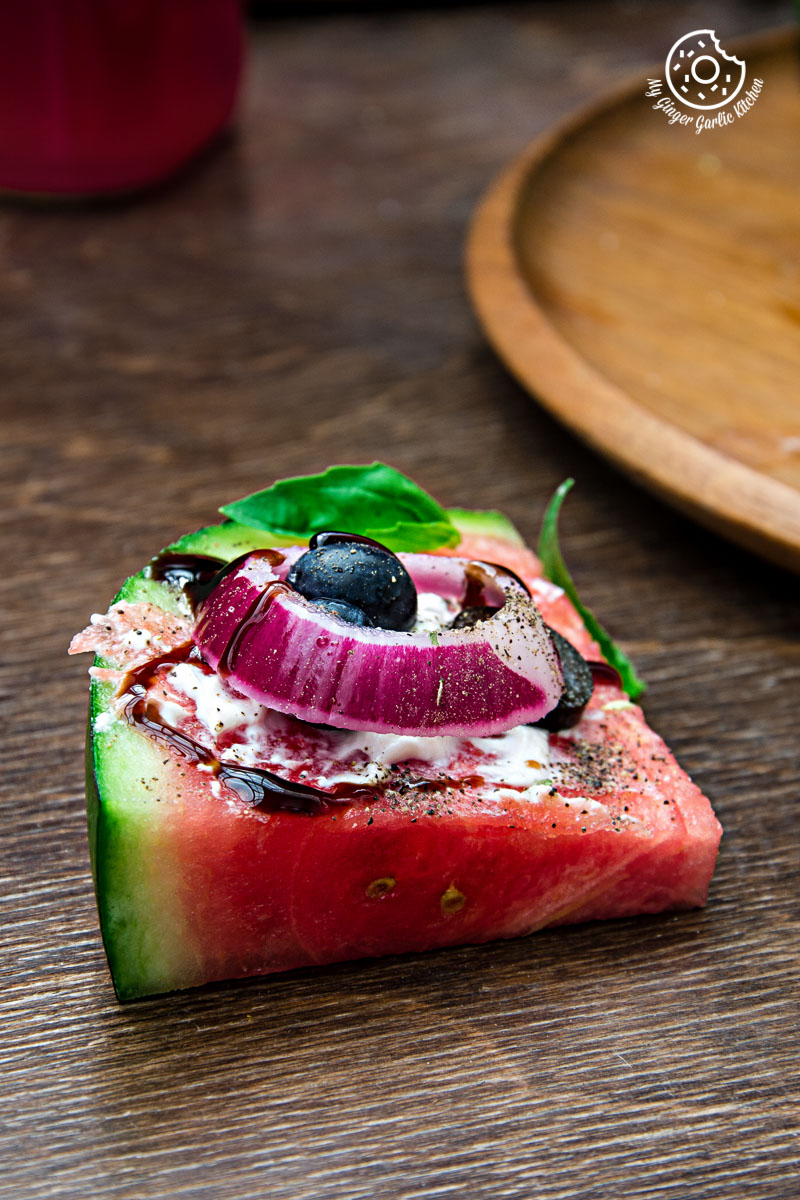 Perfect for parties:
This treat makes a nice afternoon snack or a fun party food for a party, get together or a potluck. You sure won't have the time for being locked up in the kitchen while greeting your guests and mingling. Right? So the good news is that this pizza recipe doesn't involve hot ovens, and it's ready in minutes! 🙂
Watermelon pizza bites are nothing so different but a marvelous twist on your favorites watermelon salad. I took my favorite watermelon fruit salad, and turned it into a pizza with blueberries, olives, pickled onions!
Related: Veggie Pizza Pie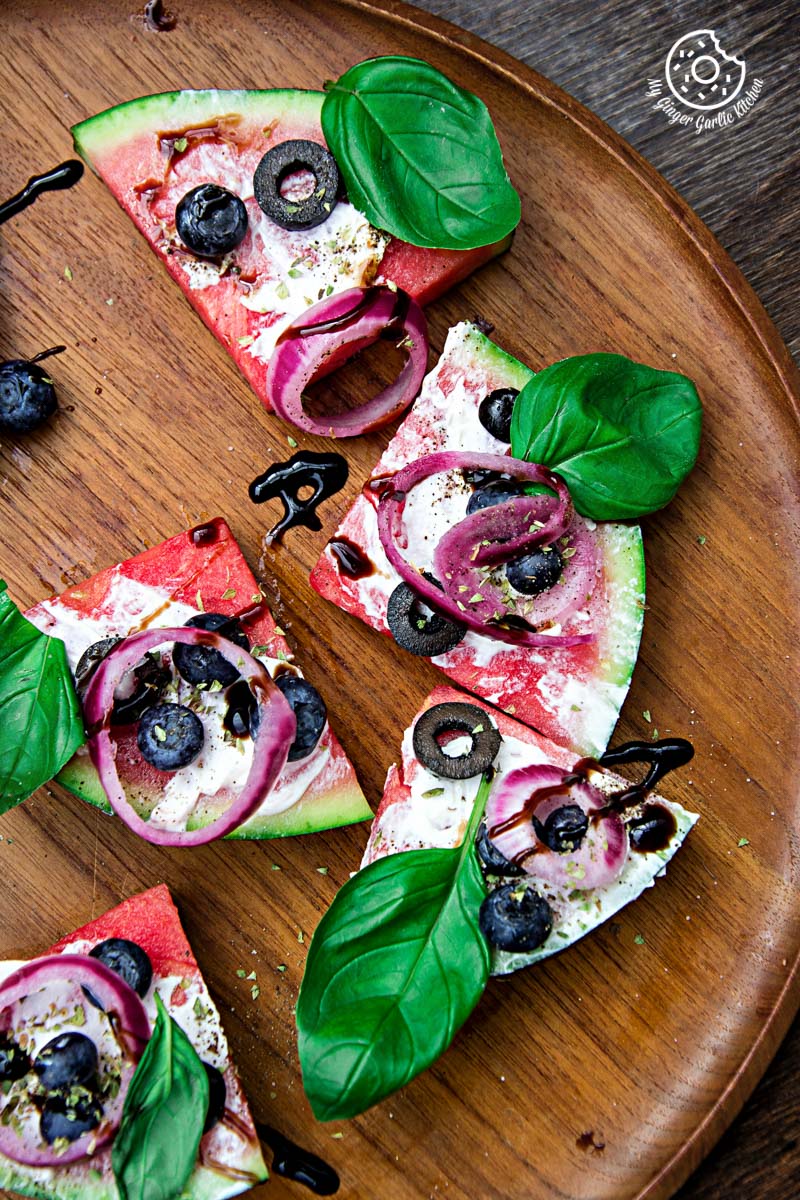 So much to love:
I love watermelon salads, so I knew the flavors are gonna be super awesome. I mean, they all just go super well together. I didn't make the whole pizza because I wanted Mr. watermelon to turn into a hand-held snack!
Related: Perfect Vegetarian Pizza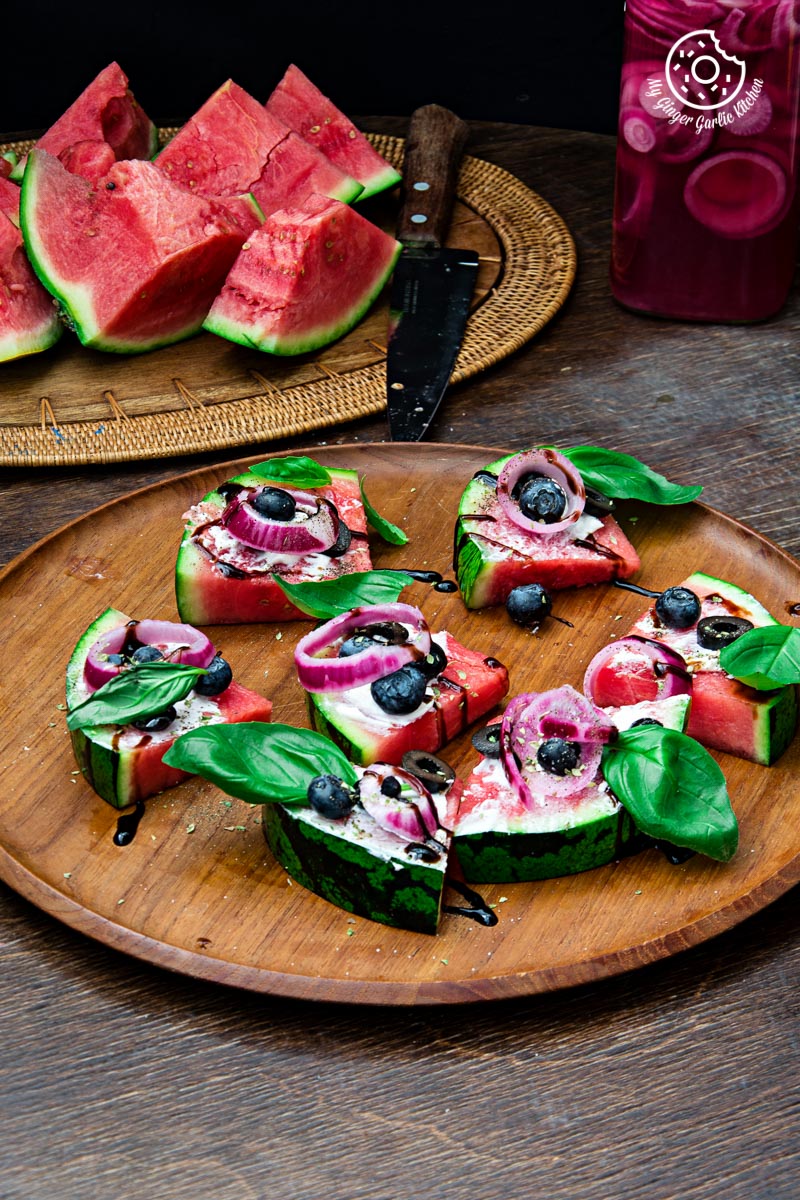 Long awaited post:
I have been so excited to share this juicy watermelon pizza bites since last year the time when I had watermelon craze. Believe it or not, my watermelon mania is still on. Yeah! Do you remember when I wrote about my sister's watermelon mania earlier in this post-Watermelon Onion Yogurt Chip Dip. The good news is that her childhood love is still the same. Cheers to that! 🙂
Related: Pizza Dough Twists With Parsley And Sesame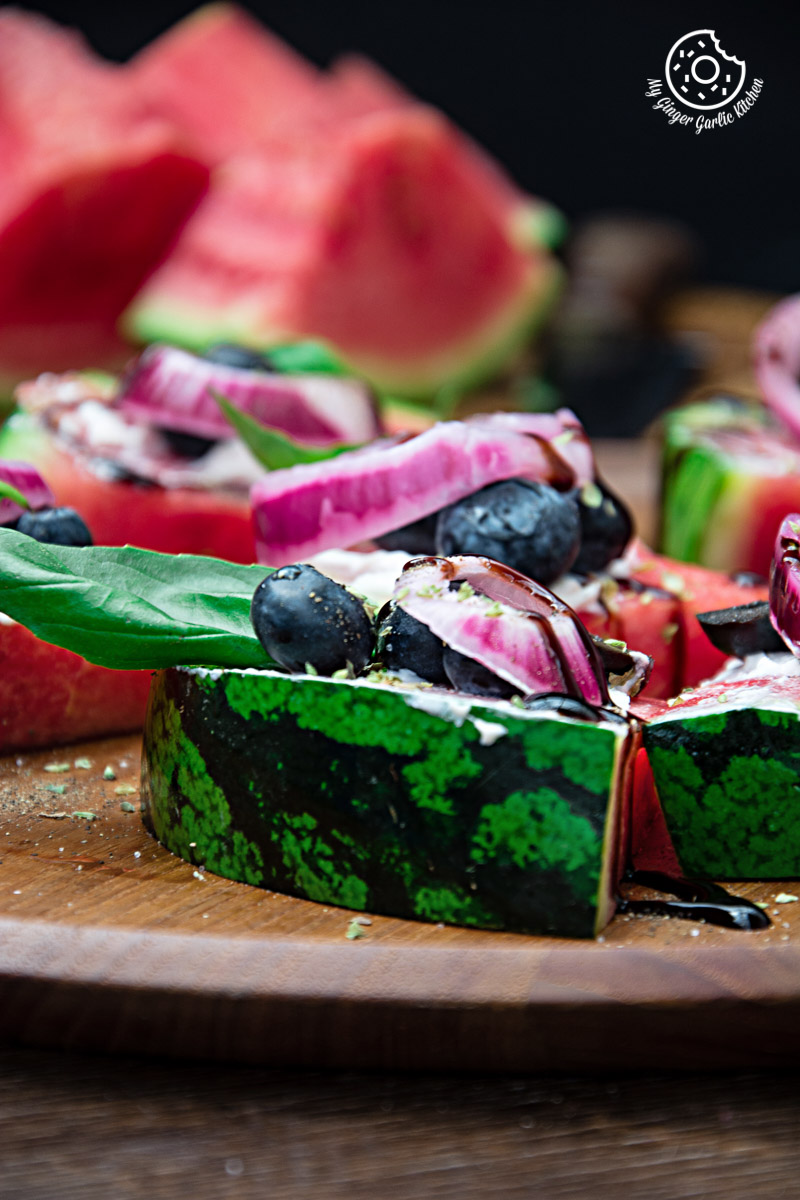 Watermelon flood:
Do you also remember that I flooded my blog with so many watermelon recipes last year? First I shared Watermelon Orange Salsa Summer Bites, and then Pink and White Refreshing Watermelon Lemonade, and finally Green Tea Watermelon Detox Smoothie? Last year internet got full of this watermelon pizza and I couldn't stop myself from trying it too.
And also I wanted to savor the last days of summer. So what else could have been better than this super easy and yummy twist on a summery pizza? Unfortunately, I tried this pizza when watermelon season was almost gone, so couldn't make that to post here.
Related: Caramelized Veggie Tortizza 2 Ways [Tortilla Pizza]|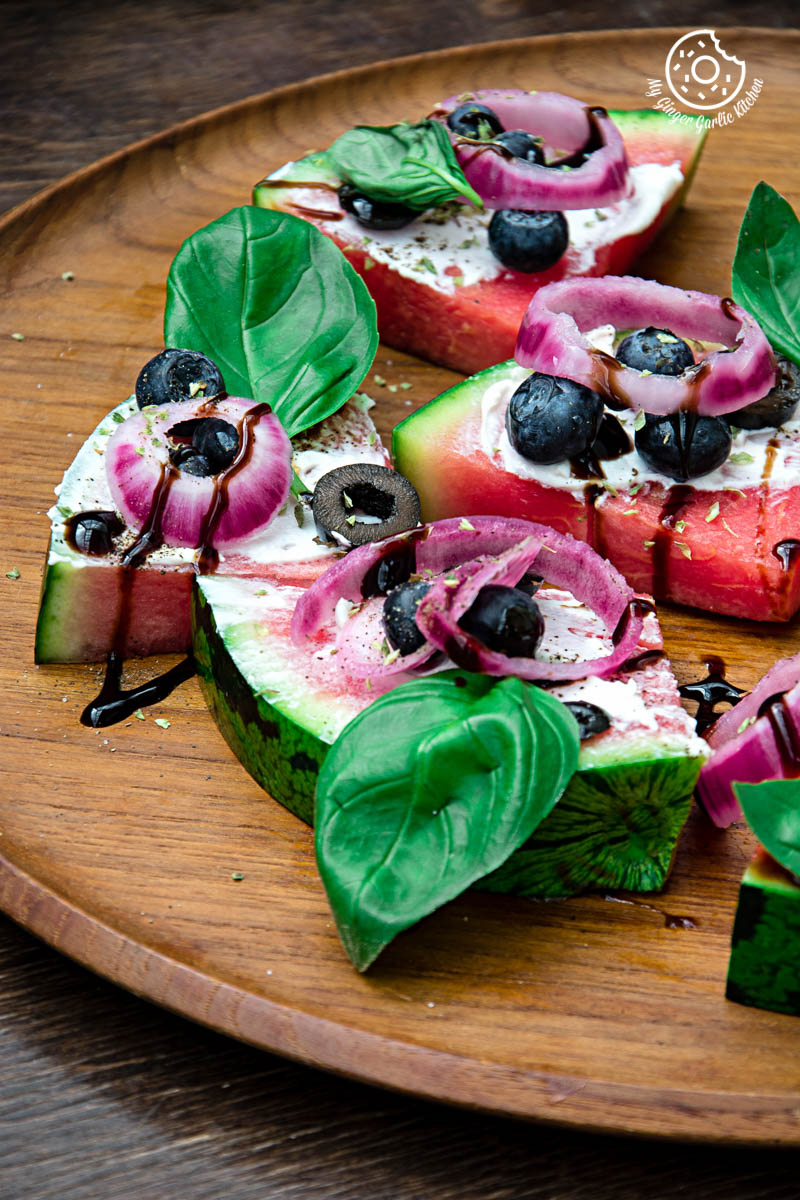 Green pink beauty is here again:
During my last grocery shopping, I saw those beautiful vibrant green watermelons as if they were glaring at me and competing with each other. I think they were saying to me, "pick me up, pick me up."
And it was a tough choice for me to which one should I pick up. Thus I went with the one you are seeing here in this post!
Related: Chickpea Zucchini Mushroom Pizza with Pickled Peppers and Olives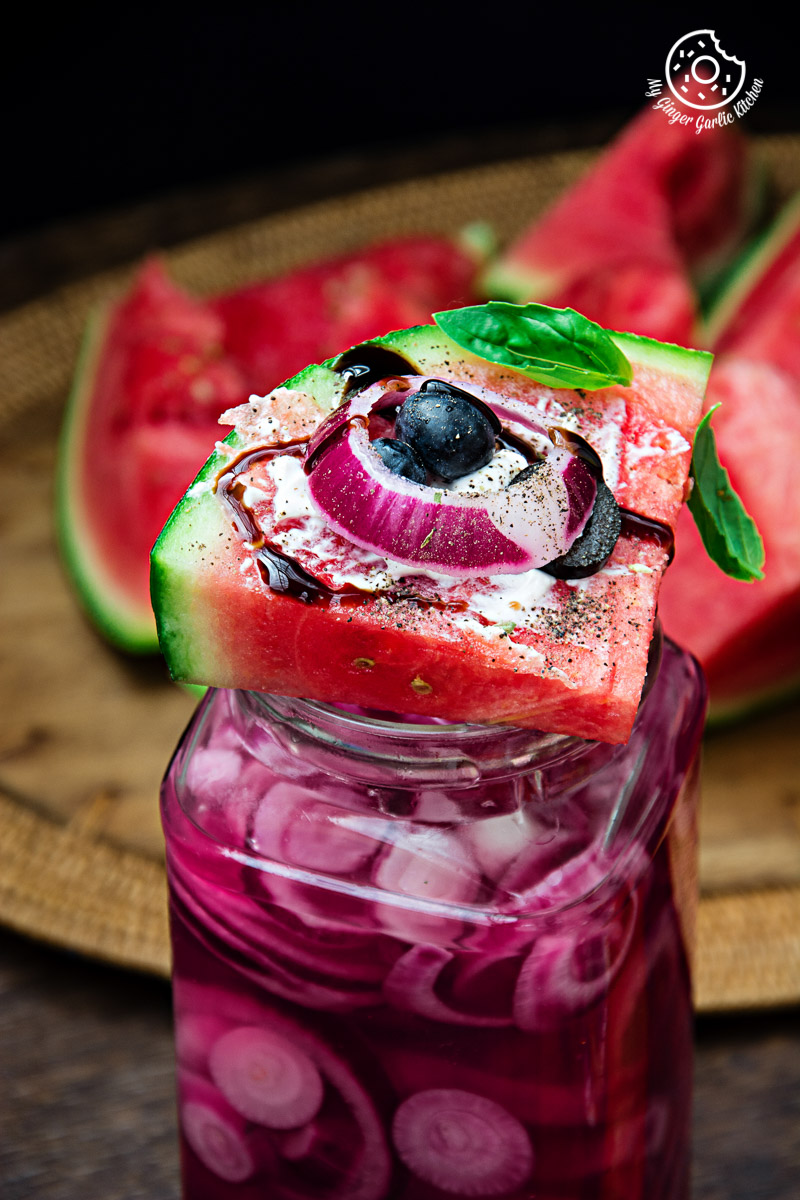 The first dish I made with it was these 'juicy watermelon pizza'. Well, I must say that I only made pizza slices with the whole watermelon and nothing else. Felt like it was a very small watermelon. 😉
Although there is no such thing as a biggest watermelon, but I will still try to buy the biggest beast next time I will go to market! 😉 I just don't want to run out of this beauty. I certainly don't like the lack of watermelons! 🙂
Related: Whole-wheat Peach Mushroom Pizza with Feta and Fresh Basil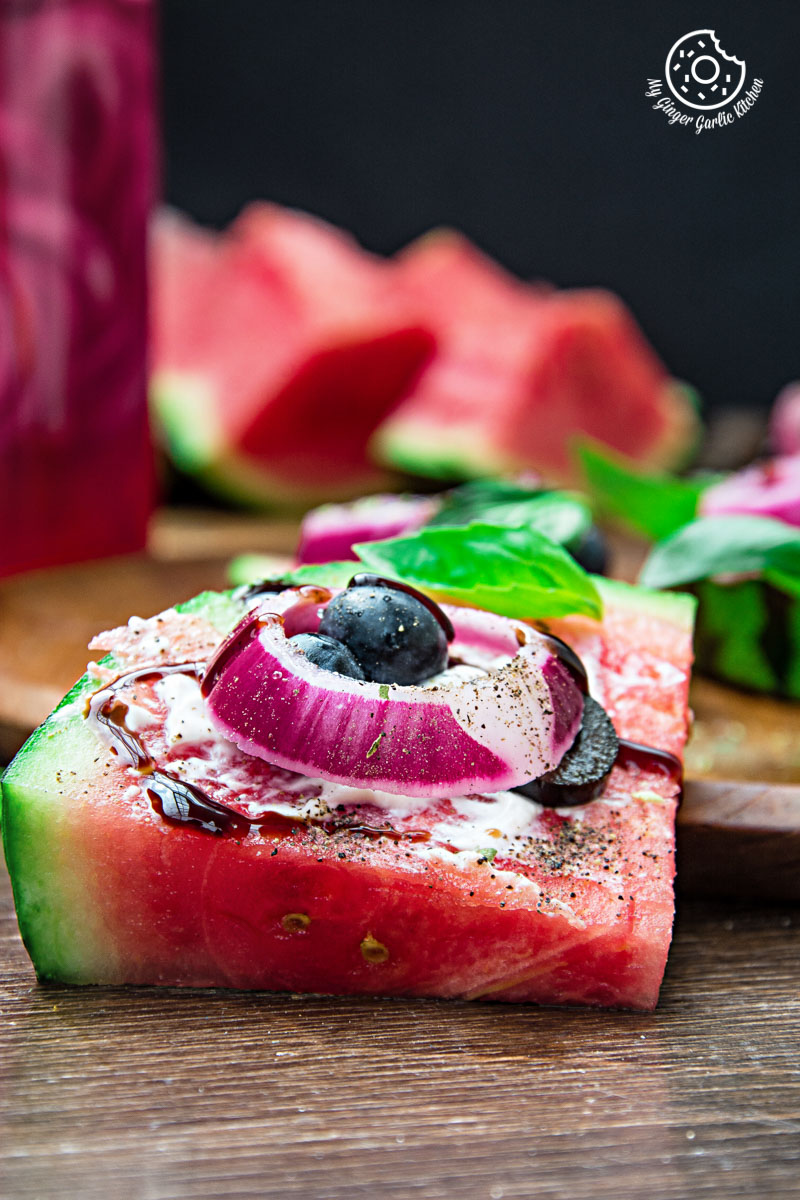 Easy peasy:
This watermelon pizza comes together super-fast, with ingredients easily accessible. Making these juicy watermelon pizza bites are a fun idea for parties and get-togethers. These bites are good enough to create some kind of craze amongst kids, and adults alike.
Related: Garlicky Spinach Mango Tomato Pizza with Hot Pepper Sauce and Flakes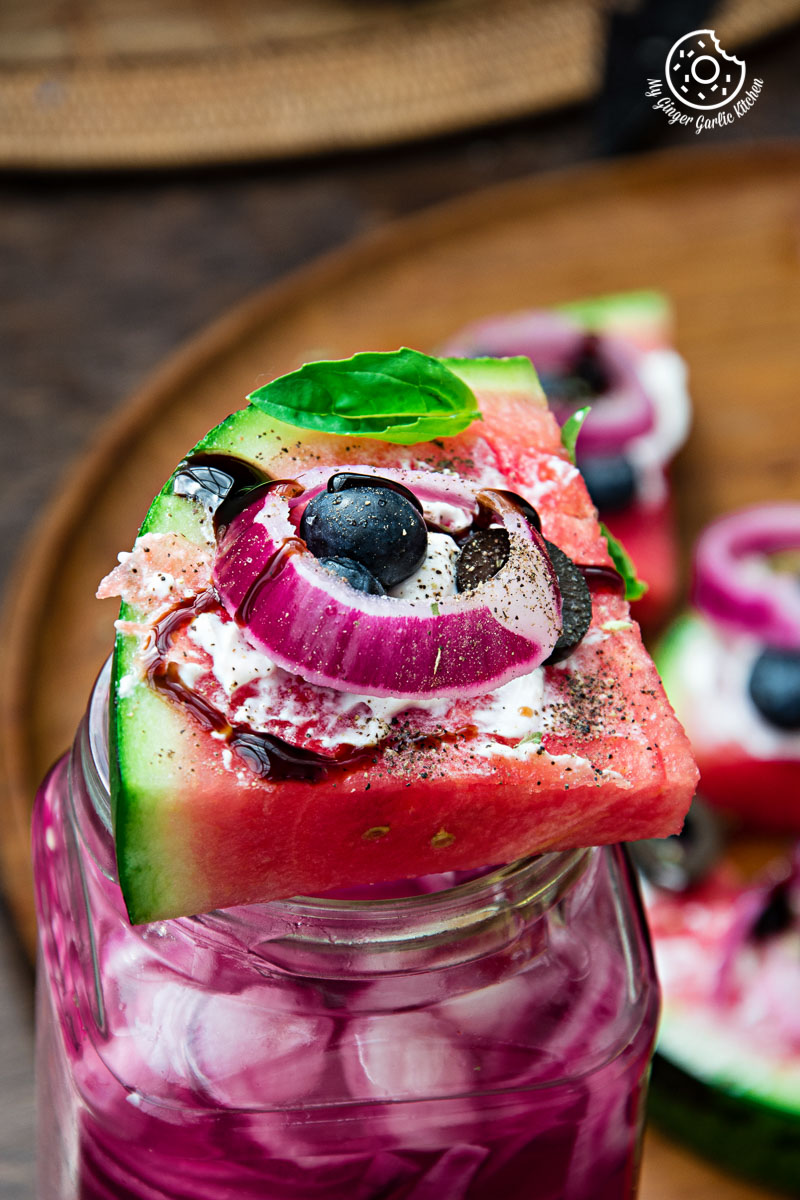 Play with it:
So have fun and play with your favorite ingredients to top one of the healthiest pizzas in the world. Because you are never too old to play with your food! Right? 🙂 This is so fun, tasty and beautiful, regardless of the toppings you opt for.
Related: Scrumptious Baguette Pizza
How I did it:
First, slice a watermelon into roughly 1-inch-thick triangular wedges. Spread some cream cheese or quark cheese on top. To give a 'summery' flavor to this pizza I topped it with some blueberries.
Use whatever you like:
Don't be afraid to try savory toppings as well. I added black olives and pickled red onions! Some salt, pepper and dried oregano. A drizzle of balsamic glaze and a final touch of basil. Voila! I So many yummy sweet and savory flavor combinations in a single bite! This is gonna be the best way to cool off on a hot day!
Related: Curried Potato Cauliflower Topped Naan Pizza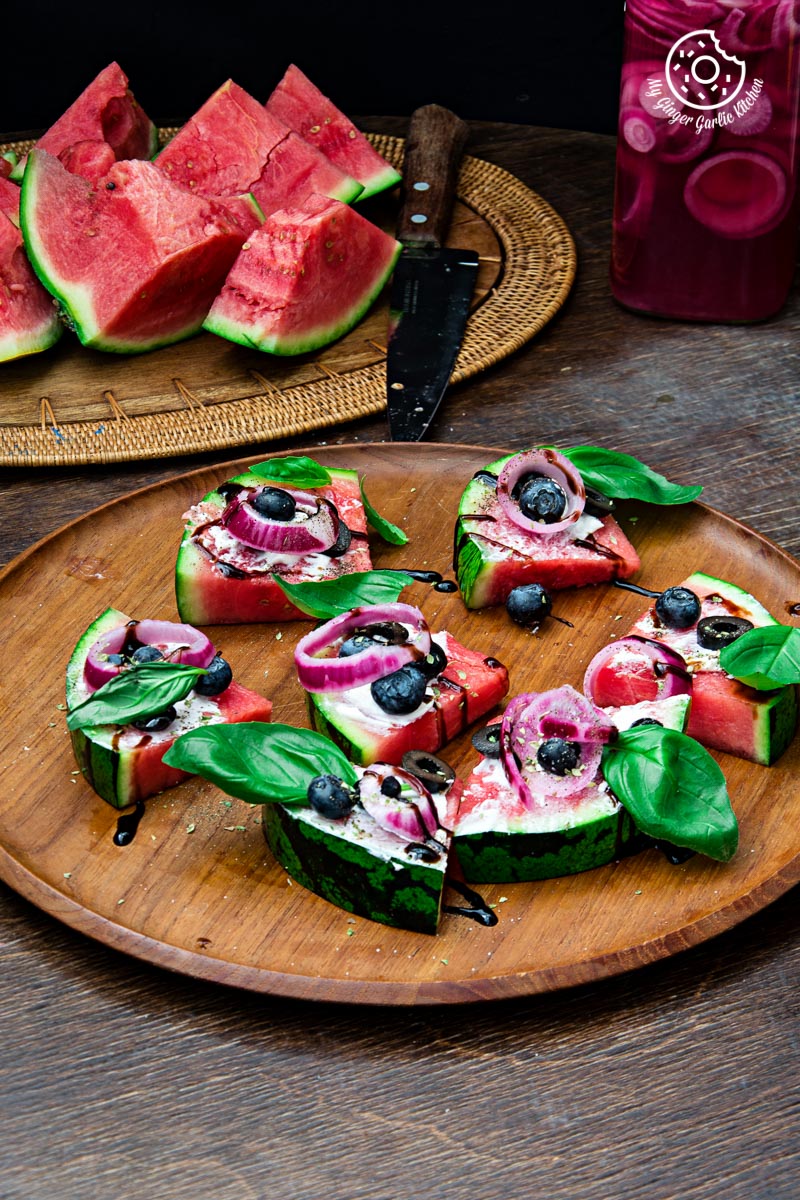 Juicy Watermelon Pizza Bites | Video
Are you in a need of a light yet sweet, juicy and flavorful snack or even lunch idea? Then try these delicious summer entertaining Juicy Watermelon Pizza Bites to enjoy on a warm/hot day. These are so fun, tasty and beautiful.
Ingredients
Chilled watermelon slices, cut 1-inch thick triangular wedges - 10-12
Cream cheese or quark cheese - ½ cup
Olives, sliced - 10-12
Salt and pepper to taste
dried oregano - 1 tsp
pickled onions - 2 tbsp
Basil leaves -12
Balsamic glaze - 1 tbsp
Instructions
Place watermelon wedges on a large platter or a flat surface.
Spread cream cheese over watermelon wedges.
Top with blueberries, olives, pickled onions.
Sprinkle salt, pepper and dried oregano.
Drizzle with balsamic glaze and finally top with basil leaves.
Enjoy!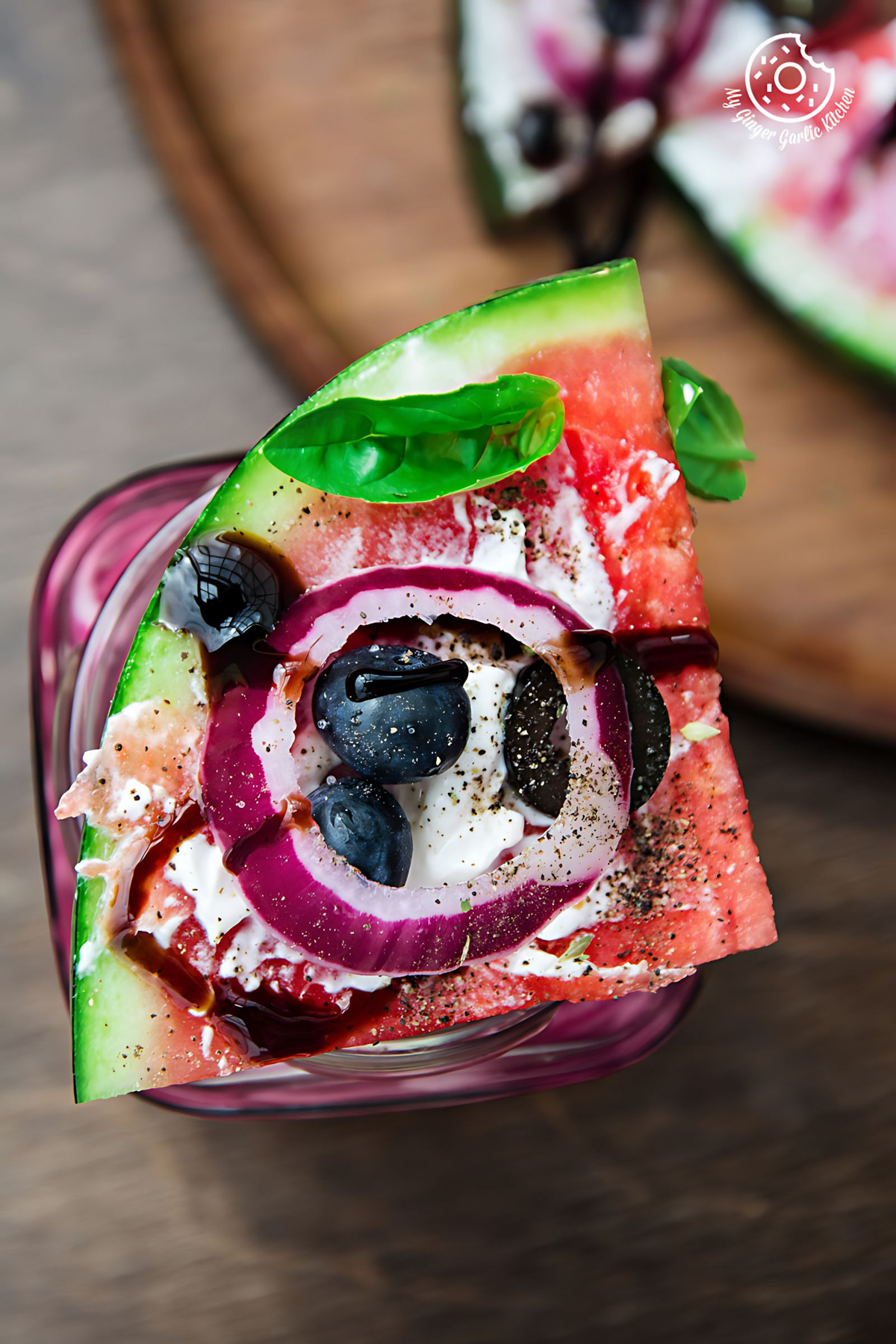 ---