Perfect Vegetarian Pizza Recipe is a gastronome tour-de-force. And it is simple to prepare at home. Making this traditional Italian pizza dough is super easy, fun and stress busting.
Let's have a Pizza Day
Would you be ready to call any Monday a fun day, if I offer you some really good authentic Italian pizza for the Monday dinner night? For me, pizza is always a YES.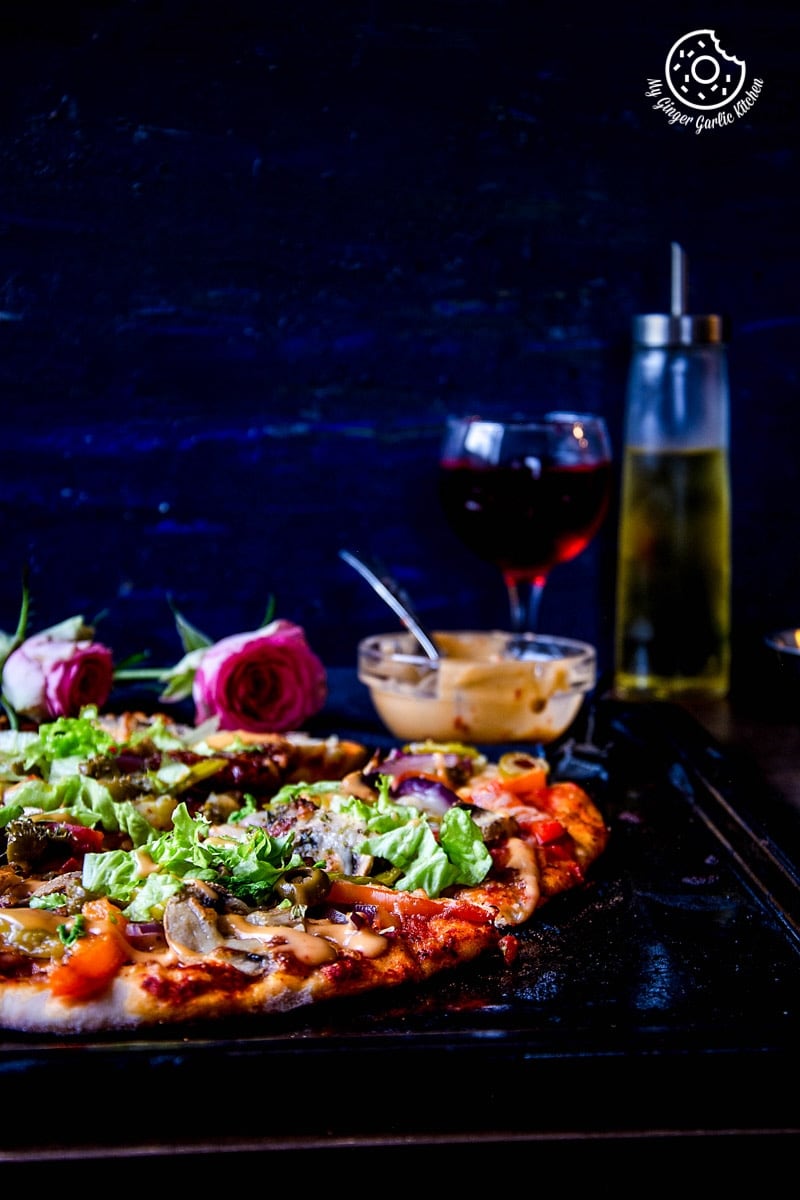 Usually, Friday nights are pizza nights at my place, but if you would ask me to eat a slice or two of a pizza on a Monday, or any other day, then I won't be able to say NO. In fact, I would be the happiest person in the world, if I would get to eat some classy pizza as a Monday dinner or on any other weekend dinner night. I Love pizza and homemade pizzas are the BEST. How about you?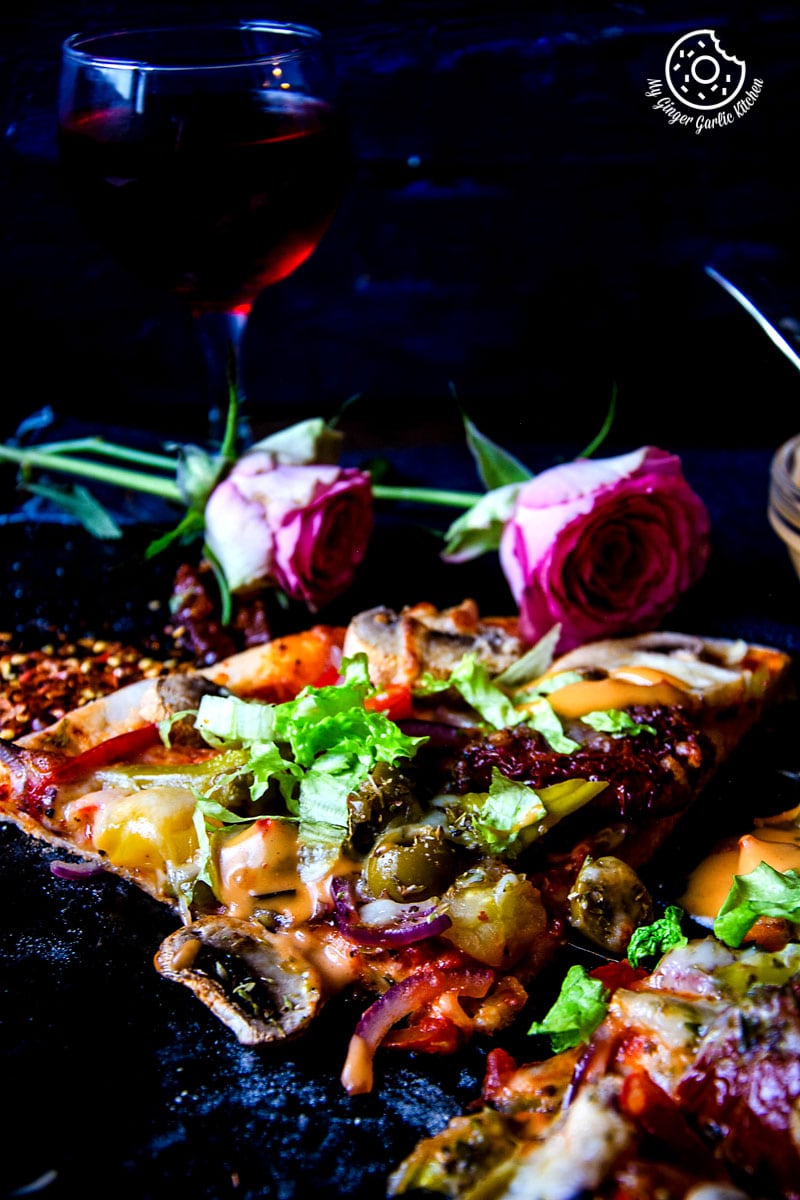 Let me tell you an interesting real story.:
The 'Perfect Pizza' scenario was so different for me until I visited Italy. Like many of you, the first thought which came to my mind when I thought about our Italy trip was this — Visiting Italy, then pizza is a must-eat. I guess I don't have to tell you that I am super excited about this pizza post. Isn't 'Pizza' one of the most popular Italian foods in the world to be eaten on a trip to Italy? 🙂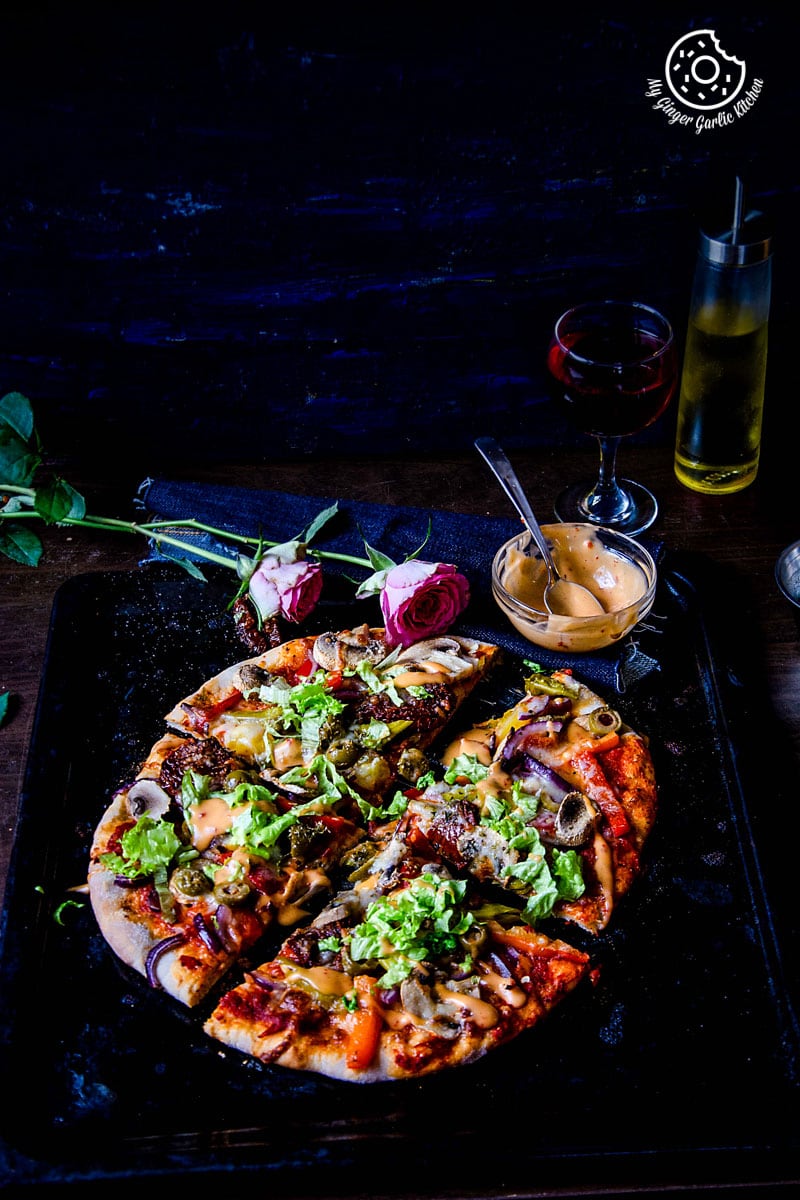 This is how it all changed:
Before visiting Italy, I always thought that Domino's or Pizza Hut's pizzas are the real authentic pizzas. And when I ordered my first pizza in Venice, I expected that the same kinda pizza would come to my dinner table. But to my surprise, the pizza was so different in texture and taste of which I used to eat back home and in other European cities. Trust me, it was one of the best pizza experiences I ever had.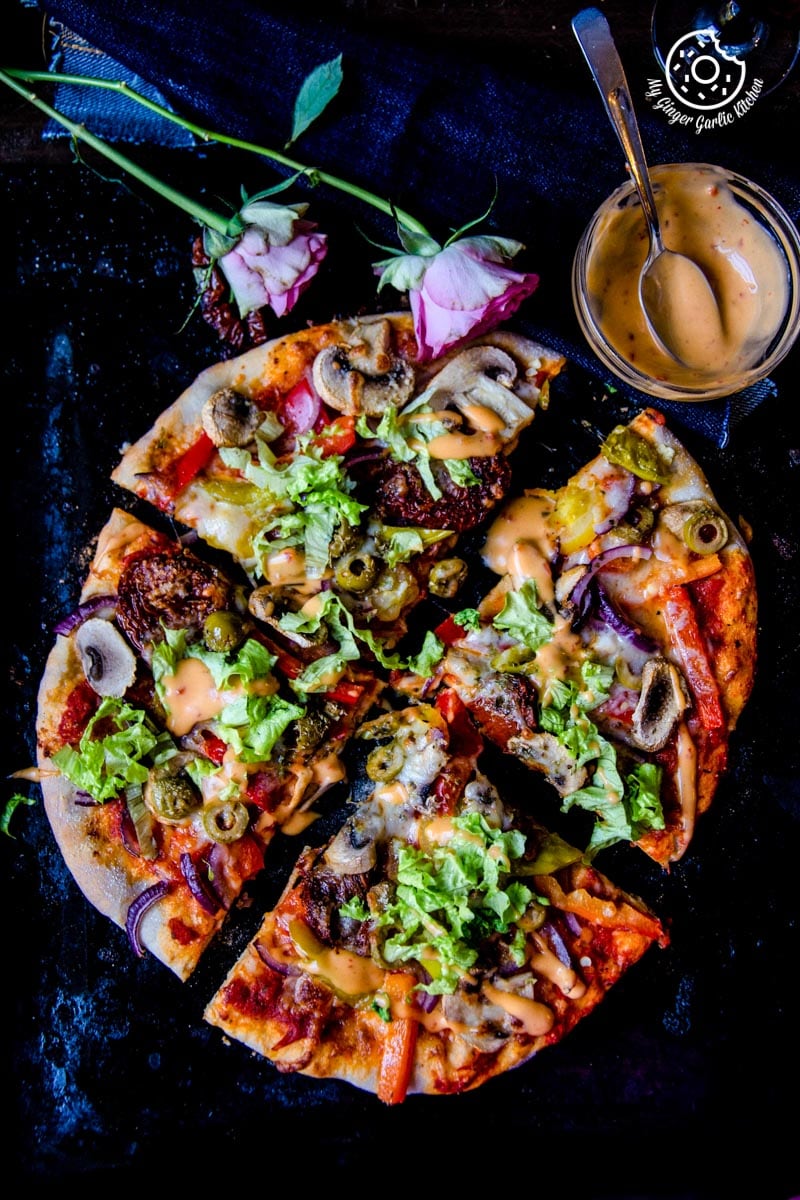 Venice is the place:
The pizzas there tasted much more like fresh flatbread with so many different toppings. Mmmmmm, and that was the time when I fell in love with the Italian style of pizza dough. And the best pizza I ate was at a canal-side restaurant on a summer night in the Venice. This place seriously had a good number of delicious joints to find great pizzas and the good thing was that you could have your takeaways and enjoy it while walking alongside the canals.
So after coming back home, I tried some authentic pizza dough recipes but nothing was as good as it tasted back in Italy. And after many trials, I found that the WOW factor was missing. After some years, finally one day I found a pizza dough recipe which was just the one I was looking for.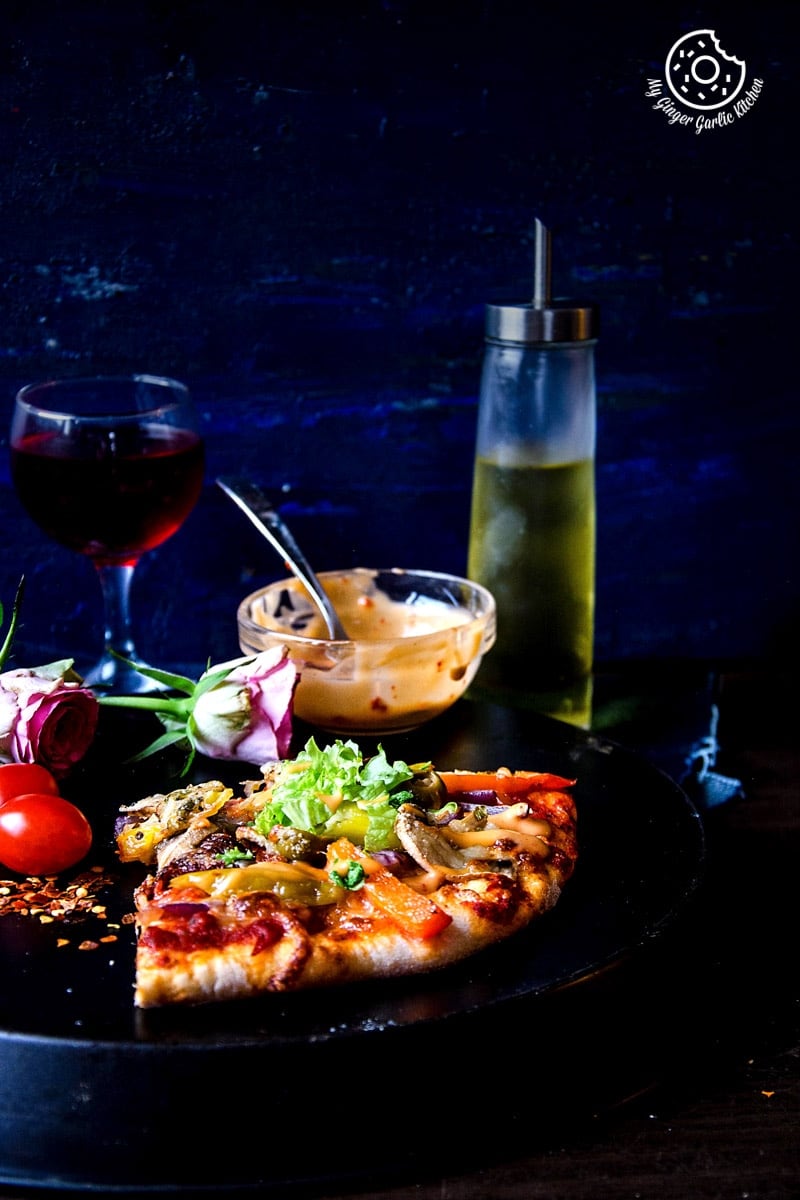 This came to the rescue:
One of my friends had a book, this: 'Gennaro's Let's Cook Italian: Favourite Family Recipes'. This book had so many Italian recipes, but the one I wanted to try desperately was this pizza recipe from that book. I tried it, and it was LOVE at first sight. So this pizza dough is an adaptation from the recipe from this book. Making this dough is super easy, fun and stress busting. And that kneading? Believe me, those hand moments when you roll the dough back and forth does something really nice. You just need some good quality of red wine to experience the joy while you are baking your pizza.
It's gourmet:
Delicious raw veggies are placed on a bed of an authentic pizza base and topped with pizza sauce, raw veggies, plenty of mozzarella cheese + parmesan cheese, a drizzle of garlic oil, then baked to perfection.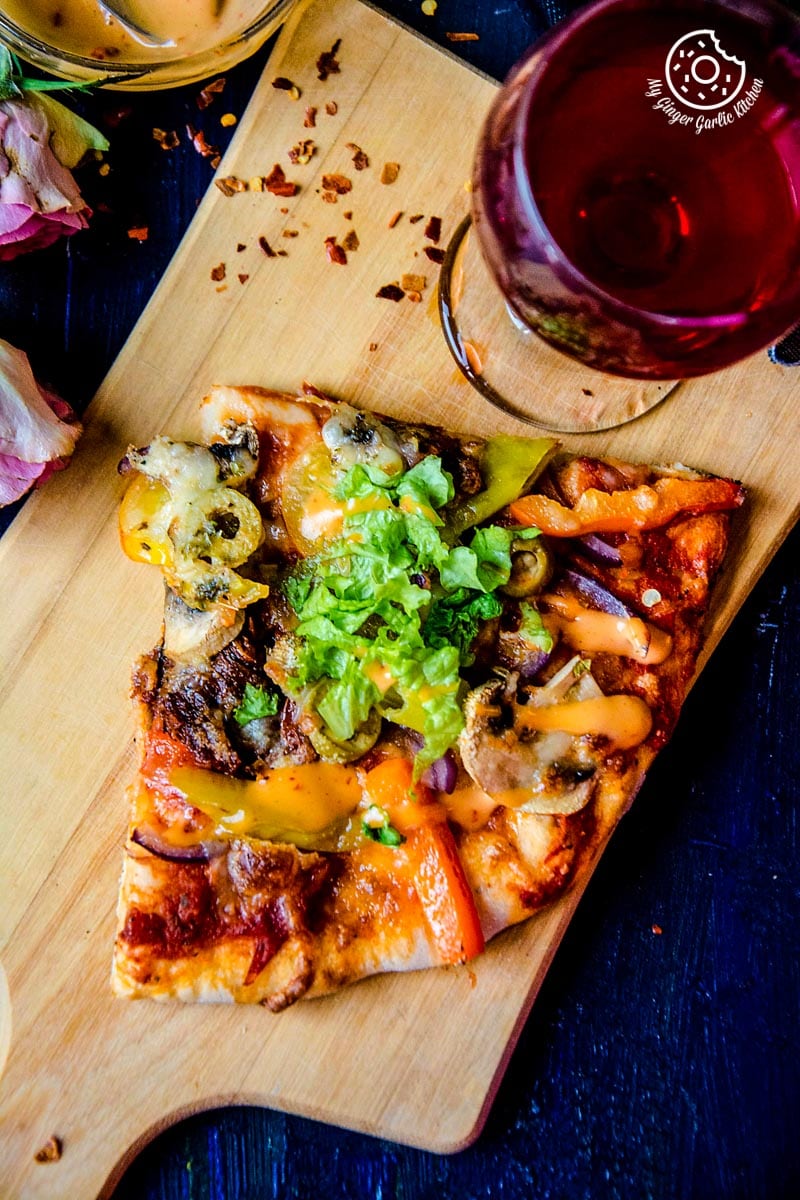 This best veggie pizza recipe is a gastronome tour-de-force. And it's simple to prepare at home. I am not exaggerating, but this vegetarian pizza is much better than any take-out pizza you'll ever find in any of the regular Pizza restaurants. And the great thing about the topping is that you are free to add or omit the toppings to make it more suitable to your taste buds.
This vegetarian pizza tastes so good that even meat-lovers would love this one. I am so much in love with this traditional pizza dough recipe and hope you would love it too. 🙂
So let's get started.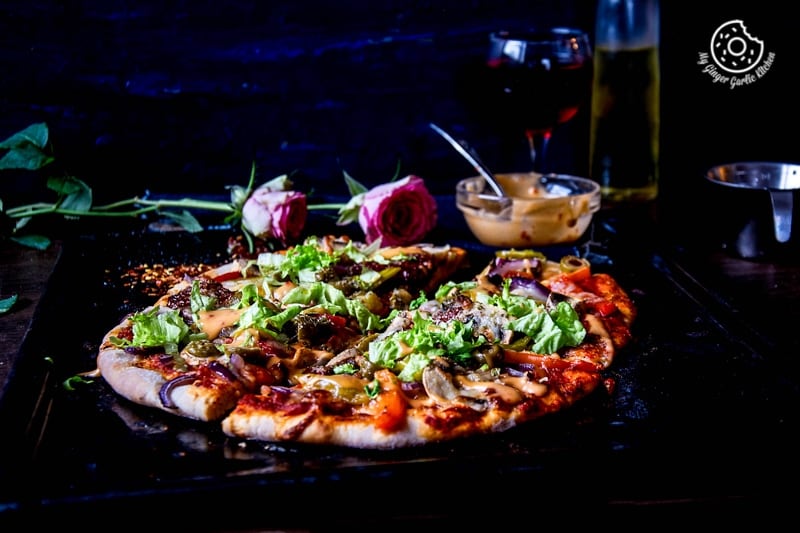 Perfect Vegetarian Pizza from Scratch

[Recipe]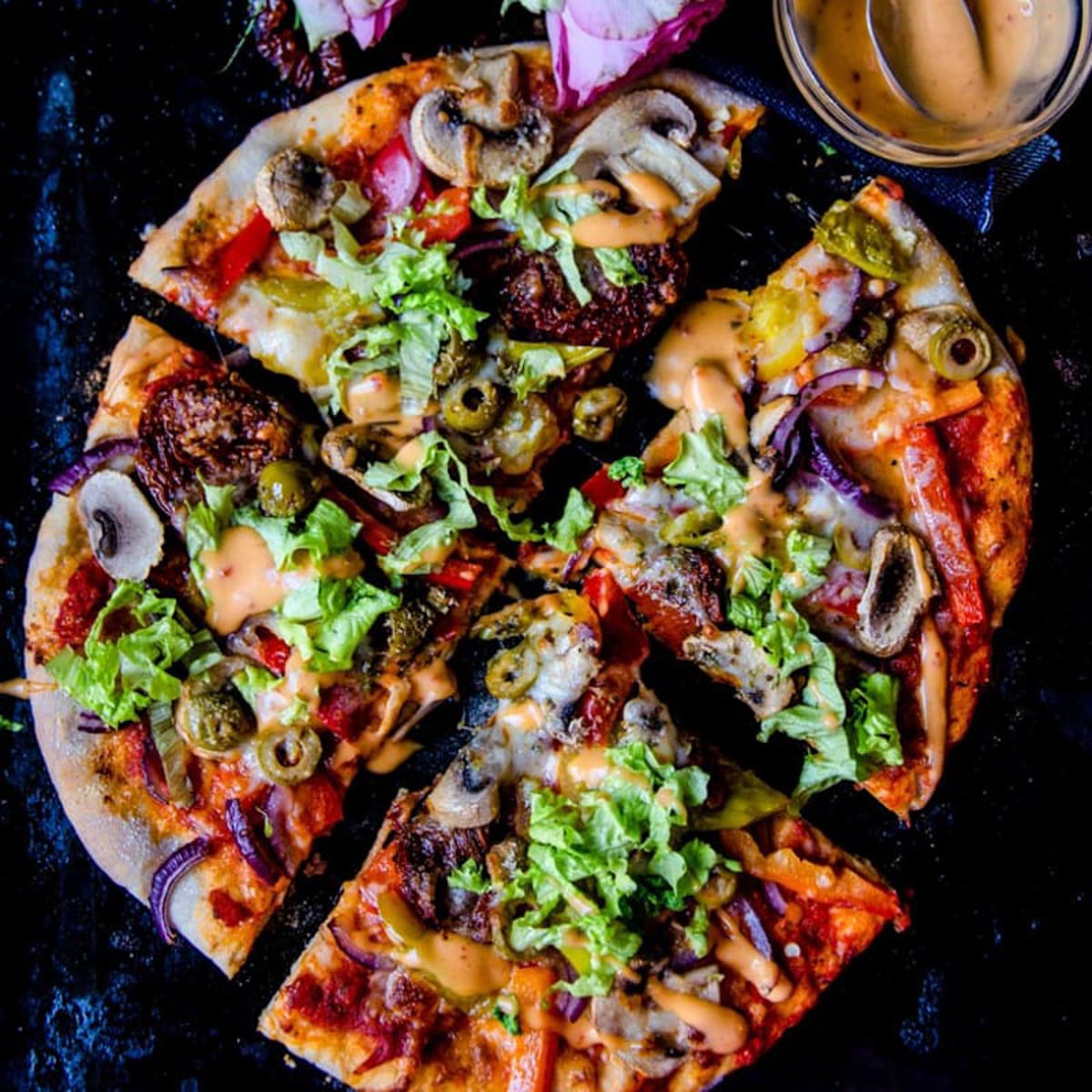 Perfect Vegetarian Pizza Recipe is a gastronome tour-de-force. Making this traditional Italian pizza dough is super easy, fun and stress busting.
---
★★★★✰
(Rating:
4.2
from
75
reviews)
---
| Prep time 🕐 | Cook time 🕐 | Total time 🕐 |
| --- | --- | --- |
| | | 22 mins |
| Category ☶ | Cuisine ♨ | Serves ☺ |
| Main | Italian | 4 |
| Nutrition Info ⊛ | | Serving size ⊚ |
| 155 calories | | 1 serving |
---
INGREDIENTS
For Pizza:
500 g white bread flour
Extra flour for dusting
1 teaspoon salt
1 (I used 7 g sachet) dried yeast
3-4 teaspoons semolina, for dusting
2 tablespoons + 1 tablespoon extra virgin olive oil
2 teaspoons garlic grated
1 1/2 cups shredded parmesan cheese
2 1/2 cups shredded mozzarella cheese
335 ml lukewarm water (I used water at 40°C)
For Toppings //
Red bell pepper, sliced
Mushrooms, sliced
Sun-dried tomatoes, sliced
Red onion, sliced
Cherry tomatoes, sliced
Olives
Fresh lettuce, sliced
3/4 cup pizza sauce
Oregano
Groun pepper & chili flakes (optional)
---
INSTRUCTIONS:
How to make Perfect vegetarian Pizza //
Combine the flour and salt in a large bowl.




Add the yeast to the lukewarm water and stir well till it dissolves.




Now gradually add the yeast mixture to the flour and mix well.




Add 2 tablespoons olive oil and mix well with a spoon/fork until you get a rough dough.




Transfer it onto a work surface and knead until it comes together or forms into a smooth and elastic dough ball.




This kneading process would take around 8-10 mins. You can add more dry flour if you think it's too sticky.




Divide the dough into four equal-sized balls and knead each piece for about 2 minutes.




Dust a tray with semolina and place the balls on it.




Cover the dough balls with a damp kitchen towel and let it rest in a warm place to rise for about 2 hours or until doubled in size.




Preheat the oven to 200ºC/400ºF/gas on the settings to upper and lower heating.




Dust a working surface with dry flour.




Using your hands or a rolling pin, stretch the ball into a 10-12 inch circle or until you have a flattened disk of the desired size.




The edge should be slightly thicker. (Repeat the rolling process with the remaining dough balls)




Sprinkle some semolina or dry flour on a baking tray.




Place the pizza base on the floured baking tray and then use your hands to gently tug.




In a small bowl, mix garlic and olive oil and set aside.




Evenly spread the pizza sauce over the pizza base.




Now add sliced mushroom, bell pepper, onions, olives, cherry tomatoes, and sun-dried tomatoes.




Spread over the shredded cheese (mozzarella + parmesan)




Sprinkle some oregano on top.




Drizzle with olive oil.




Place the pizza in the oven for 10 to 12 minutes. (The baking time depends on how crispy you like your pizza. I usually bake 7 minutes on the upper rack, and then I transfer it to the lower rack for best results.




Drizzle with some desired sauce, lettuce, and more extra virgin olive oil. Enjoy you perfect vegetarian pizza!



---
WATCH VIDEO:
---
NOTES:
No notes for this recipe.
---
If this recipe helped you, then please spread the word by sharing and
subscribing
to us on YouTube to get more such Recipe Videos.
---
Your feedback is so helpful for me and other MyGingerGarlicKitchen readers. So, for Facebook and Instagram, please mention
@MyGingerGarlicKitchen
or
#mygingergarlickitchen
. I would love to see your photos. :)
---
Author:
Anupama
Recipe Source Link:
https://www.mygingergarlickitchen.com/perfect-vegetarian-pizza-video-recipe-how-to-make-pizza-dough-from-scratch/
Date Published:
2019-11-19
• • • • • • • • • •