Learn to make Pizza Twists | Pizza Dough Twists With Parsley And Sesame Recipe Video with step-by-step video instructions. A super easy and super fun recipe for a Monday evening. This would make a great Monday evening snack and a perfect weekend snack for the kids and grown-ups alike. These twists are addictively good on their own, but a pairing of incredibly awesome pepper mayo for dipping would certainly do the magic.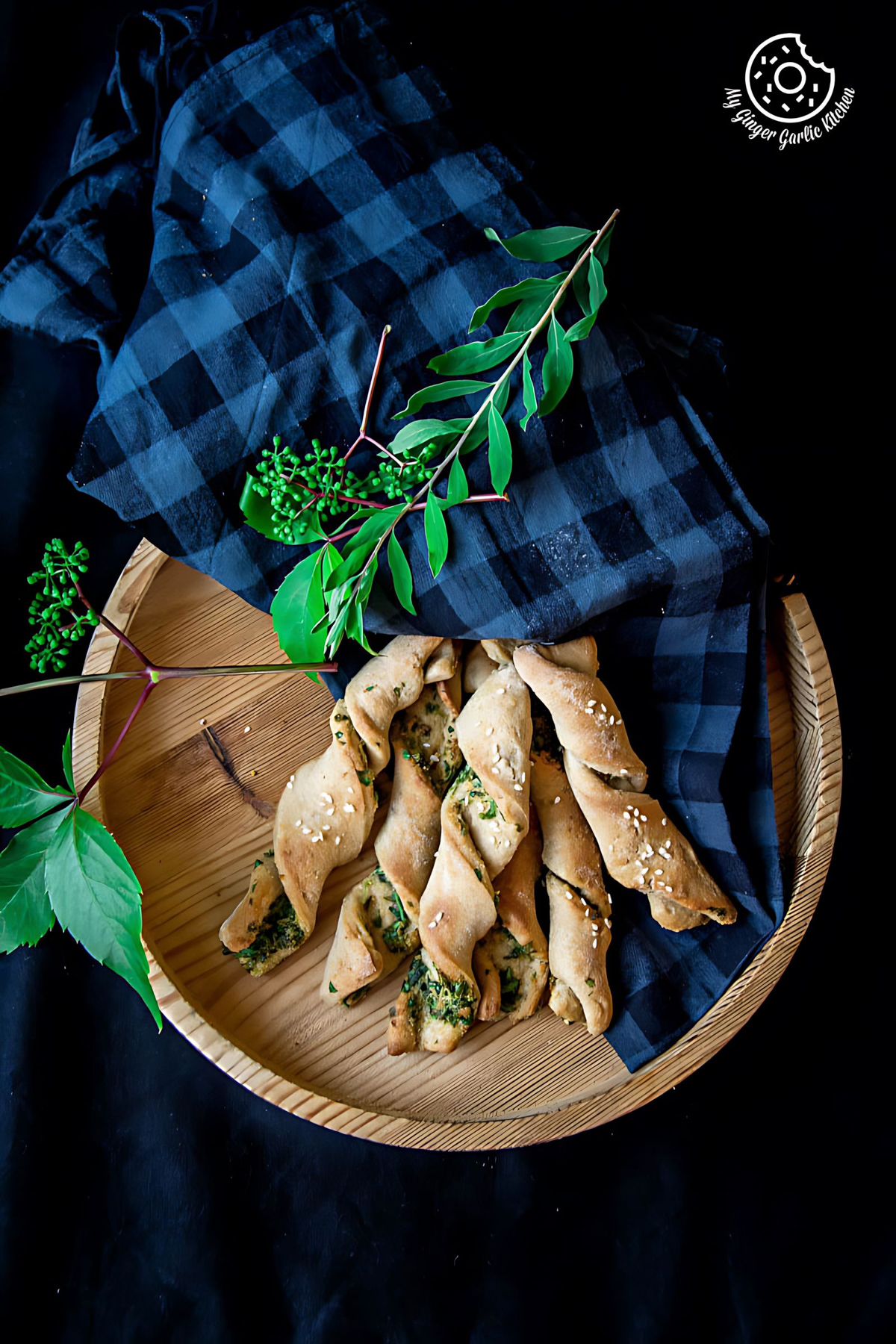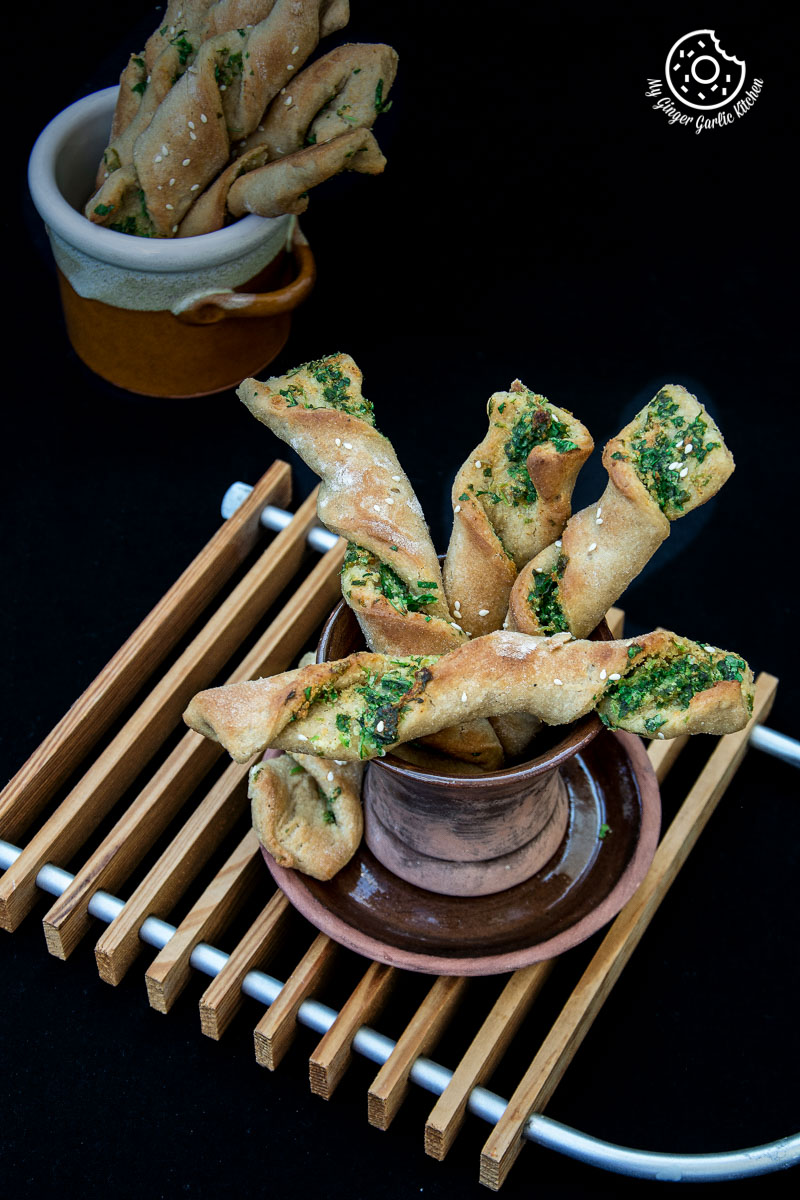 Are you all ready for Monday?
And by that, I just want to ask who is ready for today's Monday night with some pizza twists? 🙂 Yeah! I have a super easy and super fun recipe for you for this Monday evening. It has something to do with pizza. And who doesn't love pizza? It's definitely a favorite here! A super quick version of pizza dough twists which would make an exemplary Monday evening snack and just perfect for a weekend snack for the kids and grown-ups everywhere.
Related: Pepper Corn Arugula Pizza with Sun-Dried Tomatoes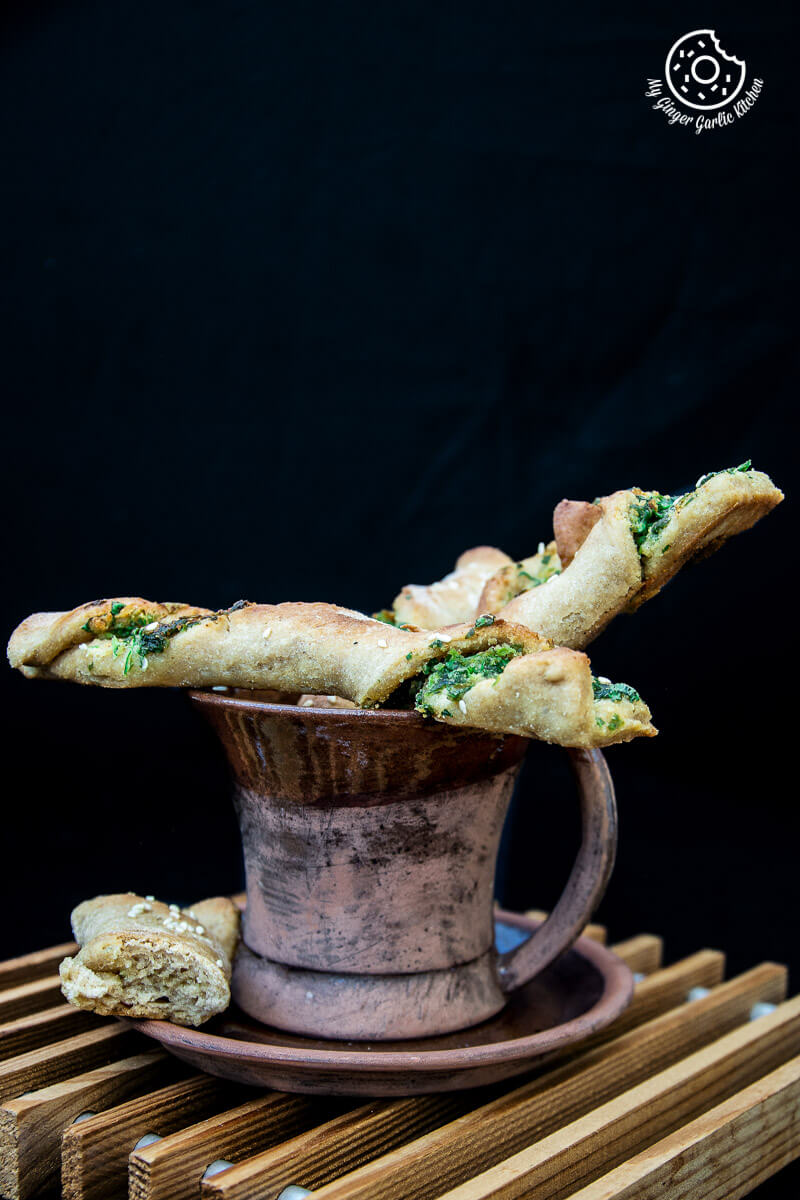 Leftover pizza dough? No worries:
Ever wondered what can be made with leftover pizza dough? I have a solution for you guys! Try making these twists — they will make you wow. How does that sound to you? Cool? I know what you want to say. You want to say, "it's super cool." Well, I don't know about you, but I am surely up for these twists tonight. I love everything about these garlicky yummy twists. Let me tell you, they come in the colorful shades just like the falling leaves of the autumn.
Related: Veggie Pizza Pie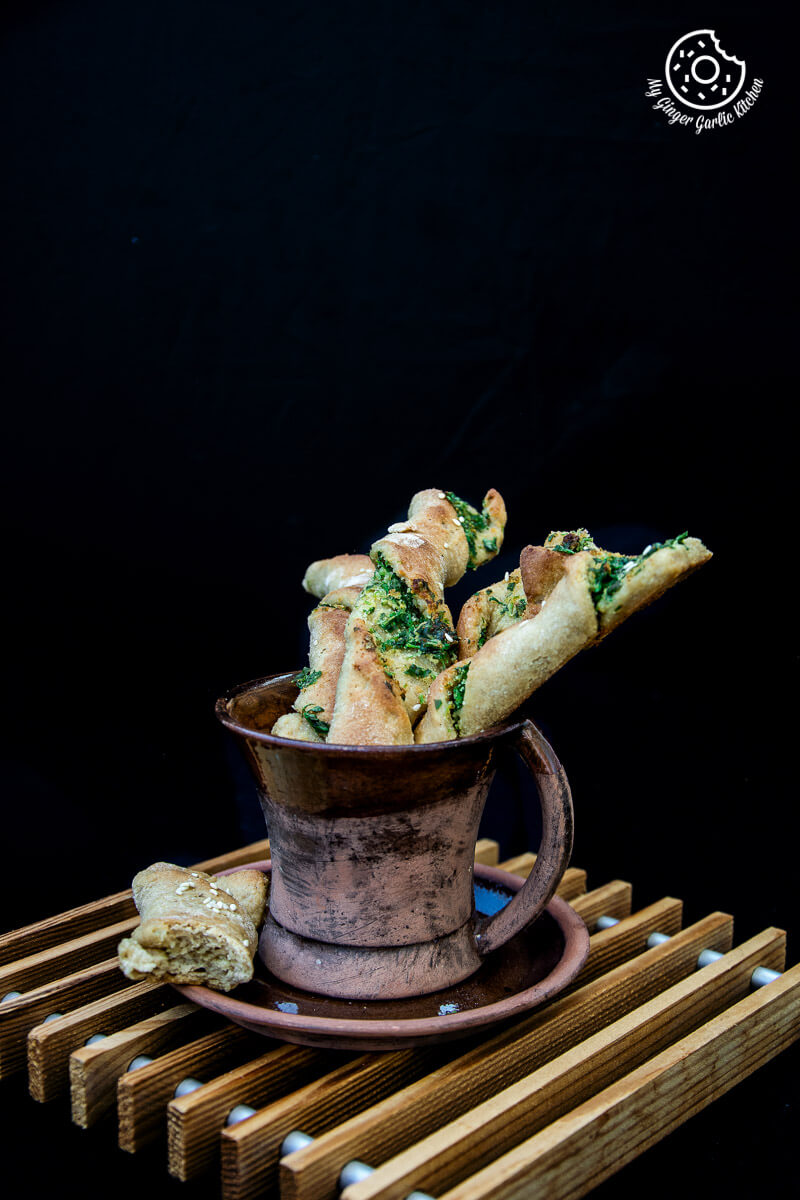 Speaking of colors, Autumn is here:
The days are getting shorter and shorter and September is about to end in 11 days. I not only feel like it's the beginning of fall, I also see some signs that fall is here finally and summer is officially over. I guess the trees know better than us. They show us the sign of a new season and a new beginning.
RE-PIN Pizza Dough Twists With Parsley Sesame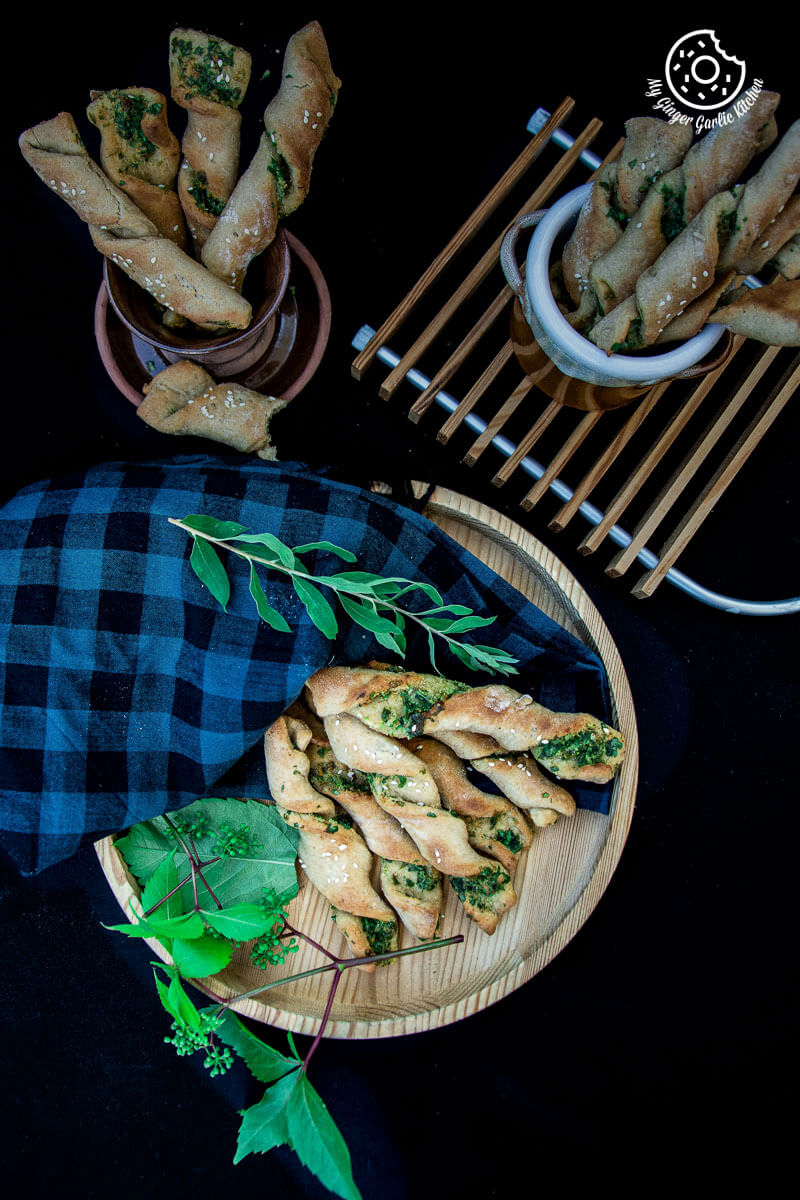 I am a witness to this colorful miracle:
This weekend, I saw the bright green shades of the leaves at the top of the trees fading away. I witnessed that the tops of the maple trees have turned red and orange. Oh gosh! There is just something I love about FALL. We can see these bright reds and oranges in the Fall only. Again, nature's beauty at its absolute best. It is the beautiful Fall foliage we enjoy each year. This is the season when the leaves literally fall in love with the ground. And then the ground encourages them to come back again next year with fifty shades of green 😉 Isn't it beautiful?
Related: Tortilla Pizza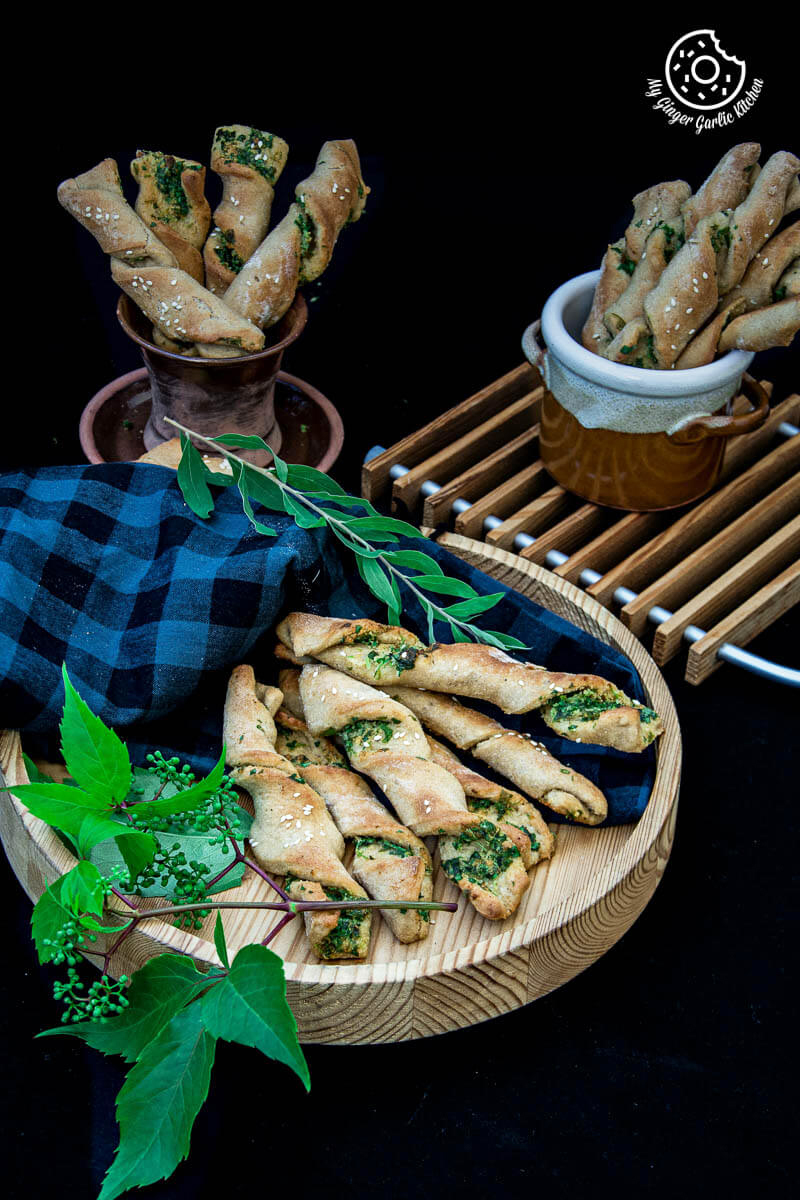 New season = new beginning:
The green maple leaves are turning into red and they would be dry soon. Eventually, there would be no leaves on the trees — and the trees would be bald. But hey, it's the recovery time for trees, so we shouldn't feel bad about them. Consider it similar to a complete haircut for a refreshed look. Remember, a new season = new beginning and new hopes. For me, the colorful future is here. It has everything to love, and why not. But what I don't love about Fall? Well, there is nothing. I completely adore Autumn in every way.
Feeling cold, snacks to the rescue:
Cold weather brings a demand for some warm snacks. Snacks which can be enjoyed in a jiffy. This is kinda healthy too. Who could say no to these tiny appetizing things? I can not.
Related: Cheesy Garlic Pizza Sticks With Figs Mayo Dip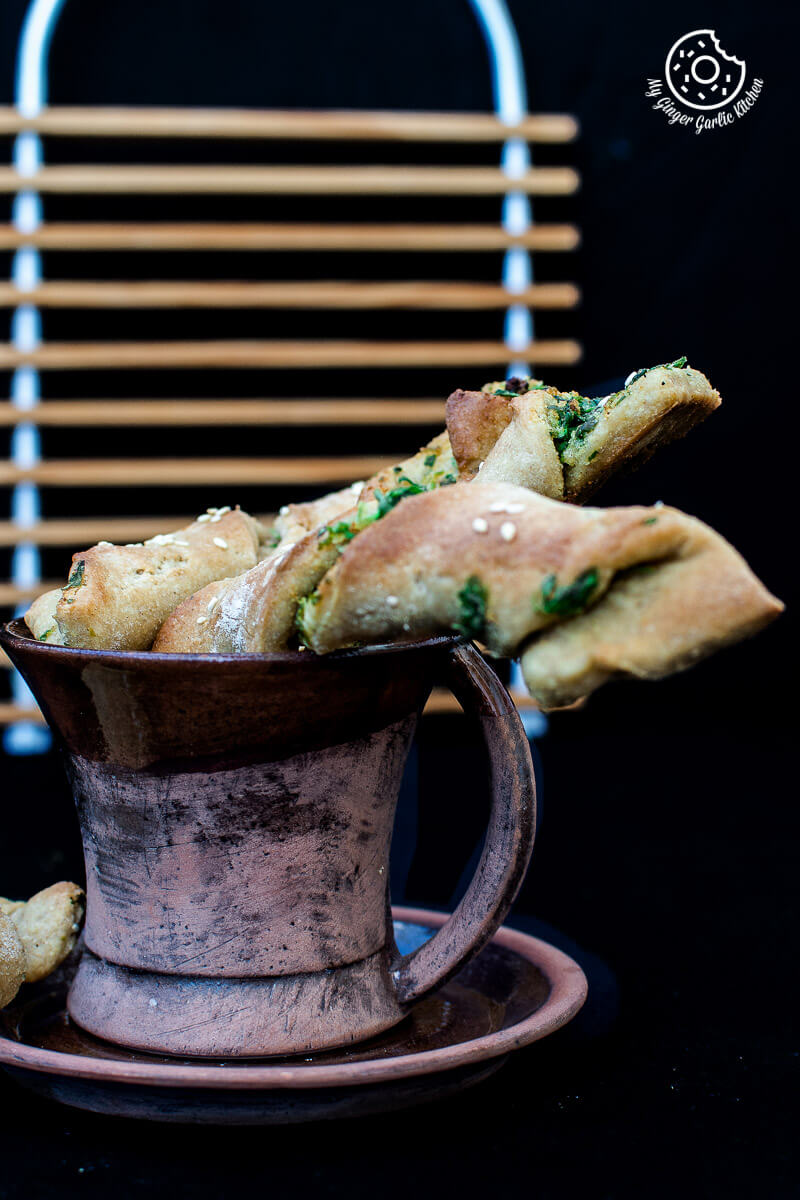 What will you get:
Pizza is one of my favorite foods and these twists include pizza dough. And that means they are my favorite too because I am using some leftover whole-wheat pizza dough. They don't have any cheese. Yes, no cheese at all. They have some fresh parsley, some butter, garlic powder, and salt. Brushed with some milk and sprinkled with sesame seeds and baked. TA-DA! Use vegan milk or cream for brushing to make them 100% vegan.
Related: Chickpea Zucchini Mushroom Pizza with Pickled Peppers and Olives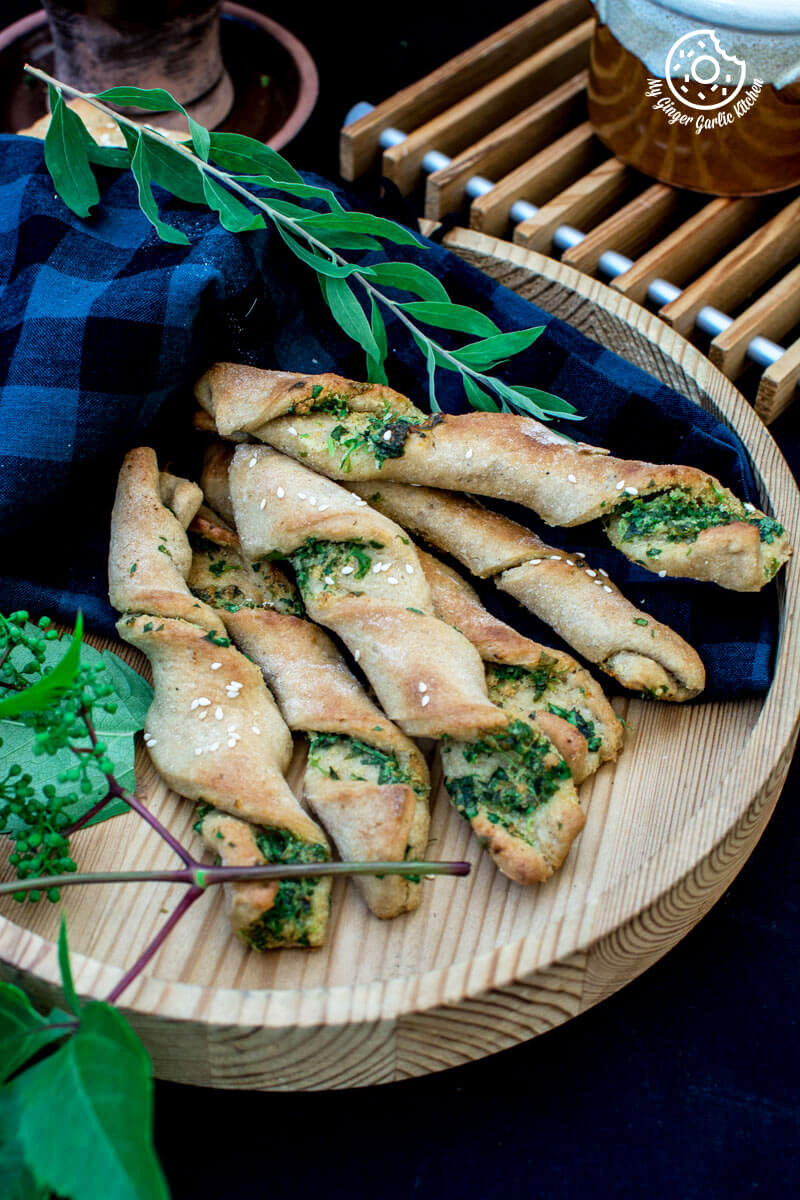 A good pairing is a must:
These twists are addictively good on their own, but a pairing of incredibly awesome pepper mayo for dipping would do the missing magic.
Gobble them up:
They can also be made as a side dish for your pasta or as a starter for your pizza meals. And you can eat as much as you want because they're filler and healthy too!
Related: Garlicky Spinach Mango Tomato Pizza with Hot Pepper Sauce and Flakes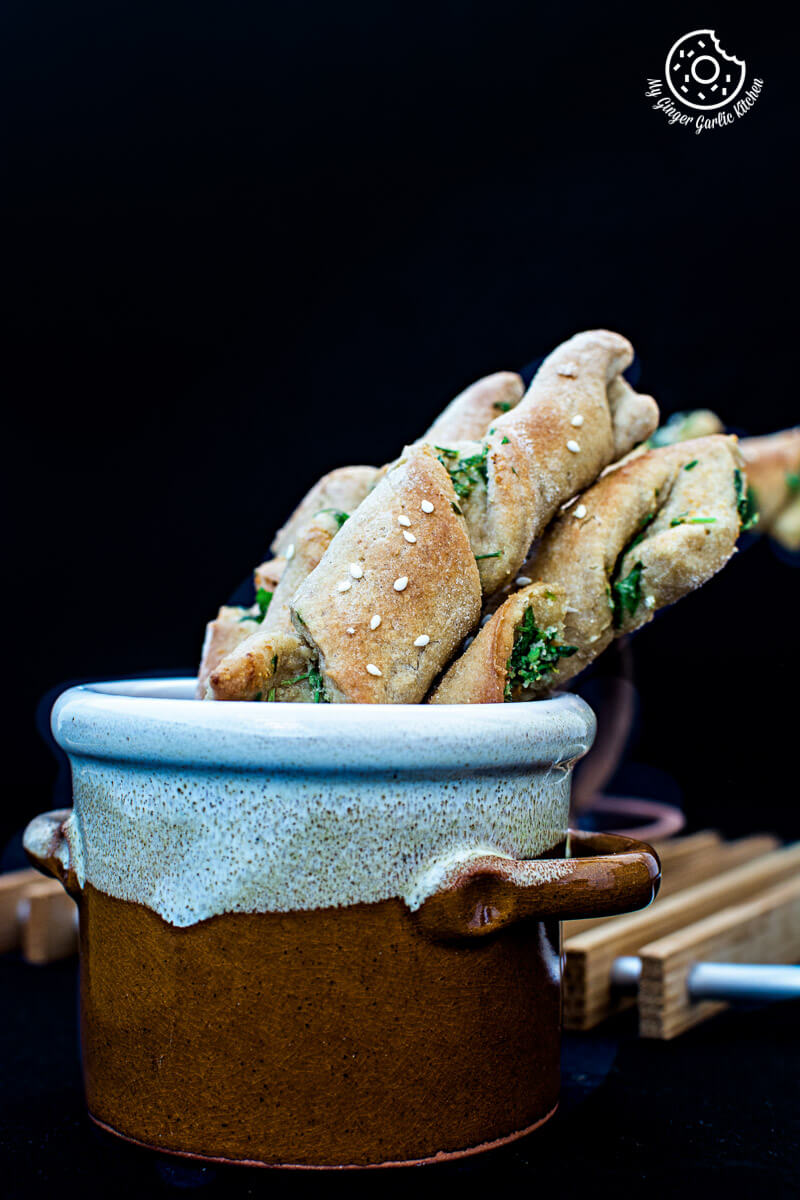 Ready for this beauty?
So are you guys ready for making these twists tonight? I would suggest you to go for these and I promise you won't regret your decision. They are just too good. These pizza twists are ready in just a few minutes.
Related: Scrumptious Baguette Pizza Bites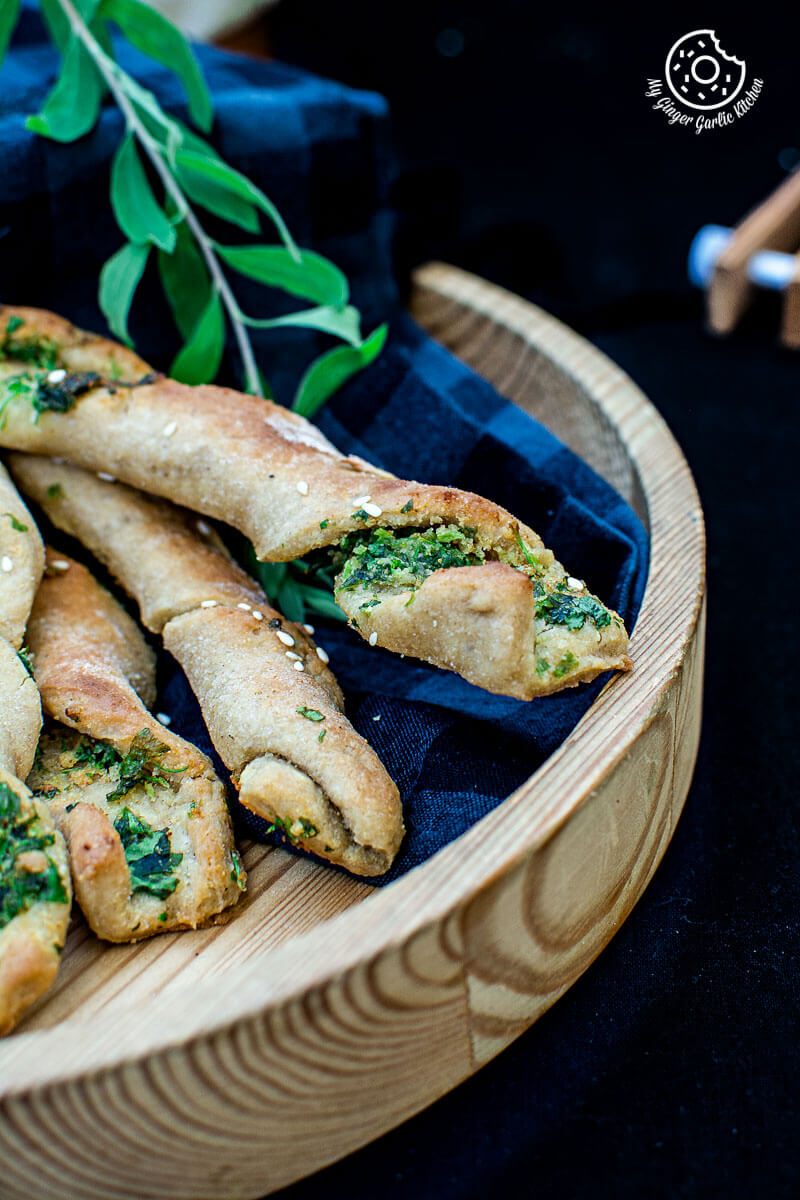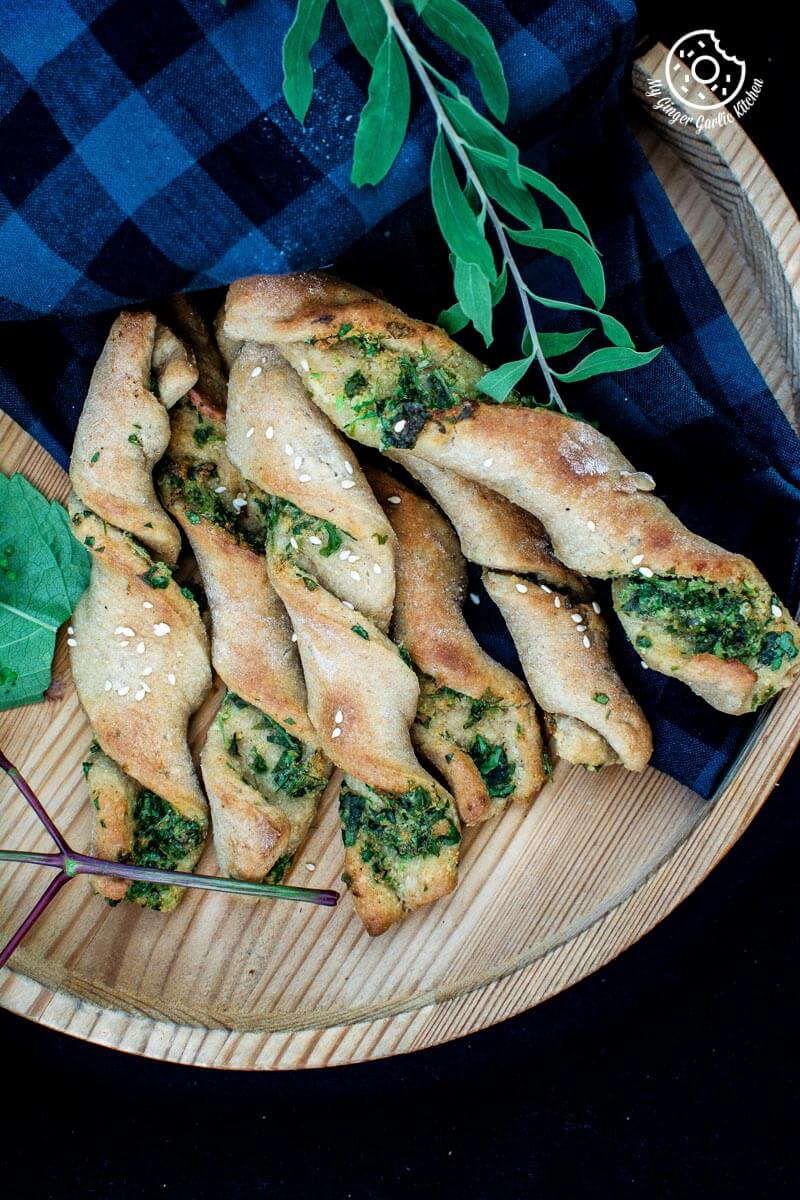 If you enjoyed this recipe, then please further help me by FOLLOWING me on:
Instagram // Facebook // Pinterest // Twitter // Google+ // YouTube
If you cook this dish, be sure to tag your photo with this hashtag: #mggk
Happy Cooking and Keep Sharing! 🙂
Pizza Dough Twists with Parsley

[Recipe]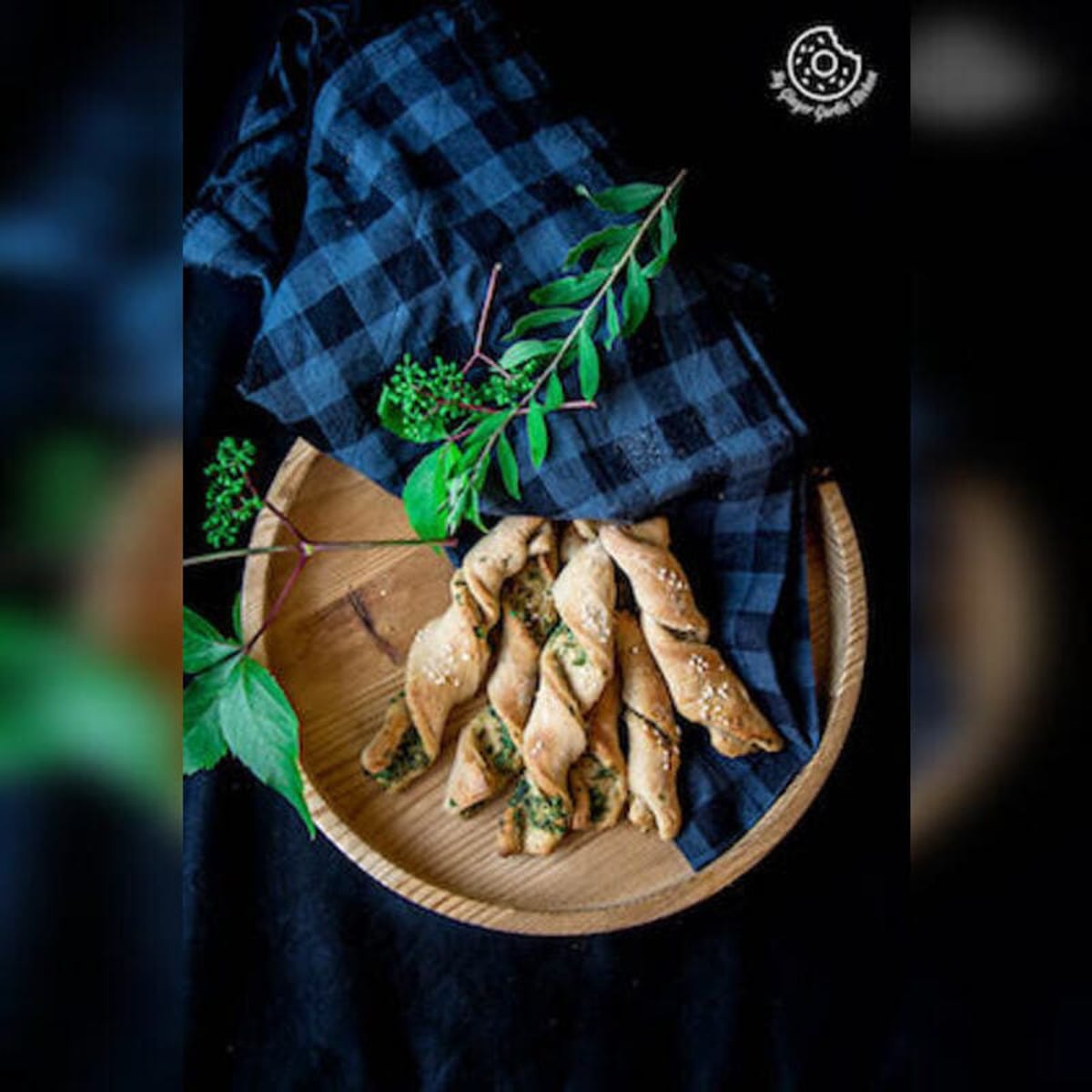 Pizza Dough Twists With Parsley And Sesame is super easy and super fun recipe. This would make a great weekend snack for the kids and grown-ups alike.
---
★★★★✰
(Rating:
4.4
from
40
reviews)
---
| Prep time 🕐 | Cook time 🕐 | Total time 🕐 |
| --- | --- | --- |
| | | 28 mins |
| Category ☶ | Cuisine ♨ | Serves ☺ |
| Main | Indian | 16 Twists |
| Nutrition Info ⊛ | | Serving size ⊚ |
| 65 calories | | 1 Twist |
---
INGREDIENTS
For Pizza Dough Twists with Parsley //
Leftover Pizza Dough - 1 Lb (I Am Using Whole Wheat Pizza Dough)
Flour For Work Surface
Melted Butter - 4 Tablespoons
Parsley Chopped - 1/4 Cup
Garlic Powder - 2 Tablespoons
Salt To Taste
Milk Or Cream For Brushing
Sesame Seeds For The Sprinkle
---
INSTRUCTIONS:
How to Make Pizza Dough Twists with Parsley //
Preheat oven to 175°C/350°F.




Roll the pizza dough out onto a lightly floured surface with a floured rolling pin. It should be about 1/4-inch thick.




Cut the edges to make it a perfect square.




In a small bowl add parsley, melted butter, garlic powder, and salt. (You can also add ground pepper if you wish)




Mix well until combined.




Brush the entire surface of the dough with parsley butter mixture.




Cut the dough in half lengthwise.




Then cut widthwise into a 1/2-inch strip of dough, making 16 strips.




Twist each strip multiple times. Leave a few inches between each twist.




Brush with milk or cream and sprinkle sesame seeds.




Bake for 15-18 minutes or until pale golden and the dough is crisp.




Remove from oven and let cool slightly before serving.




Serve with some pepper mayonnaise or any other dip.



---
WATCH VIDEO:
---
NOTES:
No notes for this recipe.
---
If this recipe helped you, then please spread the word by sharing and
subscribing
to us on YouTube to get more such Recipe Videos.
---
Your feedback is so helpful for me and other MyGingerGarlicKitchen readers. So, for Facebook and Instagram, please mention
@MyGingerGarlicKitchen
or
#mygingergarlickitchen
. I would love to see your photos. :)
---
Author:
Anupama
Recipe Source Link:
https://www.mygingergarlickitchen.com/pizza-dough-twists-parsley-and-sesame-video-recipe/
Date Published:
2019-10-20
• • • • • • • • • •