Pizza Dough Twists with Parsley
Pizza Dough Twists With Parsley And Sesame is super easy and super fun recipe. This would make a great weekend snack for the kids and grown-ups alike.
---
« Go back
Print this recipe »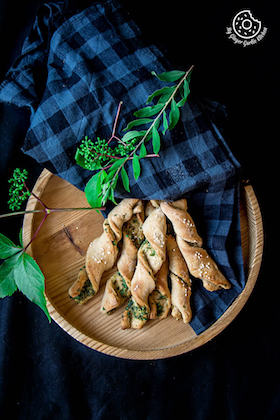 ---
Prep Time = 10 minutes
Cook Time = 18 minutes
Total Time = 28 minutes
Category = Main
Cuisine = Indian
Serves = 16 Twists
Nutrition Info = 65 calories
Serving Size = 1 Twist
---
RECIPE INGREDIENTS
» For Pizza Dough Twists with Parsley //
Leftover Pizza Dough - 1 Lb (I Am Using Whole Wheat Pizza Dough)
Flour For Work Surface
Melted Butter - 4 Tablespoons
Parsley Chopped - 1/4 Cup
Garlic Powder - 2 Tablespoons
Salt To Taste
Milk Or Cream For Brushing
Sesame Seeds For The Sprinkle
---
RECIPE INSTRUCTIONS
» How to Make Pizza Dough Twists with Parsley //
Preheat oven to 175°C/350°F.
Roll the pizza dough out onto a lightly floured surface with a floured rolling pin. It should be about 1/4-inch thick.
Cut the edges to make it a perfect square.
In a small bowl add parsley, melted butter, garlic powder, and salt. (You can also add ground pepper if you wish)
Mix well until combined.
Brush the entire surface of the dough with parsley butter mixture.
Cut the dough in half lengthwise.
Then cut widthwise into a 1/2-inch strip of dough, making 16 strips.
Twist each strip multiple times. Leave a few inches between each twist.
Brush with milk or cream and sprinkle sesame seeds.
Bake for 15-18 minutes or until pale golden and the dough is crisp.
Remove from oven and let cool slightly before serving.
Serve with some pepper mayonnaise or any other dip.
---
RECIPE NOTES
No notes for this recipe.
---