Scrumptious Baguette Pizza Bites [Vegetarian-Recipe]
---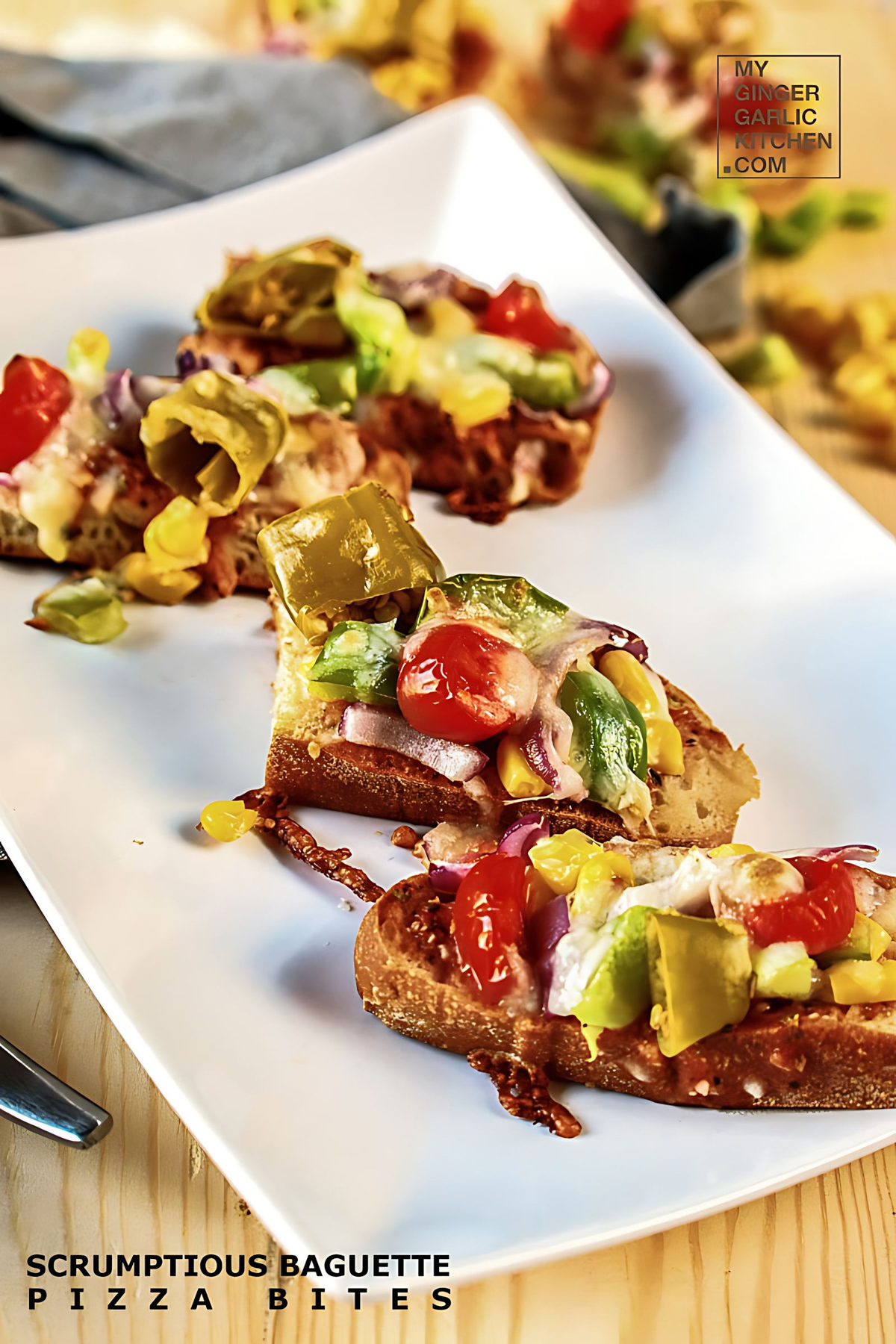 Prep time: 5 minutes
Cooking time: 10 minutes
Servings: 4
---
What is Scrumptious Baguette Pizza Bites?
Scrumptious Baguette Pizza Bites are easy to prepare pizza bites which everyone will love. Its a classic makeover to the regular pizza, which is simply delicious, and makes a quick handy snack. It's a perfect alternative to the whole pizza, more so, when you have cravings for some cheezy pizza, but not feeling very hungry. Add your own favorite toppings and enjoy these mini bites. These are as crispy and as tasty as the whole pizza.
Let's learn to make Scrumptious Baguette Pizza Bites in 4 easy to understand quick steps.
---
Ingredients for pizza bites:
french bread baguette, cut into 2 inch pieces – 2
mozzarella shreds – 2 cups
chopped vegetables for topping
---
Ingredients for sauce:
garlic, grated – 2 tbsp
dry oregano – 1 tsp
marjoram – 1 tsp
dry basil – 1 tsp
garlic powder – 1 tsp
---
Method:
Preheat oven to 400ºF/ 20o°C. Line a baking tray with parchment paper.
Take a mixing bowl. Add all the sauce ingredients to it, and mix well. Keep it covered in refrigerator for 30 mins.
Place baguette bites on baking tray. Spread pizza sauce over each slice. Spread all toppings on top, and top with cheese shreds.
Bake for 7-8 minutes or until cheese gets melted and bread becomes crispy. Enjoy with your favourite drink.
MY PHOTOGRAPHY NOTES:
Camera: Nikon D7100
Lens: Nikon 35mm f/1.8G AF-S DX Lens
Setup: Used natural sunlight coming from left, and a reflector on the right side of the frame.
Props & Styling:  I arranged my pizza bites on a white plate, and placed that plate on a wooden board. Used a gray table cloth and I randomly spreaded my topping ingredients on the board along with a gray table cloth.
Angle: I clicked these photos with 90°, 70°, 45°.
Happy Cooking 🙂
Show us your love by commenting on this post, and share your thoughts.
Liked this post, then you will like this too.
[simple-qr size="" type="url" url="http://www.mygingergarlickitchen.com/scrumptious-baguette-pizza-bites-vegetarian-recipe/" margin="0″ size="160″ align="center" pointer_text="Get This Awesome Recipe On Your Smartphone." pointer_color="#FF1975″ pointer_position="left"]
---