Fruity-Veggie Boondi Raita is a cool tasty condiment which goes well with spicy curries. A perfect pairing for spicy food.
Happy Wednesday to you all charming people out there!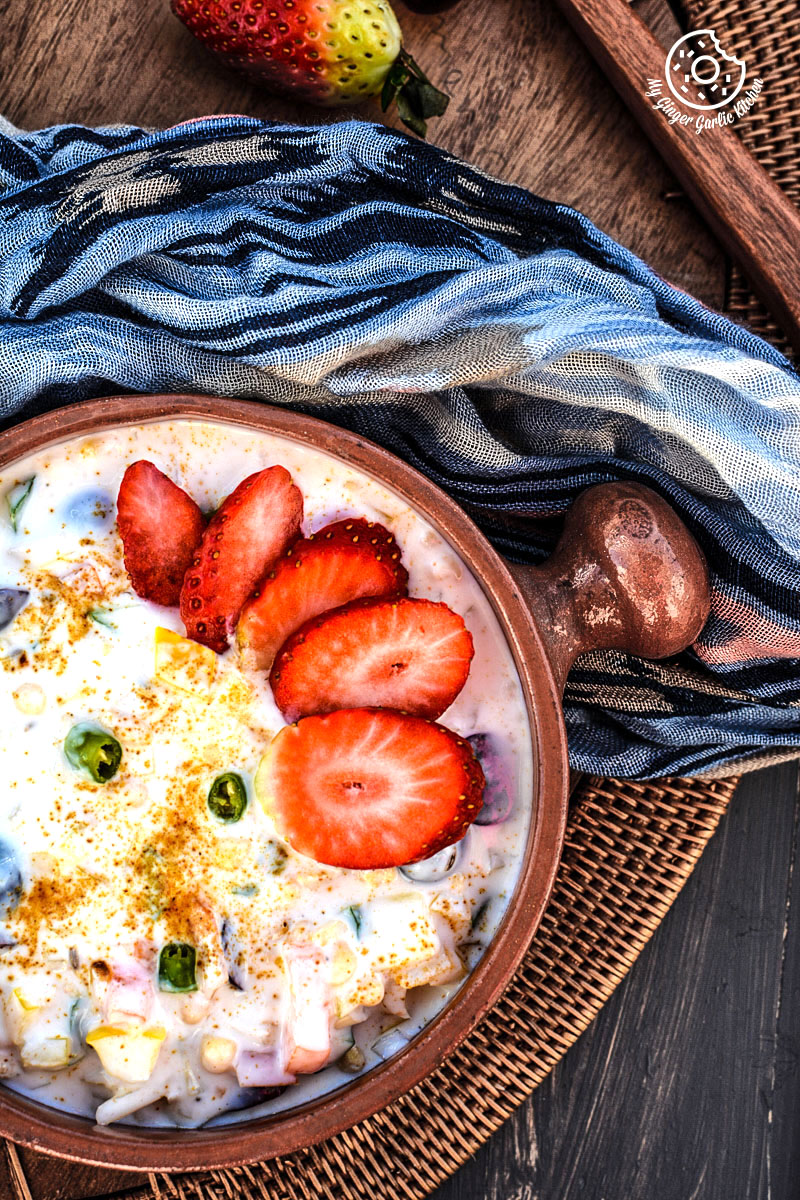 It's been a while since we chit chatted on the blog. I thought of putting together a lighter writeup, instead of a big story today. How does that sound?
Okay! Just to explain, it would include only a little 'tittle-tattle' of food! Does that sound BETTER? Yes! I know, it's exhilarating!
What? You guys are super excited! I know you guys so well, right? : )
It's mid-week, and I love all mid-week days — they get me thrilled for the weekend.
Undoubtedly, weekends are known as lazy days. No need to get up early. And that's why I so wait for weekends! Call me lazy or what, but this is how I work. Hope of relaxing weekend keeps me motivated the whole week. Lazy days rule, you see! You can see my smiling cheekbones, even though I am only writing about the weekend. Ohhh! 😛
Weekends are refueling days — they include lazy couch breakfasts, family outings, entertainment and most of all some real GOOD FOOD. What else one would need for weekdays reloading!
And it just makes the coming Monday much better! A sure shot recipe for having less Monday blues! Isn't it? 😉 Yes, for sure.
And all this is FUN!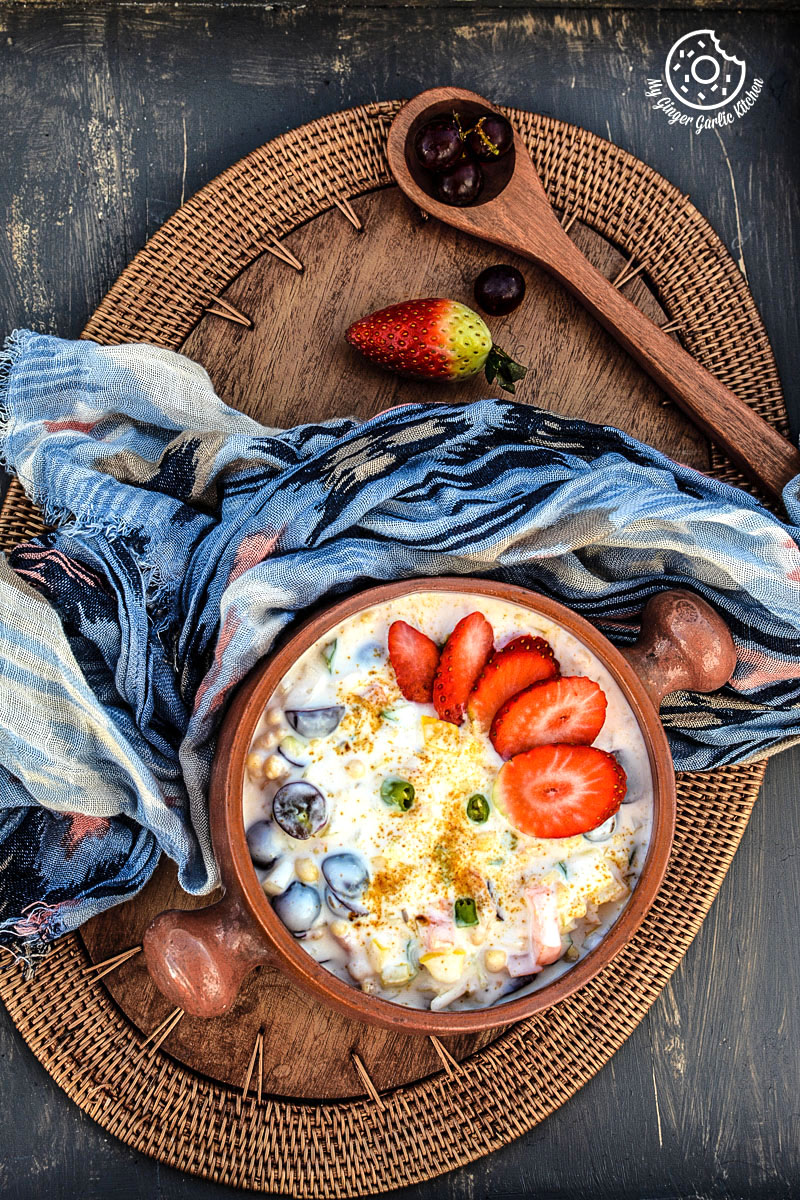 I am particularly excited for this coming 3-day long weekend. Friday,1st of May is 'Labor Day'.
Do you guys have any plans for the Labor Day? Well! We have planned a picnic, and its going to be FUN for sure!
If I tell you about weather, it is still not warm here in Finland. But I hope that May would bring some warmth with it! The start of a new month will also be the start of some warm weather. I hope so, keeping my fingers crossed. 🙂
I just realized that I am presumably making you all dream about the perfect lazy weekend on a mid-week day. Ahh, sorry guys! I apologize for that.
But I promise, next time I will talk about lazy weekends only on fridays! But hey! I think I am not that early either. It's Wednesday and Friday is a holiday this time. So you can wake up late on Friday and celebrate 3-day long perfect weekend.
Sounds energizing?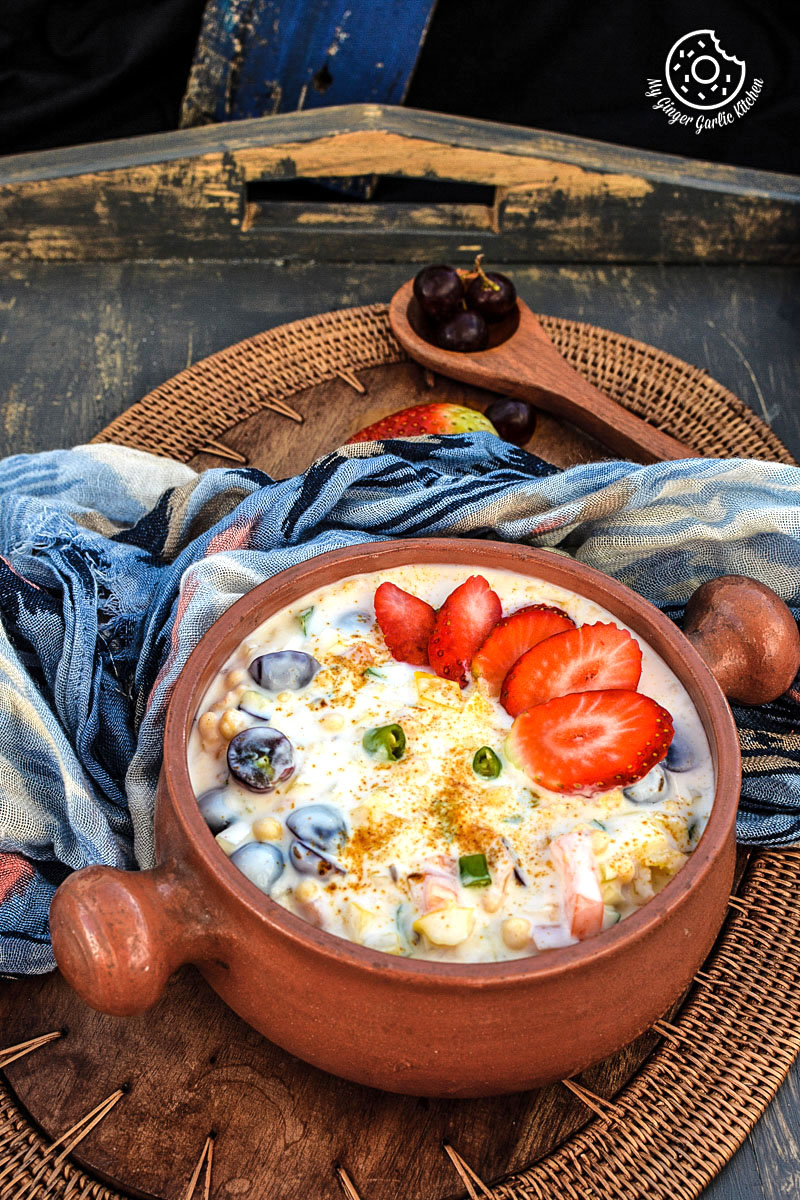 You can have an awesome dinner along with some chocolate dessert on weekends. I think all inactive days scream for a dessert! YES! A real chocolate dessert! 😀
Now, let's talk about today's dish.
The dish is 'Fruity-Veggie Boondi Raita'. There are countless Raitas, and Boondi Raita is one of the most popular ones.
A few days earlier, I visited an Indian grocery store and there I found this boondi (fried gram flour puffs) in the snacks section. And this brought back all my memories associated with this amazing boondi.
Whenever I miss home, I try to make something which my Mom and Granny used to make. By doing this, I further enrich myself with the food wisdom passed onto me.
I must say this is not me talking, this is the richness of diverse Indian cultural heritage which has taken over my head. 😉
Jokes apart! It even makes a pretty good snack if you eat it alone at brunch time. Great idea!
The raita is cool, thick, creamy and refreshing with a nice crunch from the boondi. The addition of cumin powder releases a nice fragrance into the dish.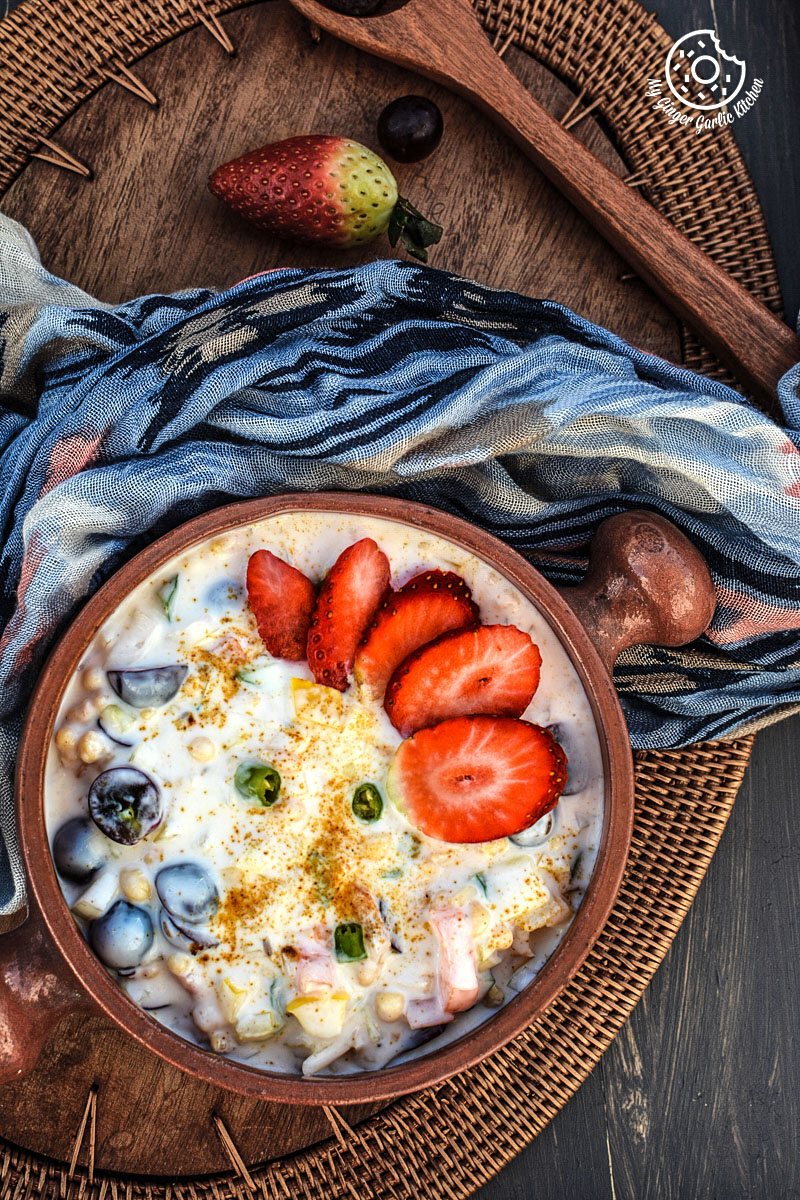 This cool tasty Fruity-Veggie Boondi Raita is a condiment which goes well with spicy curries. A perfect pairing for spicy food.
Boondi raita is one of the most traditional North Indian condiments. But I think it is famous in every part of India. This dip is served on festivals and at get-togethers, and wedding dinners. It is quite easy to make, especially if you have bought the ready-made 'boondi'.
Boondis are tiny cute balls, crisply fried droplets of besan or gram flour. I think the word boondi is taken from the word 'boond', which means a drop.
I made this old fashioned raita with a twist. And the result came out wonderous! I suspect if I would ever go back to the regular version of boondi raita after tasting this.
This raita is beyond delicious, and the options for adding fruits-veggies are endless. A light, colorful and flavorful dish with full of fresh fruits and veggies would sure make a perfect springtastic dish!
This condiment is crunchy because of savoury boondi. And sweet-tangy because of juicy fruits. These all ingredients play a huge role to make this dish unique and delectable. This dish is flavoured mildly with cumin powder, salt and green chilies.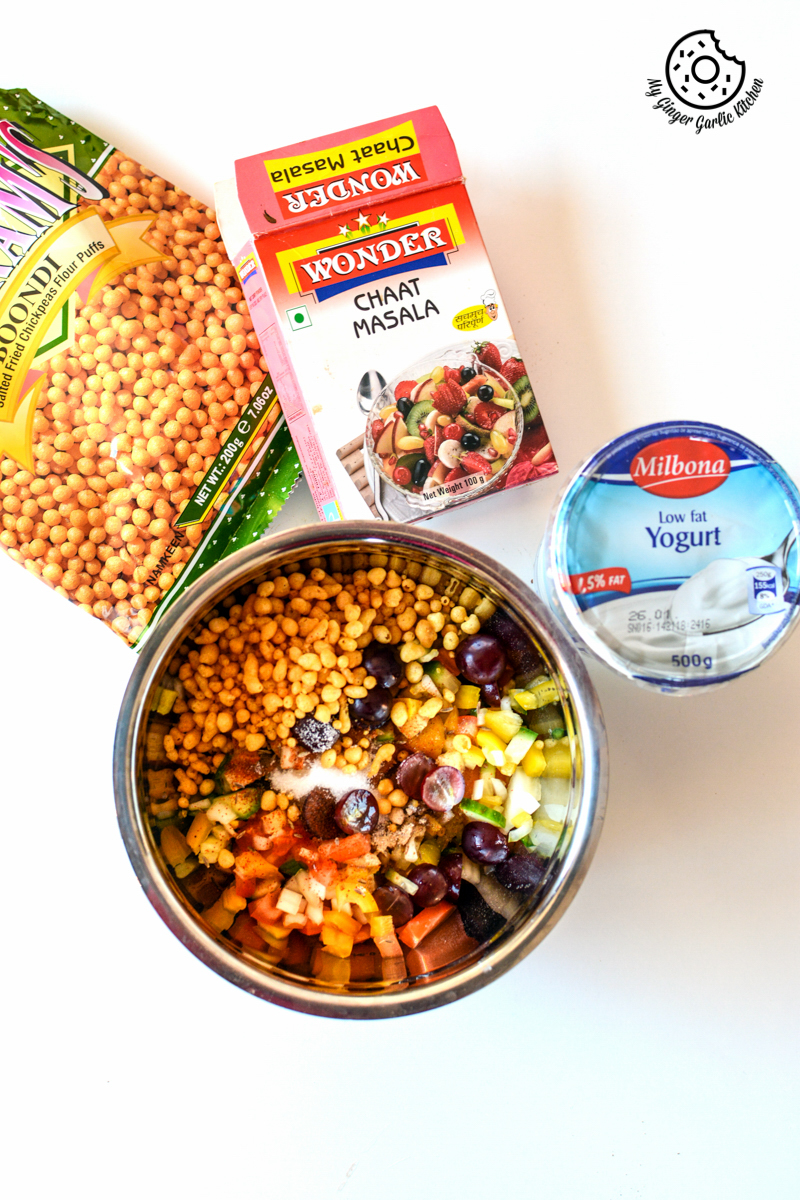 This is one of the easiest and yummiest raita anyone can prepare and serve in just a few minutes.
Believe me, you will love the blend of vibrant colours, flavours and textures within every spoonful of this refreshing Fruity-Veggie Boondi Raita.
For me, raitas are always handy, and can go well with any rice dish, like biryani or pulao, and paratha. This can also accompany a curry dish along with flatbread. Perfect for those regular lunches and dinners or get-togethers.
I have also read and heard from elders that Raitas are good for digesting food too. This sure is good for you, and also, it is one of the easiest and quickest recipes to make.
This Raita is beyond delicious and a perfect side dish for any meal.
This recipe uses yogurt, fruits, and boondi as base ingredients.
Let's learn to make this quick and delectable Raita!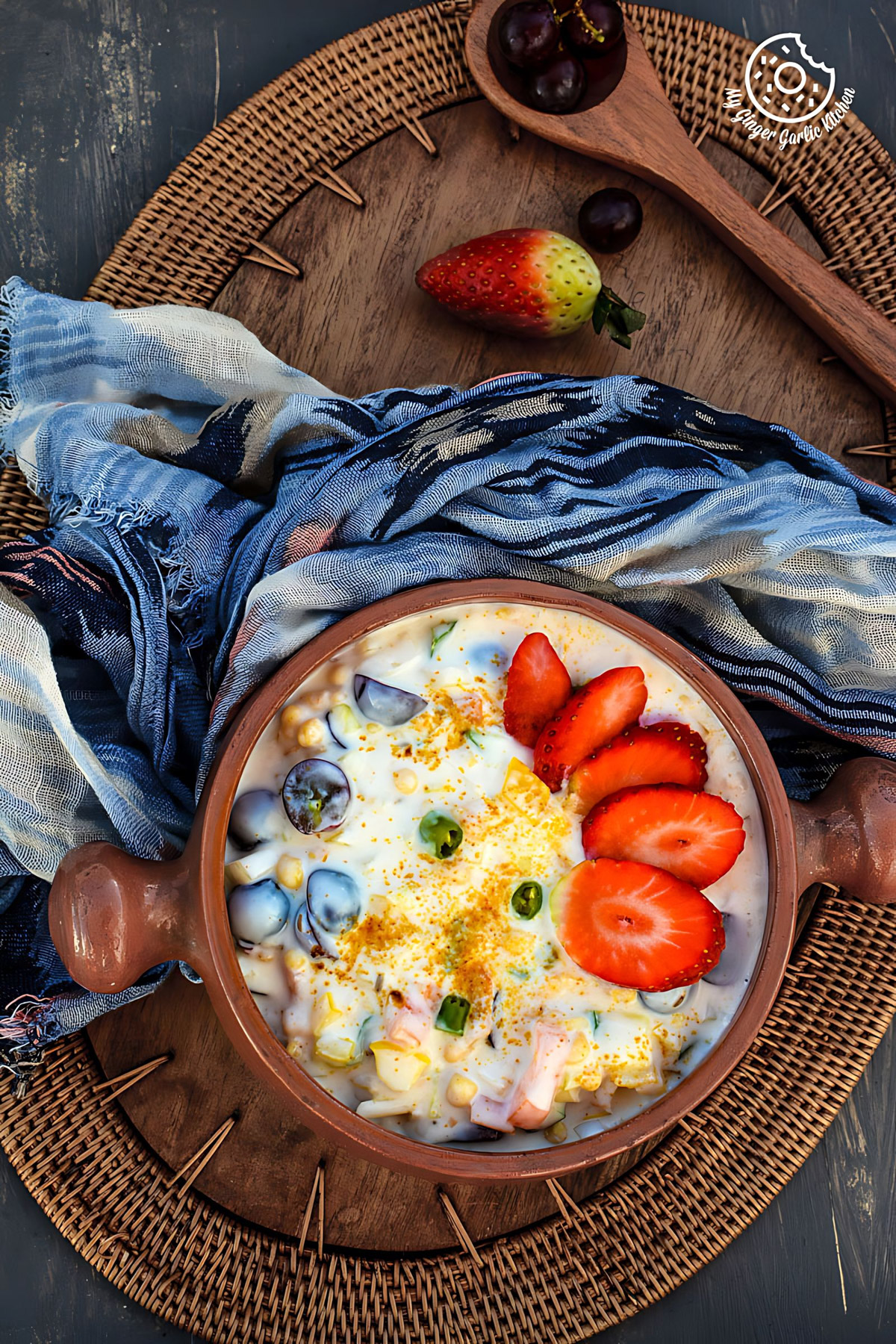 Happy Cooking!
---
Veggie Boondi Raita – Fried Gram Flour Puffs Yogurt Dip

[Recipe]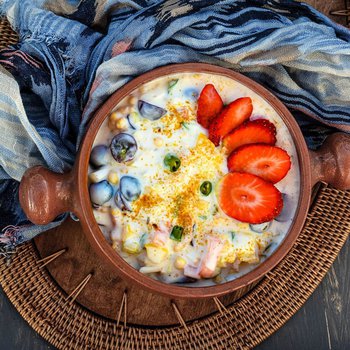 Fruity-Veggie Boondi Raita is a cool tasty condiment which goes well with spicy curries. A perfect pairing for spicy food.
---
★★★★✰
(Rating:
4.7
from
66
reviews)
---
| Prep time 🕐 | Cook time 🕐 | Total time 🕐 |
| --- | --- | --- |
| | | 6 mins |
| Category ☶ | Cuisine ♨ | Serves ☺ |
| side dish | Indian | 4-6 |
| Nutrition Info ⊛ | | Serving size ⊚ |
| 204 calories | | 1 serving |
---
INGREDIENTS
For Veggie Boondi Raita
boondi/fried gram flour puffs - ¾ cup (easily available at Indian grocery stores)
cucumber, chopped - 4 tablespoons
onion, chopped - 1
tomato, chopped - 1
grapes, chopped - 4 tablespoons
chaat masala - 1 teaspoon (optional)
mangoes, chopped - 2 tablespoons
strawberries, chopped - 4 tablespoons
pomegranate arils - 2 tablespoons
green chilies, chopped - 1
salt, as per taste
roasted cumin powder - 1 teaspoon
chilled, low fat yogurt - 2 ½ cup
for garnish //
pinch of cumin powder
sliced fruits
green chiles, chopped
---
INSTRUCTIONS:
How to Make Veggie Boondi Raita //
Take a mixing bowl. Combine the yogurt, boondi, fruits, veggies, cumin powder, chaat masala, and salt and whisk well.
Garnish with your favourite fruits, green chiles. Sprinkle some cumin powder, and serve immediately.
---
NOTES:
No notes for this recipe.
---