Learn to make Cauliflower Pilaf | Roasted Cauliflower Pilaf With Watermelon Sauce Recipe with a quick video tutorial — This Roasted Cauliflower Pilaf With Watermelon Sauce has the mouth-watering deliciousness of a comfort food at its best. You can enjoy it without any guilt. Plus, it's a brilliant way to sneak vegetables into your family's vegan and a gluten-free diet.  A perfect meal for a cold day.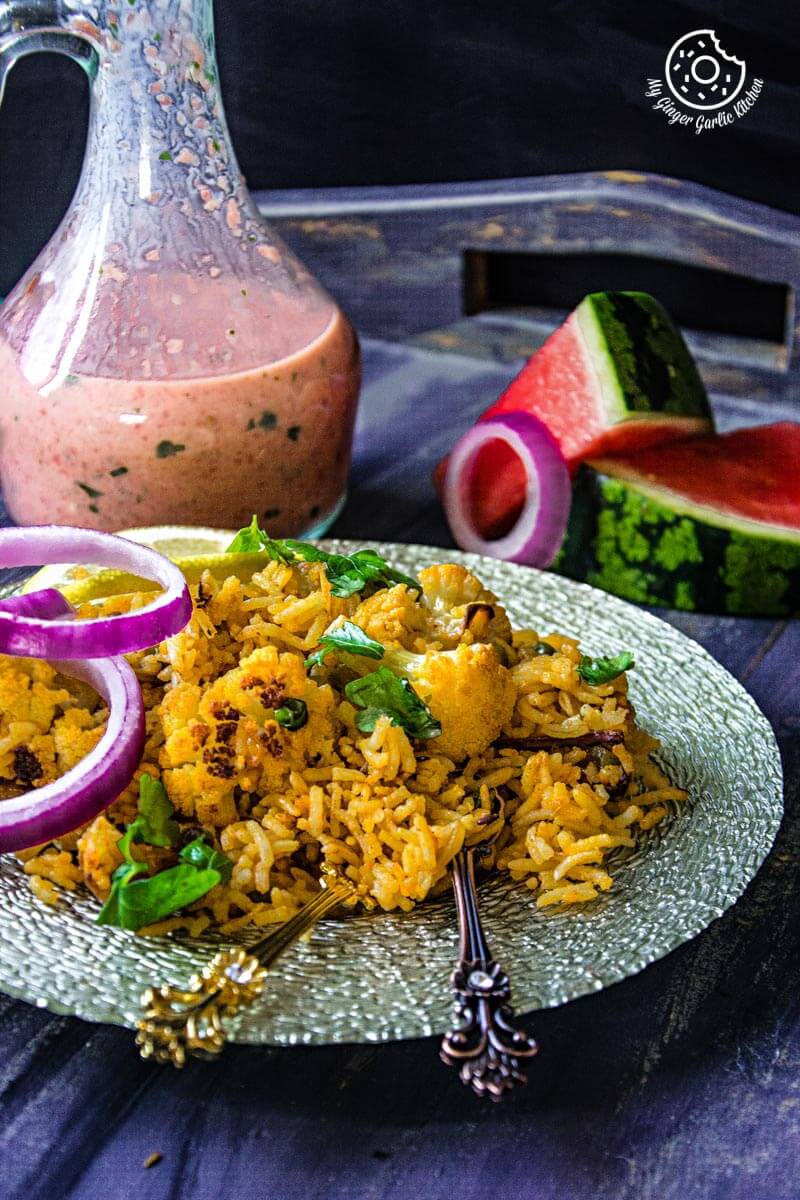 This Pilaf is a Perfect meal:
Now that it's actually cold outside, we're craving for some comfort food to keep us warm during the coming cold times. This Roasted Cauliflower Pilaf With Watermelon Sauce has the mouth-watering deliciousness of a comfort food at its best. You can enjoy it without any guilt. Plus, it's a brilliant way to sneak vegetables into your family's vegan and gluten-free diet. Isn't it?
Related: Express Bread Rice Pulav
Related: Mushroom Peas Corn Pulav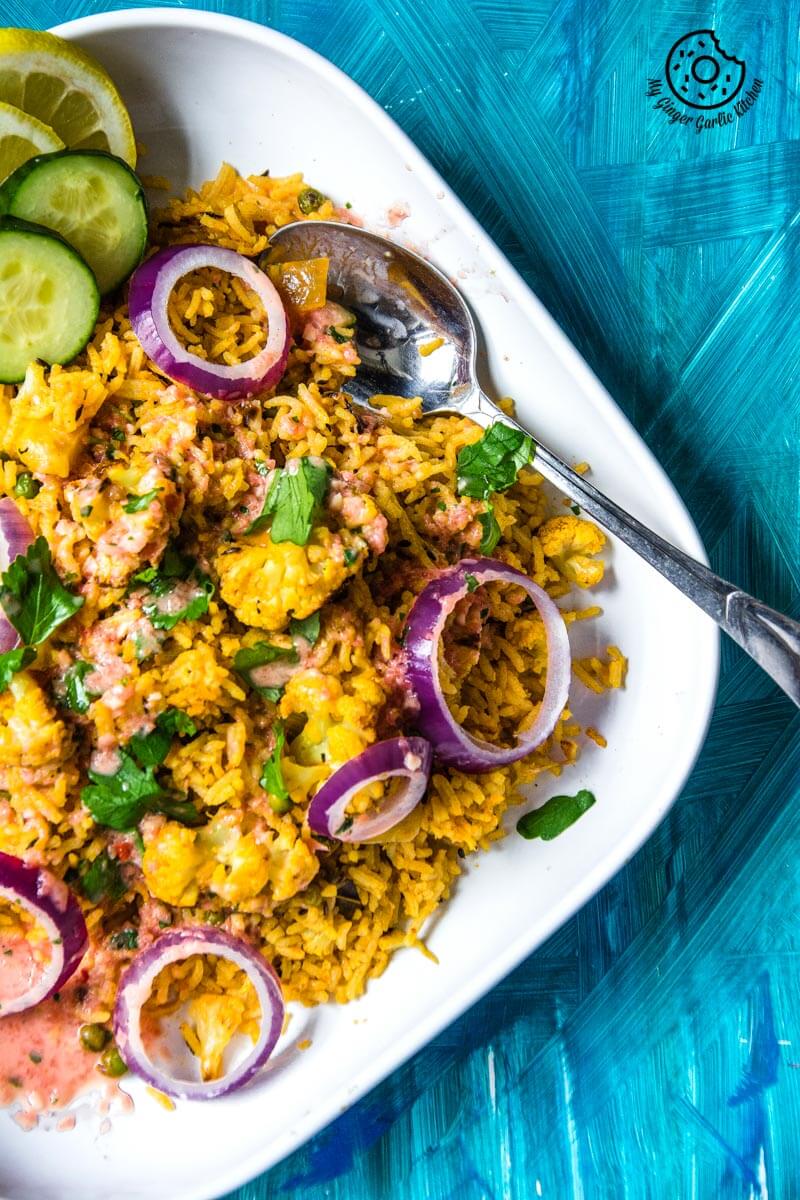 My inquisitive little one:
Let me tell you a little incident on how this divine meal happened last week because of Adoria. For past couple of months, Adoria has been really inquisitive about the foodstuff. And she makes sure that she accompanies me every time I visit the grocery store. Well, that's not it — the fun in the story has just begun.
I will tell you how a grocery shopping can be the least fun thing for a foodie if you have a kiddo whose 'whys' are never-ending. Well, I certainly have no issues with the 'whys', in fact, I love whats and whys, but not in the grocery store. That is a meditation place for me. I go there, I touch and feel the vegetables and fruits and fantasize about all the possibilities I could come up with those fresh, vibrant and beautiful things nature has given us. Then what's the problem you may ask? You will soon know 🙂
Related:  Spiced Rice Lentils with Grilled Pineapple And Cucumber Honey Lemon Yogurt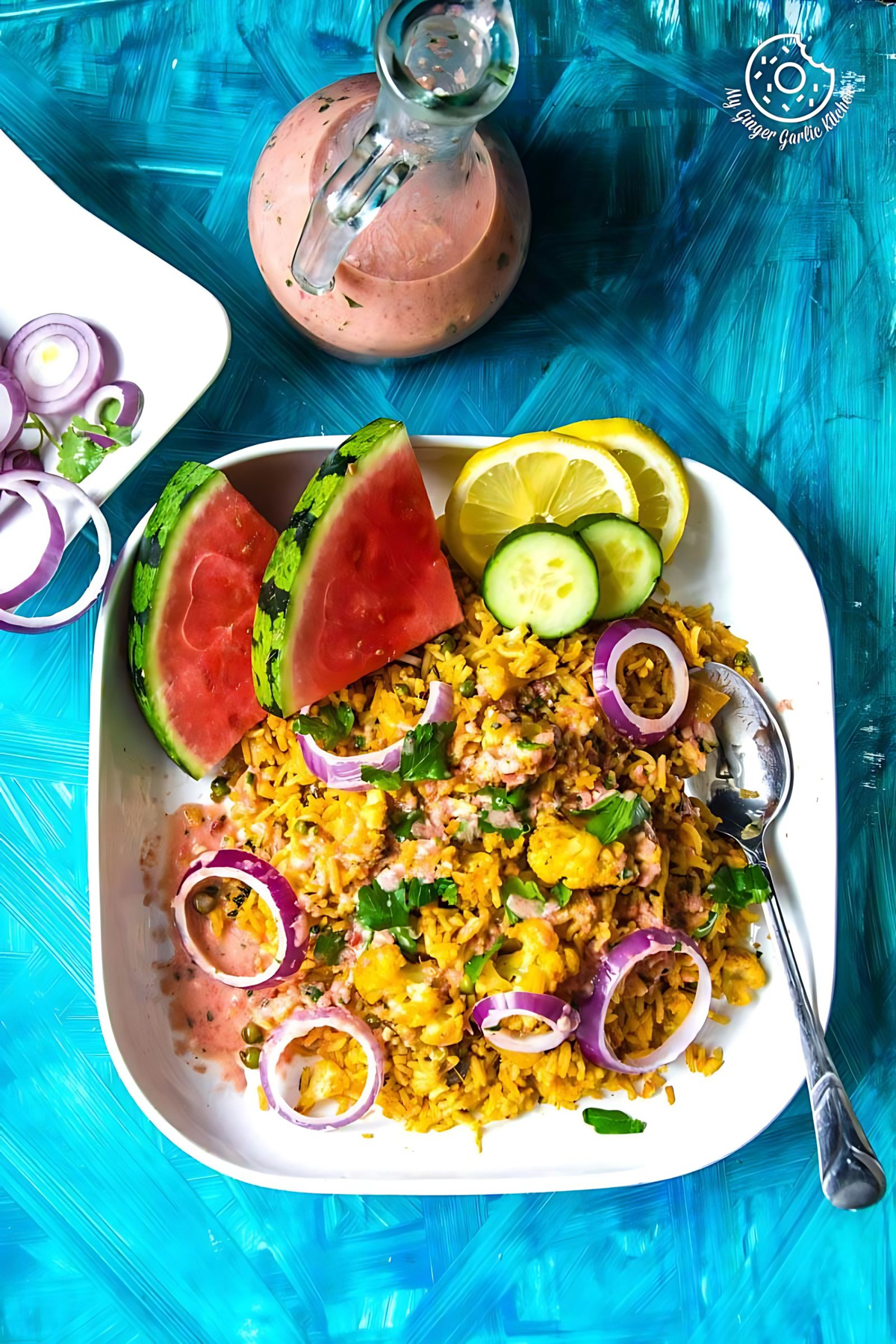 Our grocery story:
As I told you that my little one has been really inquisitive about food these days. She comes with me every time I go for grocery shopping. This usually happens thrice a week. Everything works great before we enter the grocery store. I try to focus on my grocery list and always hunting for something new showing potential in a foodie way. As I am contemplating all this, suddenly starts the what and why series.
Adoria: "Mamma, what's that?"
Me: "It's grain."
Well, this could happen for any vegetables, meat, bread, fruit, oil, sugar or any food or drink which you could think of. That's because her question is the same and my answers are different every minute depending upon the thing she is asking about. All her 'What' sentences are really good, I love to answer all those 'whats'. But the problem lies somewhere else.
Adoria: "Wow, I like it. Can we take it?"
Me: "No, not today. Maybe some other day."
Adoria: "Why?"
And here comes the less fun part — her 'whys'. I don't have any trouble in figuring out her why's. But I just can't do that in a grocery store, that too at a speed of 20 whys per minute.
First, there are thousands of items. And I certainly cannot buy everything and then I have to come up with a new reasoning of why we are not taking those particular things. Because something I literally don't have a logical reason not to take it.
Second, the grocery store is a place where I like peace. No disturbances.
Related: Fruity Blueberry Strawberry Pulav /Rice [Signature Recipe]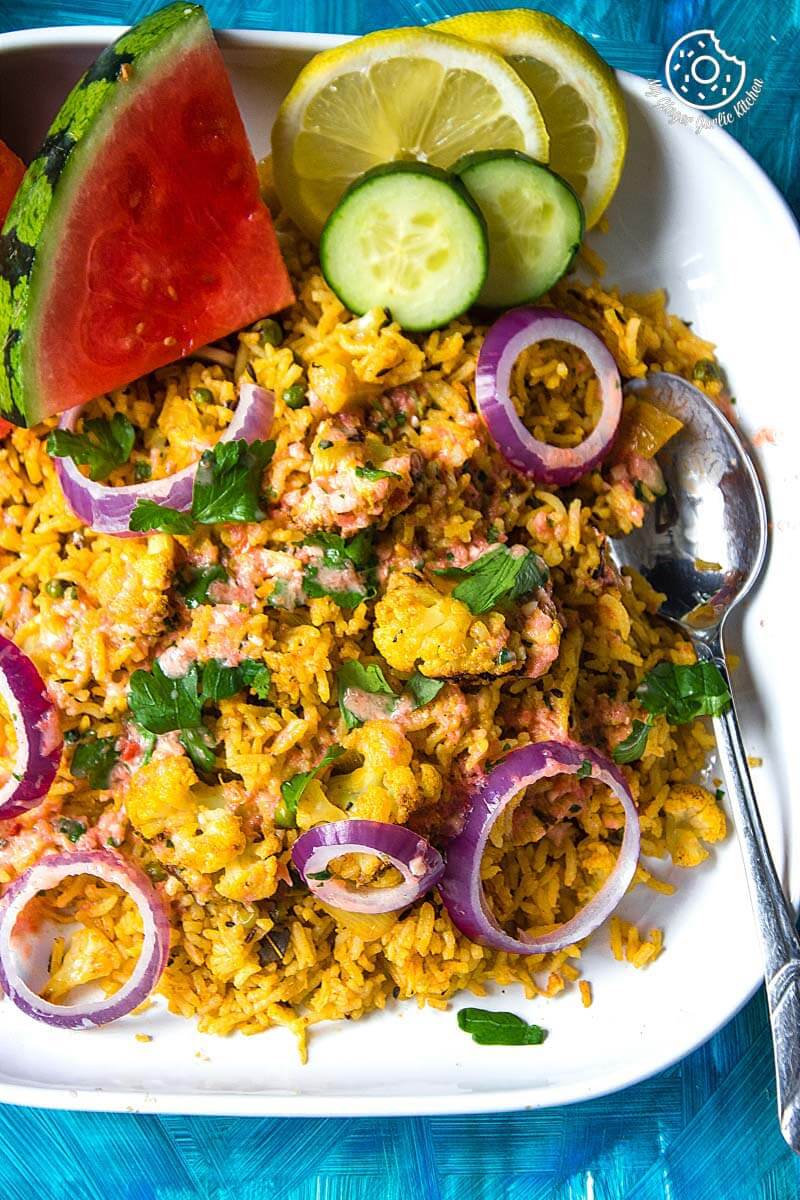 I finally learnt how to deal with this:
Her 'why' series finally ends when I buy maybe 3-4 items which are not on my list but she wants me to buy them. And after that, I have to make sure, that she wouldn't tell me to buy anything she sees. Then she promises, that she won't ask me to buy anything else other than the grocery list. But that promise doesn't last for more than 2-3 mins. She sees something, gets excited and there starts the same what and why series. However, at this time, this becomes easier to handle her. I just have to remind her about the promise she just made 2 mins ago. Thankfully, this works with her. 😉
Related: Spinach Kofta Biryani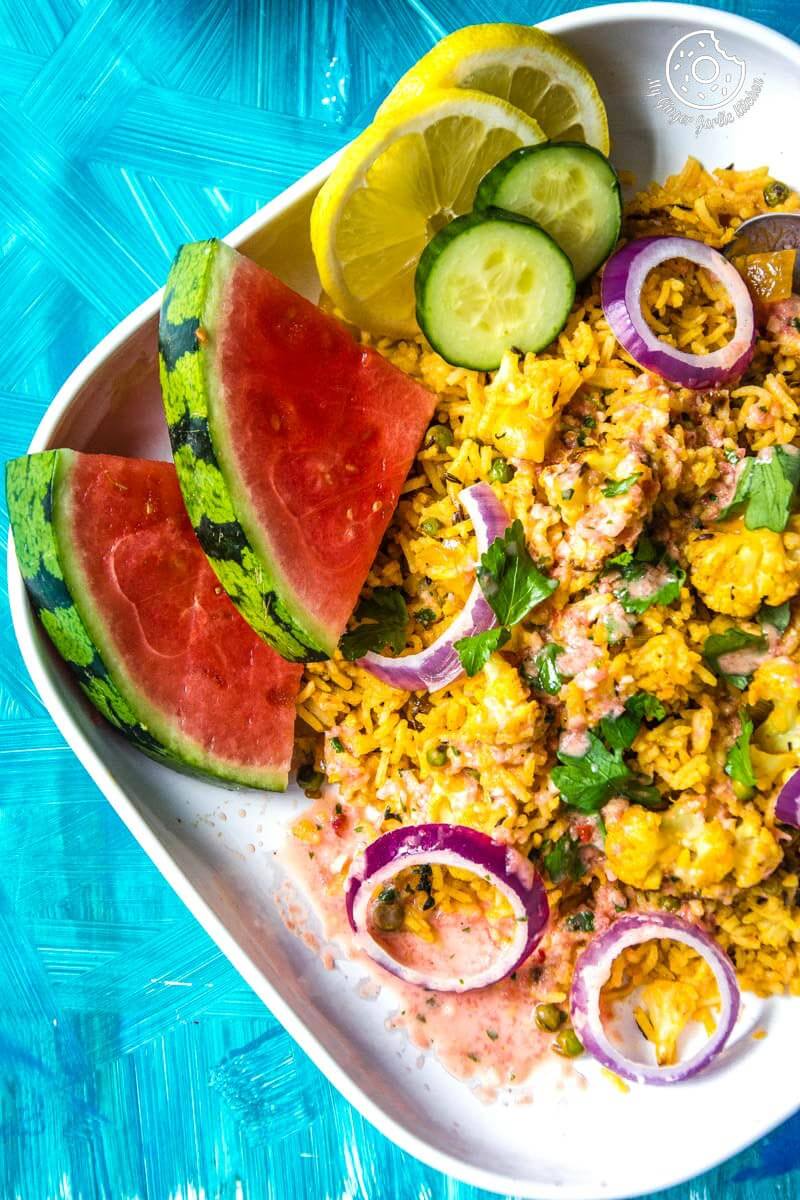 Okay! Now, I will tell you how this happened because of Adoria.
Last week when Adoria and I went for grocery shopping she saw her favorite cauliflower and at the moment she saw it, she said: "Yum, yum. I like cauliflower. Can we take it Mommy."
Me: "Of course, we can take it. Which one do you want?"
And she picked up a BIG one. Well, everyone craves for cauliflower in my family. So It was perfect. 🙂 Then we moved to the fruits section and there she saw a tiny watermelon. "Wow! Baby watermelon", Adoria exclaimed.
I got thrilled too after seeing that baby watermelon. It was not bigger than the size of a big tangerine. I have never seen a mini watermelon before. This time, I asked to her: "Should we buy this"?
She said: "Yes, yes."
Related: Carrot Zucchini Pilaf!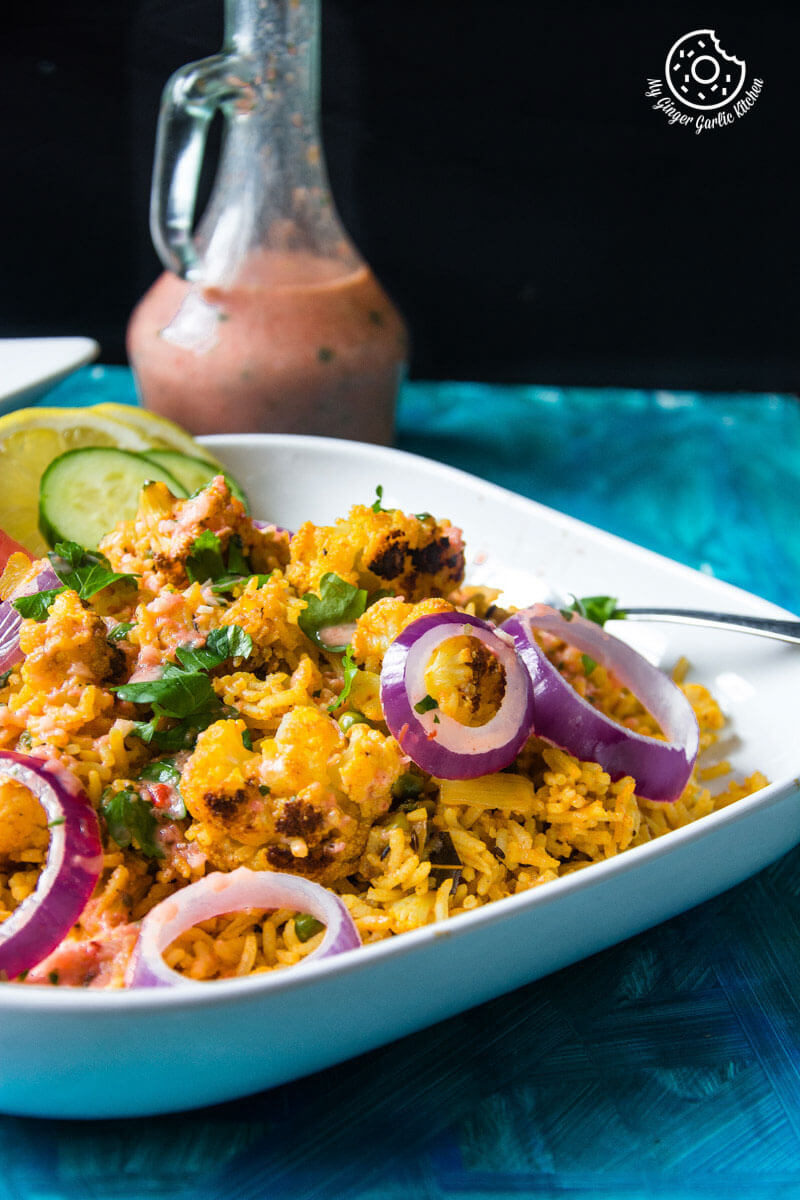 Time to relish:
We bought those two jewels. She wanted me to cut that watermelon for her as soon as we reached home. So, I kept that in the freezer to cool down a bit and then we both relished that tiny watermelon. The joy of satisfaction on her face was so serene. She closed her eyes while she ate her watermelon to enjoy that moment. I also did the same — it's amazing how we learn new things from kids every day. #Motherhoodjoy.
Related: Mushroom Pepper Pilaf With Grilled Veggies, Honey Mustard Yogurt And Chili Peanuts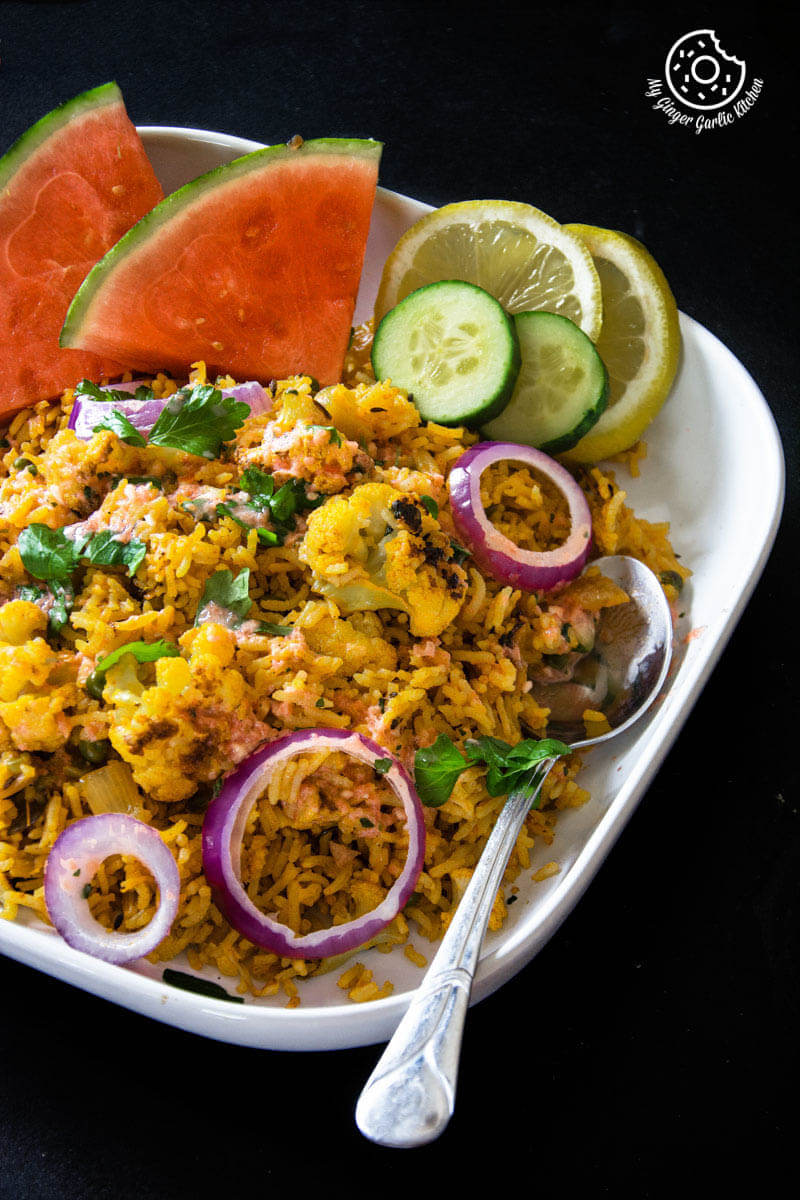 Credit goes to my little one:
Then in the evening, I made roasted cauliflower pilaf for dinner fulfilling Adoria's demand. We ate almost 1 and a half watermelons. Kept the remaining half for later. Adoria and I ate our fair share and Daddy is not so fond of watermelon, so I decided to make a sauce with the remaining watermelon. I then paired that pretty pink sauce with the roasted cauliflower pilaf I made for dinner. This was one of the best-looking combos ever.
Related: Royal Rajasthani Gatta Pulav Recipe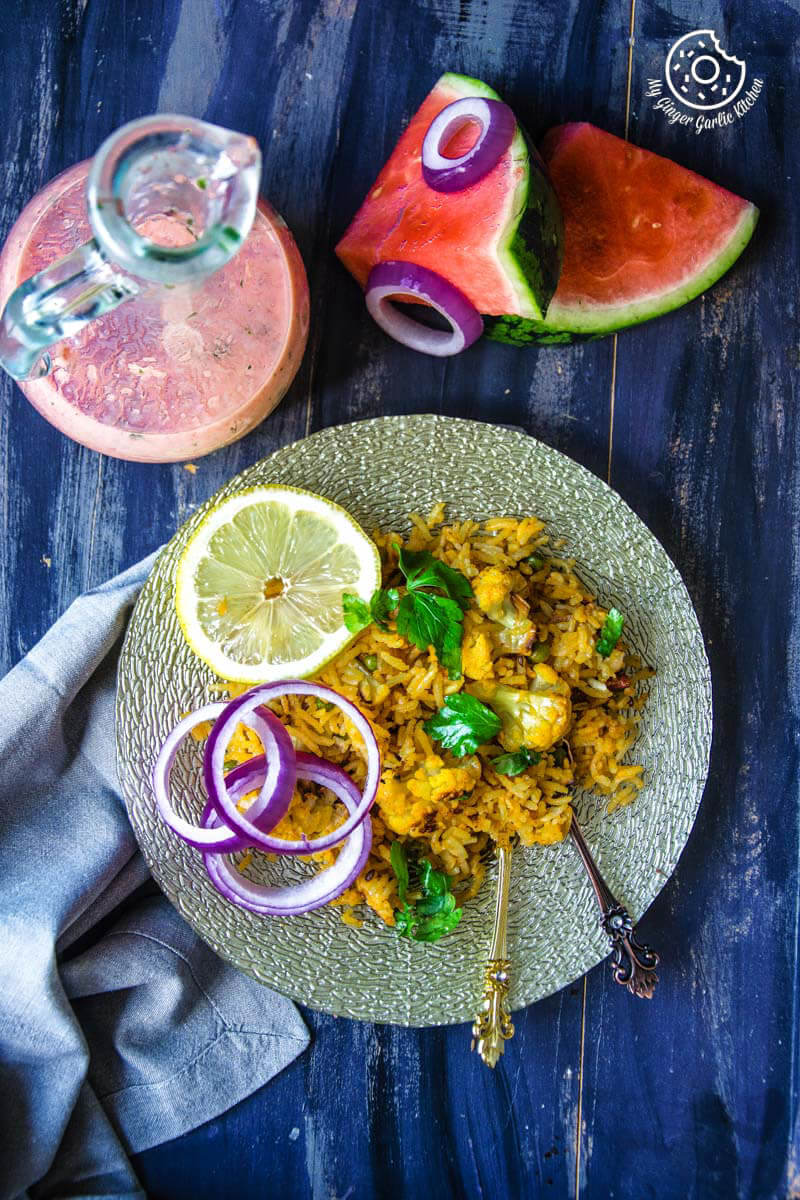 Cauliflower Pilaf And Watermelon Sauce Is A Delightful Pairing:
This roasted cauliflower pilaf is delicious when it's served on its own. However, try this to pair with watermelon sauce to take this joy to next level. Delight in every single spoonful. The good thing about this sauce is that you can use it as a dressing for your favorite salad. It's that good.
This Is An Easy And Quick Recipe:
This healthy rice pilaf is flavored with aromatic spices. Once you have some cooked rice, this sturdy aromatic dish featuring roasted cauliflower and spices seasonings comes together so quickly. An easy, delicious and quick and gluten-free, a vegan meal is ready to be served.
Related:  Lobia Rice Recipe | Black Eyed Bean Carrot Biryani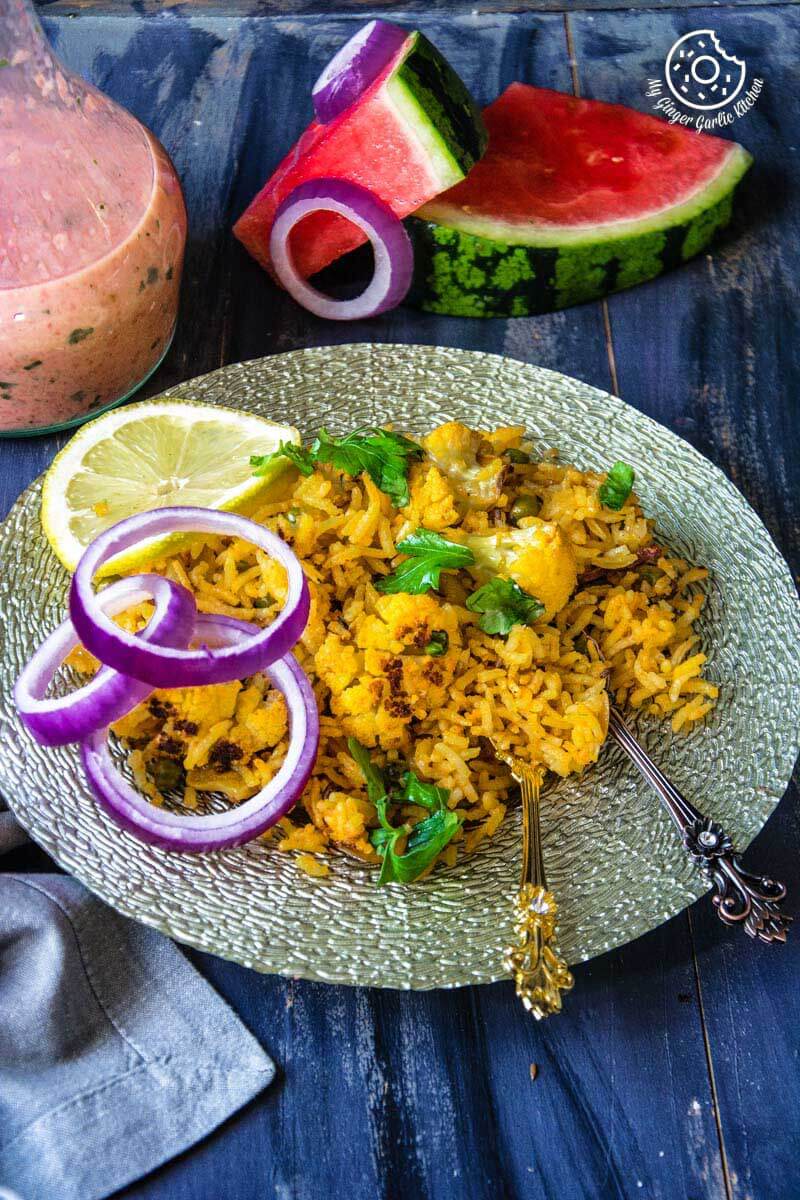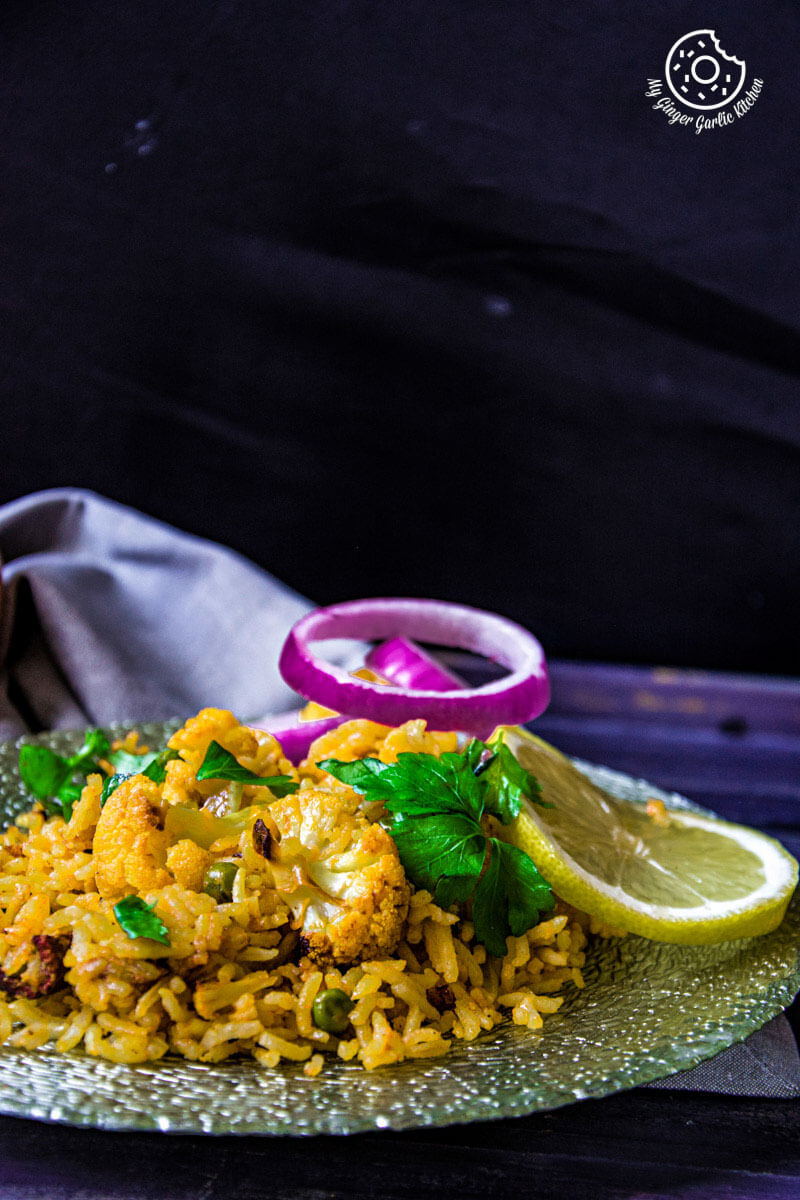 You may also like these:
If you enjoyed this recipe, then please further help me by FOLLOWING me on:
Instagram // Facebook // Pinterest // Twitter // Google+ // YouTube
If you cook this dish, be sure to tag your photo with this hashtag: #mggk
Happy Cooking and Keep Sharing! 🙂
Roasted Cauliflower Pilaf With Watermelon Sauce

[Recipe]
This Roasted Cauliflower Pilaf With Watermelon Sauce has the mouth-watering deliciousness of comfort food at its best. You can enjoy it without any guilt.
---
★★★★✰
(Rating:
4.5
from
34
reviews)
---
| Prep time 🕐 | Cook time 🕐 | Total time 🕐 |
| --- | --- | --- |
| | | 55 mins |
| Category ☶ | Cuisine ♨ | Serves ☺ |
| Main | Indian | 4 |
| Nutrition Info ⊛ | | Serving size ⊚ |
| 205 calories | | 1 Cup |
---
INGREDIENTS
For Roasted Cauliflower //
Cauliflower, Broken Florets - 1 Cup
Olive Oil - 1 Tbsp
Garlic Cloves Sliced - 2
Salt - 1/2 Tsp
Cilantro Leaves - 1 Tbsp
For Watermelon Sauce //
Parsley - 5-6 Strands
Watermelon Diced - 3/4 Cup
Garlic Cloves Sliced - 2
Salt And Ground Pepper To Taste
Nonfat Greek Yogurt - 2 Tbsp (Use Dairy-Free Yogurt For Vegan Version)
Sweet Chili Sauce - 2 Tbsp
For Pilaf //
Oil - 2 Tbsp (I Have Used Sunflower Oil)
Cumin Seeds - 1 Tsp
Whole Garam Masala (1 Bay Leaf, 2 Cloves, 1 Dried Red Chili, 1 Black Cardamom, And 1 Cinnamon Stick)
Ginger-Garlic Paste - 1 Tbsp
Onion Diced - 2
Green Peas - 1/2 Cup
Tomato Puree - 1/2 Cup
Turmeric Powder - 1/2 Tsp
Garam Masala Powder - 1/2 Tsp
Red Chili Powder - 1 Tsp
Salt To Taste
Roasted Cauliflower - 1 Cup
Cooked Basmati Rice - 3 Cup
Cilantro Leaves For Garnish
For Serving //
Watermelon Juice
Onion Rings
Lemon Slices
Watermelon Slices
---
INSTRUCTIONS:
How to Roast Cauliflower:
Heat oven to 200C/180C.




Toss cauliflower florets with garlic, salt, and olive oil.




Arrange the florets in a single layer on a large lined baking tray.




Now add cilantro leaves, sliced garlic.




Roast for 25 minutes, or until the florets are deeply golden on the edges.



How to Make Watermelon Sauce:
In blender or food processor, process parsley, watermelon, garlic, greek yogurt, chili sauce, salt, and pepper until liquefied.




Cover and store in the refrigerator. Shake well before using.



How to Make Roasted Cauliflower Pilaf:
Heat 1 tablespoon of the oil in a large pan.




Add cumin seeds, and whole garam masala.




Saute for few 30 seconds and add ginger-garlic paste.




Sauté for a minute and then add diced onions.




Cook for 5 mins until golden.




Add green peas and cook for 2 more minutes.




After that, add tomato puree and mix well.Cook for 3-4 minutes.




Now add turmeric powder, garam masala powder, red chili powder, and salt.




Mix well and cook for 2 more minutes.




Add roasted cauliflower and stir gently.




Then add cooked rice and mix well. Cook for 3 minutes on medium heat.




Gently stir occasionally. Remove from heat.




Garnish roasted cauliflower pilaf with onion slices, coriander leaves.




Drizzle with watermelon sauce and serve hot.



---
WATCH RECIPE VIDEO: Click the play button and video will load ...
---
NOTES:
No notes for this recipe.
---
If this recipe helped you, then please spread the word by sharing and
subscribing
to us on YouTube to get more such Recipe Videos.
---
Your feedback is so helpful for me and other MyGingerGarlicKitchen readers. So, for Facebook and Instagram, please mention
@MyGingerGarlicKitchen
or
#mygingergarlickitchen
. I would love to see your photos. :)
---
Author:
Anupama
Recipe Source Link:
https://www.mygingergarlickitchen.com/roasted-cauliflower-pilaf-watermelon-sauce-video-recipe/
Date Published:
2019-10-01
• • • • • • • • • •