Lemon Rice Recipe | How To Make South Indian Lemon Rice
---
Lemon Rice Recipe | How To Make South Indian Lemon Rice with a quick video tutorial. Lemon rice is a sweet-smelling rice dish; very handy to prepare and can be cooked in no time. This is a great recipe for those who love lemon.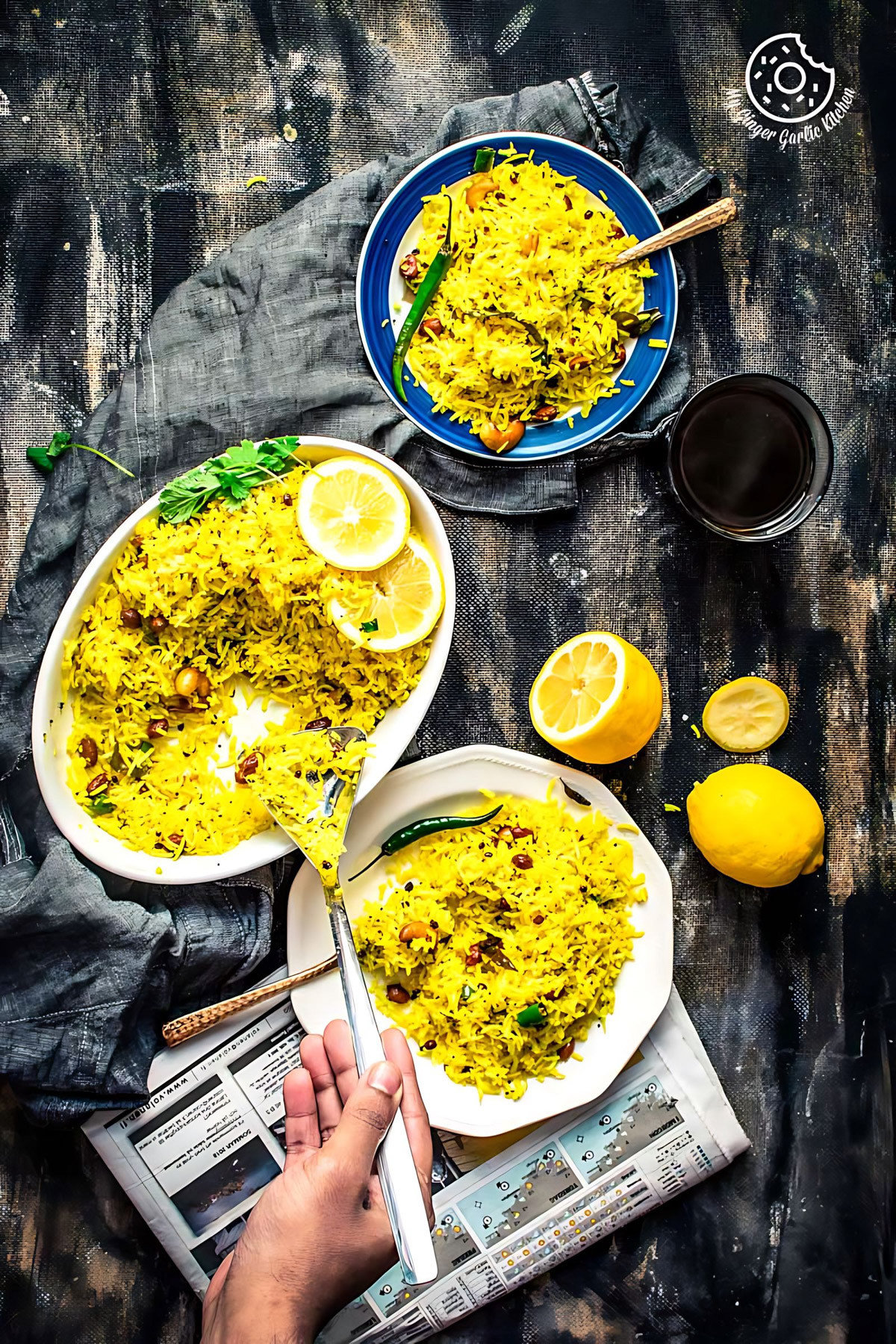 What is Lemon Rice?
Lemon Rice is a favored South Indian rice dish, which is prepared with lemon juice, peanuts, and spices. Lemon rice is an admirable consolidation of lemon and turmeric flavor, and adding peanuts to this recipe makes it more gratifying.
Related: Spiced Rice Lentils with Grilled Pineapple And Cucumber Honey Lemon Yogurt

Got some leftover steamed rice?
If you have some leftover steamed rice and you really want to revive them, then this very simple, quick and delicious recipe is for you.
Making this lemon rice with leftover rice is very fast. But don't worry if you don't have leftover rice, you can still make it with freshly boiled rice.
Related: Lobia Rice Recipe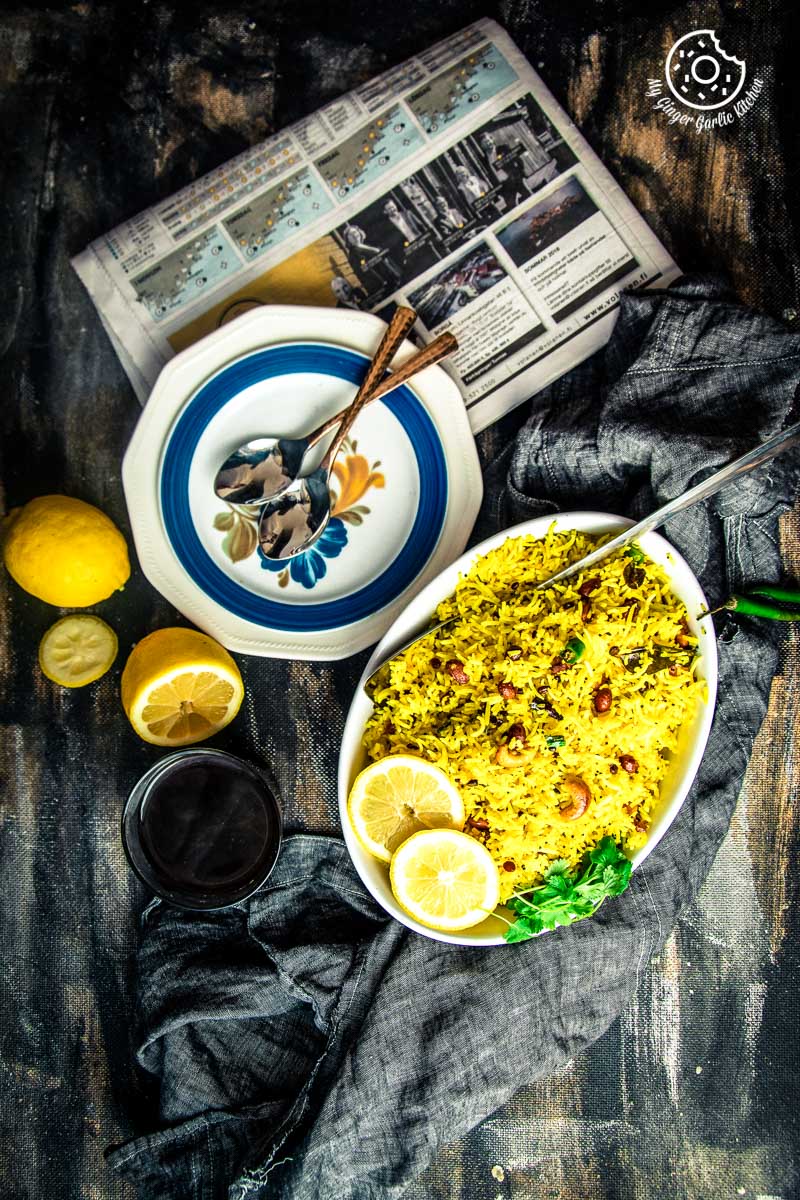 How I found this incredible recipe?
I first heard about the lemon rice from my South Indian friends. Lemon Rice and Tamarind Rice were such a hype amongst them and everyone just talked about them all the time. Every one of my South Indian friends seemed to love it. And their conversation made me so inquisitive that I really wanted to try this lemon rice.
So one day, I asked to one of my friends if she could tell me the recipe. First, she was so surprised to know that I didn't know about this heavenly 'lemon rice'. She thought it was a universal thing 'that everyone should know about this lemon rice'. 😉 But soon enough she realized that it might not be so popular in the Northern part of India where I come from. 🙂
Related: Schezwan Fried Rice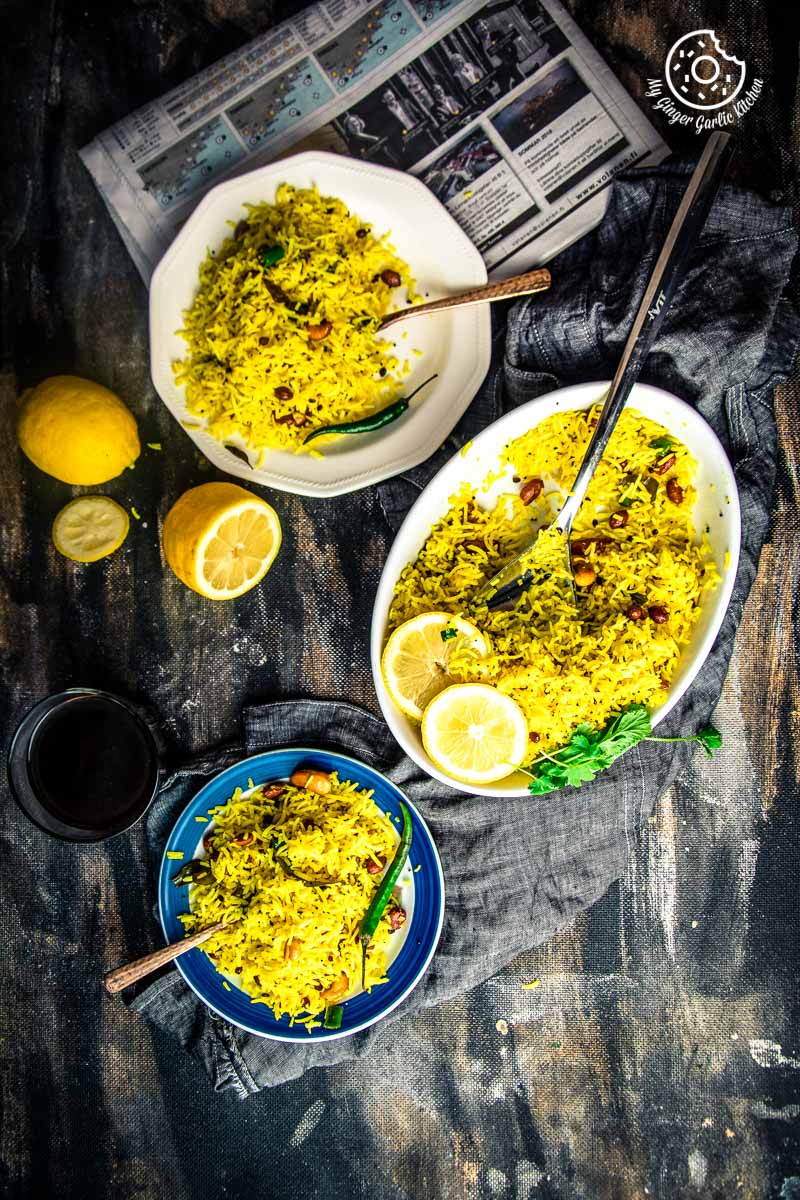 She then promised to make it for me. And the very next weekend she invited me to her place. That day, she not only cooked it for me, but also gave me the live tutorial too. How sweet! I was so grateful to her and I still am. Because of her, I met with this wonderful dish. 😀
She made it with some leftover rice, so it didn't take a long time. A spoonful of this crunchy and flavorsome rice in and I was flattered. This lemon rice was surely 'love at first bite'. It's been more than a decade now and I still follow her recipe every time I make it. This is just SO good.
Related: Indian Style Triple Egg Fried Rice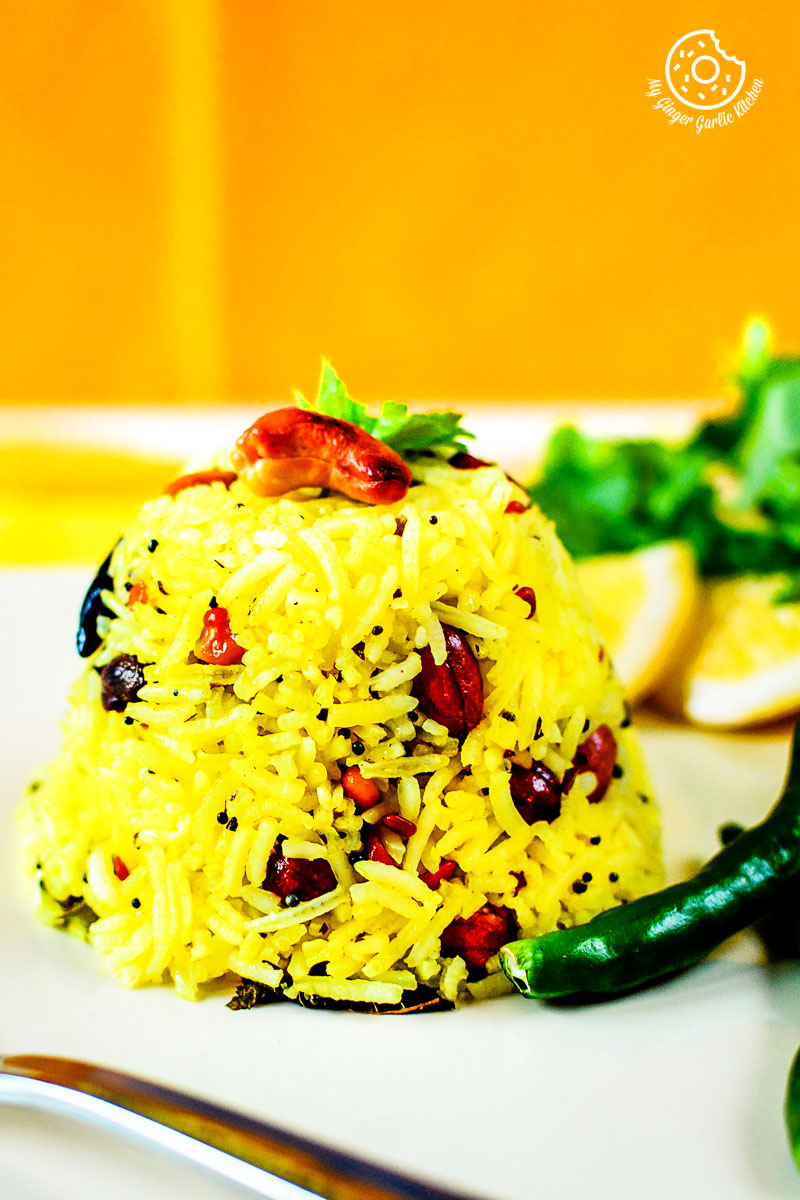 Lemon rice makes great lunch:
Lemon rice stays fresh for hours and tastes so good even when they are cooled off. Since this tastes so good even after hours, this rice makes a great dish for lunch boxes or even for traveling. This humble dish doesn't need any sort of chopping or any extra labor.
Comfort at its finest:
No wonder this is one of the most favored comfort foods amongst south Indian countrymen. And why not? Making this is a child's play. Plus, it tastes amazing too. This lemon rice is the best way to give a zing to the same old rice.
Related: How to make Thai Pineapple Fried Rice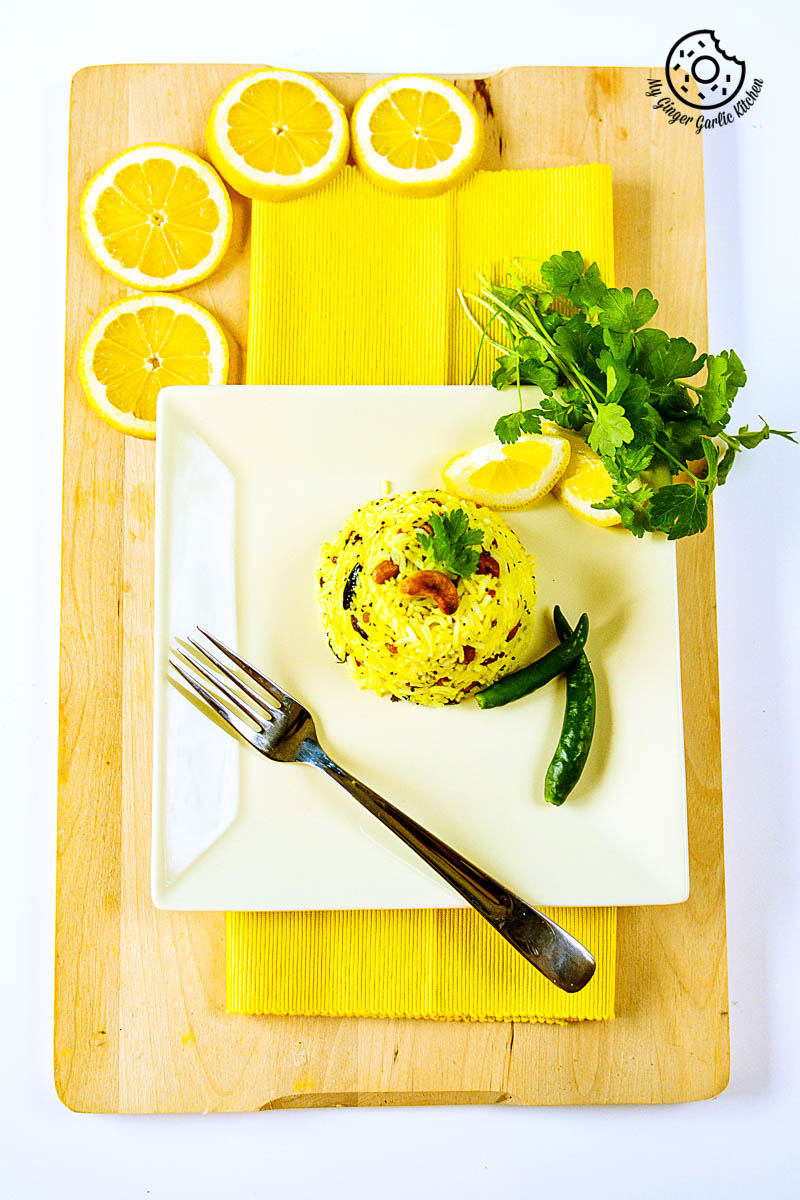 Fresh curry leaves are the best:
Using fresh curry leaves are recommended for this recipe because it provides much more aroma. However, I am using dried curry leaves because I don't get fresh leaves easily in my part of the world.
Adding ginger is the key:
I didn't add any ginger because my little one is not so fond of ginger. If you want to keep it fresh for hours then add finely chopped ginger also. This would ensure that it stays fresh for hours.
Related: Goan Steamed Rice Cake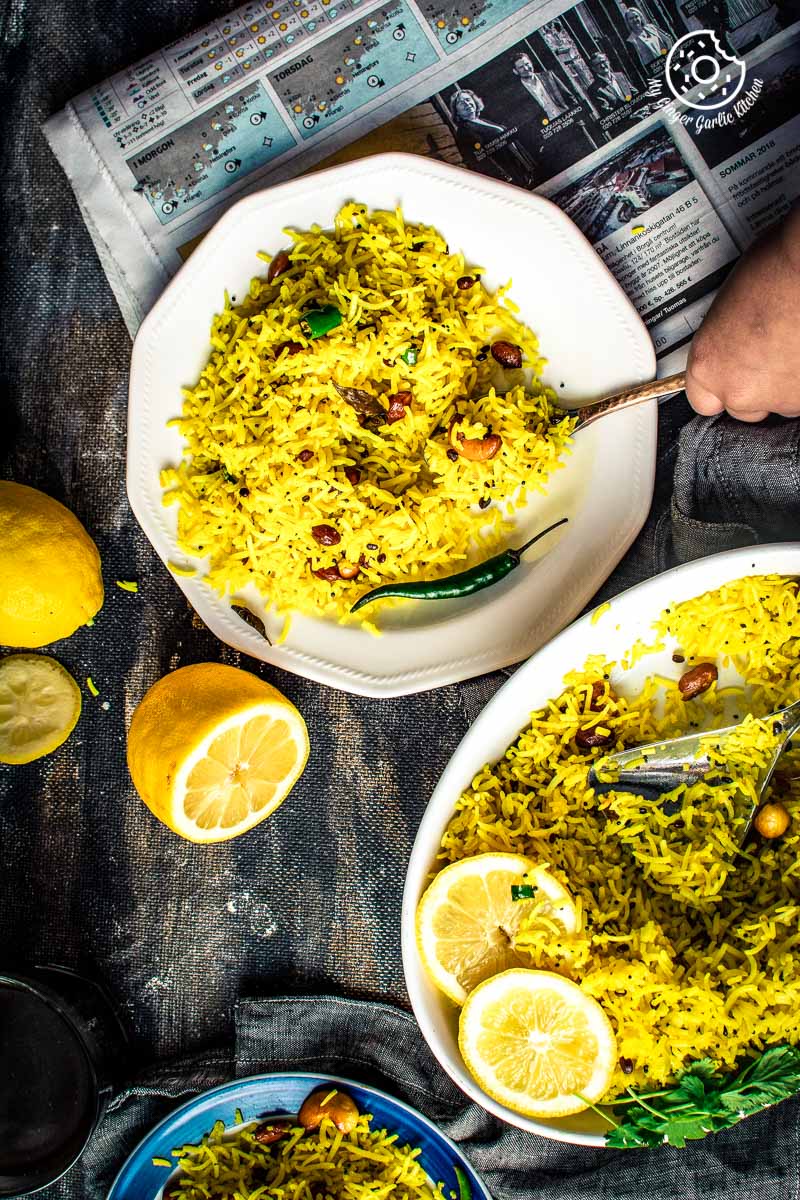 How to serve Lemon Rice?
This tangy and flavourful lemon rice commonly served along with some papad, pickle, raita, or south Indian style carrot ginger chutney, coconut chutney or this peanut chutney. A plain yogurt would also work. And if you don't want to accompany with anything then you can simply eat this without any addon — just the way I like.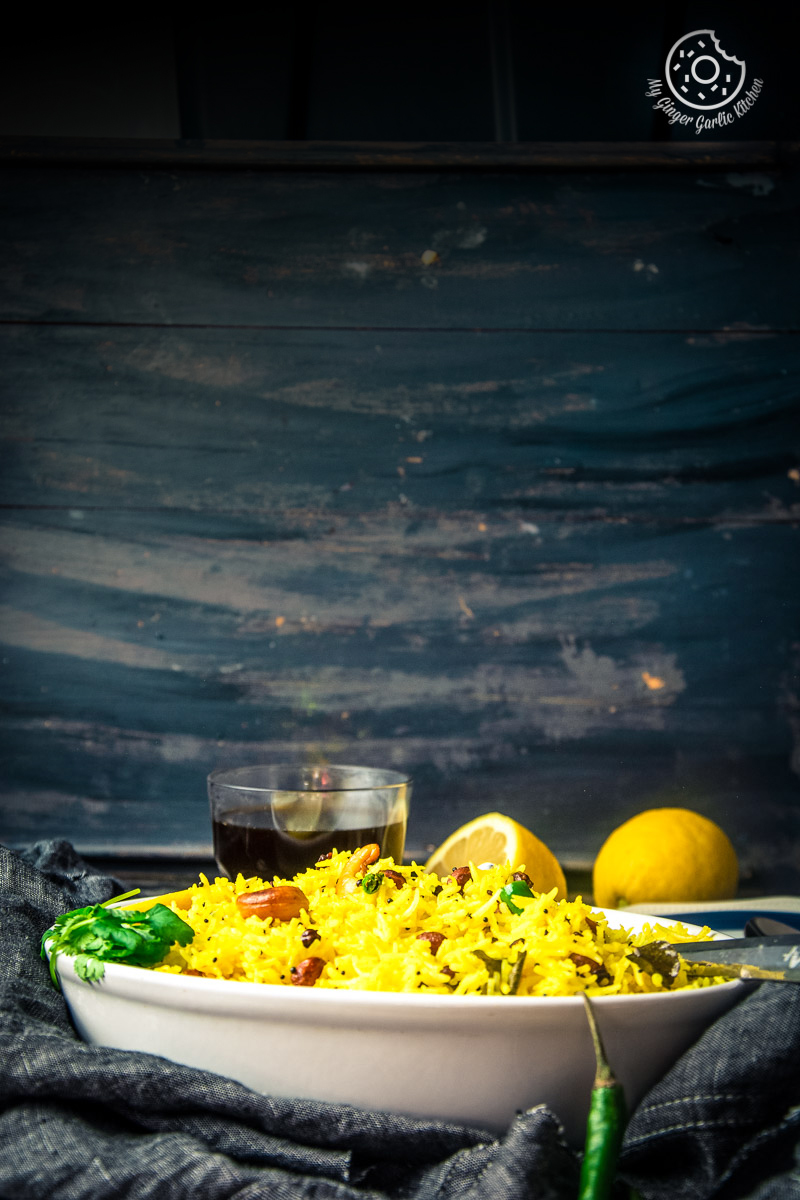 Lemon Rice [RECIPE]
Lemon Rice is a popular South Indian rice dish, which is prepared with lemon, peanuts, and spices.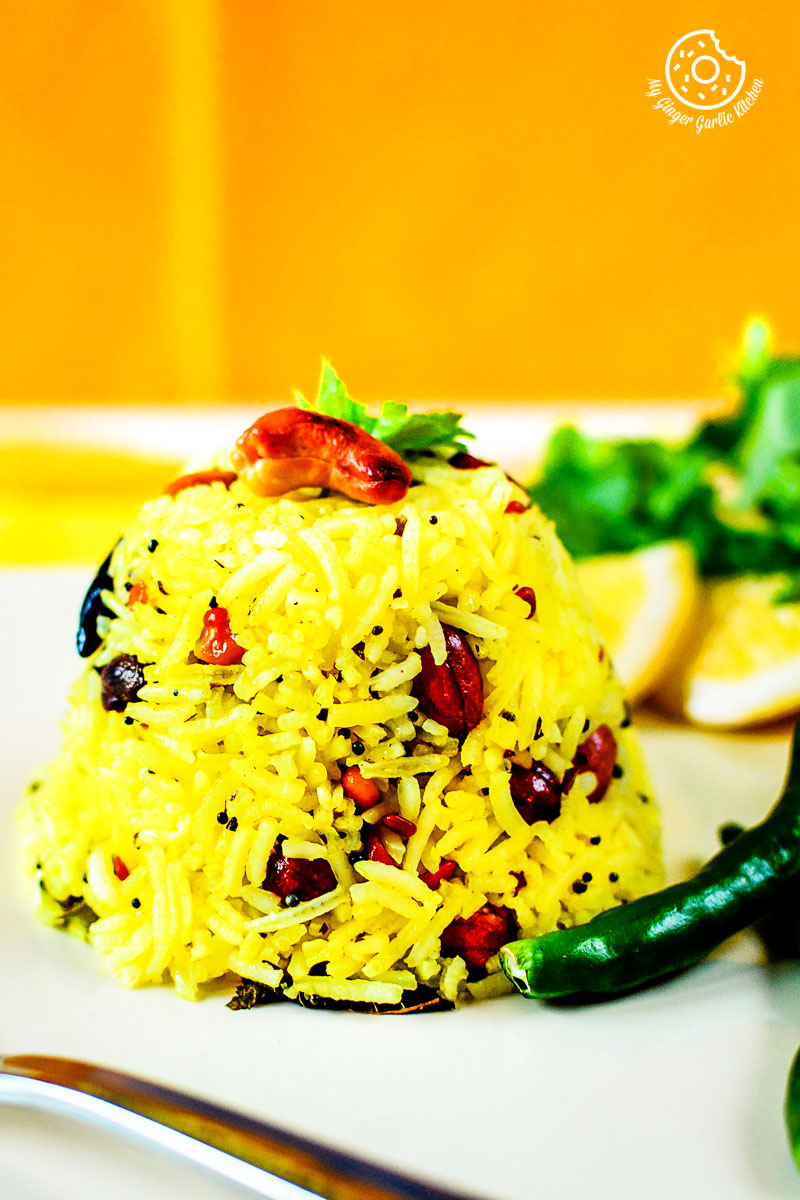 ♥ ♥ ♥ ♥ ♥
(Rating: 5 from 21 reviews)
INGREDIENTS
• Cooked Basmati Rice – 2 Cups
• Oil – 2 Tbsp
• Mustard Seeds – 1 Tsp
• Split Bengal Gram (Chana Dal) – 1 Tsp
• White Lentils (Urad Dal) – 1 Tsp
• Ginger, finely chopped – 1 Tsp (If you are using)
• Curry Leaves – 1 Tbsp
• Green Chilies, Chopped – 2
• Dried Red Chilies – 4-5 small
• Cashew Nuts – 1 Tbsp
• Peanuts – 4 Tbsp
• Turmeric Powder – 1 Tsp
• Fresh Lemon Juice – 4 Tbsp
• Salt To Taste
• Pinch Of Asafetida (Hing)
---
| 🕐 Prep time | 🕐 Cook time | 🕐 Total time |
| --- | --- | --- |
| | | |
| ☶ Category | ♨ Cuisine | ☺ Serves |
| Main | Indian | 4 |
---
INSTRUCTIONS:
1. Heat the 2 Tbsp oil in a large non-stick frying pan.
2. Add mustard seeds, split Bengal gram, white lentils and stir-fry until lightly browned.
3. Add peanuts and cashew nuts to it, and sauté till they turn golden brown.
4. Now add the dried red chilies, curry leaves, chopped green chilies and stir-fry for 1 minute.
5. Add cooked rice, asafetida, turmeric powder, lemon juice, and salt.
6. Mix well. Stir fry until heat through. Try not to break up the grains too much.
7. To serve, place the rice onto serving plates.
8. Turn off the heat and Cover the rice for about 5 minutes. Lemon Rice is ready.
9. Serve delicious lemon rice with raita, chutney, pickle, and Papad.
---
---