This Indian Style Triple | Easy Egg Fried rice would surely tickle the egg lovers amongst us. It tastes scrumptious.  And it takes only in 30 minutes.
Watch Indian Style Triple | Easy Egg Fried rice video below (please wait for a couple of seconds for loading).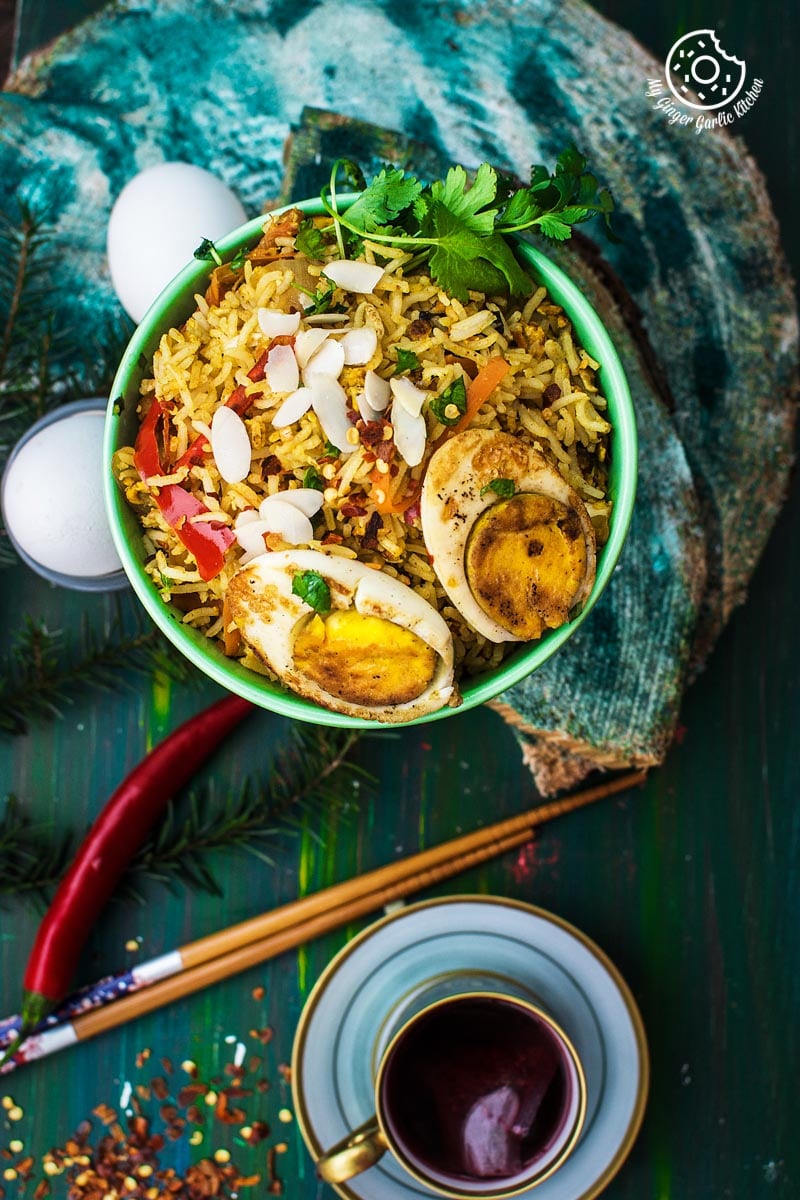 5 days of April have been passed already, and soon there will be Easter. What? Is Easter in 10 days? Really?
I am super thrilled. Are you guys excited too? Any plans for Easter Holidays?
Well, I don't know anything yet, because I haven't decided about how are we gonna spend those 4 days of holidays. This time I have delegated this job to husband dear. And I am quite sure that he will surely come up with a marvellous plan, or something really amusing which we all could enjoy together.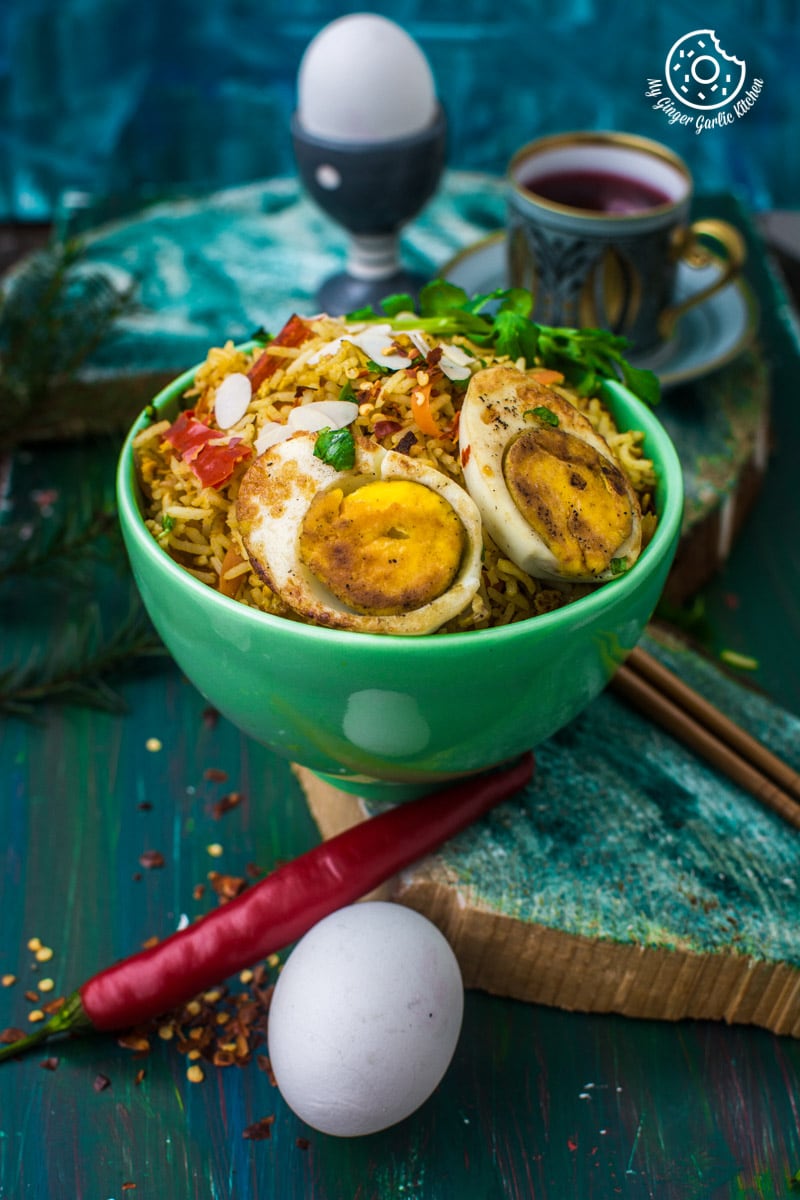 So, when I was thinking about the coming Easter holiday plans, I realized that Easter is almost here and surprisingly I haven't shared any Easter-related recipes yet. How come this is possible? I should have shared at least a couple of Easter inspired recipes already. But I guess it's better late than never because there is no wrong time for doing the right thing. What say? 🙂
So my idea for Easter dinner is this Indian Style Triple Egg Fried Rice which is very simple, and undemanding. And not to mention that, they will make a wonderful side for your Easter dinner. You can pack them for lunch, or they can be eaten any time when spicy fried rice craving strikes you.
This triple Egg-fried rice is an easy and quick to prepare recipe. And it tastes delightful as a full-meal meal on its own. Also, this can be a great accompaniment to your favorite curry or raita. So whenever you have leftover rice, you know what to do. This healthy triple egg fried rice is a remarkable way to use up leftover rice and vegetables. 🙂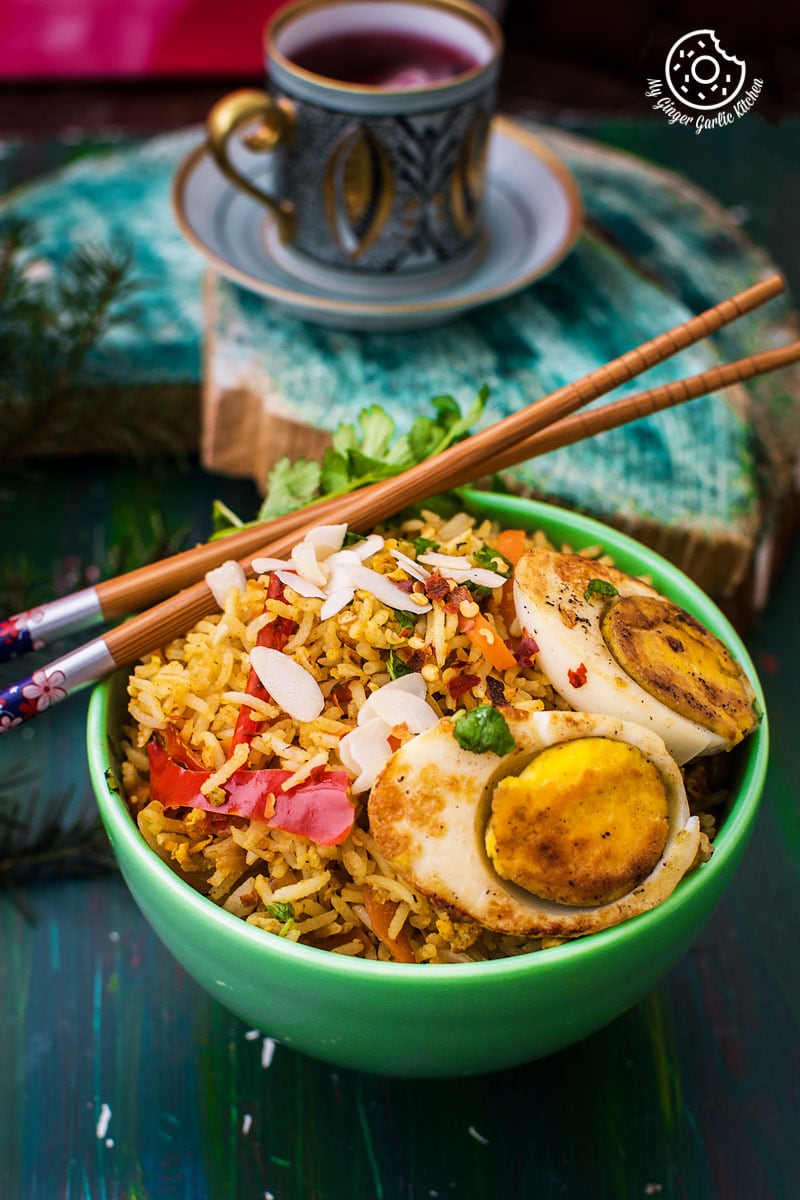 I personally prefer using leftover rice, sometimes the one which is cooked and cooled beforehand to make sure that the rice doesn't stick when I fry them.

I have made roadside eatery style version of egg fried rice which is really an egg lovers delight.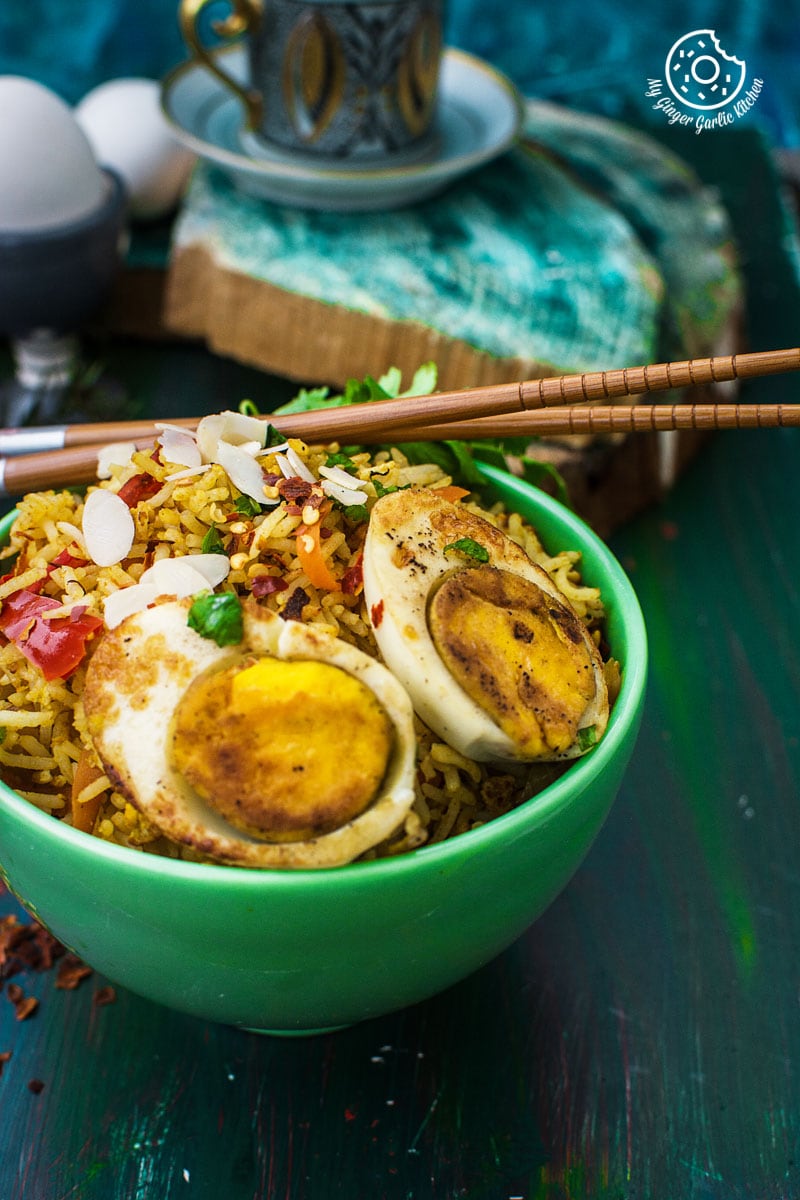 This is an Indian version of egg fried rice where I have used rice and eggs in 3 different ways. Those three ways are:
Boiled and sautéed eggs
Scrambled eggs.
Boiled and grated eggs.
The rice is nicely fried with eggs and some vegetables such as onions, carrots, and tomatoes. For making this fried rice, you are free to use any rice you like. I usually use basmati, jasmine, or long grain brown rice.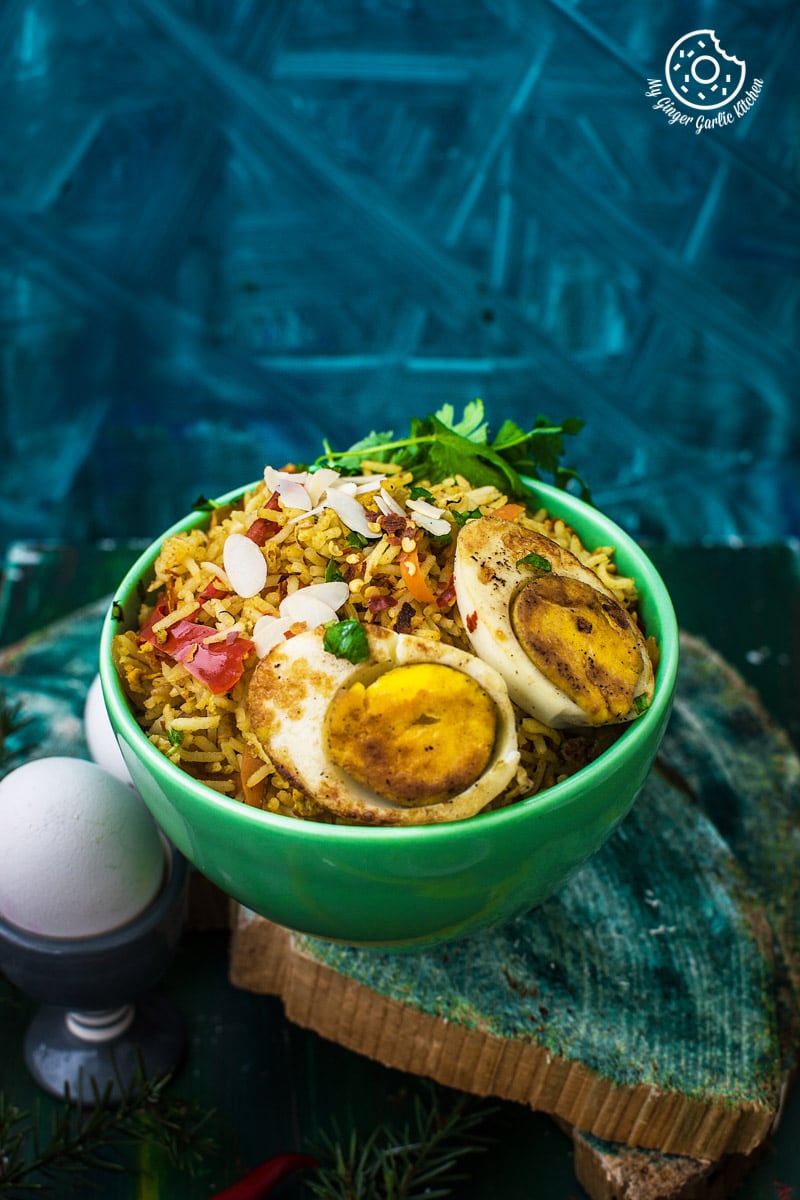 This spicy Triple Egg Fried Rice would surely tickle the egg lovers amongst us. It tastes scrumptious. My entire family just adores it and hope yours will adore it too. So, let's quickly learn how to make egg fried rice Indian style.

Indian Style Triple Egg Fried Rice | Easy Egg Fried rice | Video Recipe
Indian Style Triple | Easy Egg Fried rice would surely tickle the egg lovers amongst us. It tastes scrumptious. And it takes only in 30 minutes.
Ingredients
Cooked rice - 3 cups (I used Basmati)
Hard boiled eggs, peeled and halved - 2
Hard boiled eggs, peeled and grated - 2 large
Eggs - 2 large
Onion, sliced - 1 Large
Tomato, sliced - 1
Carrot julienned - 1 large
Fresh chili slit - 2
Ground pepper - ½ tsp
Turmeric powder - ¼ tsp
oil - 2 tbsp + 1 tsp
For serving
Chili flakes - 1 tsp
Almonds, sliced
Coriander leaves
Lemon juice
Instructions
Heat 1 tsp of oil in a pan, and sprinkle black pepper powder.
Put 2 hard boiled egg halves on the pan, and roast till golden in color. The yolk side should face down. Repeat with the other two egg halves.
Remove from pan and set them aside.
Heat 2 tbsp oil in the same pan, and add red chilies. (I am used Espanola Chili Peppers, you can use any chili you like.)
Let them sauté for 2 minutes.
Add onions and sauté for 3-4 minutes.
Now add carrot juliennes and sauté for 2 minutes.
Add sliced tomatoes and sauté on high heat for about 3 minutes.
Add salt, turmeric powder and mix well. Sauté for another minute.
Arrange the veggies on one side of the pan and pour 1 egg at a time.
Stir it continuously till it is scrambled properly.
Add another egg and stir it to scramble.
Mix them well with roasted veggies and stir for a minute.
Now add 2 grated hard boiled eggs and mix well. Cook for a minute.
Add cooked and cooled rice and combine until well coated. (At this stage you can add garam masala)
Cook it medium heat for 5 minutes.
Add salt, garam masala and soy sauce and the cooked rice and mix it well.
Cover the pan with a lit and let it cook for 2 - 3 minutes.
Remove from heat.
Transfer to a serving bowl and drizzle with some lemon juice.
Garnish with coriander leaves, chili peppers, and almonds.
Serve hot with raita or curry of your choice.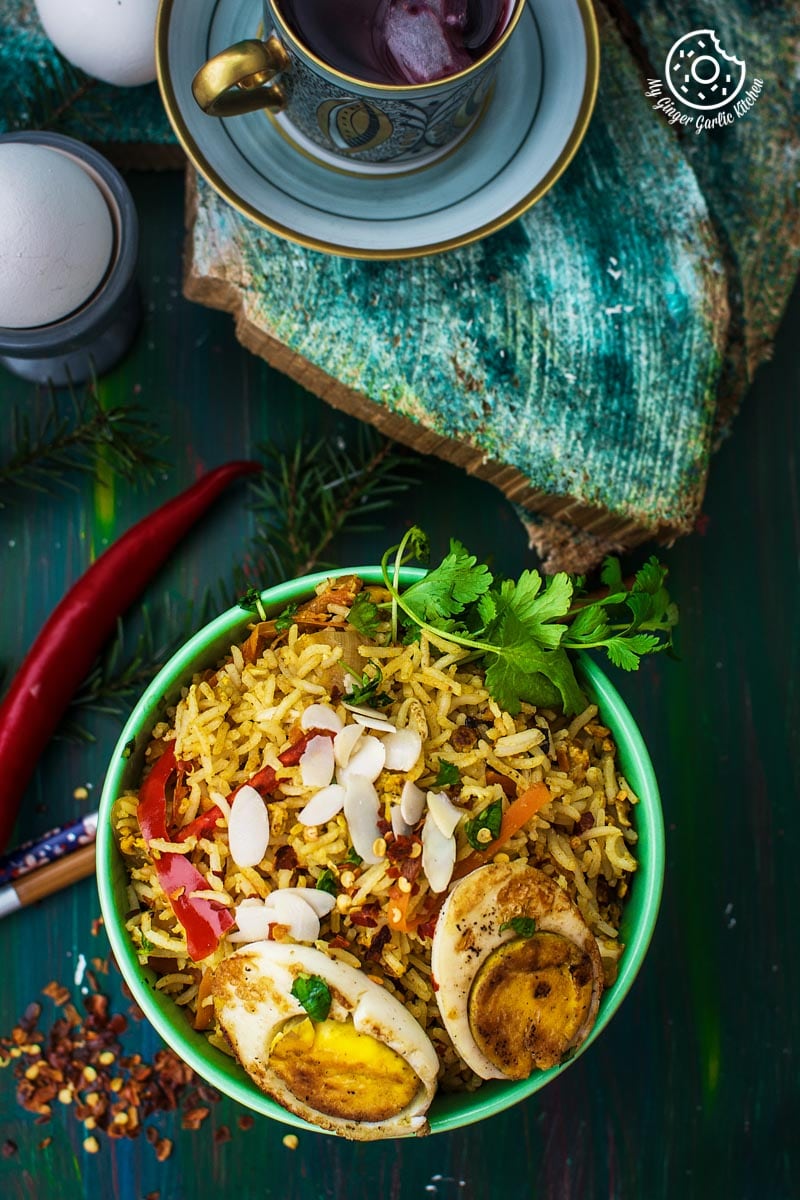 If you enjoyed this recipe, then please further help me by FOLLOWING me on:
Instagram // Facebook // Pinterest // Twitter // Google+ // YouTube
If you cook this dish, be sure to tag your photo with this hashtag: #mggk
Happy Cooking and Keep Sharing! 🙂
Editor's note: This post was originally published in April 2017 and has been updated for comprehensiveness and freshness.