Egg curry is the most alluring way of presenting multitalented eggs. In this North Indian style egg curry, eggs are first boiled, then peeled, and then simmered in the onion tomato-based deliciously spiced sauce which is mildly hot.
Learn how to make Egg Curry or Dhaba Style Anda Curry with an easy and simple step by step video tutorial.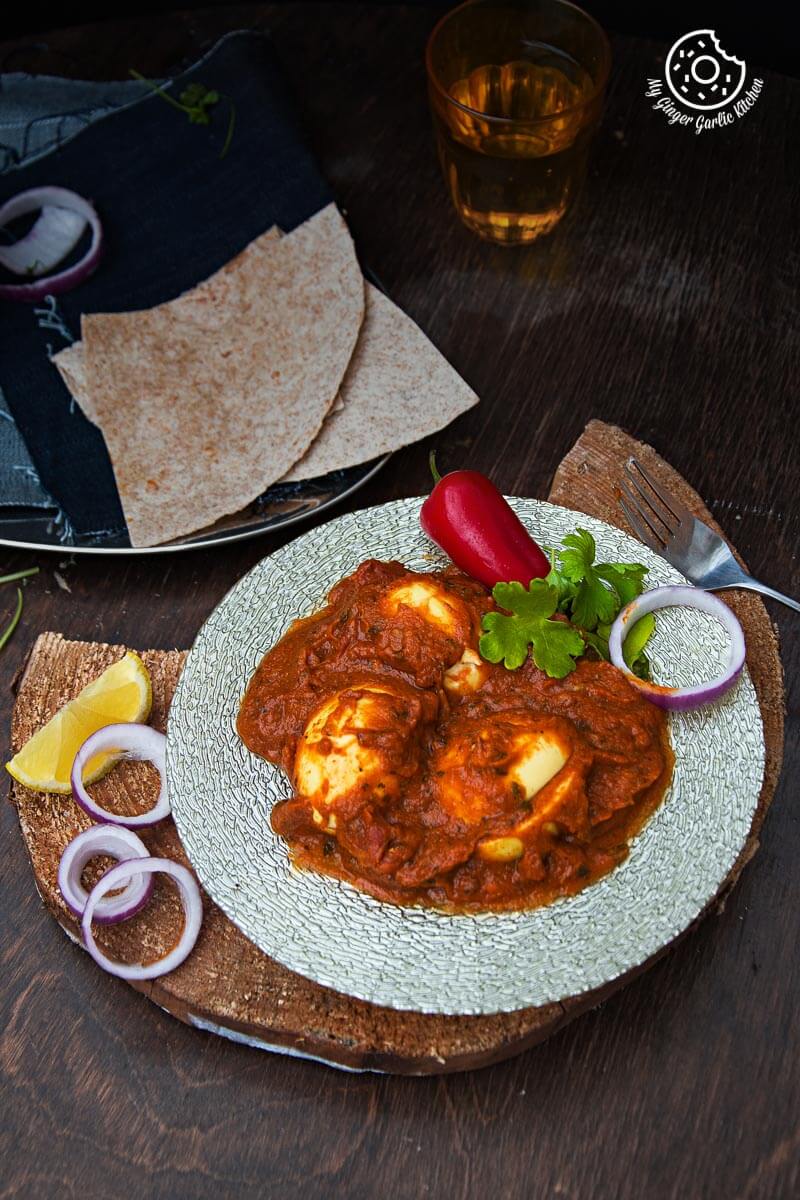 This flavourful, delicious and quick egg curry is perfect to accompany with rice, chapati or paratha. And it can be ready only under 25 minutes.
Yay! Today is the first official day of autumn. Happy Fall my dear friends. Are you guys thrilled for the colors?
As warm food season is here again, so there should be some comfy food too. And for me, it can't get any better than a curry. So are we on for a curry at this beginning of the autumn? I told about the beauty of autumn and my love for the autumn colors **here and here.
Related: Egg Drop Curry | Andhra-Style Poached Egg Curry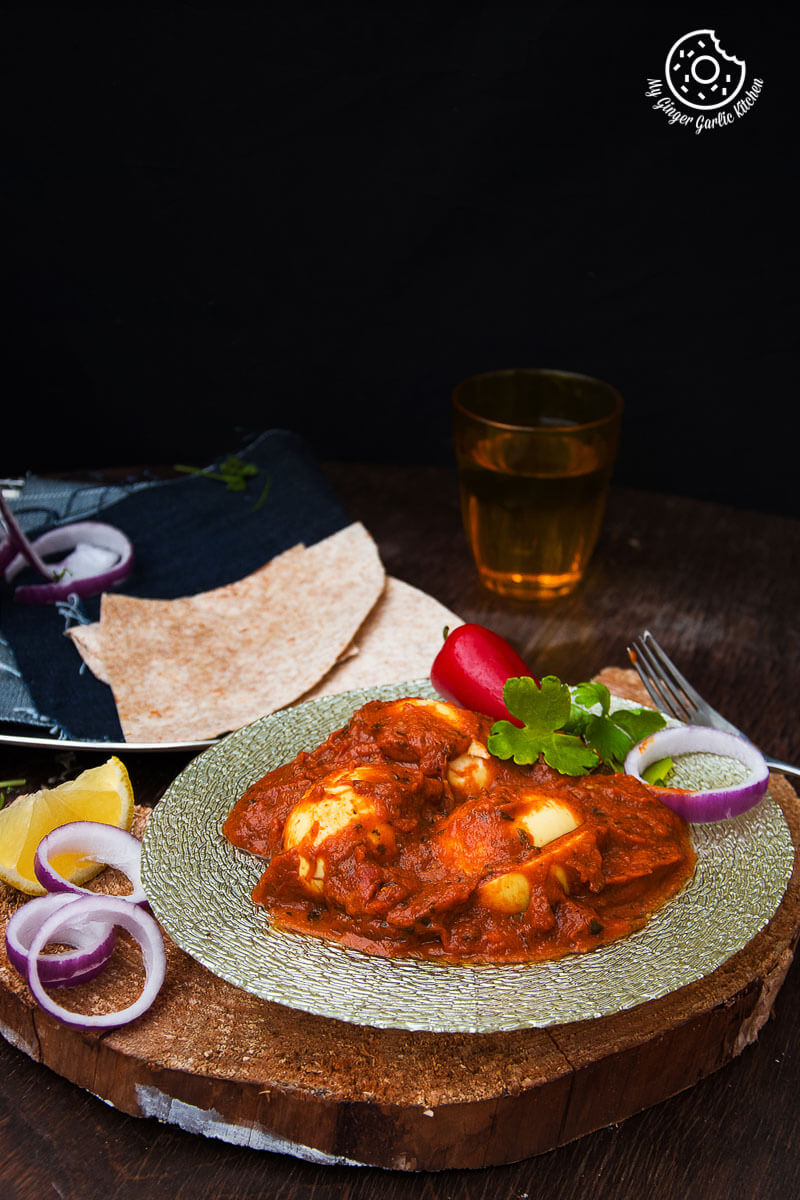 Sending you some cool breeze:
I am just loving the fact that the days are getting colder but still sunny and bright. This makes me love this season even more. I mean cold winds, beautiful colors, and sunny weather. Isn't it dreamy? Who wouldn't love this sight? But for those who are still struggling with the hot weather, I wish you get some cooler winds soon.
Do I need an excuse?
Well, it's not that I need an excuse to make a curry. But this one is my family's favorite. Husband and Little A go gaga over this egg curry. I always keep hard boiled eggs in my fridge, so it is also convenient to cook.
Related: Indian Style Triple Egg Fried Rice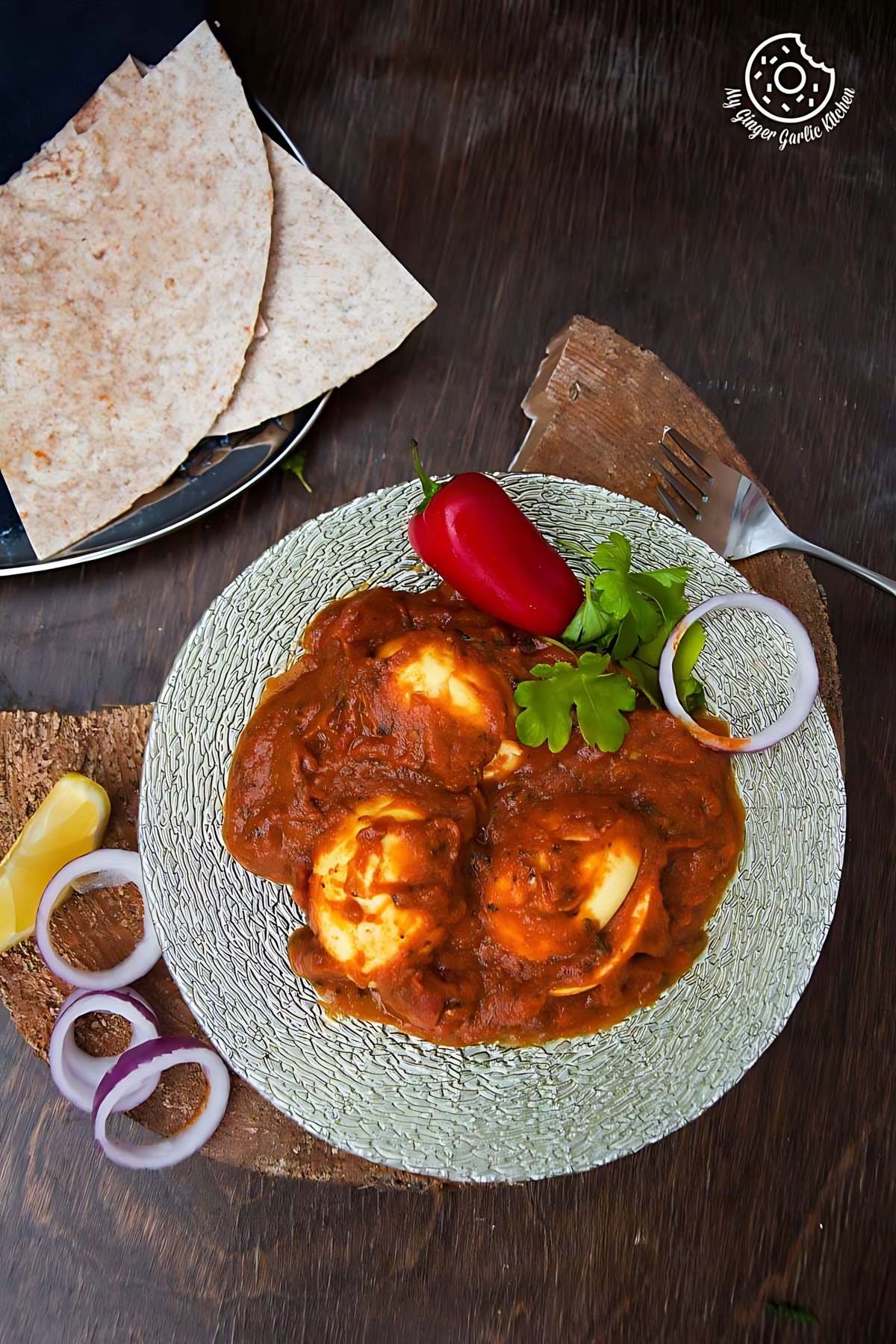 Some days when Husband comes home after work, he says: "I am really very tired and super hungry today, and I want something really filler for dinner tonight."
Me: "What do you want for dinner? Any specific choices?"
Husband: "Do we have eggs?"
Me: "Yes!"
Husband: "Could you make some egg curry, coz I am really craving for it".
I: Yes, of course. But one question, though, are you hungry or you are craving for egg curry?"
Husband: "Let's take it as a craving! Don't put so much effort I just want some simple egg curry and that would make my day." 😉
And this conversation between us happens all the time whenever Husband wants egg curry! 🙂
Related: Restaurant Style Shahi Kaju Curry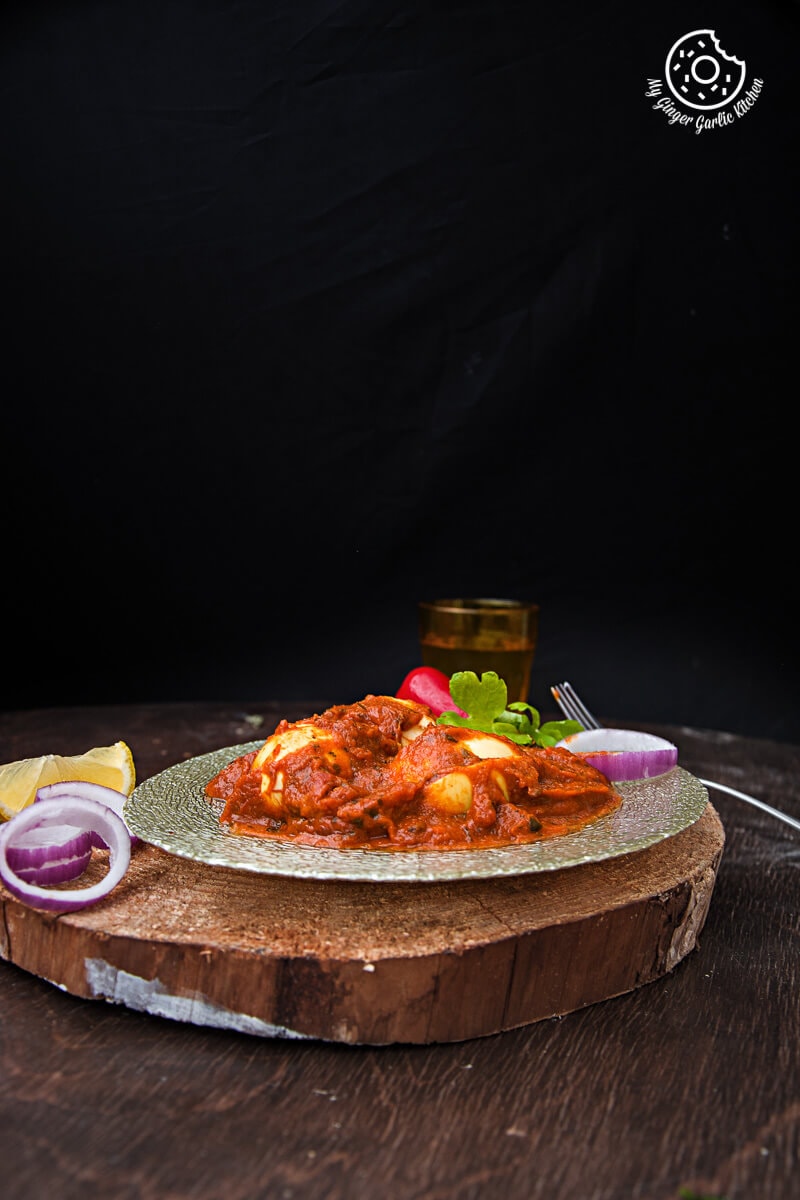 Eggs are must:
And I know that conversation can happen any day, so I always keep some hard boiled eggs in my fridge.
So the point is when my family is really hungry and wants something quick, tasty, and spicy Indian food, I always go for this egg curry. I quickly serve this with some steamed rice. So egg curry can happen any time of the day at my home! 😉
Related: How To Make Punjabi Baingan Bharta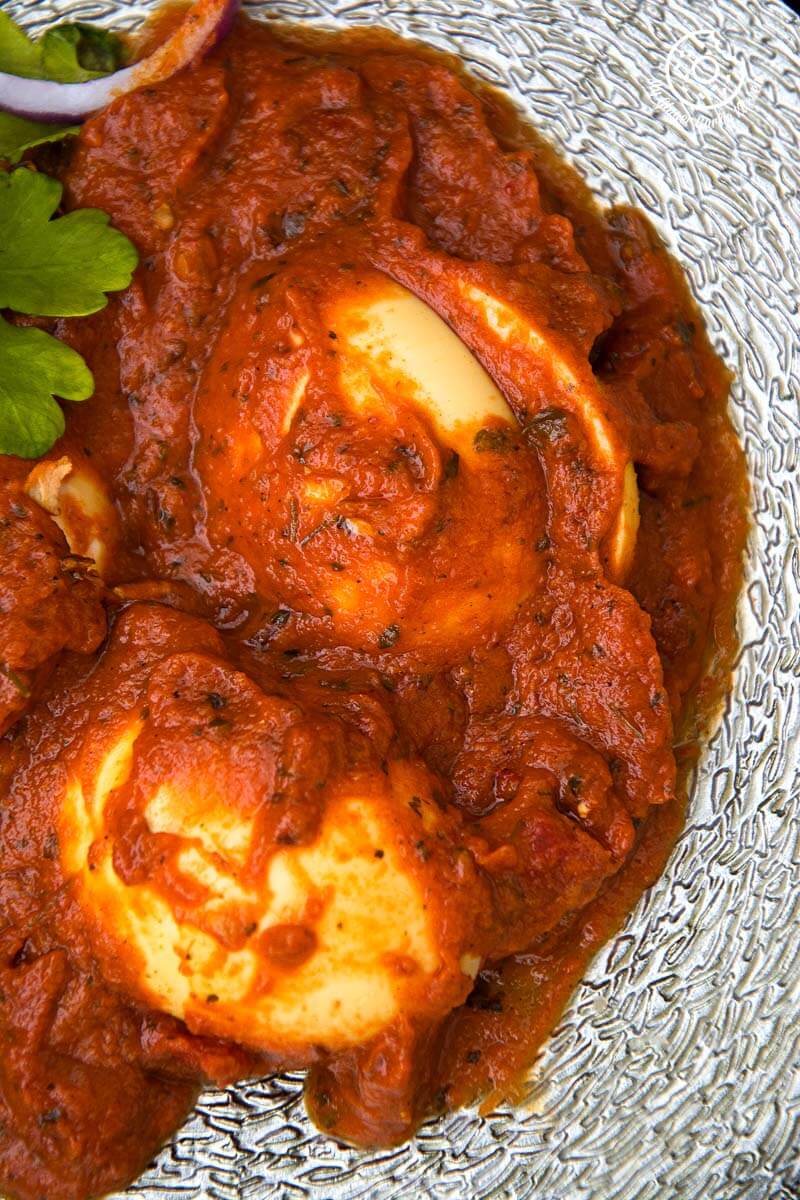 There is also a chili-free version for Little A as she doesn't like chili. I know it's strange. Seems like she is more of a Scandinavian than we are.
One interesting thing — one of my friends' daughter who's the same age as Little A, loves spicy hot food. Whenever she comes to my place she eats everything spicy made for elders, but Little A doesn't.
I just hope Little A would also start eating spicy food and I wouldn't have to make a chili-free version for her every time I make hot food!
You can see I am already super excited about this curry! 🙂
What is egg curry?
Egg curry aka 'Anda curry (in Hindi)' is a very common dish in most parts of India.
There are many ways of making this Egg Curry. The version I am sharing today is a North Indian version. In this type of Egg curry, hard-boiled eggs are dunked in the gluten-free tomato sauce, which just takes this curry to its perfection!
Related: Restaurant Style Matar Paneer Curry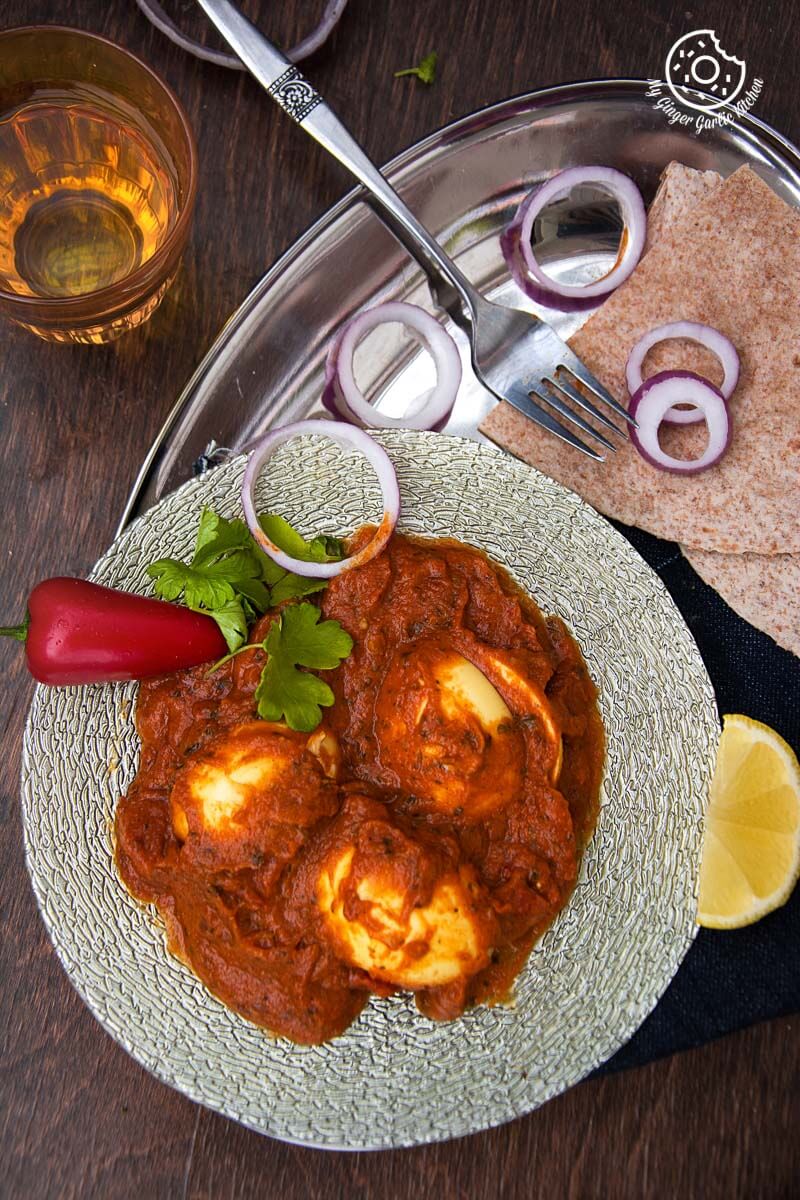 The desire of a heart:
An egg curry is the most alluring way of presenting eggs.
This curry is warm, cozy and healthy, which I guess is one of the greatest combos ever. I bet your egg loving family will go crazy for this curry.
It's just so good! This is also called a friendly dish for bachelors because this is mouth-wateringly good and very easy to make.
Egg Curry is easy and quick, this is ready under 30 minutes. Eggs are first boiled, then peeled, and then simmered in the onion tomato-based deliciously spiced sauce which is mildly hot.
Related: Black Chana Kadhi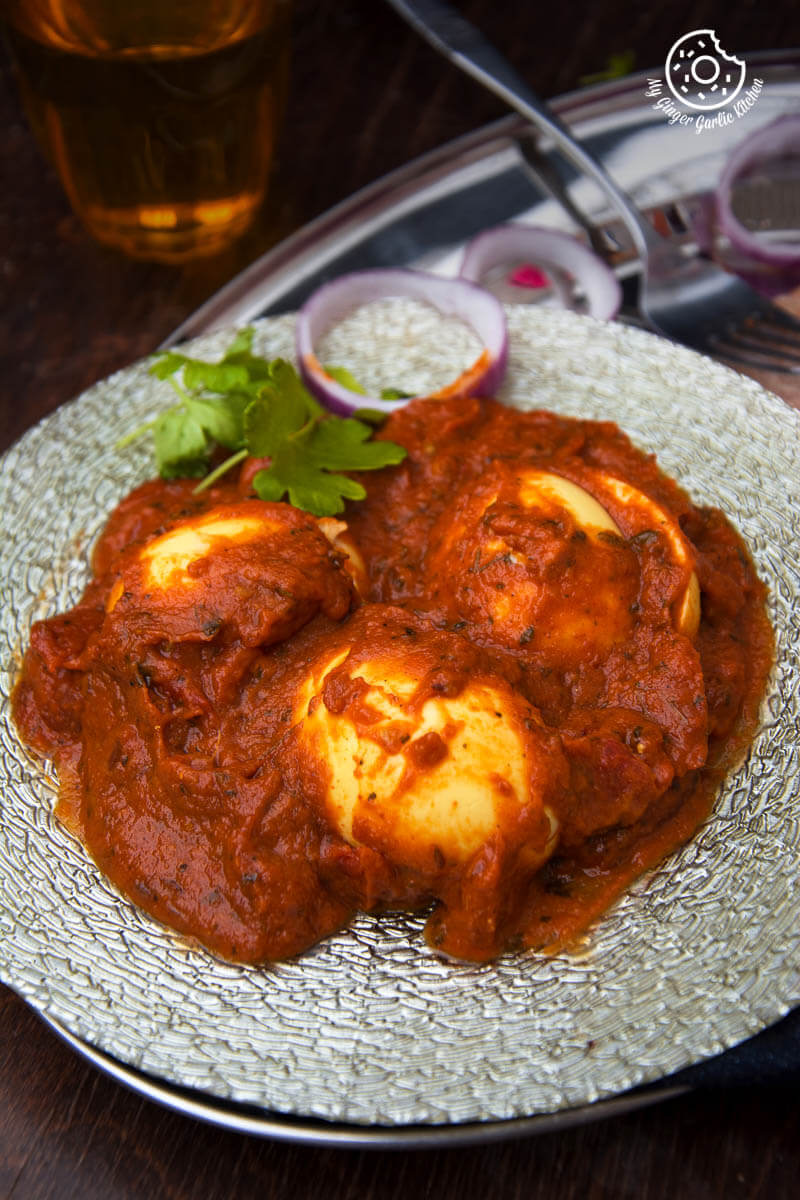 Who would say no to this Egg Curry?
As I mentioned earlier, this egg curry is a north Indian version of this flavorful dish. Tell me, who wouldn't like to combine two of their favorite things, eggs, and curry? Try this curry, if some guests are coming home — this would make a quick and exceptional dinner side dish. The good thing about this sauce is that it can be made a day before. And when you have guests, then simply add boiled eggs and cook for a while. Tada, you are good to go.
Orchestra of flavors the curry sauce:
This rich sauce is made using onions, ginger, garlic, chilies, tomatoes, and an infusion of aromatic Indian spices. Like I always say you can adjust spices according to your taste. This delicious curry is best served with naan, tandoori roti, rice or any other flatbread. But you can also serve this with quinoa or couscous if you wish.
Related: Black Eyed Bean Zucchini Peach Curry
You may also like these Indian Curry Recipes: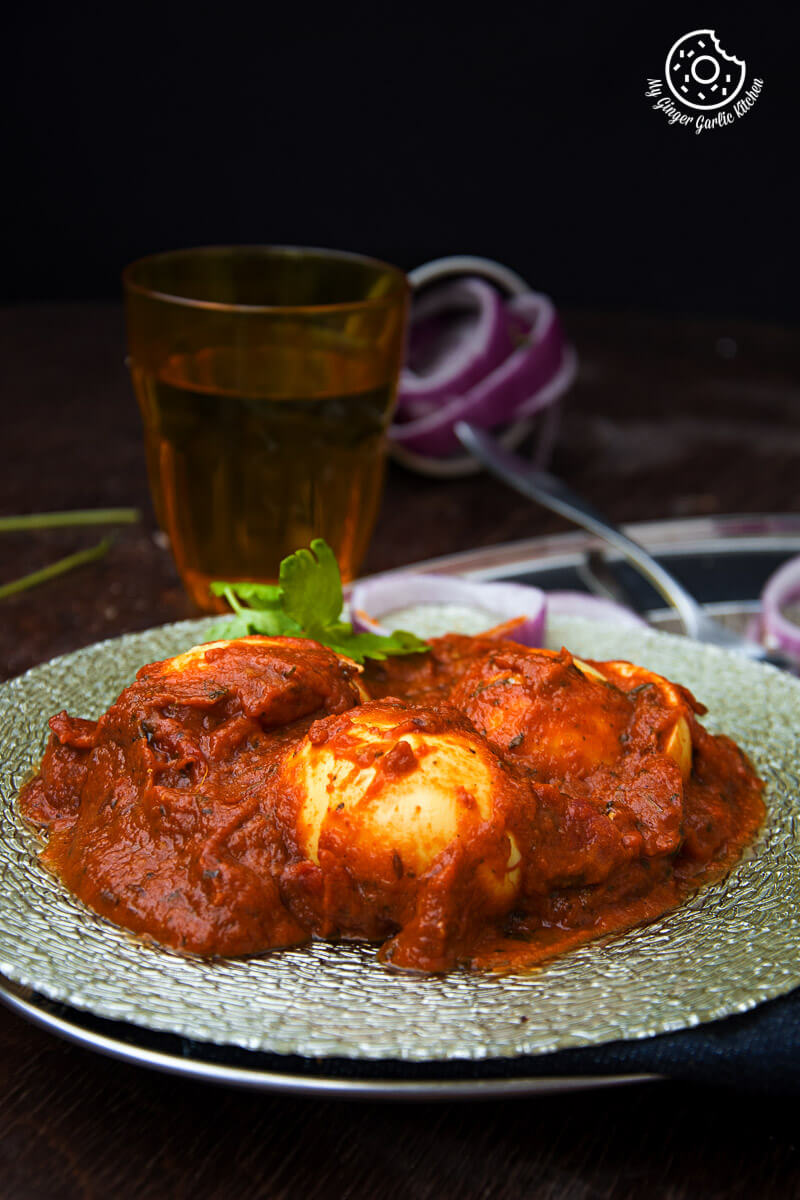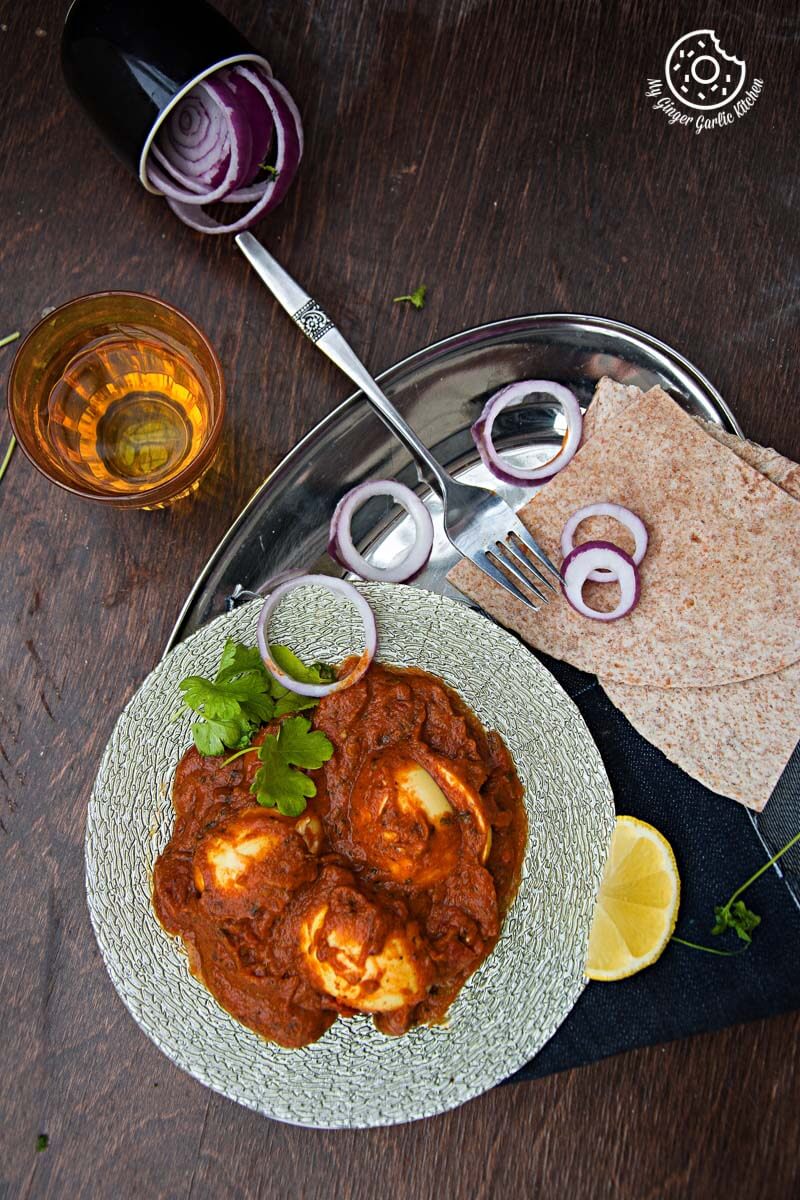 Easy Egg Curry - Dhaba Style Anda Curry

[Recipe]
Indian Egg Curry aka Anda Curry is the most alluring way of presenting eggs. Boiled eggs are simmered in onion tomato-based deliciously spiced sauce.
---
★★★★✰
(Rating:
4.2
from
110
reviews)
---
| Prep time 🕐 | Cook time 🕐 | Total time 🕐 |
| --- | --- | --- |
| | | 20 mins |
| Category ☶ | Cuisine ♨ | Serves ☺ |
| Side | Indian | 4 |
| Nutrition Info ⊛ | | Serving size ⊚ |
| 97 calories calories | | 1 Serving |
---
INGREDIENTS
For Egg Curry:
4 hard boiled and peeled eggs(boil eggs for 10-12 mins)
2 teaspoons oil
1 1/2 teaspoons cumin seeds
3/4 cup tomato puree
1/2 cup water
1/2 cup onions chopped
2 green chilies chopped
1/2 teaspoon turmeric powder
1 tablespoon ginger-garlic paste
1 1/2 teaspoons red chili powder(or according to your taste)
2 teaspoons coriander powder
1 teaspoon garam masala powder (I am not using whole garam masala so i used more ground garam masala for that flavor burst)
4 teaspoons fresh cream (optional)
Salt to taste
2 teaspoons green coriander leaves chopped
For serving:
Lemon wedges
Sliced onions
---
INSTRUCTIONS:
How to make Egg Curry:
Heat oil in a pan over medium heat.




Add cumin seeds to it and let them crackle for a few minutes.




When the seeds start to splutter, add chopped onions and chopped green chilies.




Sauté for 2 minutes and add turmeric powder.




Mix well and sauté for 2 minutes.




Add ginger-garlic paste, and mix well. Cook for 2 minutes.




Next, add salt, chili powder, coriander powder, and garam masala powder.




Mix well and cook for 1 minute.




Add tomato puree, mix well and cook for a minute.




Add water and mix well.




Cook covered for 5-7 minutes. Stir occasionally.




Next, add boiled eggs and coriander leaves.




Mix well until combined.




Cover the pan with a lid, and cook it for about 2-3 minutes.




Add cream and mix well.




Cook for 2 more minutes.



---
WATCH RECIPE VIDEO: Click the play button and video will load ...
---
NOTES:
You can also use crushed tomatoes or freshly made tomato pulp instead of tomato puree.
---
If this recipe helped you, then please spread the word by sharing and
subscribing
to us on YouTube to get more such Recipe Videos.
---
Your feedback is so helpful for me and other MyGingerGarlicKitchen readers. So, for Facebook and Instagram, please mention
@MyGingerGarlicKitchen
or
#mygingergarlickitchen
. I would love to see your photos. :)
---
Author:
Anupama
Recipe Source Link:
https://www.mygingergarlickitchen.com/egg-curry-anda-curry-video-recipe/
Date Published:
2019-12-27
• • • • • • • • • •