Mushroom Pepper Corn Masala [Recipe]
---
 
Mushroom Pepper Corn Masala!
Autumn is finally everywhere, and for me, this rainy & chilly weather asked for a cozy-comfy meal.
Growing up in India, and having Indian curries almost every day for dinners, sometimes, I really crave for those hot and spicy curries. As I belong to an Indian State, Rajasthan, which is well known for its royal cuisine, which constitutes really hot and spicy food. My craving for hot curry is not my fault, its in my blood you can say 🙂
For me weekends are always best for cooking those long and time taking dishes. But as we all know, outcome is always worth the incredible effort we put in something,
Let's talk about this Mushroom Pepper Corn Curry I cooked this weekend.
Few days back I brought some mushrooms and fresh bell peppers from grocery store. Bell pepper is hubby's favorite, mushroom is mine, and my little baby girl is fond of corn kernels. So I gave a thought to please everyone's taste buds this weekend by making a combo of three of our favorite vegetables.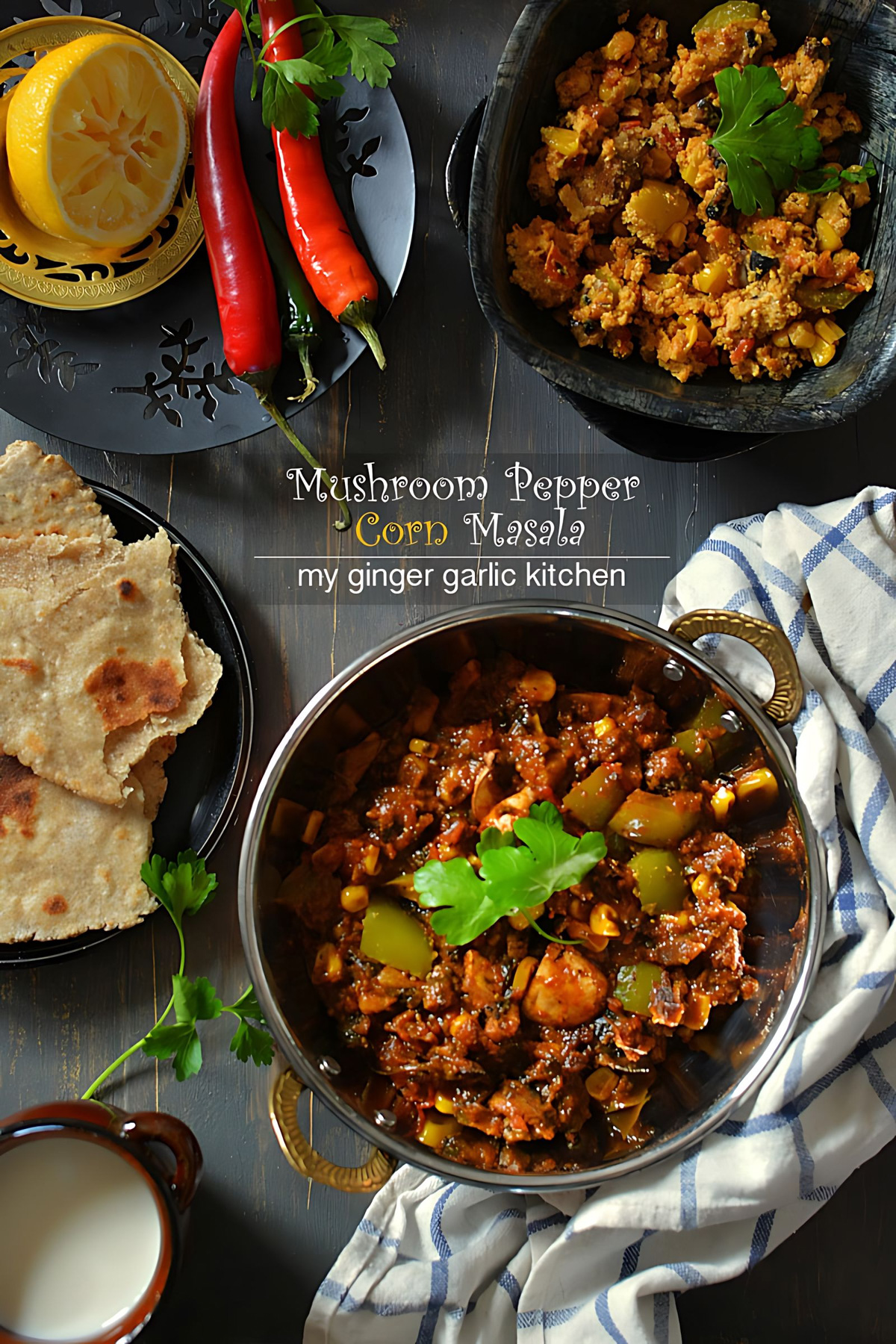 You may ask, how does it taste? Well, it's hot, little bit sweet curry, and I am pretty sure you are going to love it as much as we did.
You must be wondering, how would these veggies taste in a curry? Believe me veggies are always amazing when they are coated in spicy, creamy, tomato curry sauce.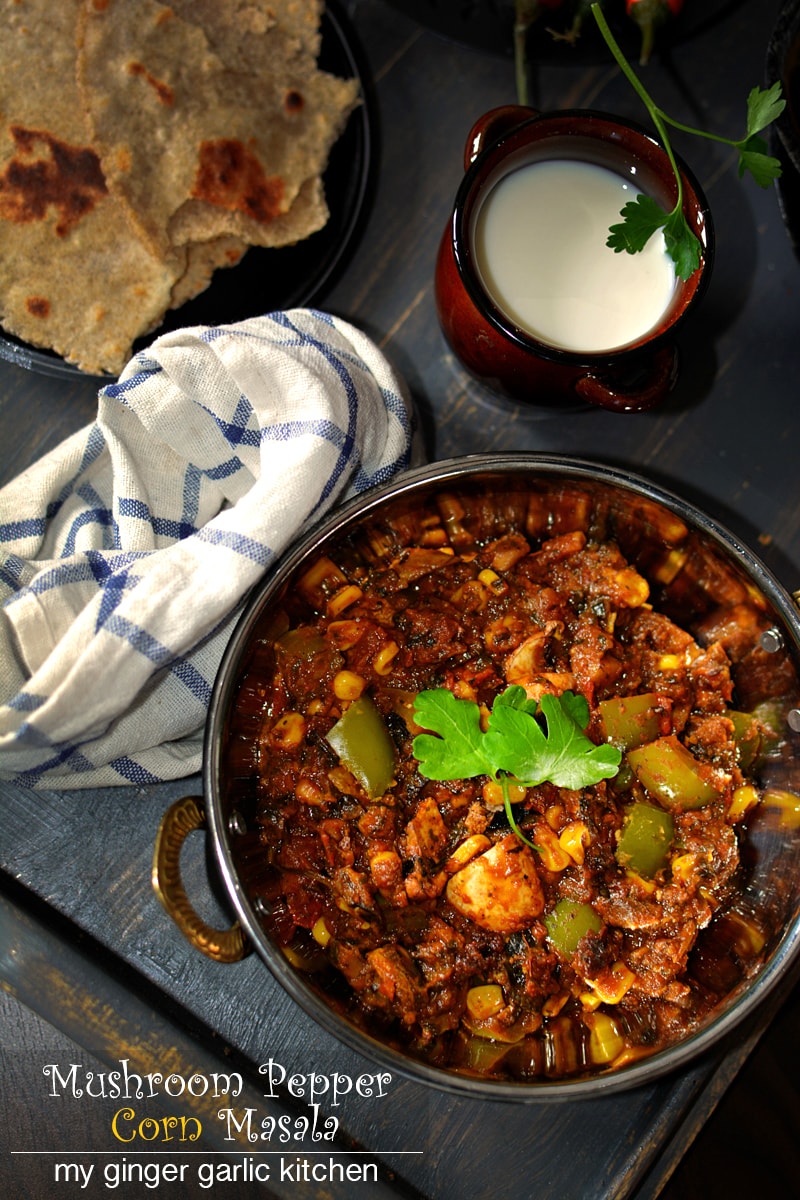 I also added some pepper powder just to make it a bit more hotter. However, you are free to play with the amount of spices according to your taste.
Now imagine, how would you feel when the weather is chilly, and hot curry is served to you with hot flatbreads. Awesome, right! Yes, hubby gave me the same cute expressions. The way he was licking his fingers and praising the curry, made me happy by hearing appreciation from him. There is a saying in India that if you want to win a man's heart, cook something nice for him, he will be all yours. And in my case it did work really well; what more I could ask for. 😉 😉
Just have to say this curry is totally cozy-comfy and delicious.
Let's learn to make Mushroom Pepper Corn Masala in easy to understand quick steps.
---
Prep Time: 10 minutes
Cook Time: 20 minutes
Servings: 4
---
Ingredients:
mushroom diced – 3⁄4 cup

corn – ½ cup

green bell pepper, diced – 1

onion paste – ½ cup

tomato, chopped – 1

ginger-garlic, crushed – 1 tbsp

cinnamon stick – 1

cumin seeds – 1 tsp

pepper powder – 2 tsp

salt as per taste

turmeric powder – 1⁄4 tsp

curry powder – 1 tsp

cumin powder – 1⁄2 tsp

olive oil – 2 tbsp

sugar – ½ tsp (optional)
---
Method:
Heat oil in pan. Add cinnamon stick, and cumin seeds. When seeds start to splutter, add onion paste along with crushed ginger-garlic.
Saute for 4-5 minutes. Add chopped tomatoes, pepper powder, turmeric powder, curry powder, salt, and cumin powder.
Mix well and let them cook for 5-6 minutes, or until tomatoes are soft and mushy.
Now add diced mushroom, diced bell pepper, corn kernels, and sugar.
Mix well and let the vegetables cook for few minutes on medium heat. sprinkle some water if needed.
Don't overcook the veggies, as we still want that crunchy texture of bell pepper.
Remove from heat, and garnish with coriander leaves. Mushroom Pepper Corn Masala is ready.
Serve Hot with any of your favourite breads or rice.
PHOTOGRAPHY NOTES:
Camera: Nikon D7100
Lens: Nikon 35mm f/1.8G AF-S DX Lens
Setup: Used natural sunlight coming from left, and a reflector on the right side of the frame.
Angle: I clicked these photos with 90°, 70°, 50°,
Happy Cooking 🙂
Show us your love by commenting on this post, and share your thoughts.
Liked this post, then you will like this too.
---