Detailed Egg Drop Curry Recipe | Andhra-Style Poached Egg Curry recipe with easy step by step video tutorial. Egg Drop Curry is a simple, light, comfy, and delish side dish which fits so well with steamed rice or chapati. This gluten-free can be made in a single pan in less than 30 minutes.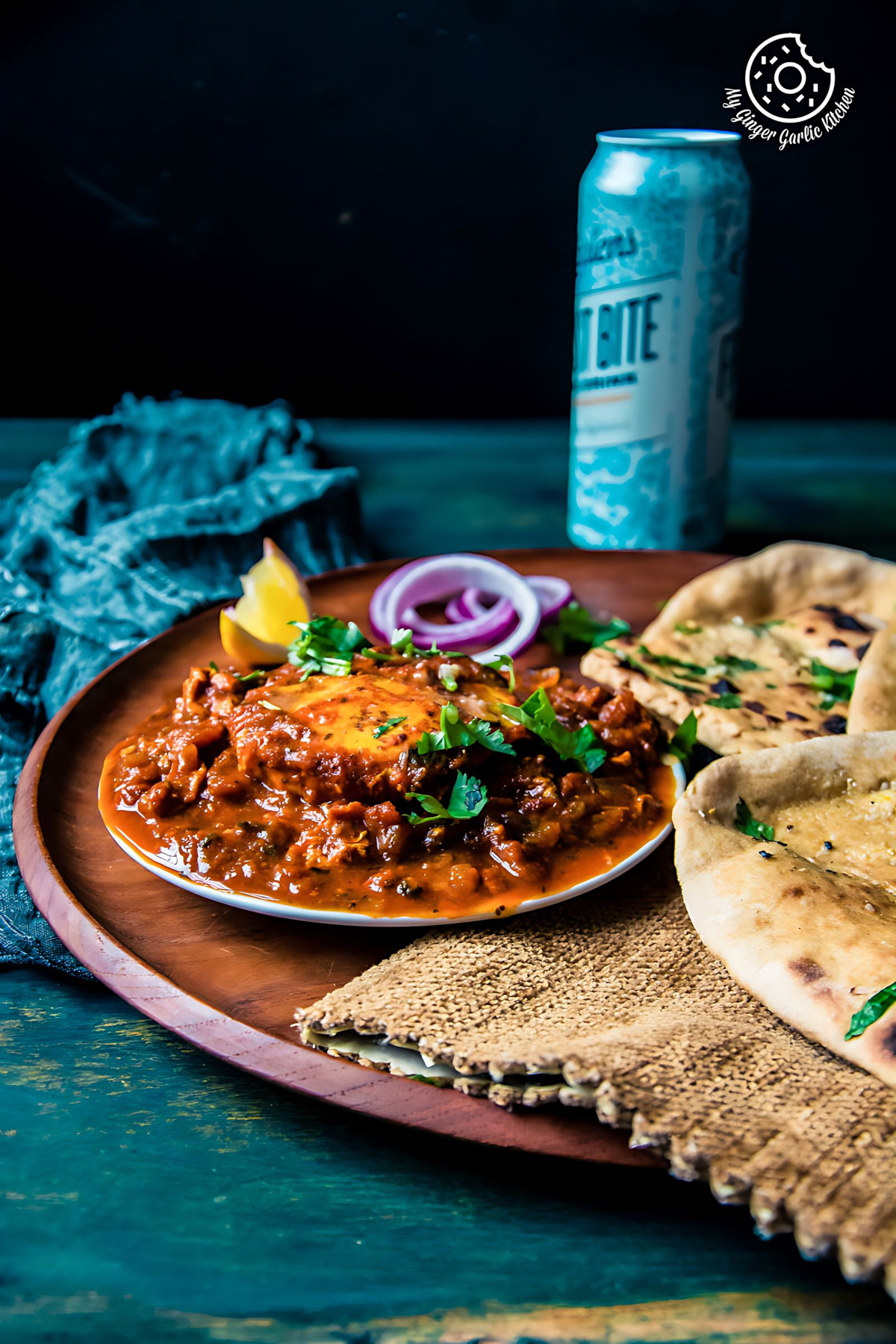 Hello, friends! How are you doing?
Is this week treating you well? I would be delighted if you say 'YES'. But if you would say 'no' then I feel sorry for you and the good news is that this week is nearly gone, and the weekend is here. So chill and hope for a better new week! 🙂
My today's recipe is a humble curry. But why am I sharing a curry recipe today when it's summer season, you may ask. I know, the time says it's summer and the temperature says it's not. So now I am really craving for a hot curry. So, I intended to make this egg drop curry again for dinner tonight. I made it last week and I am making it today again because any type of egg curry is my family's comfort meal. They are up for it any time of the day, week, month.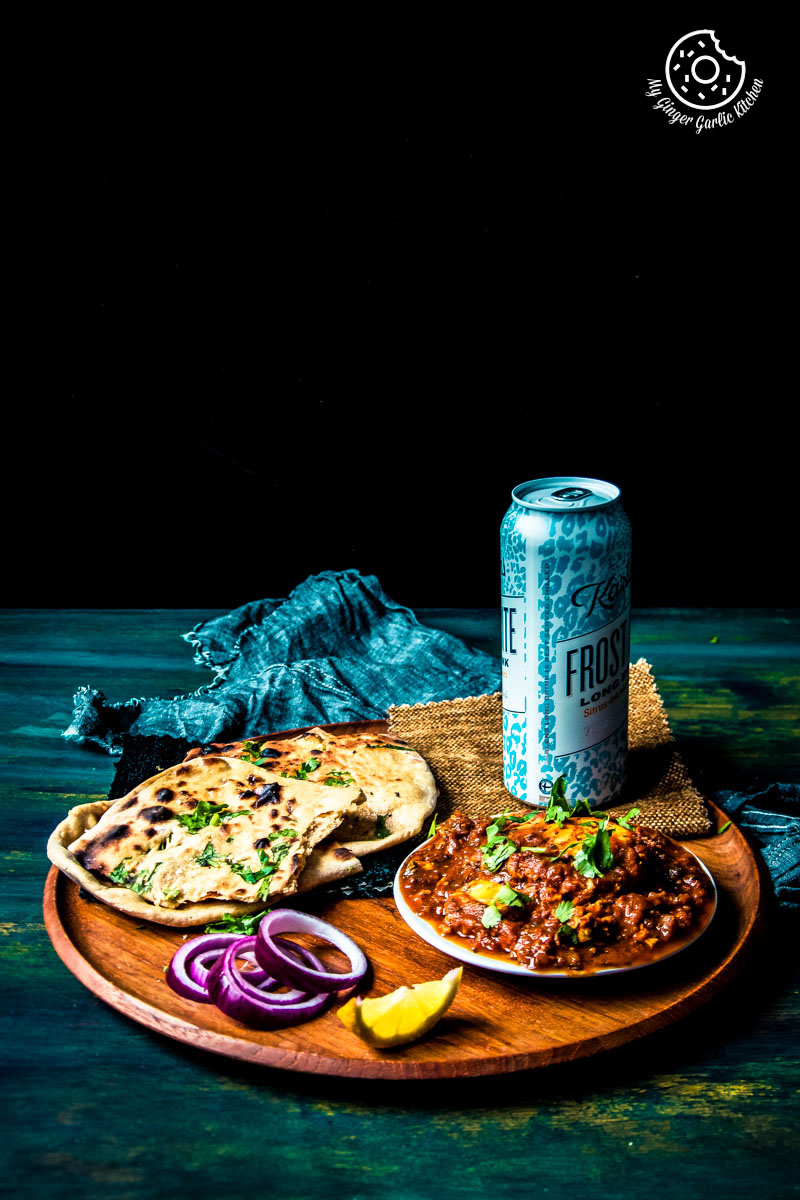 This is the quickest egg curry ever:
There are so many egg curry recipes such as boiled egg curry, fried egg curry, scrambled egg curry, egg cubes curry, and many more. But this egg curry is quickest and simplest of them all.
Related: Curried Egg Salad Sandwich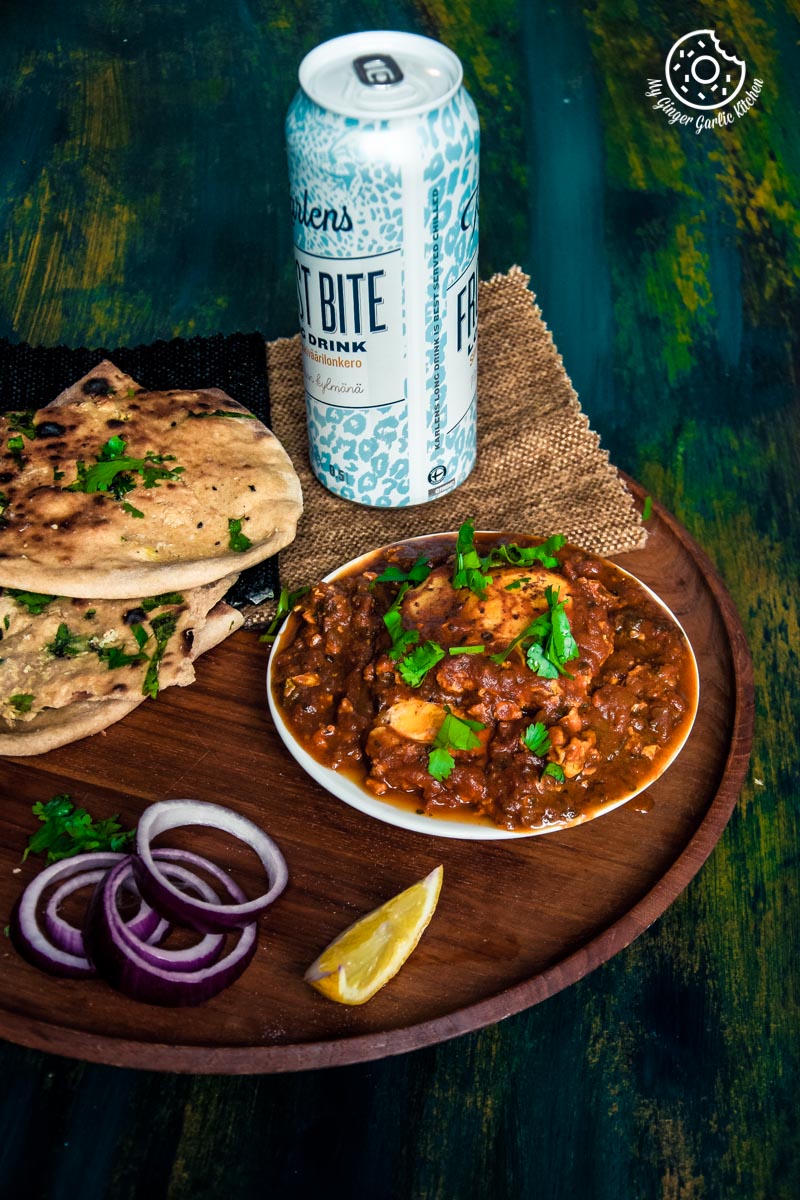 What is Egg Drop Curry?
Egg Drop Curry OR Andhra-Style Poached Egg Curry is one of the very basic yet exotic egg recipes from Andh. I first ate this curry at one of my friend's house, who is a native from the Indian state of Andhra Pradesh. She told me that in Andhra they usually make this curry 2 ways. One is tomato based gravy, and another one is coconut based gravy.
I ate both of these versions at her home and no matter what gravy she used, the curry always came out fabulous — just finger-licking good. She also told me that 'Egg Drop Curry' is amongst the most common curries prepared in most of the Andhra families for lunch or dinner. If you are looking for Poached Egg Curry Without Coconut, or Broken Egg Curry Andhra Style then this recipe is for you.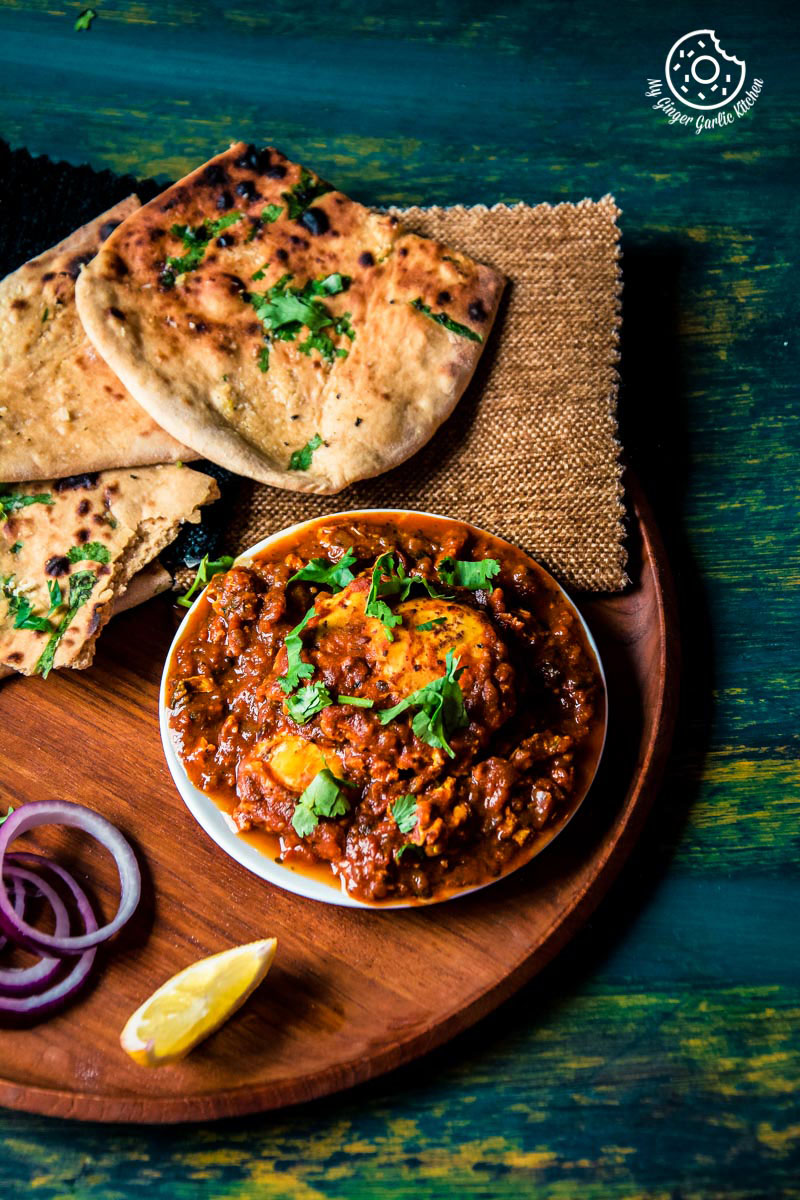 Why Would you love this Egg Drop Curry?
This curry is widely cooked and quite popular because of the following reasons:
It doesn't require boiled eggs, so you don't need to worry about boiling the eggs first and then wait for them to cool down a bit before peeling the shells.
For this curry, the raw eggs are directly dropped into the gravy instead of adding boiled eggs. Thus, this reduces the cooking time. So a tasty curry can be served under 30 minutes.
No fancy ingredients and preparations are needed to make this hot, flavorful and spicy curry. Thus it can be made in a jiffy.
The eggs are cooked in spicy gravy, so they absorb all the spices and curry tastes much more flavorful than regular boiled egg curry.
This curry is the best to cook at times when you have unexpected guests and you don't have much time to prepare food, but you still want to impress them with something really exotic and delish. Then this curry comes to the rescue, and that's why I'd also like to call it 'a curry in a scurry'.
Related: How to Peel a Hard Boiled Egg In Less Than 10 Seconds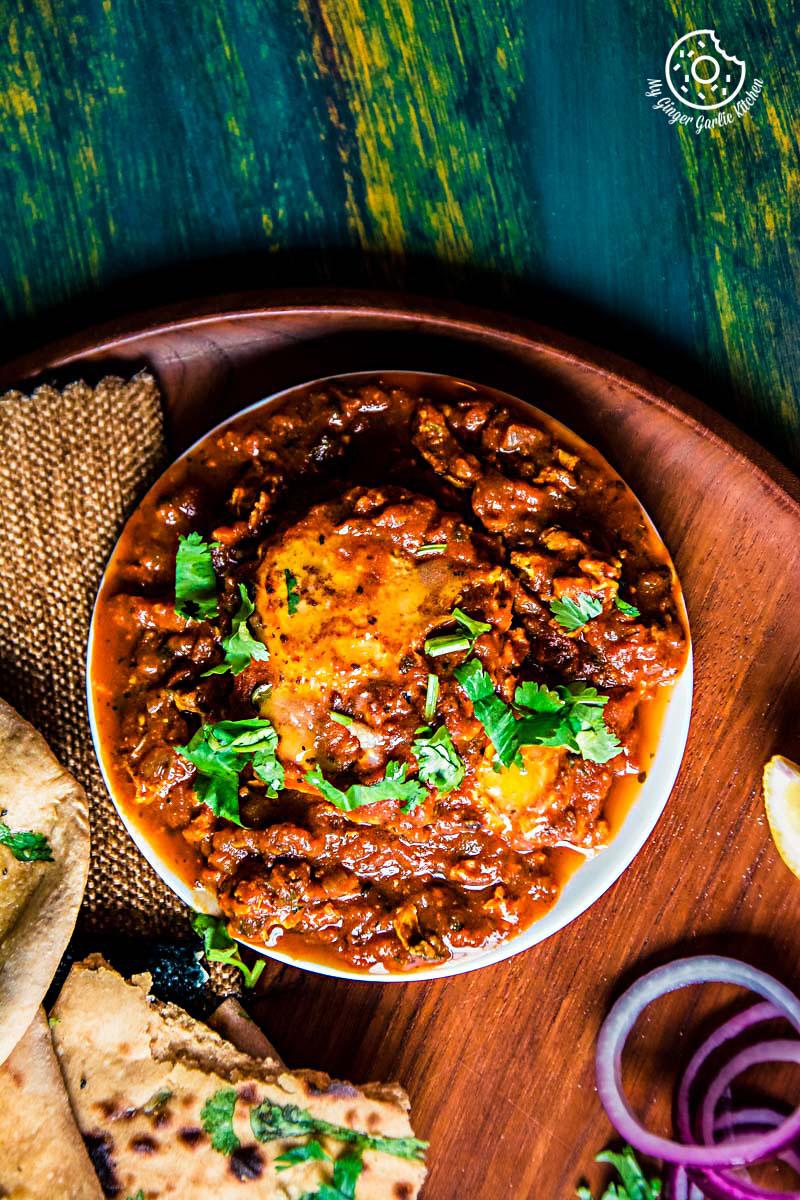 This simple, light, comfy, creamy and flavorful side dish goes so well with naan, paratha, steamed rice or even chapati. This gluten-free curry can be made in a single pan in less than 30 minutes.
You may also like these egg recipes other recipes:
Let's learn Egg Drop Curry Recipe | Andhra-Style Poached Egg Curry Recipe.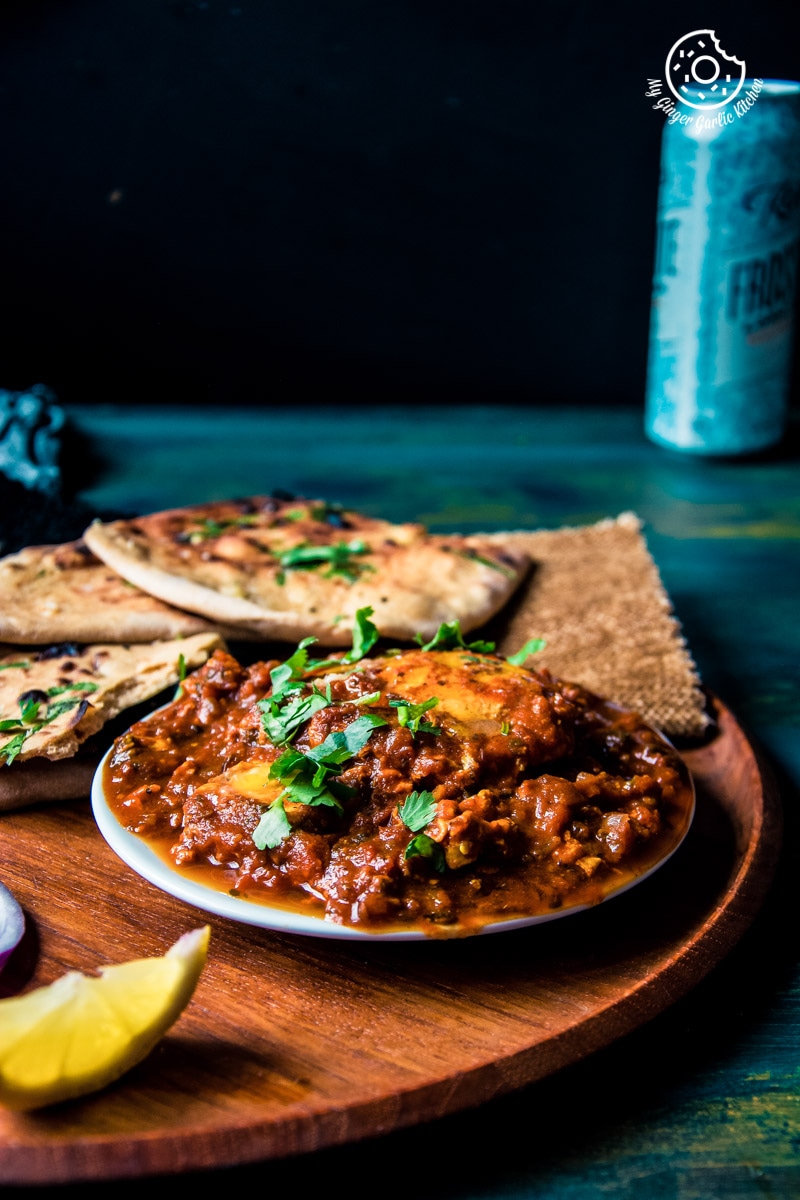 You may also like these other recipes:
Egg Drop Curry Recipe - Andhra-Style Poached Egg Curry

[Recipe]
This 30 minutes Egg Drop Curry Recipe or Andhra-Style Poached Egg Curry is a simple and delicious side dish which goes well with steamed rice or chapati.
---
★★★★✰
(Rating:
4.1
from
715
reviews)
---
| Prep time 🕐 | Cook time 🕐 | Total time 🕐 |
| --- | --- | --- |
| | | 30 mins |
| Category ☶ | Cuisine ♨ | Serves ☺ |
| Side | Indian | 3 |
| Nutrition Info ⊛ | | Serving size ⊚ |
| 280 calories | | 1 Serving |
---
INGREDIENTS
Ingredients For Egg Drop Curry:
2 tablespoons oil
1 1/2 teaspoons cumin seeds / jeera
2 medium sized red onions, chopped
2 tablespoons ginger garlic paste
2 small tomatoes, chopped
1/4 cup tomato puree
2 green chili, slit
2 teaspoons red chili powder or as per taste
1/4 teaspoon turmeric powder
Salt to taste
3-4 eggs
1/2 teaspoon garam masala powder
1/8 cup water or more if needed
1 1/2 tablespoons dried fenugreek leaves (kasuri methi)
Chopped cilantro (coriander) leaves for garnish
---
INSTRUCTIONS:
Make Egg Drop Curry:
Heat 2 tablespoons oil in a heavy-bottomed pan on medium heat. When the oil is hot add cumin seeds.




Once the cumin seeds start to splutter add chopped onions and sauté for 3-4 minutes or until onions are translucent.




Add ginger-garlic paste and sauté for a minute.




Now add chopped tomatoes and sauté for 4 minutes or until the tomatoes are cooked and mushy.




Once the tomatoes become soft add the tomato puree and stir well. Cook for 2 minutes.




Now add green chilies and stir well. Cook for another minute.




Add the red chili powder, turmeric powder, salt, garam masala powder, 1/8 cup of water, and stir well. Cook for 3 minutes.




Crush Kasuri methi between your palms and add it to the tomato masala.




Mix well and let it cook for about 2 minutes.




Now reduce the heat to medium-low, and slowly break the eggs into the pan, one by one.




Sprinkle eggs with some roasted cumin powder.




Cover and cook eggs for 5 minutes. At this point, ff you think masala has become very dry then add about 2-3 tablespoons water on the edges of the pan and stir lightly with a spoon. (Remember not to touch eggs or add water on top of the eggs.) Cover and cook for 5 more minutes.




Garnish with chopped cilantro leaves.




Turn off the heat and let it rest a few minutes before serving. Serve Hot Egg Drop Curry with jeera rice, or naan.

---
WATCH VIDEO:
---
NOTES:
No notes for this recipe.
---
If this recipe helped you, then please spread the word by sharing and
subscribing
to us on YouTube to get more such Recipe Videos.
---
Your feedback is so helpful for me and other MyGingerGarlicKitchen readers. So, for Facebook and Instagram, please mention
@MyGingerGarlicKitchen
or
#mygingergarlickitchen
. I would love to see your photos. :)
---
Author:
Anupama
Recipe Source Link:
https://www.mygingergarlickitchen.com/egg-drop-curry-andhra-style-poached-egg-curry-video-recipe/
Date Published:
2020-09-29
• • • • • • • • • •