How To Make Pakore Ki Sabzi | Indian Fritters Curry Recipe Video
---
Learn How To Make Pakore Ki Sabzi | Indian Fritters Curry with quick, easy and detailed step-by-step recipe video tutorial. This is the best pakora curry ever. The creamy and tangy base of gravy includes plenty of tomatoes, onion, some spices, a little ginger-garlic, fresh herbs, and some salt. A dip of a piping hot puri or paratha in a bowl scooped with this hearty pakore ki sabzi is a pure delight.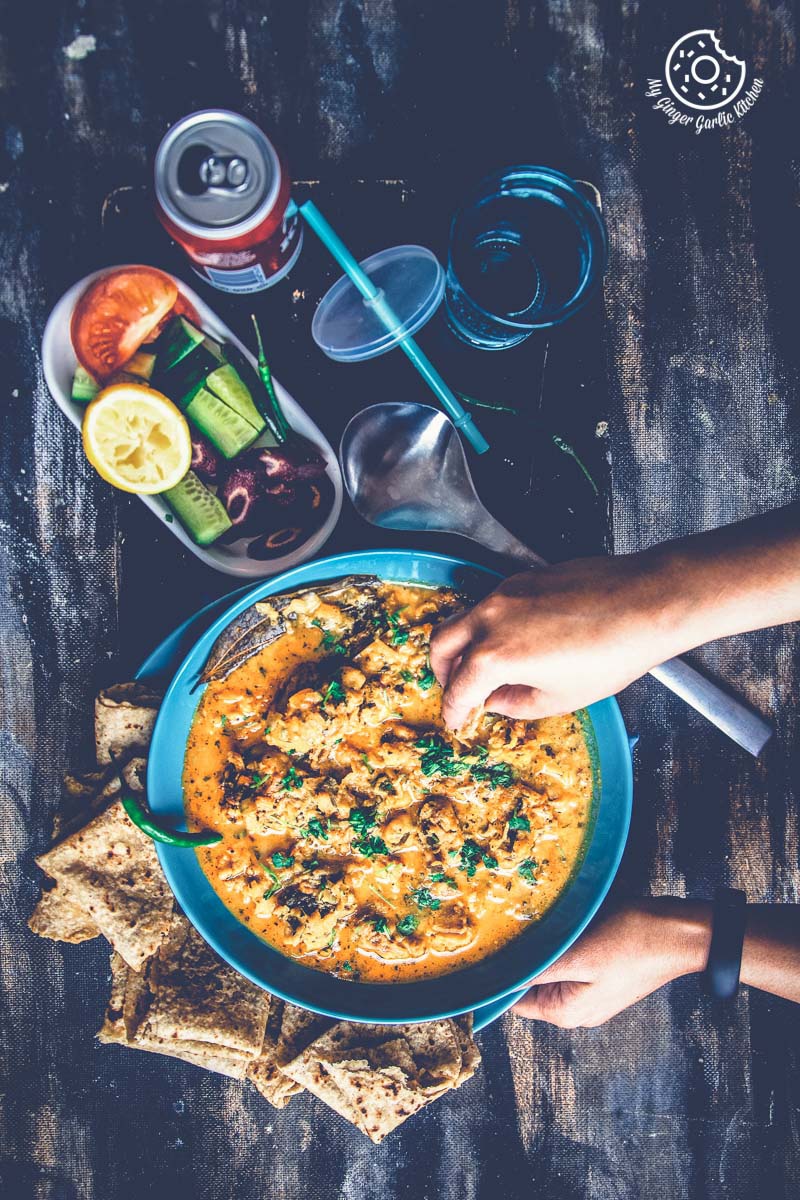 In this curry, there is a mysterious tangy flavor which comes from the amalgamation of yogurt and tomato. And the addition of chopped coriander leaves at the end adds the subtle fresh herby aroma to this comfy curry.
This curry composes my fond memories:
There must be many dishes which make you nostalgic — which take you back straight to your childhood down the memory lane. Pakode ki sabzi is my favorite since my teens.
Not sure about you guys, but I grew up eating this flavorsome curry. Pakode ki sabzi was always one of those dishes which often appeared in my Mom's Indian Kitchen.
Some days she made it with fresh pakoras and other times she made instant pakoras for pakore/pakode ki sabzi. No matter what kind of pakodas she used for making this curry, it always came out delectable.
I am like my Mom:
Clearly, I can tell that my Mom definitely loved all pakora curries — it was surely her thing and still is. Pakoras and pakoda curries were, and still are, my thing. I JUST LOVE IT!
Pakodi Ki Sabzi is widely popular in the Northern Indian state of Rajasthan and Punjab. This Indian Fritters Curry is one of the most popular aromatic and delicious dishes of Rajasthani Cuisine.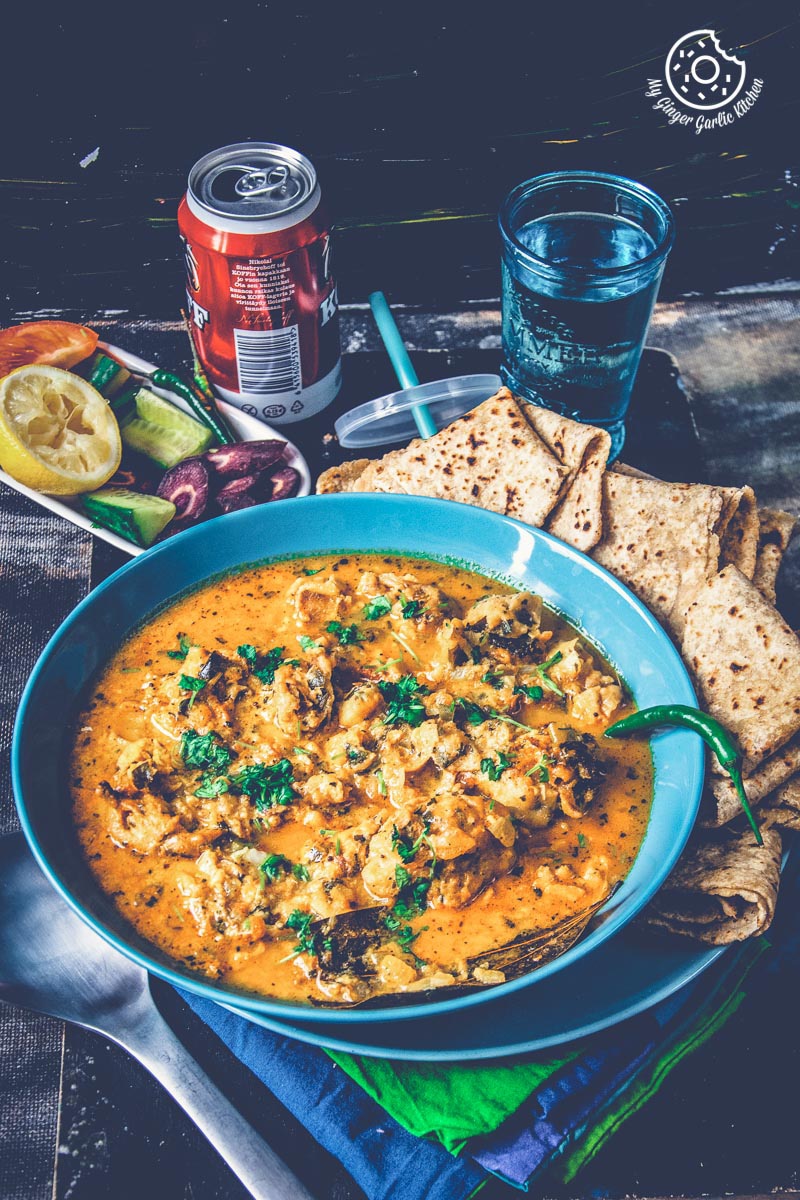 A dish tasted and collected by many generations:
Like many other Rajasthani recipes this is another traditional family recipe which has been passed down to generations. My Granny was introduced to this Pakodi Ki Sabzi by her mom, and then from her, this recipe passed to my mom. And now I also make this curry and hopefully I will pass on this treasure to the apple of my eye. 🙂
Today I am sharing my family recipe. In this recipe, I made this curry with leftover aloo palak pakora (aka spinach potato fritters), but you can add any other pakora of your choice and keep gravy the same.
You can also check out the following similarly delicious spinach recipes: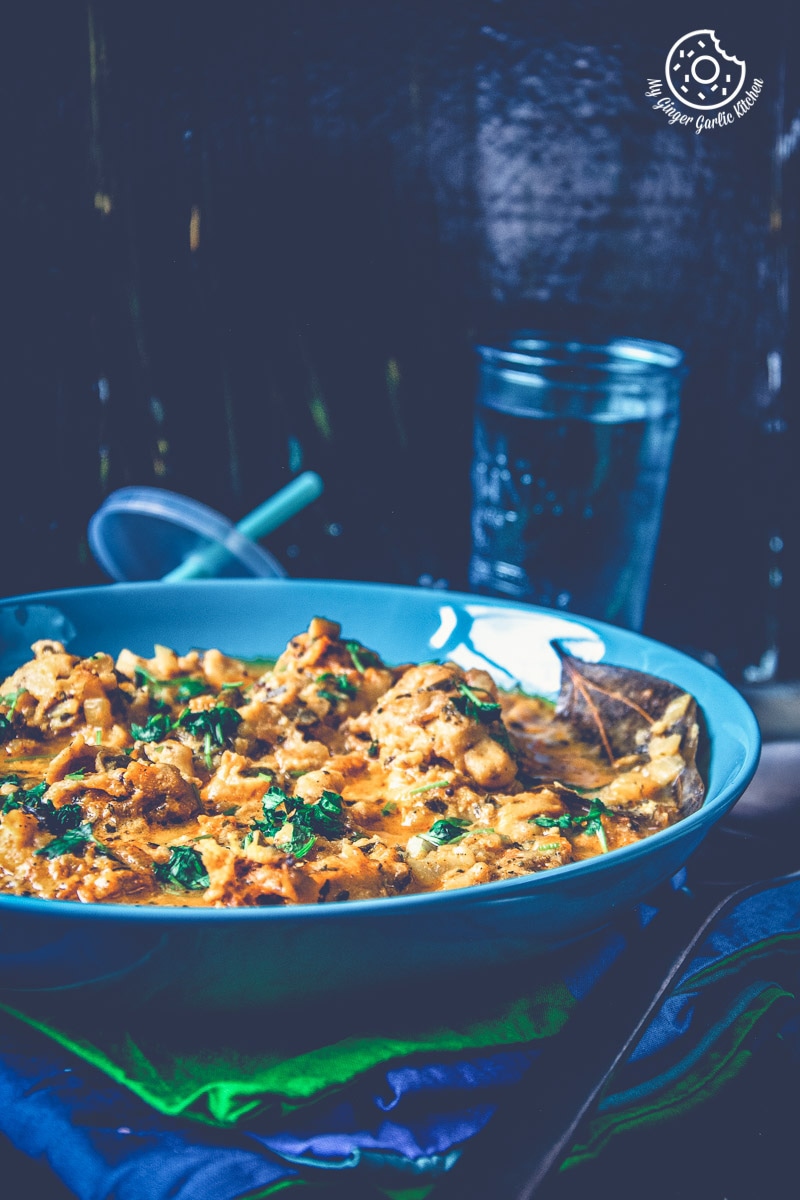 My mom also makes wonderful lauki ke pakore ki sabzi aka bottle gourd fritters curry, and kaddu ke pakode ki sabzi aka pumpkin fritters curry which I will share sometime soon.
Cooking this curry is painless:
I especially love this Pakode Ki Sabzi (Indian Fritters Curry) because making this wholesome, satisfying, delicious and nutritious curry is a cakewalk. And also you only require few basic ingredients to prepare them.
The amazing taste of this curry is hard to describe in words. All I can say is that it's all around palatable.
This sabzi is a classic, yet simple and delicious Indian curry dish made with besan pakode, or pakora. This curry can be made with either fresh or leftover pakodas.  
The gravy for this gluten-free curry is made with some essential spices, onions, tomatoes, and yogurt. This curry goes well with plain roti, paratha, or even steamed rice.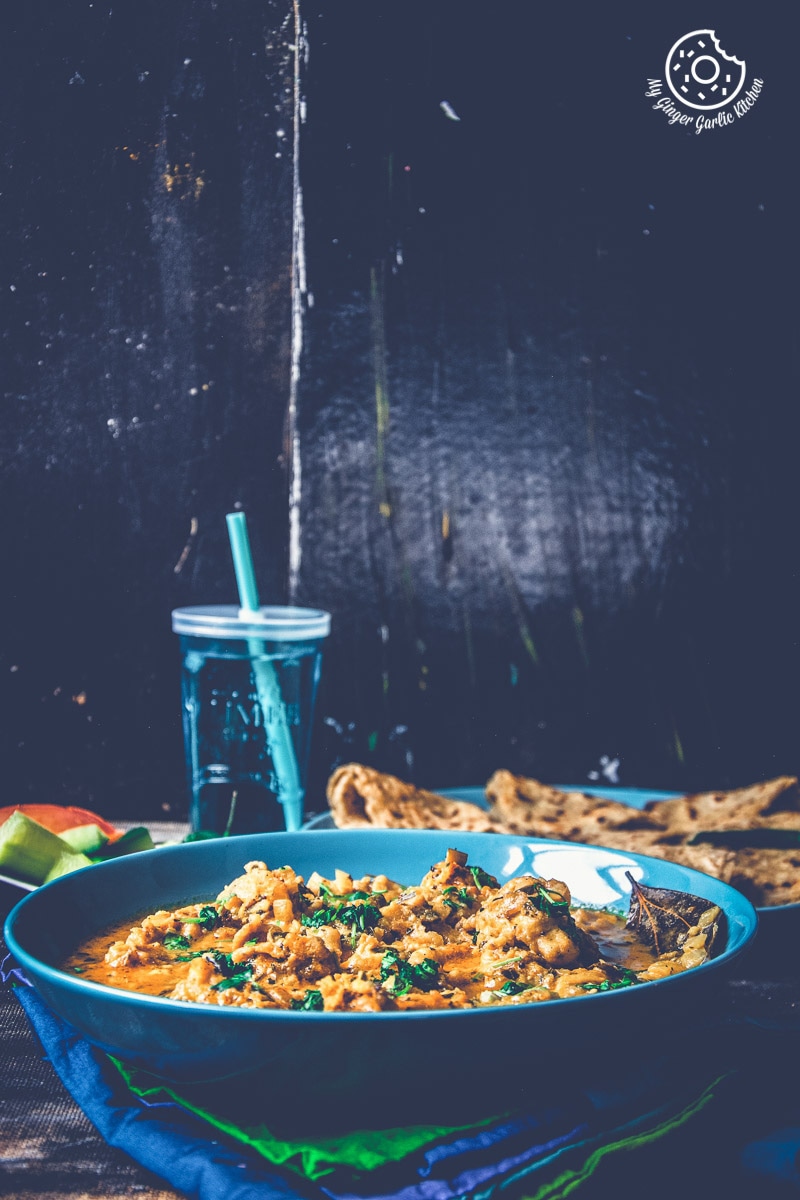 When to serve?
This curry is a perfect side dish to make when you have guests coming over on a short notice, and also this curry is best to serve on special occasions and celebrations. You can try making this amazing Pakode Ki Sabzi in your kitchen and get ready to hear some WOWs. 🙂
Excellent rescue:
This curry is also a savior on such days when you don't have vegetables or meat in your pantry. Pakode ki sabzi was always on top of curry options when there were no vegetables in the fridge, and also on the days when we craved for something rich and classy. Yes, we Rajasthanis love everything made with besan (gram flour). 🙂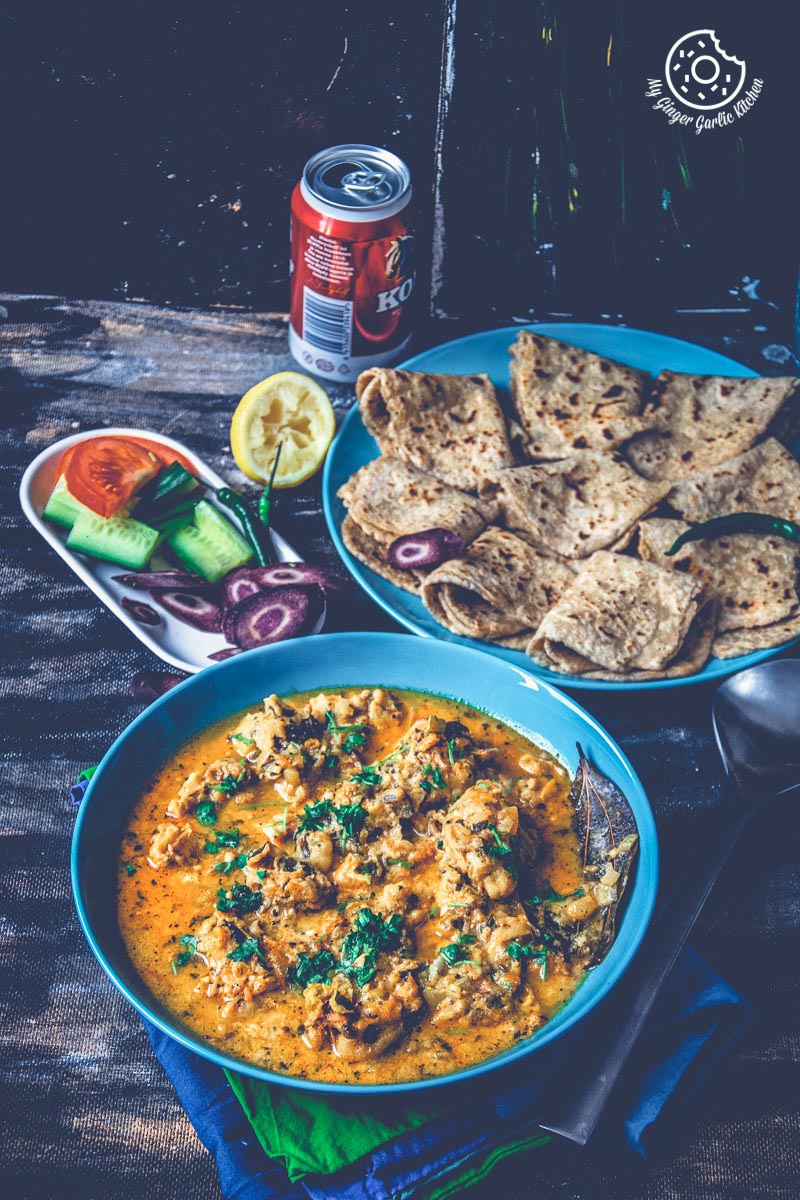 In Rajasthani cuisine, besan or gram flour based recipes are so common. We have many besan recipes such as: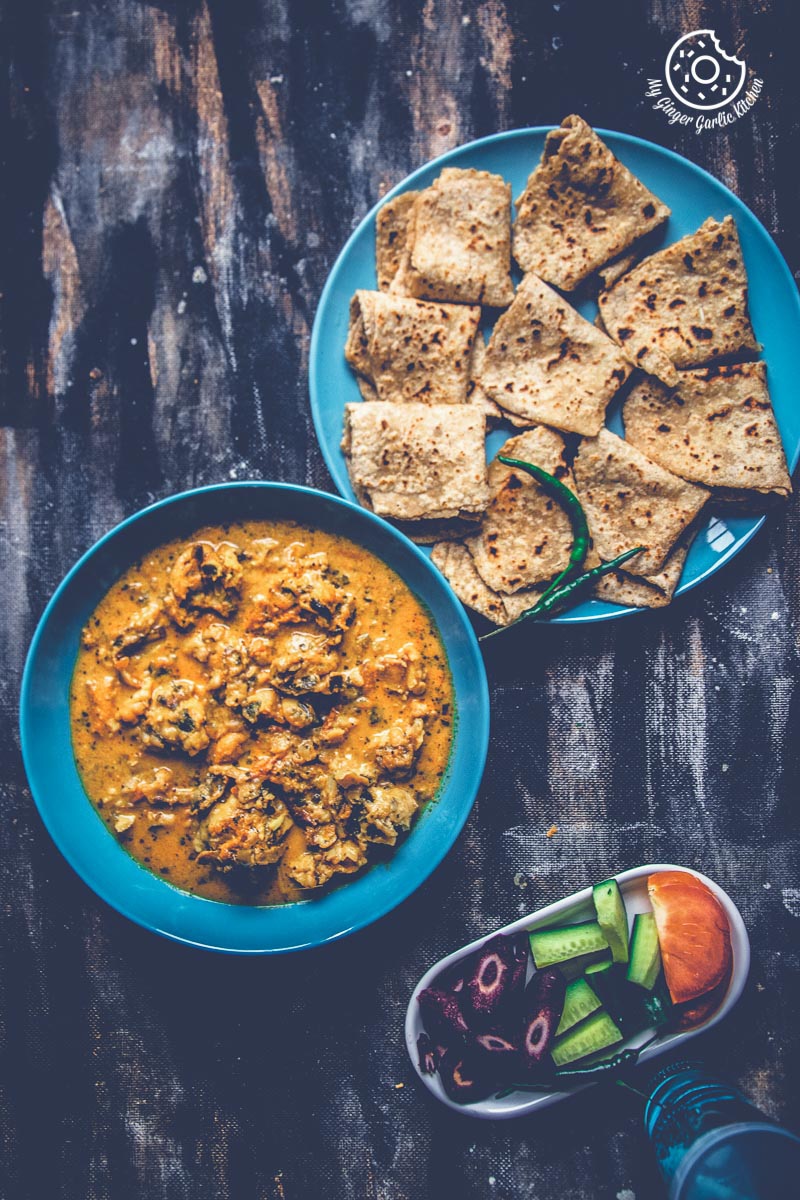 Here are the details:
Fried pakoras are used for making this curry, but these are also soaked in hot water afterward. And when you soak them in hot water for few minutes, they plump up slightly and become soft — just perfect for this curry.
By soaking them in hot water, they can easily absorb the liquid of the gravy. The remaining steps would be to then making the tangy and creamy, onion, tomato and yogurt gravy, and adding pakoras to the gravy. Cook for some time, and DONE!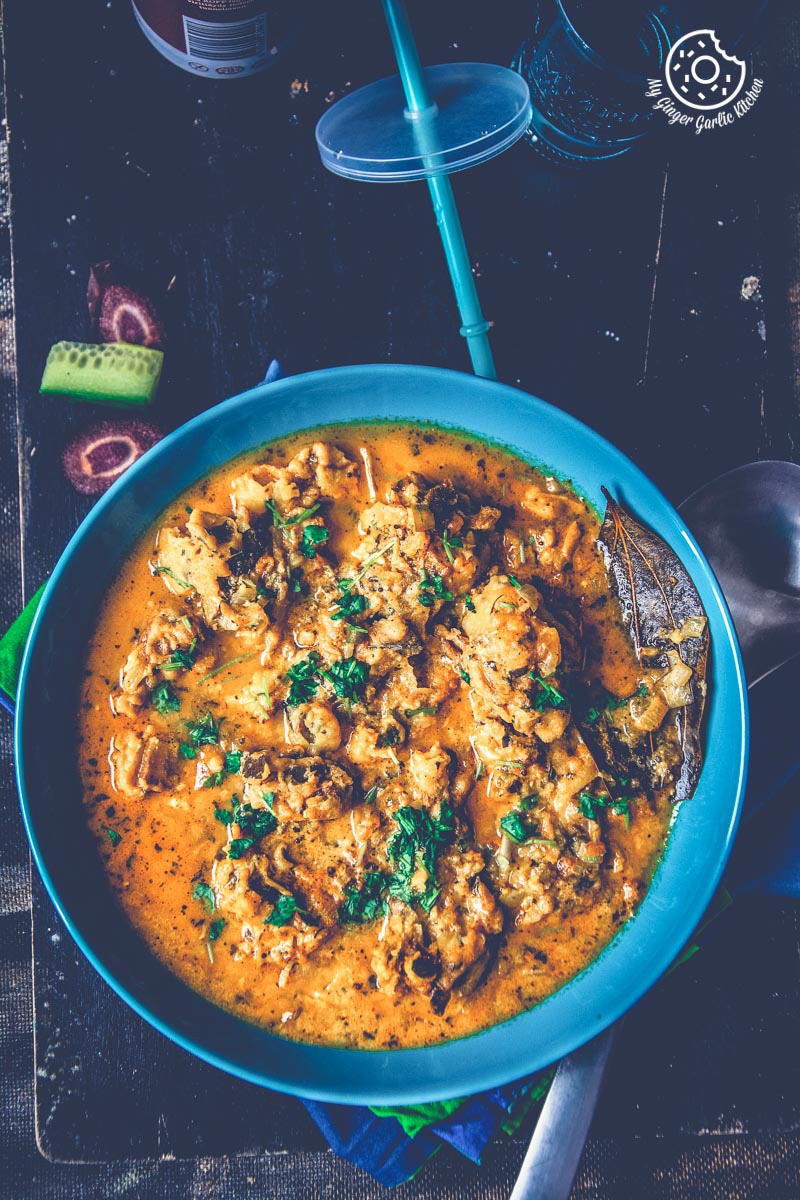 How To Make Pakore Ki Sabzi | Indian Fritters Curry [RECIPE]
This is the best pakora curry ever. The creamy and tangy base of gravy includes plenty of tomatoes, onion, some spices, a little ginger-garlic, fresh herbs, and some salt. A dip of a piping hot puri or paratha in a bowl scooped with this hearty pakore ki sabzi is a pure delight.

♥ ♥ ♥ ♥ ♥
(Rating: 4.7 from 31 reviews)
INGREDIENTS
• Pakoras/Pakodas – 2 Cup (I Used Leftover Aloo Palak Pakora)
• Oil – 3 Tbsp
• Bay Leaf (Tejpatta) – 1
• Cloves (Laung) – 4
• Dried Red Chilies (Sukhi Lal Mirch) – 2
• Pinch Of Asafetida (Hing)
• Cumin Seeds (Jeera) – 1 Tsp
• Mustard Seeds (Rai) – 1 Tsp
• Ginger, Garlic Paste – 1 Tsp
• Onion, Chopped – 1/2 Cup
• Chilies Chopped – 1 Tsp
• Tomatoes, Chopped – 3/4 Cup
• Turmeric Powder – 1/4 Tsp
• Red Chili Powder – 1 Tsp Or To Taste
• Coriander Powder -1 Tsp
• Yogurt Whisked – 1/2 Cup
• Kasuri Methi (Dried Fenugreek Leaves) – 1 Tbsp
• Garam Masala Powder – ¼ Tsp
• Salt As Per Taste
• Water – 1/2 Cup + 1/2 Cup Or More If Needed
• Hot Water For Soaking Pakoda
---
| 🕐 Prep time | 🕐 Cook time | 🕐 Total time |
| --- | --- | --- |
| | | |
| ☶ Category | ♨ Cuisine | ☺ Serves |
| Side | Indian | 4-5 |
---
INSTRUCTIONS:
1. Heat 3 tbsp oil in a pan over medium heat.
2. Add bay leaf, dried red chilies, cloves, cumin seeds, and mustard seeds to it.
3. When they begin to crackle, add the chopped onions and sauté on medium heat for 4 minutes or saute until they are light brown in color.
4. Add the green chilies, tomatoes, ginger-garlic paste and sauté for 5 minutes or until tomatoes are mushy.
5. Add red chili powder, coriander powder, and turmeric powder to it.
6. Stir well and cook spices for 2 minutes.
7. Add 1/2 cup water and mix well. Let it cook for 2 minutes.
8. Now lower the heat and slowly add the whisked curd and kasuri methi.
9. Mix well and stir continuously till it comes to a boil.
10. Let it boil on medium-low heat for 5-7 minutes.
11. Add water in a large bowl.
12. Soak your favorite pakoras in hot water for 5-7 mins.
13. Add 1/2 cup water to the sauce.
14. Drain pakoras with a slotted spoon and add soaked pakoras and stir well and boil for 3 minutes.
15. Once you see the oil coming up to the surface add the garam masala powder, salt and mix well. Cook for 2 more minutes.
16. Stir occasionally.
17. Transfer the curry to a serving dish and garnish with chopped coriander leaves.
18. Serve hot with
rice
or
flatbread
as you prefer.
---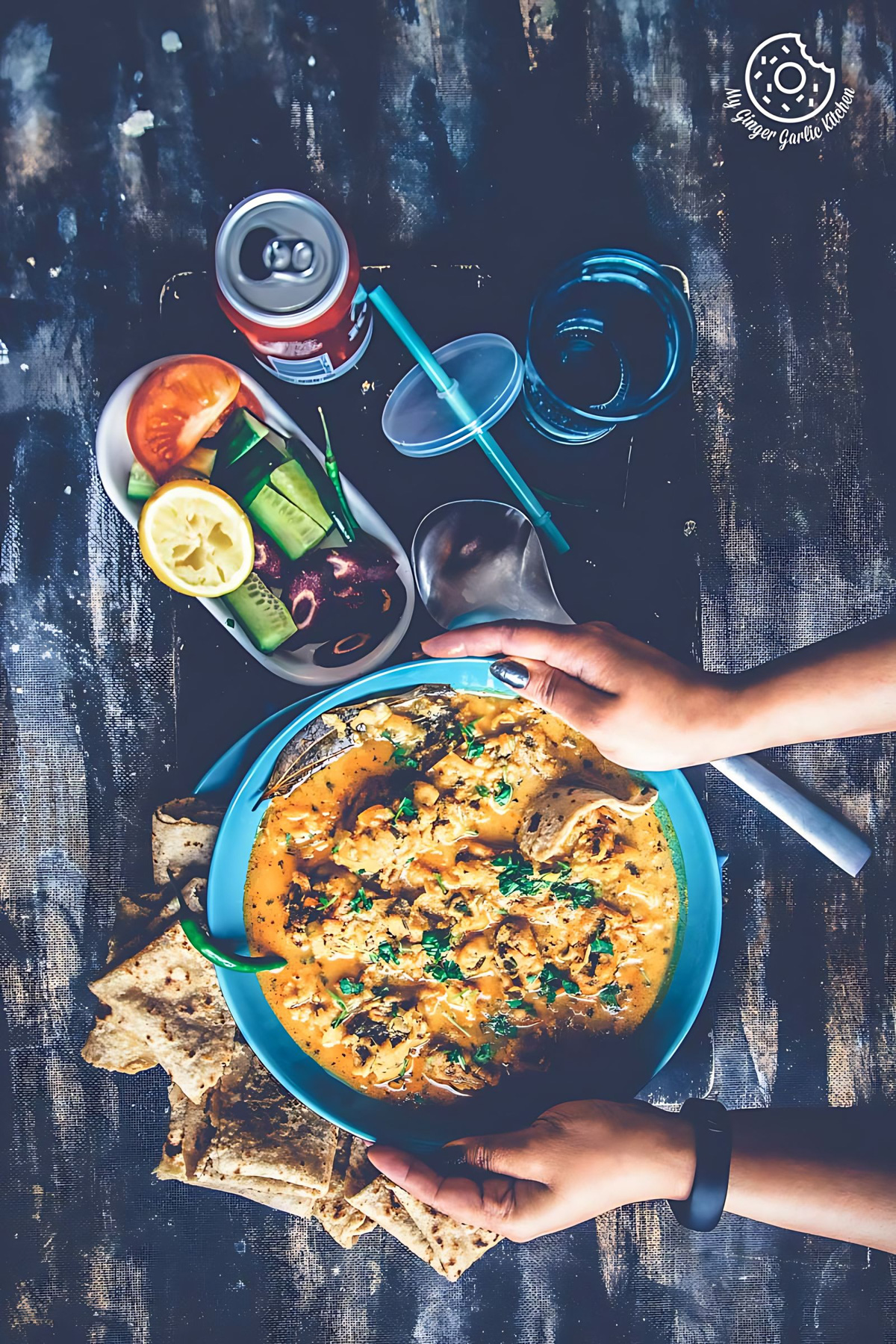 ---