Mint Coriander Tandoori roti is a tweaked and aromatic version of very popular Indian flatbread which is made from whole-wheat flour which is usually made in a clay oven called a tandoor.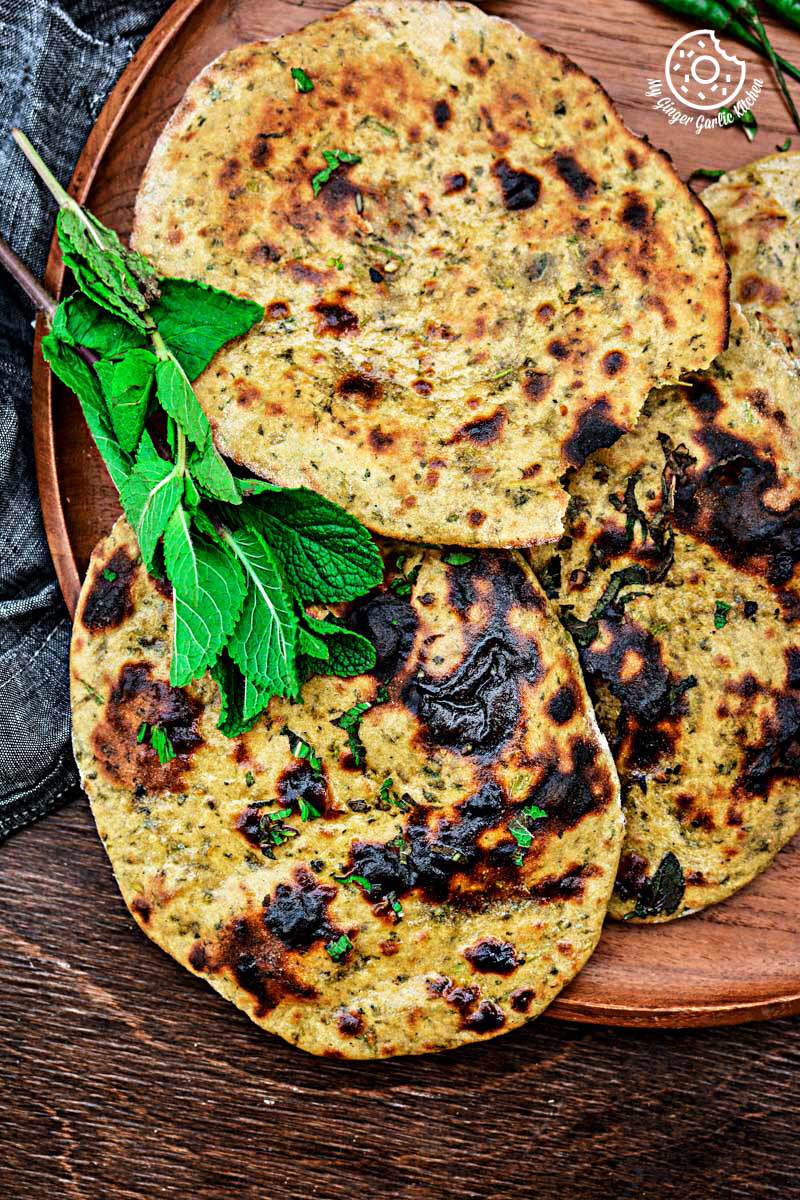 Oh hey!! Welcome to Friday!
Friday meals should be light: I have realized that I usually share something lighter on Fridays, because you know I just love fridays. They make me feel that the joy of weekend is about to begin.
A base of many dishes: However, this time I decided to share something which could be the base of many of your favorite dishes and which you sure can eat it on its own too. It's just fantastic. 'The dish is Mint Coriander Tandoori Roti', which I have been waiting to share on a perfect day. But the fact is that even I didn't know which perfect time I've been waiting for. And today I found out about the perfect time to share this flatbread recipe. That time was when I don't have anything scheduled to share. And today is one of such days when I had nothing to share, because I didn't really work on recipes this week. Still I am in a holiday mood. 🙂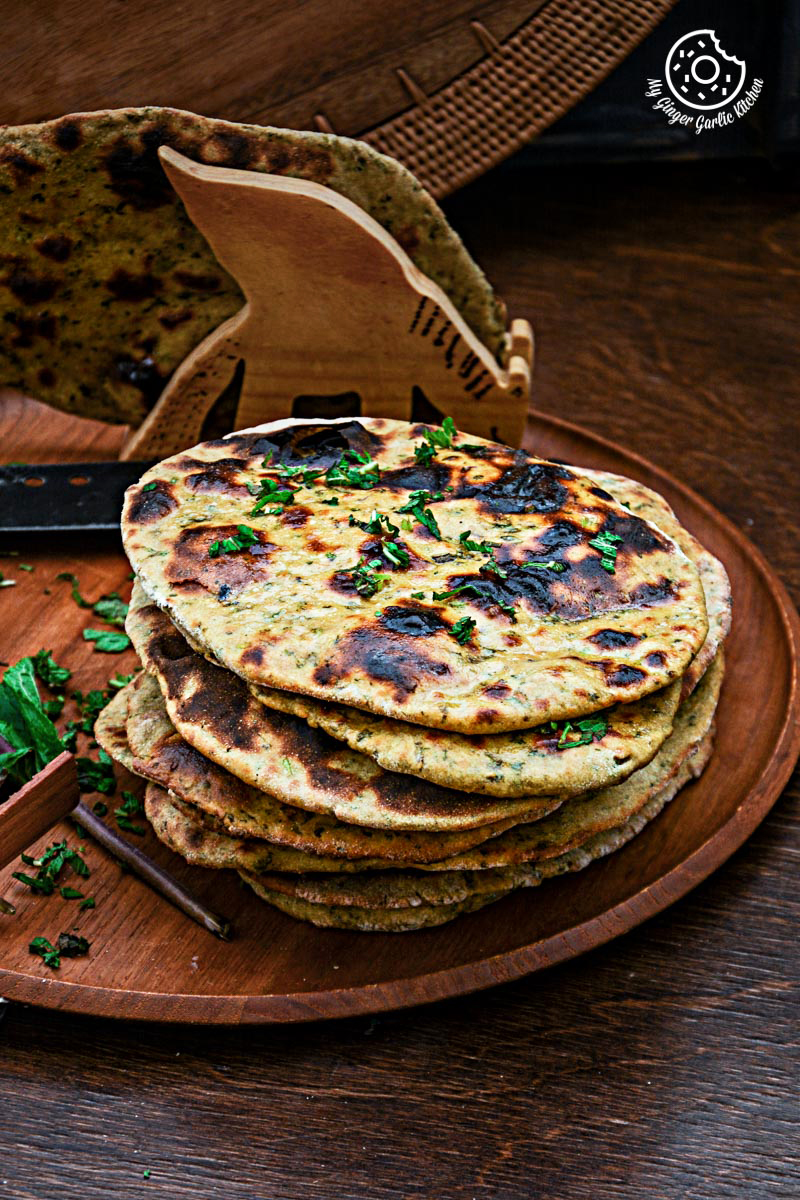 Perfect Moment: Then I found this recipe and at that moment I said to myself, "Yes, this is that perfect moment I was waiting for." So here we go with this Mint Coriander Tandoori Roti.
My love for homemade breads: Who doesn't like homemade breads??? For a fact, I very much love homemade breads. I always try to make breads at home, because they come with fresh baking aroma, and are so soft and buttery. Plus, they are so perfect for a weekend lunch. So another green flag to share it on a Friday! 🙂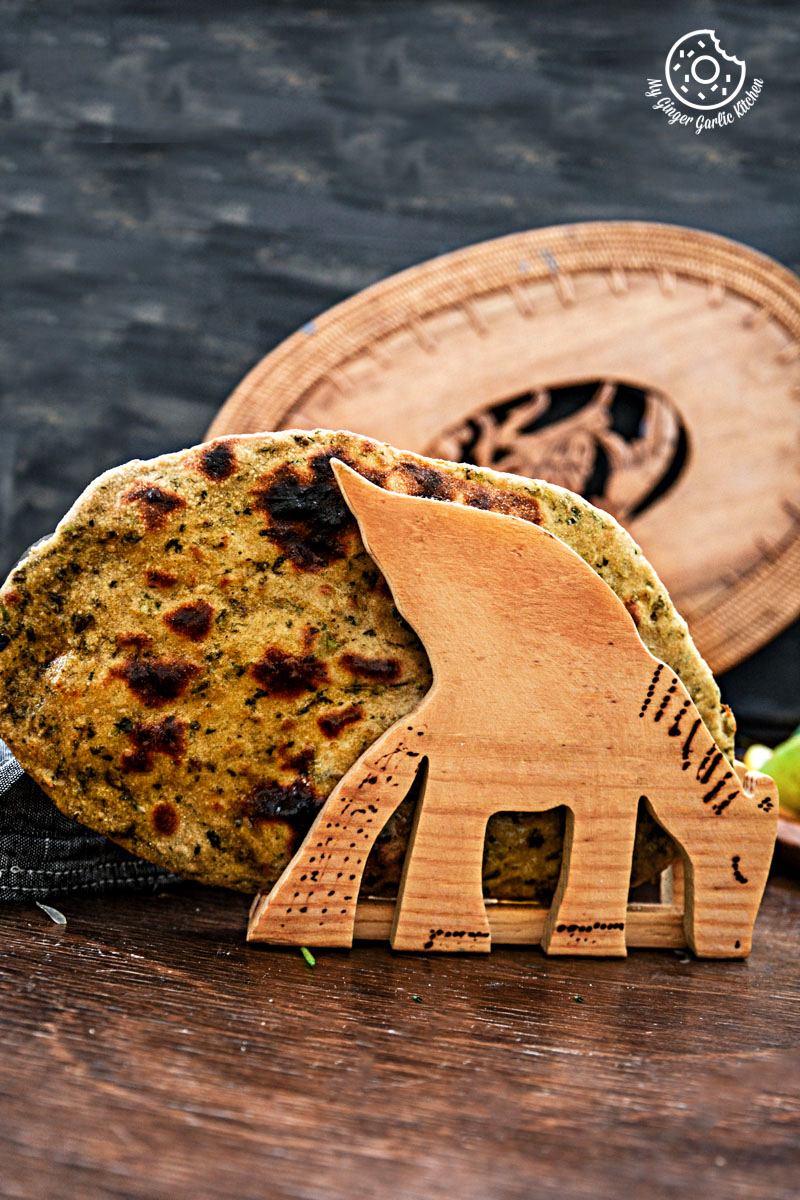 This roti is particularly special. How so? You know, I make a lot of flatbreads. They are the staple food in India, and this is the one which I grew up eating. So I really make them a lot, and most of these you don't see here, because there are really an endless number of varieties, literally a lot.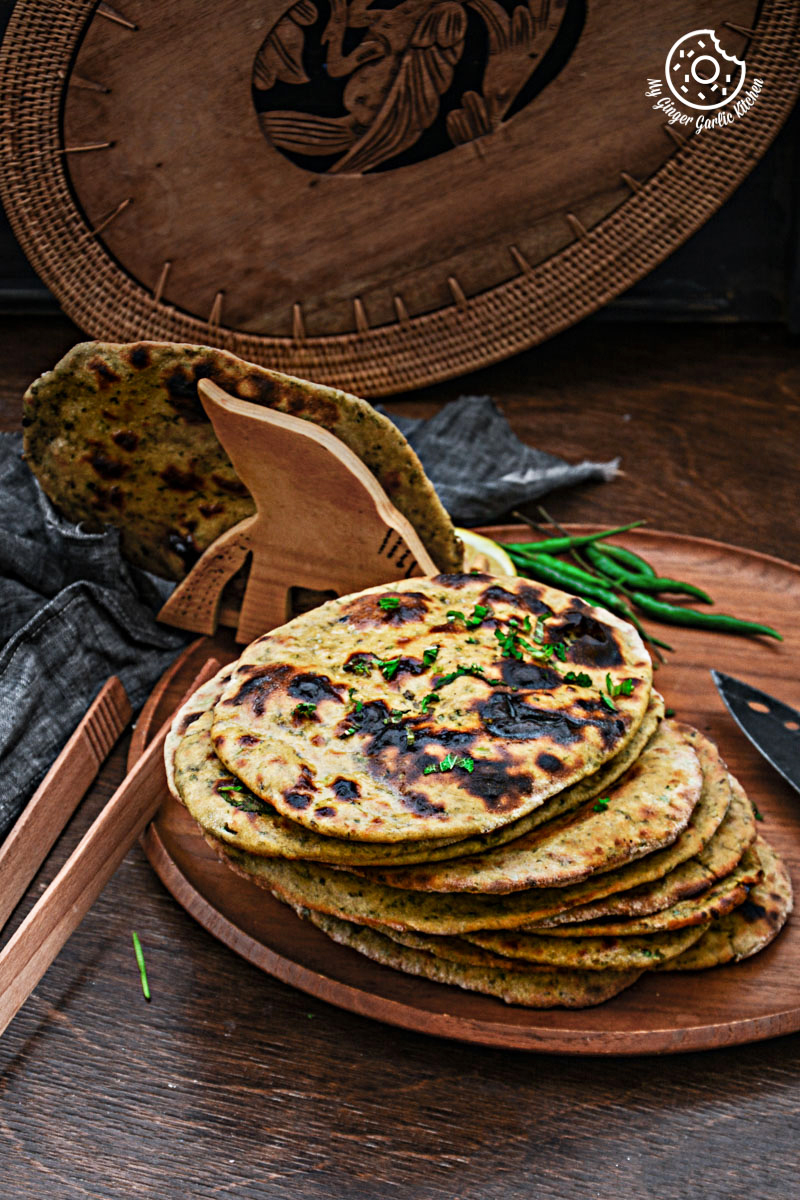 New found love: I love a good tandoori roti and I have made them a million times, but this Mint Coriander Tandoori Roti is my new found love which I began to explore last November.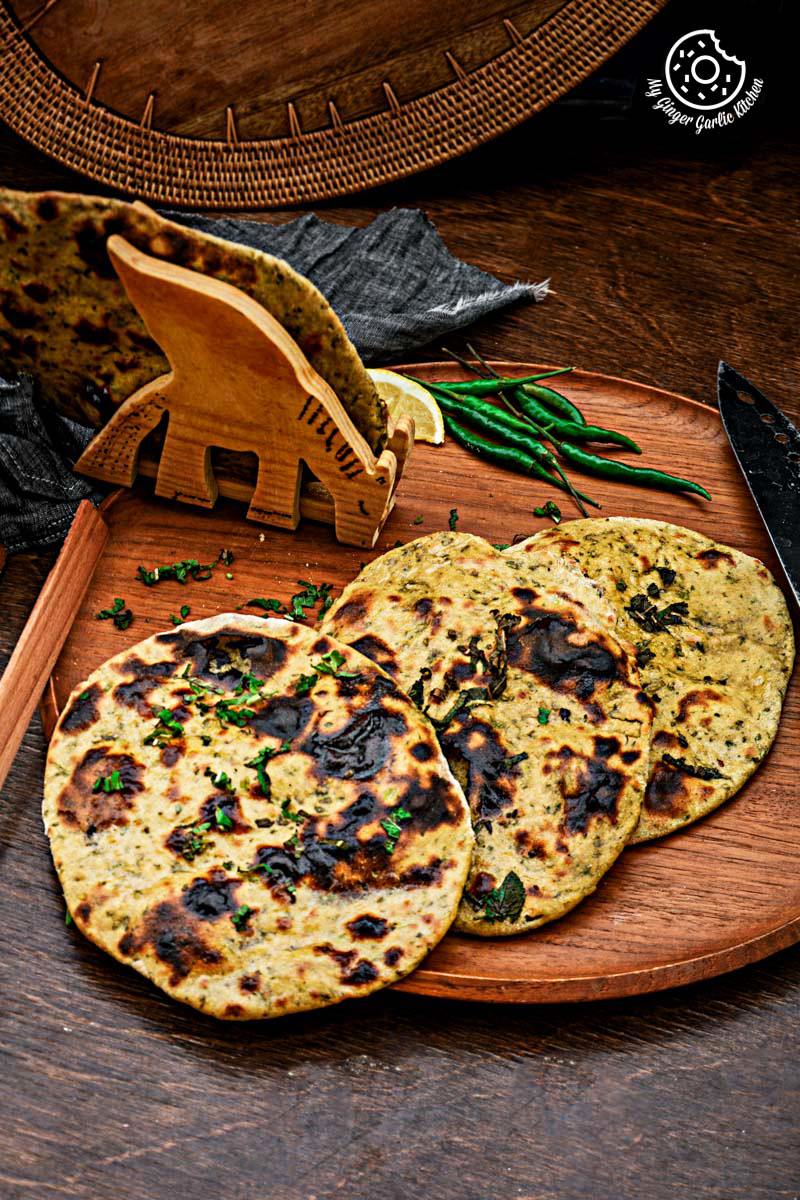 Inspiration: One day I bought big bunches of mint and cilantro, but then I completely forgot to use them. After a couple of days we had guests coming over for dinner — and for that my planned menu had tandoori roti along with a couple of curries, some Dal and pulao.
Best use of old herbs: Then I saw those bunches again and the first thought of using it was making some chutney. But then I thought that it would be very plain. So I should make something else and the next idea was using it in tandoori roti. Woah! That made me thrilled and I went for it. Believe me it was the most aromatic and refreshing tandoori roti I ever made. I have made the same recipe so many times after that day, because it's just that good.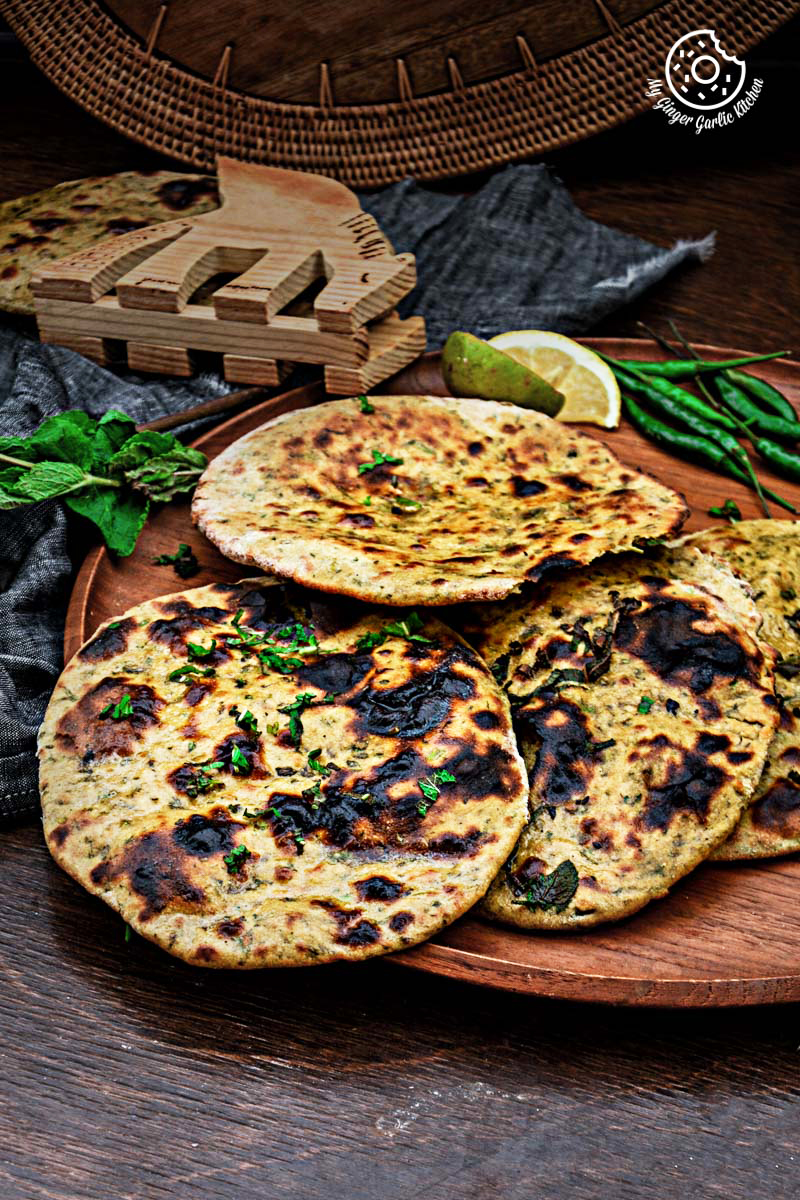 Long awaited one: The other day I realized that I've never shared one of my favorite tandoori roti recipes with you guys. So I thought why not sharing it on the blog now, because I know you guys will love it too. Then I shot this video a couple of months ago and edited it recently. Since then this is waiting for its chance to appear here. And today is the lucky day for this Mint Coriander Tandoori Roti! They are pretty happy to finally appear here; I must say 🙂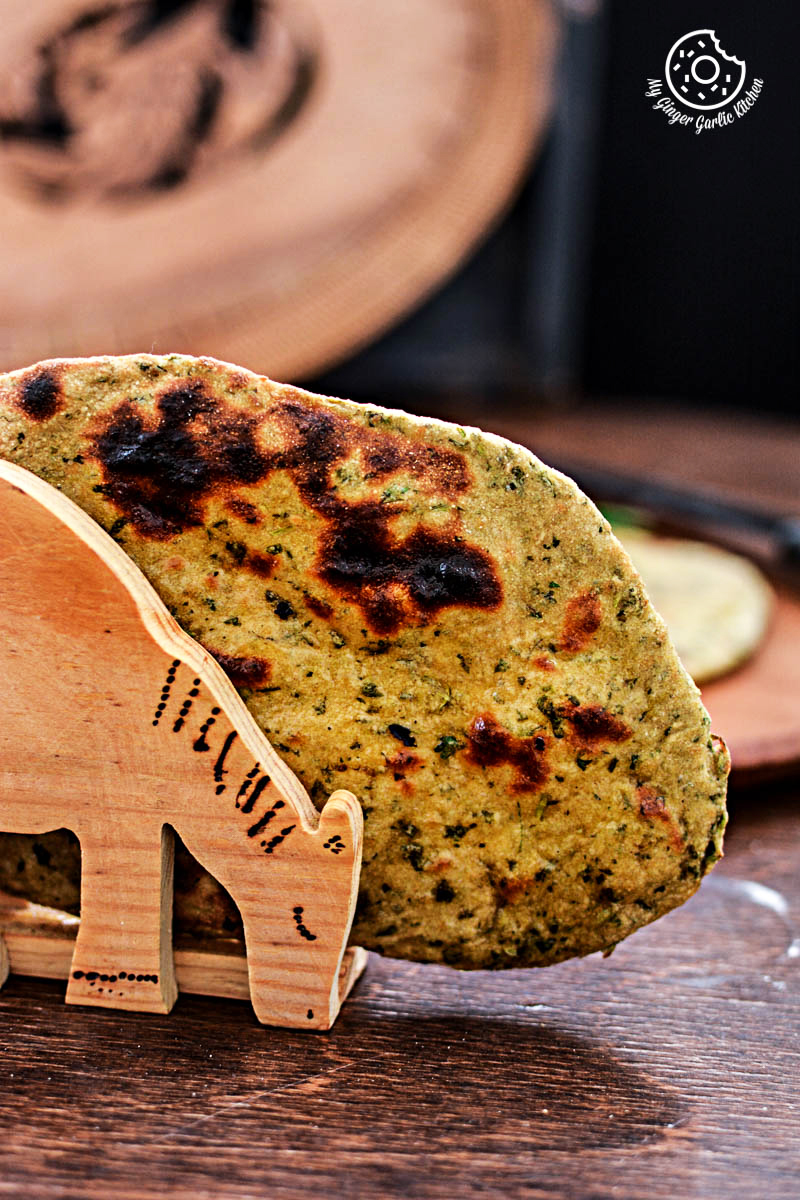 What is Tandoori Roti?
Tandoori roti is a very popular Indian flatbread which is made from whole-wheat flour which is usually made in a clay oven called a tandoor. This dish is commonly enjoyed with curry dishes.
Make it in oven:
This is so easy to make at home and the good news is that in this particular recipe you won't need tandoor at all. This is made just using the oven. But if you don't have an oven, then you can still make these rotis on the stove-top.
Dough is simple:
The dough for this tandoori roti is the regular chapatti dough + just a couple of more ingredients.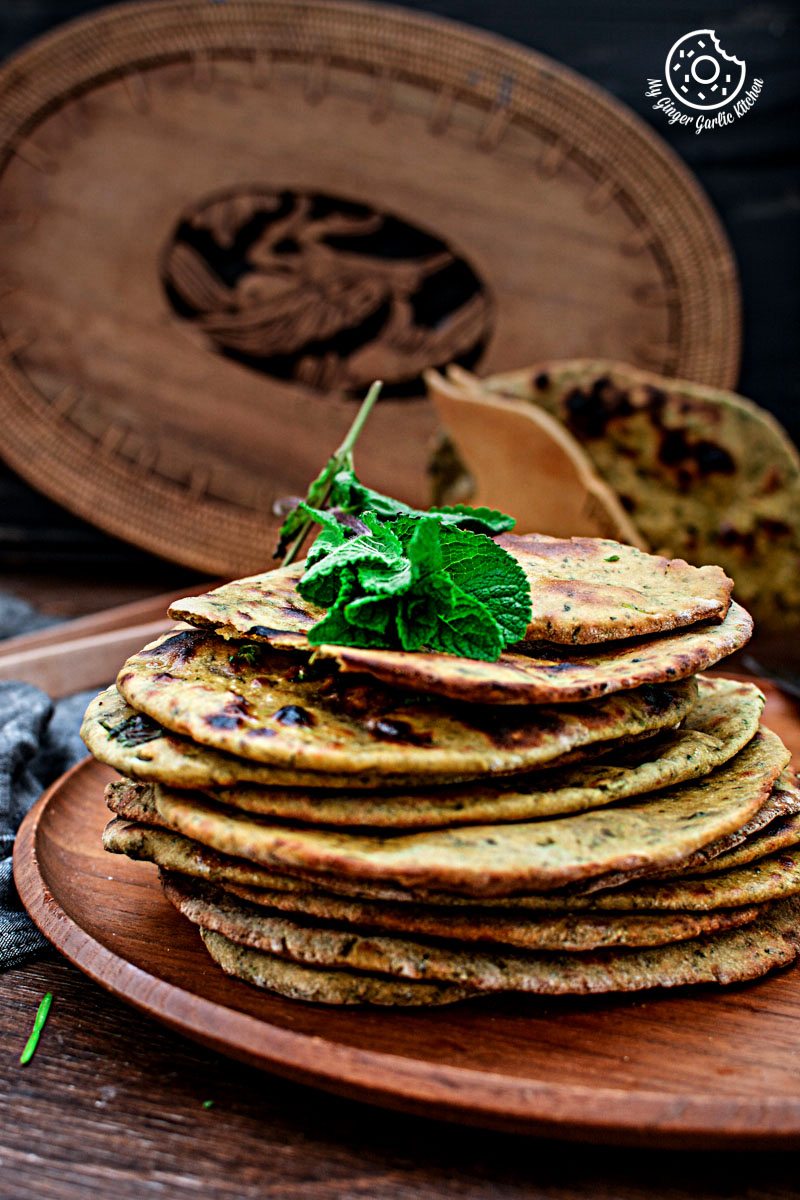 Mint Coriander Tandoori Roti Recipe

[Recipe]
Mint Coriander Tandoori roti is a tweaked version of a popular Indian flatbread Tandoori Roti which is traditionally cooked in a clay oven aka Tandoor.
---
★★★★✰
(Rating:
4.5
from
78
reviews)
---
| Prep time 🕐 | Cook time 🕐 | Total time 🕐 |
| --- | --- | --- |
| | | 35 mins |
| Category ☶ | Cuisine ♨ | Serves ☺ |
| Main | Indian | 8 |
| Nutrition Info ⊛ | | Serving size ⊚ |
| 158 calories | | 1 serving |
---
INGREDIENTS
For Mint Coriander Tandoori Roti
Mint leaves - 1 cup
Coriander leaves - 1 cup
Whole wheat flour – 2 cup
Oil - 3 tbsp
Salt as per taste
Baking powder - 1.5 tsp
Buttermilk for kneading (You can use also use water + buttermilk in 1 //1 ratio)
Whole wheat flour for rolling
Butter for brushing
---
INSTRUCTIONS:
How to Make Mint Coriander Tandoori Roti //
Add coriander and mint to a food processor and blend well.




Add mint coriander mixture, flour, salt, baking powder and oil to a large mixing bowl.




Mix well until combined.




Next add buttermilk and knead into a smooth dough.




Cover the dough and set aside for 30 minutes.




Pre-heat the oven at 300°C and turn the oven to high broil. Divide the dough into 8 equal pieces and shape each into a ball and press flat.




Take each ball and roll it into the dry flour.




Roll each dough piece into 6-inch ovals.(Tandoori Rotis are a little smaller and thicker than normal chapatis)




Place two rolled rotis on baking tray and broil for 1 minute or till you see brown spots appear. Flip the rotis over and cook this side for 1 minute or until light brown spots appear on each side.




Brush the freshly made tandoori roti with butter or ghee.




Serve hot with some curry. Enjoy!



---
WATCH RECIPE VIDEO: Click the play button and video will load ...
---
NOTES:
No notes for this recipe.
---
If this recipe helped you, then please spread the word by sharing and
subscribing
to us on YouTube to get more such Recipe Videos.
---
Your feedback is so helpful for me and other MyGingerGarlicKitchen readers. So, for Facebook and Instagram, please mention
@MyGingerGarlicKitchen
or
#mygingergarlickitchen
. I would love to see your photos. :)
---
Author:
Anupama
Recipe Source Link:
https://www.mygingergarlickitchen.com/mint-coriander-tandoori-roti-video-recipe/
Date Published:
2019-11-04
• • • • • • • • • •