Indian Style Triple Egg Fried Rice Recipe
This restaurant style quick and easy triple egg fried rice makes a great lunch for weekdays. Make 30 minutes Triple Egg Fried Rice with a video tutorial.
---
« Go back
Print this recipe »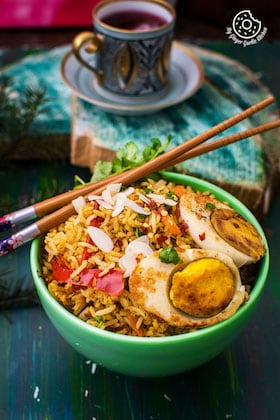 ---
Prep Time = 5 minutes
Cook Time = 20 minutes
Total Time = 25 minutes
Category = Main
Cuisine = Indian
Serves = 4-5
Nutrition Info = 165 calories
Serving Size = 100 g
---
RECIPE INGREDIENTS
» For Indian Style Triple Easy Egg Fried Rice:
3 Cups cooked Rice (I used basmati)
2 large hard boiled eggs, peeled and halved
2 large hard boiled eggs, peeled and grated
2 large sized eggs
1 large sized onion, sliced
1 medium sized tomato, sliced
1 large carrot, julienned
2 fresh chili slit
1/2 teaspoon ground pepper
1/4 teaspoon turmeric powder
2 tablespoons + 1 teaspoon oil
» For Serving:
1 teaspoon chili flakes
Almonds, sliced
Cilantro (coriander) leaves
Lemon juice
---
RECIPE INSTRUCTIONS
» Roast eggs:
Heat 1 teaspoon of oil in a pan, and sprinkle black pepper powder.
Put 2 hard-boiled egg halves on the pan, and roast till golden in color. The yolk side should face down.
Remove the roasted eggs from the pan and transfer them onto a plate. Set them aside. Repeat with the other two egg halves
» Make Indian Style Triple Easy Egg Fried Rice:
Heat 2 tablespoon oil to the same pan.
Add fresh green/red chilies. (I have used Espanola Chili Peppers, you can use any chili you like.) Let them sauté for 2 minutes.
Next, add onions and sauté for 3-4 minutes.
Now add carrot juliennes and sauté for 2 minutes.
Add sliced tomatoes and sauté on high heat for about 3 minutes.
After that, add salt, turmeric powder and mix well. Sauté for another minute.
Arrange the veggies on one side of the pan and pour 1 egg at a time.
Stir it continuously till it is scrambled lightly .
Mix them well along with the stirfried veggies and stir for a minute.
Now add 2 grated hard-boiled eggs and mix well until combined. Cook for another minute.
Add cooked and cooled rice and combine until well coated. (At this stage, you can also add some garam masala powder).
Cook it on medium heat for 5-6 minutes. Turn off the heat.
Transfer fried rice to a serving bowl and Top with sautéed eggs. - Drizzle with some lemon juice. Garnish with coriander leaves, chili peppers, and almonds.
Serve hot with onion tomato raita, egg curry, or any curry of your choice.
---
RECIPE NOTES
No notes for this recipe.
---