Lemon Rice Recipe - How To Make South Indian Lemon Rice
Learn to make South Indian Lemon Rice with leftover rice. This is a popular South Indian rice dish prepared with lemon, peanuts, and spices.
---
« Go back
Print this recipe »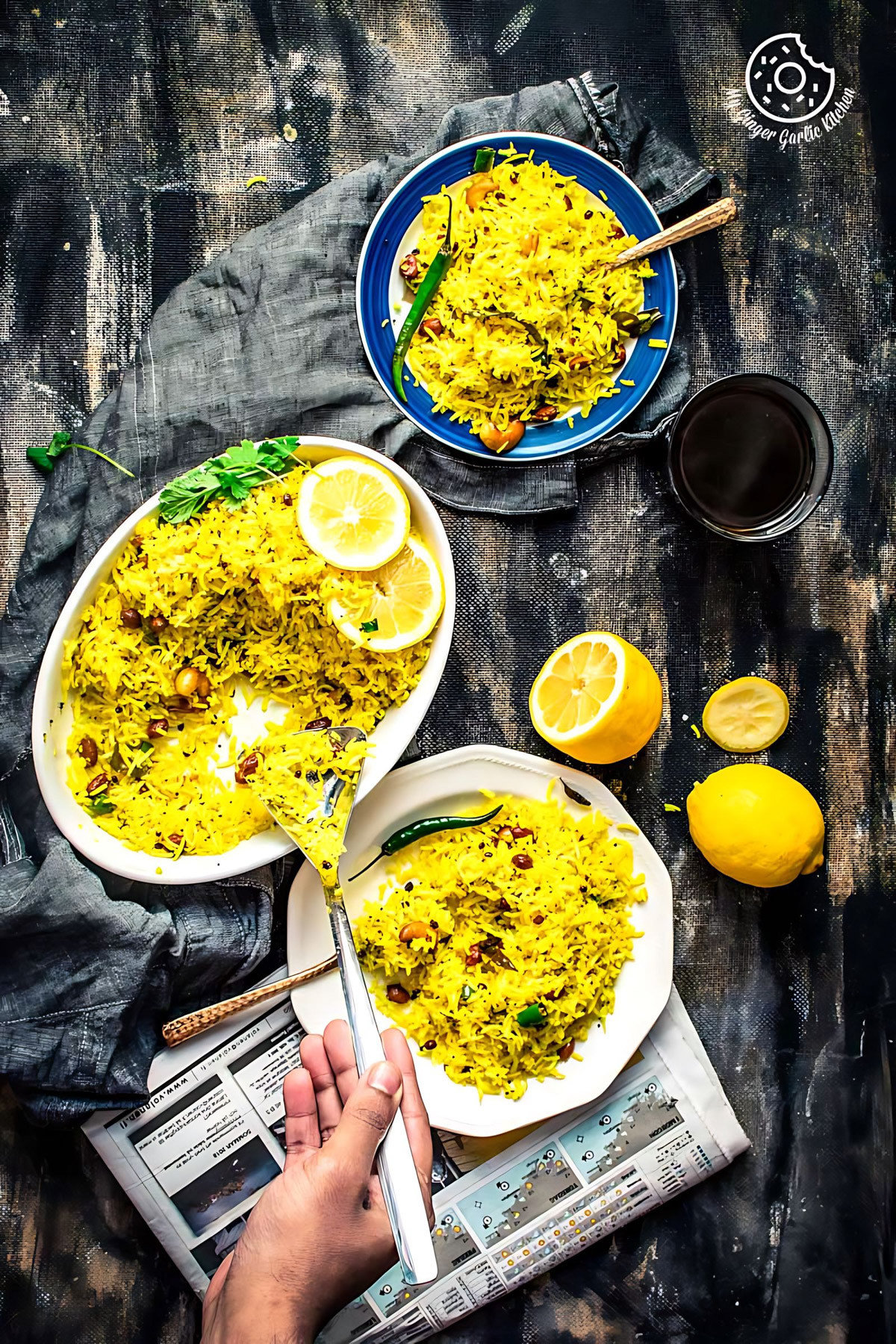 ---
Prep Time = 5 minutes
Cook Time = 10 minutes
Total Time = 15 minutes
Category = Main
Cuisine = Indian
Serves = 4
Nutrition Info = 175 calories
Serving Size = 1
---
RECIPE INGREDIENTS
» For to Make Lemon Rice //
2 cups cooked basmati rice
2 tablespoons oil
1 teaspoon mustard seeds
1 teaspoon split Bengal gram (chana dal)
1 teaspoon white lentils (urad dal)
1 teaspoon ginger, finely chopped (if you are using)
1 tablespoon curry leaves
2 medium-sized green chilies, chopped
4-5 small dried red chilies
1 tablespoon cashew nuts
4 tablespoons peanuts
1 teaspoon turmeric powder
4 tablespoons fresh lemon juice
salt to taste
---
RECIPE INSTRUCTIONS
» How to Make Lemon Rice //
Heat the 2 tablespoon oil in a large non-stick frying pan.
Add mustard seeds, split bengal gram, white lentils and stir-fry until lightly browned.
Add peanuts and cashew nuts to it, and sauté till they turn golden brown.
Now add the dried red chilies, curry leaves, chopped green chilies and stir-fry for 1 minute.
Add cooked rice, asafetida, turmeric powder, lemon juice, and salt.
Mix well and stir fry until heat through. Try not to break up the grains too much.Turn off the heat and cover the rice for about 5 minutes. Lemon Rice is ready.
To serve, place the rice onto serving plates.
Serve delicious lemon rice with raita, chutney, pickle, and Papad.
---
RECIPE NOTES
No notes for this recipe.
---