Roasted Cauliflower Pilaf With Watermelon Sauce
This Roasted Cauliflower Pilaf With Watermelon Sauce has the mouth-watering deliciousness of comfort food at its best. You can enjoy it without any guilt.
---
« Go back
Print this recipe »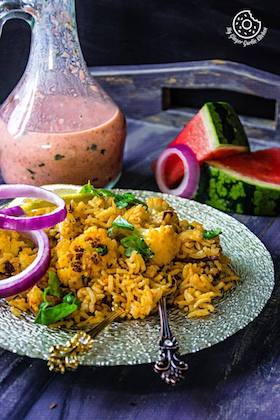 ---
Prep Time = 10 minutes
Cook Time = 45 minutes
Total Time = 55 minutes
Category = Main
Cuisine = Indian
Serves = 4
Nutrition Info = 205 calories
Serving Size = 1 Cup
---
RECIPE INGREDIENTS
» For Roasted Cauliflower //
Cauliflower, Broken Florets - 1 Cup
Olive Oil - 1 Tbsp
Garlic Cloves Sliced - 2
Salt - 1/2 Tsp
Cilantro Leaves - 1 Tbsp
» For Watermelon Sauce //
Parsley - 5-6 Strands
Watermelon Diced - 3/4 Cup
Garlic Cloves Sliced - 2
Salt And Ground Pepper To Taste
Nonfat Greek Yogurt - 2 Tbsp (Use Dairy-Free Yogurt For Vegan Version)
Sweet Chili Sauce - 2 Tbsp
» For Pilaf //
Oil - 2 Tbsp (I Have Used Sunflower Oil)
Cumin Seeds - 1 Tsp
Whole Garam Masala (1 Bay Leaf, 2 Cloves, 1 Dried Red Chili, 1 Black Cardamom, And 1 Cinnamon Stick)
Ginger-Garlic Paste - 1 Tbsp
Onion Diced - 2
Green Peas - 1/2 Cup
Tomato Puree - 1/2 Cup
Turmeric Powder - 1/2 Tsp
Garam Masala Powder - 1/2 Tsp
Red Chili Powder - 1 Tsp
Salt To Taste
Roasted Cauliflower - 1 Cup
Cooked Basmati Rice - 3 Cup
Cilantro Leaves For Garnish
» For Serving //
Watermelon Juice
Onion Rings
Lemon Slices
Watermelon Slices
---
RECIPE INSTRUCTIONS
» How to Roast Cauliflower:
Heat oven to 200C/180C.
Toss cauliflower florets with garlic, salt, and olive oil.
Arrange the florets in a single layer on a large lined baking tray.
Now add cilantro leaves, sliced garlic.
Roast for 25 minutes, or until the florets are deeply golden on the edges.
» How to Make Watermelon Sauce:
In blender or food processor, process parsley, watermelon, garlic, greek yogurt, chili sauce, salt, and pepper until liquefied.
Cover and store in the refrigerator. Shake well before using.
» How to Make Roasted Cauliflower Pilaf:
Heat 1 tablespoon of the oil in a large pan.
Add cumin seeds, and whole garam masala.
Saute for few 30 seconds and add ginger-garlic paste.
Sauté for a minute and then add diced onions.
Cook for 5 mins until golden.
Add green peas and cook for 2 more minutes.
After that, add tomato puree and mix well.Cook for 3-4 minutes.
Now add turmeric powder, garam masala powder, red chili powder, and salt.
Mix well and cook for 2 more minutes.
Add roasted cauliflower and stir gently.
Then add cooked rice and mix well. Cook for 3 minutes on medium heat.
Gently stir occasionally. Remove from heat.
Garnish roasted cauliflower pilaf with onion slices, coriander leaves.
Drizzle with watermelon sauce and serve hot.
---
RECIPE NOTES
No notes for this recipe.
---