Chocolate Chip Cookies Salted Peanuts Caramel Ice-cream Sundae
---
Chocolate Chip Cookies Salted Peanuts Caramel Ice-cream Sundae. This easy to make Sundae is a love affair between chocolate chip cookies and caramel ice-cream.
Just feeling relaxed after a busy and tiring weekend! Yeahh! I just said tiring weekend!
Why so, you ask?
Weekends are usually relaxing, but this time it was a bit different for us — it was full of busy-ness! So this was one of the busiest and tiring weekends I could remember!
We did major cleaning at home! Yes, MAJOR! And by major it's doesn't mean dusting and vacuum cleaning.
For the last couple of weeks we are reading a book about decluttering and tidying home.
Do we even need to learn that? Yeah, that was my first reaction when my husband Abhishek introduced me to this book.
Abhishek said, "I want to gift you this book, go through the reviews and if you like it, I will buy this for you. This might be life changing for us."
This got me interested and I decided to read the reviews about this book.
To my surprise, I felt pretty amazed just by reading about this book. SO we bought this eye-opening and life changing book.
You won't believe that I read that whole book in two days, despite other things. And I just wanted to take action right then, so passed that book to Abhishek. He went through the book and was also very excited for the action and adventure that lied ahead.
So this weekend was our time to take some action.
I wouldn't say that we could completely de-clutter our home, but yes, we did 85% of the work. And believe me, it feels so so good now! Initially it all started as a physical action, and now it feels more of an spiritual satisfaction. The target of this major decluttering for us was that, anything that did not give us JOY, or was totally unnecessary, had to be taken out or given away.
Do you want to know how much stuff did we throw-away OR donated? It was about 20 bags of stuff (each bag of 60L)! And we are still left with what we need at home. Now it's all the stuff that truly fills us with JOY and makes us happy 🙂
So basically this was the material stuff we had but did not add anything to our lives, physically or spiritually! Even after this much effort, we are still not finished with that de-cluttering yet, but we are feeling so good. Now all we have at home is the stuff which we truly love. It really makes me feel light, and now we all, including my dear house, can breathe freely.
I could simply see all our cupboards are living in peace, and breathing fresh air.
So it was one of the best life changing books we ever read. I am so glad that I read it!
So, that's why it was a tiring weekend! We just did the cleaning, and nothing else the whole weekend.
We did the cleaning, and we felt good. However, as with any major physical work, comes a side-effect, which usually is the unavoidable body ache. Not only that, initially it was a mental load too. This is because we had to decide what to keep and what to take-out. Clothes, shoes, furniture, books are easy to let go. But when it comes to the sentimental and emotional stuff, it really becomes very hard.
I am very much attached with my kitchen and the stuff inside. Even in that case, I had to take-out many things for donation which I wanted to keep.
Those are really hard decisions. But those really are the ones which make us stronger. So in spite of the pain, it still feels good after going through this adventure.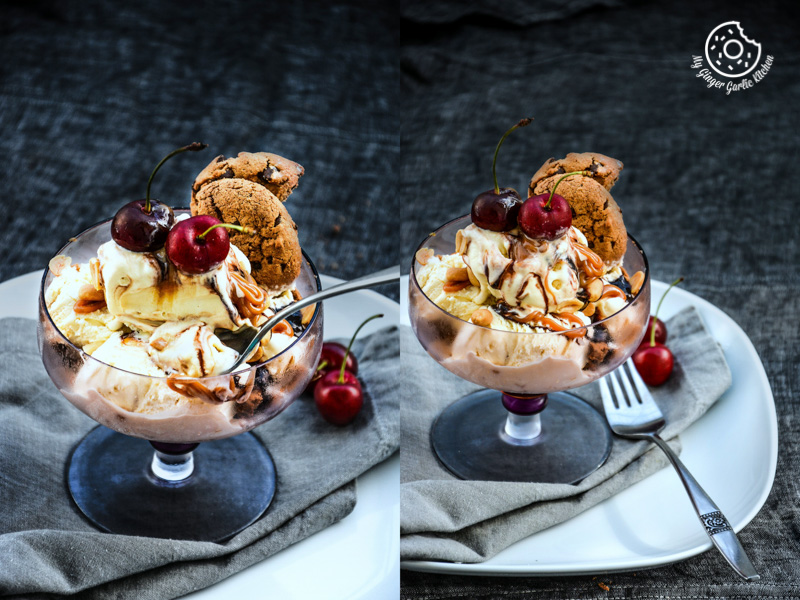 Anyways what's the meaning of stuffing our homes with the things that we don't like. Why not keeping our homes filled with the JOYFUL things that we really enjoy and feel blessed to have.
At the end of the weekend after working so hard, our energy levels severely depleted. We needed something sweet to replenish ourselves. So Abhishek demanded for some summer dessert. Well, it was a well deserved dessert after so much physical work, so it was a green flag from my side too!:)
I wanted to make something rich with an equally gorgeous photograph for the blog-post to match. I think I succeeded.
Now you all can see what happens at my home when I have ice cream and chocolate chip cookies available and I am really in a mood of some sparkly crazy dessert. The most crazy things happen! 😉
So I made this beautiful Chocolate Chip Cookies Salted Peanuts Caramel Ice-cream Sundae for us. How does that sound to you? Pretty awesome, isn't it!!!
And here we get this crazy good Chocolate Chip Cookies Salted Peanuts Caramel Ice-cream Sundae. This Sundae is a love affair between chocolate chip cookies and caramel ice-cream.
Just look at all that decadent goodness at one place. It was almost like a dream, too good to be true for my little girl.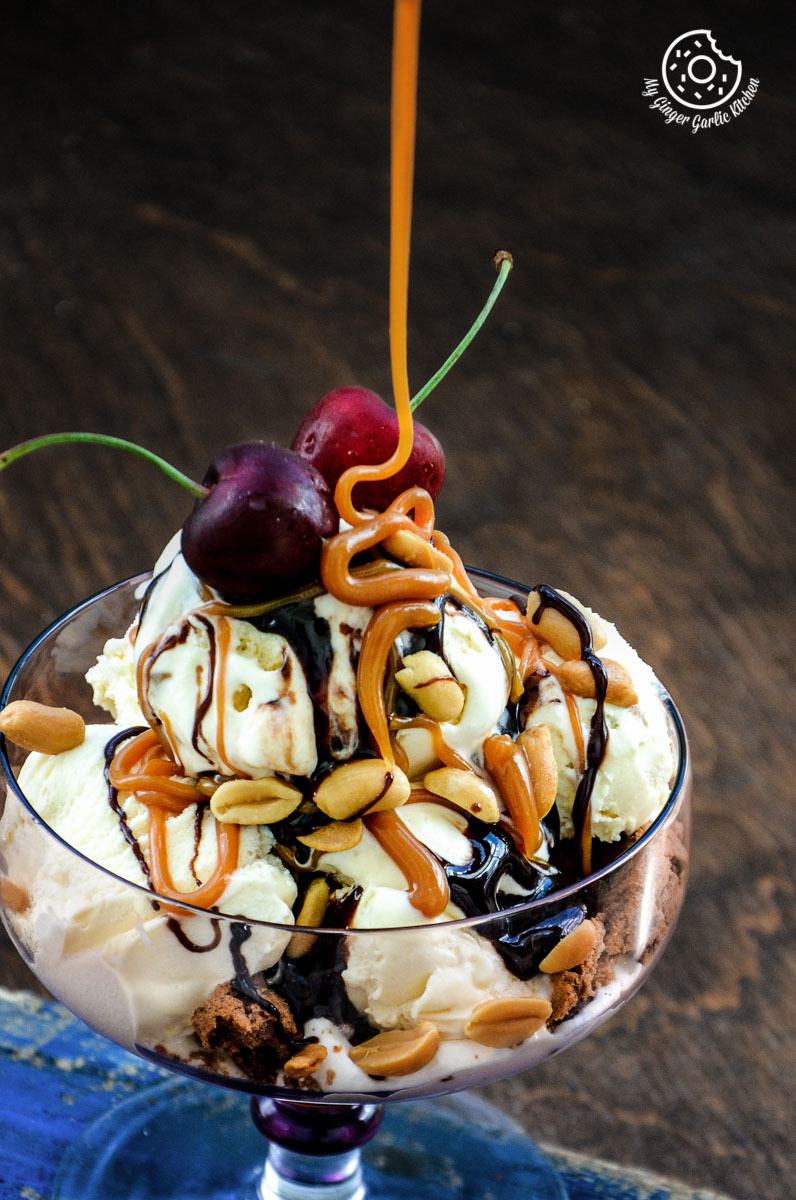 I am happy to tell you that you would not need so many ingredients to make this. In some cases you might not need to buy anything. This Sundae is actually very simple and easy to make.
We obviously had so much enjoyment with this Sundae. I had some real tough time on deciding the perfect name of this dish, which should also represent it's deliciousness.
And after some brainstorming I came up with this long title. So I ended up with 'Caramel Chocolate Chip Cookies Salted Peanuts Ice-cream Sundae'.
Don't get intimidated by the name — this might sound JUST a bit too long, but trust me, this long name simply justifies its awesomeness.
Let's just start with its introduction. This is about whip cream base, and the best chocolate chip cookies, caramel ice-cream, chocolate sauce, salted caramel sauce, and roasted salted peanuts. Wow, such lovely and tasty ingredients. Ummmm, even the writing about ingredients are making me drool. I so want it again now! 😉
Here's how to make it. Add chilled whip cream at the bottom of some glasses or ice cream bowls. Then add crumbled chocolate chip cookies on the top of the chilled whip cream, then add some caramel ice-cream on cookies. And then drizzle the caramel sauce over the ice-cream.
Some drizzle of chocolate sauce on top. And finally some salted peanuts on top. And add some fresh cherries — these are Sundaes after all.
Ah! Anyways who can resist making it when it's that delicious and that easy? I bet no one! Seriously, no one can! 🙂

That's why you should go and make this right now. Give some dessert indulgence to your taste buds. It's TRUE HEAVEN I tell you! 🙂
As soon as you make it, the beauty will be in front of your eyes, and soon after in your mouth! 😉 Oh yes, this stuff is so good.
Ladies and gentlemen, here I present to you the richest and most decadent chocolate chip cookie and caramel ice-cream dessert — the Ultimate Chocolate Chip Cookies Salted Caramel Peanuts Ice-cream Sundae.
Let's learn to make this Sundae! 🙂


Take a large ice-cream bowl. Add ¼ cup chilled whip cream at the bottom. Add crumbled cookies on top of whip cream. Add ice-cream scoops on top of cookies. Add salted peanuts on top.
Drizzle chocolate sauce, and caramel sauce. Top with cherries and cookies. Dig in! 🙂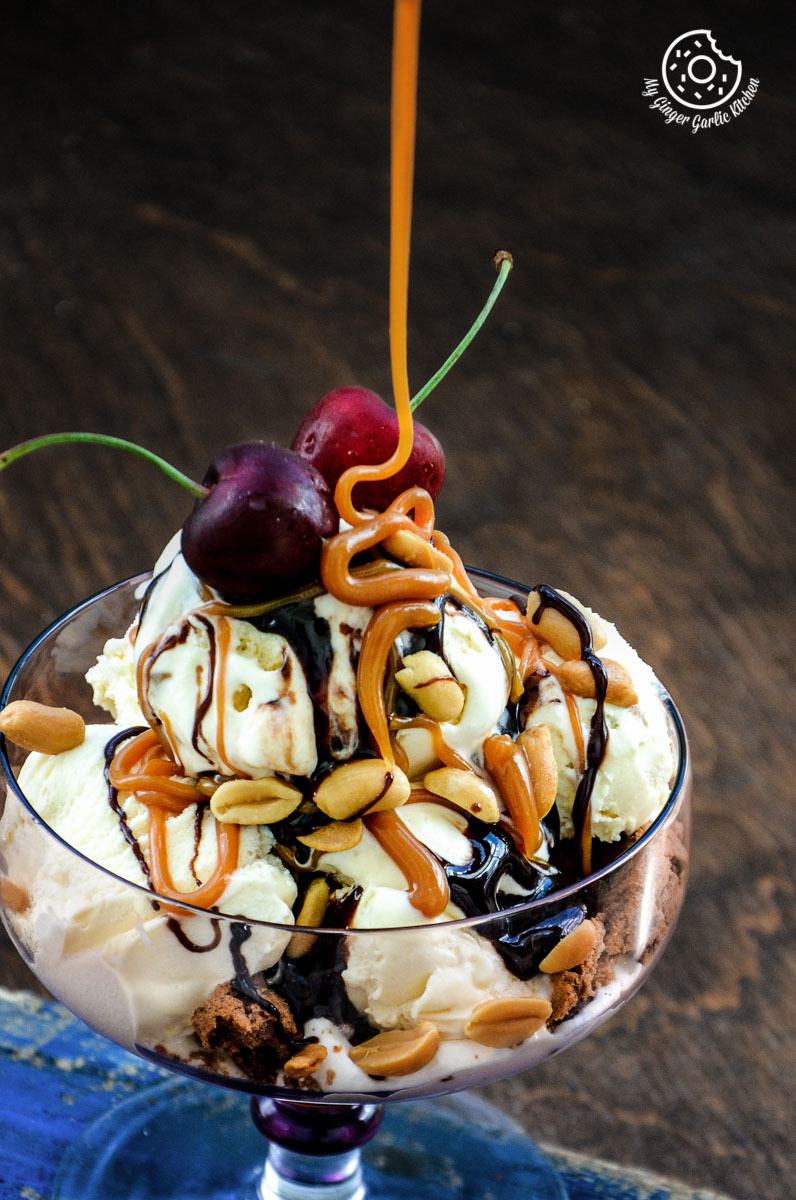 Chocolate Chip Cookies Salted Peanuts Caramel Ice-cream Sundae
Chocolate Chip Cookies Salted Peanuts Caramel Ice-cream Sundae
Ingredients
caramel ice cream - 5 scoops
salted roasted peanuts - 3 tbsp
chilled whip cream - ¼ cup
chocolate chip cookies, crumbles - ½ cup
chocolate sauce
caramel sauce
cherries
Instructions
Take a large ice-cream bowl. Add ¼ cup chilled whip cream at the bottom.
Add crumbled cookies on top of whip cream.
Add ice-cream scoops on top of cookies. Add salted peanuts on top.
Drizzle chocolate sauce, and caramel sauce. Top with cherries and cookies.
Dig in! 🙂
---