Learn to make Beet Lemonade Recipe — Beets + Lemons + Sugar = Beet Lemonade. This lemonade is ridiculously delicious, sweet, and it's got just the right kick of lemon. I promise you will love.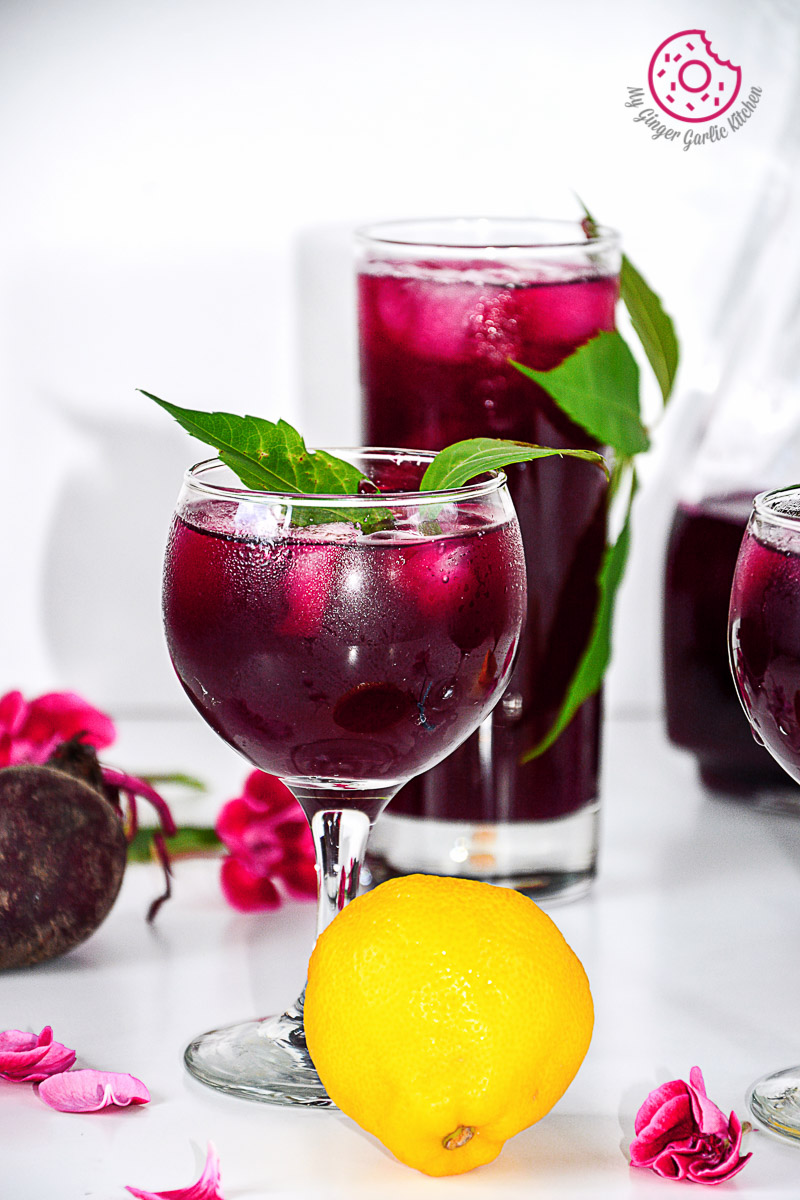 Let's have some BEET to BEAT the summery Monday's heat.
Yay for this 'Beety' Monday! 🙂
By now you all know how much I love summer drinks. Actually, I should say how CRAZY I am about summer drinks. You might even call me the thirstiest person in the world.
Related: Creamy Carrot Beet Tomato Soup Recipe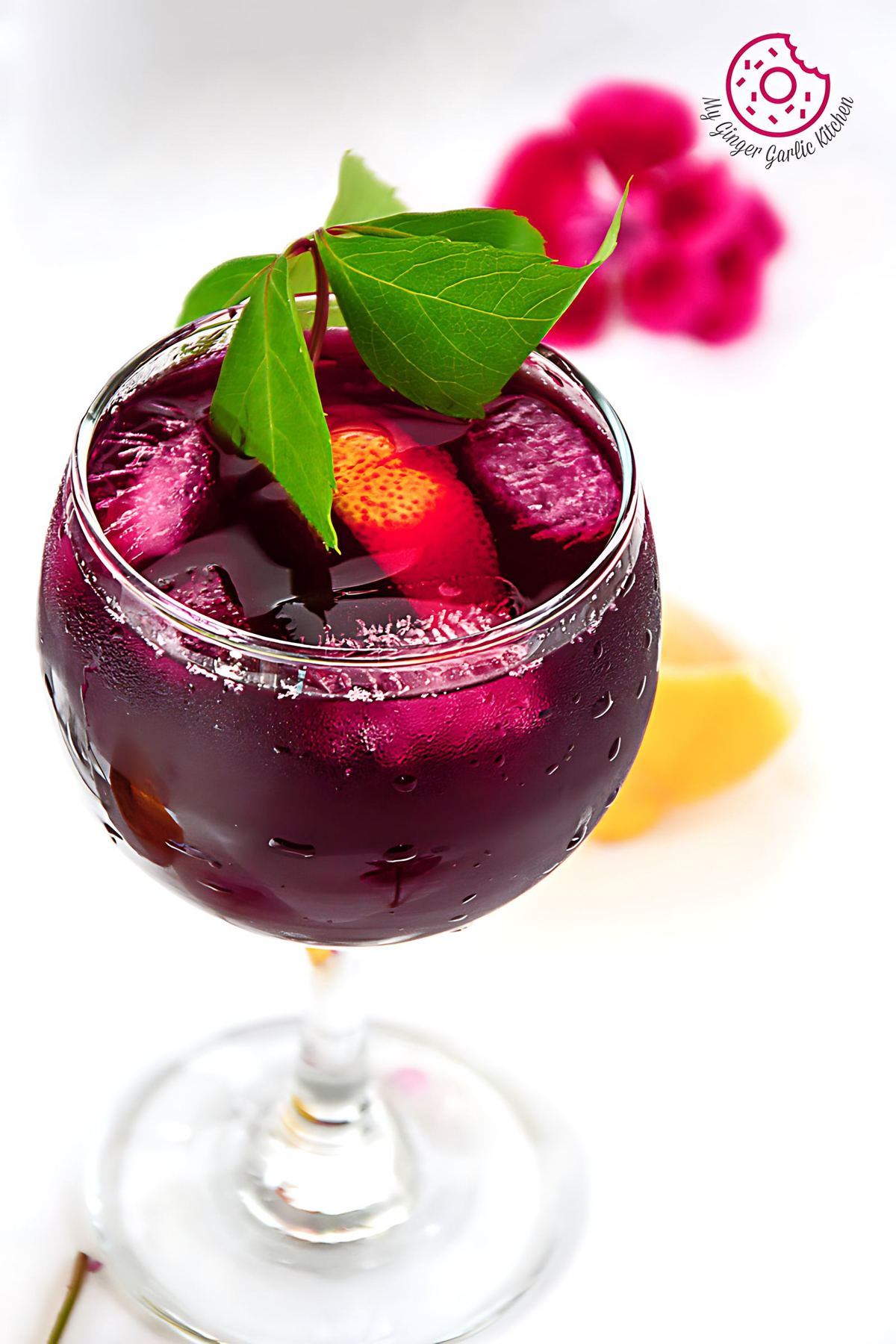 Summer and summer drinks — and summer drinks and summer mean the same to me! In my case, they are each other's shadow. Whenever there is summer there has to be a summer drink involved! 🙂
If there would be a drinking competition such as 'Who can drink the most', I think I will surely participate. And I am very sure I will get a podium finish. 😉
Related: Beet Falafel Recipe For Lunch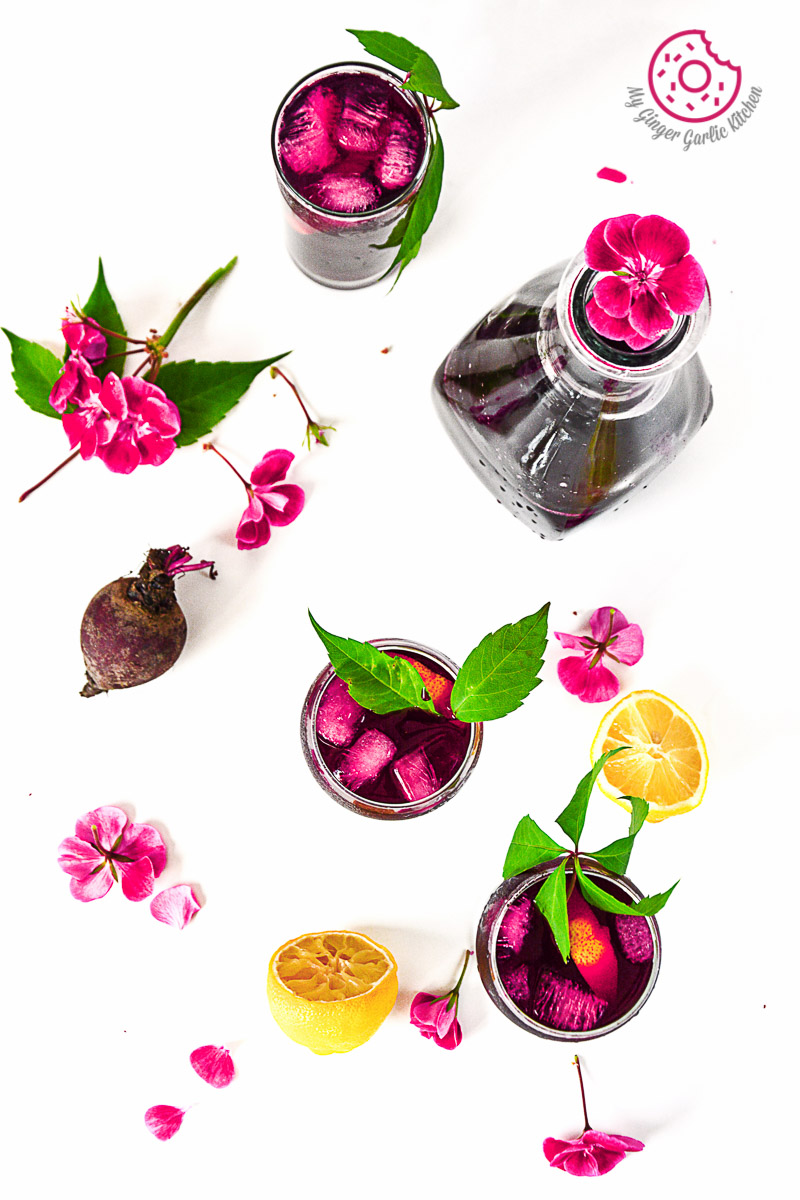 Coming to this Beety drink; what do you do when life gives you lemon, beet and sugar?
Did you ever think about making lemonade with these ingredients?
Well, I did. And I made a veggie lemonade.
Yes, I made one of the classiest summer drinks for us, and this is a veggie lemonade. YEAH!!
Related: Beetroot Pachadi Kerala Style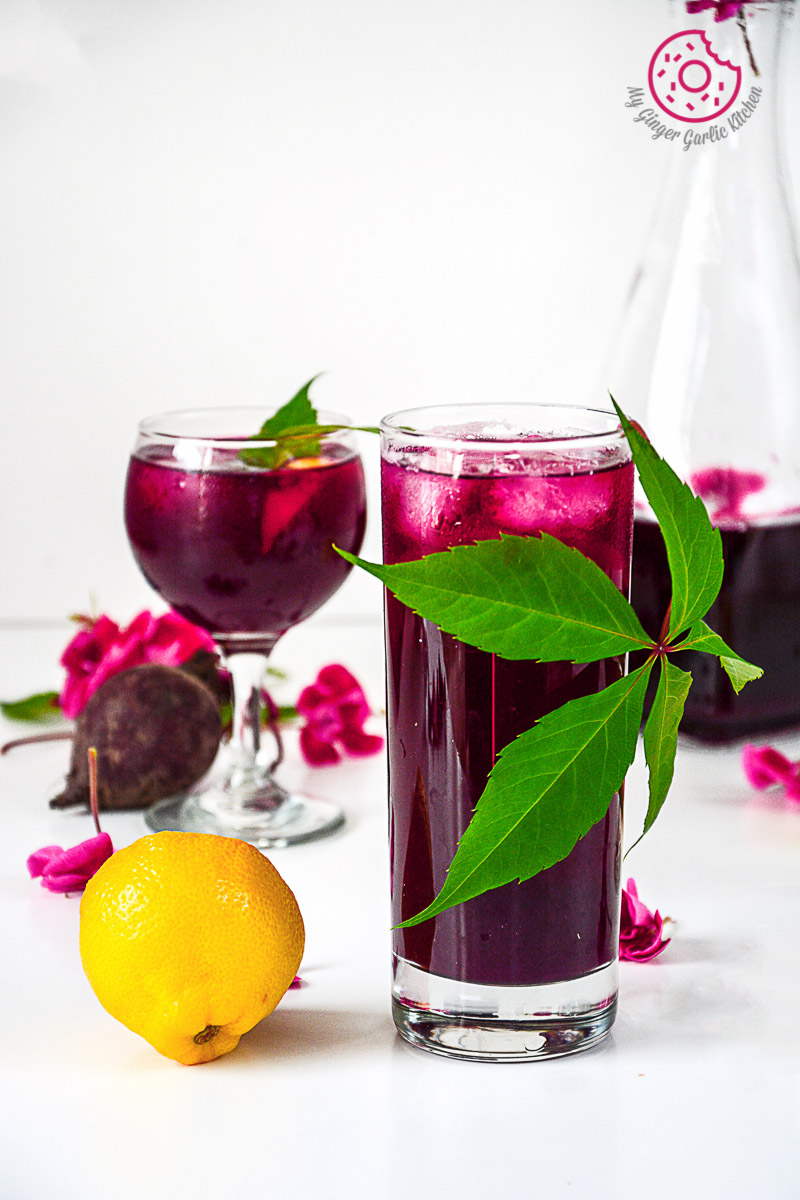 Yes, the mighty veggie lemonade.
Beets + Lemons + Sugar = Beet Lemonade.
This lemonade is ridiculously delicious, sweet, and it's got just the right kick of lemon.
Don't be scared away by these flavors. I promise you will love them. They're so refreshing and perfect for summer sipping.
So that means when these 3 magical ingredients are combined together, they convert into one lip-smacking drink. And that drink is Beet Lemonade.
Related: Roasted Beet Potato Holiday Salad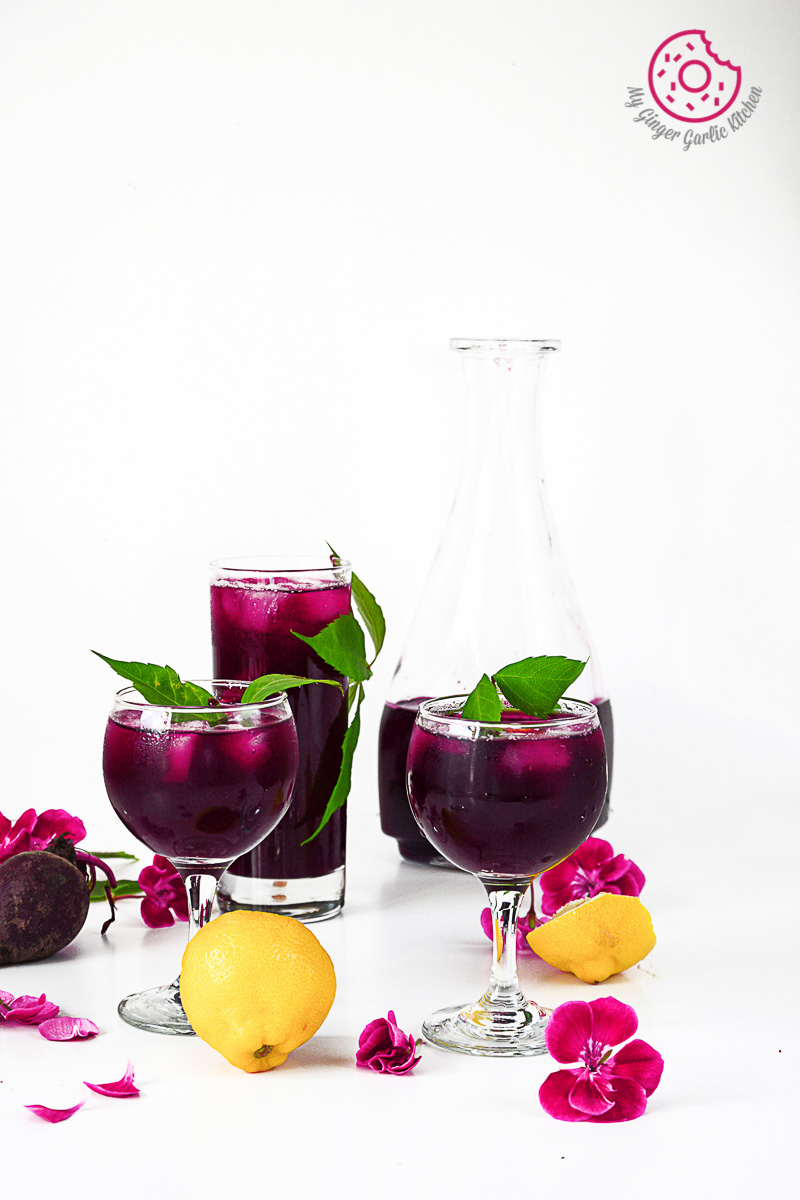 I know what you might be asking by this time about this beety drink:
Really a veggie lemonade?
Beet lemonade, for real?
How would that even taste?
Is it really possible to combine a root vegetable and citrus mixture and turn it into an awesome drink?
All I want to say is; this is an amazingly awesome and heart loving drink. This is something your heart and your taste buds would surely love! Just sensational. 🙂
Related: How To Make Detox Heart Beet Juice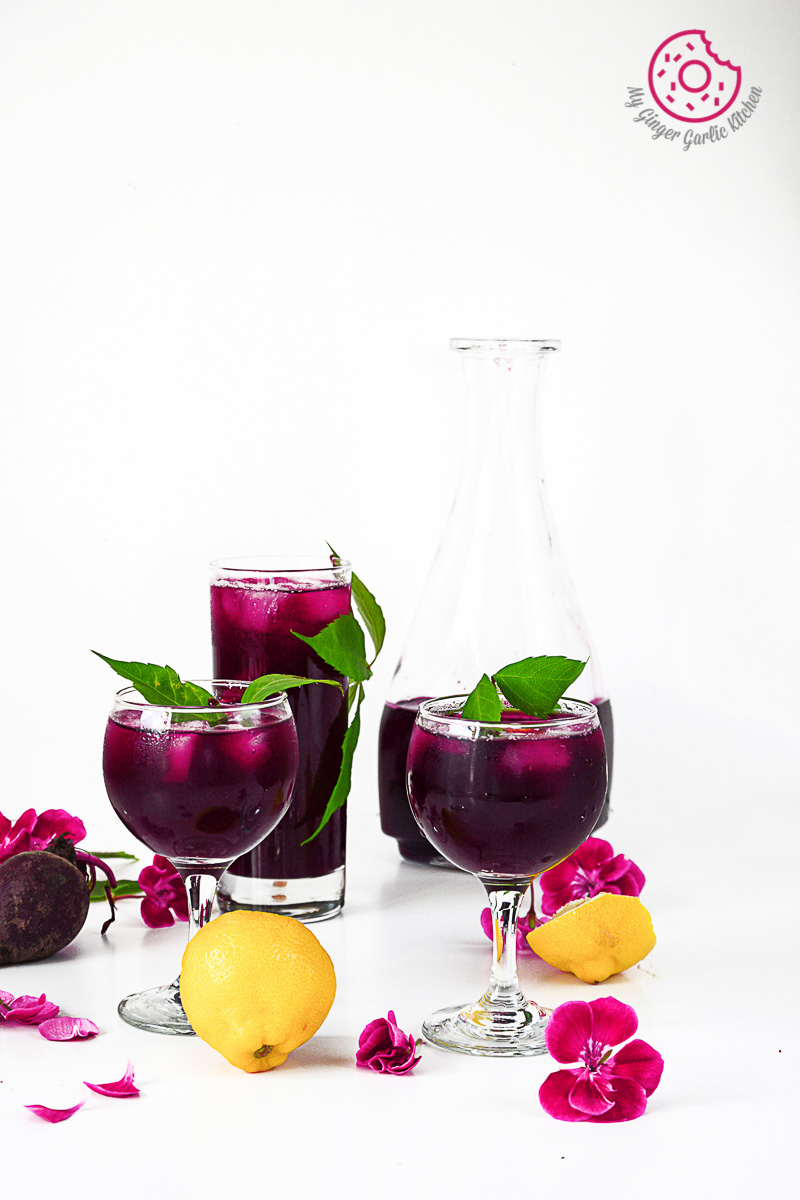 I seriously had no doubts about trying this Beet Lemonade.
First, I love beets in any form.
Second, I am a juice lover.
Third, it's not a new vegetable to me.
Fourth, one of my favorite recipes with Beet is 'Beet Juice'.
Thus, I wasn't even a little skeptical about the taste of this drink. When I made this for the first time, I knew it would turn out celestial.
Related: Broccoli Beet Crispy Fingers / Croquettes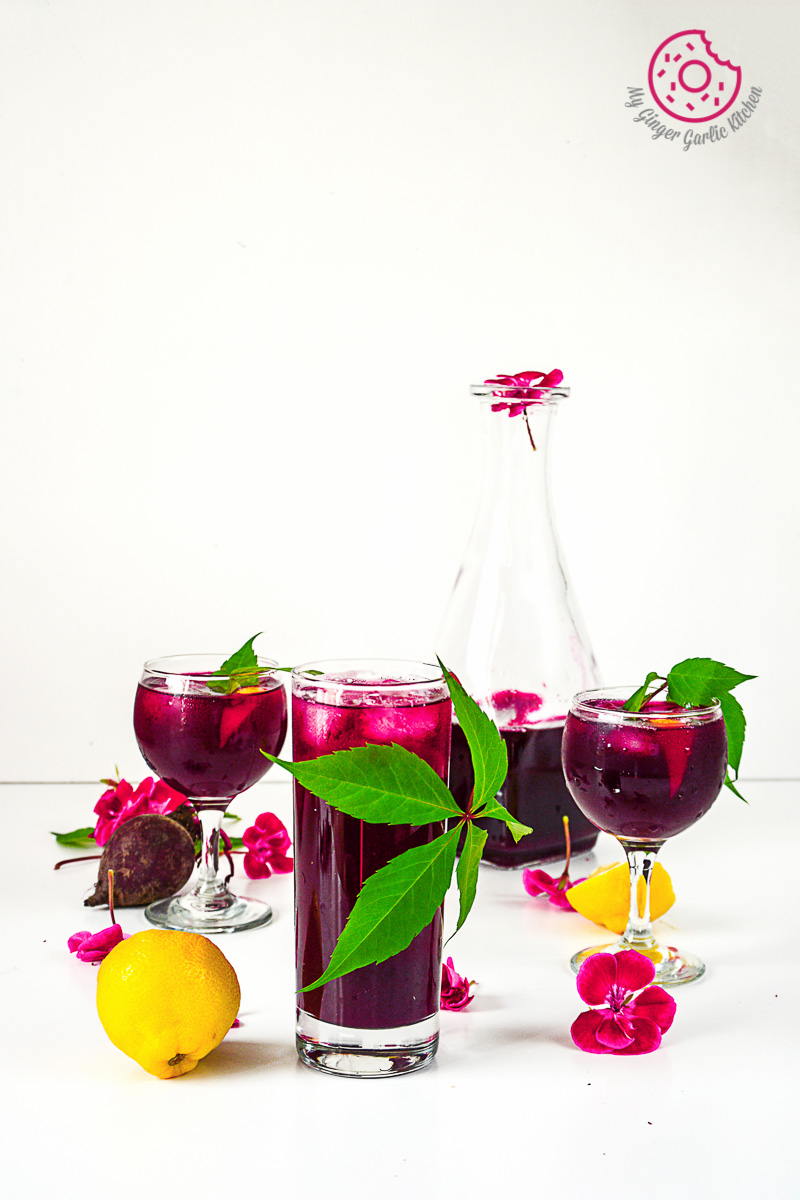 Just try out this unusual combo and you would be stunned by the taste in a good way. And anyway, there is no summer without a deliciously sweet lemonade.
This vibrant pink lemonade gets its gorgeous color and an extra boost of sweetness from an unexpected veggie. And that is root beets.
Say yes to this refreshingly tangy, lemony, beety and sweet drink. Yes to this delicious blend of nutrients and taste. It is a gift for your taste buds which is pretty damn refreshing and BEETLICIOUS.
This lemonade is the perfect mingling of neon and magenta.
Related: Beetroot Split Flatbread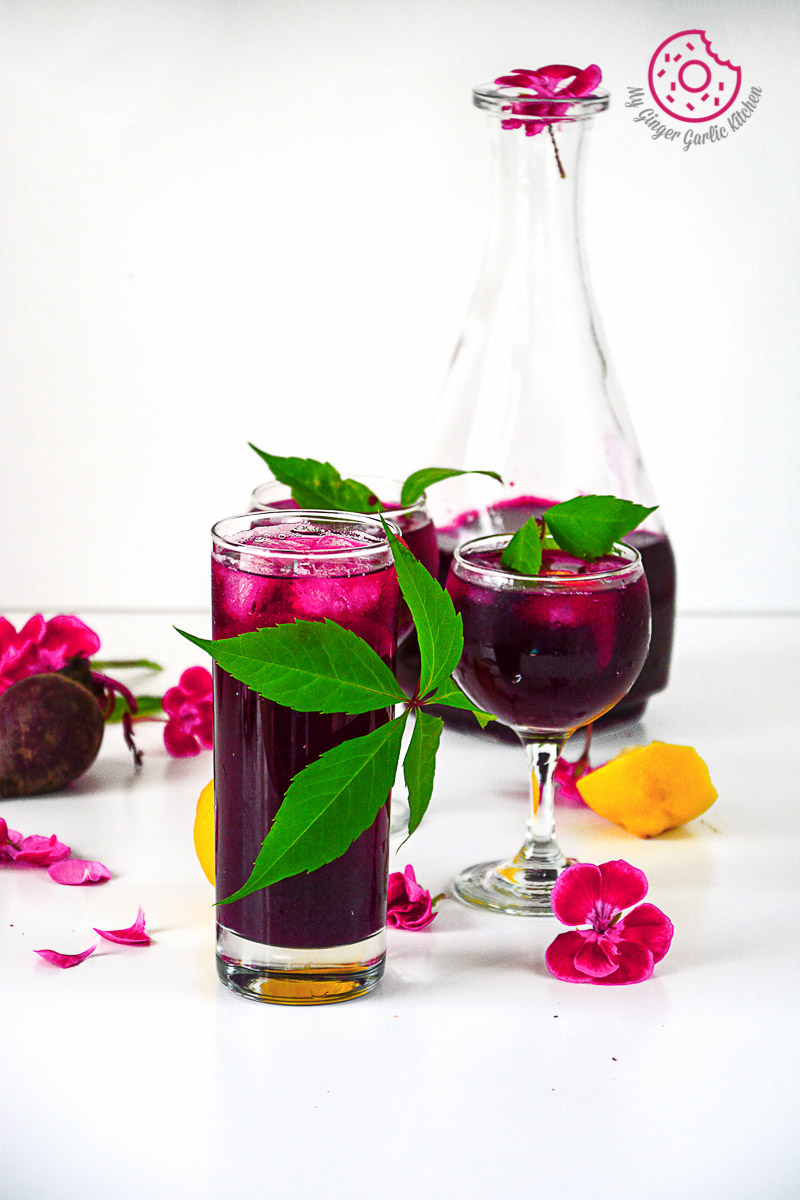 This recipe makes a dark Magenta drink. I just love the distinct taste of this root vegetable, so I added some extra beet juice to it. But you can simply adjust the amount of beet juice according to your taste. And you will get a sweet magenta drink, which will be dark or light depending upon the amount of added Beet juice.
You can also make it bit sparkly by adding some soda water to it. And your alluring and sparkly pretty drink is ready.
We all know the health benefits of beets. And also that they are sweet in taste. Beets are full of antioxidants. They help in regulating the blood pressure, and are also a good source of energy for your body.
Related: Roasted Beet Kebab with Beet Dip
So to make this healthy drink even healthier, I added some honey instead of sugar. So it's a bonus point that the only thing which is used here as a sweetener is honey. So don't be scared of drinking this too much. You can drink as much as you want.
So YAY for this guilt-free, refreshing and citrusy drink! A happy Beet is a key for your healthy heartbeat!
To me, lemonade is the perfect summer drink because it's so light, cool, and refreshing. I absolutely adore the bright pink color the beets lend to the lemonade, and they provide a sweetness to the mix that reduces the amount of other sweeteners you need to add.
Related: Spiced Fenugreek Beet Baked Mathri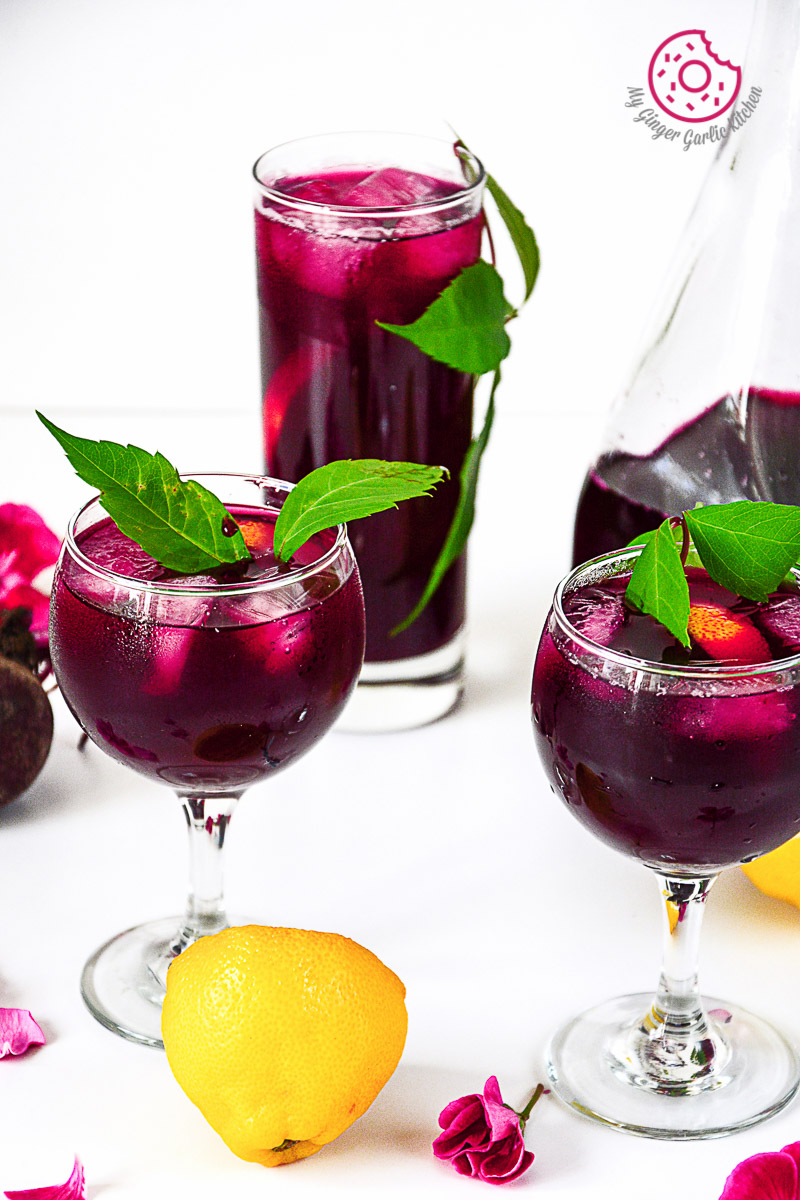 Serve it over ice and enjoy your beautiful and nourishing pink lemonade! Cheers!
So let me share the recipe for the Beet Lemonade with you.
If you don't have a juicer you can simply make fresh beet juice using any food processor. To make the beet juice, wash your beet and chop it into chunks, put the chunks in a food processor and grind them up into pulp.
For 1/4 cup beet pulp, add 1 cup water to the food processor. Blend the water and beet pulp together for a few minutes. Strain the beet juice through cheesecloth to remove the pulp. The juice is ready.
Related: Super Moist Mini Chocolate Beet Cake + Muffins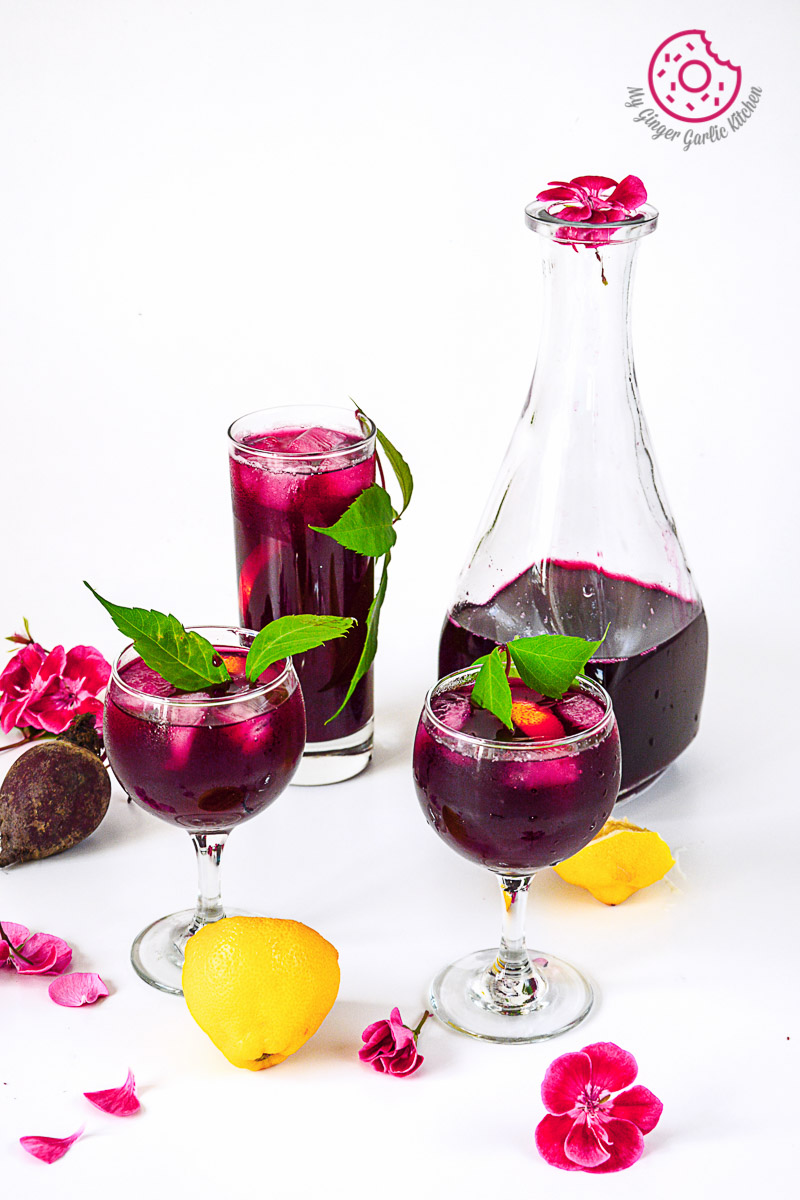 To make this veggie lemonade, begin by squeezing several fresh lemons. Add water and honey to the lemon juice to tone down the sour taste. Then add beet juice to it and mix everything well. That's just it.
Related: Beet Potato Peas Patties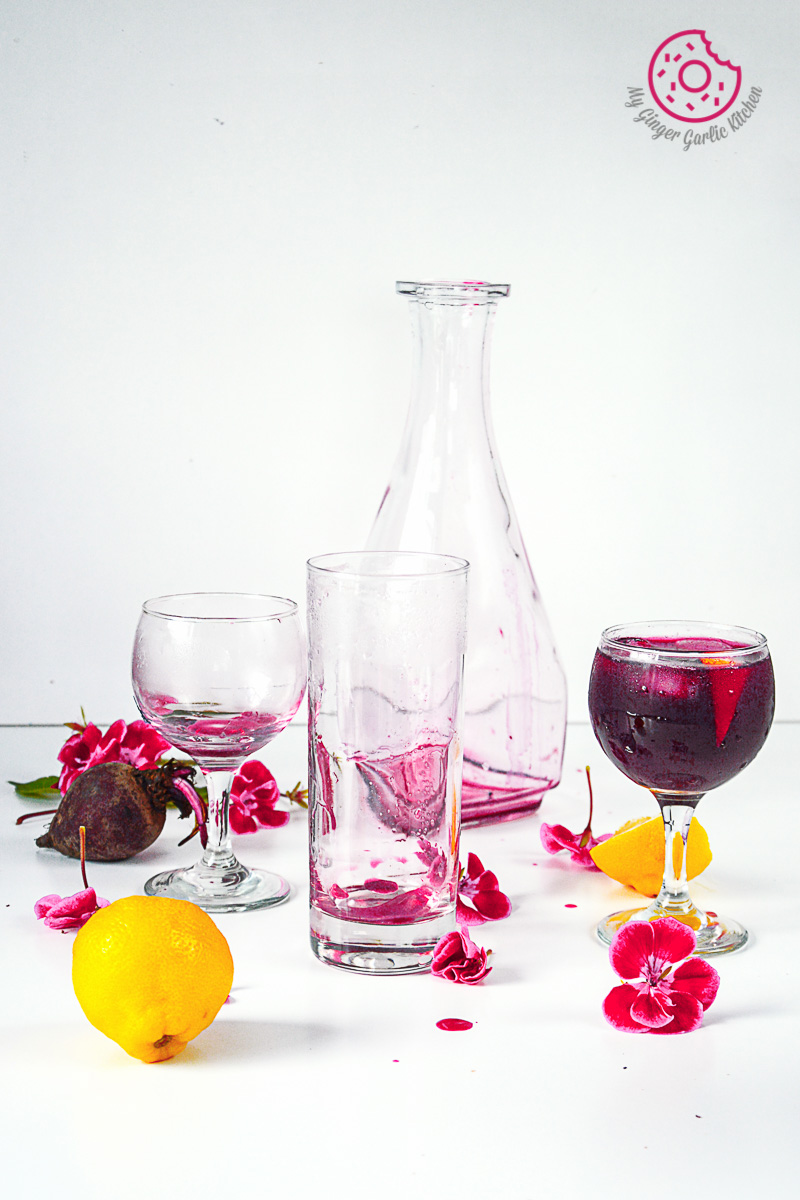 ---
Beet Lemonade Recipe

[Recipe]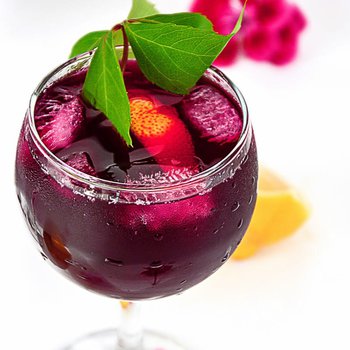 This lemonade is ridiculously delicious, refreshing, sweet, and it's got just the right kick of lemon. This can be your ideal drink to sip on all summer.
---
★★★★✰
(Rating:
4.1
from
133
reviews)
---
| Prep time 🕐 | Cook time 🕐 | Total time 🕐 |
| --- | --- | --- |
| | | 12 mins |
| Category ☶ | Cuisine ♨ | Serves ☺ |
| Drinks | American | 6 |
| Nutrition Info ⊛ | | Serving size ⊚ |
| 99 calories | | 1 Serving |
---
INGREDIENTS
For Beet Lemonade:
1 cup freshly squeezed lemon juice (approximately 5 lemons)
1/2 cup freshly squeezed beet juice, or 2 medium-sized beets, peeled and cut into chunks
1/2 cup honey or sugar syrup or granulated sugar
4 + 2 cups water
Ice, for serving
---
INSTRUCTIONS:
Making Beet Juice:
Attach the shredding blade to a food processor and shred the beet chunks.
This would make about 1 cup of shredded beets.
Add 4 cups of water and process until smooth.
Strain beet mixture through a sieve into a large bowl, pressing with the back of a spoon to extract as much liquid as possible.
Making Lemonade:
Add beet juice, lemon juice, honey and 2 cups of water into the pitcher. Stir well and then taste.
Adjust the sweetness, tartness, or water levels to taste. Place in the fridge until well chilled.
To serve, pour the lemonade over a glass of ice cubes. Enjoy!
---
NOTES:
No notes for this recipe.
---
If this recipe helped you, then please spread the word by sharing and
subscribing
to us on YouTube to get more such Recipe Videos.
---
Your feedback is so helpful for me and other MyGingerGarlicKitchen readers. So, for Facebook and Instagram, please mention
@MyGingerGarlicKitchen
or
#mygingergarlickitchen
. I would love to see your photos. :)
---
Author:
Anupama
Recipe Source Link:
https://www.mygingergarlickitchen.com/beet-lemonade/
Date Published:
2023-03-22
• • • • • • • • • •