Learn to make Creamy Carrot Beet Tomato Soup Recipe | Beetroot Carrot Tomato Soup Recipe with an easy video tutorial. This Creamy Carrot Beet Tomato Soup is tart, sweet, full of flavors and hearty. Amazingly this tastes awesome and this is healthy too. It's warm, cozy and healthy, which is probably the greatest combo ever for any soup.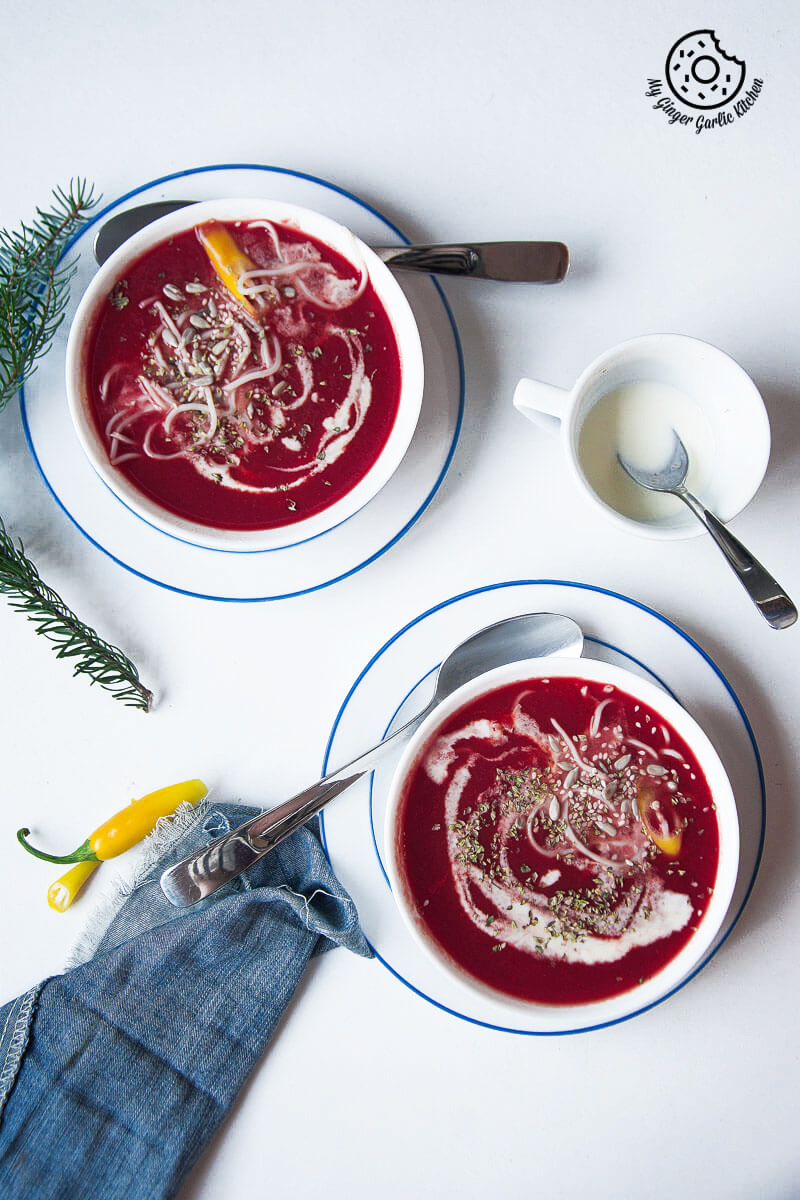 Happy soup Thursday!
The weekend is almost here and it demands a cozy soup. Creamy, warm, beet-licious, and comforting. Just perfect for this cold month of October. This soup is a mash-up of carrot, tomato, and beet. And the marriage of these beautiful ingredients gives one of the most exotic flavors.
This bright red soup reminds me of the red and orange maple leaves which were on the tree a month back and now they are on the ground mostly.
Related: Tempered Yellow Lentils Soup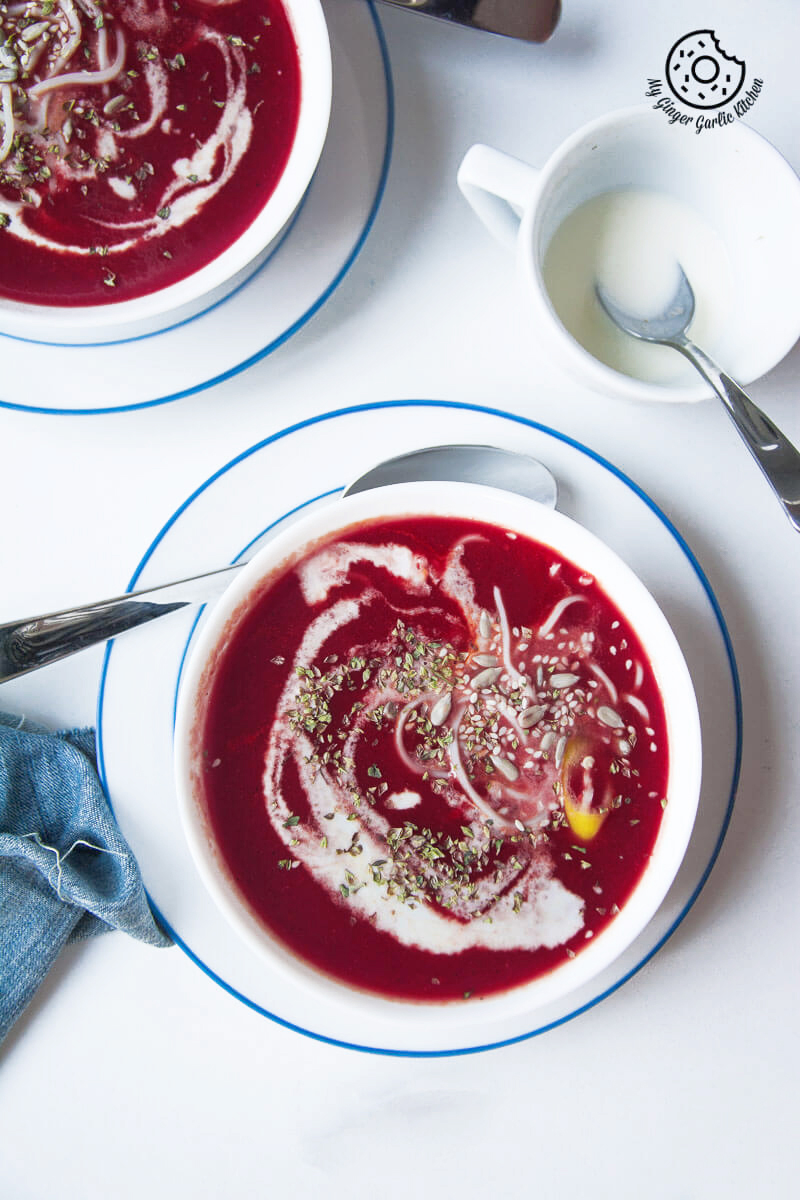 Fall is on and that means that the warm and comfy food season is here again. This also means that the soup season has made its comeback. 🙂
We say that every picture tells a story. But here in my case, I would tell that instead of a picture, I have a series of pictures as a video of this soup which tells an interesting story.
No, I mean there is literally a story. I shot this video back in March of this year when beets were all the rage in the shops. And then I transferred that video to one of the folders in my Dropbox and kept it there for later editing. Then I completely forgot about this recipe video. Yeah, it happens to me many times.
Related: Creamy Sweet Potato Carrot Soup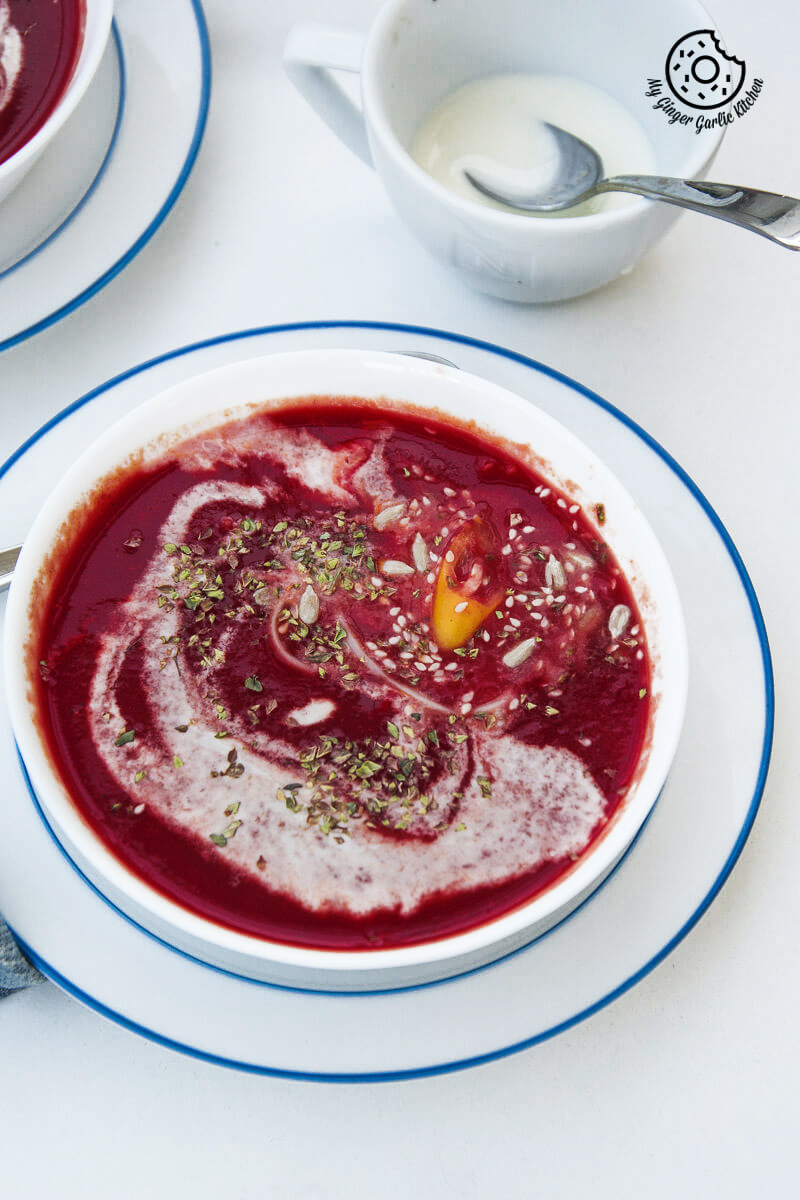 And after a couple of weeks sometime in April when I made the same soup for dinner then I realized that I have made a video of this awesome soup. I should put it on my blog. And when I searched for the video clips I couldn't find them. Seriously, I had no idea where they disappeared.
Being a blogger there is always so much WIP stuff, that locating something is like finding a needle in a haystack. I knew that I did not delete it. I seldom do. After a while when I could not find it, naturally I finally made a conclusion that these videos are gone forever. Then I thought of making the same video again. But unfortunately, beets season was gone by then.
Interestingly, last month while working on his Mac, out of nowhere Abhishek said to me: "There is a huge folder in Dropbox with recipe videos, and some other stuff, and is occupying a lot of space in the cloud. Do you need that? Or you already shared it?"
Related: Beet Falafel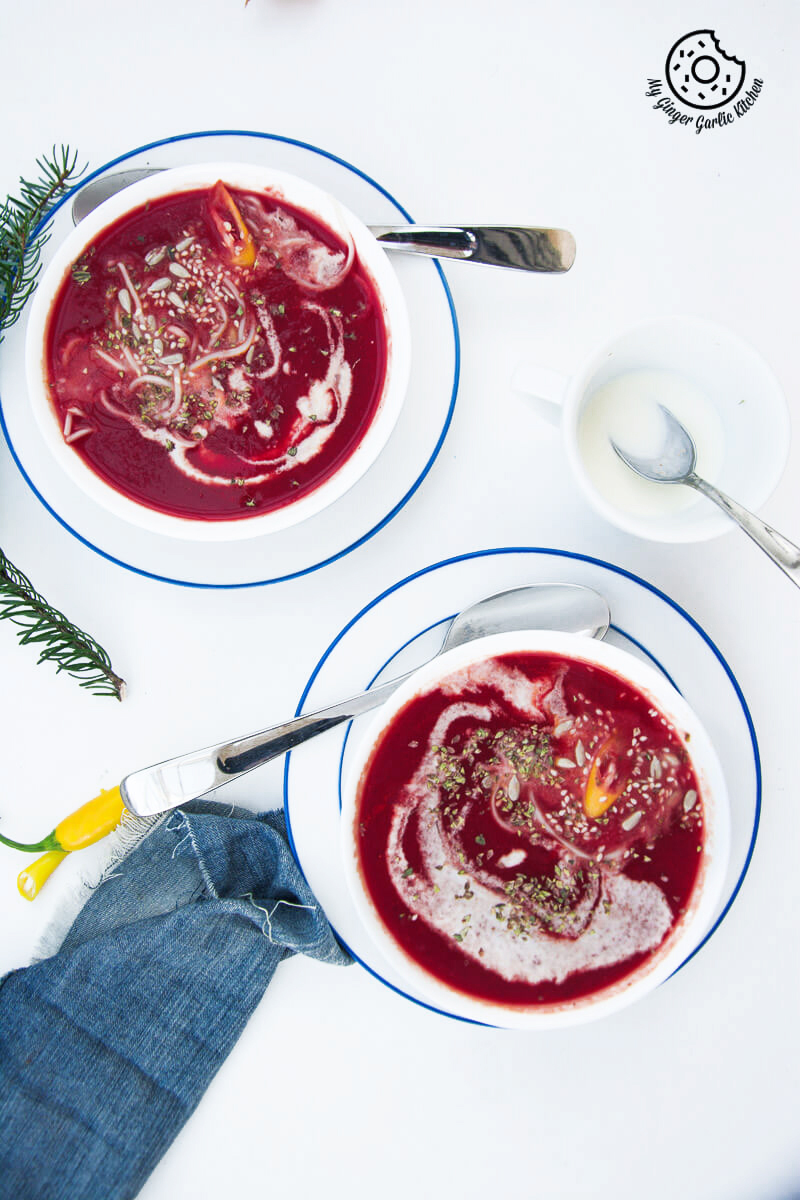 I said: "Which one?"
He said: "It's Cccdcdc. Can you check it? If you don't need it I will delete this folder. I just accidently found it because the name does not make any sense."
Me: "Okay wait. Let me check."
And I opened that folder. Oh, my god. It was the same video folder which was lost. I can't explain the joy of getting that video folder back. It felt like, it wasn't mine, someone else made it for me! 😉
I was so overwhelmed and couldn't stop myself from thanking him enough. He just couldn't understand what was the big deal in that? It was just a folder.
Related: How To Make Detox Heart Beet Juice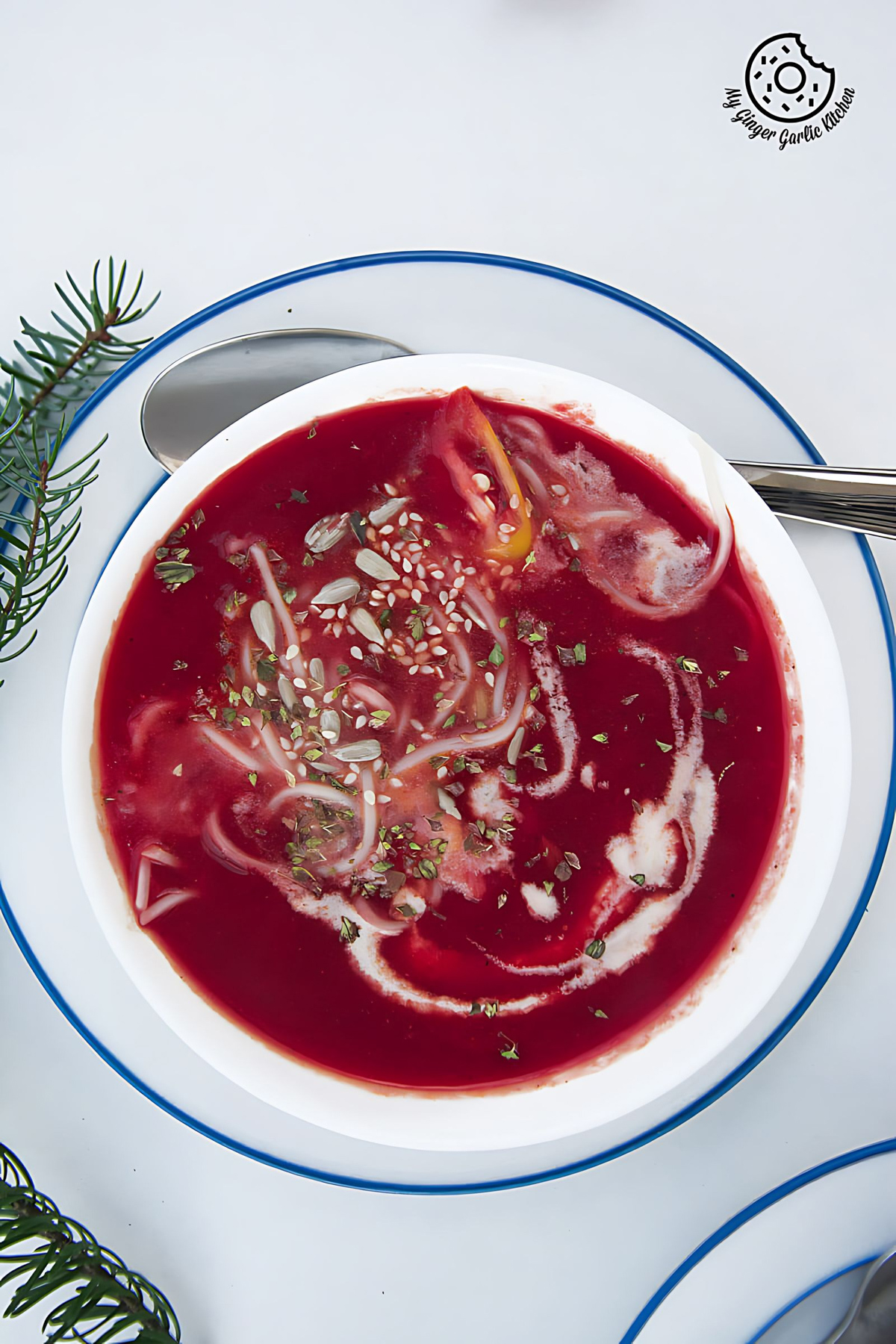 And then I told him the whole story about how I couldn't find it.
He said, "Aaaah, I think it's because of the folder name. Probably just a copy-paste error. The folder name you were looking for didn't exist. It was not there. It somehow got renamed to 'Cccdcdc' and of course, you thought it got lost."
Related: Roasted Beet Potato Holiday Salad
Related: Broccoli Beet Crispy Fingers / Croquettes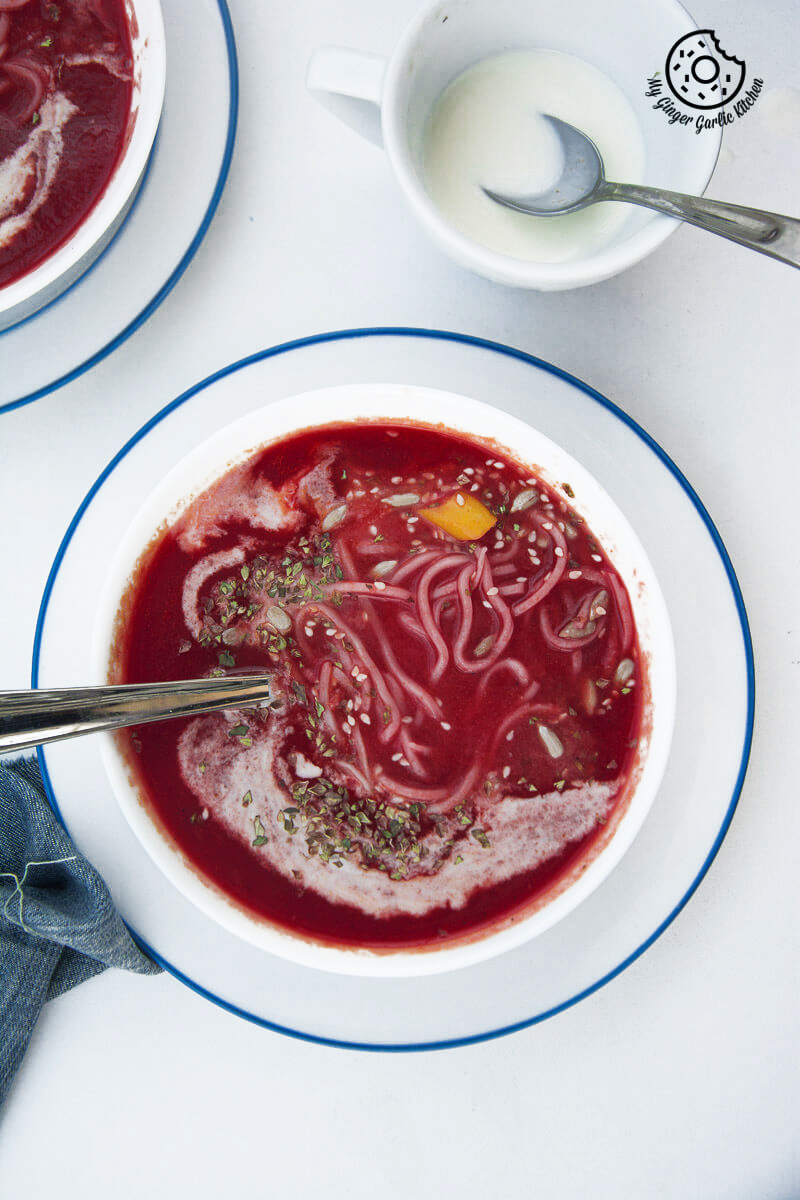 Me: "But how did the name changed? Is, it possible that when I was transferring those video clips, Ado pressed some random buttons and I didn't notice and that changed it?"
Abhishek: "I don't know. Anything is possible. But I am happy that you finally got it back. And also now the Dropbox would weight a little bit lighter." 😉
Some carrot recipes you may like: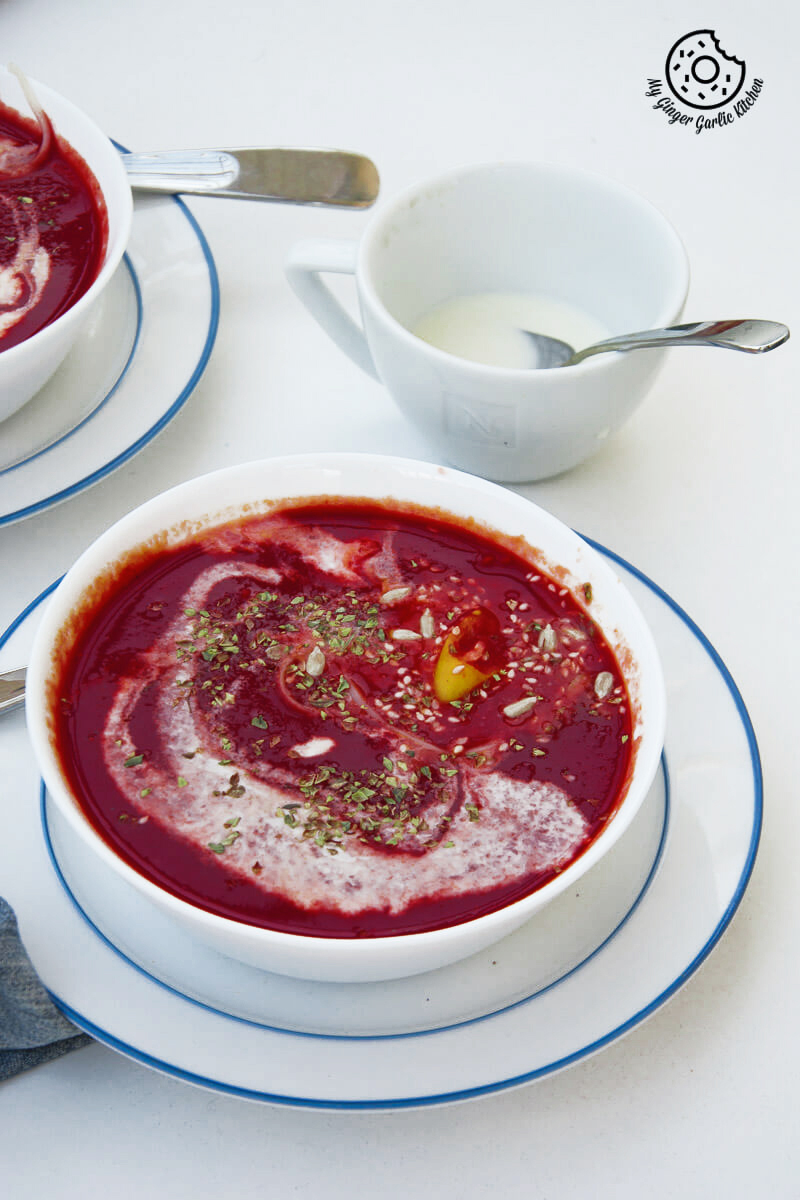 I just could not wait a day longer to make this Soup recipe, so I edited this video last week and here I am sharing it today. I know it happens sometimes. Has such as thing ever happened with you guys?
This Creamy Carrot Beet Tomato Soup is tart, just sweet enough, and hearty. And this tastes awesome and this is healthy too. It's warm, cozy and healthy, which is probably the greatest combo ever for any soup. It's because it has beets and I LOVE beets. This soup is gluten-free, and you can also make it vegan by modifying only two ingredients. To make it vegan use vegan butter and vegan cream.
Related: Beetroot Duppad – Beetroot Split Flatbread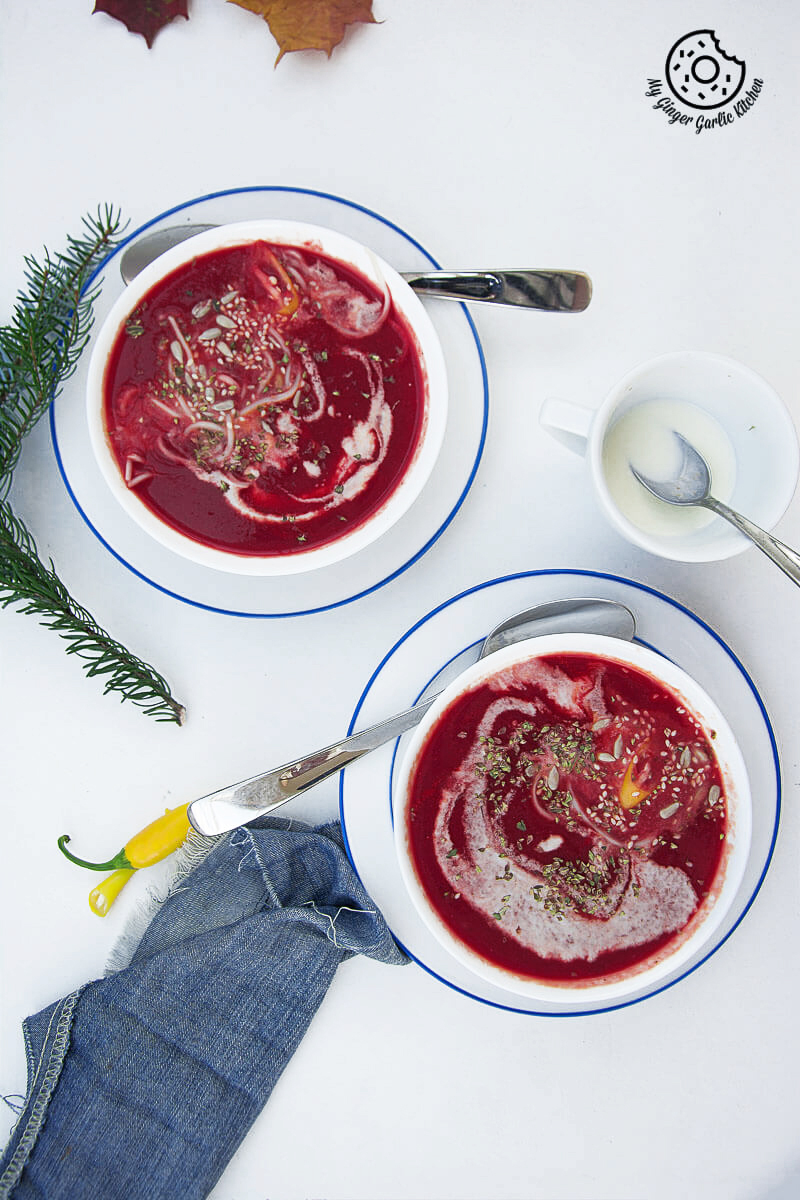 So, are you ready to have this almost (vegan) and gluten-free soup tonight or this weekend? I sure am making this again, because I have plenty of beets lying in the pantry. 🙂
Related: Roasted Beet Kebab with Beet Dip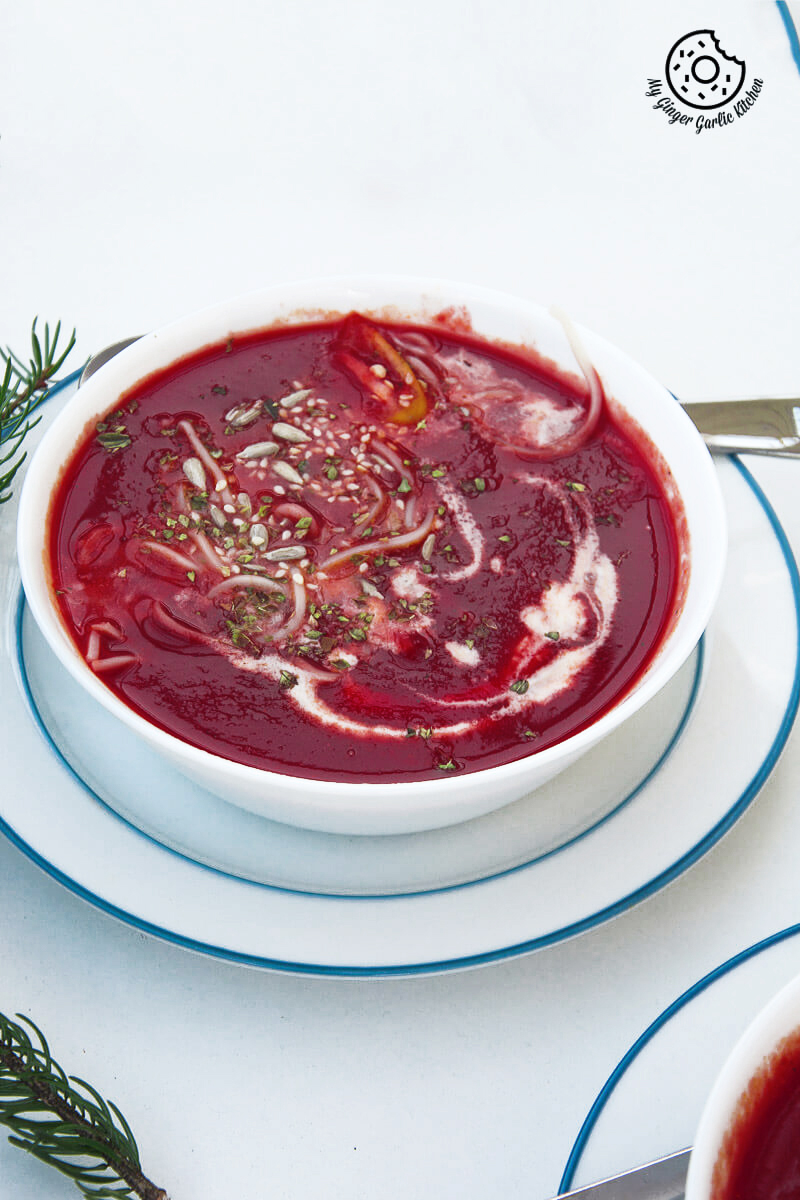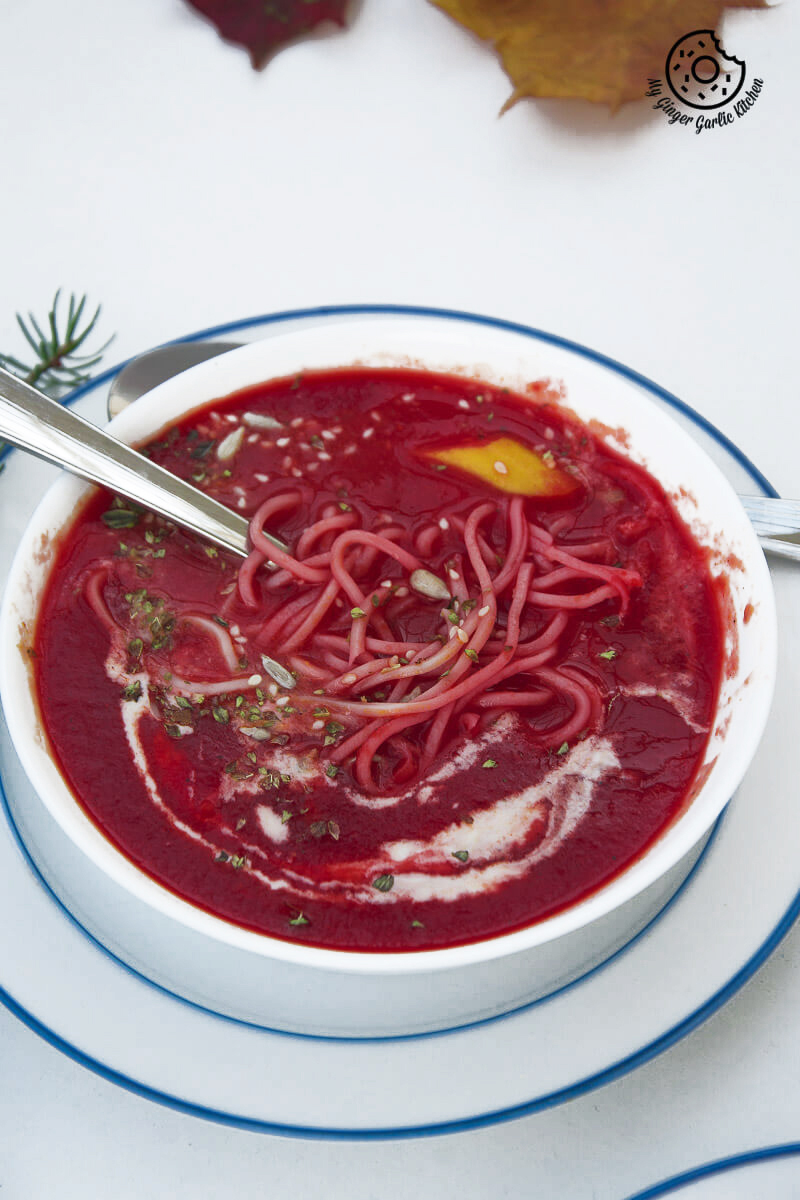 You may like these beet recipes:
Creamy Carrot Beet Tomato Soup Recipe

[Recipe]
This Creamy Carrot Beet Tomato Soup is tart, sweet, full of flavors and hearty. Amazingly this tastes awesome and this is healthy too.
---
★★★★✰
(Rating:
4.1
from
153
reviews)
---
| Prep time 🕐 | Cook time 🕐 | Total time 🕐 |
| --- | --- | --- |
| | | 35 mins |
| Category ☶ | Cuisine ♨ | Serves ☺ |
| Main | Indian | 4-5 |
| Nutrition Info ⊛ | | Serving size ⊚ |
| 110 calories | | 1 Serving |
---
INGREDIENTS
Creamy Carrot Beet Tomato Soup:
4 medium-sized beetroot peeled and diced
6 medium-sized tomatoes diced
4 large-sized carrot peeled and sliced
2 medium-sized onion peeled and diced
2 garlic cloves
Sea salt to taste (I have used Himalayan sea salt)
1 medium-sized chili peppers, sliced
1-inch stick butter (or any vegan butter)
2 cups or 500 ml of water
Pepper to season
1/4 cup Fresh cream (or any vegan cream)
For Serving:
Cooked rice noodles
Sunflower seeds
Fresh cream
Dried oregano
Sesame seeds
---
INSTRUCTIONS:
Make Creamy Carrot Beet Tomato Soup:
In the pressure cooker or pressure pan, add beets, tomato, carrots, pepper, garlic, onions, and salt.




Add water and close with the lid.




Cook for 4-5 whistles over medium heat.




Turn off from heat and wait for the pressure to come down on its own. It would take about 10 minutes. Open the lid, and blend the cooked veggies until puree.




Strain it through a metal sieve.




Heat butter in a pan, and add black pepper.




Add the strained soup and let it boil until it's thick. Add more salt and pepper, if needed.




Add 1/4 cup of cooking cream and mix well. Cook for 2 more minutes.




Transfer hot soup into serving bowls.




Drizzle with some fresh cream and add noodles of your choice. Sprinkle some oregano, sesame seeds, and sunflower seeds.




Serve hot.



---
WATCH RECIPE VIDEO: Click the play button and video will load ...
---
NOTES:
For faster cooking, I used boiling water for making soup, but you can use room temperature water.
---
If this recipe helped you, then please spread the word by sharing and
subscribing
to us on YouTube to get more such Recipe Videos.
---
Your feedback is so helpful for me and other MyGingerGarlicKitchen readers. So, for Facebook and Instagram, please mention
@MyGingerGarlicKitchen
or
#mygingergarlickitchen
. I would love to see your photos. :)
---
Author:
Anupama
Recipe Source Link:
https://www.mygingergarlickitchen.com/creamy-carrot-beet-tomato-soup/
Date Published:
2020-09-26
• • • • • • • • • •